Huion vs Wacom [2023 Comparison]
Digital drawing devices have progressed along with technology and customer requirements. We are now entirely in the kingdom of both graphic and digital drawing tablets. Once Wacom was the only brand in drawing tablets, now Huion carved out a niche by offering appealing, affordable alternatives to the industry leader.

In this article, we make a Huion vs Wacom comparison, two digital beasts responsible for this movement.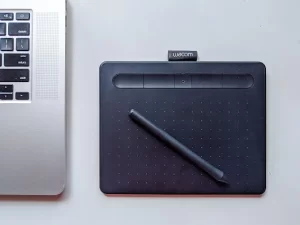 Company History
Huion Animation Technology Co., Ltd. was founded in Shenzhen in 2011. Huion produces, manufactures, and markets pen tablets, pen displays, LED light pads, and many other interactive handwriting input devices. With Kamvas and Inspiroy series, it is a national high-tech firm with multiple patents and autonomous R&D capabilities.
Wacom Co., Ltd. is a Japanese firm that specialises in graphic tablets and related devices. It was formed in 1983 in Ageo, Saitama, Japan. From cinema and animation to auto-design and manga, Wacom comprises many creative customers worldwide. Wacom also provides revolutionary user interface technologies and solutions to successful medical, educational, and other companies.
 Design
Huion and Wacom both design their tablets with a minimalistic aesthetic in mind. When we compare the Huion drawing tablet, Kamvas 22 Plus, with the Wacom drawing tablet, Cintiq 22, you can see that they are both primarily screens, with no rows of function buttons like some other drawing tablets. 
However, you can get a Wacom Expresskey Remote for the Cintiq 22 with 17 customisable buttons and a touch ring if you want button control. Unfortunately, the Kamvas doesn't have a matching accessory. Still, if you have an Android device, you can attach it and use it to control the tablet.
Both drawing tablets have an adjustable stand that allows you to adjust the height to your preference. The Wacom stand is a bit more flexible, with angle adjustments ranging from 16 to 82 degrees. However, the Huion stand has 20 to 80 degrees of adjustment, so there isn't much difference.
 Features
Display
When comparing the displays, screen size is an essential factor to consider. That is because the size of the screen mainly determines the price of a tablet.
The Huion Kamvas tablets' exceptional displayable colours were one of the most talked-about aspects at release. The Huion Kamvas 22 Plus has a 140% sRGB colour gamut, which is rather impressive. 
That is because Huion's revolutionary Quantum Dots Technology enables a 1:1200 contrast ratio on the tablet. It's the same technology seen in cutting-edge Samsung OLED panels, and it's class-leading if you're willing to do some displayable colours calibration during setup.
That is also applicable to the Kamvas range, which is further down the ticket. For example, the Huion Kamvas Pro 16 has 120% sRGB colour coverage, more than the 96% sRGB colour coverage of the Wacom display tablet Cintiq 16. In addition, Wacom tablets and Huion tablets are both manufactured with matte, anti-glare screens that are easy to use in bright light.
Stylus/Pen
The main thing you should know about pens is that battery-free pens are the best option. Instead of a battery, these tools rely on the inductive current generated by the tablet's surface, making them more dependable and long-lasting.
Wacom's whole line of pen displays and pen tablets includes battery-free pens. On the other hand, the Huion tablet pen that is battery-free is only available with the Kamvas series, but you can purchase it independently. Both types have express keys on their side and work in the same way in terms of functionality.
Another factor to consider is how a pen erases. Wacom graphics tablets like the Cintiq Pro model have an extra feature that allows the artist to turn their pen upside-down and erase the drawing. Other pens require the user to push one of the side buttons while erasing. However, Wacom's Pro series enables the most smooth and natural erasing motion.
Moreover, with Wacom, you can customise your pen functions through Wacom tablet properties. For example, a pen tilt function detects the angle at which the tool and tablet are tilted. In applications that allow tilt-sensitivity, this results in natural-looking pen, brush, and eraser strokes.
Replaceable tips of styluses wear out over time. However, both the Wacom and Huion screen tablets come with many additional nibs, enough to last a long time.
Wacom provides users with flexible soft plastic nibs in addition to stiff plastic ones. Unfortunately, Huion tips are not compatible with Wacom, and Wacom tips are not compatible with Huion. You can find extra nibs for Wacom pens by physically twisting the pen apart. The extra nibs for Huion tablets are in the integrated pen holder.
Resolution (LPI)
The pen resolution of the tablet, measured in Lines Per Inch (LPI), determines how efficiently the tablet detects minor changes. The most recent devices are capable of capturing up to 5080 lines per inch. 
As a result, they provide users with a vast amount of details. Even graphic tablets with 1270 LPI, on the other hand, give enough detail. As a result, only pros and advanced users will notice an improvement in the accuracy of the curving lines.
Given that the Wacom screen tablet has a resolution of 2540 LPI and the Huion tablet has over 4000 LPI, pen resolution isn't the most critical aspect. As a result, all new Wacom and Huion tablets meet the criteria of both novices and experts when it comes to pen resolution.
Pressure Sensitivity
These companies created their tablets with excellent pen pressure sensitivity to make your experience more fun and as near to actual drawing as possible. That means that the amount of pressure an artist applies to the drawing monitor (screen) dictates the thickness/thinness and lightness/heaviness of the lines drawn, like an actual pen, marker, or pencil. 
Even so, when the number of levels exceeds 1000, it's difficult to tell the difference between the tablets. That is because they're all capable of picking up details from even the tiniest variation in applied pressure. However, because Wacom and Huion are both leading manufacturers, their most recent models offer at least 2048 digital pen pressure sensitivity levels.
As a result, there is no need to compare the sensitivity of these two firms' pens. It's unlikely that you'll notice the difference.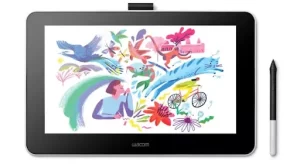 Connectivity
Check for compatibility with your operating system before purchasing a Wacom graphics tablet or Huion graphics tablet. Also, make sure it has enough connectivity for you to work comfortably. Here is a small comparison between the Wacom Intuos Pro and Huion Kamvas Pro 13's connectivity.
Wacom Intuos Pro – You can use it with a Bluetooth, USB, or WiFi connection on Mac 10.10 or newer and Windows 7 or newer. Wacom is compatible with any sort of software. However, Illustrator, Sketchbook, and Photoshop are the finest to work with.
Huion Kamvas Pro 13 – In this situation, Windows 7 or later is also required to run Kamvas Pro 13. Mac users, on the other hand, should use MacOS 10.12 or later. This Huion drawing tablet includes a convenient three-way cable as well as a USB port. A Bluetooth connection is also an option. Clip Studio, Adobe PS, Paint Tool Sai, and various other programs are compatible with this model.
Express Keys and Multitouch
Wacom Intuos Pro – This tablet's Express Keys can be customised, and the user can configure up to eight shortcuts. It contains a radial menu that is smooth and simple to use and side switches on the digital pen. With two fingers on the screen, you can turn and zoom in/out the image.
Huion Kamvas Pro 13 – There are only four Express Keys on the Huion Kamvas Pro 13. However, you can still customise them to meet your needs. In addition, instead of a radial menu, you'll have a touch bar.
Multitouch
Multitouch tablets will recognise many points of contact. So, for example, instead of pressing your pen against the tablet, you can squeeze and zoom or rotate your canvas with two fingers. Alternatively, you can use the programmable buttons on the tablet's side or a nearby keyboard to complete these activities.
Multitouch is a good feature, but it isn't a deal-breaker for most people. Wacom's Intuos and Cintiq series both feature multitouch. However, this feature is not available on Huion tablets.
 Performance
Drawing performance is excellent across the board with both brands of tablets. Wacom has perfected the texture of its tablets, which feel great to draw on and are neither too smooth nor too rough. Huion tablets aren't quite as smooth as Wacom tablets, but they're still great.
Both Wacom and Hion have done an excellent job of minimising parallax (the distance between the tip of your stylus and the line on the screen). It is only noticeable if you try to seek it out.
Huion H610 Pro vs Wacom Intuos
The best drawing tablets for beginners are Huion H610 Pro and Wacom Intuos. However, among amateur artists, the Wacom Intuos is the most popular model. Additionally, customers in the Americas can get three free programs for their tablets after purchasing a Wacom Intuos.
The Huion graphics tablet H610 Pro, unlike the Wacom Intuos, is not as well-known. Nonetheless, there are several advantages to the H610 Pro:
Eight express keys

Bigger surface

Lower cost
This Huion tablet could be a better alternative if you're seeking a low-cost graphics tablet. However, the Wacom Intuos has superior capabilities.
Wacom Cintiq Pro 24 vs Huion Kamvas Pro 22
Because the drawing surface on the Wacom Cintiq Pro 24 is huge, it's almost like drawing on a table. It is one of the top drawing tablets for animation. However, the price is significantly higher. Since Wacom Cintiq Pro 24 is one of the famous professional tablets, it should only be considered if you are a skilled and experienced artist.
The following are some of the characteristics of Huion Kamvas Pro 22:
Smaller surface than the Cintiq Pro 24

Twenty express keys

Not a touch screen tablet

8192 levels of pen pressure sensitivity

Ten additional nibs

Quite cheap
The Huion Kamvas Pro 22 is a professional-level tablet that comes at mid-level pricing.
Customer Support and Price
Huion support is available by email, Skype, or chat. However, keep in mind that they are only available during China Standard Time business hours. Therefore, an answer could take several hours, depending on the time of the day.
Wacom customer support offers phone assistance in most major countries, as well as online chat help 24/7. So if you need urgent help, Wacom is the company to choose.
Huion tablets are reasonably priced for the performance they provide. As a result, they're an ideal choice for newbies or those who just use them occasionally.
Wacom digital drawing tablets are often 2 to 3 times more expensive. The above points are that Wacom excels in several areas, such as pens, WiFi, multitouch, and customer service. Wacom tablets and pens are also made of higher-quality materials. They appear to resist drops better and hold up to more frequent use.
Wrap Up
It's difficult to argue against Wacom, which produces high-end drawing tablets that are superior in every way. Getting a Wacom Cintiq or any Wacom is a fantastic choice if you're searching for a professional or even an amateur tablet for your digital work.
While Huion still offers professional-level tablets, their prices are more suited to mid-level and below artists. That is simply because they are more affordable while remaining highly functional. So, since we are at the end of this Huion vs Wacom comparison, we can confirm that Wacom goes a long way. If you can afford the better performance, Wacom is the one. However, if you're on a strict budget, Huion is a good alternative too.
Alert! Your IP address is trackable.