Printing Technology: FDM
Supported Filaments: LA, ABS, HIPS, WOOD
Build Volume: 210 x 210 x 205 mm
Print Speed: 20–60 mm/s
Layer Resolution: 50 MICRONS
Nozzle Diameter: 0.4 mm
Connectivity: USB PORT, SD CARD
Printer Dimensions: 410 x 475 x 458 mm
Input Formats: OBJ, .STL, .AMF, .DAE
Heated Bed: Yes
Anycubic i3 Mega S 3D Printer Review
If you are looking for an affordable 3D printer, you've come to the right place. Read this Anycubic i3 Mega S 3D printer review to find out whether this budget 3D printer is a good fit for your needs!
Last Updated: May 9, 2022
Advertiser disclosure
This page may contain links to our partners' products and services, which allows us to keep our website sustainable. This means that cybercrew.uk may receive a compensation when you sign up and / or purchase a product or a service using our links. However, all opinions expressed in this article are solely ours, and this content is in no way provided or influenced by any of our partners.
Printing Technology: FDM
Supported Filaments: LA, ABS, HIPS, WOOD
Build Volume: 210 x 210 x 205 mm
Print Speed: 20–60 mm/s
Layer Resolution: 50 MICRONS
Nozzle Diameter: 0.4 mm
Connectivity: USB PORT, SD CARD
Printer Dimensions: 410 x 475 x 458 mm
Input Formats: OBJ, .STL, .AMF, .DAE
Heated Bed: Yes
Hobbyists and 3D printing beginners
STRENGTHS
Supports several filament types
Mechanical filament sensor
User-friendly interface
Supports Cura software
Great print quality for a low price
Sturdy frame
WEAKNESSES
Noisy operation
No wireless connection
3D printing technology can turn your ideas into reality. However, it is pretty challenging to find an affordable and high-quality 3D printer that will suit your needs. One printer worth considering is Anycubic i3 Mega S 3D Printer. It is one of the best and cheapest 3D printers on the market today.
So don't miss the opportunity to read this Anycubic i3 Mega S 3D printer review that will provide you with all the necessary information about this affordable machine. It will also help you make an informed purchase decision.
About Anycubic i3 Mega S
Founded in 2015, Anycubic has become one of the most popular 3D printer brands on the market. The company is based in Shenzhen, China.
Anycubic's first 3D printer Anycubic Mega was released in 2016. In less than a year, this printer became very popular, resulting in the launch of second and third generations soon after. The Anycubic i3 Mega S 3D printer was released in 2018.
Design
The Anycubic i3 Mega S 3D printer has a similar design to its predecessor, i3 Mega. Its sturdy frame is entirely made of metal, and its control unit is also housed in a metal casing supported by rubber legs.
When it comes to 3D printing quality, stability is critical. Thanks to its metal frame and body, this printer is very stable, greatly contributing to the consistent printing quality.  Stability is crucial for good print quality. If your 3D printer isn't stable, you'll experience print errors no matter how sturdy your workspace is.

Technical Specifications
In this section, we'll inspect the retraction speed, layer height, connectivity, materials, and user interface of the Anycubic i3 Mega S 3D Printer.
Retraction Speed
The retraction speed is the speed at which the filament is retracted through the nozzle. By default, it's set to 60 mm/s. However, you can adjust it to anywhere between 20 to 60 mm/s. The length of the filament that will be pulled back is determined by retraction distance, and it's configured to 5 mm by default.
Note: Make sure to adjust the retraction speed to 40 mm/s and the retraction distance to 4–4.5 mm in case of filament stringing.
Layer Height
The layer height affects print speed and detail. The minimum layer height is typically between 50 and 100 microns (0.05 and 0.1 mm). The Anycubic i3 Mega S has a standard layer height of 0.2 mm.
NOTE: In general, increasing layer height reduces image resolution and quality. So it is better suited for huge prints. I recommend decreasing the layer height from 0.2 mm to 0.15 mm to achieve high-quality results.
Connectivity
The Anycubic i3 Mega's base is covered with ports, including a power socket, SD card slot, and a female USB connector. A USB connector comes with the printer, which is great if you wish to connect this printer to a PC.
Setting up this printer is not difficult. All you need to do is install eight screws and connect three wires to get started.
Materials
The Anycubic i3 Mega S 3D printer supports PLA, ABS, HIPS, TPU and Wood.
User Interface
The Anycubic i3 Mega S has a user-friendly, multi-language and full-colour user interface. Moreover, it is fast and responsive.
Features
Heated Glass Bed
The Anycubic i3 Mega S comes equipped with a heated glass bed. This feature helps you to prevent warping. If you experience warping, consider raising the bed temperature from 50°C to 60°C.
Auto-Resume Feature
The auto-resume feature is excellent for preventing print failures. This feature will automatically resume the print where it left off after a power outage or some other kind of interruption.
Double Z Limit Switches
Thanks to the double Z-axis, the levelling process is more accurate. The Z-axis features two shafts, two screw guides, and two motors. It also includes two limit switches and two calibration bolts on each side.
Sensitive Touch Screen
The printer is controlled through a sensitive and user-friendly touch screen. It is placed in the front, being slightly angled for greater convenience. Sensor responsiveness is satisfactory, meaning the finger pressure is recorded quickly and accurately.
Software
Anycubic i3 Mega S 3D Printer comes with an open-source Cura software package for 3D printing. This comprehensive package lets you load, modify (move, scale, rotate, mirror), slice, and save 3D files.
Ultimaker's Cura is excellent 3D printing software, supporting various file types (including STL, 3MF, and OBJ). It is suitable for both novices and experts, who will have over 200 settings to play with. The initial step to producing a high-quality print is to choose the right resolution. Resolution settings range from 300 microns in draft form to normal (200 microns) to high resolution (100 microns).
Setup and Print Quality
The Anycubic i3 Mega S comes partially pre-assembled, so you'll need little time to set it up. Even beginners will be able to assemble it in an hour or less.
Follow the steps below to assemble Anycubic i3 Mega S hassle-free:
Remove all the components from the box and check if all the parts are there.

Attach the frame to the base by fastening up eight screws (four on the left side and four on the right side).

Connect the wires. Everything is colour-coded, so this shouldn't be a problem.
You've now completed the construction Anycubic i3 Mega S 3D printer. Still, there are two more things you'll need to do — install the spool holder and feed the filament into the Bowden tube.
To set up the spool holder, take the following steps:
Remove the protective paper stickers.

Insert the nuts into the side parts and tighten them. 

Place the spool holder on top of the rod.
Once you've done that, feed the filament into the Anycubic i3 Mega 3D printer. To do that, follow these steps:
Place the spool on the spool holder.

Check the filament. If you don't get a straight filament strand, it might get stuck in the Teflon tube that leads to the hot end.

Attach the filament sensor to the frame.

Start the printer and pre-heat the nozzle.

Feed the filament into the motor. You're ready to go once the filament comes out of the nozzle.
Next, you'll have to level the bed. Follow these steps:
Remove the paper sheet from the bed.

Select Tools > Home > Home All on the touchscreen to move all axes to the inner- and outermost positions. 

Go to Home Menu > Setup > Motors > Disable to disable the motors.

Place the paper sheet on the printer platform and move the printhead back and forth manually. Make sure to avoid any nozzle contact with the bed.

Place the print head in the front left corner of the page. Tighten or loosen the screws until you feel the nozzle drag on the paper. Repeat on the diagonal corners until the bed is even.

Place the print head in the upper left corner and tighten or loosen the screws until you can feel the nozzle dragging the paper. 

Repeat this process on the diagonal corners until the bed is perfectly levelled. 
When it comes to the print quality of the Anycubic i3 Mega S, it is pretty decent. The layer quality is especially good with the regular PLA.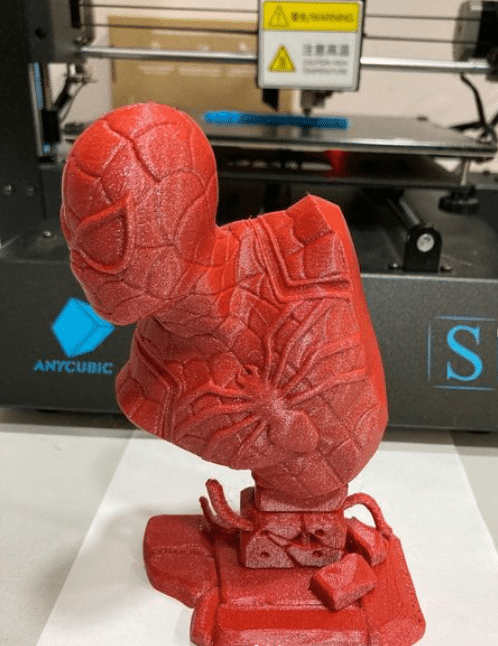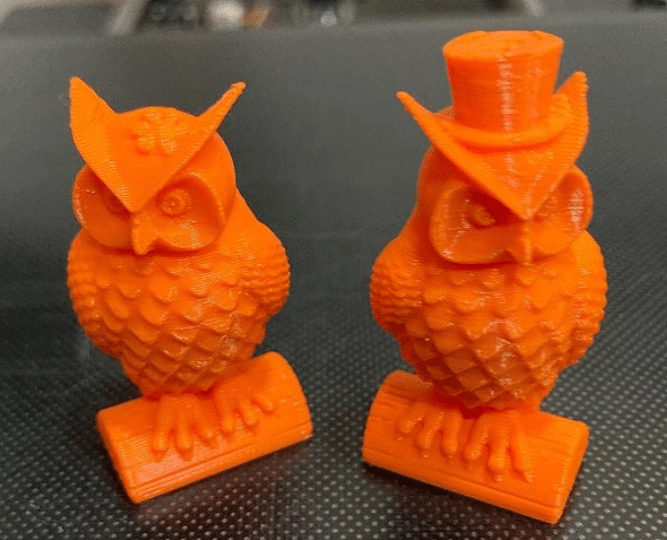 Customer Support
If you have any questions regarding the Anycubic i3 Mega S 3D printer, visit the Support section on Anycubic's official website. There, you will find a contact form you can fill in and leave a message to the Order Customer Support Team. Another way to contact them is to send them an email at [email protected]  
In addition, if you are experiencing any technical problems, you can contact Anycubic's after-sale department here.
Competitors
Anycubic Mega i3 S vs Ender 3 V2 
The Creality Ender 3 V2 is better when it comes to the build volume. This model has an impressive build volume of 220 x 220 x 250 mm, compared to the Anycubic Mega i3 S, which measures 210 x 210 x 205 mm. In addition, Ender 3 V2 has a textured glass bed, which is one of the best 3D printing features. 
The Anycubic i3 Mega S supports PLA, TPU, ABS, HIPS and wood. In contrast, the Ender 3 V2 supports PLA, ABS, PETG, TPU, and third-party materials. In terms of print temperatures, the Anycubic i3 Mega S can reach 260°C, and the Ender 3 V2 can reach 255°C. 
Overall, both of these printers are incredibly affordable, enabling high-quality prints.
Anycubic i3 Mega S vs Artillery Sidewinder X1
Anycubic i3 Mega S and the Artillery Sidewinder X1 are definitely among the best 3D printers for beginners. The Artillery Sidewinder X1 stands out due to its direct drive extruder, AC heated bed, and low noise level. 
Additionally, Artillery Sidewinder X1 will appeal to designers and tinkerers because of its large 300 x 300 x 400 mm build capacity and elegant design. The Anycubic i3 Mega S has a lot smaller build volume that measures 210 x 210 x 205 mm.
Anycubic i3Mega S is compatible with PLA, TPU, ABS, HIPS, and Wood. At the same time, the Artillery Sidewinder X1 supports PLA, ABS, flexible PLA, TPU, Wood, PVA, and HIPS.
There is a slight difference between maximum temperature. While the Anycubic i3 Mega S can reach 260°C, the Anycubic i3 Mega S can get to 240°C. 
Overall, both 3D printers fall into the category of the best FDM machines, so you won't go wrong choosing any of them.
Customer Reviews
The overall rating of the Anycubic i3 Mega S is 4.1 out of 5 stars on Amazon. More than half of the people who have reviewed it (61%) have given it five stars.
Many users noted that the printer's price is budget-friendly. They were also incredibly pleased with its appearance. However, according to some users, this printer is a little noisy.
You can check out some customer reviews below:

Wrap Up
The Anycubic i3 Mega is a great printer for 3D printing beginners or enthusiasts interested in creating high-end models. The machine is well-built and easy to use, supporting several filament types. A large build area is one of its best features. 
Most importantly, this 3D printer provides good print quality at an affordable price. Lastly, I hope this Anycubic i3 Mega S 3D review has helped you decide whether this printer is the right choice for you.
FAQ
Is Anycubic i3 Mega S good?
Yes, the Anycubic i3 Mega S is actually one of the best FDM 3D printers. It offers incredible print quality, supporting a wide range of materials. Moreover, it is easy to use and set up.
What software does the Anycubic i3 Mega S use?
Anycubic i3 Mega S uses Cura software, which is one of the best slicing apps out there. Cura is a free and easy-to-use slicing app, excellent for 3D printing beginners and experts alike.
How big is the Anycubic i3 Mega S?
The Anycubic i3 Mega S 3D printer measures 410 x 475 x 458 mm.