3D Printer Pen - UK Top Picks
A 3D printer pen is frequently thought of as a toy or device for kids who wish to learn about 3D printing. However, these pens are getting more popular and advanced, with more functions and compatible materials.
We've created a list of the top 10 pens for various printing fans, dividing the options into four main categories – children pens, artists pens, professional pens, and hobbyist pens.
Last Updated: February 6, 2022
Advertiser disclosure
This page may contain links to our partners' products and services, which allows us to keep our website sustainable. This means that cybercrew.uk may receive a compensation when you sign up and / or purchase a product or a service using our links. However, all opinions expressed in this article are solely ours, and this content is in no way provided or influenced by any of our partners.
UK's Top-Rated 3D Printing Pens
Detailed Reviews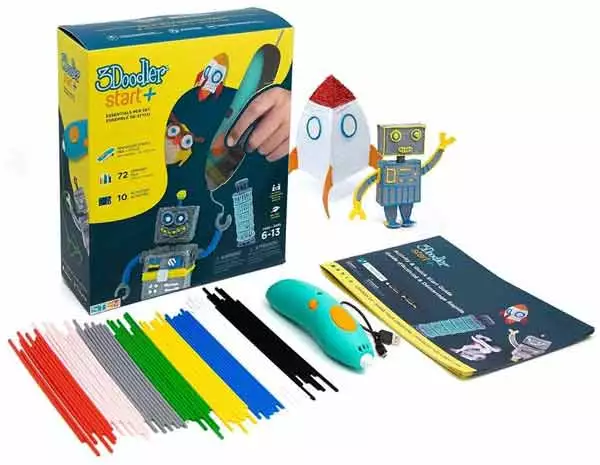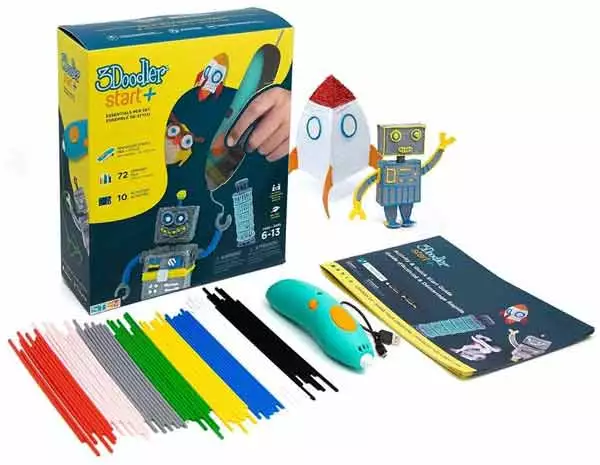 Art projects
Visit Website
Technology: Low-temperature nozzle/FDM
Consumables: 3Doodler Start "Eco-Plastic" only
Power: Rechargeable battery (Micro USB cable)
Price: Roughly £36.10
With 3Doodler Start, drawing feels good in the hands because there is no wire protruding out the back of it like a regular pen, so you will not get tangled up while using it. In addition, the controls are straightforward, which makes 3D drawing easier. Its unique feature is the filament used, known as "Eco-Plastic".
The filament used in 3Doodler is among the environmentally friendly materials, making it biodegradable. It also requires a far lower extrusion temperature than typical PLA and ABS filaments. Furthermore, this filament material makes the 3Doodler safe for kids to handle.
In addition, each filament strand provides 60 inches of plasticated doodle, so you'll have plenty of opportunities to try it out without spending any money on additional filaments.
Hobbyists
Visit Website
Technology: Hot nozzle/FDM
Consumables: ABS, PLA, FLEXY, wood
Power: Outlet
Price: £59.38
Kids should not use the 3Doodler Create+ without adult supervision since the nozzle gets extremely hot. On the bright side, unlike the child-safe pens, which use low-temperature materials, the Create+ can use standard 3D printing pen materials, including plastic filaments, flexibles, and wood filaments.
Furthermore, there is a window inside the chamber where the filament passes through, so you can check to see if everything is working correctly. In addition, Create +  comes with blockage cleaning and nozzle removal tools in case something goes wrong.
The new version of 3Doodler Create+ has dual-drive technology integrated into the pen, making plastic refills easier to put in and reducing the risk of material buildup. The 3Doodler is heavy and stable, with a high-end finish thanks to its glossy metal body. When it comes to 3D drawing, it's also precise, with the filament flowing smoothly and consistently.
Practicality
Visit Website
Technology: Hot nozzle/FDM
Consumables: ABS, PLA
Power: Outlet
Price: £42.64
Mynt3D has variable speed control and an LCD display that allows you to modify the thickness and flow of the extruder material and adjust temperatures from 130 to 230 degrees celsius. It also manages to alter the temperature grade by grade, giving the material that emerges better precision.
Mynt3D is also a vertical pen, so slowing down the extrusion speed is especially useful when drawing vertically. Also, this 3D pen handles tall, delicate constructions the best of all the pens compared.
Though it is lighter and the plastic casing is a bit less premium than the 3Doodler Create+, the Mynt3D  Pro feels almost as comfortable in hand as the 3Doodle pen. Mynt3D Pro includes the 3D pen, three colours of ABS filaments, and an A/C adapter.
Advanced features
Visit Website
Technology: Hot nozzle/FDM
Consumables: PLA, ABS
Power: Outlet
Price: £99.99
3Dsimo has created many 3D pens, including the Multipro tool. It's a 3D pen printing device that you can modify to serve a variety of functions. Of course, you can use it as a 3D pen, but you can also use it to solder, burn, and cut foam. On the other hand, the latest 3Dsimo Multipro edition set comes with even more attachments, including drills, an electric screwdriver, a heat gun, and a saw.
However, keep this pen away from children unless under constant supervision since it can get very heated, reaching 280 degrees celsius.
3Dsimo can work with the materials often used in desktop 3D printing. Moreover, the device has an OLED display that can show basic tutorials for each of the possible attachments. Each tutorial includes a brief explanation of how to correctly use the tools so that you can get the most out of the 3Dsimo Multipro 3D pen.
Everyday use
Visit Website
Technology: Hot nozzle/FDM
Consumables: PLA, ABS
Power: Outlet
Price: £28.12
You can use the Mynt3D Super to sketch, design, build, repair, and a lot more. It has the same replacement nozzle and gearbox as the Pro 3D pen. It does, however, have a more straightforward design. On the other hand, it lacks an OLED display and temperature control, so the pen has a more affordable price. Instead, it includes a temperature control screw for switching between ABS and PLA materials.
Thanks to the LED indicators, it is also effortless to use. The red light indicates power, while the green light flashes to signify heating mode and remains lighted to indicate ready mode. It features a 10 Watt output and a 5 Volt/DC 2A input power, making the pen secure to use outside. Mynt3D Super is ideal for children who enjoy arts and crafts because it does not get extremely hot when in use.
Children
Visit Website
Technology: Hot nozzle/FDM
Consumables: PLA, ABS
Power: Outlet
Price: £28.31
The Nulaxy (robot) appears to be among the best 3D pens for kids. Children will find it easier to operate the pen when they have spoken instructions. In addition, the Nulaxy 3D pen offers several useful features that make the pen easier to use for kids. Children as young as five can use this pen, according to the manufacturer, because it was designed to fit in their hands.
You can easily control the Nulaxy with two buttons, and the feed is automatic. That keeps the hand from being overworked. In addition, you can use this pen with ABS and PLA filaments. Its design alone makes it appealing to youngsters. Yet, children should only use it under adult supervision because of the risks of burns.
Detailed work
Visit Website
Technology: Hot nozzle/FDM
Consumables: PLA, ABS
Power: Outlet
Price: Roughly £72.10
SkyWriter is very appealing. It has a soft and thin design that fits wonderfully in your hand. That is the new ergonomic design, according to the maker. You also get a helpful pen holder in the bundle, a must-have for long, exhausting sessions.
The SkyWriter has a no-clog nozzle that keeps the filament stream flowing smoothly. Unfortunately, the item has to be plugged in via a power adapter, limiting its portability. However, the cord is light and doesn't restrict the pen's movement.
A high-resolution LED screen on the SkyWriter provides information about the material, temperature, and heating process. Two control buttons support it on each side. For achieving the best results, the pen uses advanced software that automatically finds the optimal temperature.
With SkyWriter, you can use ABS, PLA or wood material. The instructions emphasise the significance of selecting the correct material type before loading the filament to avoid potential problems. SkyWriter is warming up if you see a red indicator light. When the pen achieves the proper temperature, the light will turn green.
How to Choose the Ideal 3D Pen for You?
– BUYER'S GUIDE –
What is a 3D Printing Pen and How Does it Work?
A 3D pen resembles a bigger version of a regular pen or pencil. However, it uses plastic instead of lead or ink to function. Using the 3D pen is similar to writing with a standard pen or pencil. You hold it the same way, and you can use it in various ways.
You insert the plastic filaments, and once within the pen, it starts to melt by the heating technology inside the pen. The heat is strong enough to melt the plastic and convert it into a liquid state. After that, you can start drawing whatever you want with a pen. The advantage of 3D pens is that you can use them on nearly any surface.
Drawings you make using a pen and pencil are two-dimensional. With the 3D pen, on the other hand, you can create objects that have more depth and look more lifelike. Even though 3D pens are still relatively new on the market, there are many choices, and many of them are pretty affordable.
Functions of the 3D Printer Pen
There are a lot of factors when it comes to filament and design. The world's first 3Doodler model doesn't have the same design as the newest 3D pen models. 3Doodler, for example, uses plastic filaments to make drawing in the air simple. In the early stages of the 3D printing pen market, 3Doodler and Scribbler accounted for most items. They all use plastic to create 3D objects in the air.
The diameter of a plastic filament is the fundamental variation between different 3D pens on the market. For example, 3mm filaments are used in 3Doodler pens. On the other hand, in 3D pens like Aerb, 1.75mm plastic filaments are used. Because more 1.75mm filament types are available on the market, the latter method appears to be more popular.
Many 3D printing pens are designed to fit well for skilled pen artists and engineers, and you can fine-tune them for different tasks, such as 3D sculpting or spatial learning. The device has a clog-proof and sturdy nozzle, as well as an adjustable feed that allows you to control speed and flow effortlessly. In addition, the temperature of the 3D printer pen filament melting ranges from 130 to 240 degrees celsius.
Additional Features
The primary use of 3D pens is to create 3D pen art or objects. The functions and design make loading filaments, converting filaments, and drawing easier. Some additional features can also be beneficial. An excellent example of a valuable extra function is standby mode. Large LCD screens can also help a product stand out from the competition.
Moreover, thermal management, functioning LEDs, and other features are available on smart 3D pens.
Control method: With additional control, the quality of a 3D pen can improve. In plastic

3D pens

, for example, you can adjust the temperature. In a few models, you can additionally regulate the drawing speed. The adjustable feed can aid in regulating flow and drawing speed. Continuous speed regulation improves your drawing comfort and efficiency.

Design: Ergonomic design is becoming a need for 3D pens on the market. In the current market, slimmer

3D pens

are popular. The best items are ultra-compact and rechargeable, even via a USB port on a laptop. The way controls feel in your hand is primarily dictated by their design. The design should make it simple to access the screen, and your view should transition smoothly from filament to plastic dropping.

3D pen filament type: The type of filament you use influences your drawing style. It dictates how you will hold the pen and the grip you'll use. Filament includes the plastic component that enables drawing. There are currently more than a dozen diverse filament kinds on the market. Easy-to-replace filament types save you money in the long run by allowing you to use your 3D pen for a more extended period. Filaments are divided into four categories: standard, flexible, composite, and speciality.
3D pen price: The cost of a quality

3D pen

can range from as little as £10 to as much as £120. The cost is determined by the brand, features, ergonomics, and other considerations. A

3D pen

will cost you roughly £35 on average. Branded

3D pens

are usually more expensive than basic 3D pens. Adding innovative features to a pen can also significantly increase its cost.

3D pen reviews: You should believe online reviews and marketing claims. Check out

3D pen reviews

from customers on various shopping sites. Furthermore, be careful of faked reviews and recognise them when something appears to be too good to be true. It's the most simple approach to assess your product's quality and value. Before determining whether or not a product will work for you, you need first-hand information. For example, YouTube video reviews can provide additional information. This way, you can understand how these pens function.
If you are not ready yet to start printing with 3D printers, you can begin with a nice 3D pen. And now that you may get yourself a nice 3D pen, well, what's next? It's time to get to work on some 3D pen templates. Here are some of the best 3D pen templates to spark your creative side:
Acoustic guitar
Glasses
Bird feeder
Dinosaur skeleton
Butterfly
Aeroplane
You can download even more awesome 3D pen templates from 3Doodler's website
Best-Selling 3D Pens for Kids in the UK
If you are searching for a child-safe 3D pen that will keep your kid amused for hours without any potential danger of getting burned or hurt, here is the list of the best 3D pens for children of all ages:
3Doodler Start Printing Pen
Parner 3D Pen with LCD Screen
Nulaxy 3D Pen
Uzone Creative 3D Printing Pen
3Doodler Create+ 3D Printing Pen
Wrap Up
Finding the best 3D printer pen is difficult, mainly because there are so many 3D pen manufacturers, but only a few provide quality pens. If you want to be sure that you made the right choice, it's crucial to have an in-depth understanding of their features and performance.
Moreover, there are also low-cost 3D pens that perform well and 3D printing pens especially made for children. For example, 3D doodlers for children are safe and make a wonderful birthday or Christmas present.
FAQ
How to use a 3D pen?
Connecting your 3D pen to your power supply is the first step in using it. Next, temperature adjustability is essential since it allows you to modify the temperature to the type of plastic filament you're using. The next step is to put the plastic filament inside the pen. Finally, choose a speed and start drawing.
What is a 3D Printer Pen?
A 3D pen, like all 3D printing devices, works by melting a plastic filament and driving it through an extruder tip. That is very similar to the function of a hot glue gun. Furthermore, the melted material is highly flexible. You can attach it to a surface or sculpt it into any shape you like.
What is the best 3D pen?
The best 3D pen for both adults and children is the 3Doodler Create+.
How long does a 3D pen last?
It depends. After the pen is fully charged, you can use it for 45 minutes to an hour and a half. You can, however, continue to doodle even if the gadget is still charging.
What is a 3D pen used for?
3D pens are useful for various things. You can shape the plastic filament into almost any form and use it on nearly any surface. You can use it to decorate everyday objects and add more delicate motifs to them.
Is a 3D pen safe?
The 3D pen is safe if you know how to handle it correctly. However, you need to take specific care and safety measures to control the material extruded from a 3D pen.