Build volume: 10 x 6.7 x 6 inches
Dimensions: 20.25 x 16 x 15.9 inches
Weight: 21.5 kg
Connectivity: WiFi, Ethernet, USB
Print materials: Dremel Brand Eco-ABS, PLA, Nylon, PETG
Print diameter: 1.75 mm
Heated bed software: MacOS, Windows
Built-in camera: Yes
Dremel DigiLab 3D45 Review
Have you ever wondered what 3D printer characteristics are best suited for use in the classroom and by professionals? Well, in this Dremel DigiLab 3D45 Review, you can see how this printer meets criteria such as simplicity and dependability when it comes to printing.
Last Updated: January 27, 2022
Advertiser disclosure
This page may contain links to our partners' products and services, which allows us to keep our website sustainable. This means that cybercrew.uk may receive a compensation when you sign up and / or purchase a product or a service using our links. However, all opinions expressed in this article are solely ours, and this content is in no way provided or influenced by any of our partners.
Build volume: 10 x 6.7 x 6 inches
Dimensions: 20.25 x 16 x 15.9 inches
Weight: 21.5 kg
Connectivity: WiFi, Ethernet, USB
Print materials: Dremel Brand Eco-ABS, PLA, Nylon, PETG
Print diameter: 1.75 mm
Heated bed software: MacOS, Windows
Built-in camera: Yes
High-precision printing
STRENGTHS
Easy to use
High-precision printing
Fully enclosed
Full-colour IPS touch screen
WEAKNESSES
The Dremel DigiLab 3D45 has perfected the technique of generating high-quality prints in a short amount of time. This printer is a remarkable discovery, as it is a balance of every vital feature for a 3D printer.
It's also a great 3D printer choice when it comes to pricing, safety, and stability. So let's get right to the point and see the features that make this printer suitable for both educators and experts.
In this Dremel DigiLab 3D45 Review, you can see how this printer performs admirably considering hardware, software, and even print quality.
Features
Printer Setup
Print Quality
Software
Customer Service
Competitors
Customer Reviews
About Dremel DigiLab
The majority of 3D printer manufacturers are small businesses started by amateurs that specialise in 3D printing. However, Dremel, the legendary 89-year-old toolmaker from Illinois, is an exception.
Screwdrivers, drills, and sanders are among the company's most popular products. In addition, Dremel has a fantastic reputation as a toolmaker in the US, with multiple editorial honours from Popular Mechanics and other speciality tools and building journals websites.
3D printers like the 3D45 aren't part of Dremel's conventional product range. However, power tools and printers have one common element – they're both used to produce hardware elements, components, and more. So, it's evident that Dremel puts the same effort in creating and constructing the 3D45 as it does with its other tools.
Dremel DigiLab 3D45 Features
The Dremel 3D45 is a professional 3D printer that can print huge prints and is compatible with various filaments. On the other hand, it provides great bed adhesion and is dependable and safe. Essentially, DigiLab 3D45 is simple to operate since it comes with an extended range of valuable functions.

Dependable Name in the 3D Printing Industry
Dremel has designed the DigiLab 3D45 in the same way it developed every other device bearing its name. As a result, 3D45, according to the company, can function for hours without stopping or failing. In our Dremel 3D printer review, we will look into the bold statement of this company and see if this printer truly works so smoothly.
The printer features an HD camera with a resolution of 720 pixels. It provides remote printing process observation from outside the printer. Since you can connect the printer to it in multiple ways, you can view the printing process from any place or angle.
Since the 3D45 is a fully closed-frame 3D printer, it contains high-quality components such as metal hot end with smart technology that reduces clogging of the filament. In addition, a strong print bed heating element keeps the temperature consistent throughout the printing process.
Advance Filament Materials
Dremel DigiLab 3D45 is among the best consumer 3D printers. Educational institutions mainly use this printer since it can use various materials for printing.
When 3D printers have restricted printing possibilities, individuals use them for small enterprises rather than academic institutions where the education personnel conducts research.
Namely, Dremel DigiLab 3D45 can easily print with materials like Nylon polycarbonate, environmentally-friendly PLA (plant-based), and EcoABS, which all demand high printing temperatures.
Precise Printing
4.5-inch full-colour IPS touch screen
The Dremel DigiLab 3D45 consists of several parts that increase its accuracy. For example, there is a heated glass bed that has a fully removable construction. So, if you need to remove a printed piece from a continuous print job to produce another one, you can do it with ease.
The printer uses a two-point system rather than the nine-point method that could make it completely automatic, so the 3D45, as a result, has semi-automatic bed-levelling. In addition, the printer has a 4.5-inch touch screen interface that allows users to control several aspects of the printer.
Overall, each of the hardware components assists in printing precise and quality parts and functioning prototypes with a layer resolution of 50 microns.
Built-in Camera
The Dremel DigiLab 3D45 has a built-in HD camera (720 pixels) that enables users to watch and manage multiple printer processes remotely. That means that you can not only use this camera to observe what's going on while it's printing, but you can also use the film to make time-lapse videos.
When it comes to slicers for this 3D printer, the Dremel Print Cloud (a cloud-based slicer) allows users to monitor their printing process. Apart from minor lag and stalling, the camera performs quite well.
Direct Extrusion System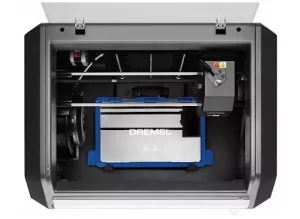 The Dremel 3D45 uses a Cartesian axis system. This technology uses three axes: X, Y, and Z to regulate the correct positions and direction of the print head. In addition, since this system is more precise than a delta or polar structure, the 3D45 printer is, therefore, more sturdy.
The printer's print head moves along the X and Y axis, while the print bed moves along the Z-axis, ensuring total precision and speed.
A direct extrusion system means that the printer's print head is directly positioned on a motor that loads the filament. That simplifies filament loading, contributing to the extrusion system's primary claim of being extremely simple to operate.
When it comes to the Dremel DigiLab 3D45 specs, here is a complete list:
Hardware
Extruder

:

All metal-hot end direct drive

Extruder max temperature

:

280 degrees celsius

Build plate

:

Heated glass

Print bed max temperature

:

100 degrees celsius

Build volume

:

10 x 6 x 6.7 inches

Weight

:

21.5 kg

Range microns

:

50-300

Connectivity

:

USB, WiFi, Ethernet

Touchscreen size

:

4.5-inch full-colour IPS

Material types

:

PLA, PETG, Nylon, EcoABS

Printer size

:

20.3 x 16 x 15.9 inches

Internal storage

:

8GB

Levelling

:

Semi-automatic

Electrical input rating

:

100-240 V, 47-60 Hz, 0.85-2.3 amp
Dremel DigiLab 3D printer software specs:
Software
Software options

:

Dremel DigiLab 3D Slicer, Dremel Print Cloud, Simplify 3D, Polar 3D, Cura

File type accepted by printer

:

GCODE, G3DREM, .g

File type accepted by slicer

:

STL, OBJ, 3mf, BMP, .g., .gcode, GIF, JPG, JPEG, PNG, x3d

Mac requirements

: macOS X version 10.9+

Windows requirements: Windows 7+
Dremel 3D Printer Setup
Loading the Dremel 3D45 filament for your first print takes about 10 minutes in general. Because the printer's bed levelling is semi-automatic, calibration should take no more than 5-6 minutes.
You can also double-check the bed levelling after every print to see how much it moved and ensure you haven't created an error. However, the spool holder of the 3D45 might appear to be too small to hold spools of filaments of various kinds.
In addition, you should keep the filament materials far from the 3D printer's door as it can compromise the temperature regulation. It takes less than 10 minutes to set this printer up completely, and the WiFi connects to the printer in under two minutes.

Print Quality
The printer has a fast print speed, a high layer resolution, the ability to print with advanced materials, and the ability to print parts with enormous build volumes and complex geometries.
Several websites test the print quality of this printer with various materials. For example, they make squares with holes, hexagons, figures, and other objects and report excellent results.
The print layer thickness varies from 0.1 mm to 0.2 mm, but the printer shows no lagging. Moreover, you can witness beautiful 3D printer objects with surfaces polished on each part even when printing a smartphone case.
Whether producing angled or inclined pieces, the printer stands up to the challenge of printing materials with various geometries and generating dimensionally accurate parts and working prototypes.
Dremel DigiLab 3D45 Software
The printer slices parts and prototypes with the Dremel DigiLab slicing software. The Dremel DigiLab 3D slicer is based on Cura, an award-winning program that many experts worldwide use to trade and print components and working prototypes.
The Cura 3D printer software was created by Ultimaker, which, like Dremel, is a well-known name in the 3D printing business. The software includes an easy-to-use interface that allows you to personalise as well as using recommended settings.
The Dremel DigiLab 3D slicer software allows users to preview their prints by selecting the layer view. This function lets you double-check that what you're printing is exactly what you want it to be, or you can update it and improve it.
The sole disadvantage of this software is that it does not have all of the Cura plugins. As a result, experts already working with Cura may experience some difficulty because the two software are incredibly similar but have few crucial differences.
Customer Service
There are times when you read a slew of unfavourable reviews about a company, all of which claim that they could not provide the level of service that their customers expect.
You don't have to worry about that since Dremel isn't one of those companies. Dremel's customer support employees are not only pleasant to speak with, but they are also knowledgeable. They also offer to stay with you online until you resolve your issue entirely.
Another great thing is that Dremel DigiLab's website already has a FAQ section. So, chances are, the solution to the problem (question) you have is already out there on the list.
DigiLab 3D45 Competitors
Dremel DigiLab 3D45 vs Prusa i3 MK3S
The Prusa does not have any ventilation, but the Dremel 3D45 does. Some filaments, particularly Nylon, contain many harmful toxins that are discharged into the air while printing.
Due to the dangerous chemicals, the Prusa must have some kind of a boxed cover to print many filaments. Keep in mind that the Prusa was the original 3D printer, and it didn't come with many features. On the other hand, 3D45 has many features, including a print cloud that lets you watch the prints from various angles.
DigiLab 3D45
Prusa Original i3 MK3S
Build volume

:




10 x 6 x 6.7 inches

Build volume

:




9.84 x 8.3 x 8.3 inches

Camera

:




Yes

Camera

:




No

Types of materials

:




Advanced materials

Types of materials

:




Advanced materials
Dremel DigiLab 3D45 vs MakerBot Replicator+
The maximum layer thickness of the Dremel 3D45 is 0.34mm. On the other hand, the MakerBot Replicator+ is 0.04mm smaller (0.3mm). However, the Dremel DigiLab 3D45 costs much more than the MakerBot Replicator+.
The Dremel DigiLab 3D45 has an average rating of 83% based on four expert reviews. In contrast, the MakerBot Replicator+ has a poor rating of 2.6 based on 123 reviews on Trustpilot. However, the MakerBot Replicator+ has three expert review awards, while the Dremel DigiLab 3D45 has won only one.
DigiLab 3D45
MakerBot Replicator+
Build volume

:

10 x 6 x 6.7 inches

Build volume

:




11.6 x 7.6 x 6.5 inches

Camera

:




Yes

Camera

:




Yes

Types of materials

:




Advanced materials

Types of materials

:




PLA, ABS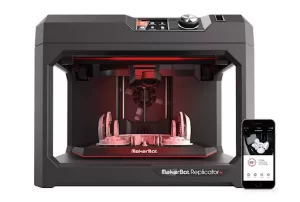 Dremel DigiLab 3D45 vs Ultimaker S3
For those with a bigger budget, the Dremel DigiLab 3D45 is an excellent pick. However, the printer is average and much pricier when comparing the Ultimaker S3 to its main competitors.
Many online reviewers praise the Dremel DigiLab 3D45. It performed admirably in the roundup of "The Best 3D Printers for 2021," earning the title of "Ranked 1 out of 10," indicating that it is a product worth considering.
DigiLab 3D45
Ultimaker S3
Build volume

:

10 x 6 x 6.7 inches

Build volume

:




13 x 9.4 x 11.8 inches

Camera

:




Yes

Camera

:

Yes

Types of materials

:




Advanced materials

Types of materials

:

Advanced materials
If you think that these printers are too advanced or pricey for your taste, you can check out our Best 3D Printers for Beginners article.
Customer Reviews
When we look into Dremel reviews, we see that it gets a lot of positive feedback. DigiLab has an average 3.0 rating out of 30 ratings on Trustpilot. However, this is a score for every product of this company, but most reviews are optimistic about the 3D45 3D printer.
Overall, the 3D45 printer receives good online reviews, from YouTube reviews and comments to professional reviews.

Wrap Up
Throughout this Dremel DigiLab 3D45 Review, you can see that this printer delivers great prints while also being a safe and high-quality 3D printer.
However, the quality of the printer comes at a cost. The Dremel DigiLab 3D45 3D printer price is a bit high. That is because most of the elements that influence printing prices are higher than the industry average. Nevertheless, it all depends on your needs, budget, and desires. Based on your goals and demands, it can be a superb printer that will serve you well down the road.
FAQ
Is the Dremel 3D45 worth it?
Yes, it's a superb 3D printer with many features. It is suitable for educational, consumer, and even home usage since it is fully enclosed and safe.
Can Dremel 3D45 print carbon fibre?
Yes. It can print abrasives if you buy the Micro Swiss A2 Hardened Steel Plated Nozzle. The nozzle can endure the most rigid materials and is designed to be easily installed on the 3D45 printer.
How does the Dremel DigiLab 3D45 work?
Extruding liquid plastic through a small nozzle that shifts around accurately under computer control is how a 3D printer works. First, it prints one layer, then pauses for it to dry before printing the next layer on top of it.
How much does a Dremel 3D printer cost?
The printer's price on the official website is roughly £1395. Similarly, you can buy it from Amazon for £1,399.02.