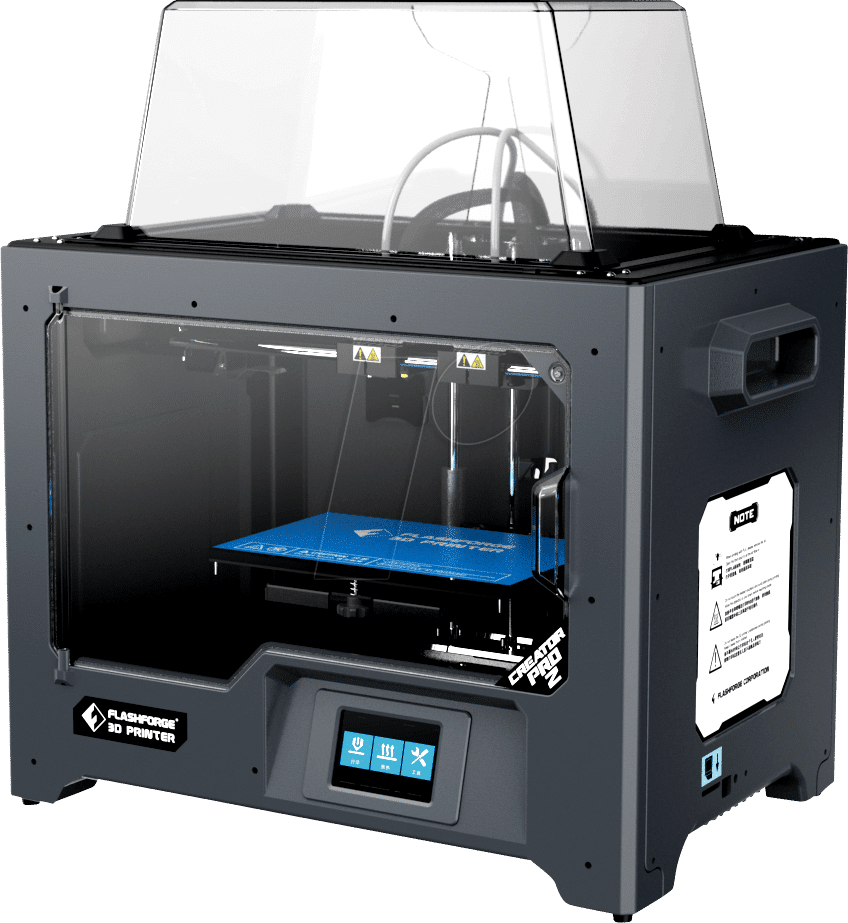 Print Technology: Fused deposition modelling (FDM)
Build Volume: 225mm x 145mm x 150mm
Maximum Travel Speed: 100mm/s
Levelling: Manual
Connectivity: USB, SD Card
Extruder/Hot End: 2
Nozzle Diameter: 0.4mm
Maximum Print Bed Temperature: 240°C
Filament Diameter: 1.75mm
Supported Materials: PLA, Pearl PLA, PVA, ABS, ABS Pro, HIPS
Flashforge Creator Pro 2 Review
Looking for an affordable 3D printer? If so, read this Flashforge Creator Pro2 Review and let me help you with your decision. Let's see if this 3D printer is worth your time and money!

Last Updated: June 11, 2022
Advertiser disclosure
This page may contain links to our partners' products and services, which allows us to keep our website sustainable. This means that cybercrew.uk may receive a compensation when you sign up and / or purchase a product or a service using our links. However, all opinions expressed in this article are solely ours, and this content is in no way provided or influenced by any of our partners.
Print Technology: Fused deposition modelling (FDM)
Build Volume: 225mm x 145mm x 150mm
Maximum Travel Speed: 100mm/s
Levelling: Manual
Connectivity: USB, SD Card
Extruder/Hot End: 2
Nozzle Diameter: 0.4mm
Maximum Print Bed Temperature: 240°C
Filament Diameter: 1.75mm
Supported Materials: PLA, Pearl PLA, PVA, ABS, ABS Pro, HIPS
Multi-color prints
STRENGTHS
Supports extruder calibration
Excellent user experience
Independent dual extrusion system
Compatible with a wide range of materials
Great multi-material print mode
WEAKNESSES
Wi-Fi functionality missing
No removable print bed
Today, the Flashforge Creator Pro 2 is regarded as one of the top 3D printers on the market. That is because it introduces plenty of new features, giving you more flexibility and confidence while printing. But, most importantly, the Flashforge Creator Pro 2 is an excellent dual extruder FDM 3D printer that will provide you with an excellent 3D printing experience.  
In this Flashforge Creator Pro 2 Review, I will cover the following:
About Flashforge Creator Pro 2
Known for its selection of high-quality yet affordable 3D printing devices, the Shenzhen-based manufacturer Flashforge is experienced in fostering and promoting 3D printing innovations. This company has been efficient in developing high-quality and affordable 3D printers in the last ten years. 
Flashforge Creator Pro 2 is an advanced version of the Creator Pro, and it is larger than most desktop 3D printers. Instead of a single printhead, it uses two separate printheads, which gives you the flexibility to print a variety of new print modes. Also, unlike most 3D printers, the Flashforge Creator Pro 2 is a closed unit. 
NOTE: This printer is a good option if you're going to complete a huge project in a short amount of time. 

Flashforge Creator Pro 2 Features
Design
The Flashforge Creator Pro 2 brings many benefits to the user with its sturdy design. Featuring two independent dual extruders, it offers endless possibilities. Whether you want to print in multi-colour, duplicate colours during the process, or mirror your prints simultaneously — this fine machine can handle it. 
The Creator Pro 2 is a closed unit made of heat-resistant metal, which means that it minimises warping and offers excellent 3D printing results. It lacks the raw building volume of open models but still ensures the ability to maintain a constant temperature. The most significant advantage of this printer is that it doesn't need continuous ventilation during the printing process.
The Flashforge Creator Pro 2 premium sturdy plastic exterior is combined with an acrylic door and top cover to keep in the heat, making the machine look visually pleasing. In addition, its front door opens almost 180°, making it easy for you to remove the bigger prints. 
Furthermore, soluble support structures allow complicated overhangs to be printed and later removed — which means that you can print objects of higher quality. Due to the printer's size and the fact that it uses dual rails for the X-axis, its direct-drive extruders are heavy. However, that is not a huge issue.
Controls
The Creator Pro 2 has a three-point bed levelling system, which features three knobs that control the height of the print plate. Instead of being completely vertical, the controls are now at a 45° angle — a small touch, but a helpful one nonetheless. When a certain amount of friction is felt between the nozzles and plate, the user is required to slide a levelling card between them and lock it in. 
Also, another thing worth mentioning is the expert mode, which is meant for more experienced 3D printer users. It offers a full range of advanced print parameters and complete control over the build's outcome. 
Dual Extruders & Multi-Color Models
The printer's independent dual extruders consist of two printing heads that move simultaneously or individually, allowing you to double your print output. You can use two colours with soluble support, in a mirrored or duplicate mode. In both modes, each print head simultaneously prints the same model. 
The most significant advantage of this 3D printer is that it allows you to create fantastic multi-coloured models by quickly producing two halves of a model in one print job. This means you can print in multiple colours with two different filaments without breaking a sweat. 
Another great feature of this 3D printer's dual extruder is the Mirror Printing mode which allows you to print two symmetrical models and mirror them. You will use this mode for printing two objects you need mirrored duplicates of or printing a complicated model in two halves to glue together afterwards.
Heated Print Bed and Enclosure
A heated print bed allows compatibility with various filament types. The heated bed will reduce warping and improve adhesion even for the classic PLA. Note that ABS, PETG, and other types of plastic offer different qualities, such as strength and chemical resistance. PETG is especially valued for its ease of forming and transparency. In addition, it is a popular choice for 3D printing due to its low cost, low forming temperatures, and strong material properties. Additionally, the enclosed construction can keep heat in for materials that warp more when cooled.

Setup and Print Quality
Setting up the Flashforge Creator Pro 2 3D printer is straightforward. A little setup is required, but it's not too difficult or time-consuming. The extrusion modules come detached from the printer, but the mounting areas are already located on the rails to be screwed in easily by one person. Additionally, two plates are supplied to prevent oozing from the inactive print head while both heads are in use. 
The Flashforge Creator Pro 2 isn't just full of gimmicks with a heated print bed, precise nozzle heads, and an easy-to-level print bed. It can also produce high-quality prints. 
NOTE: To ensure that your print heads print in the same position, you should level them and run the calibration. Also, make sure to load the filament before doing this step.

Flashforge Creator Pro2 Software
The Flashforge Creator Pro 2 is powered by a proprietary FlashPrint slicing software that enables you to fine-tune the printer's performance quickly. In situations where you may forget to generate shells, rafts, supports, or cleaner pillars, the FlashPrint software offers to automatically generate them, saving you the effort of reslicing or reprinting. This software is much better than the older ReplicatorG software.
In addition, the FlashCloud platform provides several features, including a smart support system, multi-printer management, infill level, rafts, brims and skims, etc.

Customer Support
The Flashforge Creator Pro 2 has one of the best customer support services in the 3D printing industry. It offers a guaranteed response to customers' issues and a 30-day money-back guarantee. 
Furthermore, this printer comes with excellent instructions that include detailed troubleshooting guides, valuable documentation, and other useful tips. It also has a one-year warranty.
Note that Flashforge even provides tutorials for beginners who have never used a 3D printer before, which is amazing!

Competitors
Flashforge Creator Pro 2 vs Prusa i3 MK3
Both 3D printers ensure the excellent quality of the printed objects. However, since printing beds play an important role in ascertaining printing quality, the Prusa i3 MK3 performs better with removable ones. 
In addition, Prusa's magnetic printing bed is easy to attach and remove with magnets, while Flashforge lacks this feature. This magnetic feature makes cleaning and setting the printing bed very easy. 
It is safe to say that the Prusa i3 MK3 wins since it has an auto bed levelling system which is much more efficient than the manual levelling of the Flashforge Creator Pro 2 3D printer.  3D printers that feature auto levelling need to make minor adjustments to keep the print bed and nozzle at the correct distance throughout the print, improving the print quality and bed adhesion. 
Finally, both printers are reasonably priced and capable of handling the most common filaments. 
Flashforge Creator Pro 2 vs Adventurer 3
While the Flashforge Adventurer 3 is one of the best 3D printers for beginners, the Flashforge Creator Pro 2 is great for professionals and big projects. Both printers are well-designed and fully closed. Moreover, the Flashforge Creator Pro 2 offers higher-resolution prints, with a 225mm x 145mm x 150mm build volume, while the Adventurer 3 has a 150mm x 150mm x 150mm capacity. 
So, which printer is better? In my opinion, the Adventurer 3 is more efficient and user-friendly. It is better at loading material and bed levelling. However, both 3D printers support a dual extrusion system, meaning you can use two different filaments when creating your prints.
The Adventurer 3 is quick to connect to a Wi-Fi network, taking up to two minutes. Once connected, you can quickly start with your print job using a computer connected to the network. By contrast, a Wi-Fi connection is not possible with the Flashforge Pro 2.

Customer Reviews
I've checked a number of available reviews and found that many users were happy with the performance of this 3D printer.
Amazon.com currently features many reviews, which result in a rating of 3.8 out of 5 stars. Moreover, 55% of reviewers gave five stars to the Flashforge Creator Pro 2. Most of them were impressed by the quality of prints, ease of use, levelling and calibration process, and more. In this Flashforge Creator Pro2 review, you can check out the customer reviews too.
Wrap up
Hopefully, this Flashforge Creator Pro 2 review has helped you see all the benefits of using this printer.
Flashforge Creator Pro2 is an affordable 3D printer that surely takes the printing precision and quality to a new level. So, if you are searching for a reliable machine with a fully enclosed all-metal frame design that ensures consistency, broadens the range of printable materials, and provides extra safety during printing, this is one of the best 3D printers for you! 
FAQ
Which Flashforge printer is the best?
With an independent dual extruder system, the FlashCreator Pro 2 3D printer is the best and most efficient 3D printer out of all Flashforge printers. It comes with various advanced features best-suited for professionals. 
Is Flashforge Creator Pro 2 any good?
Yes, the Flashforge Creator Pro 2 is a good and reliable 3D printer. According to reviews, it provides an excellent user experience.
How much is a Flashforge Creator Pro 2?
The Flashforge Creator Pro2 is moderately priced at £649.
What software does Flashforge Creator Pro 2 use?
The Flashforge Creator Pro 2 is equipped with a proprietary software called FlashPrint. This software is easy to use, offering basic and advanced settings that allow you to choose multiple printing options.