BUILD VOLUME: 11.6 x 7.6 x 6.5 inches
PRINTER DIMENSIONS: 20.8 x 17.4 x 16.2 inches
SUPPORTED MATERIALS: MakerBot PLA, MakerBot Tough, bronzefill, copperfill, woodfill
WEIGHT: 18.3 kg
FILAMENT DIAMETER: 1.75 mm
CONNECTIVITY: USB Drive, USB, Ethernet, Wi­-Fi
BUILT-IN CAMERA: Yes
MakerBot Replicator+ Review
In this MakerBot Replicator+ Review, you'll see this printer's innovative features that make it one of the most potent competitors among 3D printers in its price range.
Last Updated: February 6, 2022
Advertiser disclosure
This page may contain links to our partners' products and services, which allows us to keep our website sustainable. This means that cybercrew.uk may receive a compensation when you sign up and / or purchase a product or a service using our links. However, all opinions expressed in this article are solely ours, and this content is in no way provided or influenced by any of our partners.
BUILD VOLUME: 11.6 x 7.6 x 6.5 inches
PRINTER DIMENSIONS: 20.8 x 17.4 x 16.2 inches
SUPPORTED MATERIALS: MakerBot PLA, MakerBot Tough, bronzefill, copperfill, woodfill
WEIGHT: 18.3 kg
FILAMENT DIAMETER: 1.75 mm
CONNECTIVITY: USB Drive, USB, Ethernet, Wi­-Fi
BUILT-IN CAMERA: Yes
Educational purposes
STRENGTHS
High-speed printing
Excellent software
Camera
Easy to use
WEAKNESSES
Quite expensive
Print glitches
Compared to its prior versions, the MakerBot Replicator+ has more features and upgrades in terms of design and speed. This time, MakerBot has excelled in luring the professional community to the general-purpose 3D printing field.
The Replicator+ has good printer performance and a great software bundle that will attract those who teach 3D printing or design. In this MakerBot Replicator+ Review, I will focus on the flaws and strengths this printer has.
About MakerBot

Design

MakerBot Replicator+ Features

What's in the Box

Setup

Print Quality

MakerBot Replicator+ Software

Customer Service

Competitors

Customer Reviews
About MakerBot
MakerBot Industries, LLC, based in New York City, is an American desktop 3D printer company. Bre Pettis, Adam Mayer, and Zach Smith formed it in January 2009 to continue the RepRap Project's early growth.
The company has sold over 100,000 desktop 3D printers internationally as of April 2016. It also released six generations of 3D printers since 2009, the most recent of which are the Replicator+ and Replicator Mini+.
Design
Because the all-black Replicator+ is so massive (20.8 x 17.4 x 16.2 inches), it's best to keep it on its desk or flat surface. The printer is 18.3 kg in weight and has an open front, sides, and roof. Its sturdy yet open frame allows easy access to the print bed and observation of prints in process.
However, working around the house if you have children can be a little difficult because of the printer's size and weight. As a result, many experienced 3D printing professionals embraced the Replicator+ since it has 25% more build volume and is 30% faster than its older version.
MakerBot Replicator+ Features
Filament
MakerBot produces 1.75 mm polylactic acid (PLA) filament in 2-pound spools in primary and custom colours for this printer. In addition, MakerBot's new Tough PLA filament, a PLA composite supplied in a bundle, is also compatible with the Replicator+. Tough PLA is a robust but flexible material ideal for engineers and other specialists who require consistency and endurance.
Smart Extruder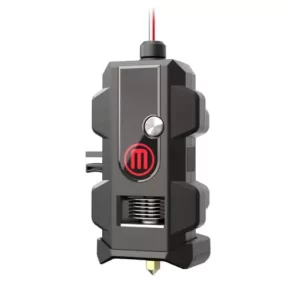 Because magnets keep it in place, the Smart Extruder+ is easily removed or installed by simply snapping the extruder or unsnapping. For starters, it identifies when you've run out of filament and immediately pauses the print; otherwise, you'd have to scrap the object. It also notifies the MakerBot Desktop software as well as the MakerBot Mobile iOS or Android application.
Controls
You can control the Replicator+ straight from the devices, the MakerBot desktop apps on a PC or Mac, or the MakerBot app for iOS or Android. But, of course, you'll also be using the big, transparent 3-inch LCD screen with two buttons and a combo button on the printer. You can use them to start and stop prints, monitor the printing process, and adjust parameters.
Noise and Safety
With open-frame printers, there is always a risk of getting burned by handling the hot extruder. However, with the Replicator+, that is almost impossible.
The extruder nozzle is at the back of the extruder component, making it difficult to access from the front or sides. In addition, the mechanism that holds and drives the extruder assembly blocks access from the top. With just about any open-frame printer, that kind of design should keep kids and adults as protected as possible.
The Replicator+, like many 3D printers, produces a variety of sounds, from engines revving to strangely electronic tunes. However, the printer is a lot quieter than the prior Replicator version.
Build Volume and Heated Bed
The Replicator+ has a build volume of 11.6 x 7.6 x 6.5 inches, totalling 555 cubic inches. Nevertheless, build volume isn't as important: most consumers won't print anything that will completely fill this volume, and printing massive objects would take a lot of time.
The print bed is not heated and has a detachable plastic layer on which the print material sticks. That is simply replaceable since MakerBot sells additional 3-sheet sets. In addition, you can quickly remove the print bed component by dragging it forward, making it easier to remove large or complex prints.
What's in the Box?
Makerbot Replicator+ 3D printer
Makerbot product safety information booklet
Smart extruder+
4mm hex key
Large Makerbot PLA filament spool (2 pounds)
Power cord
USB A-to-B cable
For some products, items in the package may alternate.
Setup
It takes only a few minutes to set up the Replicator — simply open the package, plug it in, and insert the filament. However, the entire process takes about 20 minutes, including the printer's time to update its software.
Next, you should connect to the Wi-Fi network and download a smartphone app to complete the first stage of the setup. Unfortunately, there is no indication of which OS versions are compatible with the mobile app's configuration.
Before you finish the final stage of the setup, you first have to set up an account with MakerBot. That adds the ability to read and print documents from a distance. Aside from that, the mobile phone app is straightforward to use, and even beginners will find it helpful while setting up the 3D printer to print beautiful STL files.
Through the mobile app, you can monitor the whole process of your printing and control the printer.
Print Quality
MakerBot's print quality is adequate and superior to that of most professional 3D printers. With a price tag of roughly £1533.48, though, one would anticipate better outcomes. In addition, the company could have focused on improving the print quality even more.
The printer produces good print quality and fine details. However, there are a few issues, such as the 3D printer's habit to leave stringy filament parts on the finished objects. Although you can easily remove them, they do leave a mark.
When you use fine detail settings, the printer can make delicate and spectacular detail curves. However, with quick printing, you can notice that the prints are not as smooth as they should be. Expect a few harsh edges, but they'll be acceptable enough to be counted among the better prints.
The non-heated build plate is the main problem that makes this printer's quality problematic. Even with flexible filaments, heated plates lead to better outcomes of finished models.
MakerBot Replicator+ Software
In addition to the hardware upgrades, MakerBot has launched MakerBot Print, its first significant software update in years. The software replaces MakerBot Desktop and is a "fully new software stack" created from scratch.
The most noticeable improvements are that it will automatically organise objects across several build plates. In addition, it includes plenty of new infill options and functionalities, including Minfill.
The MakerBot Print app, which is compatible with this printer, is nearly perfect. You can start the printing process in a couple of seconds using simple but powerful commands. Simply open the print file and forward the printing instruction. In addition, you can even save data to a USB drive or another drive.
You can also use the app on a smartphone or a tablet. As a result, you can print using a Wi-Fi connection and monitor the whole process over your phone.
Customer Service
You can contact their customer support team by phone, email, or live chat if you have any problems repairing your printer, current orders, product registration, or other issues.
However, many customers claim that they've had trouble with the customer support team. For example, even though some of the customers paid for the maintenance service, the support team didn't seem efficient in solving the problem.
Competitors
MakerBot Replicator+ vs Dremel DigiLab 3D45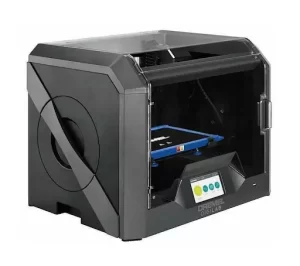 The Dremel DigiLab 3D45 is a fantastic alternative for a simple-to-use, trustworthy, accessible, and impressive 3D printer for your institution. It's a plug-in 3D printer, and you can start printing in less than 20 minutes after configuring it. In addition, it's easy to use, especially when working with unique materials.
Capable of processing advanced materials
Easy to monitor and interfere in the printing process
Transparent and operable door
The MakerBot Replicator+ 3D printer is a good choice if you need a larger build capacity to rapidly and efficiently manufacture high-quality concept models and be more imaginative. In addition, it's a superb 3D desktop printer for experts and educators that comes with various helpful workflow features.
Excellent range with Wi-Fi
Start printing in two clicks
MakerBot Print app to launch print jobs
Ultimaker 2 vs the MakerBot Replicator+
The MakerBot Replicator+ only employs a few materials and requires minor adjustments. Still, the Ultimaker's temperature settings and build platforms require constant monitoring. Moreover, the MakerBot prints swiftly but with a resolution of 100 microns, whereas the Ultimaker 2 prints with far greater detail and accuracy.
The Ultimaker 2 certainly has more features when it comes to its price; from accuracy to build volume, it is ahead of the Replicator+. Unfortunately, there are just too many sacrifices in the Replicator's construction for the sake of a smart extruder.
MakerBot Replicator+ vs Ender 5 Pro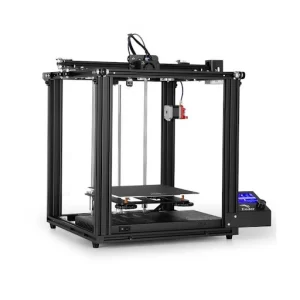 The Creality Ender 5 Pro is a good choice if you want an efficient printer that makes the slightest noise at a low price. In addition, it's one of the most trustworthy printers on the market, with excellent print volume and build quality.
Allows quieter and accurate printing
Strong cube frame
Enhanced filament tubing
The Smart Extruder+, a colour LCD screen, and MakerBot Print 3D printing software are some of the remarkable features that make the Replicator+ 3D printer the printer of choice for beginners and experts.
Build Volume: 11.6 x 7.6 x 6.5 inches
Printing Speed: 1.9 inches per second
Materials Used: PLA; MakerBot Tough PLA
Customer Reviews
On Trustpilot, the MakerBot company has a 2.6 out of 5 stars rating. However, the rating is not that reliable since there are just 123 global ratings. On top of that, most of them are good, with a 5-star rating accounting for 49% of all reviews. On the other hand, 14% of reviewers gave the company a one-star rating.
Wrap Up
Throughout this MakerBot Replicator+ Review, you could see that this 3D printer is a significant printer innovation regarding performance and customer experience. From the quicker motors to the addition of the MakerBot Print software, the Replicator+ is a powerful 3D printing machine.
Replicator+ is the best 3D printer for you if you would like a printer that performs admirably and doesn't require you to become a specialist to use it. The Replicator+, on the other hand, will not work for individuals who wish to explore printing with more advanced materials due to the lack of compatibility with third-party filaments.
FAQ
What does a MakerBot Replicator do?
It allows you to find 3D prints, prepare them, manage them, and print them. In addition, because the Replicator+ is cloud-enabled, you can use MakerBot Print or the MakerBot Mobile apps to control it from afar.
Is the MakerBot Replicator worth it?
It depends. It performs admirably across the field and has many valuable features. By all means, buy one if you're a collector or 3D printing lover; however, most people can find something similar for a lower price.
Does MakerBot Replicator have a heated bed?
No, it has a Flex Build Plate. The printer can only print with a few types of filaments, which is relatively safe. That eliminates the need for a heated bed.
Why is MakerBot so expensive?
The company maintains websites with a variety of community-created designs for ready-to-print specifications. Aside from that, they frequently offer phone/email assistance as well as a warranty. Its devices are pricey because of the convenience and advantages they provide.