3D Printing Technology: Fused Filament Fabrication (FFF)
Build Volume: 110 x 120 mm
Supported Materials: PLA, PLA+, ABS, Wood Fill, Copper Fill, Steel Fill, Bronze Fill
Extruders: 1
Filament Diameter: 1.75 mm
Printing Speed: Up to 170mm/sec
Resolution: 40–200 microns
Connectivity: USB, SD Card, Wi-Fi
Monoprice Mini Delta V2 Review
Are you looking for an affordable 3D printer with a decent print quality and fast print speed? Check out this Monoprice Mini Delta 2 review because this printer might fulfil all your expectations.
Last Updated: May 11, 2022
Advertiser disclosure
This page may contain links to our partners' products and services, which allows us to keep our website sustainable. This means that cybercrew.uk may receive a compensation when you sign up and / or purchase a product or a service using our links. However, all opinions expressed in this article are solely ours, and this content is in no way provided or influenced by any of our partners.
3D Printing Technology: Fused Filament Fabrication (FFF)
Build Volume: 110 x 120 mm
Supported Materials: PLA, PLA+, ABS, Wood Fill, Copper Fill, Steel Fill, Bronze Fill
Extruders: 1
Filament Diameter: 1.75 mm
Printing Speed: Up to 170mm/sec
Resolution: 40–200 microns
Connectivity: USB, SD Card, Wi-Fi
Fast 3D printing
STRENGTHS
Responsive touch screen
Advanced auto levelling
Fast print speed
Affordable price
WEAKNESSES
Print area could be bigger
If you don't believe a low-cost printer like the Monoprice Mini Delta V2 could produce high-quality prints, you're wrong. Even though it is affordable, this desktop 3D printer boasts an open build area and fast printing speed.
In this Monoprice Mini Delta V2 review, I'll guide you through all the essential features of this 3D printer so you can make an informed purchase decision. This article will cover the following topics:
About Monoprice Mini Delta V2 
The Mini Delta V2 is an update of the Mini Delta 3D Printer from Monoprice, one of the world's top 3D printer brands. This 3D printer is reliable and fast, coming with many advanced features. 
The Monoprice Mini Delta V2 is a reliable and affordable machine, as well as one of the best 3D printers for beginners. It is easy to use and navigate, featuring an adaptive touch screen.
Keep reading to learn more about its design, features, setup, print quality, software, and more.
Design
The Monoprice Mini Delta V2 3D printer boasts a compact and sleek design, featuring a build area of 110 x 120 mm. Even though the build area is exposed, this model doesn't have difficulties keeping a consistent temperature.
However, there are a few safety issues that come with open-frame 3D printers. Even though they allow you to observe the progress of your print jobs, they also pose a risk to young children or anybody who isn't aware of the danger of touching the hot extruder nozzle. 
The Delta 2 features three spider-like arms with a print head located in the middle. The print head may be moved anywhere in the print area by coordinating all three arms.
This 3D printer weighs 1 KG (2.2 LBS) and has a small print area that measures 110 x 120 mm. It is also circular, instead of the rectangular size of other standard printers.

Materials
The Mini Delta V2 supports various filament types, including PLA, PLA+, ABS, Wood Fill, Copper Fill, Steel Fill, Bronze Fill, etc. 
ABS was the most common 3D printing material until PLA showed up. PLA is currently the most popular material in FDM 3D printing. It is suitable for a wide range of applications and comes in various composites and colours.
Print Temperature
The maximum extruder temperature is 180 ~ 260°C, while the build plate temperature ranges between 35~60°C. It's worth mentioning that PLA prints best at around 210 °C. 
Features
Touch Screen
The Mini Delta V2 features a small but responsive touch screen that allows you to access the printer's options and settings easily. It can be operated using a fingertip or the included plastic stylus. 
Automatic Bed Levelling
Before starting any 3D print, it's important to make sure your bed is levelled. Unlevel beds often result in print quality issues, such as warping or ruined prints, which means wasted materials. With Mini Delta V2, you can forget about manual levelling. Its automatic bed levelling feature works great.
Extremely Quiet Driver Motors
Thanks to quiet driver motors, the Mini Delta V2 works at a whisper-quiet 30dBA, which is significantly quieter than the previous generation.
Setup and Print Quality
The Monoprice Mini Delta V2 3D printer is easy to operate. First, you'll need to create your print file in Cura or another program. Then, copy it onto the microSD card and hit the print button. Once ready, the Mini Delta V2 lays down the first print layer on the heated print bed and then moves up to do subsequent layers.
This 3D printer can produce exceptionally detailed prints. If you want to improve the quality of your models, simply lower the print speed.
The following accessories are included with the Mini Delta V2:
MicroSD™ card

Touchscreen stylus

Filament holder

Hex wrench

Plastic scraper

Power adapter

USB cable

Power adapter 

AC power cord

UK and EU plugs

Quick install guide
Software 
Cura and several other open-source 3D printing slicing software programs are compatible with Mini Delta V2. 
Cura 4.3 software is the latest version of the software released by Ultimaker. It offers a wide range of new capabilities, such as:
Adjusting the angle at which support-infill and interfaces are printed

Choosing the correct Z-seam positions

Improving print strength by randomising the infill start position

Slowing down printing when small features are detected

Limiting the appearance of a joint when coasting

Controlling the percentage of infill

Controlling layer height or resolution
Customer Support
Getting technical assistance is straightforward. You can contact Monoprice customer support via phone, email or chat.
You can also check out FAQs on the official site in case you have some issues with Mini Delta V2.
Note: Mini Delta V2 comes with a one-year warranty and a 30-day money-back guarantee. 
General Specifications
| | |
| --- | --- |
| 3D Printing Technology | Fused Filament Fabrication (FFF) |
| Build Volume | 110 x 120 mm |
| Materials Supported | PLA, PLA+, ABS, Wood Fill, Copper Fill, Steel Fill, Bronze Fill |
| Extruders | 1 |
| Filament Diameter | 1.75 mm |
| Printing Speed | Up to 170mm/sec |
| Resolution | 40–200 microns |
| Connectivity | USB, SD Card, Wi-Fi |
Monoprice Mini Delta V2 Competitors
After looking at Mini Delta V2's advantages and disadvantages, let's see how this 3D printer compares to its main competitors.
Monoprice Mini Delta V2 vs Select Mini V2
Monoprice's Mini Delta V2 and the Select Mini V2 are two of the lightest fully-functional 3D printers available on the market. In terms of differences, the Mini Delta V2's heating bed gets heated more quickly and retains heat more reliably.
Mini Delta V2's blazing print speed reaches up to 170mm/s, and its max resolution is 50 microns. When it comes to the Select Mini V2, it is a step behind. Its resolution is 100 microns, and the print speed is 55 mm/s. Unlike the Select Mini V2, Mini Delta V2 can be connected to a Wi-Fi network. 
Mini Delta V2 is overall a better 3D printer, sporting better specs and print quality.
Monoprice Mini Delta V2 vs Monoprice Mini Delta
Two Monoprice Mini Delta V2 upgrades that distinguish this 3D printer from its predecessor are print speed and wireless connectivity. The print speed of the Mini Delta is up to 150 mm/s, while the upgraded V2 model is slightly faster at 170 mm/s. Unlike Mini Delta, Mini Delta V2 supports wireless printing, which is a big plus.
The V2 has an internal cooling fan exposed to the back of the printer, whereas its predecessor does not. In addition, it has an improved all-metal hot end that enhances heating and prevents clogging.
Customer Reviews
I looked up customer reviews for the Monoprice Mini Delta V2 on Amazon. The overall rating is 3.8 out of 5 stars, and almost half of the people who have reviewed it (48%) have given it five stars.
Many users noted that the printer is incredibly fast. In addition, they are impressed with the auto levelling feature and how quiet the printer is. They also revealed that getting started with this 3D printer is easy.
You can check out some user reviews below: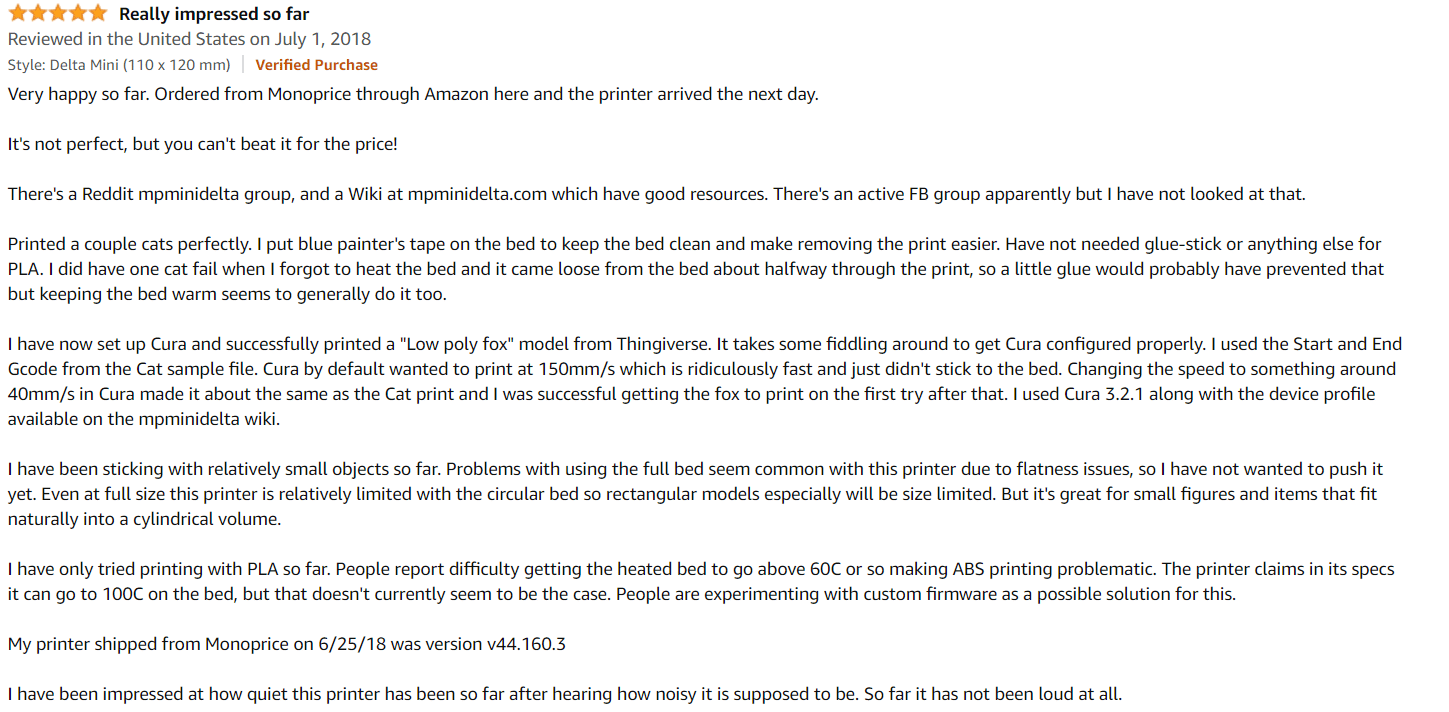 Wrap Up
This Monoprice Mini Delta V2 review aimed to examine the features that make this affordable 3D printer unique. We've seen that this 3D printer supports multiple filament types and boasts an excellent print speed of up to 170 mm/s. 
Buying a 3D printer is a significant investment since these machines are not cheap. However, the Mini Delta V2 has what most top 3D printers lack — an affordable price. So consider giving it a chance.
FAQ
Are Monoprice 3D printers good?
Yes, Monoprice 3D printers are generally good. Monoprice offers a wide range of printers at different price points, all with quality print results. Customers have been happy with the affordable price and print quality of MonoPrice printers. Additionally, MonoPrice printers are easy to set up and use, which makes them great for beginners.
Can the Monoprice Mini Delta Print PETG?
Yes, the Monoprice Mini Delta 3D printer can print PETG. This filament is known for its strength and flexibility, making it an excellent choice for many projects. 
How do you add a Monoprice Mini Delta to Cura?
To add a MonoPrice Mini Delta to Cura, take the following steps:
Connect the printer to your computer.

Open Cura and go to file > Preferences.

Scroll down to the Printers section and select

Add Printer

. 
You should see the MonoPrice Mini Delta listed under USB Printers. Select it and click Add.