Technology: LCD
Type: Resin
Build Volume: 135 x 75 x 130 mm
Printing Speed: 80 mm/h
Materials: 405 nm UV Resin
Connectivity: USB
Frame Dimensions: 248 x 248 x 327 mm
File Types: STL
Third-Party Materials: YES
XY Resolution: 0.035 mm
Phrozen Sonic Mini 4K Review
If you're looking for a reliable 3D printer, you've come to the right place. Check out this Phrozen Sonic Mini 4K review, and see what this machine has to offer. It might be just the type of 3D printer you need!
Last Updated: June 12, 2022
Advertiser disclosure
This page may contain links to our partners' products and services, which allows us to keep our website sustainable. This means that cybercrew.uk may receive a compensation when you sign up and / or purchase a product or a service using our links. However, all opinions expressed in this article are solely ours, and this content is in no way provided or influenced by any of our partners.
Technology: LCD
Type: Resin
Build Volume: 135 x 75 x 130 mm
Printing Speed: 80 mm/h
Materials: 405 nm UV Resin
Connectivity: USB
Frame Dimensions: 248 x 248 x 327 mm
File Types: STL
Third-Party Materials: YES
XY Resolution: 0.035 mm
High-resolution 3D printing
STRENGTHS
High 4K resolution
Affordable price
Compatible with third-party resins
Precise and detailed prints
Compact design
WEAKNESSES
Relatively small build volume
Can a budget printer that costs under $400 really produce 4K, ultra-high-quality prints? If you're anything like me, you're doubtful and wondering if there's a catch. That's why, in today's Phrozen Sonic Mini 4K review, we put this 3D printer to the test.
Before we dive in, check out the main points you'll be reading about in this article:
About Phrozen Sonic Mini 4K
Phrozen is a 3D printer company based in Taiwan. It is mainly focused on resin additive manufacturing. Founded in 2016, it has been very successful in offering excellent 3D printing solutions.
The Phrozen Sonic Mini 4K  allows you to print exceptional 3D printing details for an affordable price. This 3D printer is an upgraded version of Sonic Mini, which is already a great printer.
This 3D printer utilises LCD technology, and its most significant improvement over the original Sonic Mini is the resolution advancement to 4K resolution (1920 x 1080 to 3840 x 2160 pixels). Consequently, the Phrozen Sonic Mini 4K is highly accurate, offering a high level of detail.
This 3D printer has a monochrome LCD and new light source, which makes it significantly faster than its predecessor — it can print a single layer in under two seconds. What's more, it is affordable and easy to use.
Even though the machine's build volume is smaller compared to other 3D printers, it's good enough given its price — particularly when considering its compact frame. For all the reasons I mentioned above, this printer is regarded as the best 3D printer for beginners.

Phrozen Sonic Mini 4K Design
Measuring 250 x 250 x 330 mm, this 3D printer is compact, lightweight, and easy to store.
Furthermore, a new angled top surface on the Sonic Mini 4K print plate allows the excess resin to run off after printing.
Phrozen Sonic Mini 4K Specifications
Speed
As mentioned above, the monochrome LCD screen of the Sonic Mini 4K allows a greater intensity of light to pass through, effectively reducing the length of exposure time needed to cure the resin. Therefore, this 3D printer enables you to print one layer in only two seconds.
Dimensions
The Phrozen Sonic Mini 4K frame dimensions are 248 x 248 x 327 mm, and its net weight is 5 KG. Furthermore, its build volume surpasses its predecessor by 15 mm on the X-axis and 7 mm on the Y-axis, measuring 135 x 75 x 130 mm. This is not a huge difference, but it gives the Sonic Mini 4K an above-average printing area for the price.
High Resolution — 4K
If you're looking for a budget printer that allows for high-resolution printing, the Sonic Mini 4K is probably the best choice. It has the potential to produce exceptional-quality prints regardless of its small build volume and cheap plastic construction. It performs the best with the Aqua-Gray 4K resin, allowing you to create highly-detailed, intricate designs.
Setup & Print Quality
This 3D printer comes fully assembled and is easy to set up. First, you need to remove the plastic cover and install the feet pads to the bottom of the printer. Then, plug in the power cable located at the back of the Sonic Mini 4K and turn the switch on. The touch panel may take up to two seconds to light up.
The device is ready to use when you hear a loud beep. Don't forget to test the LCD screen by finding the "Test" option in the menu.
The print quality of this machine is incredible. You will be blown away by its extraordinary precision, smooth finishes, and fast exposure times.
Phrozen Sonic Mini 4K Software
Phrozen Sonic Mini 4K is compatible with Chitubox software, the most common slicing solution for resin 3D printers. Chitubox is third-party slicing software for SLA, DLP, and LCD resin-based 3D printers. It provides a simple but functional interface and works well for preparing models for printing.
Note: The Sonic Mini 4K can also work with other slicers supporting the Chitubox file format, .cbt.
Chitubox supports a broad range of export formats. In addition, this software will provide you with much control over the printing settings and process. For example, you will be able to adjust different printing parameters, such as Lifting Speed (how fast the build plate will be lifted off the resin between layers) and Light-Off Delay (how long the UV light will be off between layers).
Even though this 3D printer software has a simple interface that's easy to use, you can use the guide provided by customer support if you need assistance. Check it out below:

Price and Availability
This 3D printer costs £279.99, which is an excellent price for all the valuable features it includes. Once you make a payment, the actual time required for delivery depends on the company's processing time, delivery destination, and local customs processing. The purchase 3D printer price does not include tariffs, shipping costs, and similar costs.
You can return Phrozen products within 14 days from the date you received them. Also, they can be exchanged within 30 calendar days. The purchased item must be unused and sent back in the original packaging to qualify for an exchange.
Note: Phrozen's official website offers different guarantees for all purchased products. A 3-month warranty is included with all LCD screens.
Customer Service
Phrozen Sonic Mini 4K customer service is excellent. If you have any concerns, you can contact them at any time. They are available 24/7 and respond quickly.
You can also check Phrozen's knowledge base on their official website and find the answer you need there.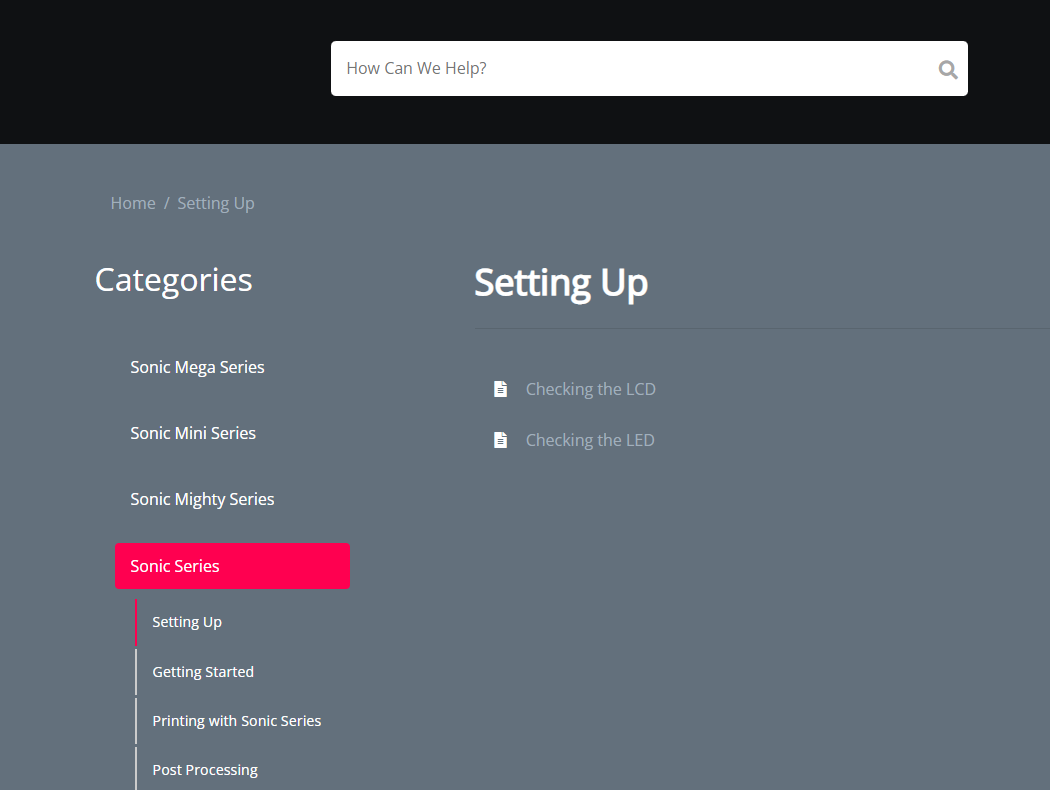 Competitors
Phrozen Sonic Mini 4K vs Nova3D Bene4 Mono
The Bene4 measures 240 x 250 x 430 mm, while its build volume is 130 x 80 x 150 mm. Furthermore, its net weight is 9.5 KG. On the other hand, the Phrozen Sonic Mini 4K frame dimensions are 248 x 248 x 327 mm, and its net weight is 5 KG. Its build volume is 135 x 75 x 130 mm.
When it comes to print speed, the Nova3D Bene4 Mono reaches up to 30–40 mm/h, while the Phrozen Sonic Mini 4K reaches 80 mm/h. That is a huge difference! A good print speed for 3D printing ranges between 40 mm/s and 100 mm/s, with 60 mm/s being recommended. Even though print quality is best when printing at lower speeds, it takes more time.
Phrozen Sonic Mini 4K vs LulzBot Mini 2
The LulzBot Mini 2 may be the right choice if you need a compact 3D printer. Its print area measures only 160 x 160 x 180 mm, being significantly bigger than the print area of the Sonic Mini 4K. In addition, the LulzBot Mini 2 has a black, steel-framed body with an open frame.
A significant advantage of the LulzBot Mini 2 3D printer is that it supports over 30 types of filaments, including PLA, TPU, and PCTPE. On the other hand, Phrozen Sonic Mini 4K is compatible with multiple resins, including Phrozen's Aqua-Gray 4K and other third-party resins.
Although LulzBot Mini 2 is more expensive, both 3D printers are capable of providing you with a 3D model that is exceptionally detailed.
Phrozen Sonic Mini 4K vs Prusa Original Mini
These 3D printers have a similar price: Phrozen Sonic Mini 4K costs £279.99 and Prusa Original Mini £277. However, Prusa Original Mini layer height ranges from 0.05 mm to 0.35 mm, while Phrozen Sonic Mini4K layer height ranges from 0.01 to 0.30 mm. Both 3D printers have LCD screens and produce high-quality.
When it comes to software, Prusa comes with PrusaSlicer, its own 3D printing slicing software. The Phrozen Sonic Mini 4K's software is called Formware 3D Phrozen Edition, and it is free for printers in the Sonic Series.
Overall, both of these resin 3D printers are affordable and have diligent customer support that will answer your questions 24/7.
Customer Reviews
I checked customer reviews for the Sonic Mini 4K on Amazon, and the overall rating score is 4.4 out of 5 stars. Almost half of the reviewers (precisely 74%) have rated this 3D printer with five stars!
Many users claim the printer is easy to use and set up. Also, many of them are satisfied with the quality of prints and customer support.

Wrap Up
Phrozen Sonic Mini 4K is an affordable 3D printer with a compact footprint. It is a good choice for both professionals and beginners. Thanks to its ease of use and great printing details, this 3D printer is favoured by many users.
Hopefully, this Phrozen Sonic Mini 4K review gave you a better insight into this 3D printer. All in all, you can't go wrong if you buy it!
FAQ
Are Phrozen printers good?
Yes, Phrozen is a renowned 3D printing company based in Taiwan. It is best known for its uniquely designed printers with impressive features. The Phrozen Sonic Mini 4K is an upgraded version of the Phrozen Sonic and one of the company's masterpieces which provides its users with high-quality prints at an affordable price.
What type of printer is Phrozen Sonic Mini 4K?
The Sonic Mini 4K is a resin 3D printer manufactured by Phrozen. Resin printers produce 3D models out of liquid resin that cures (solidifies) when exposed to UV light. Resin printers manufacture parts in layers the same way as filament printers do, but they do so by exposing each slice to a pattern of UV light to solidify the resin in the desired spots.
Does Phrozen Sonic Mini 4K come with resin?
No, the Phrozen Sonic Mini 4K 3D printer doesn't come with resin. However, it comes with protective gloves, feet pads, a scraper set, an Allen wrench, a plastic funnel for filtering out the excess resin after printing, an adapter, and a user manual.