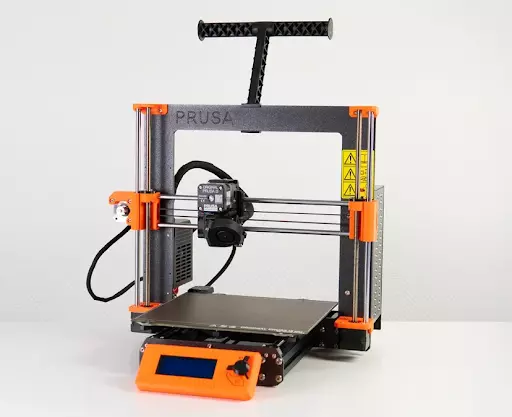 Build volume: 9.84 × 8.3 × 8.3 inches
Printer dimensions: 19.6 × 21.6 × 15.7 inches
Supported materials: PETG, ABS, PLA and more
Weight: 7 kg
Filament diameter: 1.75 mm
Connectivity: Ethernet, WiFi, USB
Built-in camera: /
Prusa Original i3 MK3S Review
Fans of Prusa Research were enthusiastic about the release of its open-source 3D printer. It included numerous enhancements to the device's hardware and software, which Prusa is recognised for. So, check out this Prusa Original i3 MK3S Review to see how this printer performs.
Last Updated: February 6, 2022
Advertiser disclosure
This page may contain links to our partners' products and services, which allows us to keep our website sustainable. This means that cybercrew.uk may receive a compensation when you sign up and / or purchase a product or a service using our links. However, all opinions expressed in this article are solely ours, and this content is in no way provided or influenced by any of our partners.
Build volume: 9.84 × 8.3 × 8.3 inches
Printer dimensions: 19.6 × 21.6 × 15.7 inches
Supported materials: PETG, ABS, PLA and more
Weight: 7 kg
Filament diameter: 1.75 mm
Connectivity: Ethernet, WiFi, USB
Built-in camera: /
Home usage
STRENGTHS
High-quality prints
User-friendly software
Supports multiple filament types
Mid range price
WEAKNESSES
Open-frame printer
No camera
The Prusa i3 line of 3D printers is one of the most famous in the industry: affordable, trustworthy, excellent print quality, and extensive customer service.
Some people may choose a closed-frame 3D printer for safety or design reasons. However, as one of the best open-frame printers, the Prusa i3 MK3S provides a lot of ability for the cost. In this Prusa Original i3 MK3S Review, we'll look at the printer's hardware and various features to see how it compares to other 3D printer alternatives.
Prusa Original i3 MK3S Features
Advanced Features
Setup and Print Quality
Prusa Original i3 MK3S Software
Customer Service
Competitors
Customer Reviews
About Prusa
When it comes to 3D printers nowadays, Prusa Research is a company that stands out.
The company's creator, Josef Prusa, is the mind behind the organisation and the familiar appearance in the 3D printing industry. Many are copying its open-source plans worldwide, particularly smaller companies looking to capitalise on the printer's popularity.
The Original Prusa i3 MK3S displays the same company dedication throughout the years. However, this modified version has been developed to address users' issues with the previous version. Many people are surprised by the i3 MK3S printer as it has a redesigned extruder mechanism and a few other improvements.
Prusa Original i3 MK3S Features
Although the Original Prusa i3 MK3S appears to be identical to its predecessor, the two Prusa 3D printers are considerably different. However, there are a few connections. Apart from standard features like the magnetic heated bed, power recovery, and automatic bed levelling, the Prusa 3D printer now has a new user input.
Improved Extruder
Prusa created a fully redesigned extruder assembly with the new upgrade. As a result of customer feedback that the old printer was problematic when assembling the extruder, Prusa made the necessary changes.
The company worked hard to create an extruder that allows users to change the nozzle without reassembling the extruder every time. Furthermore, the extruder nozzle and the nozzle are now near the X-axis.
That is done to eliminate resonance and improve the print quality. In comparison to its older version, the extruder additionally provides superior cooling.
Filament Sensor Detector
Although the older machines have a filament sensor detector, they fail to work with certain filaments. The replacement sensor does not have this issue and can function normally. In addition, the new machines include optical sensors that are activated by a mechanical lever, making them far more reliable.
Prusa added textile sleeves to replace spiral wraps and genuine Gates gears. Moreover, the company also added an anti-rust coating for PEI sheets and a new Einsy case to a slew of additional tough plastic parts.
Advanced Features
The additional features may appear modest, but they add significantly better performance to the MK3's already existing upgrades.
Considering the combination of print quality and reliability, the Original Prusa i3 MK3S is one of the cheapest 3D printers on the market. Of course, the design has a lot to do with it, but the parts themselves are of incredible quality.
E3D Hotend
The E3D nozzle emphasises this integration of high-quality components. The all-metal hotends are designed by a UK team and are among the best in the 3D printing industry. In addition, the E3D V6 model is in the MK3S.
Bondtech Drive Gears
The hotend is worthless without a consistent filament flow. Therefore, the updated Bondtech driving gears in the extruder ensure a steady filament loading.
They grasp the filament on both sides, reducing the slide and increasing the pushing force. Flexible filaments, which are incredibly tricky to print with, benefit the most from this form of gearing.

Automatic Filament Loading
Filament loading is typically a bother, but with the Prusa Original i3 MK3S, you can simply drop the filament into the extruder, and a sensor will recognise it and pull it into the printer. After that, all you have to do is choose the filament type.
With the Prusa Original i3 MK3S kit, you get the DIY 3D printer kit for self-assembly and a free 1 kg filament spool of Silver PLA.
Steel Spring Heated Bed
Removing prints off the 3D print platform can be difficult; the Original i3 had a glass plate held in place by bull clips. With the MK3S, this was improved and modified. Now you can even get a magnetic heatbed with an alloy PEI coating spring steel sheet.
This heated bed is simple to remove, and all it takes is a fast flex of the sheet to extract the print. The MK3S comes with a smooth PEI sheet. Still, a textured powder-coated variant is also available for materials like nylon that need more adhesion.
Quiet Motors
Due to many stepper motors at work, like 2D printers, 3D printers are also known for making a lot of noise.

The previous standard for 3D printer motors was Nema 17, which was relatively inexpensive. However, Prusa currently employs the finest quality and has combined them with Trinamic2130 drivers and Noctua fans for cooling. Additionally, with the implementation of a stealth mode, this printer is now significantly quieter than most other printers on the market.
Let's see the complete Prusa Original i3 MK3S specs below:
ORIGINAL PRUSA I3 MK3S
Layer height

:

0.05 – 0.35 mm

Number of materials (simultaneously)

:

1

Max travel speed

:

200+ mm/s

Filament sensor

:




Yes

Max hotend/heatbed temperature

:




300 °C / 120 °C

Power panic

:




Hardware-based, single G-code line accuracy

MMU2S support

:

Yes

Advanced sensors

:




Three thermistors + SuperPINDA, fan RPM sensors

LCD screen

:

Monochromatic LCD

Calibration

:




Automatic, Mesh Bed Leveling
The specifications haven't altered all that much from the previous version. The i3 MK3S print volume is the same — 9.84 × 8.3 × 8.3 inches. In addition, it is possible to use a heated print bed with PEI coating to remove and clean after each use.
The company allows the usage of third-party filament since it's based on open-source technology. When it comes to connectivity, you can connect the printer through USB and SD Card. Moreover, it works with Mac, Windows, and Linux desktop computers.
Setup and Print Quality
The Original Prusa i3 MK3S model's setup is the most challenging part. It does, however, allow you to discover how companies create 3D printers. So, next, we'll go over the steps you'll need to go through to get your Prusa kit up and running.
Prusa Original i3 MK3S Kit Setup
      1. Assembling Y-axis
The first step to putting the Prusa kit together is the assembling of the Y-axis. The base provides increased frame stability and reliability thanks to extruded metal rails and aluminium front/back plates.
      2. Assembling X-axis
Assembling the X-axis is one of the most straightforward phases in the complete setup, requiring less effort and a bigger delicacy. You'll need to connect seven linear bearings, a pair of linear rods, and an X-axis motor to put it all together.
      3. Assembling Z-axis
To accomplish so, you have to mount the X-axis above the Z-axis. Begin by attaching the X-axis motors to the frame's sides, followed by the threaded rods and bearings. Finally, secure the X-axis to the frame's top.
      4. Assembling E-axis
This stage is the most tricky part. You do, however, receive detailed directions on how to complete the step. That is the point at which the majority of the printer's components are in place, and you can see what your 3D printer will look like once the setup is done.
      5. Assembling LCD
You can sit back and rest a bit for this phase, as this is the easiest part. All that you have to do is place the circuit board into the plastic box. Then, finally, attach the button to the front of the card.
      6. Assembling Electronics
Now that you have all the directions, the overall process becomes more manageable. You can complete this stage if you take the appropriate steps and strictly follow the recommendations.
      7. Calibration and Testing
The majority of the task is done by the time you get to this phase. Adjusting the PINDA probe, manually moving the hotend on the Z and X axes, starting the machine, and verifying the newest software are all part of this stage.
Lastly, proceed to the LCD screen's setup wizard. If the printer passes the previous procedures, you'll be invited to load the filament. After that, load the filament, and then 3D print your first object.
Print Quality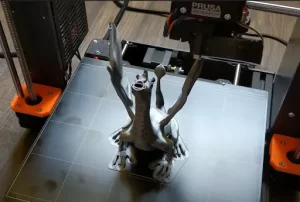 The print quality of the Original Prusa i3 MK3S printer has been increased to an entirely new level, as we previously mentioned. As a result, many specialists suggest the printer to individuals working with FDM technology.
On the SD card of the 3D printer, there are a few models pre-loaded. Printing these models will allow you to have a feel for the materials you'll be working with. Minimal design models are easy to 3D print since they require less reinforcement, and the printing doesn't last long. With uncomplicated 3D printing models, the 3D printer can produce astonishing results in minimal time.
You can even print parts that need to be integrated later or fixed over other, already printed parts. The i3 MK3S desktop 3D printer has incredible precision and accuracy. So you can count on it to produce both simple and complex parts with ease.
Prusa Original i3 MK3S Software
Prusa has created two software versions for its consumers. The Prusa Control is one of them, and beginners will find this to be an excellent tool. The software comes with several useful features; however, there are a few drawbacks. Namely, there are many models that you can't print with the Prusa Control. So, for example, if you're going to print a vase or something similar, you will need to use different software.
The Prusa3D Slic3r MK3 is the other software. The Prusa slicer is a more complicated program with a lot more options to choose from. It's a little difficult for novices, but it could be an excellent tool for those familiar with slicing software.
Customer Service
In addition to the live chat, the firm offers email assistance in multiple languages, available 24/7. 
So, if you have any inquiries about the shipping of your order, troubleshooting your printer, or 3D printing, Prusa's customer support team will give you a prompt response.
Competitors
Original Prusa i3 MK3S vs Ender 5 Pro
The Ender 5 Pro is fantastic for enthusiasts, but the i3 MK3S may be better after all the printer's upgrades. The Prusa has better support, quality control, and prints faster. In addition, it will probably be more upgraded (Prusa sells upgrade kits for their later models), so you won't be left behind.
Overall, the Prusa is a better printer, and even the most updated Enders will struggle to match it. But, again, it's all about design because each customisation alters something already optimised to some extent. In addition, Ender is well known for its factory-warped metal beds, which can cause trouble when printing.
Original Prusa i3 MK3S vs Ultimaker 3
The Prusa i3 and the Ultimaker 3 have praises from professional journals, have already caused a stir with their new revisions in 2019, and are regarded as excellent mid-price printers for people wishing to upgrade from their beginner 3D printers.
The Prusa i3 MK3S is well worth the excitement for its lower price tags. It can be an even better choice for you compared to some entirely constructed printer models. However, the Ultimaker 3 is a closed-frame printer with a smooth dual extruder print which are the two significant strengths.
Original Prusa i3 MK3S vs Creality CR-10S
The Prusa i3 and Creality CR-10S are among the best-selling printers, especially those looking for 3D printers under £800. Not only that, but each of these printers has a large consumer base.
Consider the Prusa i3 MK3S if you're seeking the best mid-priced 3D printer that can lower the natural annoyance of 3D printing. On the other hand, if you're new to 3D printing, the Creality CR-10S is an excellent place to start. Even though the Prusa i3 is a perfect choice for a wide range of 3D printing tasks, it can be intimidating for a beginner.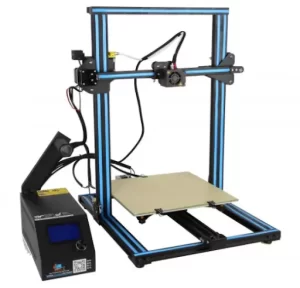 Customer Reviews
User expectations are high, as they have always been with Prusa. The company has made every effort to resolve issues with the previous version by accepting feedback from the community.
If we look at Prusa user reviews, we can see that it gets many praises. Prusa Research has 4.7 stars (rated as excellent) from 1866 ratings on Trustpilot. There is genuinely nothing to dislike about this company as they provide users with a great experience.
Wrap Up
There is a reason the Prusa i3 MK3S has become a 3D printing legend. The design offers itself to be improved, altered, and played around with. It's open with all of the parts visible, so you can understand how it works, and, if you want, you can even construct the printer on your own.
Throughout this Prusa Original i3 MK3S Review, we could see that this printer is remarkable and performs above the industry average. It's the best mid-priced 3D printer on the market that can consistently generate an outstanding level of print quality. Furthermore, it's the best FFF (Fused Filament Fabrication) printer on the market.
FAQ
Is Prusa i3 MK3S worth it?
Yes, the i3 MK3S desktop 3D printer has a remarkable price-to-performance balance and is suitable for amateurs and experts.
How big can the Original Prusa i3 MK3S print?
The MK3S can print high-quality objects with a height of up to 210 mm (9 inches).
How accurate is the Prusa MK3S?
Once adjusted, the Prusa i3 is extremely precise. According to tests, a well-assembled Original Prusa printer has an accurate tolerance of 0,1 mm on the Z-axis and 0,3 mm on the X and Y axes.