BUILD VOLUME: 7 x 7 x 7 inches
PRINTER DIMENSIONS: 15 × 13 × 15 inches
SUPPORTED MATERIALS: PLA, PETG, ASA, ABS, Flex
WEIGHT: 4.5 kg
FILAMENT DIAMETER: 1.75 mm
CONNECTIVITY: Ethernet, USB
BUILT-IN CAMERA: /
Prusa Original Mini Review
Can the Prusa Mini exceed the performance of the larger Original Prusa i3 MK3S? Read our Prusa Original Mini Review to see how this printer keeps the fantastic features of the Prusa i3 while remaining compact.
Last Updated: February 6, 2022
Advertiser disclosure
This page may contain links to our partners' products and services, which allows us to keep our website sustainable. This means that cybercrew.uk may receive a compensation when you sign up and / or purchase a product or a service using our links. However, all opinions expressed in this article are solely ours, and this content is in no way provided or influenced by any of our partners.
BUILD VOLUME: 7 x 7 x 7 inches
PRINTER DIMENSIONS: 15 × 13 × 15 inches
SUPPORTED MATERIALS: PLA, PETG, ASA, ABS, Flex
WEIGHT: 4.5 kg
FILAMENT DIAMETER: 1.75 mm
CONNECTIVITY: Ethernet, USB
BUILT-IN CAMERA: /
Hobbyists
STRENGTHS
User-friendly software
Supports various filament types
Great support resources
Compact
WEAKNESSES
Only includes filament starter packs
Complex first-layer calibration
The introduction of the Prusa Original Mini made many individuals happy since it's a smaller gadget with the benefits of cutting-edge technology. In this Prusa Original Mini Review, you will see many valuable and upgraded features for this FFF 3D printer.
The Prusa Mini 3D printer is said to perform like a champ once properly set, printing a range of objects with no misprints and excellent detail control. Let's see how well it performs:
Prusa Original Mini Features
Setup and Print Quality
Software
Customer Service
Competitors
Customer Reviews
About Prusa
Prusa Research, a Czech corporation, never fails to satisfy its customers. It repeatedly provides customers with the top 3D printers to assist them in creating superb models with no effort.
We've seen a lot of successful releases from Prusa in the past. The company always does its best when manufacturing a 3D printer, whether it's the Original Prusa i3 MK3S or Prusa's own slicing software, PrusaSlicer. Now, it has put the effort to astonish its users with the Original Mini, a fantastic 3D printer.
Design
The main design of the Prusa FFF printers hasn't been altered since the first Prusa i3. Instead, each generation improves on the previous, combining enhanced components with information and expertise.
The Original Prusa Mini has a new, innovative design. The machine's mainframe is no longer made of metal but tube extrusion. So, it's a basic one-arm design that's a complete departure from the Prusa devices (although physically similar). A single tube extrusion is raised vertically for the Z-axis, and the X printhead travels along the X-axis arm.
While the aesthetic may appear simple, the quality of components and details make the Prusa Mini stand out. In addition, whereas the MK3S may be the flagship model, the Original Mini appears to have more potential due to its improved control system and size.
Prusa Original Mini Features
The Original Mini is a smaller version of Josef Prusa's MK3S. When compared to its rivals, this 3D printer is even more economical while producing high-quality print results.
Among its features, a few crucial ones have gained the most notice from the 3D printing world.
Magnetic Build Plate
The Mini aims to highlight its best features while also attracting users with appealing offers. The removable magnetic build plate with PEI-coated spring steel sheets is one such function. As a result, many consider this solution to be the greatest among the 3D printers currently available.
Moreover, it's pretty helpful in removing completed models quickly.
When the sheet cools, you can remove the print components only by stretching the sheet inward. In addition, there are also other optional purchases like a textured powder-coated spring steel sheet for an additional £22.
Eternal RJ45 Port
The 3D printer does not have WiFi capability, but it does have an ethernet port for its customers. This port helps significantly in the simplification of procedures. As a result, anyone who wants to establish a Mini's print farm will appreciate a powerful function added to the machine.
A filament sensor is currently available, as well as the option of a textured print platform. You can even add a WiFi board for roughly £10 if you have the experience.
Colour LCD Screen
The company intended this printer to be as simple as possible, with all controls and functions accessible through a user-friendly interface. The 2.8-inch 65k colour screen makes exploring the choices and settings effortless, and the device walks you through the setup procedure step by step when you first turn it on.
The new bright LCD screen improves the printer's functionality as well as its appearance. On this screen, users can see the model after the printer slices it before printing it. This clever feature may not bring much value to a few consumers. Still, it is excellent as an additional, intelligent function.
Bowden System
The i3 MK3S has a direct drive extruder. In contrast, the Original Mini includes a Bowden system in addition to the 3:1 driving gear ratio.
The configuration assists in the efficiency of the extruder; as a result, the problem of wobbling is very minimal. The design is distinctive, and the extruder motor is in the Mini's Z-axis column. When it comes to filament loading, you use a PTFE tube to load it.
Automatic Bed Leveling
Bed levelling is used to correct any irregularities on the bed, and it's generally done in connection to the printer's axis rather than gravity's rules. Fortunately, some low-cost 3D printers have an automatic bed levelling option. You can use it to ensure that the printing platform is even before you start printing.
The Original Prusa has automatic bed levelling and makes the users' jobs easier. In addition, the company has reintroduced its automated mesh bed levelling technology, which makes installation and setup easier for novices.
32-Bit Controller
A custom-built 32-bit motherboard comes with the Prusa Mini. However, when it comes to the drivers, Original Mini uses the Trinamic 2209 silent drivers. According to the manufacturer, this update would provide practically all of OctoPrint's benefits. In addition, it would also make farm management software available in the future via a firmware update.
The numerous characteristics of the machine are the reason this 3D printer has its own distinct identity. As a result, the company has developed a precise yet beneficial feature-packed product to attract a wider audience.
Complete Prusa Original Mini specs:
Prusa Original Mini
Layer height

:

0.05 – 0.25 mm with 0.4 mm nozzle

Mesh Bed Leveling

:

Advanced high-quality SuperPINDA sensor

Max travel speed

:

200+ mm/s

Filament sensor

:

Optional upgrade

Max temperatures

:

280 °C / 100 °C

WiFi connection

:




Separate future upgrade
Setup
Setting up the Prusa Original Mini printer is pretty straightforward. There is a three-piece set that comes in a well-protected package. You can start the printing procedure in less than an hour by connecting the few components and attaching the LCD screen to the printer.
The amount of time it takes to set up and install the DIY kits will mostly depend on your previous expertise with them. However, the manufacturer also includes a full guide for beginners with everything you need to complete the setup.
Besides initial calibration, the automated bed levelling function included with the 3D printer allows printing to begin faster. So if you follow the instructions thoroughly, it shouldn't take more than half an hour to get it started.
Print Quality
Prusa Mini is an open-frame 3D printer with a plethora of handy features. In addition, because it is a FFF printer, the maintenance cost is low as well as the cost of this printer. When you compare the cost of the Prusa 3D printer to the running costs of more costly printers, you can see that you can create 3D models for a fraction of the price.
Furthermore, you can work with PLA, the lowest priced of all filaments, to reduce the cost even more. However, depending on the type of material you choose, the outcomes will differ.
It's unusual for Prusa Mini to match the accuracy of its more expensive competitors since it's a budget 3D printer. However, the build quality is, without a doubt, outstanding. The layer height can range from 0.05 mm to 0.35 mm.
Furthermore, the finished prints look tidy and smooth, allowing you to create even the most complicated designs.
Prusa Original Mini Software
PrusaSlicer, the company's slicing software, is compatible with the Original Mini. In addition, the Prusa software is user-friendly and works without any struggle. It's simple to use and includes a range of complex features as well as a straightforward design.
The software and the printer come with everything you need to deeper understand 3D printing. As a result, it is an excellent benefit for beginners and professionals, from easy accessibility to browsing through pre-existing profiles for supported filaments.
Customer Support
As many individuals know, Prusa company has many supporters who constantly work together to improve the environment. In addition, the community continues to expand with dedicated fans. Furthermore, these members share their resources for improvements and help each other in times of need.
That does not, however, imply that the firm is reluctant in offering after-sale support. The organisation also has a diligent customer support service in seven different languages. There is also a live chat option that is available 24/7.
Competitors
Prusa Mini vs Ender 3
While the Ender 3 is an excellent printer for the price and has several features over the Original, the ordinary Ender 3 is hard to beat on affordability. Prusa printers are known for being all-in-one machines and with valid reasons.
While the Ender 3 relies on hand levelling, the Prusa Mini looks more manageable with the auto levelling. Furthermore, the Mini's removable metal build plate is better integrated since it clips onto the bed and makes taking prints off simple.
The Prusa Mini could be the best 3D printer for you if you want a high success rate printer that doesn't require a lot of adjusting and updating.
Original Prusa Mini vs MK3S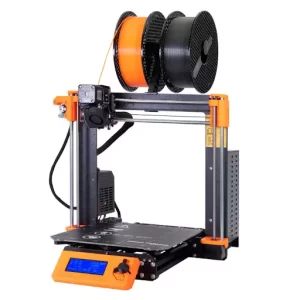 The Prusa i3 MK3S and Prusa Mini have a few key differences. For example, the printers are physically different when it comes to design. The Prusa Mini has a compact design, with 15 x 15 x 13 inches and 7 x 7 x 7 inches build volume. In comparison, the Original i3 MK3S has a build volume of 9.84 × 8.3 × 8.3 inches, and the printer's size is 19.6 × 21.6 × 15.7 inches.
For power users, the Original Prusa i3 MK3S is the perfect option. On the other hand, the Prusa Mini is a quality 3D printer despite its relatively small size. Moreover, its low cost makes it ideal for dedicated makers wishing to build up a print farm, new hobbyists, and everyone in between.
Essentially, both the Prusa Mini and i3 MK3S are excellent choices. You'll like the robust build quality, exceptional print quality, and excellent customer support with both of these printers.
Original Prusa Mini vs Kingroon KP3S
There is no difference between the Kingroon KP3S and the Prusa Mini in terms of build volume.
It also includes a detachable print surface, but it's just a magnetic sticker, unlike the PEI sheets with the Mini. However, remember that the KP3S' magnetic print surface may have a shorter lifetime than the Prusa Mini.
The usage of MGN linear rails is one of the strengths of the Kingroon KP3S over the Prusa Mini.
In principle, these may be more precise than the Mini's linear rods, but the variations should be minor.
Lastly, the Prusa Mini can come pre-calibrated, and PrusaSlicer provides a variety of ready-to-use profiles for various materials. However, for best outcomes, the Kingroon KP3S will require a little more time to calibrate according to the filament you choose.
Customer Reviews
Many dedicated Prusa users have nothing but praises for Prusa Research company. If we look at Prusa customer reviews, we can see that it has lots of positive feedback. For example, on Trustpilot, Prusa Research has received a 4.7 rating (excellent) from 1962 reviews.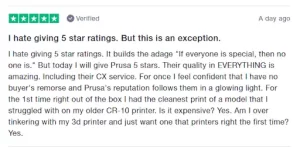 Throughout this Prusa Original Mini Review, we could see that there is nothing not to like about this company. Prusa's printers provide outstanding service and quality to its customers.
Wrap Up
Prusa Original Mini is compact, simple to operate, and capable of creating quality prints that are easily removed from the heated bed. In addition, the print quality is superior to any other printer in this budget range. While there are a few minor issues, this Prusa Original Mini Review shows that this printer is undoubtedly a turning point in the 3D printer industry.
FAQ
Is the Prusa Mini worth it?
Yes, it is. Overall, the Prusa Mini is a high-grade 3D printer that can produce prints of exceptional quality. The machine was created by a dedicated team that understands what creators require the most.
How fast does the Prusa Mini print?
It depends. The Original Prusa Mini has a more streamlined design than the rest of the Original Prusa series. Yet, it still has the same level of functionality. In addition, according to Prusa's standard draft profile, average printing should take about 42 minutes.
Does the Prusa Mini have stealth mode?
Yes. The Mini is equipped with TMC 2209 motor drivers, and now the printer has a StealthChop (Stealth mode) by default after numerous tests.
Does the Prusa Mini auto level?
Yes, it does. It not only has auto bed levelling, which most people find necessary for a 3D printer, but it also features a detachable powder coated PEI sheet.