Print Technology: Fused Filament Fabrication
Build Volume: 330 x 240 x 300 mm (13 x 9.4 x 11.8 in)
Build speed: < 24 mm3/s
Net Weight: 20.6 kg (45.4 lbs)
Physical Dimensions: 495 x 457 x 520 mm
Maximum Power Output: 500 W
Software: Ultimaker Cura software
Touch Screen: YES: an award-winning interface
Easy Setup & Monitoring : Internal camera & NFC material recognition
Network Connectivity: Wi-Fi, Lan, USB port
Ultimaker S5 Review
Looking for the perfect 3D printer you can rely on? This Ultimaker S5 Review will show you why hundreds of thousands of professionals trust this printer.
Last Updated: June 11, 2022
Advertiser disclosure
This page may contain links to our partners' products and services, which allows us to keep our website sustainable. This means that cybercrew.uk may receive a compensation when you sign up and / or purchase a product or a service using our links. However, all opinions expressed in this article are solely ours, and this content is in no way provided or influenced by any of our partners.
Print Technology: Fused Filament Fabrication
Build Volume: 330 x 240 x 300 mm (13 x 9.4 x 11.8 in)
Build speed: < 24 mm3/s
Net Weight: 20.6 kg (45.4 lbs)
Physical Dimensions: 495 x 457 x 520 mm
Maximum Power Output: 500 W
Software: Ultimaker Cura software
Touch Screen: YES: an award-winning interface
Easy Setup & Monitoring : Internal camera & NFC material recognition
Network Connectivity: Wi-Fi, Lan, USB port
Large Build Volume
STRENGTHS
Easy to use
Excellent visual quality
Amazing software
Large build volume
Reliable dual extrusion
Wide material choice
WEAKNESSES
Expensive
Tech support is not the best
Nowadays, 3D printing technology is rapidly evolving, so it's understandable if you are having doubts about which 3D printer to choose. So if you are tired of researching and feel overwhelmed after reading so much information about 3D printers, check out this Ultimaker S5 review.  
This review will show you why the Ultimaker S5 is considered one of the best 3D printers on the market. Here's what I'll cover:
About Ultimaker S5
Ultimaker S5 Design
Ultimaker S5 Features
Setup & Print Quality
Ultimaker S5 Software
Price and Availability
Customer Service
Competitors
Wrap up
FAQs
About Ultimaker S5
The Ultimaker S5 printer is manufactured by Ultimaker B.V., based in the Netherlands. 
White and imposing in appearance, the Ultimaker S5 is a professional-grade 3D printer that will attract your attention immediately by offering a large dimensional printing area of 330 x 240 x 300 mm (13 x 9.4 x 11.8 in).
Since it requires so much desk space and has a large print volume, professionals and small businesses who need big prints and are willing to invest a fair amount of money in buying a printer would benefit significantly from the Ultimaker S5 3D printer. It is easy to set up and has exceptional print quality.
Ultimaker S5 Design
Ultimaker's design is exceptional. You will need a lot of room for it, but it's worth it. Measuring 13 x 9.4 x 11.8 inches, S5's print area includes a glass print bed. 
Here are some of the benefits of glass beds for 3D printing: 
Provides a super smooth surface of finished print models
Prevents problems such as warpage
Glass-print beds last longer
It offers a nonstick surface
Moreover, the Ultimaker S5 3D printer comes with three printheads. Two of these are the AA 0.4mm print heads for ABS and PLA, and the third one is a BB 0.4mm print head for PLA. More options are available if you want to print with other materials.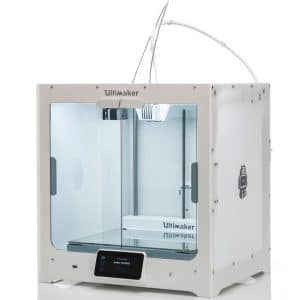 Ultimaker S5 Features
Ultimaker S5 Materials
This software offers the widest material choice on the market. You can choose the perfect filament for your application through its Material Alliance — from advanced polymers to carbon fibre composites. Because of its heated print bed and interchangeable printheads, this software is able to print in so many different materials. 
Namely, it is possible to print with PLA, ABS, Nylon, CPE, TPU, and PVA right out of the box. The latter is very useful since polyvinyl alcohol is a water-soluble substance that makes flexible support structures.  What's more, when the object has been printed, it can be washed down the sink with warm water.
The S5 build plate is made of hardened glass, and it clips easily onto an aluminium base that can be heated to ensure better adhesion of the printed object and minimise warping. It can reach 140 degrees Celsius, meaning that it can handle materials like high-temperature nylon.
The print bed is automatically levelled to ensure that the distance between the extruder and build plate remains exact. That allows you to use printheads for various materials or simultaneously print in two different-coloured materials.
Print Speed
By default, the print speed for most prints is 40 – 50 mm/s. Most other software and printers' default is 60 – 70 mm/s.
PLA + PVA Filament
PLA is a semi-transparent filament printed alongside a PLA model, providing structural support as the model is completed. The Ultimaker S5 offers an advanced PVA filament by including it via its second print core. That will prevent the model from sagging or even falling over. Also, remember that print supports have to be removed manually by being snapped off, often leaving a rough edge. With PVA filament, you just have to drop your model into slightly warm water, and within hours, you will get a perfectly finished model.
Also, a 750g spool of the newest and more advanced material called Tough PLA that has mechanical properties similar to ABS, is included in the box of each Ultimaker S5. This is a fantastic material due to its high impact strength that can give you an enjoyable and reliable printing experience. In addition, it is a suitable material for tooling, large functional prototypes, or manufacturing aids.
Controls
The S5 is controlled via its interface, Cura on your PC or Mac, or Ultimaker's app on your smartphone. With its large and clear LCD screen, the S5 printer can control most functions, from loading filament to printing from a USB drive. In addition to showing the status during a print, this display also shows the filament, printheads, and bed temperature settings.
Cura supports Windows, Mac, and Linux and is very user-friendly. It lets you load a model, scale it, and move it around on the print surface. Cura also allows you to load multiple models at once, and the program can automatically create support for them.
Cura Options
Cura provides many valuable options — for instance, it has a slider for layer height, which is actually a significant thing that determines print speed and quality. Also, there is an option to help you develop print profiles that cover layer height and other features, so you can easily create presets when required. As soon as you configure your print, Cura slices your model and generates the final print file. This process is quick, and the software can send this print file to the printer over USB, Ethernet, or Wi-Fi.
You can monitor prints with Cura or on your phone with the Ultimaker app, which is available for iOS and Android. You can pause or stop printing and cancel a print through the app. Unfortunately, it's not possible to start a new print (you have to do that from the device or through Cura), but you can also reprint a recent one.
Noise Level
The Ultimaker S5 would be quieter if it were wholly enclosed, but the glass doors cut some decibels off. As is the case with most 3D printers, it is louder when it is printing quickly. This printer also offers some cool features like maintenance reminders that tell you when to apply oil and tighten belts.
Connectivity
The Wi-Fi feature allows local network printing as well as cloud printing through the network. However, you may experience some issues with the hardware/software not being on the same page at times. 
Users can reorder, copy, or remove prints from their print queue using their browser-based interface. Administrators can set up teams that can submit print jobs to the printer and determine which ones to prioritise. It's an excellent feature for colleagues spread across an office building. However, I personally found it much easier to just move files to the printer the old-fashioned way, using a  USB stick. The Wi-Fi camera helps check up on longer prints.
Setup & Print Quality
The Ultimaker S5 is extremely easy to use, and once it's switched on, you can go through the setup through its LCD Screen. You can connect to a wireless or wired network, load the Ultimaker S5 filament using detailed instructions, and then initiate your first print job. The process of selecting print quality is also straightforward. 
The Ultimaker S5 3D Printer includes a wired and wireless Ethernet interface, which means you can connect and control it through an office or home network. The Cura software makes this easier by allowing you to control the print queue and the printer itself through the software or a web interface. That allows multiple users to queue up prints and be notified when they are done.
Once the print is done, you need to press a button on the touch screen to confirm that the print has been removed and the print bed is clear. And guess what? The print quality is excellent! It will give you perfectly shaped models with clean, smooth edges. 
Ultimaker S5 Software
It shouldn't come as a surprise that the Ultimaker Cura is the most popular 3D printing software, allowing you to prepare prints with just a few clicks. You can integrate it with CAD software for an easier workflow or dive into custom settings for more profound control. Below are some of the main reasons why Cura is so great: 
Specific applications can be printed with intent profiles
Profiles tested over thousands of hours provide reliable results
The 'Custom mode' offers over 400 settings for granular control
The experience of printing is constantly improved with regular updates​
Price and Availability
The Ultimaker S5 is priced at £7,476. Since it is primarily designed for professionals, designers, and engineers, the high price shouldn't come as a surprise.
Below you can check out where you can buy the Ultimaker S5 from:
Moreover, on the official Ultimaker website, you can request a quote from Ultimaker's sales partners and get a tailor-made offer within approximately two business days. For more details, follow the instructions below:
Go to the official website and press the button "Get Pricing".
'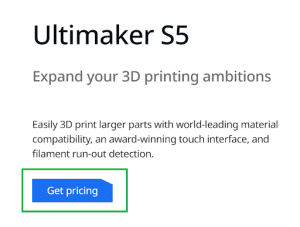 2. Fill out the form and click the button "Request a quote".
Customer Service 
The Ultimaker S5 comes with a one-year warranty and lifetime support provided by a certified global network of partners. If you have any concerns, their customer service is there for you 24/7. They are highly responsive and will respond quickly, giving you valuable advice. 
You can also check the searchable knowledge base on Ultimaker's official website divided into sections, such as 3D printers, Software, Materials, and Downloads. Each section provides helpful answers to the most common questions, which is an excellent proof that this company cares about your user experience.
Competitors
LulzBot Taz 6 vs Ultimaker S5
When it comes to dimensions, the closest 3D printer to the Ultimaker S5 is the LulzBot Taz 6, which has a volume of 1,238 cubic inches. While that's not a massive difference in volume, the printers take different approaches. Namely, the Ultimaker S5 is a more enclosed, professional-looking printer than the LuzBot TAZ 6. 
Also, one more issue when it comes to the LulzBot TAZ 6 is that it uses Cura LuzBot Edition, which misses some features that Utimaker's Cura has. For example, enhanced colour scheme, improved serial communication, customisable Z-offset, and many other features that are easier to understand. 
Nevertheless, LulzBot is not planning to adopt the improved Cura software yet, and this is definitely why you should opt for the Ultimaker S5.
Prusa i3 MK3 vs Ultimaker S5
They are both among the best 3D printers ever made, boasting reliability, excellent print quality, and comprehensive support. With the PrusaSlicer, you can load and edit objects, resize them, change their position or orientation, add multiple objects, set the resolution, and choose the filament type as you would with Cura-based programs. 
While the Prusa i3MK3 also offers very high print quality and good default settings, the Ultimaker S5 wins when it comes to upgrading kit difficulties when printing with special filaments. Ultimaker recently announced an expansion kit for filament storage and particle filtering, which is a great addition.
Ultimaker S5 vs S5 Pro
Even though both 3D printers are great, the Ultimaker S5 Pro offers environmental control and automatic material handling — two features that the Ultimaker S5 lacks. That means that the Ultimaker S5 Pro filters up to 95% of UFPs and efficiently protects material spoils from dust and humidity, while the Ultimaker S5 doesn't. 
Also, the Ultimaker S5 Pro supports six materials and can automatically switch between spools. As a result, the Ultimaker S5 Pro is better overall, which makes sense given its name.
Customer Reviews
I checked customer reviews for the Ultimaker S5 on Amazon. The overall rating score is 3.3 out of 5 stars, and almost half of the reviewers (precisely 46%) have rated the Ultimaker S5 printer with five stars.
Throughout the reviews, I noticed that many users claimed they were satisfied with this printer, saying it is straightforward to set up and use. Many of them are also happy with the customer support and how the prints turn out. 
Wrap Up
As evident from this Ultimaker S5 review, this 3D printer is definitely one of the top 3D printers you can find on the market. Considering this, the Ultimaker S5 will not disappoint you, and the best part is that it will provide you with a sense of security when printing.
Even though the Ultimaker S5 3D printer is an expensive machine, you will not regret purchasing it. I advise you to invest smartly instead of searching for less expensive machines and spending more money fixing broken components. So if you value your time and want a quality printer, this printer would be great for you.
FAQ
What is Ultimaker S5?
The dual-extrusion Ultimaker S5 is one of the best 3D printers worldwide, with the clear objective of meeting the needs of professional users. Its most significant advantage is having a huge build volume. It is designed for educational, professional, and industrial use.
Does the Ultimaker S5 have a camera?
Yes, Ultimaker offers a built-in remote monitoring camera. It allows you to keep tabs on your prints remotely, easing the pain of a long-distance relationship with your machine. 
How much does an Ultimaker S5 cost?
The Ultimaker S5 costs £7,476.
Is Ultimaker S5 worth it?
Yes, indeed. Once you invest in this fantastic 3D printer, you will not need to fix broken components afterwards because this 3D printer works perfectly!