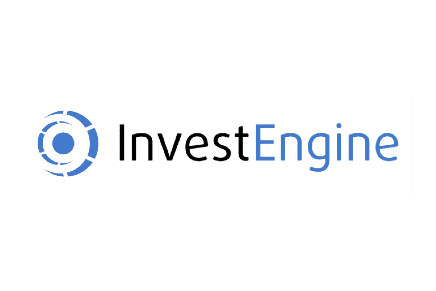 FSCS Coverage: Up to £85,000
Management Fee: 0.25% on Managed portfolios
Customer Support: Live chat, phone, email
FSC Regulation: Yes
Account Opening Charges: /
Inactivity Fees: /
InvestEngine Review
InvestEngine is a young UK company with a vision to help the British take control of their investments. So, if you're interested in InvestEngine's offers, this InvestEngine review will fill you in on all the details.
Advertiser disclosure
This page may contain links to our partners' products and services, which allows us to keep our website sustainable. This means that cybercrew.uk may receive a compensation when you sign up and / or purchase a product or a service using our links. However, all opinions expressed in this article are solely ours, and this content is in no way provided or influenced by any of our partners.
FSCS Coverage: Up to £85,000
Management Fee: 0.25% on Managed portfolios
Customer Support: Live chat, phone, email
FSC Regulation: Yes
Account Opening Charges: /
Inactivity Fees: /
Casual investors
STRENGTHS
Budget-friendly products
Excellent customer support
No obligation to invest
Referral programs
WEAKNESSES
No SIPP, Junior ISAs, LISAs, or Trading accounts
The same fee structure for every investment level
Investing could be a profitable career if you buy into something that will increase in value over time. This is why we nowadays see many new investors creating accounts on prominent investing platforms.
While you can invest in pretty much anything, including gold, shares, and crypto, ETFs (exchange-traded funds) have become the primary choice for many investors. ETFs are fantastic investment tools for long-term investors, offering cheap management fees. Moreover, they offer a wide range of investment themes for short-term investors hoping to profit from trends.
So, if you're looking for an ETF investment platform, continue reading this InvestEngine review that will help you decide whether you can trust this company with your savings. Here's what I'll cover in this article:
What Is InvestEngine?
Before I tell you about the company's history, it's essential to explain what types of investment platforms exist on the market. First, you can opt for a traditional (DIY) investment platform, such as Interactive Investor, that allows investors to create DIY portfolios. These portfolios are managed manually, meaning you have complete control over where your money goes.
On the other hand, you can invest in a platform that offers robo-advisor services. For example, Nutmeg is one of the most popular investing companies that deploy robo-advisors to ensure hassle-free and hands-off investing. Service providers such as Nutmeg allow users to deposit their money and let the app do the work so that they don't have to worry about missing out on attractive investment opportunities.
InvestEngine stands out from the rest of the crowd because it's a hybrid of these two investment platform types. In other words, it offers you to take control of your investment portfolios. Still, it can also provide robo-advisor services when you aren't confident in your investment decisions. 
Company History
Founded in 2019 by Andrey Dobrynin, InvestEngine is a relatively young UK company. Dobrynin started this business primarily because he wanted to give the Brits access to cost-effective and reliable investment services. 
To this day, InvestEngine is one of the cheapest DIY investment platforms in the UK. This is one of the main reasons thousands of loyal customers use it daily. Surprisingly enough, it offers 13 managed ETF portfolios and, as stated earlier, the option to take a hands-on approach and invest in funds you believe will increase in value over time.  
Last but not least, InvestEngine is authorised and regulated by the Financial Conduct Authority. It's a safe and legitimate investing platform that may help people like you take the first step towards financial freedom and success.
Who Is InvestEngine Best for? 
If you want to use InvestEngine as your investment platform, you must be 18 or older and reside in the UK. The platform is available to UK citizens only, and no signs indicate that InvestEngine founders plan an expansion. 
So, if you're a UK citizen who wants to boost your savings, InvestEngine is an ideal place to start your investing journey. It is a reliable platform for:
Investing in a range of ETFs in a partially managed environment

Improving your skills by managing your portfolios

Enjoying tax-free benefits on your Individual Savings Accounts (ISAs)

Working your way up with minimal investments

People who want to invest in ETFs for the first time 

Investors who want to ditch the robo-advisor services and take complete control of their finances
How Does It Work?
Before you start using InvestEngine services, you should learn how to invest first. If you choose to invest by yourself and build your own portfolio, you will pay drastically lower fees than if you opt for a Managed portfolio. 
Once you decide whether you'll invest by yourself or not, you can visit the InvestEngine official website and start the registration process. First, you'll have to choose between three available account types — Personal, Business and ISA. Ideally, it would be best to choose between ISAs and Personal accounts, as InvestEngine designated the Business account for business owners and their needs.
Next, of course, you will have to decide between a DIY or Managed portfolio. If you select the Managed portfolio, you will also have to choose between two categories — Growth and Income. 
If you decide to invest in a managed portfolio, you will have to answer a series of questions to help InvestEngine find the ideal product for you. The portfolio you get will be based on your willingness to risk, investing goals, and the amount of money you're willing to put into your account. 
As the name says, the InvestEngine Growth portfolio increases income and builds wealth. InvestEngine will invest the money you used to fund this portfolio in low-cost ETFs — less than 10% in silver and gold, and the rest of your funds in global stocks. In addition, this service provider offers ten Growth portfolios. They will match the level of risk you're willing to accept, allowing you to gain some control over your investments on a Managed account.  
Conversely, the Income portfolio is for investors who want to generate a steady income. InvestEngine provides three Income categories— Cautious (yielding 1.6%), Higher (yielding 3%), and Enhanced Income (yielding 3.8%). The lower the yield, the lower the risk to the money you want to invest.
Income portfolios are managed, and they match the risk levels you're comfortable with. Once you've deposited funds, InvestEngine will put that money into low-cost ETFs, and start earning your income. 
InvestEngine will deposit all profits you earn with your Income Portfolio to your bank account. You will get paid once a month, and before you start investing, InvestEngine will give you an estimate of how much money you can earn based on your available funds and investment profile. 
Accounts and Services
InvestEngine offers three investment accounts — Stocks and Shares ISAs, Business, and Personal accounts. Here's what you need to know about them before investing.  
Stocks and Shares ISAs
A Stocks and Shares ISA is a tax-free investment account that allows you to put your allowance to work and accumulate more money over time. Each InvestEngine ISA has a limit of £20,000 a year. Those who invest in this account don't have to pay income or capital gains taxes on profits they make from ISA investments.
One of the main reasons to invest in this account is that you won't have to pay any InvestEngine account fees. The only charges you'll face are related to the portfolio you choose, meaning you can save more over time. Furthermore, those who decide to go for an ISA with DIY investment portfolios would only have to pay for the costs of NFTs they invest in using this account. 
An ISA with a Managed portfolio will cost you 0.25% of your investments per year, which is a budget-friendly offer considering that other service providers charge double or more for managing the same account type. 
More importantly, Stocks and Shares ISAs the InvestEngine brings to the table allow you to earn higher returns than Cash ISAs. If you opt for a DIY portfolio, you'll get a chance to invest in 400+ ETFs, and if you'd like to try your luck with a Managed ISA account, InvestEngine will do all the work for you. 
Additionally, an ISA subscription will bring you a set of powerful tools you can use to build and grow your portfolio. These tools will allow you to take a peek into breakdowns of geographical regions, companies, and sectors you're putting your money into. 
If another service provider holds your ISA, you can transfer it to InvestEngine free of charge. But, of course, some companies have strict exit policies, meaning you may encounter some fees along the way.
Personal Accounts
InvestEngine's Personal accounts don't offer attractive tax benefits. Still, they can be a worthy alternative to ISAs, especially for investors who have already reached their yearly investing allowances. 
If you're interested in buying and selling your investments free of charge, this is an ideal account type for you. InvestEngine won't charge you setup or withdrawal fees, but you will have to pay some contribution for using the platform. 
To be more specific, the only charges you'll face with a Personal account are ETF costs, proving my point that InvestEngline is the cheapest ETF investing platform in the UK.
With a Personal account, you can access various low-cost features and trade over 400 ETFs from Vanguard, iShares, and other prominent brands in this industry. On top of that, InvestEngine allows you to invest as little as £1, even when buying high-priced ETFs. 
While the perks of a Personal account can't compare to ISA tax-free benefits, all UK taxpayers with an InvestEngine Personal account can make the most of their £2,000 dividend allowance and £12,300 capital gains tax allowance. This amount can be set against returns, allowing you to reduce tax liabilities.
Business Accounts
InvestEngine offers what most other providers don't — Business accounts for companies interested in investing their surplus cash and putting it to work. The attractive offer allows businesses to increase returns on interest within their corporate accounts, making it an ideal choice for startups and large corporations. 
Of course, investing your surplus cash may be risky, which is why the Business account is covered by the Financial Service Compensation Scheme. Additionally, the minimum monthly deposit on this account is £100, and InvestEngine doesn't impose any limits on how much money you want to invest.
Before I tell you how much it would cost to invest with InvestEngine, I must say that its selection of investing accounts is not as rich as I expected. Although InvestEngine boasts cost-effective services, it doesn't include SIPPs, LISAs, Junior ISAs, or Dealing accounts —  all of which may be of great use to its potential clients. 
So, if you want to invest in these account types, InvestEngine isn't the right fit for you.
InvestEngine Charges
InvestEngine won't charge you any provider fees if you choose the DIY portfolio. Naturally, ETF costs and market spreads may apply, but you'd still save a significant amount of money. 
Those who invest in a DIY portfolio don't have to pay setup, ISA, or dealing fees. Furthermore, InvestEngine doesn't charge any withdrawal fees, allowing you to get the most of your profits. 
Check out the table below to see how investing with InvestEngine can benefit your future: 
| | | |
| --- | --- | --- |
| Platform | ISA fee | Trading fees |
| InvestEngine | Free | Free |
| Interactive Investor | £9.99/month | £7.99 per trade |
| Freetrade | £3/month | Free  |
| AJ Bell | 0.25% flat fee for funds under £250,000 | £9.95 per trade |
| Hargreaves Lansdown | 0.45%/year | £11.95 per trade |
Those with Managed portfolios have to pay an annual fee of 0.25% to InvestEngine as compensation for using its investment services. On top of that, Managed portfolio users may also face ETF and market spread costs. Still, they won't have to pay any setup, withdrawal, dealing, or ISA fees.
In addition, different InvestEngine fees will apply depending on which Managed portfolio you choose:
| | | | | |
| --- | --- | --- | --- | --- |
| InvestEngine portfolios | InvestEngine fees | Average ETF charges | Average ETF spread costs | Total annual charges |
| Managed Growth | 0.25% | 0.15% | 0.07% | 0.47% |
| Managed Income | 0.25% | 0.25% | 0.07% | 0.57% |
The table below illustrates the comparison of average Managed portfolio costs between InvestEngine and its competitors:
| | | | |
| --- | --- | --- | --- |
| Service provider | Fees | Average total fund costs | Total fees |
| InvestEngine | 0.25% | 0.22% | 0.47% |
| Nutmeg | 0.45% | 0.27% | 0.65% |
| Hargreaves Lansdown | 0.45% | 1.35% | 1.83% |
| Wealthify | 0.60% | 0.16% | 0.76% |
| Moneyfarm | 0.68% | 0.97% | 1.83% |
Account Setup and Withdrawals
If you want to open an InvestEngine account, this simple guide will walk you through the entire process. Additionally, I'll explain how to withdraw funds from your portfolios and close your account if you're unhappy with the service, so read on. 
How to Open an InvestEngine Account
Investing at InvestEngine is simple. Here's how to do it:
Visit the official Invest engine website and click on the

Get Started

button.

Choose between

Individual

and

Business

account types.

Start the account registration process by providing your email address and a password.

Provide the necessary personal information, including your full name, phone, and address.

Verify your email.

Select the portfolio you want to invest in to complete the registration process.
How to Transfer Money to Your Bank Account
InvestEngine allows you to add or remove funds from your investment accounts whenever you like, regardless of which account type you have. Still, clients have to hold a minimum balance of £100 on their accounts. So, for example, if you have £10,000 your InvestEngine account, the highest amount you can transfer to your bank account is £9,900. 
I've mentioned earlier that InvestEngine doesn't charge withdrawal fees. However, one of the possible issues here is that it usually takes a few days for clients' money to arrive in their bank accounts. That is because InvestEngine has to sell your investments before sending the money your way.
Withdrawing money from your InvestEngine account is straightforward and fast. Here's how to transfer money from your portfolio to your bank account:
Log in to your InvestEngine account.

Go to the dashboard and click on the

Withdraw

button.

Enter the desired amount you want to transfer to your bank.

Contact customer support if you need additional guidance.
How to Close Your InvestEngine Account
InvestEngine will close your account if you withdraw all your money. Still, it's worth noting you'd have to close all your portfolios individually if you have available funds in them. To do that, you will have to select the Withdraw button next to your portfolio balance and continue the withdrawal process until all your portfolios are empty of funds.
Mobile App
The InvestEngine app is available to Android and iOS users, and it's a must-have for everyone who wants to trade on the go. The app is intuitive and user friendly, and it comes with valuable features that allow users to manage their accounts. Furthermore, it has biometric and password login options, allowing you to protect your investment profile from prying eyes. 
More importantly, clients can buy and sell through the app, monitor transactions, and deposit or withdraw their money. Moreover, the app includes the live chat feature and offers reports and analyses of your ETF holdings. In other words, the InvestEngine app is the go-to version of the platform created for investors who don't want to sit in front of their computer screen to monitor their investments.
Security
Offering top-tier security measures, InvestEngine uses SSL 256-bit encryption to protect client data. Furthermore, it stores all client information on servers guarded in a secure facility.
InvestEngine holds the registration of clients' investments in the name of InvestEngline Nominees Limited. So, if InvestEngine were to go insolvent, it wouldn't have any legal rights to your investments. 
InvestEngine is authorised and fully regulated by the Financial Conduct Authority, the UK's largest and most prominent regulatory body. Additionally, investments under £85,000 are covered by the Financial Services Compensation Scheme, allowing you to make a claim on your investments if the company goes bankrupt.
InvestEngine Competitors
Many investment companies operate in the UK, but only a few can boast about their product selection, security, and risk management. Some of those companies are Interactive Investor and Wealthify, so let's compare them with InvestEngine. 
InvestEngine vs Interactive Investor
With thousands of customers, Interactive Investor is a widely popular flat-free investment platform in the UK. Although both InvestEngine and Interactive Investor have good reputations, these platforms are nothing alike. 
If you visit InvestEngine's and Interactive Investor's official websites, you'll immediately notice that Interactive Investor's site is more user-friendly and easier to navigate. So, if you aren't a tech-savvy person, you'll probably prefer this service provider over InvestEngine. 
Another significant difference is that Interactive Investor offers a broader investment account selection. That includes SIPP, Junior ISA, Trading, and Dealing accounts, which may be a dealbreaker to some users whose primary investment goal is to prepare for retirement. 
On the other hand, InvestEngine is significantly cheaper. Its DIY portfolios are free, and the fee for Managed accounts is 0.25% of your investments. Conversely, Interactive Investor can charge between £9.99 and £19.99, including additional fees, such as £10/month for a SIPP. 
So, if you're looking for a budget-friendly yet dependable service provider, InvestEngine should be on top of your list. However, if you want to invest in your retirement or secure your child's future with a Junior ISA, you'd need to invest at Interactive Investor. 
InvestEngine vs Wealthify
Similar to Interactive Investor's selection of accounts, Wealthify offers SIPPs, GIAs, and Junior ISAs. So, once again, InvestEngine lacks products that could potentially help increase its silent base. 
On a positive note, both InvestEngine and Wealthify have joined forces with ethical fund providers, allowing you to support and invest in organisations committed to leaving the world a better place. But, if you want to invest in socially responsible funds, prepare to set aside enough money for Wealthify's high fees.
Wealthify takes 0.6% of its clients' investments to cover the platform costs. Of course, some service providers will charge you more. Still, if InvestEngine and Wealthify are your only options, you'll more likely save more money with InvestEngine. That is because InvestEngine charges 0.25% for ETF investing in Managed portfolios. 
While both platforms have pros and cons, it all boils down to your investment goals and plans for the future. Wealthify is for those who want to boost their retirement savings. At the same time, InvestEngine may be a better option for investors who want to accumulate more money faster.
Customer Support
InvestEngine customer support is available on three communication channels — phone, email, and live chat. In addition, customer support agents are available Monday to Friday. Feel free to contact them if you have any questions or issues with your account.
I've talked to a few agents, and they're all well-informed, polite and ready to respond to customer inquiries. They were also quick to identify and resolve issues.
User Reviews
InvestEngine has a 4.6-star rating on Trustpilot, with 82% of reviewers rating the service with five stars. Only 4% of InvestEngine reviewers on Trustpilot rated the service as poor or bad. 
InvestEngine reviews show that active users love its affordability the most. However, they're also satisfied with the easy-to-use app and the selection of available portfolios and accounts. Moreover, many new clients love InvestEngine's referral program that rewards its clients with £25 for each person that signs up via their code.
Still, I should mention that some clients regret using the InvestEngine platform. That is because they had to wait a day or longer for deposited funds to appear on their accounts. Similarly, some users claim InvestEngine doesn't allow users to move funds between portfolios, which I thought was a significant issue (as most other providers offer this feature).
To make this InvestEngine review complete, I decided to contact customer support once again and ask them to elaborate on this issue. Here's what one of the InvestEngine agents wrote back:
Wrap Up
In this InvestEngine review, we can see that this service provider offers a decent selection of investment accounts and a user-friendly app for secure investing. So, now that you know everything about InvestEngine, it's time to decide whether this platform is the right choice for you. 
Overall, InvestEngine is the cheapest investment platform in the UK — no other service provider can match its low fees. So if you want to get the most out of your investments, InvestEngine is undoubtedly worth a try. 
Last but not least, remember that investing is a risky business. Therefore, it would be best to discuss your investment opportunities with a financial advisor before depositing your money into an InvestEngine account or an account on a similar platform.
FAQ
Is InvestEngine legit?
Regulated and authorised by the FCA, InvestEngine is a legitimate and trustworthy company. Your investments are covered by the FSCS, allowing you to claim £85,000 if the company goes bankrupt.
Is InvestEngine any good?
Yes, InvestEngine is a decent place to start dealing with ETFs. The platform features a range of services to help you navigate your investments, and most importantly, it charges the lowest fees in the UK's investment market.
How does InvestEngine make money?
InvestEngine makes money by charging clients a 0.25% platform fee for investing in Managed portfolios. This fee is its only source of profit.