Gaming Chairs - UK Top Picks
Have you ever had to stop a gaming session due to persistent back pain and discomfort? Well, you aren't the only one. Whether they're seasoned pros or casual gamers, many gaming enthusiasts regularly experience muscle or ligament strains caused by sitting for long periods.
So if you're trying to improve your gaming experience and maintain a pain-free back, we're here to help you find the best gaming chair for you.
Last Updated: March 8, 2023
Advertiser disclosure
This page may contain links to our partners' products and services, which allows us to keep our website sustainable. This means that cybercrew.uk may receive a compensation when you sign up and / or purchase a product or a service using our links. However, all opinions expressed in this article are solely ours, and this content is in no way provided or influenced by any of our partners.
Best Gaming Chair UK
Detailed Reviews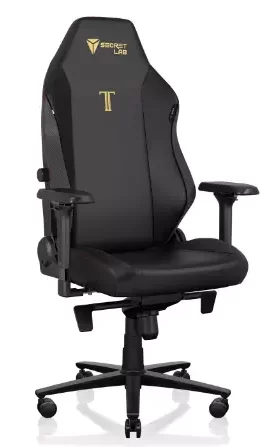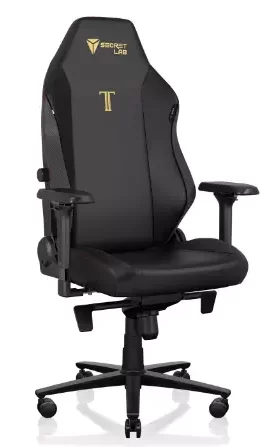 Best for ultimate back support
Visit Website
Lumbar support
4-directional armrests
PU-coated casters
Steel frame construction
As you already know, Secretlab is one of the best brands in this business. Its designers and engineers came up with a unique idea that separates this chair manufacturer from its competitors.
What's great about the 2022 series is that it offers six versions of one chair. So, believe it or not, you can now choose between three sizes and materials, meaning you can design the perfect chair that meets all your needs.
What's more, Secretlab provided ergonomic support for every chair size. Regardless of which size suits you best, you'll get the same adjustable lumbar support and impressive features. The XL chair has a weight capacity of 180kg, but the S version has a weight limit of 90kg. With that in mind, it's safe to say that the Secretlab Titan Evo 2022 are the best gaming chairs for kids and older gamers too.
Another exciting feature is the medium-firm foam. The padding, designed to create an optimal balance between comfort and sturdy support, will stay intact for years after your purchase. On top of that, the cold-cured foam padding will evenly distribute your weight when you sit and help you relieve pressure while gaming.
When it comes to materials, you can choose between NAPA leather, SoftWeave fabric, and a delightfully supple hybrid leatherette. Although all materials come with a soft and cosy finish, consider that hybrid leatherette is the most durable and high-quality option.
As expected, Secretlab provided a lumbar support system that adjusts to the chair user and a suspension system that allows you to stay intact regardless of how far back you want to tilt your chair.
This product was designed to accommodate every user, mainly because it comes with an adjustable magnetic pillow. This feature helps with all kinds of painful problems that interrupt your gaming sessions. What's more, the chair comes in various colours, including soft pink, black, grey, white, and many more.
Best for back pain alleviation
Visit Website
4-directional armrests
Lumbar pillow
Scratch and stain resistant leather
Backrest 90-160° recline
As mentioned earlier, AndaSeat Dark Demon, designed with the consumer in mind, is the best budget gaming chair in the UK for gamers of all ages. The TitanSteel 22mm one-piece frame comes with a lifetime warranty, and the five-point aluminium base features silent wheels adequate for almost any surface.
Covered in high-end quality premium PVC leather, Dark Demon is durable and easy to clean. The one-piece foam that lies underneath offers boundless stability and comfort even during long gaming sessions. So, if you're looking for a gaming chair that provides durability, style, and luxurious sitting, Dark Demos might be the one you're looking for.
What's more, a removable head pillow along with a lumbar cushion will support your spine and neck. These features are ideal for those who suffer from chronic back pain or children and adults who need to work on their posture. Combined with one of a kind armrests that can relieve wrist and muscle tension, these features will maximise your active sitting experience.
Just like any other high-performance gaming chair, Dark Demon has four-dimensional armrests for additional support and comfort. On top of that, the reclining back can tilt up to 160 degrees, allowing you to stay secure in your perfect sitting position.
Dark Demon has a max weight capacity of 200kg, and if you're a taller gamer who requires more space and XL furniture, you'll definitely benefit from investing in this chair. In addition, this quality gaming chair is also height-adjustable, making it ideal for children who might otherwise outgrow their furniture in the future.
When it comes to design, AndaSeat offers only two options. But, whether you choose a stylish all-black design or a more eye-catching red and black version, you'll get a modern, highly functional chair that will match your gaming station design.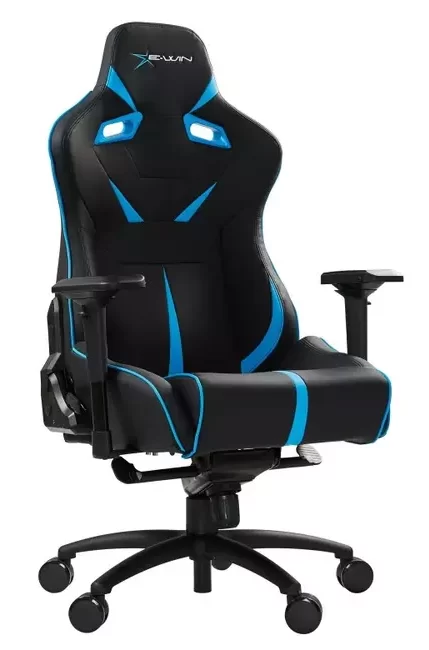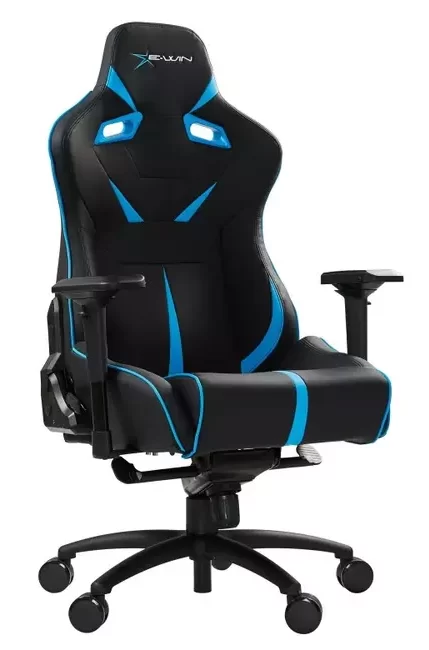 Best for taller adults
Visit Website
Adjustable seat height
Adjustable backrest
Durable soft glide casters
Stain Resistant 2.0 PU Leather
If you're a taller gamer, you'll undoubtedly enjoy the E-Win Europe Flash XL design. E-Win's ergonomic gaming chair with front-back and angle adjustment will adjust to your spine shape and improve lower back pain. Moreover, the tilt adjustment features will allow you to boost your gaming performance or even tilt your chair when you need to take a nap.
There are a few valuable design elements we'd like to mention. For starters, a locking mechanism will secure your sitting position, and adjustable wrist-rests will keep your arms parallel to the floor.
Next, this gaming chair comes with durable casters with outstanding resistance to debris, dirt, and foreign objects. These casters are soft and durable, and more importantly, they won't damage your flooring.
A quality cold-cure foam is heavier than any other alternative. Flash XL designers used this type of material to extend the life of their products. Also, it's worth noting that the cold-cure foam prolongs comfort, meaning you can enjoy this top-tier gaming chair for years.
You'll also get one of the most comfortable headrest pillows and a lumbar cushion that helps ease neck and back pain. Lumbar cushions can improve circulation and keep your spine in its natural position.
Finally, the designers chose PV leather for coverings. This stain-resistant material requires little to no maintenance, and you can easily take care of it with a clean cloth. Surprisingly, it feels and looks like natural leather, which is one of the many reasons this chair is so prevalent in the gaming community.
Luckily, the E-Win Europe Flash XL series comes in a variety of colours. So whether you prefer an all-black design or want a chair with a splash of colour, this chair manufacturer has a few options in its catalogue. Whichever design suits you best, keep in mind that this chair is an ideal posture corrector and a perfect solution for your back pain.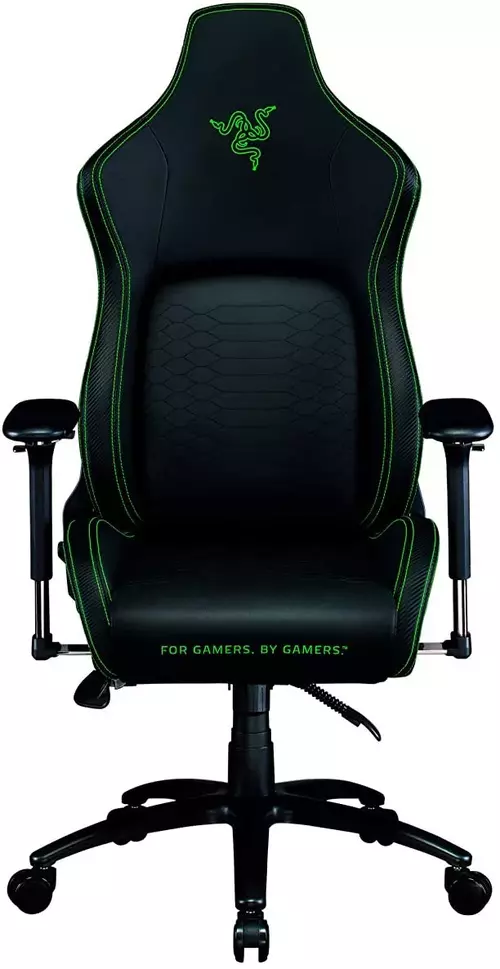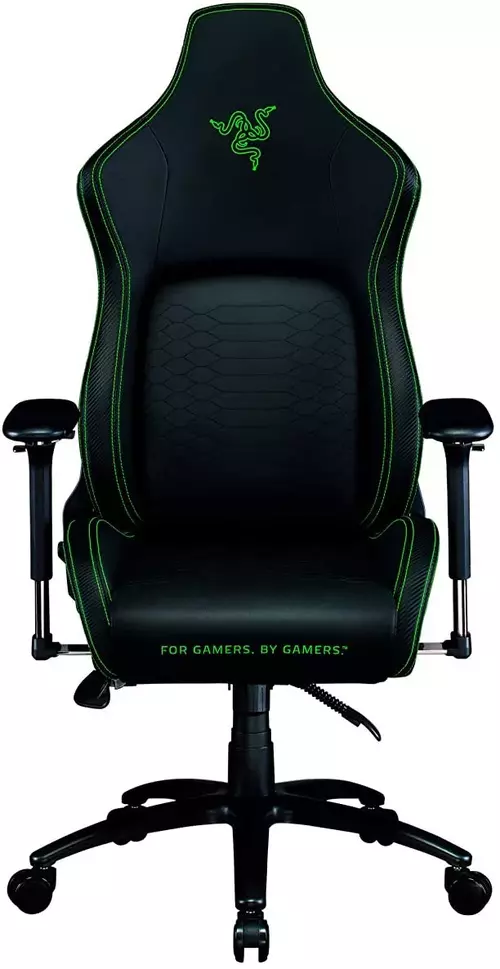 Best for posture-perfect gaming
Visit Website
14-day risk-free trial
Adjustable lumbar cushion
6 cm caster wheel
Adjustable back angle
Razer Iskur's frame made of metal and plywood ensures ultimate support while gaming. It can withstand a weight of up to 136kg, and it's very sturdy. In addition, the powder-coated metal chair base doesn't rust or corrode. Inskur's chair base can hold out against various environmental changes, unlike other materials prone to scratches and wear and tear.
Still, what makes this chair a good catch is a fully sculpted built-in lumbar support that aligns to the natural curve of your spine. This feature offers total lower back support that ensures ultimate comfort and correct posture.
High-density foam cushions provide better contouring that, when applied pressure, mould the chair to support your body shape. Additionally, its four-dimensional adjustable armrests allow you to change their angle and height adjustment. You can also move them forwards or backwards, meaning you can finally find a position that matches the way you sit.
Moreover, Razer uses quality materials for its products. Wrapped in multi-layer PVC leather, Iskur is more durable than any other product in the same price range. The PVC leather will extend the life of your gaming chair, but it will also provide a soft and smooth feel that shares similarities with real leather.
The outstanding build quality, angled seat edges, and retractable display will allow you to take frequent breaks and enjoy your gaming sessions for hours at a time. Therefore, this seat type is ideal for those who lack back support.
When it comes to design, Razer keeps it plain and simple. Iskur is a black chair with distinguishable lime green design elements. The Razer logo near the headrest area is the focal point, and the overall design looks pretty neat and stylish.
Iskur is a comfy gaming chair for those who spend a lot of time playing games, and its features provide total comfort many gamers dream of.
If that sounds good to you, we suggest you give Razer Iskur a try. While you're at it, check out this Razer BlackShark V2 X review to learn more about another exceptional Razer product.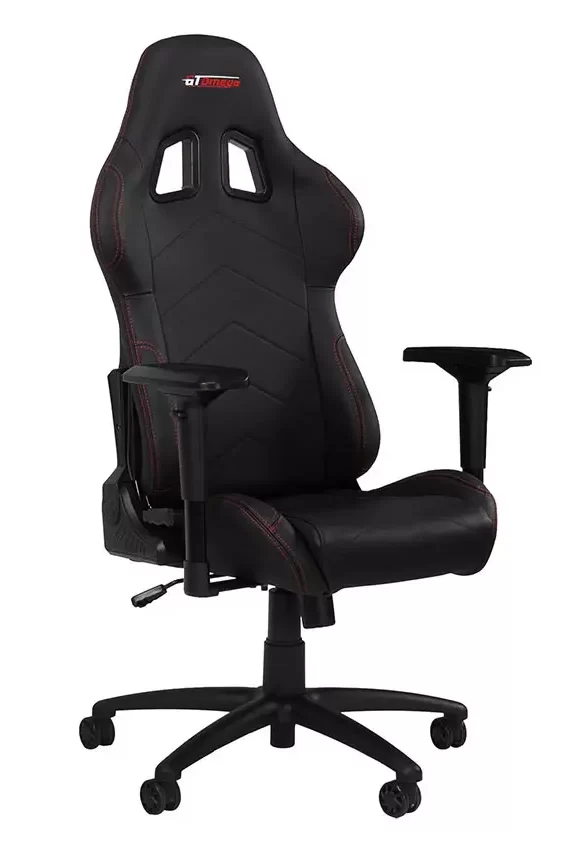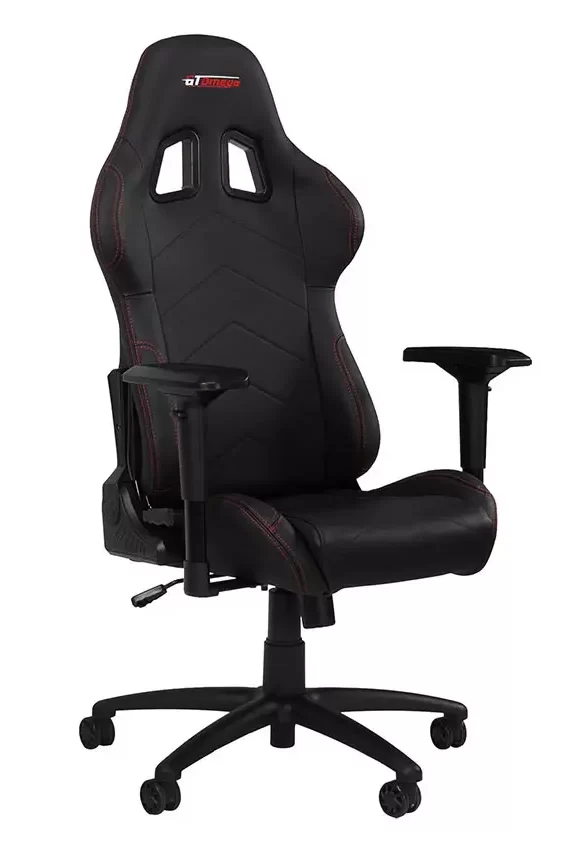 Back support
Visit Website
Full height control
Rocking function
Cold moulded foam interior
Lockable caster wheels
Due to its quality and outstanding design, GT Omega Pro Racing is one of the most valuable and best-selling GT Omega products. This quality chair designed for ultimate comfort is all you need to combat lower back pain and find your ideal sitting position.
Wrapped in reinforced PVC leather, GT Omega Pro Racing is a comfortable gaming chair but also long-lasting. What's more, the five-star aluminium base that doesn't rust or corrode ensures ultimate stability. In addition, caster wheels with minimal resistance will allow you to glide across any surface effortlessly.
The GT Omega designers used class four hydraulic pistons to ensure safety and lumbar support cushions for more comfort. When combined with lumbar support cushions, the GT Omega head pillows provide contoured padding shaped to support every curve on your body.
Trying to find a PVC leather chair for such a low price is almost impossible in the UK. Still, GT Omega found a way to combine functionality and style while delivering a quality leather gaming chair for an affordable price. Still, if the leather isn't your cup of tea, you can order the GT Omega Pro Racing chair covered entirely in fabric.
Even better, this company offers design varieties that fit every style. So whether you prefer an all-black design with minimal details or a chair that matches your colour scheme, you'll find something that suits you!
Additionally, we must acknowledge that the foam interior makes it easier to improve posture, providing excellent body-hugging support. All in all, GT Omega Pro Racing is one of the best gaming chairs you'll find in the UK, which is why you should try it out.
Good posture
Visit Website
Velour neck pillow
Adjustable arm rests
Multiple styles
Memory foam lumbar pillow
What's great about this gaming chair is that its ergonomic design will take the pressure off your back while sitting for long hours. In addition, the Omega chair comes with a hypoallergenic memory foam head pillow that aligns your spine and decreases back and hip stress.
This feature is ideal for those who work in an office or spend a lot of time in front of a computer screen. What's more, whether you're enjoying long gaming sessions or working from home, the design tailored to your height will ensure ultimate comfort.
Omega's multi-functional tilt mechanism will help you find the perfect sitting position. Along with a flexible seating mechanism, the adjustable armrests will provide long-lasting forearm support while gaming.
Although the chair feels too sturdy during the first few weeks, the material will soften over time. As a result, you'll have a long-lasting gaming chair that will outlive most of your gaming equipment.
Additionally, if you purchase Secretlab's Omega gaming chair, you'll get to enjoy the comfort of memory foam lumbar support. This feature will eliminate lower back pain, while the memory foam pillow reduces pressure points and increases comfort.
Even better, this gaming chair comes in a variety of materials and designs. For starters, you can choose between PU and NAPPA leather. However, SoftWeave breathable fabric is also a good choice due to its softness and durability. This leather alternative will also regulate your body temperature and ensure a cosy experience throughout the year.
Still, if you have any other design questions, we suggest you contact Omega support. They have been nothing but helpful, and they'll surely give you more information about their best-selling chair.
Long gaming sessions
Visit Website
Fully adjustable arms
patented PostureFit spinal support
BackFit™ adjustment
Adjustable seat depth
Embody is a result of a successful collaboration between Logitech and Herman Miller. These companies thoroughly researched gamers' needs, which led to the creation of one of the most innovative gaming chair designs on the market.
Logitech G x Herman Miller Embody will enhance your gaming experience by supporting a range of postures and eliminating pressure buildup. The BackFit Adjustment feature matches up to your spine's movement and shape, but it also evenly distributes pressure to improve your balance.
Another amazing feature is the die-cast aluminium frame. This material is lightweight and durable, and it requires minimal maintenance. Moreover, the five-star base encourages movement, meaning you can effortlessly reach something across the room without getting up.
Not to mention the detail that enables a truly marvellous performance is the translucent pliable polymer attached to the acetal H-flexor back structure. This feature, designed to mimic your spine, will prolong your screen time and keep the back pain at bay.
These companies used 100% polyester for covering — an excellent choice considering the polyester is flame-resistant. Moreover, this material is also resistant to UV lights, and it preserves colour to prevent chalking.
The chair designers included a self-skinning thermo-plastic urethane foam that resists abrasion and impact to ensure even more comfort. With that in mind, the Logitech G x Herman Miller Embody will undoubtedly improve your back condition.
The chair comes in a matte black finish, but you can opt for a design with sea-blue details. Although both options appear stylish, a splash of rich colour is what makes this chair look terrific. Of course, Embody designers deserve all the praise, and if you want to benefit from this collaboration, it's advisable to get one for yourself ASAP!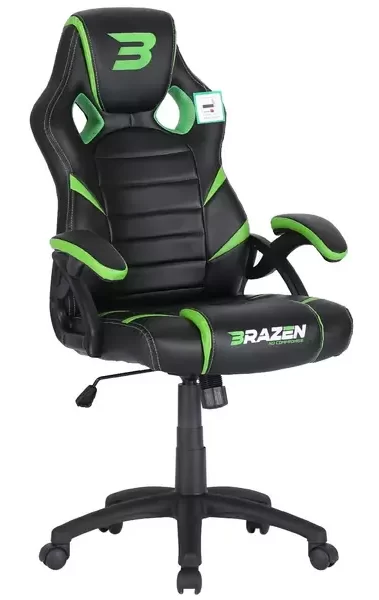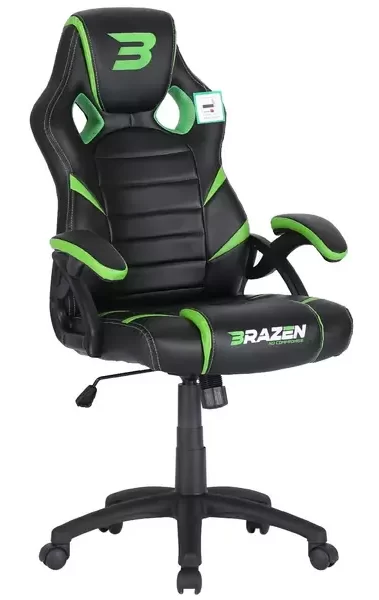 PC gaming
Visit Website
Tilting adjustment mechanism
360 degree swivelling capability
Eight colour combinations
Padded fixed arm rests
BraZen Puma is a top-tier chair suitable for office and PC gaming. Although adults are the target audience, the seat on this BraZen Puma small gaming chair is height-adjustable, meaning your child can use it as well. So if you're looking for furniture that will enhance the look of your gaming station, this chair is the perfect fit for you!
But, it's not the overall look of the chair that makes it so valuable. Namely, the BraZen Puma comes with a butterfly mechanism that helps you adjust the tilting and height. What's more, the standard star-shaped nylon base with 5cm caster wheels is suitable for most carpets.
More importantly, it will only take you roughly 20 minutes to assemble and start using the chair. If we consider that it might take you hours to make some gaming chairs functional, we have to agree that BraZen Puma designers have outdone themselves.
The seat and armrests are our absolute favourite design elements. They can boastfully put any competition to shame due to their compact design and quality padding.
This excellent gaming chair has a 360-degree swivel capacity, and it supports up to 120kg body weight. Even better, all materials used to make this chair comply with the UK's furniture and furnishing laws and regulations, meaning the chair is fire-resistant.
Designers choose faux leather and mesh fabrics for chair coverings that go well with a range of colours applied to the BraZen Puma design. Although matte black is the base, you can opt for pink, red, green, white, blue, yellow, grey, or purple details.
Unfortunately, this gaming chair doesn't come with advanced features such as lumbar support. Still, BraZen Puma is a chair with an ergonomic design, meaning you'll get to enjoy optimum comfort.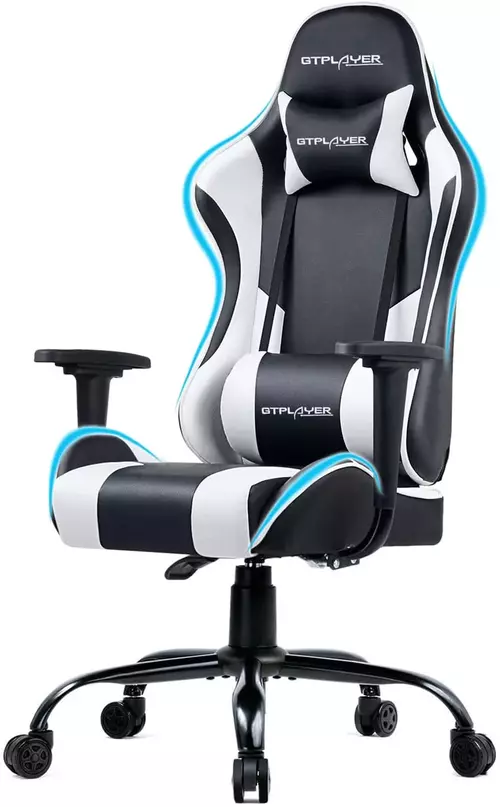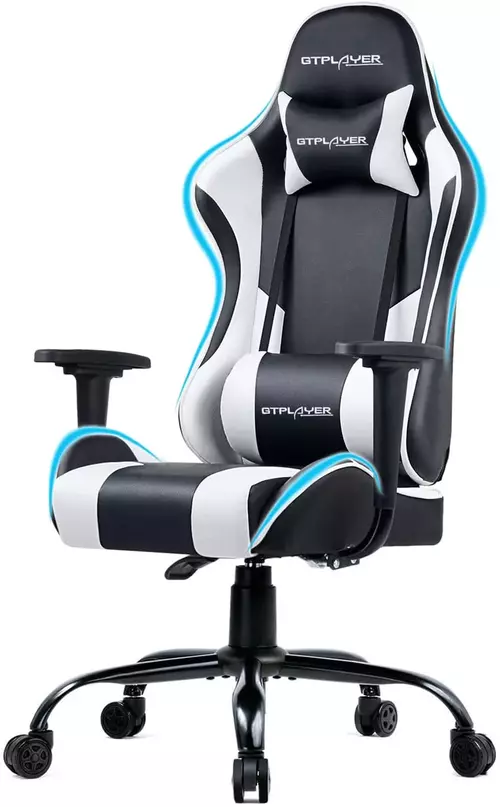 Best for relaxation
Visit Website
Adjustable seat height
360° swivel
Smooth bonded leather
Lumbar & headrest pillows
GTPlayer is undoubtedly the best gaming chair under £200. It was carefully designed to suit every budget, but the designers didn't compromise on quality, which is good news. This gaming chair comes with a wide ergonomic frame with a capacity to withstand up to 136kg and a thickened seat cushion to enhance comfort.
GTPlayer engineered a heavy-duty gaming chair equipped with sturdy metal support and durable yet delicate nylon casters that won't damage your carpet. What's more, whether you glide it across hardwood flooring or porcelain tile, your flooring will remain clean and intact.
One of the most remarkable features is its lumbar massage pillow that comes with a USB cable, allowing you to recreate a spa-like experience at home. So if you're looking for a product that promotes both health and comfort, you can't miss out on this opportunity.
In addition, the armrest mechanism with extra padding thickened from the wrist to the elbow will provide more comfort and protection. Also, if you need to put your feet up and rest, a retractable soft foam footrest covered in PU leather will allow you to switch your sitting position.
The seat also comes with extra filling to prevent the chair from collapsing after long-term use. More importantly, the chair has gone through various experiments before production. Therefore, even though the chair is relatively cheap, you won't have to worry about quality.
On top of that, GTPlayer delivered a gaming chair with speakers you can connect to your smartphone or any other Bluetooth-enabled device. The speakers deliver a rich sound, encouraging you to enjoy your favourite movies or tunes and create a unique mobile gaming experience that will mesmerise your senses.
The extra features such as a reclining mechanism and a head pillow will increase comfort. So, whether you want to game, work, or take a nap while the lumbar pillow massages your back, this wireless gaming chair is an excellent choice. All things considered, this is a durable and stylish gaming chair you can get at a reasonable price.
Best for home office
Visit Website
Adjustable Back Angle (90-170°)
Adjustable Tilt Angle (0-17°)
4-directional armrests
Breathable soft cloth exterior
Corsair T3 Rush is undoubtedly the most comfortable gaming chair on the market with a racing-inspired design. It is one of the cheapest Corsair products, but the quality of this gaming chair matches some prominent higher-end products. Sadly, many gamers often overlook this chair, even though it blends well with any work or gaming environment.
Made out of steel, Corsair T3 Rush has a weight capacity of 120kg. What's more, the five-point nylon base that rests on dual casters provides additional support to improve the chair's durability.
Corsair uses a plush microfibre material for coverings that keep you cool during long gaming sessions. This material is resistant to mould and mildew, but it's also soft and comfy. If leather isn't your cup of tea, plush fibre is the second-best choice for people with sensitive skin or allergies.
Corsair T3 Rush is the best ergonomic chair that improves the health of your back. It's compact and adjustable, and it comes with a reclining backrest. So, not only can you find your sweet spot and take a well-deserved break after gaming, but you can also adjust the armrests for better ankle and forearm support.
When searching for a new gaming chair, you should find a product that supports your neck and back. Luckily, this Corsair chair offers memory foam lumbar support and padded neck cushions.
The design is simple yet modern, and as mentioned earlier, it's an excellent choice for your office or a gaming station. The three colour variations are charcoal, grey/white, and grey/charcoal, and they all look neat and modish.
How to Choose the Best Gaming Chair?
– BUYER'S GUIDE –
We've listed ten excellent products in this article, but you're probably still wondering how to choose the perfect one. So, to help you decide, we've crafted a short buyer's guide that can be of service the next time you're looking for a new gaming chair.
Here are some questions you might want to ask yourself before hitting that tempting Order Now button:
What is your budget?
For starters, it would be best to consider your budget. Once you know how much you can spend on a new gaming chair and how often you will use it, it will be easier for you to decide.
So, for example, Logitech G x Herman Miller Embody and Secretlab Titan Evo 2022 are some of the best gaming chairs on the market, but they can cost over a thousand pounds!
Although their impeccable design and quality can be alluring, you might want to opt for more budget-friendly gaming chairs, such as GT Omega Pro Racing.
Do you prefer bigger or smaller chairs?
Chair models come in various shapes and sizes, which is why it's advisable to consider which option would suit you best. For example, when buying a chair for a child, it would be best to consider a child-friendly chair such as BraZen Puma or opt for height-adjustable chairs made for both children and adults, which will allow you to change the seat height.
What chair material do you prefer?
Materials are significant, especially if you're allergic to PU leather or any other fabrics. But, whether you're allergic or not, it would be best to carefully examine the chair material before making a purchase.
So, for example, PU leather looks and feels like real leather. It's soft and comfortable, but prolonged exposure to sweat and liquids can damage the material. On top of that, the layer of wax on top of PU leather can make this material feel slippery. So, if you want a sturdier option, one of the best alternatives would be SoftWeave fabric.
Are you ready to invest in regular maintenance?
Chair maintenance pays off, but keep in mind that some chairs require more care than others. So, if you buy a chair covered in mesh fabric, you will have to clean it more thoroughly than chairs with PU leather coverings.
PU leather chairs require little to no maintenance. All you have to do is wipe it with a clean cloth and rubbing alcohol at least once a week, and your gaming chair will always look new.
Wrap Up
A quality gaming chair is vital for your health and overall gaming experience. By investing in the right product, you can alleviate back pain and correct your posture effortlessly. So, whether you choose Corsair T3 Tush,  Secretlab Titan Evo 2022, or any other gaming chairs listed in this article, you definitely won't be disappointed. Still, finding the right gaming chair takes time, so we hope our Best Gaming Chair UK article will make the process easier for you.
FAQ
What gaming chairs are good for posture?
Adjustable lumbar support chairs with ergonomic designs such as Secretlab Omega and BraZen Puma can help you correct your posture and improve back pain. A quality ergonomic gaming chair supports your neck, lower back, shoulders, and upper back, allowing you to maintain correct posture and improve your health.
Are gaming chairs really necessary?
Gaming chairs aren't a necessity. However, you should consider buying one if you often experience back and neck pain while gaming. Most gaming chairs can help you achieve a proper sitting position, and if you tend to enjoy long gaming sessions, a quality gaming chair will help you manage lower back pain at home.
How long do gaming chairs last?
An average gaming chair should last at least two years. However, advanced models can serve you up to five or more years. Keep in mind that you need to take proper care of your gaming chair to extend its longevity.