Gaming Keyboard - UK Top Picks
Although the gaming keyboard market is overloaded with options, we've come up with a list of some of the best gaming keyboards available right now, so check them out below.
Last Updated: January 5, 2022
Advertiser disclosure
This page may contain links to our partners' products and services, which allows us to keep our website sustainable. This means that cybercrew.uk may receive a compensation when you sign up and / or purchase a product or a service using our links. However, all opinions expressed in this article are solely ours, and this content is in no way provided or influenced by any of our partners.
Best Gaming Keyboard UK
Detailed Reviews
Mainstream alternative
Visit Website
Switch Type: Mechanical user-swappable
Backlights: Lightsync RGB
Media Controls: Integrated
Keycaps: ABS
Size: 34 mm x 361 mm x 153 mm
Passthroughs: None
Wrist Rest: No
At first sight, you may easily mistake the G Pro X RGB keyboard for the 2017 Logitech G Pro keyboard since the two are nearly identical in appearance and size. That isn't necessarily a negative thing, as when it comes to G Pro X's keyboard size, it is very small, sturdy, and lightweight and can fit into any setting, even a non-gaming one. However, it may turn off some customers hoping for a slight bit of difference between the two, particularly if they already possess the G Pro.
Aside from its small size, the G Pro X RGB gaming keyboard comes with a detachable micro-USB cable, making it ideal for pro gamers on the go. But what sets the G Pro X apart from its predecessor is that it comes with "hot-swappable" GX switches, allowing for a lot of customisation (the individual pack of additional switches is sold separately). 
There are three main mechanical switches: blue (clicky), red (smooth), and brown (tactile) — and each one appeals to different tastes.
The keycaps are full-size, so they fit most people's hands, and they're constructed of PBT plastic, making them quite robust and able to withstand a lot of force. However, the absence of dedicated media keys, which are almost considered necessary in today's market, will undoubtedly be a deal-breaker for some.
Apart from the detachable USB-C cable, there isn't much more the G Pro X offers to the general public. Even though this is a specialised pro gaming keyboard, it wouldn't have hurt if Logitech had included removable wrist rest, as it already had in previous entries.
Outstanding gaming keyboard
Visit Website
Switch Type: Razer Mechanical Switch
Backlights: RGB
Media Controls: No
Keycaps: ABS
Size: 366 mm x 154 mm x 39 mm (without wrist rest)
Passthroughs: None
Wrist Rest: Detachable
Among the newest Razer keyboards is the BlackWidow, which comes with a relatively basic design. The Razer Blackwidow Chroma TE V2 gaming keyboard tilts at an ergonomic, downward angle, with or without its flippable feet. It ends with a short, strong angle at the unit's front edge, which contains the Razer logo. Magnets are also included in the front edge, allowing it to attach to the magnetic wrist rest, made of soft faux leather and filled with foam.
The Tournament Edition is matte black with no strange accessories that are present on so many gaming keyboards. You can choose your preferred backlight colour, which illuminates both the letters of the keys and the space around them. Unfortunately, because the @, &, and media commands are painted rather than engraved on Razer's keycaps, the backlighting fails to make them visible in a dim or dark environment.
This BlackWidow is a TKL keyboard (tenkeyless), which means it lacks the numpad section to the right of the cursor arrows to keep its tiny footprint. In this model, however, Razer removes functionality like dedicated macro keys and audio passthrough. While the key clicks are a little too loud, the keyboard is nevertheless a pleasure to type and play on. In addition, while the keyboard itself has no interesting physical characteristics, the Chroma software is a thrilling experience and fun to use.
Quality gaming keyboard
Visit Website
Switch Type: OmniPoint switches
Backlights: RGB
Media Controls: Dedicated
Keycaps: ABS
Size: 436.7 mm x 40.3 mm x 139.2 mm (without wrist)
Passthroughs: Yes
The SteelSeries keyboard Apex Pro's metal frame is big enough to hold the keyboard without becoming overly bulky. The Apex Pro nearly finishes where the keys stop, so there's no wasted space on the sides. In addition, it gets a lot of credit for its simple design. This Apex Pro light-up keyboard would take up roughly the same amount of space as a regular office keyboard if it wasn't for the wrist rest — fortunately, it's magnetically connected.
The Apex Pro's keycaps are elevated above the keyboard deck, giving the keyboard a sleek and modern look. Even though they are made of plastic, they have a strong and quality feel. An OLED display, a volume wheel that you can press to mute, and a media key that will play or pause the music by default are all located above the numpad. This OLED display will allow you to customise the keyboard even further by setting a personalised picture or even a GIF.
A USB passthrough is located on the back of the keyboard. It's easy to reach, and since it's also lighted, you'll easily find it during a late-night gaming session. Due to its USB passthrough, this keyboard requires two USB ports for power. 
The SteelSeries Apex Pro has full RGB lighting, which looks fantastic. Sadly, there isn't much in the way of custom lighting settings.
Dark-room gaming
Visit Website
Switch Type: Mechanical switches
Backlights: Red LED
Media Controls: Integrated
Keycaps: ABS
Size: 442.26 mm x 35.59 mm x 129.81 mm
Passthroughs: None
Wrist Rest: No
The HyperX Alloy FPS, a robust and cheap full-size gaming keyboard, was Kingston's first entry into the mechanical gaming keyboard industry. Now, the firm has effectively removed the numpad from that keyboard and transformed it into the Pro version, a compact TKL keyboard for tournament gamers or anybody needing a keyboard with a smaller footprint.
The keys of the Alloy FPS Pro mechanical RGB keyboard are positioned on top of a flat metal deck, similar to HyperX's previous keyboards. The result is a thick, stiff feel with a significant amount of weight, nearly two pounds. For a keyboard this compact, it has a lot of weight. The keyboard has Cherry MX switches in Bed, Blue, or Brown.
There is a mini-USB connector around the back for the detachable, braided USB cable. The controls are straightforward and minimal. 
Hold down the Fn button and press:
F6-F8

to manage media playback

F9-F11

to change volume

F12

to activate the game mode
Like the other HyperX Alloy keyboards, the FPS Pro features just red LED lighting, which is one of the reasons why this gaming keyboard is far less pricey than some of its competitors.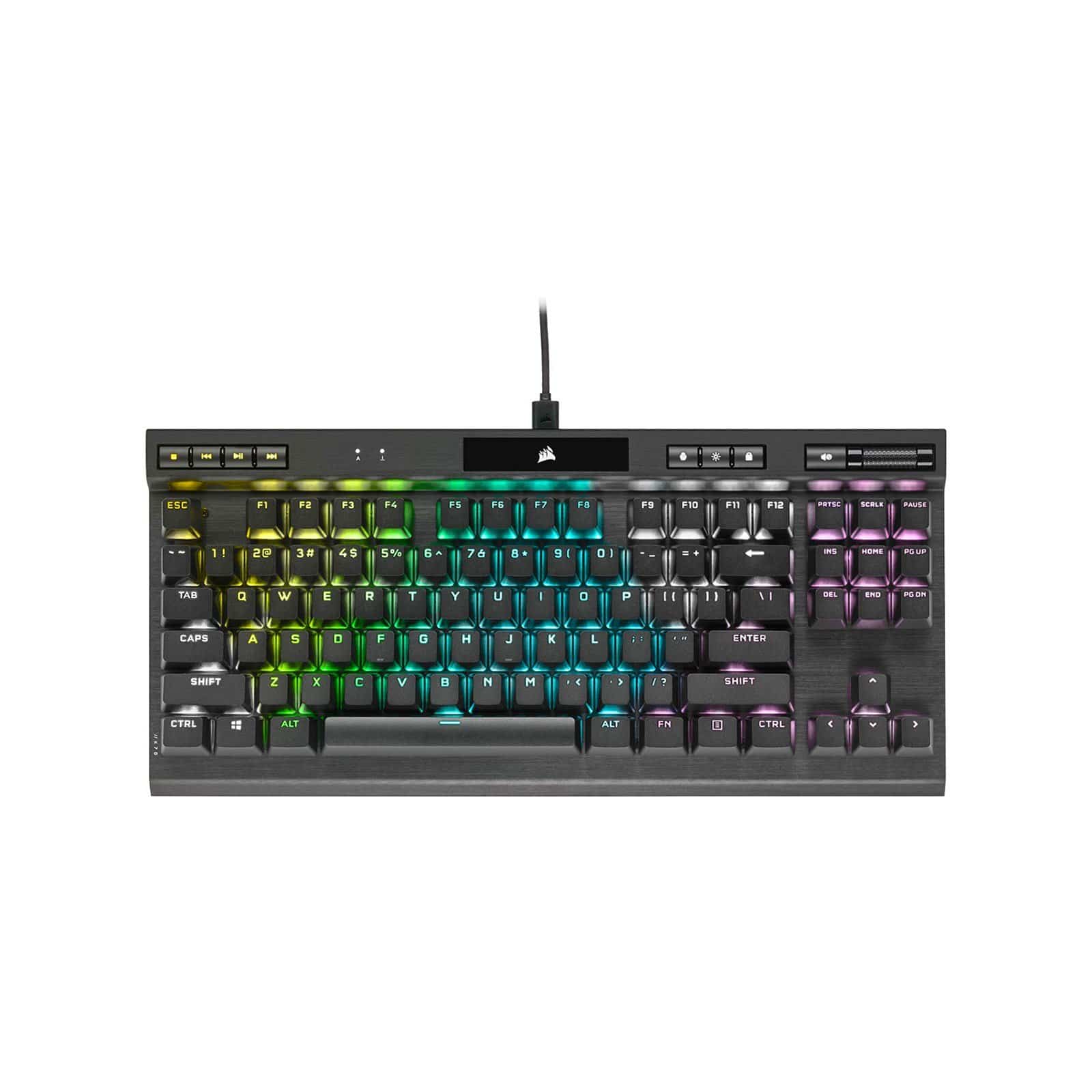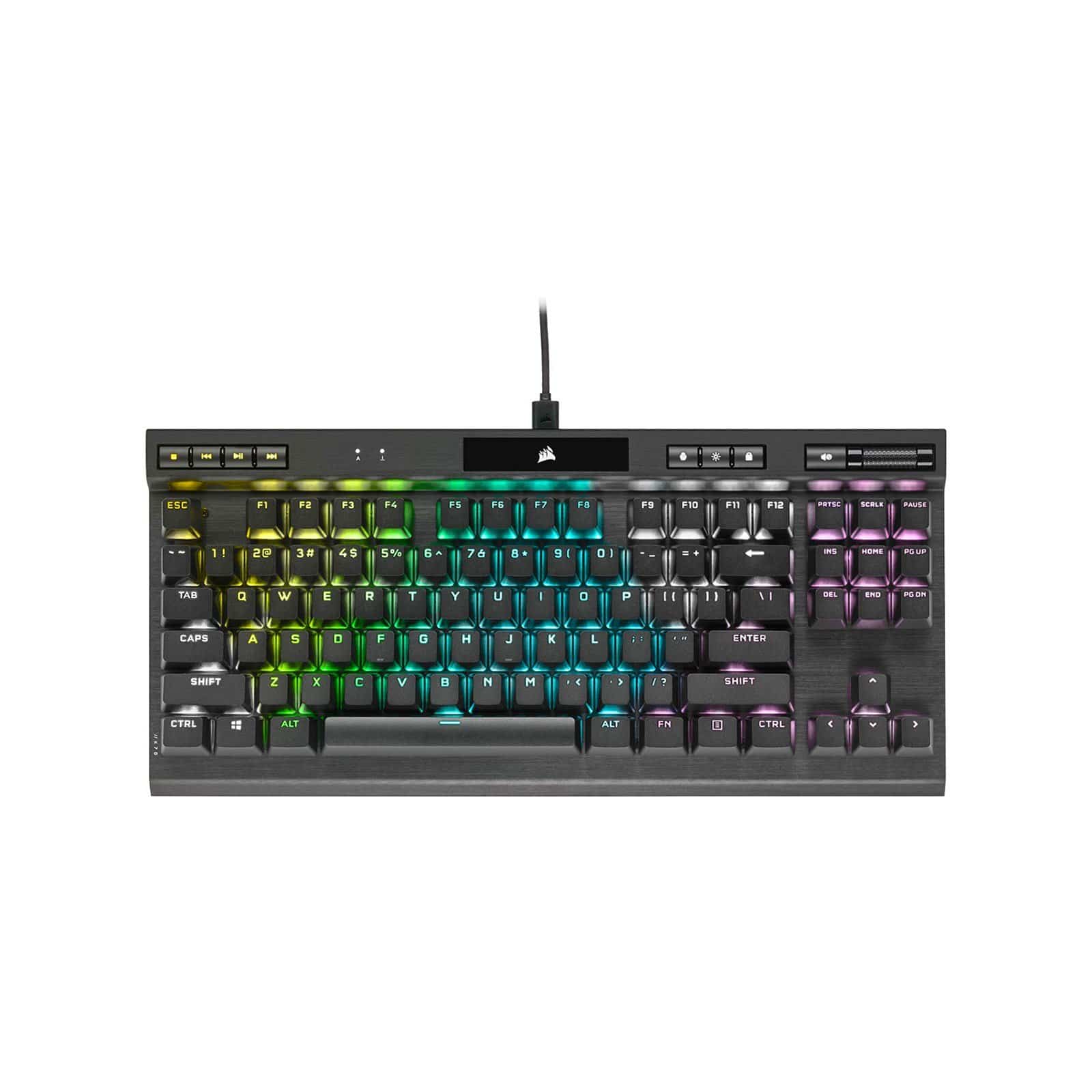 Best wired keyboard
Visit Website
Switch Types: Mechanical switches
Backlights: RGB
Media Controls: Dedicated
Keycaps: PBT double-shot
Size: 364 mm x 31 mm x 165 mm
Passthroughs: None
Wrist Rest: No
The mechanical keyboard Corsair K70 RGB TKL Champion Series is a tournament-ready keyboard in a compact form factor with a vibrant and sturdy design. It lacks a numpad, like all TKL gaming keyboards, and allows more desk space, which is ideal for those who don't have a lot of space on their desk or who travel frequently.
The introduction of luxurious media keys in the Corsair mechanical keyboard K70 RGB TKL contributes to the larger frame. There are five dedicated hotkeys and an aluminium, textured volume roller, which is quite an achievement for a TKL keyboard. All of those keys have a firm feel to them, especially when compared to the cheap plastic substitutes available on lower-cost keyboards.
You'll have to count on the K70 RGB TKL's per-key RGB effects for even more personalisation. To create and experiment with various RGB effects, you'll need the software for this keyboard.
When it comes to keycaps, Corsair spares no expense. The use of doubleshot PBT material instead of ordinary ABS plastic gives the product a more premium feel.
In addition, the K70 RGB TKL keyboard comes with a high-quality braided USB-C to USB-A cable that is detachable. The USB cords on some keyboards can feel weak or cheap, but this one can withstand much bending and usage.
Best RGB keyboard
Visit Website
Switch Type: Optomechanical switches
Backlights: RGB
Media Controls: Dedicated
Keycaps: ABS
Size: 444.5 mm x 36.5 mm x 140 mm
Passthroughs: None
Wrist Rest: Detachable
The Razer Huntsman Elite is an incredibly looking MMO keyboard with great mechanical switches, RGB lighting, and fast response, making it an excellent option for MMO and other multiplayer games. 
Despite the firm's high aspirations, The Huntsman Elite is Razer's smallest keyboard and the company's first frameless design. Floating keycaps glide over a shiny black anodised metal keyboard base, continuing the tradition of previous frameless keyboards.
Because of the 360-degree track lighting, Razer is a leader in the field of RGB lighting, with Chroma giving a vivid yet gentle illumination to every key, button, and a distinctive under-glow effect. 
The Razer Huntsman also has one of the greatest sets of media keys, with three play/rewind and fast forward buttons, as well as a volume dial with a mute button in the middle.
Although Razer isn't the first device manufacturer to release an optical switch keyboard, the optomechanical switch has a distinct feel and is considerably quicker than models from other companies.
You can easily ignore Cherry MX Speed mechanical switches or any other keyboard switch; Razer's optomechanical switches are without a doubt the quickest keyboard switches you can find. Meanwhile, the Razer Huntsman Elite is the closest thing to a flawlessly laid-out keyboard on the market. But, of course, it's not ideal; the keyboard consumes a lot of power, and the loss of two USB ports is a significant issue.
Best wireless keyboard
Visit Website
Switch Type: Mechanical switches
Backlights: No
Media Controls: Dedicated
Keycaps: ABS
Size: 478 mm x 33 mm x 216 mm
Passthroughs: None
Wrist Rest: Non-removable
The G613 is the company's first wireless keyboard for gaming, and as such, it comes with a lot of expectations. The G613 features an extra row of macro keys and a large wrist rest, unlike Logitech's slimline G810 Orion Spectrum. However, the G613 lacks a USB cable.
The keyboard is otherwise basic, with a black and grey plastic chassis and white writing on black keycaps. There is no keyboard backlighting; however, there are media buttons on the side. It has many extra buttons and a large design, but if you're not using those features, you can just wait for Logitech's next wireless keyboard.
The G613 uses unique Logitech's Romer-G mechanical switches. They are tactile and quiet but not nearly as comfy as Cherry MX Browns. On the other hand, they're said to be more responsive and last longer. 
The Logitech G613 is the mechanical gaming keyboard for you if you have a living room setup. If wires aren't an issue, continue with other models and wait a year or two to see what else comes out. Hopefully, the G613 represents the start of a trend rather than yet another experiment.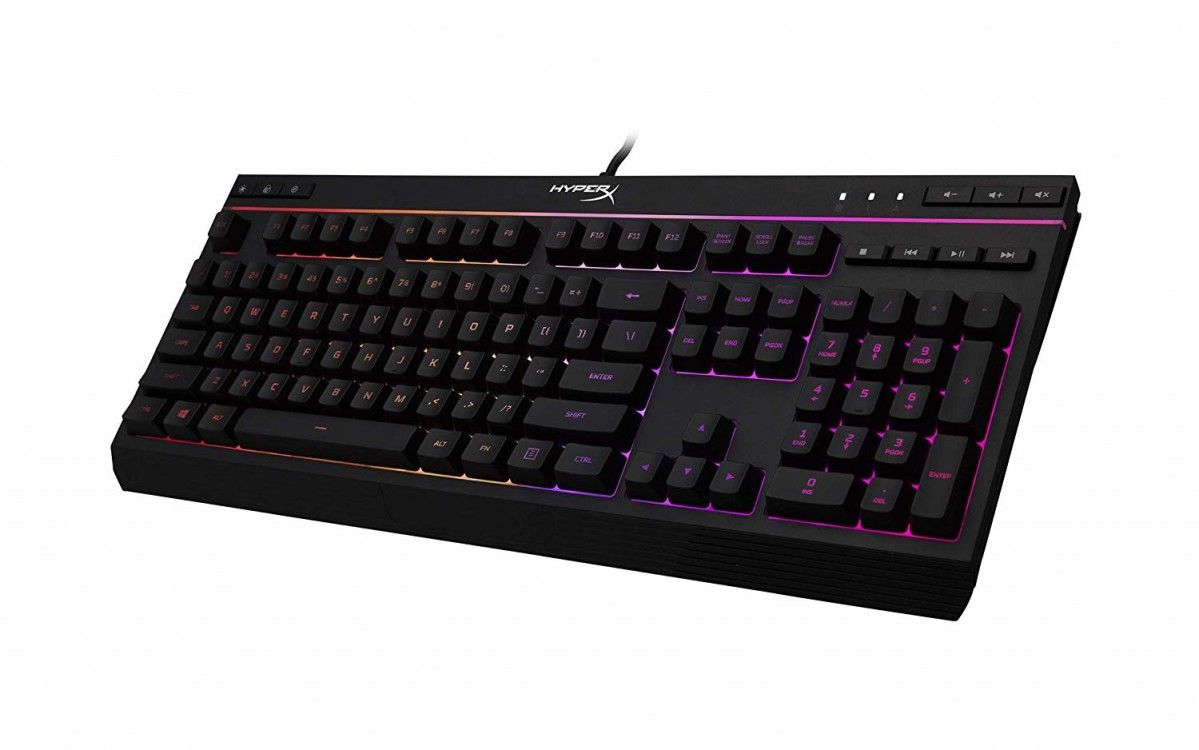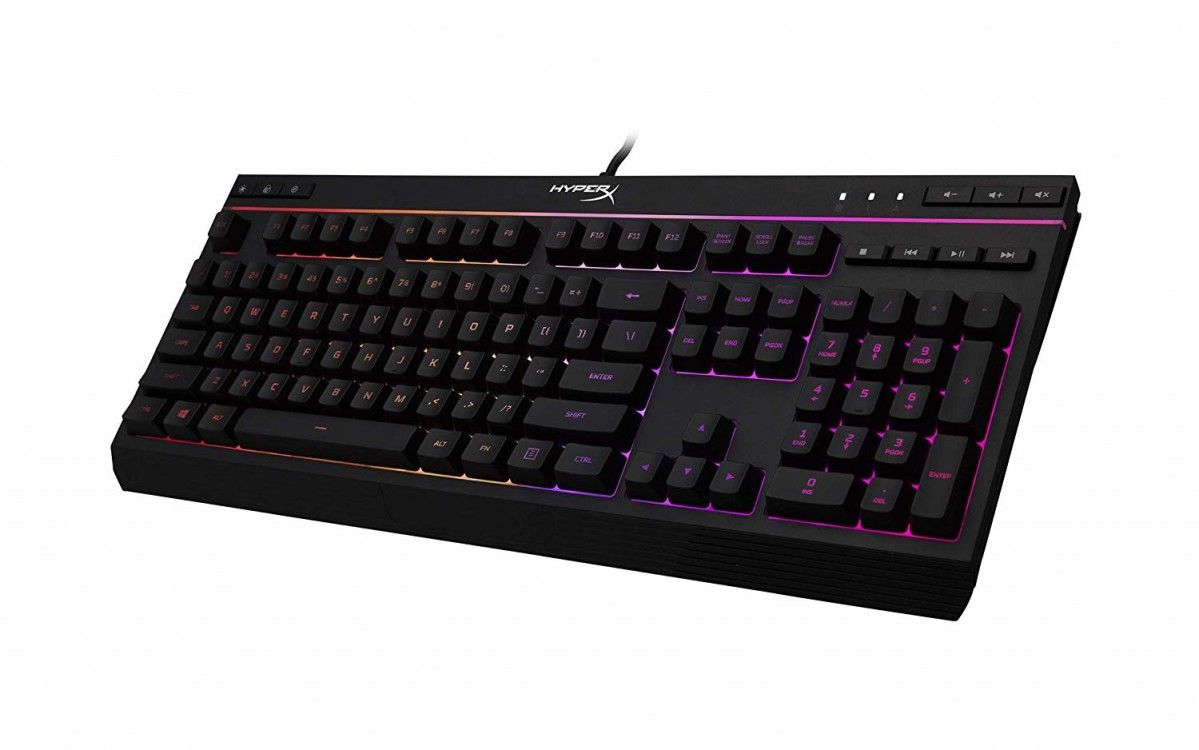 Best budget gaming keyboard
Visit Website
Switch Type: Membrane switches
Backlights: RGB
Media Controls: Dedicated
Keycaps: ABS
Size: 443.20 mm x 35.68 mm x 175.31 mm
Passthroughs: None
Wrist Rest: No
When you compare it to some of the other choices in this price range, the HyperX Alloy Core RGB is a membrane keyboard with a rather complex design. It has a primarily black colour scheme, with vivid RGB lights on all keys and a little strip above the F-buttons.
The HyperX logo is imprinted in a chrome type finish at the top of the keyboard, contrasting nicely with the dark background. The RGB customisation buttons are on the top left of the keyboard, while the dedicated media keys are on the right side. The Alloy Core is a full-size keyboard pretty much entirely made of plastic, but that's more or less what we can anticipate from a product of this pricing range.
Unfortunately, mechanical switches are not available on this keyboard. Instead, HyperX has fitted the Alloy Core with membrane switches, which are mostly less responsive and sensitive. These keys, on the other hand, are incredibly silent. So the membrane Dome switch may be just what you're looking for if you're searching for a keyboard to use for office work and gaming on the side.
The HyperX Alloy, like other membrane keyboards, features a spill-resistant layer that can hold up to 120ml of liquid. This might be a good fit for you if you're a first-time player or searching for an inexpensive keyboard with basic functionality. It has some RGB, spill-resistant underlining, dedicated media keys, and a nice overall look.
Best mechanical keyboard
Visit Website
Switch Type: Optical-mechanical switches Corsair OPX
Backlights: RGB
Media Controls: Dedicated
Keycaps: PBT double-shot
Size: 470 mm x 38 mm x 166 mm
Passthroughs: Yes
Wrist Rest: Detachable
The Corsair K100 does look like a mechanical keyboard, but its high price and reputation as a flagship model indicate that it isn't. So instead, the K100 introduces Corsair's first optomechanical switches, which use infrared beams to turbo-charge mechanical-style keys.
In traditional mechanical keyboards, keypresses are registered by the bottom of the key hitting a metal plate in the keyboard's base; this connection completes a circuit, delivering a signal to the computer. With optomechanical switches, like the Corsair OPX, there is no contact plate in the base. Instead, a little red laser is interrupted by a plunger when you press down the keys. A keypress is registered through this disruption, which is far faster than the metal contact method.
You can use the wide, textured wheel on the top-left side of the K100 keyboard for eight various tasks, ranging from skipping music tracks and switching programs to scrolling web pages and changing the RGB LED brightness. A traditional button sits in the centre of the wheel, with buttons on either side allowing to swap between profiles and engage Game mode rapidly.
A comfortable magnetic wrist rest can be added to the bottom edge of the K100. Plus, Corsair offers a range of alternative buttons. 
The Corsair K100 is one of the best gaming keyboards — a high-end item that deserves flagship status. The laser-powered switches are fantastic — quick, smooth, and light — and the K100 has excellent lighting, many functions, and excellent build quality.
How to Choose the Best Gaming Keyboard?
– BUYER'S GUIDE –
Quality gaming keyboards have never been more affordable or superior, making them more attainable than ever. However, which keyboard should you purchase? And what's the deal about the switches?
Put your worries aside; we're here to help you out.
Mechanical Keyboards and Their Advantages
A mechanical keyboard is a keyboard that has switches that get activated before the point of bottoming out. Cherry-style metal contact switches, for example. When you push down the key, a stem slides into the housing, allowing metal contacts to touch. This is what causes each letter to ignite.
Because of the exact and constant feel of the keys, using a mechanical gaming keyboard can make you a lot more efficient at typing. In addition, mechanical keyboards are made to last. Every switch can withstand millions of pushes. As a result, a decent mechanical board can survive for many years, even with intensive use.
Form Factor Selection
The classic full-size keyboard is still the most popular, but you might want to try something different with your mechanical transition. A full-size keyboard has all of the keys required to run a computer without the need to worry about function layers. There's also a numpad. However, the most significant disadvantage of its size is that it takes up more space.
TKL mechanical keyboards, often known as tenkeyless or 80% keyboards, are the next variation. The basic functionality in TKL mechanical keyboards doesn't depend on function layers, although there is no number pad. But, of course, there's still a number row. Give it some thought if this seems bothersome. Is it indispensable to have a dedicated numpad? You can usually get by without one unless you're performing data entry.
If these two options don't appeal to you, you can always choose a 65% gaming keyboard (Ducky One 2 SF) or even a 40% one (Redragon K585 DITI Wireless). There are only alpha keys and a few modifiers on the 40% gaming keyboard. They're typically pocket-sized and contain at least two levels of function keys to cover all of the fundamental keyboard instructions.
Choosing a Keyboard
Now that you know what type of gaming keyboard you prefer, the only thing left is to find the right model for you. Whether you are a pro gamer or occasionally interested in gaming, you should opt for quality gaming keyboards from keyboard brands like Razer, Corsair, and Logitech. 
Gaming keyboards from these brands are usually fully optimised for comfortable and enjoyable gaming. However, the build quality, switches, and functions will vary depending on the price and model. 
Next, think about all the features you want and need in your gaming keyboard, from bright RGB lighting and media keys to the wrist rest.
On the other hand, if you want to go for a custom keyboard, prepare to spend an extra few hundred pounds on the equipment for it. The demand for these keyboards is high enough to justify premium costs but not high enough to justify mass manufacturing. However, you can still spice up your mechanical keyboard with custom keysets if you don't want to go right into custom boards. Simply choose a board with a generally standard configuration.
Wrap Up
Gaming keyboards are more expensive, but they come with features that regular office keyboards don't, such as mechanical switches and software packages that allow you to reprogram keys.
Of course, the best gaming keyboard for your setup is determined by your gaming habits, free desk space, and budget. Of course, you can always buy something passable if you have limited finances. However, if you are prepared to dig deep, you can acquire a superb gaming keyboard that will last for years.
FAQ
What is the best keyboard for gaming?
There are several good gaming keyboards. Some of the best ones are the Corsair K100 RGB Optical, Razer Huntsman Elite, SteelSeries Apex Pro, and more.
Is a mechanical keyboard best for gaming?
Most gamers favour mechanical keyboards because they are more tactile, robust, and quicker. At the same time, other gamers prefer membrane keyboards because of their smaller size, mobility, and much lower price. Finally, others want a hybrid that makes the perfect blend between mechanical and membrane keyboards.
What keyboards do pro gamers use?
Some of the keyboards that pro gamers use are the HyperX Alloy FPS Pro, Logitech G Pro X, Razer BlackWidow Chroma TE, etc.
What is the best gaming RGB keyboard?
The best RGB keyboards are the SteelSeries Apex Pro, Corsair K100 RGB Optical, Redragon K552 RGB, Razer Huntsman Elite, etc.
What is the difference between a gaming keyboard and a regular one?
Gaming keyboards are designed to meet the demand of in-game circumstances. Quick response and reaction are crucial when playing competitively. On the other hand, ergonomics are often prioritised in standard keyboards.
You can find mechanical switches in a gaming keyboard because of the numerous benefits they provide. Conversely, the standard keyboards use membrane technology, often known as dome switches. This technology is used in ordinary keyboards because of the low cost of production and silent keypress.