Gaming Mouse - UK Top Picks
If you want to push your gaming to the next level and master the art of gaming, keep reading this article to discover our recommendations for the best gaming mouse in the UK.
Last Updated: December 30, 2021
Advertiser disclosure
This page may contain links to our partners' products and services, which allows us to keep our website sustainable. This means that cybercrew.uk may receive a compensation when you sign up and / or purchase a product or a service using our links. However, all opinions expressed in this article are solely ours, and this content is in no way provided or influenced by any of our partners.
Best Gaming Mouse UK
Detailed Reviews
Best optical gaming mouse
Visit Website
Ergonomics: Right-handed
Side buttons: Two
Maximum DPI: 20,000 DPI
Lighting style: RGB lighting
Weight: 113g
Connectivity: Wired
Price: £69.99
The DeathAdder V2 is the best-wired mouse for gaming, with its eight programmable buttons that you can modify in Synapse to match your needs. It has two major buttons, two side buttons, a scroll wheel, and two smaller buttons beneath the scroll wheel.   
The scroll wheel and the logo include RGB lighting to match the mouse's black and grey plastic body. In addition, the DeathAdder V2 has a DPI adjuster, which allows you to customise your tracking and polling rate.  
The mouse's contoured form, material, and somewhat larger proportions give it the appearance of being larger than it actually is. The majority of individuals should be able to use the mouse with either a palm or claw grip.   
However, the DeathAdder V2's textured parts can make it unpleasant to hold for lengthy periods, especially if you prefer to change your mouse grip when you're not gaming. But, the 'Focus+ optical sensor' is the most significant upgrade Razer has made to the DeathAdder V2.
Best RGB mouse
Visit Website
Ergonomics: Right-handed
Side buttons: Five
Maximum DPI: 18,000 DPI
Lighting style: RGB lighting
Weight: 115g
Connectivity: Wired
Price: £59.99
The Rival 5 is a multi-genre SteelSeries mouse, but it's specifically a right-handed fps gaming mouse. The Rival 5's two most prominent features are its "TrueMove Air sensor" and its nine programmable buttons for competitive gaming.  
In addition, two buttons, a scroll wheel, and a DPI cycling button are on the top of the mouse. The SteelSeries Rival 5 RGB gaming mouse also has a spectacular light show because of its four lighting features (logo in the palm, scroll button, and two colour light bars at the top).
The sensor has a tracking resolution of up to 18,000 DPI and can track at speeds of 400 inches per second. For an average wired gaming mouse, it's a mighty sensor. Moreover, its engine is a compact app that allows you to adjust RGB lighting, reconfigure buttons, make macros, and more.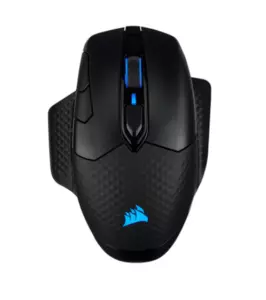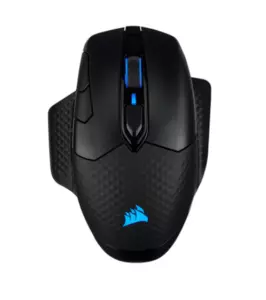 Best MOBA gaming mouse
Visit Website
Ergonomics: Right-handed
Side buttons: Two
Maximum DPI: 18,000 DPI
Lighting style: RGB lighting
Weight: 176g
Connectivity: Wireless
Price: £64.99
The Dark Core RGB Pro is genuinely the heaviest gaming mouse, with a weight of 176g due to its wireless connectivity.  
The Dark Core RGB Pro performs well in terms of speed, accuracy, and responsiveness. In addition, it's almost a fantasy in terms of design with dynamic and adjustable RGB lighting, eight completely programmable buttons, and a textured rubber palm rest.   
It also features DPI up and down buttons so that you can modify DPI on the go. Moreover, it has a profile switch button and forward and backward buttons, in addition to the left and right buttons and the central scroll wheel.  
The Corsair Dark Core RGB Pro fits well in hand; however, if you have a claw grip, the additional space between your palm and the palm rest will be noticeable. It won't make gaming more difficult, but if you've been using a mouse with a high palm rest, it will take some time to get used to.   
The right panel of the mouse is detachable, allowing you to choose between a smooth side grip and a textured one with a ring and little finger rest. However, what truly sets the Corsair Dark Core RGB Pro apart from its competitors is its connection in three modes: Slipstream, Bluetooth, and USB wired.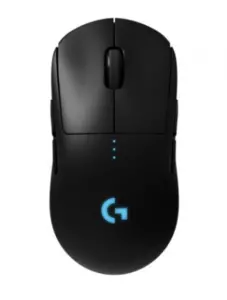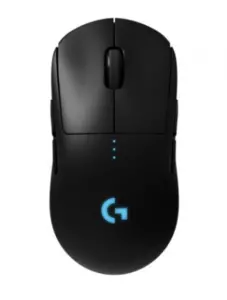 Best mouse for gaming
Visit Website
Ergonomics: Ambidextrous
Side buttons: Four
Maximum DPI: 25,600 DPI
Lighting style: RGB Logo
Weight: 80g
Connectivity: Wireless
Price: £109.99
The Logitech G Pro wireless gaming mouse is mainly for esports pros as well as casually competitive gamers; its simple design and performance can make a big difference for highly experienced players.   
Being the best Logitech gaming mouse available, the Logitech G Pro is tiny and compact, with a top-notch sensor, and perfect wireless capability. Still, it has a basic, stripped-down design and no unnecessary weight. In fact, the G Pro is incredibly light for a wireless gaming mouse.
By standard, the mouse features a left button, a right button, a clickable scroll wheel, and two thumb buttons on both sides, making it completely ambidextrous. In addition, Logitech has relocated the DPI adjuster button to the bottom of the mouse, rather than above the right button or below the scroll button (two common positions for DPI buttons).  
This Logitech gaming mouse works with either the Logitech Gaming Software or the newer Logitech G Hub. Depending on your RGB lighting settings, Logitech claims that the mouse can last 40 to 50 hours on a single battery charge.
Best MMO mouse
Visit Website
Ergonomics: Right-Handed
Side buttons: 12
Maximum DPI: 18.000 DPI
Lighting style: RGB zone
Weight: 110g
Connectivity: Wired
Price: £79.99
More buttons are beneficial whether you're deep in the area of the next raid in World of Warcraft or Final Fantasy XIV, or you need a slew of buttons for efficiency in Adobe Photoshop. The Naga X PC gaming mouse succeeds in every field.     
The Naga X, like its predecessors, has a slight hump that's closer towards the back of the mouse. In addition, your ring finger has a little resting area on the right side. On Naga X, most of the buttons are on the mouse's left side, featuring a 12-button configuration with four rows of three buttons each.
The Razer Naga X is a small gaming mouse (almost 30% smaller than the Naga pro), but it's still big enough for palm grip users. In addition, it features Razer's second-generation optical mouse switches for rapid, sensitive pushes, and clicks.
Although Naga X gets it right, there are some flaws. The most important thing to keep in mind is that this is still the best MMO mouse. However, while you can use the 12 side buttons in other games, they are probably unnecessary in most situations except MMO games.
Best FPS gaming mouse
Visit Website
Ergonomics: Ambidextrous
Side buttons: Two
Maximum DPI: 12,000 DPI
Lighting style: RGB lighting
Weight: 103g
Connectivity: Wired
Price: $49.99≅£37.87
The Glorious Model O is an honourable mention in our list of best gaming mouses in the UK, as it was the top choice among many people for previous years.
The Glorious Model O features a standard six buttons, which, although beneficial to the weight aspect, makes it a poor choice for MMO gamers who want quick access to their Hotbar. The buttons, including the DPI adjuster, are all individually programmable, giving you complete control over what you do.   
However, the Model O is the best FPS mouse, as it truly shines when it comes to quick-clicking, hack-and-slash, and FPS games. Vini of Furia Gaming, a professional esports player, can confirm this since he used the Model O when the squad finished second in ECS CSGO Season Seven finals.  
As the standard, Glorious Model O is the ideal gaming mouse for large hands and gamers with a palm grip. Although, the smaller version of this mouse is more comfortable for claw grip gamers who aim for the wrist rather than forearms.
Despite its limited RGB colour selections, the Model O is a robust mouse that deserves the best-wired gaming mouse title. This six-button mouse features top-of-the-line hardware, only a few modification limits, and a suitable form for right and left-handed players.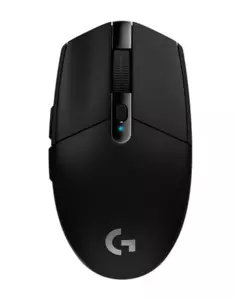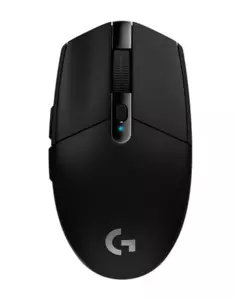 Best ambidextrous gaming mouse
Visit Website
Ergonomics: Ambidextrous
Side buttons: Two
Maximum DPI: 12,000 DPI
Lighting style: LED lighting
Weight: 103g
Connectivity: Wireless
Price: £36.39 – £51.99
As a gamer, it's crucial to have the greatest equipment to ensure you're at the top of your game. The Logitech G305 Lightspeed is a wonderful option if you're seeking the best budget gaming mouse without a cable. 
The G305 is available in black, white, blue, or lilac, giving you a lot more alternatives than other all-black gaming mice. Because the G305 Lightspeed lacks RGB illumination, it's less showy. The LED lighting below the scroll wheel changes colours when you use the dedicated DPI button for cycling through the four CPI settings.
The G305 Logitech wireless gaming mouse features six customisable buttons (the left and right-click buttons, a DPI adjuster switch, a scroll wheel, and two side buttons).  
Because there is no RGB control, you can use the G305 Lightspeed without any software. However, you'll need to install Logitech's free G Hub software to configure the G305 Lightspeed's six programmable buttons, along with the DPI settings for the dedicated button.
The G305 Lightspeed is powered by a single AA battery rather than a rechargeable battery, and Logitech states that one battery can last up to 250 hours of gameplay. The LED lighting underneath the scroll wheel, which glows red when the battery is running low, is also helpful.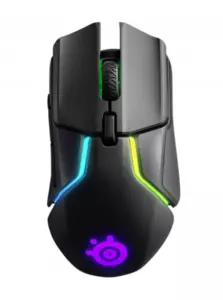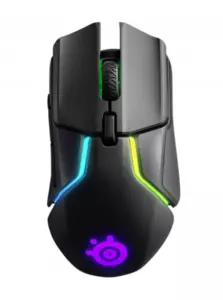 Ergonomic gaming mouse
Visit Website
Ergonomics: Right-handed
Side buttons: Three
Maximum DPI: 12,000 DPI
Lighting style: RGB lighting
Weight: 153g
Connectivity: Wireless
Price: £109.99
With flawless wireless connectivity, a distinctive liftoff sensor, quality RGB lighting, and clever design, the SteelSeries Rival 650 is currently the best SteelSeries mouse for gaming.
In nearly every aspect, the Rival 650 is visually identical to its predecessor. The only difference is that no cable emerges from the front. Instead, the charging wire can be plugged into a recessed micro-USB socket on the front.  
SteelSeries' trademark combination of smooth curves and strong lines is present in the design, yet it's still comfortable to hold. This is partly due to the Soft Touch paint on the part for the palm and the main mouse buttons.  
It features seven different buttons and a scroll wheel. SteelSeries switches (certified for 60 million clicks) separate the main house buttons from the body, providing a stable tactile sensation.    
The Rival 560 RGB gaming mouse has an excellent structure. You can use three different colours on each of the two strips on each side. In addition, the RGB lighting is separated into four regions, totalling eight zones. In terms of flexibility and visibility, the lighting is also fantastic.
How to Choose the Best Gaming Mouse?
– BUYER'S GUIDE –
It's easy to get distracted by marketing hype while shopping for a gaming mouse. Although a high DPI and the most up-to-date sensor can be tempting to take your gaming to the next level, there are other essential factors you need to consider. 
The general form and weight of the mouse should be your primary consideration. After that, the buttons, DPI, sensor, and everything else follow in priority of importance. But, don't worry, we'll go through everything in more detail below.
Size, Weight, and Shape
How well you do in your favourite FPS/MMO/MOBA game is closely connected to the shape and weight of your mouse. The incorrect build will feel strange and unpleasant, and it can cause problems with your hands and wrists.
Your mouse grip will determine which shape is best for you. Here is how you can figure out what kind of mouse grip you have:  
First, hold your mouse with one hand and see which of these grips applies to you: 
A

palm grip

occurs when your complete hand (palm and fingers) is resting on the mouse's surface. The best gaming mouse for this grip is the Logitech G Pro Wireless, Razer DeathAdder V2, and others— except for Razer Naga X.    

A

fingertip grip

is when your hand is raised, and only your fingers touch the mouse. The best gaming mouse for this kind of grip is the Glorious Model O and the Logitech G Pro Wireless, while the Corsair Dark Core RGB Pro is not optimal.  

You have a

claw grip

if the back of your palm brushes the mouse surface and your fingers are noticeably arched rather than flat against the mouse. The best mouses for this grip are the Razer DeathAdder V2 and SteelSeries Rival 5.   
Additionally, a higher mouse ("high profile") with a round palm rest— a mouse that fits easily into the natural shape of your palm— will be great for palm grippers. However, it's also possible that ambidextrous mice are less comfortable.
But, if that's what you're looking for, the best ambidextrous gaming mouses are Logitech G305 Lightspeed and the Logitech G Pro Wireless. 
Meanwhile, fingertip and claw grippers can use flatter mice ("low profile"), with claw grippers preferring mice with a flatter or less rounded palm rest. 
Unfortunately, finding a weight that is right for you is a little more complicated. Heavy mice are frequently enormous, even for people with larger hands, and large mice are often uncomfortable.  
Some of the heaviest gaming mice are the Corsair Dark Core RGB Pro and the SteelSeries Rival 650. 
Some mice come with detachable weights, allowing you to change the heaviness of the device on the go, although this is unusual. When fast mousing is necessary, lighter mice are a better option— for example, the Glorious Model O and the Logitech G Pro Wireless. 
DPI and Mouse Buttons
DPI (dots per inch) is a measurement of how far your mouse pointer travels on the screen when you move it one inch. The mouse's responsiveness increases as the DPI increases.
Most gaming mouse manufacturers advertise their mice's extremely high DPI as a selling point, even though most gamers never utilise a sensitivity level greater than 1600 DPI. Beyond that, in-game movement becomes challenging to manage— and keep in mind that some mice have a DPI of 20,000.     
Logitech G Pro Wireless has the broadest range of DPI settings (maximum 25,600 DPI), while the Logitech G305 Lightspeed has a modest range of 12,000 DPI.
Speaking of gaming mice with side buttons, if you are more of an FPS player, you will feel at home using a standard layout with side buttons for actions like reloading or other minimal actions.
However, if you are a more MOBA/MMO player, you would greatly appreciate a gaming mouse with an additional row of side buttons to bind actions and spells to it. That way, you can focus your keyboard hand on more critical tasks.  
If you are looking for the best mice for League of Legends, the options are the Razer Naga X and SteelSeries Rival 5. 
Wired or Wireless Mouse for Gaming
To better understand and discover the best gaming mouse in the UK, we need to cover the famous battle between wired and wireless mice. A few years ago, there was no doubt that wired mice were superior to wireless mice for gaming.
Wireless mice were affected by high latency and other connectivity issues. Older wireless versions just couldn't keep up with wired mice's direct information transfer. 
However, with the debut of Logitech's G900 Chaos Spectrum in 2016, the performance gap between wired and wireless mice began to close. The G900 was one of the first wireless gaming mice to fully compete with wired gaming mice in both speed and performance.
Since then, technology has advanced to the point that several popular mice, such as Logitech G Pro, Corsair Dark Core RGB, and SteelSeries Rival 650, are available in both wired and wireless without losing functionality. 
Many esports professionals embrace wireless mice, and some even claim they can't compete with a wired gaming mouse. Therefore, as wireless mice become increasingly common (Logitech G Pro) in competitive gaming environments, this assumption is likely to change.
Even though wired and wireless mice perform virtually identical, the debate on which is better for gaming depends on someone's personal preference.  
Additional Features
Most of the additional features that are included when getting a gaming mouse are:
The RGB lighting:

Most gaming mice come with some sort of lighting. Some come with full

RGB lighting

settings, and others with

LED lighting

. So it's easier for gamers to continue their gameplay long after sunset.     

SteelSeries Rival 5 is the

best RGB mouse,

and the SteelSeries Rival 650, if you prefer a more colourful experience. While the Logitech G305 Lightspeed only has

LED lighting

settings below the scroll wheel.  
Software support:

Some gaming mice need to use software to change DPI, RGB, or other settings. They're not equipped with onboard memory to save it. Every time you want to customise a specific feature, you have to do it with the software.

Other gaming mice come with the ability to save presets to their onboard memory. Most of them don't require software to customise main things, which allows you to customise settings to your liking and then start playing. 
Wrap Up
Gaming is a serious business; thus, gaming hardware is a significant aspect of it. So while it's easy to get all caught up in the gaming mouse market's flashing lights and prominent features, it's essential to think about fundamental elements before you make a purchase. Lucky for you, this article on the top-rated gaming mouse in the UK helps you figure it all out and find the mouse that meets your exact needs.  
FAQ
What is the best gaming mouse?
Although the target group for the Logitech G Pro Wireless is mostly professionals, it's still the best mouse for gaming on the market today in terms of build quality, comfort, and performance.
How to choose a gaming mouse?
The first factor to consider is the size and the mouse grip. The mouse has to typically be the same size as your hand. Larger mice, for example, can be challenging to handle for someone with tiny hands.
On the other hand, different grips: fingertip grip, palm grip, and claw grip can be adjustable on some mice. In addition, you should seek the features that suit your needs— for example, DPI stages, connectivity type, weight, and more.
What DPI do most pro gamers use?
It all depends on the game and personal preference. However, MMOs and RPG games can work great with a DPI of 1000 to 1600, whereas FPS and other shooter games work great with a DPI of 400 to 1000. For MOBA games, you only need 400 to 800 DPI.
What gaming mouse has the best click?
For fast clicking, the best options are the Razer DeathAdder V2, Glorious Model O, Logitech G Pro Wireless, and Razer Naga X.