GUARANTEE: 5 years for repairs, 40 nights for exchange
TRIAL: /
CUSTOMER SERVICE: Phone, Email, FAQs
TYPES OF MATTRESSES: Memory Foam, Pocket Sprung, Open Coil, Rolled Up, Eco Friendly, Medical Foam, Orthopaedic
Bensons for Beds Review
In the Bensons for Beds Review below, we will score one of the largest mattress retailers in the UK in terms of customer satisfaction and product quality.
Last Updated: January 27, 2022
Advertiser disclosure
This page may contain links to our partners' products and services, which allows us to keep our website sustainable. This means that cybercrew.uk may receive a compensation when you sign up and / or purchase a product or a service using our links. However, all opinions expressed in this article are solely ours, and this content is in no way provided or influenced by any of our partners.
GUARANTEE: 5 years for repairs, 40 nights for exchange
TRIAL: /
CUSTOMER SERVICE: Phone, Email, FAQs
TYPES OF MATTRESSES: Memory Foam, Pocket Sprung, Open Coil, Rolled Up, Eco Friendly, Medical Foam, Orthopaedic
Mattress diversity
STRENGTHS
Excellent after-purchase customer care
Wide range of sizes
Exchangeable mattresses
Five-year guarantee
WEAKNESSES
No offshore delivery
Delivery fee for orders over £100
Among the many UK bed and mattress retailers, Bensons for Beds stands out for its excellent after purchase customer care and the various types of mattress brands it offers. From highly reputable to budget-friendly ones, there is truly something for everyone's taste. 
In this Benson for Beds Review, we will familiarise you with some of its major mattress brands and delve into their specifics. By the end of it, you will have a clearer picture of whether its ever-growing product range is worth giving a shot. But first, let's say a few words about the company's history.
What is Bensons for Beds?

Mattress Brands

Sizes and Pricing

Purchase and Delivery Process

Customer Support

Customer Reviews
What is Bensons for Beds?
Bensons for Beds is a British bed, mattress and bedroom furniture retailer with an impressive heritage of over 50 years. Although initially founded in 1950, it didn't open its first dedicated bed store until 1972.
In 2011, this retailer merged under the same umbrella with the Sleepmasters and Bed Shed brands, thus officially launching the new Bensons for Beds business. 
Bensons is currently one of the largest bed and mattress retailers in the UK, which is reflected in the impressive range of stores operated, around 270 at the moment. The company is headquartered in Accrington, Lancashire.
In this Bensons for Beds Review, we will focus primarily on the mattress brands that are currently on offer. Let's dive in.
Mattress Brands
These are some of the most renowned mattress brands you will find in Bensons for Beds.
iGel

Rollo

Bespoke

Simply Bensons

Sensofarm

Sealy

Jay-be Simply Kids

Mammoth

Silentnight
iGel
The iGel brand is sold and produced exclusively for Bensons for Beds. Its main selling point is the ability to deliver the comfort and moulding properties typical for memory foam mattresses but without the downside of overheating.
This Graphene Technology phase change material works seven times faster than standard memory and gel foam. Moreover, it adjusts to the body's temperature and eliminates perspiration for an all-around fresher and more comfortable feel. 
On top of that, all iGel mattresses feature between 1600-3000 individually encased pocket springs, depending on the model. Each pocket spring works individually to increase motion isolation for optimal comfort and a night of undisturbed sleep. 
This pocket spring system combines with the supportive AdvantEdge™ foam and the pressure-relieving iGel crystals., making the iGel mattresses a truly premium option. As a result, these mattresses usually come at steeper prices. Still, if you consider your mattress a long-term investment, a premium brand like this is well worth it.
We also recommend this brand for anyone who struggles with back and joint pain. The iGel Advance material will perfectly contour your body shape. It will also prevent your hips and shoulders from sinking too deep into the mattress, soothing away all pressure.
Here are the iGel mattress models currently on offer by Bensons:
iGel™ Advance 1600 

iGel™ Advance 2000

iGel™ Advance 2500 Pillow Top

iGel™ Advance 2500 Plush Top

iGel™ Advance 3000 Plush Top
Rollo
One product made by Slumberland exclusively for Bensons is the Rollo range of mattresses. This range consists of four models: the Essential, the Hybrid, the Hybrid Duo, and the Hybrid Duo Plus. All four of these models feature eco-friendly memory foam and chemical-free sleep surfaces. 
The Rollo Essential is an all-memory foam mattress. As typical for memory foam mattresses, it is significantly firm, providing good body support and pressure relief. At the same time, it offers good sinkage synonymous with memory foam but with the added benefit of additional support across the surface. 
We recommend this mattress to anyone looking to switch to an all-foam bed but wants the firmness and support of a traditional coil mattress.
The Rollo Hybrid is medium-firm and combines the support offered by spring-based mattresses with the comfort provided by foam. It consists of up to 1100 pocket springs. As a result, the Rollo Hybrid provides an exceptional quality combined with a chemical-free sleep surface and soft touch.
The mix of joint and back support makes the Rollo Hybrid excellent for all sleep positions.
The Rollo Hybrid Duo features the same construction as the Rollo Hybrid. However, it offers significantly more pocket springs, 1900 in total. As a result of this added benefit, this mattress provides much better pressure relief and edge support. 
It is also advertised as a medium-firm mattress. Still, the additional pocket springs offer much more bounce and support than the traditional hybrid. As a result, this mattress would be best for slightly heavier people looking for a firmer sleep surface. 
Finally, the Rollo Hybrid Plus is the standout product in the Rollo range. It consists of up to 2900 mini and full-sized pocket springs and a deep memory foam layer. The Rollo Hybrid Plus would be an ideal option for anyone looking for a soft yet supportive and pressure-relieving mattress.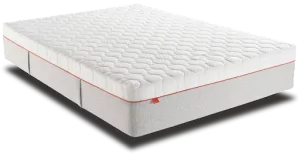 Bespoke
Also made exclusively for Bensons, the Bespoke collection is part of their higher-end mattress offering. This collection is handcrafted by Staples and features all-natural fillings, such as cashmere, silk, and 100% British wool. 
On top of that, the mattresses feature from 3000 to 5000 premium pocketed springs, depending on the model. Combined with the cloud-like pillowtop and the Belgian damask fabric finish, these are some of the most luxurious mattresses currently on offer.
Moreover, all the mattresses in the Bespoke collection are available in up to three comfort ratings, medium-firm, firm, and extra-firm. 
Here are the mattresses featured in the Bespoke collection
Pure Utopia Mattress

Pure Euphoria Mattress

Pure Serenity Mattress

Pure Tranquility Mattress
Simply Bensons
Simply Bensons is this retailer's proprietary mattress brand. The mattresses in this collection fall within the budget-friendly range and are ideal for those looking for an affordable option without compromising quality. 
The Simply Bensons mattresses are well accepted by customers and are some of this retailer's most sought after products. They come in different firmness ratings, soft, medium, firm, and extra firm.
The top comfort layer depends on the model. Still, most of the mattresses feature quilted top layers, eco-friendly materials, natural polyester fillings, and come with a super supportive edge to edge system. Additionally, you can choose between an open coil, pocket-sprung, and combinations between an open coil structure and a deep layer of memory foam. 
Sensofarm
The Sensofarm mattress collection is solely available in Bensons for Beds. Each Sensofarm mattress has a layer of individually encased active pocket springs and a unique Sensofarm memory foam layer. 
In addition, the Sensofarm mattresses come in a bed set of mattresses and divan, and even as a set, they are more affordable than some of the other mattresses. The pocket springs range between 600-2550, and the more pocket springs there are, the pricier the model is. 
However, what makes the Sensofarm mattresses so unique is the superior breathability achieved by three special zones of air holes. They contribute to excellent temperature regulation throughout the night.
There are five mattresses on offer in the Sensofarm collection.
Airstream Memory Stardust

Clima Airstream Memory 2000

Airstream Memory 3000

Clima Airstream Memory 6000

Clima Airstream Memory 9000
Sealy
Sealy is one of the most well-recognised mattress brands worldwide, currently operating in over 50 countries, including the UK. The Sealy Sanctuary mattress collection is available to UK customers exclusively in Bensons for Beds. 
All the mattresses feature Sealy's proprietary Posturepedic Technology, developed by orthopaedic specialists to improve spinal alignment and relieve back pain. In addition, depending on the model, they all feature a different amount of pocket springs, from 1500 to 2900. 
Aside from the individually responsive pocket springs, the mattresses feature Quantum Edge® mini pocket springs that improve edge support and minimise the risk of roll-off. The mattresses also feature Purotex® fibres, known for reducing house dust mites and other allergens.
Moreover, they are available in three comfort levels, medium, firm, and extra firm. Here are the mattresses available in the Sealy collection.
Sealy Sanctuary Haven

Sealy Sanctuary Senses

Sealy Sanctuary Oasis

Sealy Sanctuary Spa

Mammoth
The bhealthy collection is an exclusive collaboration between Mammoth and Bensons. The mattresses in the bhealthy collection feature Mammoth's Medical Grade™ foam. It is a cooling and breathable foam endorsed by health specialists and designed to soothe aches and pains. 
There are three mattresses in the Mammoth bhealthy collection sold exclusively by Bensons for Beds: 
Mammoth Lesina

Mammoth Turano

Mammoth Lugano
Bensons also features a bhealthy kids collection: 
Mammoth bhealthy Active Foam mattress

Mammoth bhealthy Active Plus Foam mattress

Silentnight
The Silentnight Choices range is the most extensive mattress collection made exclusively for Bensons for Beds. 
There are different types of mattresses available in this collection. The  Eco-friendly range comes with Comfort Fibres™, made 100% from recyclable plastic bottles. They are also highly breathable and specifically designed to evaporate moisture, resulting in a night of comfortable and refreshing sleep. 
The Memory range features Silentnight's Premium Memory for excellent pressure relief. It is also ideal for sleepers who enjoy a sink-in feeling.
The Geltex range features gel-infused mattresses that offer exceptional temperature regulation and are ideal for people who tend to overheat during sleeping. 
Finally, the Naturals mattress comes with an environmentally friendly British wool, silk, and cashmere layer as well as a unique Mirapocket® support system. 
Jay-be Simply Kids
This retailer offers a kids mattress range as well. The Jay-be Simply Kids range features four mattress models with excellent features, such as anti-allergy, foam-free and waterproof options. Here are the Jay-be mattresses that are currently on offer.
Jay-be Simply Kids Anti-allergy mattress

Jay-be Simply Kids Waterproof mattress

Jay-be Simply Kids All-foam mattress

Jay-be Simply Kids Anti-allergy sprung mattress

Sizes and Pricing
Here we will provide the price range of each of the mattress brands mentioned above. This way, you will have a clearer picture of which brand fits your budget the most. In addition, we will provide the prices of the standard double size of each of the mattresses. 
| | | |
| --- | --- | --- |
| Mattress Brand | Sizes | Price Range |
| iGel | Single, Small Double, Double, King, Super King | £769.99 – £1,499.99 |
| Rollo | Single, Small Double, Double, King, Super King | £299.99 – £649.99 |
| Bespoke | Small Single, Single, Small Double, Double, King, Super King | £999.99 – £1,199.99 |
| Simply Bensons | Single, Small Double, Double, King, Super King | £109.99 – £749.98 |
| Sensofarm | Single, Small Double, Double, King, Super King | £449.99 – £999.99 |
| Sealy | Single, Double, King, Super King | £849.99 – £1,399.99 |
| Mammoth | Single, Small Double, Double | £719 – £1,449 |
| Silentnight | Single, Double, King, Super King | £299.99 – £1,549.99 |
| Jay-be | Single, Toddler | £115.99 – £149.99 |
Each of these mattresses comes with its own guarantee provided by the manufacturer. Still, Bensons for Beds also guarantees to repair or replace any defective bed due to faulty craft or materials for up to five years. 
This mattress retailer also offers a 40-Night Comfort Guarantee. If, for any reason, you don't find the mattress comfortable enough even after 40 nights of sleeping on it, you can exchange it for a new one. The only conditions required to qualify for this guarantee are using a mattress protector and providing proof of purchase.
Delivery Process 
This retailer offers delivery to most postal code areas of mainland UK and limited services to some remote areas of the mainland. Unfortunately, no Bensons for Beds delivery is performed to any offshore locations. 
All orders above £100 come free of charge, while orders below £100 apply an additional fee of £4.99. For a small fee of only £20, the delivery team will even assemble your divan bed for you.  
There is also a Bensons for Beds take away old mattress recycling service for an additional fee of only £35.
Customer Service
You can get in touch with the Bensons for Beds customer service team via phone and email. The phone lines are open every business day from 9 am to 5 pm. 
Additionally, you can reach their FAQs section for any general inquiries. It is a rich source of information regarding sales, delivery, items purchased, and much more. 
From their official site, you can also access helpful buyer's guides, advice by sleep experts and interesting articles on all things regarding sleep.
Customer Reviews
The most reliable indicator on user feedback is Trustpilot, as there are currently over 200,000 Bensons for Beds reviews and ratings. Moreover, it is impressive to see that around 77% gave this bed and mattress retailer an excellent rating, which indicates that the vast majority of its users are satisfied with this retailer's services.
As a result, it currently has an excellent rating of 4.4 out of 5 stars. Generally, both online and in-store customers describe good purchase experiences, prompt delivery, and the superb quality of the purchased products. 
The most notable Bensons for Beds complaints include poor customer service experiences at some locations and dissatisfaction with the durability of some of the mattresses. 
Wrap Up
Given all the information we've provided in this Bensons for Beds Review, we can conclude that the diversity of mattresses offered are this retailer's strongest side. So whether you are looking for an all-foam, pocket-spring, eco-friendly, or orthopaedic mattress, this company has it all. 
Additionally, both very affordable and high-end mattresses are on offer, so regardless of your budget, Bensons has you covered.
So, if you are looking to invest in a new mattress, don't hesitate to visit one of their stores. It is almost certain you will find precisely what you are looking for to improve your sleep quality.
FAQ
What is Bensons for Beds?
Bensons for Beds is a UK mattress retailer operating both online and across 270 stores all over the UK.
How to get a refund from Bensons for Beds?
Once Bensons for beds establishes that you are entitled to a refund, they will refund you the price of the goods in full. The refund is usually performed with the same method you used for the purchase.
How do I contact Bensons for Beds?
You can contact their customer service via email or phone every business day from 9 am to 5 pm.
What do Bensons for Beds sell?
Bensons for Beds are most well known for selling some of the top-rated UK mattresses. However, they also offer beds, headboards, bedroom furniture, beddings, and kids sleep products.
Who makes iGel mattresses?
iGel mattresses are made and sold exclusively by Bensons for Beds.