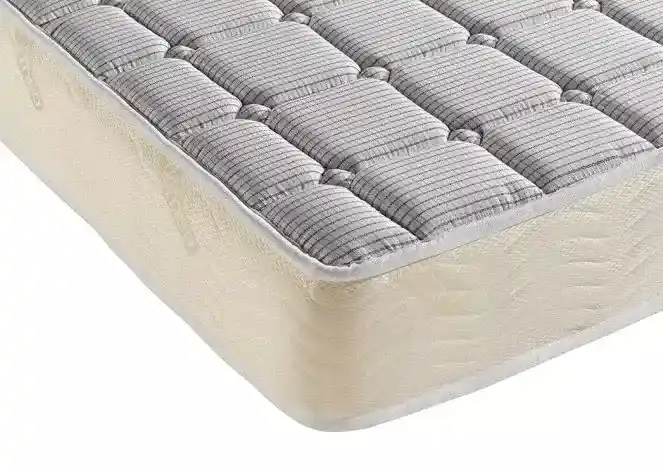 TRIAL: 60 nights
WARRANTY: 15-18 years
CUSTOMER SUPPORT: Phone, email, live chat, FAQs
SIZES: Single, Double, Small Double, King, Super King
HEIGHT: 17-23 cm
Dormeo Mattress Review
By introducing several unique innovations in the mattresses industry, Dormeo has solidified its place as one of the best mattress brands in the UK. Check out this Dormeo mattress review to get familiar with some of its best-selling mattresses.
Last Updated: November 6, 2021
Advertiser disclosure
This page may contain links to our partners' products and services, which allows us to keep our website sustainable. This means that cybercrew.uk may receive a compensation when you sign up and / or purchase a product or a service using our links. However, all opinions expressed in this article are solely ours, and this content is in no way provided or influenced by any of our partners.
TRIAL: 60 nights
WARRANTY: 15-18 years
CUSTOMER SUPPORT: Phone, email, live chat, FAQs
SIZES: Single, Double, Small Double, King, Super King
HEIGHT: 17-23 cm
Breathable materials
STRENGTHS
Free deliveries
Long warranties
Full refunds
Comfort trial period
WEAKNESSES
Long delivery time
Dipping issues reported
Dormeo is among the most trusted bedding brands in the UK, celebrating 15 years of sleep expertise. They have revolutionised the mattress industry with unique innovations, such as their very own Ecocell® memory foam and their proprietary Octaspring® Technology.
The mattress options are endless, from more budget-friendly memory foam ones to higher-end, award-winning models. In this Dormeo Mattress Review, we will look at a few of its most popular mattresses and get into their specifics. Here is what we will focus on.
About Dormeo

Dormeo Types of Mattresses

Dormeo Mattress Features

Sizes and Pricing

Purchase and Delivery Process

Customer Support

Dormeo Mattress Competitors

Customer Reviews
About Dormeo 
Dormeo is a mattress and bedding brand that started operating in 2002 when its first foam mattress was introduced to the Italian market. The brand is part of Studio Moderna Group, a direct-to-customer advertising company primarily active across Central and Eastern Europe. 
Following its first foam mattress, Dormeo quickly earned its reputation for its high-quality products and excellent customer service. Since then, this mattress brand expanded its product range and now offers a range of sleep products, such as duvets, pillows, bedding, furniture, and much more. 
Dormeo's products are currently sold in 22 countries worldwide, the UK included. Its mattresses remain its most popular and in-demand products.
Dormeo Types of Mattresses
Dormeo currently has over 50 mattresses on offer, including all-foam, pocket-sprung, hybrids, latex, and Octaspring varieties. In this Dormeo Mattress Review, we will focus on the ones that are currently most well-liked and in-demand by UK customers. 
Dormeo Memory Plus 

Dormeo S Plus 

Dormeo Ocatsmart Plus

Dormeo Octasmart Hybrid
Dormeo Memory Plus Mattress
Dormeo doesn't offer bed-in-a-box mattresses exclusively, but the Memory Plus falls in that category. It is one of this brand's most popular and best-selling mattresses, and justifiably so. It provides excellent value for money, with tremendous pressure relief and superior comfort and support. 
The mattress consists of two layers and is 17 cm deep. The lack of a transitional layer makes it thinner than some other mattresses-in-a-box we've reviewed so far, from brands like Eve, Emma, and Simba.
Nevertheless, it is still a well-constructed mattress, with 14 cm of breathable Ecocell foam at the base and topped off with 3 cm of luxuriously thick memory foam. 
Ecocell is Dormeo's proprietary, next-generation foam, with a 3-dimensional cell structure and permanent elasticity. The Ecocell foam allows for breathability and provides excellent support at key pressure areas. 
These two layers are wrapped in a special anti-bacterial, anti-fungal, and anti-dust mite cover. Unfortunately, the cover is not removable and washable. Also, it doesn't have handles for easy manoeuvring, which is the only downside to this mattress. 
Dormeo S Plus Mattress
The S Plus collection is one of Dormeo's latest innovations designed to offer a completely customisable sleeping experience. Owing to the S shape layer, you can choose from different levels of comfort and support and find the ones that fit your sleeping style the most. 
The S Plus has been designed as the first 100% personalised mattress, offering over 30 comfort combinations to choose from. It measures 23 cm in thickness and consists of several foam layers. 
The S-shaped Octaspring layer has been inspired by the natural S shape of the human spine. It has three body zones, each with different strength and density. It consists of foam springs that are eight times more breathable than traditional memory foam.
This layer is surrounded by two layers of Dormeo's Ecocell foam and 2 cm of memory foam at the top of the mattress. This structure makes this an exceptional all-foam bed. 
The Ecocell layers of the mattress are separated by colour, each signifying a different firmness level. The grey side is softer and most suitable for side sleepers, while the pink side is much firmer and excellent for front and back sleepers for its support.
This mattress also comes with the added perk of a silver cover with anti-bacterial, anti-fungal, and anti-dust mite protection and side handles for manoeuvring.

Dormeo Octasmart Plus
All Dormeo Octasmart mattresses are 100% recyclable and designed to leave 50% less environmental footprint. In addition, they come with OEKO-TEX certificates, proof that they are free from any harmful chemicals and emissions.
The Dormeo Octasmart Plus is a memory foam mattress, measuring 17 cm in height and comprising six layers of different materials. Underneath the smart cover, there are two layers of foam. One is a memory foam layer with an open-cell structure followed by a layer of the signature Ecocell foam.
Next, the Octaspring layer comprises hundreds of small Octasprings, 5 cm in height, allowing constant airflow through the mattress. These tiny Octasprings are arranged in three different body areas, the shoulders, back, and hips, allowing the spine to take its original shape.
Combined with the smart performance cover, this Octaspring technology creates Dormeo's own Octavent™ Air system that reduces the bed temperature by up to 3°C.
The Octaspring Plus also comes with a removable cover that can be dry cleaned. The cover is also anti-allergic and comes with hundreds of comfort pockets built into its structure that promote optimum circulation.
Dormeo Octasmart Hybrid Plus
The Octasmart Hybrid Plus is the most premium mattress in the Dormeo range and belongs in the hybrid category. It is 22 cm high and consists of four layers in total. 
Similar to the Octasmart Plus, this mattress combines the Octaspring technology, memory foam, and Ecocell foam layers. Still, it features a layer of individual pocket springs in addition. This combination makes the Octasmart Hybrid Plus one of the best hybrid mattresses overall. 
The pocket springs are 8 cm tall and, combined with the Octaspring technology, give this mattress a more traditional, bouncier feel. As you can see in the image below, they are placed right underneath the Octasprings.
The Octasmart Plus is wrapped in a smart performance, hypoallergenic cover that protects against dust mites and bacteria, ideal for people prone to allergies. Aside from that, the cover can be removed and dry cleaned as well.

Dormeo Mattress Features
Comfortability and Firmness
The three-dimensional cellular structure of the Ecocell makes Dormeo mattresses very comfortable to sleep on. In addition, it provides excellent pressure relief at critical body areas, such as the shoulders, back and hips. 
In terms of firmness, all of the four models we've mentioned belong in the medium-firm category. Some slight differences are noticeable, however. For example, the Octasmart Hybrid Plus is significantly firmer than the other models, owing to the pocket spring level. As a result, this one would be ideal for front and back sleepers. 
The Memory Plus will provide pleasing sinkage and excellent shoulders and hips support for side sleepers because of its all-foam construction. 
The S Plus model is the most unique in this regard. You can get different firmness levels by simply flipping the mattress, making it ideal for all types of sleepers.
Temperature Regulation
One of the many advantages of Dormeo mattresses is that they hardly retain any heat. Namely, their proprietary Ecocell foam is much more breathable than regular memory foam, owing to the millions of pores that allow constant air circulation. 
In addition, the Octavent™ Air system featured in the Octasmart models will reduce the bed temperature by up to 3°C. Out of the four models, we will single out the Octasmart Hybrid Plus for best temperature regulation due to the pocket spring layer that provides excellent ventilation, typical for hybrid mattresses.
Edge Support
Edge Support differs from model to model since it mostly depends on the mattress structure. Hybrid mattresses usually provide much better edge support than memory foam ones. So if this is a priority for you, the Octasmart Hybrid Plus would be by far the best option.
Motion Isolation
Alternately, if you are a light sleeper and value motion isolation the most in a mattress, all-foam options like the Memory Plus and the S Plus will be most beneficial. Memory foam is excellent at limiting motion transfer since it absorbs the pressure rather than distributing it on other bed parts. Thus, we recommend Dormeo's all-foam models to couples and light sleepers the most.
Prices and Sizing
The four models that are featured in this Dormeo mattress review come at different prices and sizes. The table below shows how much each mattress costs and the dimensions at which it is available.
Dormeo Memory Plus
Dormeo S Plus
Dormeo Octasmart Plus
Dormeo Octasmart Hybrid Plus

Single (90 x 190 cm)

£529.99

£299.99

£599.99

£599.00

Double (135 x 190 cm)

£629.99

£399.00

£799.99

£699.00

Small Double (120 x 190 cm)

£249.99

/

£799.99

/

King (150 x 200 cm)

£779.99

£499.99

£999.99

£

799.00

Super King (180 x 200 cm)

£

899.99

£599.99

£1,199.99

£

899.00
Purchase and Delivery Process
Dormeo offers free deliveries and returns on all its mattresses across the mainland UK, while small items under £79 apply an additional cost of £4.95. Typically, the mattresses are delivered within 14 business days after order placement. However, most in-demand models may take as long as 28 business days to deliver. 
Dormeo mattresses are vacuum sealed, rolled, and placed in a box for easy transportation and convenience. It is also worth noting that if you purchase an Octaspring branded mattress, you will be entitled to Dormeo's free White Glove Delivery Service. Dormeo's team will deliver and set up your new mattress and even take away your old one completely free. 
Trial and Warranty
Dormeo offers a 60 night trial period, during which you can try out your new mattress from the comfort of your own home and see if it is the right fit for you. If you decide to return the mattress during this period, you can get a full refund of the purchase price or even replace it with an alternative model. 
In contrast, some brands like Simba and Emma offer even longer trial periods of 200 nights. Still,  60 nights is a long enough time for most people to decide whether their mattress is suitable for them. 
The warranty period depends on the mattress and can range from 1 year for the Options range to 20 years for the Octaspring models.  Some mattresses, like the Octasmart Plus and the Octasmart Hybrid Plus, are covered by an 18-year warranty. In contrast, the Memory Plus and the S Plus mattresses come with 15-year warranties.
Dormeo Customer Service
Dormeo's sleep experts are available for any guidance or support via phone, mail, or live chat. Moreover, Dormeo's official site has several helpful guides and FAQs containing lots of valuable information on their products, delivery process, and even helpful buyer's guides. 
Dormeo Mattress Competitors
As the premium mattress in the Dormeo range, we will compare the Octasmart Hybrid Plus to the best-rated mattresses from the following brands.
Dormeo vs Simba
The online mattress company Simba developed its hybrid mattress range using data from over 10 million sleepers. That resulted in three of the most popular and best-rated mattresses in the UK, the Simba Hybrid, the Simba Hybrid Pro, and the Simba Hybrid Luxe.
Its second-generation hybrid mattress, the Simba Hybrid Pro, features a seven-layer construction and 5,000 patented Aircoil springs. The natural wool layer and Simba's specially developed cooling foam make this mattress stand out for its excellent temperature regulation. 
The table below shows the key differences and similarities between the Simba Hybrid Pro and the Dormeo Octasmart Hybrid Plus.
| | | |
| --- | --- | --- |
| | Octasmart Hybrid Plus | Simba Hybrid Pro |
| Type | Hybrid | Hybrid (springs and foam) |
| Firmness | Medium Firm | Medium Firm |
| Layers | Six | Seven |
| Cover | Removable | Not removable or washable |
| Depth | 22 cm | 28 cm |
| Trial | 60 nights | 200 nights |
| Warranty | 18 years | Ten years |

Dormeo vs Tempur 
Tempur is a very well-known mattress brand associated with high-quality mattresses and credited for championing the memory foam movement in the mattress industry. There are four mattresses in the Tempur range, all of which differ in composition and firmness. 
The standout in the range is the Tempur Original. It features the original NASA material, made of viscoelastic cells that perfectly adapt to the sleeper's body and relieve pressure points. In addition, the denser Tempur Support material and the Durabase Technology are found at the bottom.
Here is how the Dormeo Octasmart Hybrid Plus compares to the Tempur Original.
| | | |
| --- | --- | --- |
| | Octasmart Hybrid Plus | Tempur Original |
| Type | Hybrid (springs and foam) | All-foam  |
| Firmness | Medium-firm | Medium-firm |
| Layers  | Six  | Four |
| Cover | Removable | Removable |
| Depth | 22 cm | 21 cm, 25 cm, 31 cm |
| Trial | 60 nights | 100 nights |
| Warranty | 18 years | Ten years |
Dormeo vs Eve
Eve Sleep is one of the leading brands in the online mattress market. The company currently has six high-quality mattresses on offer. Namely, the Eve Premium Hybrid stands out as its most premium model.
This mattress features Eve's proprietary Flatfoam® layer, which is incredibly soft and comes with active cooling technology to prevent overheating. In addition, the 1500 pocket springs found at the bottom of the mattress, just above the base, make this a genuinely premium option. Here is how the Eve Premium Hybrid compares to the Octasmart Hybrid Plus.
| | | |
| --- | --- | --- |
| | Octasmart Hybrid Plus | Eve Premium Hybrid |
| Type | Hybrid (springs and foam) | Hybrid (springs and foam) |
| Firmness | Medium Firm | Firm |
| Layers | Six | Six |
| Cover | Removable | Removable |
| Depth | 22 cm | 28 cm |
| Trial | 60 nights | 100 nights |
| Warranty | 18 years | Ten years |

Customer Reviews
The Dormeo range of mattresses has been received very well in the UK by both critics and customers. On Trustpilot, this mattress brand holds a 4.6 out of 5 stars rating and more than 25,000 reviews, 80% of which rated it excellent.
Customers are most satisfied with Dormeo's customer service, prompt deliveries, and the quality of its mattresses. In addition, numerous users report back pain relief after sleeping on a Dormeo mattress. 
When it comes to complaints, they are mostly related to poor experiences with delivery and customer support. However, some users also raised concerns about durability, with reports about their mattress dipping over time.
Wrap Up
To sum up this Dormeo Mattress Review, Dormeo has rightfully earned its place as one of the UK's top and most trusted mattress brands. Its mattresses are one-of-a-kind and innovative, with unique materials and structures that you will not find in rival mattress brands. 
So, no matter what your sleeping style and preferences are, Dormeo's extensive mattress range truly has something for everyone's taste.
FAQ
Are Dormeo mattresses any good?
Yes, Dormeo mattresses offer good value for money and are generally very comfortable, supportive, and well-crafted.
How long does a Dormeo mattress last?
Dormeo guarantees that its memory foam mattresses last at least 15 years, while some of its most luxurious models, such as the Octasmart range, come with up to 18-year warranties.
Are Dormeo mattresses worth it?
Yes, the high quality of their materials, the unique innovations and the affordable prices make Dormeo mattresses a worthwhile investment.
How thick is a Dormeo mattress?
All mattresses have different thickness levels. For instance, the Dormeo memory foam mattresses vary in height from 15-35 cm.