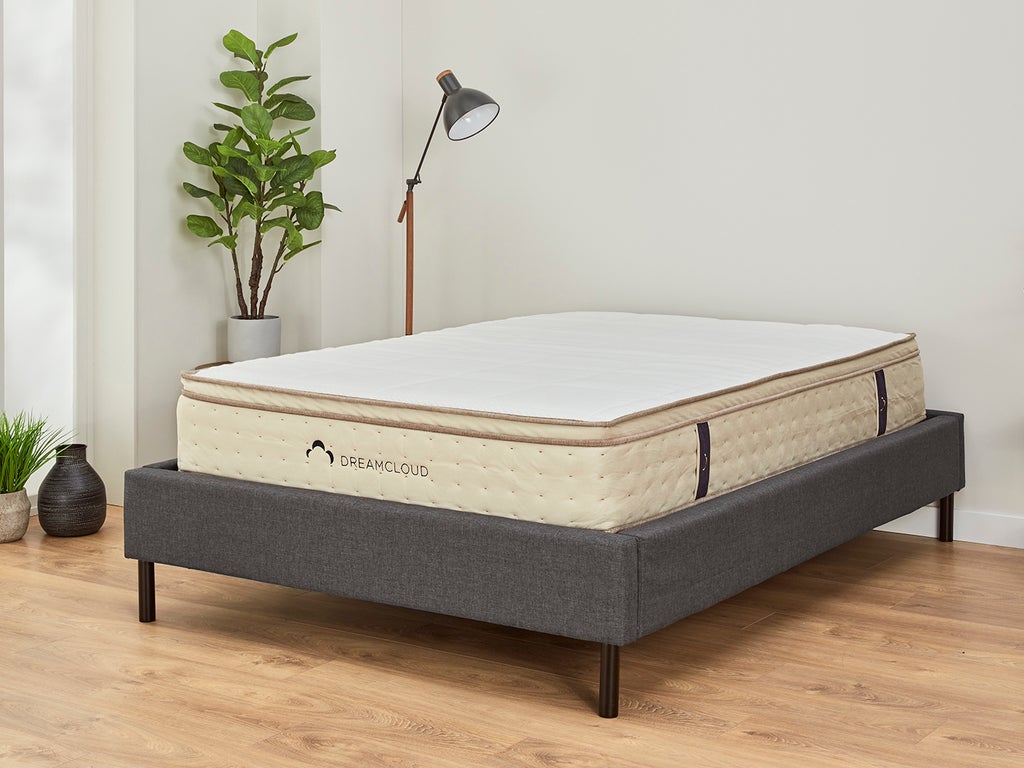 DEPTH: 28 cm
LENGTH: 195 cm
WEIGHT: 35 kg
SIZES AVAILABLE: Single, Double, King, Super King
TRIAL PERIOD: 365 Nights
WARRANTY: Lifetime
CONSTRUCTION: Foam and Springs
DreamCloud Mattress Review
DreamCloud is a lesser-known brand in the UK's crowded bed-in-a-box mattress market, but it is by no means inferior to its competitors. Its name might suggest that it resembles sleeping on a cloud, but does it live up to those expectations? Check out this DreamCloud Mattress Review to find out.
Advertiser disclosure
This page may contain links to our partners' products and services, which allows us to keep our website sustainable. This means that cybercrew.uk may receive a compensation when you sign up and / or purchase a product or a service using our links. However, all opinions expressed in this article are solely ours, and this content is in no way provided or influenced by any of our partners.
DEPTH: 28 cm
LENGTH: 195 cm
WEIGHT: 35 kg
SIZES AVAILABLE: Single, Double, King, Super King
TRIAL PERIOD: 365 Nights
WARRANTY: Lifetime
CONSTRUCTION: Foam and Springs
Back Sleepers
STRENGTHS
365-night trial
Forever warranty
Excellent temperature regulation
CertiPur certified foams
Double tufted cooling cover
WEAKNESSES
Non-washable cover
Limited motion isolation
If you are getting ready to replace your old mattress, you will find that the mattress industry has experienced a significant shift over the last few years. Owing, of course, to the bed-in-a-box trend. 
Sold online and typically offering generous risk-free trials and free deliveries, bed-in-a-box mattresses have significantly reduced the hassle of mattress shopping.
Bed-in-a-box hybrids, in particular, are all the rage these days, with the likes of Eve and Simba making a real splash across the UK in the past few years. In this DreamCloud Mattress Review, I will be looking at an up and coming mattress brand that is highly popular in the US but is a relative newcomer to the UK bed-in-a-box scene. 
Uniquely, DreamCloud has only one signature mattress in its offering, a luxury hybrid model combining the sinking feeling of memory foam with the responsiveness of pocketed coils. So if that piqued your interest, read on below. 
About DreamCloud

Design and Construction

Features and Performance

Comfortability and Firmness

Sizes and Price

Delivery and Returns

DreamCloud Alternatives

User Reviews

Wrap Up
About DreamCloud
DreamCloud is a direct-to-consumer brand with only one luxury hybrid mattress in its range. The DreamCloud mattress launched in the US in 2018, but it didn't debut in the UK until only recently. As mentioned previously, DreamCloud is a bed-in-a-box mattress that you can only buy online and will be delivered to your home rolled up and compressed in a small box.
The brand's parent company, called Resident Home, is home to several other direct-to-consumer brands. Surprisingly, one of them is Nectar, one of the fastest-growing mattress brands currently on the UK market. The DreamCloud mattress is sold and manufactured by the same company behind the Nectar mattress, Nectar Sleep Ltd.
Consequently, there are several similarities between DreamCloud and Nectar, the most convenient ones being an industry-leading 365-night trial and a forever warranty. Aside from that, keep on reading this DreamCloud Mattress Review to see what other features make this mattress stand out and whether it is worth investing in.
Design and Construction
Design-wise, the DreamCloud mattress is similar to most other premium hybrid mattresses of its kind.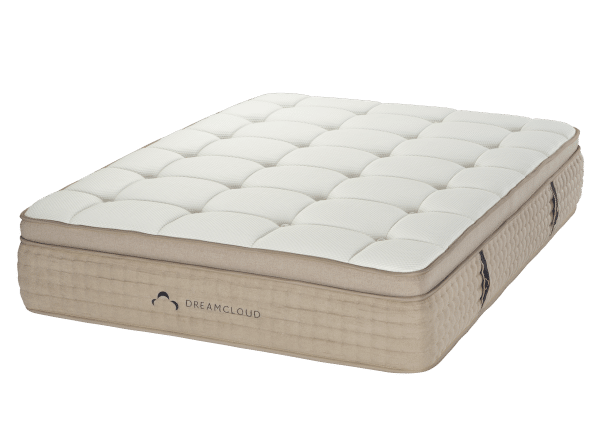 The mattress consists of five comfort layers starting with the luxury quilted top cover. The cover is cashmere blend and double tufted, with a white top, understated cream edges, and navy blue accents. This unique design, combined with the 28 cm depth, gives the mattress a premium and luxurious look.
Unfortunately, the cover cannot be machine washed, only spot cleaned. That is a slight drawback considering most other luxury hybrid mattresses, like the Eve Premium Hybrid, come with top covers that can be zipped off and machine washed. 
With that said, it is a minor issue that doesn't affect the mattress's overall performance and can be quickly resolved by simply using a mattress protector.
Other than that, the cover makes for an extremely plush and comfortable sleep surface. It also contains phase-changing materials that absorb heat and ensure a cool sleep surface, which hot sleepers will find particularly beneficial. 
The comfort layers underneath the cover are placed in the following order:
DreamPlush Breathable Memory Foam
The top layer of the mattress, called DreamPlush, is meant to provide pressure relief and mould to your body shape no matter your sleeping position.
The support layer underneath is made of polyfoam and gives the mattress its structure and edge support. It also prevents you from sinking too deep into the mattress.
Next is the ActivEdge™ Coil layer consisting of 15 cm, full-sized pocket springs that minimise motion transfer and make the mattress supportive right up to the edges. The number of pocket springs is solid, 1,052 in the DreamCloud king size mattress, to be exact.
Finally, the support foam base at the bottom keeps all these layers together, providing additional support for the spring system and further minimising motion transfer.
The picture below showcases how all these different layers are placed. 
As you can see in the image, the DreamCloud mattress also has four side handles — two on each side, for easy manoeuvring. Moreover, all the foams used in the mattress's construction are CertiPUR Certified, which means they are free from heavy metals and harmful chemicals, making this an entirely safe and environmentally friendly product.
Features and Performance
Firmness and Comfort
The plushness of the top foam layer, combined with the pushback support of the pocketed coils, make the DreamCloud a supremely comfortable mattress.
DreamCloud rates this mattress as a luxury firm, with a 6.5 out of 10 rating on the firmness scale, and describes it as striking just the right balance between comfort and support. Firmness is mainly subjective and depends on the sleeper's weight and body size. Still, I would say this mattress has a real medium-firm feel that will meet the needs of the majority of sleepers.
DreamCloud's airy memory foam comfort layer can provide enough sinkage and proper spinal alignment for most side sleepers of average weights. A hybrid mattress has typically less than an all-foam one, preventing the hips and shoulders from sinking too far into the mattress. 
For back and stomach sleepers, this mattress delivers just the right level between sink and firmness. The memory foam layer contours perfectly to the body. At the same time, the pocket springs at the base provide the needed support, resulting in a "floating" sensation that resembles sleeping "on" rather than "in" the mattress.
Overall, the DreamCloud mattress is a great all-rounder and a good fit for all sleeping positions. The only two groups of people who may not enjoy the mattress as much are lighter-weight side sleepers and heavier back and stomach sleepers. 
Side sleepers with a petite figure may find it slightly too firm for their preference, resulting in a lack of pressure relief. Contrastingly, heavier back and stomach sleepers are typically better off with a firm mattress and may find the DreamCloud a little too soft, as the heavier you are, the less supportive a mattress will feel.
Motion Isolation
Motion isolation is an essential feature to look for in a mattress, as the lack of it can really affect the quality of sleep for light sleepers in particular. It is vital for anyone who sleeps with a partner that tosses and turns and gets up frequently throughout the night.
While typically, all-foam mattresses, like the Emma Original, tend to offer the best motion isolation of all mattress types, a hybrid mattress can also be a good option. Namely, the DreamCloud mattress absorbs a reasonable amount of motion due to its quilted top cover and the memory foam layer that has excellent motion isolation properties.
Naturally, there is still a tiny amount of motion transfer, which is to be expected with a hybrid coil mattress. Still, that is alleviated by the fact that the DreamCloud hybrid mattress uses pocketed coils that are individually wrapped in fabric. The pocketed coils compress individually, which results in minimal movement spreading across the sleep surface.
Temperature Regulation
One area where the DreamCloud mattress excels is temperature regulation.
As mentioned previously, this mattress contains phase-changing materials woven into the cover's fabric. These materials absorb the body heat that you release throughout the night and release it again once the temperature cools, resulting in an optimal sleep temperature.
Aside from the cooling cover, temperature regulation is also aided by the full-sized pocket springs that allow constant airflow through the mattress. The cooling cover and the full-sized pocket springs work perfectly to counteract the dense memory foam layer, which is notorious for retaining body heat.
So, if you are naturally a hot sleeper or prone to night sweats and looking for a mattress to help you sleep cooler, the DreamCloud luxury hybrid mattress is definitely a good option.
Edge Support
Edge support is a minor feature that can make a world of difference to the quality of your sleep. It refers to the amount of resistance the mattress provides near its edges. The DreamCloud mattress uses ActivEdge™ pocket springs that run all the way up to the perimeter of the mattress. That combined with the sturdy polyfoam layer results in good edge-to-edge support. 
That means that the DreamCloud will not sag with prolonged usage and will retain its original shape and stability for years to come. You will get the same support lying near the edge of the mattress as you did at the centre of it. In addition, if you tend to sleep near the edge of your bed, it is unlikely that you will experience any significant sinkage or that rolling off sensation that is more typical of a memory foam mattress.
Sizes and Pricing
Price-wise, the DreamCloud mattress is on par with other premium hybrids of its type. While it definitely isn't the cheapest option out there, it is still reasonably priced for a luxury mattress of its depth and quality. The mattress is available in four UK sizes – Single, Double, King and Super King. In the table below, you can see the cost and dimensions of each of the available sizes. 
Size
Dimensions
Price

Single

90 x 190 cm

£999

Double

135 x 190 cm

£1,249

King

150 x 200 cm

£1,349

Super King

180 x 200 cm

£

1,459
These prices put the DreamCloud mattress at the higher end of the mid-price range, most similarly priced to the Simba Hybrid Pro but significantly cheaper than the Tempur range of mattresses. Although the market is flooded with mattresses in a box that you can get for significantly less, the DreamCloud is certainly worth saving up for.
Additionally, you also have the option to split the cost of your DreamCloud mattress over several months, so you don't have to pay for the mattress all in one go. 
What's more, DreamCloud runs frequent sales and deals, considerably lowering the price of its products, so you will have plenty of opportunities to grab this mattress for much less. In fact, at the time of writing, the DreamCloud is available at a huge 50% discount, so you can now get the mattress at half its original price.
Delivery 
The DreamCloud mattress will be delivered to your doorstep pressed, vacuum-sealed, and rolled in a conveniently sized box in three to seven days after placing the order.
Delivery is free of charge all across the UK, and if you choose the two-person delivery service, you can have your mattress delivered directly to your room of choice. Still, it is worth noting that the set-up of the mattress is not currently included in this service.
For a small fee of £40, DreamCloud will also collect and recycle your old mattress, which is an additional service that you can select during the checkout process.
The mattress setup is straightforward – as soon as you remove the outer plastic, it will start expanding, and it may take up to 48 hours for it to reach its full size. After that, your DreamCloud mattress will be ready to use.
While unboxing the mattress, you may notice a hint of an unusual, chemical-like smell resulting from your mattress being sealed shut and rolled up for a long time. That is called off-gassing and is typical for all bed-in-a-box mattresses. The good news is that the smell will dissipate in a couple of hours, so it is best to let the mattress air out in a well-ventilated room before sleeping on it.
Trial and Warranty
DreamCloud offers one of the most generous policies in the industry, much more than the industry standard services that most bed-in-a-box brands offer these days.
One of its most appealing traits is that it comes with an unparalleled 365-day trial period, while, in comparison, most other companies offer trial periods that only last 100 nights.
That is a fantastic benefit, as it is unlikely that your incompatibility with a mattress will show straight away. In fact, most sleep experts recommend sleeping on a mattress for at least a couple of weeks before making up your mind.
With DreamCloud, you will be able to test the mattress from the comfort of your own home for a full year, which is more than enough time to determine whether it fits your sleep requirements. If during this time you decide that the DreamCloud mattress is not ideal for you, you will get a full refund of your purchase.
Another benefit of buying the DreamCloud mattress is that it comes with a forever warranty that applies for as long as you own it. The forever warranty just further proves the manufacturer's confidence in the quality of the product.
If something is faulty with your mattress, you can replace it completely free of charge during the first ten years. After the initial ten years, you can also have your mattress repaired, re-covered, or replaced, all depending on the level of damage. 
For any complaints, inquiries, or support, you can get in touch with DreamCloud's customer support team via live chat, phone, and email. Customer support is polite and knowledgeable and is available Monday through Saturday from 9 am to 5.30 pm.
DreamCloud Alternatives
DreamCloud vs Emma
The first and most obvious difference between the DreamCloud hybrid mattress and the Emma Original lies within their construction. While the DreamCloud mattress employs a combination of pocket springs and memory foam, the Emma Original is made entirely out of foam. 
Its all-foam construction makes the Emma Original one of the softest mattresses you will find on the market due to its lack of coil support. As a result, this mattress would make an excellent choice for lighter-weight sleepers, particularly those who prefer sleeping on their side.
The Emma Original comprises three layers of foam encased in a temperature regulating cover which, unlike the DreamCloud cover, can be removed and machine washed. It has a simple, three-layer construction and a depth of 25 cm.
In comparison, the DreamCloud Luxury has a thicker, five-layer construction and is 28 cm deep. For a clearer picture of how the two mattresses compare, check out the table below.
DreamCloud
Emma Original
Construction

Hybrid (springs and foam)

All-foam

Firmness

Medium-firm

Medium

Layers

Five

Three

Cover

Non-removable

Removable and machine washable

Depth

28 cm

25 cm

Trial

365-nights

200 nights

Warranty

Forever

ten years

Starting Price

£999

£

499
DreamCloud vs Nectar
Both Nectar and DreamCloud are owned by one of the fastest-growing mattress brands in the UK, Nectar Sleep. As a result, there are quite a few similarities between the two, most notably in their trial periods, warranty, and delivery service. 
The mattresses vary considerably in their construction, however. Nectar has two mattresses in its range, a hybrid and an all-foam one, the latter of which remains the company's best-selling mattress to date.
The Nectar memory foam mattress has a sensation similar to a hybrid mattress and a medium-firm feel, much firmer than most all-foam models such as the Emma Original. Consequently, it would be a good option for anyone looking to avoid the overly sinking feeling we've come to expect of a memory foam mattress.
Due to its pure foam construction, the Nectar mattress offers much better motion isolation than the DreamCloud. Memory foam tends to retain a lot more heat, though, so DreamCloud is by far the better option in terms of temperature regulation. Here is how the two mattresses compare in other areas.
DreamCloud
Nectar
Construction

Hybrid (springs and foam)

All-foam

Firmness

Medium-firm

Medium-firm

Layers

Five

Three

Cover

Non-removable

Removable but not machine washable

Depth

28 cm

25 cm

Trial

365-nights

365-nights

Warranty

Forever

Forever

Starting Price

£999

£

569
DreamCloud vs Otty
Unlike DreamCloud, Otty has several hybrid mattresses in its range, out of which the Otty Orignal Hybrid is the company's most popular and competitively priced one.
DreamCloud and the Otty Hybrid mattress are somewhat similar in that they both contain coils in their construction, with softer memory foam layers on top. However, on closer inspection, the two mattresses have several notable differences in their design, most notably in their pocket spring layer.
Namely, the Otty Original Hybrid has around 2,000 pocket springs (king size). That is significantly more than the DreamCloud, which has just over 1,000 pocket springs in the king size. The number of pocket springs, combined with the foam side support layers, make the Otty Original Hybrid one of the best mattresses for edge support.
It is also considerably firmer than the DreamCloud mattress, making it a suitable option for heavier people who prefer to sleep on their backs. Here is how the two mattresses differentiate in other areas as well.
DreamCloud
Otty Original Hybrid
Construction

Hybrid (springs and foam)

Hybrid (springs and foam)

Firmness

Medium-firm

Firm

Layers

Five

Four

Cover

Non-removable

Removable and machine washable

Depth

28 cm

25 cm

Trial

365-nights

100-nights

Warranty

Forever

10 years

Starting Price

£999

£

599
User Reviews
DreamCloud is rated as excellent on Trustpilot, with a 4.4 out of 5 rating, which is the average of 1,300+ reviews so far. That is a pretty solid rating, especially for a brand that was just recently introduced to the UK mattress scene.  
Most of the reviewers are satisfied with their purchase, praising the mattress for its well-balanced medium-firm comfort level. Several users also reported they noticed an improvement in their back pain after sleeping on the DreamCloud mattress. Here's what some of the most satisfied users have to say. 
Interestingly enough, most of the DreamCloud mattress complaints focus on bad customer service experiences and long deliveries rather than on the actual quality of the mattress.
Wrap Up
While it is certainly easy to be put off by DreamCloud's high price tag, I would argue that it's very worth investing in, especially if you manage to get your hands on one when there's a deal on. 
As already established in this DreamCloud mattress review, its medium-firm rating makes it fit most people's sleep requirements. Temperature regulation and edge support are spot on and, for a hybrid mattress, it can absorb a fair amount of movement as well. 
If you can't make up your mind yet, remember that its lengthy trial period will give you a full year to decide whether it fits your sleeping habits. So, no matter what decision you make, you can't go wrong.
FAQ
Where are the DreamCloud mattresses made?
All DreamCloud mattresses are designed in the USA but are manufactured locally in the UK.
Is DreamCloud a good mattress?
Yes, DreamCloud is a good mattress that strikes just the right balance between being comfortable and supportive by combining high-quality foam with pocketed coils. The mattress looks and feels luxurious with its double-tufted cover, and to top it all off comes with by far the most generous trial period and warranty in the industry. 
Is DreamCloud good for side sleepers?
Yes, DreamCloud has a medium-firm feel that makes it suitable for all sleeping positions. The mattress's top memory foam comfort layer will mould to the sleeper's body and provide pressure relief for the hips and shoulders. At the same time, the full-sized pocket springs will ensure optimal spinal alignment, making the DreamCloud a suitable choice for most side sleepers.
How many pocket springs does a DreamCloud mattress have?
There are over 1000 pocket springs in a DreamCloud king mattress, which is just enough, as anything below this number will result in the mattress not providing sufficient support for the body.