Samsung Galaxy S22 and S21 With More Software Updates Than Any Other Android Phone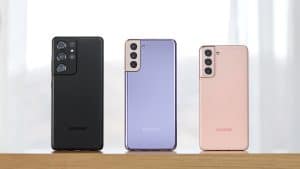 The Samsung Galaxy Unpacked event is about to take place today, February 9, where Samsung will finally launch the new Galaxy S22 lineup. Besides the Galaxy 22 models, the tech giant is also expected to announce a new line of the Galaxy Tab S8 series tablets. 
However, shortly before the event, a leak has surfaced on Twitter, revealing Samsung might be extending its software update policy as well. This BDTech tweet shows the update plans, citing Eveleaks, a well-known leaker, as the source.
CONFIRMED!
Galaxy S21, S22
Galaxy S21 FE
Galaxy Z Fold3, Z Flip3
Galaxy Tab S7, Tab S8

Will ALL get 4 major android updates AND 5 years of security updates!!!#unpacked #GalaxyS22Series #galaxytabs8 pic.twitter.com/0xsVcRLTTF

— BDTech (@TechByBD) February 7, 2022
According to the leaked document, Samsung might be offering four years of OS updates and five years of security patches on a handful of key devices, increasing their lifespan by a considerable amount. 
The devices in question include the Galaxy S22 range, the Galaxy S21 range (including the Galaxy S21 FE), the Galaxy Tab S8 range, as well as the foldable Galaxy Z Fold 3, and Galaxy Z Flip 3 smartphones.  
For the time being, the Galaxy S22 and Tab S8 will launch with Android 12, but this new software update policy should see the devices supported up to 2027 and running Android 16. 
Samsung was already far ahead of its competition in terms of software support. It offered up to four years worth of security patches and three years of OS updates for most of the Galaxy devices released from 2019 onwards. 
Now, by adding an extra year to each, it seems like the devices mentioned above will receive more OS updates than any other Android device, including the Google Pixel 6, which only committed to three major OS updates. Hopefully, other Android brands will soon follow suit as well.
However, even with four years of Android updates and five years of security patches, Samsung is still behind Apple, which currently offers five years of iOS upgrades. 
Besides the software update change, the leaked press release also suggests that the devices will be available for pre-order on February 9 and begin shipping on February 25. 
Samsung is also expected to launch three versions of its new smartphone, as it's done in the past. So, we will probably see a Galaxy S22, a Galaxy S22 Plus, alongside the Galaxy S22 Ultra, which is expected to be the centrepiece of the show. Of course, nothing is yet official, so we will have to wait for the Unpacked event to see if the rumours are valid or not.