Drawing Tablet for Animation - UK Top Picks
Whether you are a professional designer or just someone who enjoys animation, our article on the best drawing tablets will help you pick the right one. So, stay with us and see what these top-rated drawing tablets offer. We'll cover everything you need to know, from the display, pen resolution, controls, and more.
Last Updated: February 6, 2022
Advertiser disclosure
This page may contain links to our partners' products and services, which allows us to keep our website sustainable. This means that cybercrew.uk may receive a compensation when you sign up and / or purchase a product or a service using our links. However, all opinions expressed in this article are solely ours, and this content is in no way provided or influenced by any of our partners.
Best Drawing Tablet for Animation UK
Detailed Reviews
Beginners
Visit Website
Touch ring
Tilt function
Battery-free stylus
8192 pen pressure options
OTG technology adaptor
Many express keys
With 8192 levels of pen pressure sensitivity, 16 express keys that you can modify, and a comprehensive workspace that allows you to draw and create easily, you get a lot for a very low price. However, the tablet is a little selective; it'll operate with Windows, Android, and macOS, but not with iPhones.       
A touch ring on the tablet's left side allows you to effortlessly zoom in and out of your canvas, change your brush, and scroll the page. The ring is touch-sensitive but doesn't turn. A micro USB connector is on the tablet's left side, and you can use it to charge the tablet and connect it to your computer or Android smartphone.
Remote express key
Visit Website
4K resolution
17 programmable buttons
Etched glass screen
Advanced pen performance
Ergonomic design
Great display colours
The Wacom Cintiq Pro has a 24-inch screen with a 4K resolution (3840 x 2160). It has 8192 levels of pen pressure sensitivity and comes in a bundle with the Pro pen, which allows you to imitate hand-drawn patterns perfectly. In addition, the 17 customisable buttons are within reach to help you get the work done quicker.    
In addition, a touch shortcut is also available via the on-screen keypad and radial menus. The clear 4K display's colours are stunning, and if you missed out on the HD 27QHD tablet edition a few years ago, the amazing resolution you get today makes it worth the wait.
Incredible display performance
Visit Website
12.9-inch Liquid Retina display
Apple M1 chip
Face ID
Wi-Fi
True-tone display
Good battery life
The Apple iPad Pro 12.9 is an excellent choice for creating incredible drawings and illustrations. Featuring its brilliant 12.9-inch liquid retina XDR display and Apple's new M1 chip, it generates 40% quicker graphics than previous iPad models. So producing outstanding animation and works of art has never been easier.       
The iPad Pro is top-grade due to its overall mix of functionality and design-build. But, of course, the price for such features is pretty high. Additionally, keep in mind that, regardless of how much you spend on the tablet (since it has variations from 128 GB to 2TB), you'll have to pay an extra £90 for the Apple Pencil 2.
The best Android tablet for animation
Visit Website
Exceptional display
S Pen included
Wi-Fi
Ergonomic design
Bold colours
Fast-charging battery
Samsung's table features a beautiful display with a large drawing area and bright colours, which is excellent for animation. In addition, the processing power guarantees that your preferred programs will operate smoothly. The integration of the S Pen in the pricing is also a plus since it ensures you have everything you need in the package.
The Galaxy Tab S7 Plus' chassis and back are made of aluminium in grey, black, or bronze. Without the additional Book Cover Keyboard Case, it measures 11.25 x 7.3 x 0.2 inches and weighs 0.6 kg. With vibrant hues and inky, deep blacks, the colour accuracy is impressive. In addition, the screen is bright enough to operate without difficulty in direct sunlight.
Fine-detail definition
Visit Website
High-resolution display
Comfortable stylus
PA2 battery-free stylus
USB Hub
Adjustable stand
Two touch rings
XP-Pen Artist 24 Pro has a battery-free stylus ideal for cartoon or manga animation, with top-of-the-line pressure sensitivity and tilt response. It allows you to create amazing definitions of even the thinnest lines and strokes. As a result, you can give your manga/cartoon drawings more depth and richness than ever before.      
The anti-glare, textured film overlay also gives a pleasurable drawing experience, simulating the feel of a pen on paper to some level. Finally, the tablet stand on the rear is a valuable addition. It offers enough 'heft' to hold this large tablet (almost 7kg) from 16 to 90 degrees, allowing you to operate in a comfortable position.
Large drawing area
Visit Website
Wacom Pro Pen 2
Eight express keys
Bluetooth connectivity
Radial menus
Slim design
3D pen compatibility
The Wacom Intuos Pro (Large) is a big and powerful tablet for animation that is perfect for all types of visual artists. The tablet is thin and compact, yet it still has a large work area, so it's ergonomic without compromising any functionality.     
You can speed up your process by using the animation's pad's numerous gesture features. The tablet pen is battery-free and features a natural tilt support. In addition, you can customise express keys, radial menus, and the pen side can switch on the tablet. 
The Wacom Pro Pen 2 is also very responsive, and it provides a very natural feel while creating sketches, animation, texture art, and more.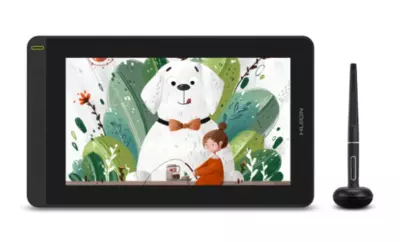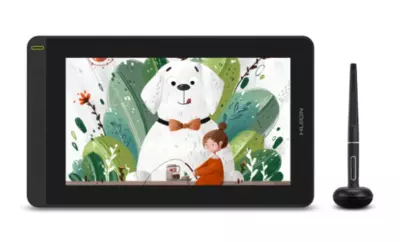 Affordable display animation tablet
Visit Website
Portable
Minimum parallax
Customisable keys
120% sRGB colour gamut
Vibrant colours
Features 20 programmable keys
The Kamvas 12 is essentially a second display that connects to your Windows or Mac and allows you to draw on it with the accompanying pen. A great advantage is that most display tablets are HD (1920 x 1080), and that HD resolution looks perfect and sharp on the Kamvas Pro 12's 11.6-inch display.   
In addition, the display has an anti-glare layer so that you can view it properly, even in direct sunlight. It also offers some drawing friction and is comfortable to use with the Huion stylus. 
In addition, the pen also has tilt support, which is a significant plus. Wacom has always had this feature, but companies like Huion have not. However, Huion has made this available on several tablet models, including the Huion Kamvas 12.
How to Choose the Best Tablet for Animation?
– Buyer's Guide –
The best animation tablets have revolutionised the way animations are produced. Anybody with a reasonably good tablet and a good eye for drawing can now give animation a go and become very successful through it. However, knowing how to make the most out of a drawing tablet is a must if you wish to work as a professional animator. 
Leading companies like Wacom, Huion, and XP-Pen are among the many drawing tablet manufacturers competing to deliver the perfect balance between build quality and price. This article has the most fantastic tablets from many brand names with a wide range of skill levels, so you have plenty of choices.
If you're interested in a new animation tablet, it's important you understand the biggest differences between the many models and brands. Therefore, we've created a comprehensive guide to highlight the most important factors to consider when choosing the best animation tablet.   
Graphics or Display Tablet
Screen/display tablets and graphics tablets are the two types of tablets you need to look into for animation. Graphics tablets are drawing surfaces linked to an external display such as a computer screen, whereas display tablets are tablets with their own screens. 
Best graphics tablet:

Wacom Intuos Pro Large
Overall, display tablets are the best choice for animation. Combining your drawing surface and display in the same area creates a smoother experience and makes it easier to use different animation software. However, display tablets are more pricey than graphics tablets, and if you already have a high-quality monitor, a graphics tablet could be the better cost-effective option.
Best display tablet:

XP-Pen Artist 24 Pro
Controls and Shortcut Keys
Controls and keys may not seem significant to a novice user, but having a set of customisable shortcut keys that you've linked to your favourite functions can drastically boost your productivity.  
The best example of many customisable keys is the XP-Pen Artist 24 Pro, which we've mentioned in this article. Of course, some tablets will have one or two customisable keys, while others will have none at all— but many of them will be tablets like Apple iPad Pro 12.9, which have other benefits.
Size
When it comes to the size of the tablet, we're referring to two things: the tablet's total physical size and the size of the display or drawing area. Of course, the size of a tablet is important since you'll need to manage, store, and perhaps travel with it; but it's also important because a bigger tablet will probably have more inputs and control area. 
Wacom animation tablet Cintiq Pro 24 is the largest drawing tablet on our list, but the XP-Pen Artist 24 Pro follows closely in second place. Both tablets have an incredible display, bright colours, and many customisable keys to make your drawing as smooth as they can possibly be.    
Regarding screen size, consider how much sketching area you actually need. The first logical choice that will come to mind is to get the largest tablet screen available. 
However, that will raise the device's price, and you might get a lot more drawing space than you actually need. That depends, of course, on the type of animation you're producing. Therefore, it's worth thinking about the work you'll produce to see the size of the drawing area you'll need. 
Pen Pressure Sensitivity
The amazing amount of pen pressure sensitivity that tablets are capable of is one of the main reasons they're so great for sketching and animation. Pen sensitivity can frequently reach 8192 levels of pressure recognition, allowing you to go into a lot of detail with line thickness and contour. 
The Huion Kamvas animation tablet comes with a battery-free PenTech 3.0 pen, which supports 60-degree tilt function, better stability, and 8192 levels of pressure sensitivity. With other models like the Samsung Galaxy Tab S7 Plus, you'll get an AMOLED display and bold colours, but the pen won't have such advanced features.
Price
Of course, the amount of money you have to spend will play a role in determining which animation tablet is ideal for you. But, naturally, this will vary from person to person, and while the more you invest, the better quality you get, there are many great low-cost animation tablets out there. Both Huion Kamvas 12 and Huion HS610 are great examples of low-cost tablets with great features. In addition, the Huion HS610 is a great animation tablet for beginners.
Wrap Up
Artists, animators, and designers have all welcomed the use of animation tablets in recent years. They are robust art tools that can capture every detail you want, yet are inexpensive enough for everyone to use.
Our selection of the best drawing tablets for animation will surely take your work to the next level, while exposing you to new methods and the ability to express your creativity. So whether you are a novice artist or an accomplished animator, we hope that this article will help you make the right decision.
FAQ
Which tablet is best for animation?
The best tablet for animation is the Wacom Cintiq Pro 24. It has powerful features and a compact design. It's the ideal tablet if you are in search of a high-quality animation tablet.
Which Wacom tablet is best for animation?
The best choices are the Wacom Cintiq Pro 24 and Wacom Cintiq 16. They are the two best Wacom animation tablets you can get in today's market.
What is an animation tablet?
An animation tablet (or drawing tablet) is an excellent device for creating logos, animations, and other visuals, without depending on the computer mouse. It also comes with its own stylus and makes the digital drawing process a lot easier.