Fitbit vs Apple Watch: Which One is Better?
It seems like everywhere you look, someone is wearing a Fitbit or an Apple Watch nowadays. These two fitness trackers are some of the most popular on the market and for a good reason. They both have a lot to offer to consumers, but which one is better? 
This Fitbit vs Apple Watch comparison will weigh up the two smartwatches in terms of design, prices, battery life, water resistance, and more. We will also discuss the different features that each tracker offers. 
Let's get started! 
Fitbit and Apple Watch History
Fitbit was founded in 2007 by James Park and Eric Friedman. The company's first product was the Fitbit Tracker, which measured how many steps a person took and how many calories they burned. Fitbit soon became the leading manufacturer of fitness trackers, and the company has since released several new products, including the Fitbit Flex, Fitbit Charge, Fitbit Blaze, and Fitbit Alta.
Apple Watch was released in April 2015 by Apple Inc. It is a smartwatch that can be used to track fitness goals, monitor heart rate, make calls, send texts, and more. Like Fitbit, Apple Watch has released several new models, ranging from the Apple Watch Series 2 through 8.
Features
So, what are the key differences between Fitbit and Apple Watch? Fitbit trackers are typically less expensive than Apple Watch models, but they come in a lesser variety of styles. Fitbits don't run multiple apps as smartwatches do, but they are directly comparable when it comes to fitness-tracking features.
Apple Watch has more built-in apps and can make phone calls and send text messages, but unfortunately, it also has a shorter battery life than a Fitbit tracker.
Heart-Monitor
The Fitbit Charge HR and the Apple Watch Series have heart rate monitors that track your pulse. However, the Fitbit heart rate monitor is more accurate than Apple's. The Fitbit Charge HR can track your heart rate 24/7 — it stores your heart rate data at 1-second intervals while you workout and 5-second intervals while you're resting.
On the other hand, the Apple Watch only tracks your heart rate every 10 minutes, unless your Workout app is on. That's when it records your heart rate continuously. Apple has made some improvements to the Heart Rate app, so now it keeps a record of your resting and recovery heart rate and alarms you when something is off.
Note that you can easily sync Fitbit to Apple Health since it's compatible with all smartphones.
Both Fitbit and Apple Watch have the ability to measure your electrocardiogram or ECG signal. You can do this by placing your finger on the Digital Crown. Apple Watch ECG accuracy was shown to have 99.3% specificity for classifying sinus rhythm and 98.5% sensitivity for classifying AFib in a clinical trial using 12-lead ECG as the gold standard. Pretty impressive, right?
Sleep Monitoring
While we are all well aware that we need eight hours of sleep every night, this is an unrealistic goal for most of us. So maybe aim for seven?
Apple Watch will help you reach this goal with the help of its Sleep app that promotes a regular sleeping schedule and tracks your sleep every night. Apple Sleep detects micro-movements to track how deeply you sleep using motion sensors, heartbeat sensors, and microphones. The watch syncs to your phone, and you get visualisations of the periods you were awake and asleep.
However, Fitbit seems to be doing a better job in this department. As a result, the data that Fitbit collects ends up being of way better quality. For example, with Fitbit Inspire 2, Fitbit Versa 3, Charge 5, or Sense, you can see a record of the sleep stages you cycle through at night (light sleep, deep sleep, and REM sleep).
Checking Blood Oxygen Levels
The latest Fitbit and Apple Watch offer SPO2 sensors that detect blood-oxygen saturation. They give you on-demand readings of your blood oxygen, but Apple does a somewhat better job. 
The new Apple Watch takes 15 seconds to do a blood O2 reading at any time of day, while Fitbit only measures your blood oxygen while you sleep.
Calorie Counting
Fitbit and Apple Watch have different approaches to counting the calorie intake of their users, but they can both be considered calorie counting watches.
The Apple Watch calorie counter uses your RMR (Resting Metabolic Rate) to count your caloric intake, and it differentiates between resting calories and active calories. The resting calories are the ones we burn just by existing, while the active calories are burnt throughout multiple activities we engage in during the day. 
Fitbit will look at your BMR (Basal Metabolic Rate), which excludes the calories burned while digesting food. Fitbit uses your height, weight, age, and gender to calculate your BMR. The tracking begins at midnight and, unlike Apple Watch, incorporates the calories burnt while sleeping.
Setting Goals
With Fitbit, you get to set specific goals for steps, distance, calories burned, active zone minutes, floors climbed, and your hourly activity goal. 
On the other hand, Apple Watch is very limited in this department and will only allow you to set goals for calories burned and your daily stand goal.
Music
With Fitbit's previous models — Ionic, Versa, and Versa 2, you could download up to 2.5GB of music or podcasts. However, the latest Fitbit Sense and Fitbit Versa 3 only allow the premium streaming services Pandora and Deezer. You can also control the Spotify app on your phone and play, pause, skip, shuffle, and so on. You can also add tracks to your Spotify library directly from the watch.
If you are using Apple Music, you can do so many things on your Apple Watch, like adding music to your library, removing songs, marking what you like, browsing artists' music, and so on. All of this can also be done with Spotify. You can also play music stored on your Apple Watch. 
GPS
Apple faced a problem with the Apple Watch Series 1 because they didn't put a built-in GPS. Instead, it paired with your iPhone, which was a problem for people that didn't want to carry their phone while out on a run. Apple solved the problem, and all next generations have a built-in GPS.
The Fitbit GPS is built-in on the Fitbit Ionic and non-smartwatch Charge 5. The Fitbit Versa Lite, Fitbit Versa 3, Luxe, and Inspire 2 all need to connect with your smartphone for GPS functionality.
Phone Calls
Fitbit trackers didn't allow phone calls at first, but they are catching up with the newer models. Namely, the only Fitbits with a microphone are Versa 2, Versa 3, and Sense. They allow you to take Bluetooth calls and respond to text messages with a voice-to-text command if you are an Android user.
Apple Watch has a built-in microphone that lets you make phone calls and send text messages, even if you're away from your phone. You can use Siri for hands-free dialling, as well as connect your AirPods to your Apple Watch and take calls on your earbuds.
Battery Life
Since Apple Watch has so many features and potential uses, its battery runs down a lot faster compared to standard fitness trackers. According to Apple, you can get up to 18 hours (all-day battery life) on a full charge, with the following use: 90 time checks, 90 notifications, 45 minutes of app use, and a 60-minute workout with music playback, over the course of those 18 hours. This means you'll have to charge your watch every night unless you only use it to tell the time. In that case, the Apple Watch battery may last you up to three days.
Fitbit lasts way longer between charges. Depending on the model, the battery life you'll get from a Fitbit is around five days, with Fitbit Inspire 2 offering a 10-day battery life. However, if you use GPS often, with both Fitbit and Apple Watch, you'll notice the battery life drastically reducing. 
Water Resistance
With their rather high prices, you might wonder — are Apple watches waterproof?
Compared to Apple Watch, Fitbit is a winner in the water resistance category simply because it can be used while swimming. Apart from that, they both can withstand being up to 50 metres underwater. 
However, it's not recommended for either to be used in deep waters, and it's best to avoid using them while showering.
Apps
Fitbit offers a wide range of apps that can be used to track fitness goals, and they offer far better fitness stats and data graphics. But, if you expect your fitness tracker to offer more than health-related features, opt for a smartwatch. 
Apple Watch has a plethora of non-fitness apps, including social media apps, news, stocks and more, that will take your smartwatch experience to another level.
Design
Fitbit trackers are more simplistic than Apple Watches when it comes to design. Fitbit trackers have a band that wraps around your wrist and a small screen that displays information such as steps taken, calories burned, and heart rate.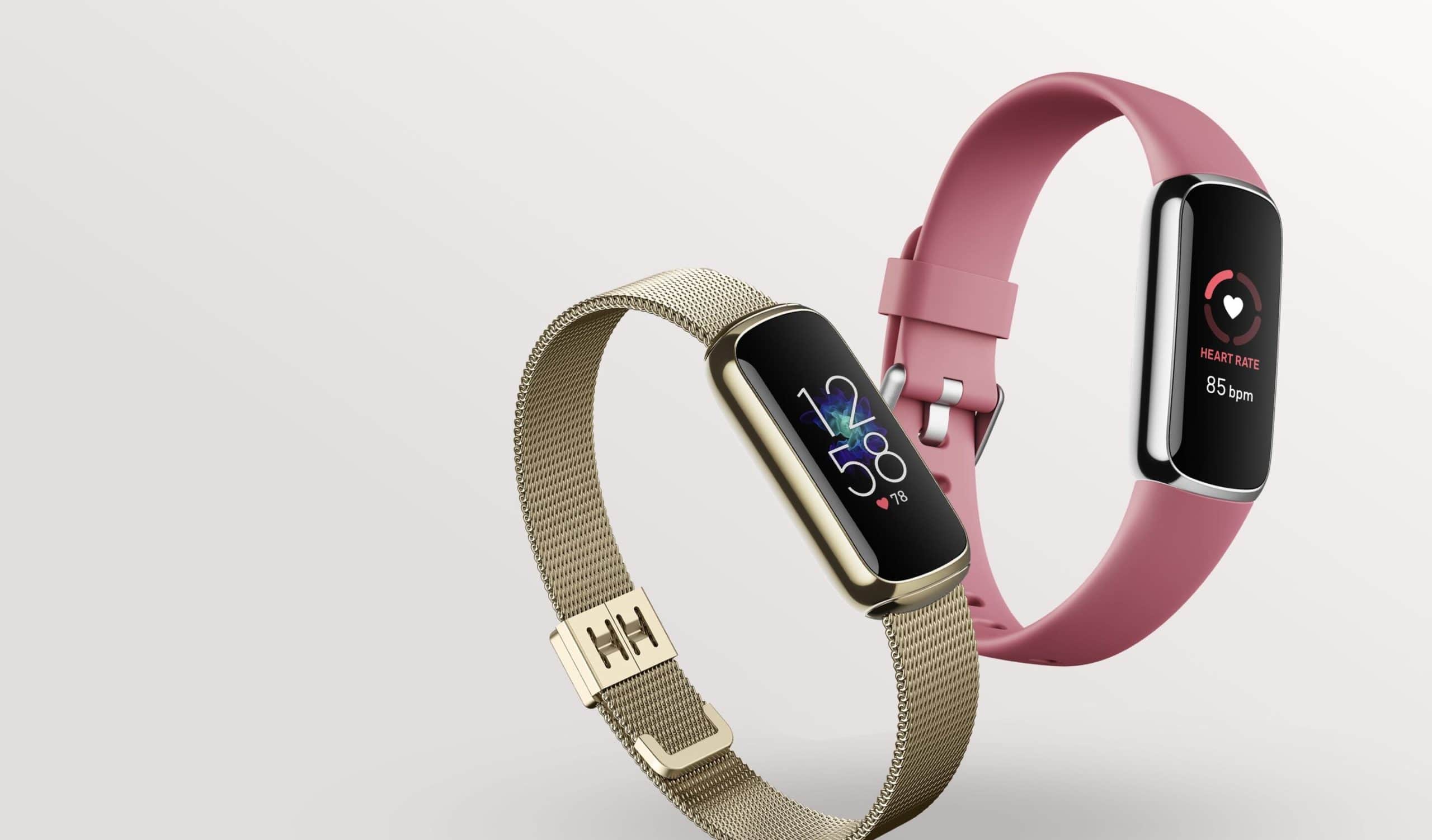 On the other hand, Apple Watches have a more sleek and sophisticated design. In addition, they come in a variety of styles, including sporty, classic, and modern. Apple Watches also have a larger screen that displays more information than Fitbit trackers. 
Compatibility 
When it comes to Fitbit phone compatibility, this brand is a straight winner. Fitbit trackers are compatible with both iOS and Android phones, while Apple Watches are only compatible with iPhones for obvious reasons. 
Fitbits can be used by anyone who has a Fitbit account, regardless of what type of phone they have. You can even use a Fitbit without connecting it to a phone! 
Customisation
Fitbit offers a variety of themes that you can choose from to customise your watch. You can also create your own theme by choosing the colours and fonts you want to use. Fitbit also allows you to change the background image and font colour.
You can choose different backgrounds on your Apple Watch. Apple offers a variety of background images that you can choose from or use your own photos. You can also change the colour of the background and text.
Pricing
Apple offers the priciest smartwatches on the market, but it has cut the entry-level Apple Watch price down. 
Fitbit trackers range in price from £69.99 for the Fitbit Ace 3 to £279.99 for the new Fitbit Sense, while Apple Watches range in price from £179 for the Apple Watch Series 3 to a whooping £1,179 for the new Apple Watch collab with Hermes.
Final Verdict
So, Fitbit vs Apple watch — who's the winner?
Fitbit and Apple Watch are two of the most popular brands of wearable devices. Fitbits are designed with fitness in mind, while Apple Watches have more features and capabilities than Fitbits. Fitbits are the better choice if you want to track your health data or need a device that can be used for running or working out away from your phone. However, if you're looking for a wearable device with more apps and features, this is where Apple Watch benefits come in.
FAQ
Is Fitbit a better tracker than Apple Watch?
Fitbit is a more affordable option, with better fitness and health-tracking features and better battery life. However, Apple Watch offers numerous apps and features that you can't get on a Fitbit.
Is Fitbit good with iPhone?
Fitbit pairs not only with Android but with any smartphone, including iPhone.
Can you text on a Fitbit?
You can receive and read your texts on a Fitbit and use the voice-to-text command to reply to any text message.
Can you answer calls on a Fitbit?
Yes, you can, but only with specific Fitbit models — Fitbit Versa 2, Fitbit Versa 3, and Fitbit Sense, the only Fitbits with built-in microphones.
Can you listen to music on Fitbit Sense without phone?
Yes, but only using the Pandora and Deezer streaming platforms.
Alert! Your IP address is trackable.