Free Users: 2
Free Locations: Unlimited
Free Monthly Appointments: 100
Free Appointment Types: Unlimited
Mobile Apps: Android, iOS
Free Payment Processing: Stripe (PayPal)
Free External Calendar Support: Two-way — Google, iCal, Office365, Outlook, Exchange
Free Email and SMS Notifications: Email (SMS paid for)
Analytics: With Google Analytics, through Zapier
10to8 Review
I've examined the 10to8 app. If you want insider info on this esteemed appointment scheduling tool, read on!
Last Updated: June 15, 2022
Advertiser disclosure
This page may contain links to our partners' products and services, which allows us to keep our website sustainable. This means that cybercrew.uk may receive a compensation when you sign up and / or purchase a product or a service using our links. However, all opinions expressed in this article are solely ours, and this content is in no way provided or influenced by any of our partners.
Free Users: 2
Free Locations: Unlimited
Free Monthly Appointments: 100
Free Appointment Types: Unlimited
Mobile Apps: Android, iOS
Free Payment Processing: Stripe (PayPal)
Free External Calendar Support: Two-way — Google, iCal, Office365, Outlook, Exchange
Free Email and SMS Notifications: Email (SMS paid for)
Analytics: With Google Analytics, through Zapier
Big business teams
STRENGTHS
Effortless scheduling
Free no-show protection
Sending files through client messages
Custom forms and free automated surveys
WEAKNESSES
Takes time to set up
Clumsy notifications for multiple bookings
Browsing the web for free online booking software might leave you curious about 10to8. So, what makes this scheduling app so distinctive? Impressive scalability is one of the things. A great free plan is yet another, but that's not all. To learn everything you need to know about this scheduling tool, check our in-depth 10to8 review.
Here's what I'll be going through:
About 10to8
Motivated by a practical problem — streamlining the operation of a dental practice — four Cambridge students got the idea to create a free meeting scheduler that'd allow all parties involved to coordinate effectively in real-time. That's how 10to8 was born.
After precious input given by testers with different professional backgrounds, the system was made publicly available in 2014. 10to8 continues to grow in order to satisfy the evolving needs of its customers — doctors, therapists, private tutors, and many others.
10to8 Pricing
Five plans are on offer with 10to8, yet most of its features are available to free users. Therefore, 10to8 is a good choice for anyone getting their feet wet with free scheduling software.
The subscription list is truly elaborate, and pricing plans are tailored to countries. You can choose between monthly and yearly payments. When paid annually, the five 10to8 UK subscription tiers come down to:
Free — forever free
Basic — £12 per month
Grow — £25 per month
Bigger Business — £50
Enterprise — price negotiated with the 10to8 sales team
The bigger the 10to8 plan you subscribe to, the more you get from this appointment scheduling platform. More staff and more appointments, for example. Still, you'll run into limitations with all plans except the Enterprise.
Oh, there's also a 30-day trial of a premium version of 10to8. What's more, all paid plans come with a 30-day money-back guarantee.
10to8 Features
Appointment Scheduling
A free 10to8 profile supports businesses of up to two staff members. They can host 100 monthly appointments, with a location always tied to a service. Services are unlimited, and users can host both individual and group meetings.
You can separate private services from public ones and specify the duration, price and description for each service. Going further, you get to assign services and colours to staff members and even give each member a private booking link.
Merging the 10to8 business calendar with your personal calendar is easy and costs you nothing. You get two-way integrations with Google, iCal, Office365, Outlook, and Exchange Calendar. 
Accepting, rejecting, cancelling or rescheduling a meeting is so simple with the 10to8 scheduling platform. A few clicks are all it takes. Naturally, you'll first spend some time familiarising yourself with all the functions.
Besides meeting duration, 10to8 users get to specify buffer times between meetings. Time zone adjustments happen automatically when businesses have "Online/Phone" set as their location. This way, both owners and clients can see their local time on the booking website.
Other great additions to this free scheduling app are non-refundable deposits (helping you protect your business from annoying no-shows), waiting time tracking, and free time zone tracking.
Invoicing, Billing and Stock-Keeping
10to8 allows its users to take payments. Free users can use Stripe, with a 0.9% fee charged for every transaction. Higher plans pay no fee to 10to8. Also, starting from the Basic plan, users get to charge their clients through PayPal.
10to8 supports only online transactions. So forget about barcode scanners, registers and stands. For full hardware support, you're better off with online meeting schedulers developed by Fresha and Square Appointments.
As for stock keeping, there is no solution within 10to8. Luckily, you can choose from over a thousand Zapier integrations, as we'll see in the Add-Ons section of this 10to8 review.
Reminders and Notifications
Free users and their clients can count on email and SMS appointment reminders and booking notifications. All other messages Free and Basic users can send to clients via email. However, keep in mind that sending emails in bulk is not free.
Staff SMS messages are also available, starting with the Basic plan. For longer SMSs that you can edit, subscribe to at least the Grow plan. Voice reminders also exist, but only for Bigger Business and Enterprise subscribers.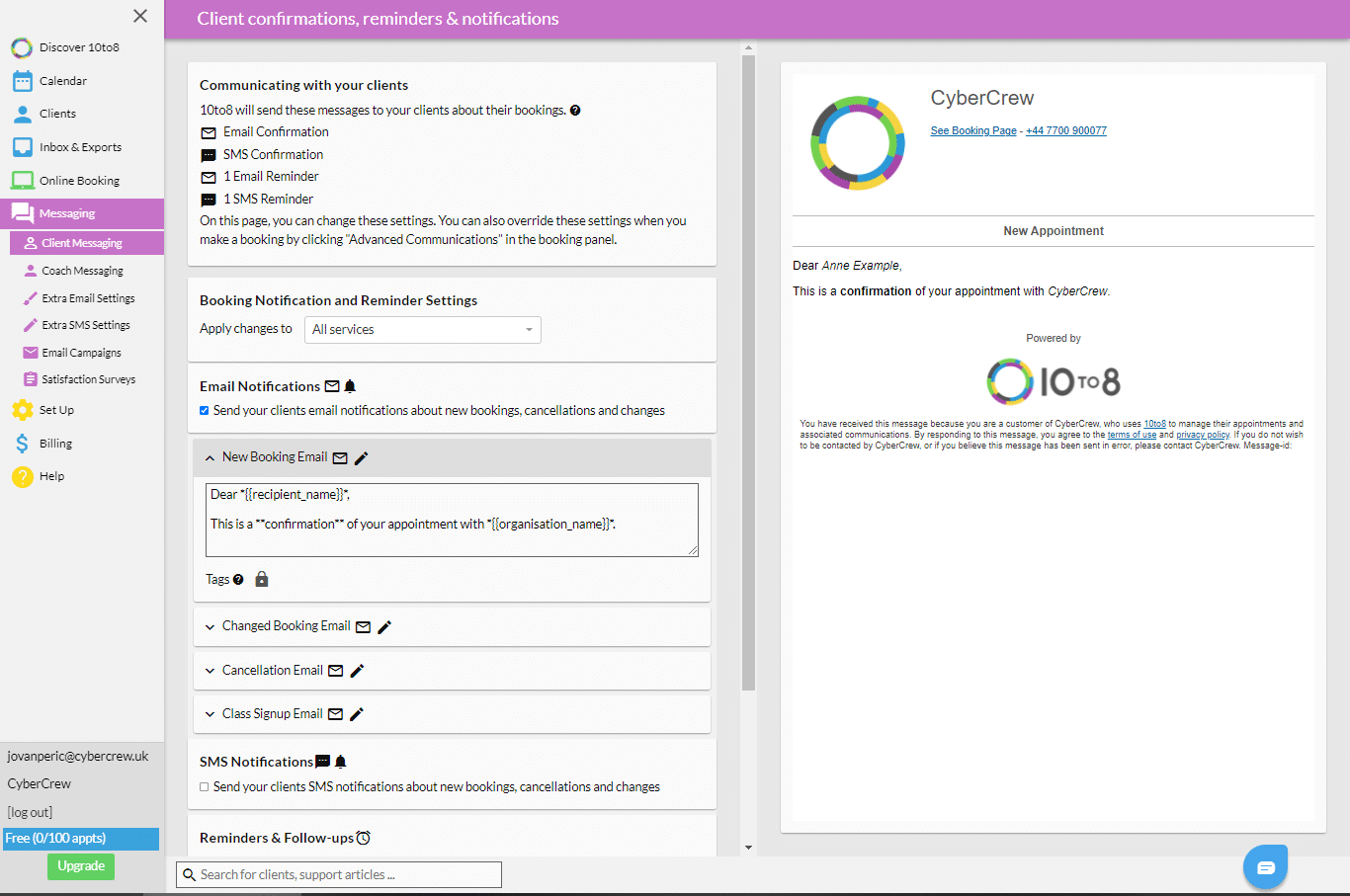 Booking Forms
All 10to8 users can make customisable questionnaires and automated satisfaction surveys — and they are free forever. The info you get from your customers will be stored in a client database.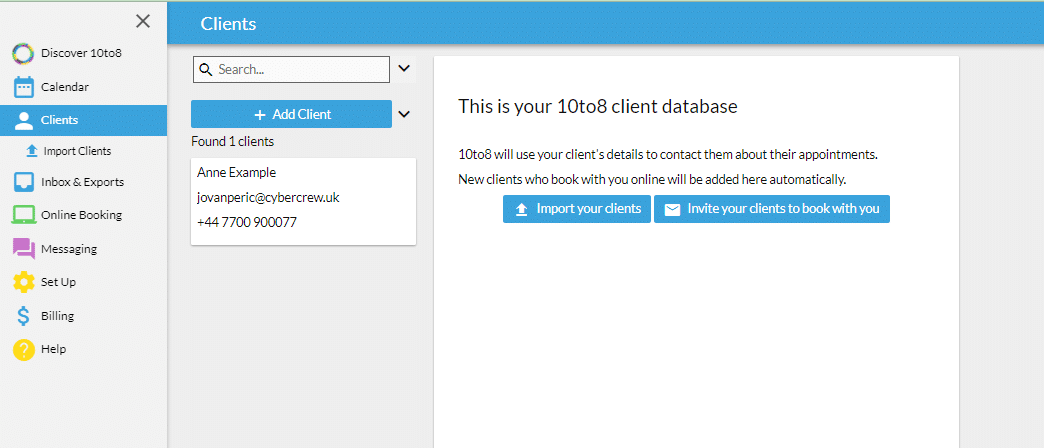 Another great feature of 10to8 is the ability to include a download link in messages to clients. The maximum file size is 25 MB, and these links can be shared through individual bookings. Sharing with class bookings asks for third-party integrations (Zapier, for example).
Calendar Design, Integration and Customisability
Having registered with 10to8, you get your own booking page. Here you can upload a logo and header image, describe your business and leave the necessary contact info (website, email, phone, etc.).
10to8 also lets you add a Book Now button on your business's Facebook page. Including a customer review badge on your website is also allowed. This way, you can let potential clients witness the genuine positive feedback you've so far earned.
The website plugins 10to8 offers are on par with the best appointment scheduling software. You can install widgets and buttons to WordPress, Weebly, Joomla, and HTML sites.
10to8 supports over 20 different languages! Apart from the most common ones like English, French, Spanish, and Chinese, it supports those spoken by smaller populations, such as Icelandic, Hungarian, and Croatian.
Add-Ons
Native Zoom integration comes free with 10to8. Though this isn't as versatile as, say, Picktime's offer of video conferencing tools, it's nonetheless praiseworthy. 
If you're after a third-party solution, there's always Zapier. 10to8 supports the middleware, letting you add more than a thousand applications. Even free 10to8 users get this opportunity. Picktime, for instance, charges for Zapier integrations.
Platforms, Operation and Performance
10to8 is web-based. That's the story with most appointment scheduling software. Android and iOS users also get access to the free 10to8 app.
All communication between you and this appointment scheduling platform is covered by the top of the line encryption. The data you share with 10to8 is backed up on a regular basis. This free booking app uses Amazon servers in Ireland.
Your business' safety is best witnessed through verification tools like SSL Labs.
10to8 Setup and User Experience
Here's what you need to do to register with 10to8:
1. Click on the Signup button
2. Enter your name, work email, and business name
3. Choose your subscription plan and a good password
That's pretty much it. You'll be redirected to 10to8's Get Started page, containing an array of guides. 
These guides explain how to make bookings with your clients, send them meeting reminders, manage your team's calendar or join 10to8's business community.
You can find all these and more guides in the Quick Start section, on the right side of the dashboard.
On your left is the Discover 10to8 strip. Here you'll find your 10to8 calendar, all your clients, messages, bookings, the billing section and the set-up section of the 10to8 booking app.
By clicking on the three horizontal lines in the upper right corner, you get to the Settings section. This section concerns only your meetings, as opposed to the Set Up gear icon on your left. That one is for setting up your entire profile.
In the meeting settings, you switch between four calendar views — daily, weekly, agenda, or timeline. You can colour-code appointments according to their type, location, staff, and more. Grid density comes in three variants, and there's also a Show Cancelled Appointments toggle.
10to8 Customer Support
You may think that you'll get through to 10to8's live chat assistance by clicking on the bottom-right message icon. In reality, that only gets you through to 10to8's chatbot.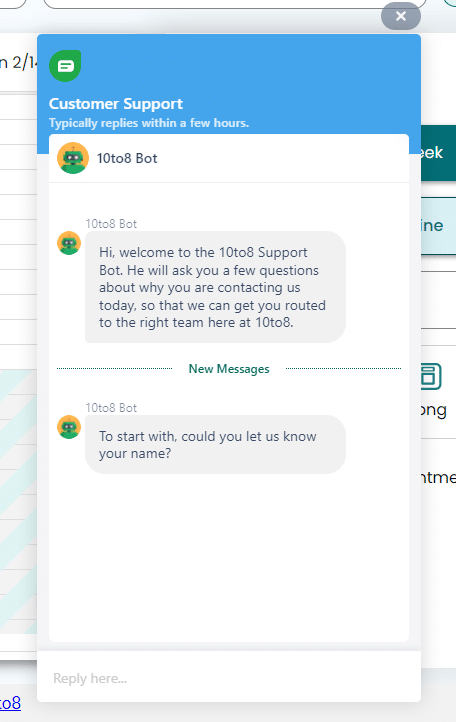 In my case, it took writing "live assistance" to the chatbot twice and then idling for about 10 minutes until a chat sound let me know an agent has gotten back to me. The wait was well worth it, though, as the agent was very helpful.
As for other customer assistance channels, 10to8 provides a vast knowledge base and a YouTube channel. The video tutorials are often linked to the articles in the knowledge base and blog posts.
Email assistance is available as well. What's more, Enterprise plan subscribers get the privilege of phone support, among many other privileges.
10to8 Competitors
We've chosen three 10to8 alternatives just to give you perspective on how the free booking app fares against competitors.
| | | |
| --- | --- | --- |
| | 10to8 | SimplyMeet.me |
| Free users | 2 | 1 |
| Free locations | Unlimited | 1 |
| Free monthly appointments | 100 | 500 |
| Free appointment types | Unlimited | Unlimited |
| Mobile apps | Android, iOS | None |
| Free payment processing | Stripe (PayPal) | Multiple through SBPay |
| Free external calendar support | Two-way – Google, iCal, Office365, Outlook, Exchange | One-way with Office, Apple and more (Two-way not free) |
| Free email and SMS notifications | Email and SMS | Email |
| Analytics | With Google Analytics, through Zapier | Facebook Pixel, Google Analytics  |
| Customer database | Yes | No (runaround with Integrately) |
| Intake forms | Yes | Yes |
| Administration | Invoicing, billing | Not free |
| Inventory | No | No |
| | | |
| --- | --- | --- |
| | 10to8 | MeetFox |
| Free users | 2 | Multiple |
| Free locations | Unlimited | 1 |
| Free monthly appointments | 100 | Unlimited |
| Free appointment types | Unlimited | 1 |
| Mobile apps | Android, iOS | None |
| Free payment processing | Stripe (PayPal) | Stripe |
| Free external calendar support | Two-way — Google, iCal, Office365, Outlook, Exchange | One free calendar (Google, Outlook, Office 365) |
| Free email and SMS notifications | Email and SMS | Email (SMS paid for) |
| Analytics | With Google Analytics, through Zapier | Zapier (runaround with Google Tag Manager and Google Analytics) |
| Customer database | Yes | Yes |
| Intake forms | Yes | Yes |
| Administration | Invoicing, billing | Invoicing, billing |
| Inventory | No | No |
10to8 vs Picktime
10to8
Picktime
Free users

2

3

Free locations

Unlimited

2

Free monthly appointments

100

Unlimited

Free appointment types

Unlimited

Individual (2 free classes)

Mobile apps

Android, iOS

Free payment processing

Stripe (PayPal)

PayPal (Stripe and Square upcoming paid Pro features)

Free external calendar support

Two-way – Google, iCal, Office365, Outlook, Exchange

One-way with Google, Outlook, Office365, Apple, MS Exchange (Two-way paid for)

Free email and SMS notifications

Email

and SMS

Email (SMS paid for)

Analytics

With Google Analytics, through Zapier

Google Analytics

Customer database

Yes

Yes

Intake forms

Yes

Yes

Administration

Invoicing, billing

Invoicing, billing

Inventory

No

3 resources for free
10to8 Customer Reviews
On both G2 and Capterra, 10to8 gets remarkable 4.6 stars. In addition to that, this free scheduling software solution earned G2's Leader badge for the winter of 2022.
As for 10to8 reviews, they're full of praise. Customers love the ease of scheduling appointments, stressing how much time and effort it saves them. Staff calendars are another treat, letting everyone book separately.
10to8 offers multiple meeting reminders, which can include links for Zoom meetings. Google Calendar syncing is effortless, and 10to8 users love that. Thanks to the email and text reminders, no-shows are close to none.
Many users say that it takes time and devotion to familiarise yourself with this booking website. Apparently, its technical aspects aren't the most straightforward. Nonetheless, the average user's impression is that signing up with 10to8 is definitely worth it.
Wrap Up
So, what to conclude at the end of this 10to8 review? 
You really get so much for free. Multiple external calendars, charging through Stripe, as well as no-show protection. There's also an exemplary notification system, customisable intake forms and automated satisfaction surveys.
What's more, the scheduler allows you to share files with clients and translate the calendar to over 20 languages. Zoom video conferencing is integral to the free scheduling software, your data is safely encrypted, and there are 10to8 mobile apps for iOS and Android.
With all this and the exceptional customer assistance in mind, my conclusion is that 10to8 rocks!
FAQ
How does 10to8 work?
10to8 gives you your own page through which customers book with you. Next to the booking page, there are widgets and buttons to integrate with your Facebook and business website.
Does 10to8 have an app?
Yes, 10to8 offers a free scheduling app for both iOS and Android.
How can I delete my account from 10to8?
Quite simple. If you're on your 10to8 profile, choose "Billing" from the left-hand menu, scroll all the way down, and you'll see a red "Close Account" button.
Does 10to8 offer a free trial?
Most definitely. Next to the free version of this online scheduling software, there's a 30-day money-back guarantee for each 10to8's paid plan.