CPU: 2-8 CPU Cores
RAM: Up to 32 GB
RAID LEVEL 1 STORAGE: Yes
NETWORK BANDWIDTH : 1 TB
FREE DOMAINS: Yes
DEDICATED IPS: Yes
CPANEL & WHM WITH ROOT: Yes
SHARED HOSTING: Yes
VPS HOSTING: Yes
DEDICATED HOSTING : Yes
AccuWeb Hosting Review
Are you looking for a new web host that offers versatile plans and features? If so, read this AccuWeb Hosting review to learn more about this hosting provider.

Last Updated: March 23, 2022
Advertiser disclosure
This page may contain links to our partners' products and services, which allows us to keep our website sustainable. This means that cybercrew.uk may receive a compensation when you sign up and / or purchase a product or a service using our links. However, all opinions expressed in this article are solely ours, and this content is in no way provided or influenced by any of our partners.
CPU: 2-8 CPU Cores
RAM: Up to 32 GB
RAID LEVEL 1 STORAGE: Yes
NETWORK BANDWIDTH : 1 TB
FREE DOMAINS: Yes
DEDICATED IPS: Yes
CPANEL & WHM WITH ROOT: Yes
SHARED HOSTING: Yes
VPS HOSTING: Yes
DEDICATED HOSTING : Yes
Windows Hosting
STRENGTHS
Impressive range of hosting plans
Cost-effective
Various customisation options
cPanel alternatives
WEAKNESSES
Limited email accounts
Too many pricing plans
Limited SSD storage and bandwidth
For someone who's in the process of searching for a web host, all hosting companies may appear to offer the same service. Although that's partially true, most web hosts provide unique features and advantages that make them stand out from competitors. Namely, some may boast about their excellent uptime guarantee, while others can provide a cheaper service or versatile hosting solutions.
With that in mind, we highly suggest you stick around and read this AccuWeb Hosting review. That way, you'll see which services and features this hosting provider offers and determine whether they're the right fit for you.
What is AccuWeb Hosting?

Main Features

Services and Hosting

Speed and Performance

Privacy and Registration Process

AccuWeb Hosting Competitors

AccuWeb Hosting Customer Reviews
What is AccuWeb Hosting?
AccuWeb Hosting has been around for quite some time. It all started in 2002 when the founder Rahul Vaghasia was searching for a secure Windows hosting solution. After many unsuccessful attempts to find a dependable web host, he decided to start a business that sells top-notch hosting services.
Although AccuWeb's main goal was to equip its Windows Hosting packages with powerful mail servers, unlimited bandwidth, and a user-friendly control panel, its plans have evolved over time. Now, after more than 18 years on the market, this thriving web host provides premium services for Windows Hosting and other hosting categories.
Main Features
cPanel
Most web hosting companies offer cPanel, a widely popular control panel software, for administration purposes. However, AccuWeb went the extra mile to impress its clients by providing other control panel options, such as Plesk, SolidCP, DirectAdmin, ZPanel, and many more.
So, for example, Plesk is ideal for Shared Hosting, while cPanel is more equipped to manage dedicated servers. In other words, AccuWeb makes sure you get the best user-friendly control panel to supervise your hosting account based on your hosting needs.
Add-ons
Most of the reasons for having more than one website are tied to growing a business or expanding a target audience. Many business owners and bloggers tend to create additional websites to support their business decisions or start new projects that have the potential to grow. So, if you ever find yourself thinking about creating additional websites, keep in mind that AccuWeb has got your back.
With some hosting packages, such as WordPress Hosting, you can create unlimited addon domains for every new website. That means you can branch out your small business or blog using one hosting account.
Site Builders
Once again, AccuWeb offers a few solutions when it comes to site-building. So, for example, if you opt for cPanel Shared Hosting, you'll get to create a responsive web design with RVSiteBuilder. But, if you like to change it up and change your website building habits, you can use CMS scripts such as WP, Joomla, Magento, or Drupal.
Domain-specific Email Addresses
Domain-specific email addresses can boost your credibility and make you look more professional in the eyes of your clients or website visitors. Luckily, you can create unlimited email accounts with some AccuWeb hosting packages. This offer allows you to enhance your business image and establish yourself as credible on all your websites.
Uptime
When a web host has strong uptime rates, it's a clear sign that its servers are powerful enough to keep your website available to visitors. Namely, AccuWeb offers a 99.9% uptime guarantee, which is a good indicator of its impressive speeds. As 100% uptime isn't achievable, 99.9% is an excellent result.
Cloudflare Integration
AccuWeb has recently partnered up with Cloudflare for better security and performance. Cloudflare protects websites from DDoS attacks while improving their performance and speed. In other words, Cloudflare will secure and protect your website without adding layers to your website code that usually increase load times.
SSL Certificate
Most subscriptions, including Plesk and cPanel hosting packages, feature a free SSL certificate. So, if you opt for Plesk, your website will run over HTTPS with a Let's Encrypt SSL certificate. On the other hand, in cPanel Hosting, AccuWeb offers a cPanel Comodo SSL. Still, a more important note on free SSL certificates is that they expire after ninety days, after which they are automatically renewed for the standard price.
Servers
AccuWeb has multiple data centres worldwide. Some server locations include the US (Denver), the UK (London), Germany (Frankfurt), and Japan (Tokyo). AccuWeb also has servers in India, Singapore, Australia, France, Poland, Canada, Netherlands, and South Korea.
Services and Hosting
Shared Hosting
Shared Hosting is a hosting solution that keeps your website on a multi-tenant server. In other words, your website shares system resources with other clients whose websites reside on the same server. Of course, the more tenants a server has, the less you'd have to pay for the maintenance expenses, which leads to lower hosting costs. What's more, AccuWeb offers a variety of Shared hosting plans for both Windows and Linux hosting.
WordPress Hosting
AccuWeb Hosting also offers versatile hosting plans for WordPress users. Each WP Hosting plan features useful plugins such as SEO Yoast and Jetpack and DDoS protection and mitigation. WordPress hosting plans also include free MySQL databases and features that go beyond the standard server setups. So, if you're building a WordPress website, keep an eye on AccuWeb WordPress Hosting offers.
VPS Hosting
VPS Hosting provides better security and stability than Shared Hosting, which is why AccuWeb offers a great variety of VPS Hosting plans. Of course, this is a popular choice for many users. You should consider it too if you want to enjoy an online environment that imitates dedicated servers, but for a lower price.
Dedicated Hosting
AccuWeb is an excellent choice for Dedicated Hosting because it tailors server specifications to your needs. What's more, AccuWeb supports Intel and AMD based multi-core processors that can boost your performance and flexibility. Moreover, this hosting company builds all its servers on-site. That means you won't have to conform to any configuration limits you might face if you choose other service providers.
Reseller Hosting
In simple terms, Reseller Hosting is a business model that allows you to earn a commission by selling your provider's hosting services on your website. That is an excellent opportunity for those who want to enter the business world without launching their own product line. AccuWeb offers Windows, Windows VPS, and Linux Reseller hosting plans, allowing you to build a strong network of customers with minimal effort.
Cloud Hosting
Cloud Hosting is an environmentally-friendly hosting solution. It's energy-efficient, but it also produces fewer carbon emissions than on-site data centres. Another reason why this hosting solution is well-known is that it allows you to keep your data across interconnected servers while improving your site's efficiency and flexibility. With AccuWeb, you can either opt for Linux or Windows Cloud Hosting. That is good news considering some web hosts don't even have Cloud Hosting in their arsenal.
Websites
As mentioned earlier, you can create unlimited websites with some AccuWeb hosting plans. However, keep in mind that cheaper subscriptions come with fewer resources, which is the main reason you'll have a limit on how many websites you can create.
Ecommerce
AccuWeb also offers WooCommerce plans for those who want to start an online business. Each plan comes with a wide array of features that will help you set up an online store and grow your business from scratch!
Domains
AccuWeb's free domain name registration or transfer is valid only for the first year, like most other service providers. Some of the plans that feature a free domain name are Linux Small Business Web Hosting and Enterprise Web Hosting.
Tools
If you become an AccuWeb client, you will get a chance to use some of its most prominent tools. That includes the Check WHOIS Records that show you detailed information about domain registration. Other valuable tools allow you to check your DNS records, network connectivity, and additional information related to your website.
Speed and Performance
| | | | | |
| --- | --- | --- | --- | --- |
| Web Host | AccuWeb | Bluehost | SiteGround | HostGator |
| Performance | 700 ms per load speed | 422 ms | 716 ms | 1300 s |
| Uptime | 99.9% | 99.99% | 99.99% | 99.9% |
As presented in the table above, only Bluehost can outperform AccuWeb's performance. So, although 600 ms per load speed would be an above-average result, 700 ms on average is still impressive. What's more, these minor differences shouldn't dissuade you from giving AccuWeb Hosting a try since it offers many other outstanding features.
Prices and Plans
To give you an overall picture of this web host's pricing, in this AccuWeb review, I've illustrated the prices of several packages. However, keep in mind that these are the standard prices for some of the hosting solutions, which is why it's advisable to find more thorough information about the services on AccuWeb's official website.
Shared Hosting
Personal Web Hosting is the standard Linux Hosting plan, although there are two more premium versions. The standard plan allows you to create unlimited websites with your hosting account, including many other valuable features.
For example, the standard Professional Web Hosting plan features 10 GB of pure SSD storage, 500 GB of monthly bandwidth, and a free SSL certificate. What's more, the plan includes LS Cache Plugin, a free website builder with over 400 templates, dedicated IP, and PHP Support.
You'd have to pay $3.09 a month (roughly £2.33) for the Personal Web Hosting package, but only if you commit to this web host for the next three years.
Windows Hosting on Cloud Servers
AccuWeb offers three Windows Hosting plans on Cloud servers. Cumulus Cloud is the standard package, and it costs $5.09 (around £3.84) a month. For this price, you'll get to occupy 3 GB of Cloud storage space, but you'll also get to use 500 GB of bandwidth per month.
Of course, let's not forget about other valuable features such as 1 SQL 2008 Database on Cloud, the latest ASP.Net Framework, and PHP, AJAX and Pearl support.
Fully Managed WP Hosting
WordPress Personal is the standard Fully Managed WP Hosting plan, and it will cost you only $2.99 (about £2.26) a month. In addition, this plan offers much more alluring features than Shared or Windows Cloud Hosting, including 1 TB of bandwidth and 20 GB of storage space.
With this plan, you will be able to create up to 150 individual email accounts, create unlimited WordPress websites, and enhance security with a free SSL certificate. Moreover, the standard plan is ideal for those who have up to 75,000 monthly website visitors. However, if you're running a high-traffic website, you might want to consider other hosting plans, such as WordPress Enterprise, that support up to a million monthly visitors.
Still, it's worth mentioning that AccuWeb Hosting offers free hosting for WordPress users on CloudLinux OS.
VPS Hosting
AccuWeb offers VPS Hosting plans with classic, SSD, and Cloud hosting options at surprisingly low prices. VPN Mercury is the standard hosting plan that features 1 GB of RAM, 1 vCPU, 20 GB of storage, and 150 GB of bandwidth. But, if you need more bandwidth or up to 4 GB of RAM, it's advisable to check out other VPS hosting packages.
VPS Mercury allows you to choose which control panel works best for you. What's more, if you opt for this hosting solution, you'll have the option to create as many websites as you'd like. You'll also get access to more advanced features such as weekly backups and support for self-managed service. However, VPS Mercury will cost you $5.00 (around £3.77) a month, which is slightly more expensive than the plans mentioned in the sections above.
| | | |
| --- | --- | --- |
| VPS Mercury | VPS Earth | VPS Saturn |
| $5.00 (roughly £3.77) a month | $10.00 (roughly £7.55) a month | $20.00 (roughly £15.10) a month |
Important note: This is not a complete list of all AccuWeb offers. If you want to learn more about Reseller, WooCommerce, and Dedicated Hosting, please visit the AccuWeb Hosting website.
Privacy and Registration Process
If you've already chosen AccuWeb as your host, you're probably wondering how to create your first account and get started. Therefore, here's our step-by-step guide that will help you complete the registration process.
First, once you open AccuWeb's homepage, you'll notice a list of hosting options at the top of your screen. Click on the hosting solution you need, and choose the plan you want to purchase.
Next, click on the

BUY NOW

button that will take you to the next page, where you can start creating your hosting account.
Finally, choose your domain or transfer it from another registrar. Once you complete this step, you can proceed to provide billing and account information, after which you'll be able to start using your hosting account.
Customer Service
AccuWeb ensures that every client can contact professional and knowledgeable customer support team members regardless of where they are or what time it is in their country. What's more, even if you don't have an AccuWeb account, you will still be able to talk to someone who can answer all your questions.
There are three ways to get in touch with AccuWeb's customer support – via live chat, email, or phone. To complete our AccuWeb Hosting review, I've decided to contact AccuWeb's customer support. Customer support agents were professional and helpful. They've answered all my questions and helped me choose the best hosting solution.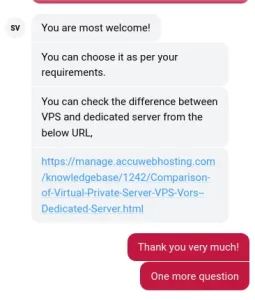 AccuWeb Hosting Competitors
AccuWeb vs Bluehost
With over 2 million websites worldwide, Bluehost is one of the largest web hosts in the hosting industry. When it comes to the quality of service, both Bluehost and AccuWeb are reliable web hosting providers, which is why it isn't easy to say which one is a better host. Still, some significant differences are worth checking out before committing to a new hosting provider.
For starters, Bluehost and AccuWeb are not in the same price range, but they both offer somewhat cost-effective services. Of course, Bluehost is a bit on the expensive side, but certainly for a good reason. However, AccuWeb offers more hosting services, including Windows Hosting, that you won't find at Bluehost.
While AccuWeb offers free domains for some plans, most Bluehost solutions include a free domain name registration. In addition, depending on the hosting, most standard Bluehost plans come with slightly more advanced features. So, for example, the standard Shared Hosting plan features 50 GB of SSD storage, while AccuWeb offers only 10 GB.
Does that mean Bluehost is a better service provider? Not necessarily. While it all boils down to personal preferences, keep in mind that AccuWeb offers diverse hosting solutions. However, Bluehost is a decent AccuWeb alternative, so be sure to test the waters before making the final decision.
AccuWeb vs SiteGround
SiteGound is another popular and well-praised web host. But, just like Bluehost, it doesn't offer Windows Hosting to its clients. What's more, SiteGround focuses on providing Shared, WP, WooCommerce, and Cloud Hosting. That, unfortunately, means you won't be able to find VPS, Reseller, or Dedicated Hosting on its website.
So, when it comes to hosting solutions, AccuWeb is definitely more advanced. Not only will you find VPS and Dedicated web hosting services, but you'll also be able to purchase Windows or Reseller hosting.
SiteGround is pricier, but each plan comes with valuable features worth checking out. So, for example, the standard Shared Hosting plan features unmetered traffic, free CDN, email, and SSL certificate. In addition, the plan comes with daily backups, unlimited databases, and out-of-the-box caching.
But let's not forget that AccuWeb tailors each hosting package to your needs. That means you'll get a control panel software that supports your hosting plan and a website builder that matches your hosting needs.
All in all, both AccuWeb and SiteGround are excellent hosting companies. However, if I had to choose one, I'd stick to AccuWeb, primarily due to its versatile hosting plans and outstanding performance.
AccuWeb vs HostGator
Last but not least, let's compare two well-known WordPress Hosting companies, AccuWeb and HostGator. HostGator is one of the best providers for WordPress users. Moreover, its customer support is one of the friendliest teams I've ever encountered. It supports the industry-standard control panel software, but it also offers a custom HostGator website builder.
But, HostGator's hosting solutions aren't as attractive as AccuWeb's hosting plans. Although the main difference between the two is that HostGator doesn't offer Windows hosting, it's safe to say that AccuWeb is drastically cheaper.
However, I can't say that HostGator isn't a generous host. Its standard WP hosting plan comes with unmetered bandwidth and free email, but it also supports up to 100k monthly visitors. On the other hand, the Standard AccuWeb WP plan can support only 75k visitors, and it offers 1 TB of bandwidth.
AccuWeb Customer Reviews
Surprisingly, AccuWeb Hosting has only 93 reviews on Trustpilot. However, most customers are satisfied with the service and recommend it to potential new clients. Of course, some clients mentioned some minor issues regarding addon domains. However, the AccuWeb support team helped them fix the problem and build additional websites on their accounts.
What's more, AccuWeb reviews show that the clients are more than satisfied with the customer support team. In addition, customers believe AccuWeb is a reliable web host that offers cost-effective hosting solutions and excellent services.
Wrap Up
Before building a website, you should consider many things, including finding affordable yet quality hosting services. With that in mind, hopefully, this AccuWeb Hosting review has helped you find your next best host.
Whether you're looking for VPS, Reseller, or Windows hosting, this service provider can meet all your needs and expectations. On top of that, AccuWeb will help you establish an online presence with minimal investment and effort. That is one of the many reasons why this is probably one of the best hosts you can ask for.
FAQ
Is AccuWeb Hosting safe?
Yes, indeed, AccuWeb is a secure hosting company. It monitors network traffic to ensure security and allows you to access your personal data or ask for it to be deleted.
Is AccuWeb Hosting worth it?
Yes, AccuWeb is worth it. If you give it a try, you'll get to enjoy an impressive variety of services and features that will help your business grow.
Is AccuWeb legit?
Yes, indeed! AccuWeb is a legitimate company that offers a range of hosting services and tools for better site management.