ADS: /
AVAILABILITY : More than 100 countries
TOP TITLES: Ted Lasso, For All Mankind, The Morning Show
MOBILE DOWNLOADS : Yes
4K HDR AVAILABLE : Yes
NUMBER OF STREAMS : 6 simultaneous streams
APPLE TV PLUS PLANS: Monthly subscription / buy an Apple device plan
Apple TV Plus Review
Are you looking to watch some of the most popular shows? Then, I recommend that you read this Apple TV Plus review and take advantage of Apple TV Plus, one of the most popular streaming services on the market.

Last Updated: June 11, 2022
Advertiser disclosure
This page may contain links to our partners' products and services, which allows us to keep our website sustainable. This means that cybercrew.uk may receive a compensation when you sign up and / or purchase a product or a service using our links. However, all opinions expressed in this article are solely ours, and this content is in no way provided or influenced by any of our partners.
ADS: /
AVAILABILITY : More than 100 countries
TOP TITLES: Ted Lasso, For All Mankind, The Morning Show
MOBILE DOWNLOADS : Yes
4K HDR AVAILABLE : Yes
NUMBER OF STREAMS : 6 simultaneous streams
APPLE TV PLUS PLANS: Monthly subscription / buy an Apple device plan
works on:
Apple
Mac OS
Apple TV
Android TV
Fire TV
No ads
STRENGTHS
Ad-free streaming service
Streaming in 4K, HDR, and Dolby Atmos is available
Subscription can be shared with up to five family members
WEAKNESSES
No Android or game consoles apps
In today's modern world, streaming services like Netflix, Hulu, Amazon Prime Video, Disney+, and HBO Max are so popular that you can hardly decide which one to use. There is, however, one more streaming service that deserves your attention. It's called Apple TV Plus! 
In this Apple TV Plus review, you will find out all the pros and cons of using this streaming service, and also we will cover:
What is Apple TV Plus?
Apple TV Plus Features and Availability
TV Shows and Movies
Apple TV Plus Plans and Pricing
Apple TV Plus Competitors
User Reviews
What is Apple TV Plus?
Apple TV Plus is an online streaming service offering Apple Originals, including award-winning series, compelling dramas, documentaries, kids' programming, and comedies. It was launched in March 2007, and its content has grown considerably ever since. 
Although this streaming service had a slow start, it has already made up for it with over 50 big-budget television shows and films. At the very beginning, Apple's strategy was to keep the platform small but with high-quality content. Apple TV Plus Original ranks tenth in terms of popularity in the UK.
The Apple TV Plus brand encompasses several services and products and remains a satisfying streaming choice for most people.
You can watch Apple TV Plus content with the Apple TV app, available on your Apple device. In addition, you can watch Apple TV Plus on streaming platforms, popular smart TVs, and AirPlay-enabled TVs with the Apple TV app. Or, you can watch it online at tv.apple.com. All you have to do is open the app, click or tap Apple TV Plus, and enjoy your favourite shows and movies. 
Apple TV Plus Features and Availability 
So, what do you get with Apple TV Plus? This section gives a brief overview of all the available features.
Watching Apple TV Plus with a VPN 
VPNs keep your entire browsing history, online activity, IP address, and location private and encrypted. Note that many video streaming services block VPN traffic because a VPN also allows you to spoof your location and potentially watch location-restricted content.
Although a VPN might work with your video streaming service, you can eventually get blocked, as video streaming services actively work to block VPN connections. Therefore, I recommend choosing a truly reliable VPN, like ExpressVPN or NordVPN.
Apple TV Plus User Interface
The TV, browser, and mobile interfaces look different from one another. For example, by using the browser, you can bookmark the page and jump directly to Apple TV Plus content instead of navigating through the app. 
Being able to customise the look of subtitles and add an audio description for certain shows in the app is great. 
Apple TV Plus Viewing Quality
Apple TV Plus offers 4K and HDR streaming. Even though your experience may differ depending on the strength of your internet connection, I found the stream to be seamless on my Wi-Fi network, without any noticeable issues with frame rate or slow buffering.
Note: The Apple TV app provides a Reduce Motion option for judders in frame rate.
Apple TV Plus Availability
Apple TV Plus content can only be viewed through the Apple TV app. It is supported on the following devices: iPhone, iPad, iPod touch, Mac, smart TVs, gaming consoles, and streaming devices.
Note that Apple TV Plus doesn't require the most recent 4K Apple TV. You can also access it via Fire TV, Roku, Sony PlayStation, Xbox, Amazon Fire TV Stick, and even the web using tv.apple.com.
With Apple TV Plus, users can share a subscription with six people via Family Sharing. 
TV Shows and Movies
In addition to original content made under the Apple Originals program, Apple TV's library includes licensed content. Apple's current slate of nearly 60 original movies includes dramas, comedies, documentaries, and talk shows. 
Its drama — The Morning Show — is one of its most popular shows. Given that Jennifer Aniston, Steve Carrell, and Reese Witherspoon starred in the movie, this shouldn't be a surprise. Also, some of the most popular TV shows are Mythic Quest, Dickinson, and Little America.
These are the most popular Apple TV Plus shows of the past three years: 
| | | |
| --- | --- | --- |
| 2021 | 2020 | 2019 |
| Physical | Visible: Out on Television | The Elephant Queen |
| Palmer | Wolfwalkers | Hala |
| Losing Alice  | Fireball: Visitors from Darker Worlds | Dickinson |
| The Me You Can't See | Mythic Quest | For All Mankind |
| Billie Eilish: The World's a little blurry | Central Park | Servant  |
| The Year that Music Changed Everything | Little America | The Morning Show |
If you're a Future of America fan, you'll love the Boys State. This documentary has been identified as one of the best of 2020. 
Or, if your favourite actors are Tom Hanks, Stephen Graham, Rob Morgan, or Elisabeth Shue, you should watch the Greyhound. In this World War II thriller, the characters aren't as dynamic as the action sequences, but the efficient economy of the film is quite refreshing.
If you are a fan of dramatic mystery series, you should watch Home Before Dark.
The Morning Show, See, Helpsters, Ghostwriters, Hailee Steinfeld's biopic of Emily Dickinson, and For All Mankind are a few other titles that deserve your attention. 
Fans of science fiction and space geeks will enjoy For All Mankind. This film talks about how the global space race would have changed if Russia had hit the moon first.
The Elephant Queen is highly recommended for nature lovers. In this epic documentary, Chiwetel Ejiofor takes the audience across the African savannah to meet an elephant family in their homeland. 
Little America, the thriller miniseries Defending Jacob, and Mythic Quest are among other new additions to Apple's library.
Another exciting event was Apple dropping Isaac Asimov's award-winning science fiction series, Foundation.
Last year, Ted Lasso was the top hit among Apple TV Plus's original shows, with a demand 44.5 times higher than the average show. That was more than double the demand for the other shows — except See, with a demand 25.1 times higher than the average.
Apple TV Plus Plans and Pricing
Apple TV Plus is one of the most affordable video streaming services on the market. What's important to know is that the Apple streaming service offers a seven-day free trial, but you'll need to provide a payment method to get access to it.
A monthly subscription for Apple TV PLus is £4.99 per month after the free 7-day trial. 
Apple TV Plus is also available through one of the several Apple One bundles. For £14.95 per month, you can get the Individual plan which includes Apple Music, Apple TV Plus, Apple Arcade, and 50GB of iCloud storage. 
Up to six family members can subscribe to the £19.95/month Family Tier, which bundles Apple Music, Apple TV Plus, Apple Arcade, and 200GB of iCloud storage. In addition, the £29.95/month Premier account includes Apple Music, Apple TV Plus, Apple Arcade, Apple News+, Apple Fitness Plus, and 2TB of iCloud storage. Also, you can share this account with up to five other people.
Apple TV Plus Competitors 
Apple TV Plus vs Amazon Prime Video
With Apple TV Plus, you can share your account with five family members. At the same time, an Amazon Prime feature called Amazon Household allows you to connect up to two adults, four teens, and four pre-teen children to your single Amazon Prime account. With this fantastic feature, every household member can enjoy Prime Video and the other benefits of a Prime account.
Both services offer original content, so it is hard to decide which one is better. It is up to you to determine what kind of content suits your taste. 
With 26,300+ movies and more than 2,700 TV shows, Amazon Prime Video offers plenty of classic and popular titles. Apple TV Plus also provides a lot of different content, from children's shows to more mature series and exciting movies. 
However, Apple TV Plus doesn't offer new blockbuster movies or fan-favourite classics — it's the only service heavily focused on big-budget original programming. Furthermore, it is entirely ad-free, focusing mainly on shows and movies from the Apple Originals program. 
There is a significant difference in pricing between Apple TV Plus and Amazon Prime. The Apple TV Plus minimum price per month is £4.99, while Amazon Prime's is £7.99. You can get a 30-day trial period with Amazon Prime, but be aware that you'll be upgraded to a paid membership plan automatically as soon as your free trial ends. The same situation is with Apple TV Plus, but the trial period lasts only seven days.
Apple TV Plus vs Netflix
Everyone is familiar with the fact that Netflix is currently the most popular streaming service globally. Therefore, it shouldn't come as a surprise that it is more expensive than Apple TV Plus. 
While Netflix will cost you a minimum of  £6.99 per month for the Basic Plan, Apple TV will cost only £4.99. Thanks to its ease of use and a wide variety of original content and licensed movies, Netflix has helped create the cult of binge-watching.
Netflix's library of videos is available on computers, gaming consoles, TV-based devices, and many Android and iOS tablets and smartphones. Unfortunately, the Apple TV Plus app isn't supported on Android smartphones or tablets. Instead, Apple TV Plus content can be viewed through Chrome or Firefox. 
Both services don't support any ads or commercials, which is a significant advantage. Also, both streaming services support downloading content for offline viewing and support streaming shows and movies at 4K resolution. But be aware that you have to pay a lot more for that feature on Netflix. 
Apple TV Plus is available in over 100 countries, while Netflix is available in about 190 countries and territories. More precisely, the only four countries that don't have access to Netflix are China, North Korea, Crimea, and Syria. 
It is also worth mentioning that a Netflix subscription allows you to connect up to four people for one account, while the Apple TV Plus limit is six people for each account. Due to all these differences, it is undeniably true that Netflix beats Apple TV Plus with its 213.5 million subscribers worldwide.
Apple TV Plus vs Disney Plus 
Disney Plus costs £7.99, while Apple TV Plus costs £4.99 per month. There was a free trial for Disney Plus when it was launched, but it is no longer available. Apple TV Plus, on the other hand, offers a seven-day free trial. After that, you will be automatically billed for your first month unless you cancel the trial in advance. 
These two services offer one membership tier each, including 4K HDR streaming and downloads. In addition, both Apple TV Plus and Disney Plus are free of ads or commercials and allow you to download content for offline viewing. 
The most significant advantage of Disney Plus is that it supports streaming for up to 10 devices at once, while Apple TV Plus supports up to six people for one account.
User Reviews 
I checked verified customer reviews for Apple TV Plus on ConsumerAffairs, and its overall score is 3.9 out of 5 stars, which is not the best. Still, it proves the quality of this streaming service at some level.
Many Apple TV Plus users saw the negative side of this service, claiming that the app is not easy to navigate and that the selection of programs is very limited. However, others are happy with the streaming service because it is easy to set up, and it gives numerous choices of movies in different genres, documentaries, and new, exciting series. 
Moreover, reviewers stated that the content quality was excellent, but the variety of content needed to be enhanced. For more information, you can check out a few reviews below: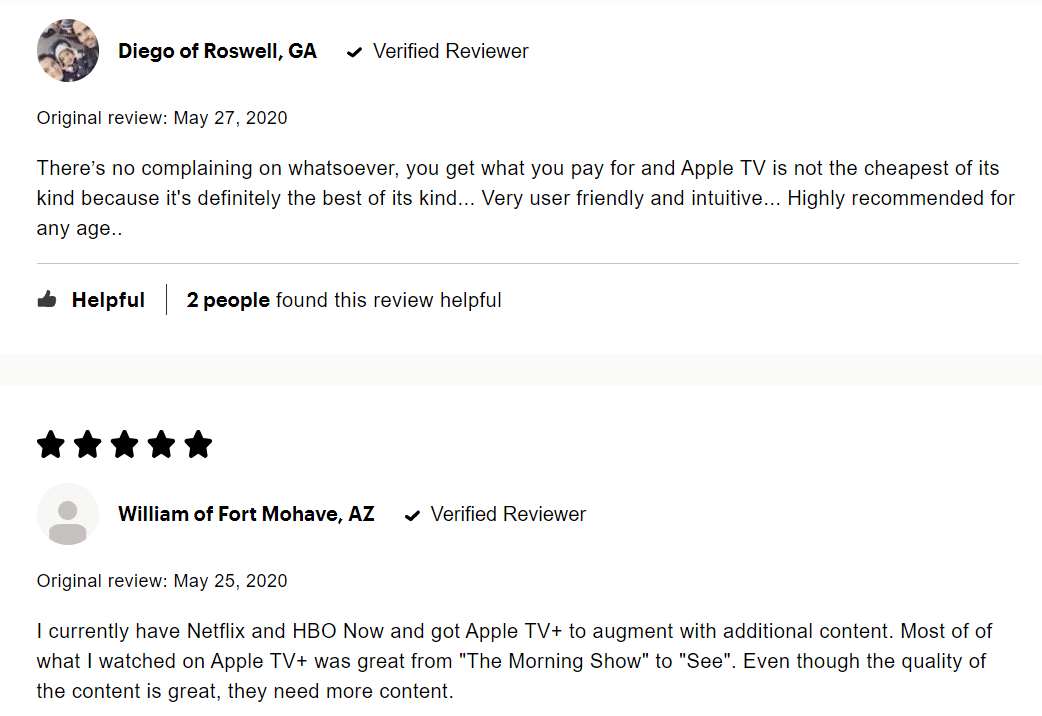 Wrap Up 
Hopefully, this Apple TV Plus review helped you to better understand the good and bad sides of this streaming service. Despite not having as many titles as Netflix or Amazon Prime Video, Apple's original library grows every month, often featuring big stars. So, it is safe to say that the service is getting better and better.
So, what are you waiting for? It's time to grab some popcorn and enjoy your favourite movies!
FAQ
Is Apple TV Plus better than Netflix?
Netflix is better when it comes to the variety of its content library and some other features that Apple TV Plus lacks.
What shows are free on Apple TV Plus?
The Elephant Queen, Little America, Servant, For All Mankind, Dickinson, Helpsters, Ghostwriter, Snoopy in Space, and more.
Can I watch Apple TV Plus offline?
Yes, with Apple TV Plus, you can download your favourite titles and watch them offline anywhere and anytime.
Can I share Apple TV with my family?
Yes, Apple TV Plus lets you share your subscription with up to five family members.
How do I watch Apple TV Plus on my phone?
This service is easy to download and use on your smartphone. All you need to do is update your device to the latest iOS or iPadOS and open the app to watch your favourite shows.