ADS: No
AVAILABILITY : UK, Australia, Canada, USA and South Africa
COMPATIBILITY : Web (Google Chrome, Mozilla Firefox, Apple Safari, Microsoft Edge), Streaming media players, iPhones, iPads, Android phones, tablets, Smart TVs (LG Smart TVs, Samsung Smart TVs)
TOP TITLES: Crime, Death in Paradise, Doctor Who, Spitting Image, Downton Abbey, Walking the Dead
MOBILE DOWNLOADS : Yes
4K HDR AVAILABLE : No
NUMBER OF STREAMS : Five
BRITBOX PLANS: Standard Plan: 100% ad-free
BritBox Review
Looking for a streaming service that's different from its competitors? Well, you're in the right place. If you fancy immersing yourself in a world of classic British TV, you will surely enjoy BritBox!
Last Updated: March 23, 2022
Advertiser disclosure
This page may contain links to our partners' products and services, which allows us to keep our website sustainable. This means that cybercrew.uk may receive a compensation when you sign up and / or purchase a product or a service using our links. However, all opinions expressed in this article are solely ours, and this content is in no way provided or influenced by any of our partners.
ADS: No
AVAILABILITY : UK, Australia, Canada, USA and South Africa
COMPATIBILITY : Web (Google Chrome, Mozilla Firefox, Apple Safari, Microsoft Edge), Streaming media players, iPhones, iPads, Android phones, tablets, Smart TVs (LG Smart TVs, Samsung Smart TVs)
TOP TITLES: Crime, Death in Paradise, Doctor Who, Spitting Image, Downton Abbey, Walking the Dead
MOBILE DOWNLOADS : Yes
4K HDR AVAILABLE : No
NUMBER OF STREAMS : Five
BRITBOX PLANS: Standard Plan: 100% ad-free
works on:
Android
Apple
Chrome
Firefox
Apple TV
Fire TV
Parental Controls
STRENGTHS
Regularly updated new content
Available on Roku streaming devices
Downloads for offline viewing
Five simultaneous connections
Great selection of dramas
WEAKNESSES
Apps need to be accessible on more platforms
No Skip Intro option
Interested in the best streaming service with award-winning content? Well, I assure you that BritBox is the ideal place to watch comedies, dramas, mysteries, documentaries, and more!
So if you are a fan of classic British TV, you should definitely check out this BritBox review, as I am sure you will fall in love with this fantastic streaming service.
So before you start reading, take a look at the main points of this article below:
What is BritBox
BritBox Content
BritBox Features and Availability
Watching BritBox with a VPN
BritBox Plans and Pricing
BritBox Competitors
Users Reviews
Wrap Up
Q&A
What is BritBox
BritBox is a streaming service offering an amazing collection of the most popular British shows, encompassing drama, comedy, film, and documentary. The very first aim of this streaming service was to let Britons abroad watch their old favourites that aren't available on Netflix. 
BritBox was launched in 2017, and it is available in the UK, Canada, and the US. It is interesting that in 2020, BritBox became available in Australia, while in 2021, it officially launched in South Africa as well. 
It shouldn't come as a surprise that BritBox has become a very popular video-on-demand (VOD) streaming service since it contains so many valuable titles. One of its most significant perks is that it doesn't support advertising, meaning that you can enjoy content from BBC, ITV, Channel 4, and Channel 5 ad-free.
One interesting fact — The design of the BritBox interface is the work of an independent designer based in London who owns Gareth David Studio (GDS). 
BritBox Content
BritBox has a broad selection of content from the UK's leading broadcasters – BBC, ITV, Channel 4 and 5. You can also enjoy daily shows, like Brexitcast, Coronation Street, and Good Morning Britain. God knows every Brit loves those.
Personally, I've enjoyed using BritBox to catch up with its latest crime television shows, such as Crime and The Beast Must Die. The most striking fact is that they are all based on true stories that many of you will surely enjoy watching. However, one slight drawback is that if you are looking for live TV shows, you won't find any on BritBox. 
Titles
Some of the most popular mystery titles include Prime Suspect, Shetland, Father Brown, River, New Tricks, Traces, The Syndicate, Wild Bill, etc. 
When it comes to comedy series, BritBox provides various titles, including Peep Show, Cold Feet, The Office, The Good Life, Mum, and others that will make you laugh until you cry.
For those who aspire to watch classic movies on BritBox, there are notable classics like Educating Rita, A Queen is Crowned, Without a Clue, Oliver Twist, Carry on Camping, and many more. 
Moreover, you can watch Line of Duty, The Mallorca Files, Miss Marple, Bancroft, A Confession, WPC 56, and other crime shows.
Suppose you are a fan of costume dramas. In that case, you should grab your popcorn and watch these titles: Cranford, Pride and Prejudice, Emma, The Royal, The Village, Persuasion, Upstairs Downstairs (2010 or Original), The Lady Vanishes, Small Island, and others.
There are also several dramas that are worth checking out: Classic Doctor Who, Coronation Street, The Victim, and so on.
What about documentaries and lifestyle shows? These are the most popular ones: All Aboard!, The Lights Before Christmas, Gardeners' World, The Up Collection, Antiques Roadshow, David Suchet on the Orient Express, The Great British Countryside, Countryfile Spring Diaries, Countryfile Autumn Diaries, Kristie's Vintage Home, etc.
Genres
There are several genres, including Mystery, Drama, Comedy, Documentaries and Lifestyle. In addition, the BritBox website displays a summary for each episode, the date it was released, the runtime, a parental rating, closed captions support, and whether it is available in HD. Most likely, viewers will be interested in Doctor Who, Doc Martin, Top Gear, etc.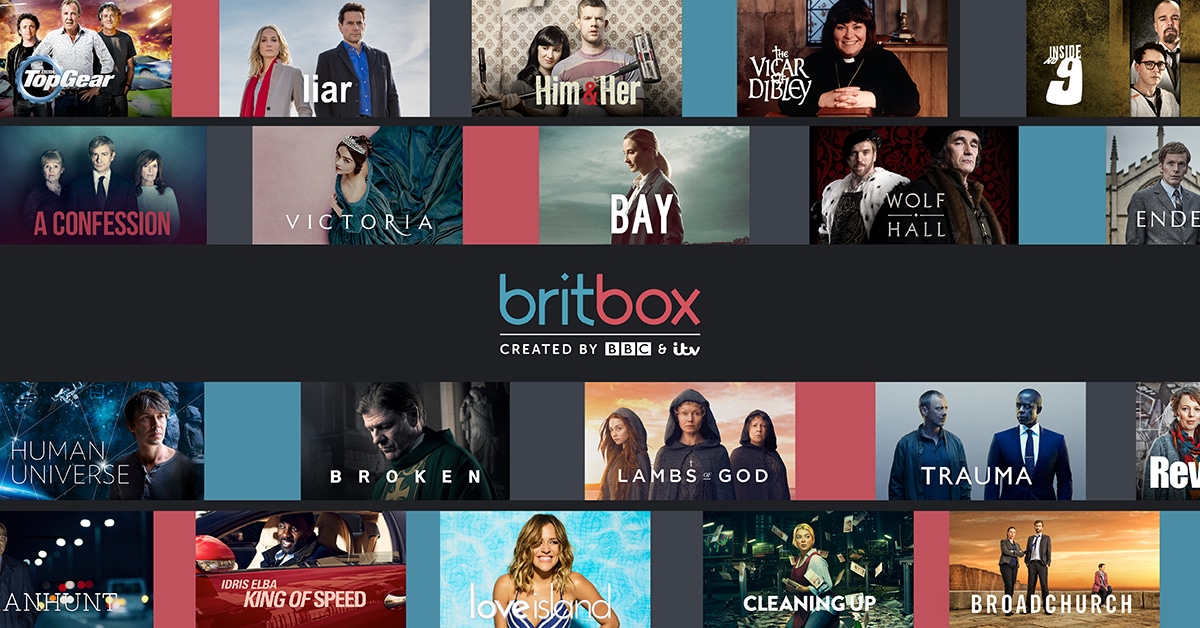 BritBox Originals
Until recently, BritBox did not provide any original content, but in November 2021 it released its first original title called Crime. BritBox plans to release more original content along with its BBC and ITV catalogue. ITV and BBC are investing millions of dollars into developing original titles for this streaming service. 
Library
BritBox offers a wide selection of British content, including 144+ movies and 311+ TV shows. In addition, it contains one of the most comprehensive collections of British TV series available. JustWatch lets you browse what's on the platform or filter your results by movie or TV show, genre, release date, age rating, IMDb rating, and new titles.
BritBox Features and Availability
Even though BritBox had some availability issues, it is now available on the Amazon Fire TV app and as a Prime video channel for UK users too! That means that more than 400 million devices accessed this channel in the UK last year. Moreover, in August 2021, BritBox announced that the app is available on all Roku streaming devices in the UK, as well as Roku TVs.
Streaming
Among the most appealing features is that it supports streaming on up to five different devices. So, if you're looking for a streaming service that you can split between several members of your family, then BritBox is just for you!
Profile
In contrast to Hulu and Netflix, there are no user profiles to create on the BritBox streaming app. That means that you cannot take advantage of personalisation and recommendation features.
Playback
With BritBox's default web video player, users are presented with a pop-up box. As a design element, the pop-up feature is intrusive because it always covers both the show description and the button for adding the show to your watchlist.
Although it is displayed, you still have access to the rest of the interface. So, the playback experience needs to be better designed.
4K, HDR
BritBox doesn't offer any 4K streaming service content, which isn't surprising given its lower than average monthly expense. While you can get 1080p (HD) to the best of your ability, older programs are only available in standard definition.
Data Usage
BritBox's suggested minimum speeds for streaming depend on a couple of factors — what device is being used and the quality of the stream. Whether you're using a smart TV, streaming device, Apple TV, or a web browser, you need at least 3Mbps of downstream speed. In addition, a 1.5MB stream should be available if you are streaming through iOS or Android. Finally, it is recommended that you have a download speed of about 6.5Mbps if you plan to stream HD content.
Availability & Compatibility
BritBox programs are available in Australia, Canada, South Africa, the United States, and the United Kingdom.
BritBox is compatible with most devices on the market, including Android and iOS mobile phones and tablets. To dig into details, here is the list of supported devices in the UK:
Android devices
iPhone, iPad
Smart TVs (LG Smart TVs)
Web browsers (Google Chrome, Mozilla Firefox, Apple Safari, Microsoft Edge)
Streaming Media Players (Amazon Fire TV, Apple TV, Fetch, Roku streaming devices, Telstra TV)
Add-on channel (Amazon Prime Video Channel, Apple TV Channel)
Casting & Screen Mirroring (via Apple AirPlay and Google Chromecast)
As we have seen, BritBox has a wide range of options for supported devices and services. Basically, there is a BritBox option for everyone, so you can watch it wherever you are, at home or on the go. 
Mobile-Friendliness
You should be aware that BritBox is not available in 1080 HD on mobile devices. It can only be viewed in 720p, which is a good enough quality.
It also curates its content into useful categories aside from having an easy-to-use interface with easy navigation bars and helpful carousels. As a result, users can easily switch from TV shows to movies and genre-specific lists.
Parental Control
If you want to set up BritBox's parental controls, you must click on your profile icon and select the Parental Controls option. Then, to bypass the restriction, you must enter a specific code — a four-digit pin. Next, you must choose a TV rating level. 
Web Interface 
You won't encounter any performance glitches when using BritBox's web interface. It is clean, and the interface does not feel crowded.
You can navigate BritBox using the menu at the top containing items such as Home, Explore, Help, and Search. In addition, the account section's submenu provides access to your watchlist, account information, and parental control settings. 
You can update your account email and password in the account details section. BritBox lets you view your subscription details, check your billing history, and subscribe to the company's newsletter.
Virtual Private Networks and BritBox
Have you tried to access British TV channels from outside the UK? If you have, I'm sure you couldn't access your favourite content. That's because BBC iPlayer, Channel 4, ITV Hub, and Sky Go restrict content based on your location.
It is impossible to access UK streaming services without a UK IP address. However, by using a VPN, you can connect to servers located in the UK and access your favourite streaming service without having to worry about these restrictions.
Your content will begin streaming as soon as BBC iPlayer or ITV Hub detects that you are in the UK. 
If you are wondering what VPNs you should consider, check out the following list:
Watching BritBox with a VPN
BritBox is available only in the UK, the US, Canada, and Australia, but you can also view its content outside these countries. And we have VPNs to thank for that!
If you are unsure how to change BritBox region or country, follow the necessary steps:
Join a VPN service to unblock BritBox
Stream BritBox on any device that has an appropriate VPN installed
Depending on which BritBox library you want to access, open the VPN app and connect to a server in either the UK, US or Canada
Log in or register to BritBox
Choose the content you wish to unblock
I would also recommend selecting a UK server since you will be able to watch the BBC, ITV, and Channel 4 in addition to watching BritBox.
You should also be aware that accessing BritBox with a VPN can cause some issues. In truth, the issue arises when you attempt to subscribe to BritBox. It will not be a problem to access BritBox if you are already a subscriber. 
For that reason, unless you have an American, Canadian, or UK credit card, you should not purchase a VPN for BritBox. Even though it is easy to bypass the IP address checks, it's much harder to avoid the payment method check. 
If you are considering accessing BritBox with a VPN, here are some other helpful facts.
Gift cards are currently unavailable.
If they become available, you can use this solution to access BritBox and work around the payment problem. However, you will need a valid card to buy the subscription until then. 
BritBox's free trial requires payment details as well.
Unfortunately, you have to submit your card details to use the free trial for 30 days.
BritBox blocks some VPNs.
To avoid this problem, stick to a reliable VPN provider, such as NordVPN.
BritBox Plans and Pricing 
BritBox costs £5.99 per month or £59.99 a year if you are located in the UK. On the other hand, residents of the United States will pay $6.99 per month or $69.99 a year.
However, you can get a free trial for seven days and test this service.
Note: If you do not wish to continue with it, be sure to cancel it before it renews automatically.
Aussies can subscribe to BritBox for $8.99 a month or $89.99 per year. Furthermore, there is no information on how many titles are available in BritBox Australia.
BritBox Competitors
BritBox vs Acorn TV
Acorn TV has fewer titles than BritBox because it is aimed at a specific market. The vast majority of its series belong to the crime and mystery genre. Additionally, it features a small selection of documentaries, most focusing on British culture, history, and nature.
In conclusion, the BritBox content library is much more extensive than that of Acorn TV. Considering the smaller amount of content it offers, I am amazed by the fact that Acorn TV has reached its one million subscribers milestone.
Both BritBox and Acorn TV have a straightforward, easy-to-use interface that is very simple to navigate in your web browser. In addition, both services let you add shows to a watchlist and track what you recently watched, which is very useful if you want to pick up where you left off.
On the other hand, BritBox allows users to have up to five simultaneous streams, while AcornTV permits four. Finally, with BritBox, you can set parental controls by using a PIN code, while  Acorn TV doesn't have this feature. 
BritBox vs Netflix
Anybody who wants as much British television as possible may find that BritBox appeals to them. So, British TV shows are BritBox's main focus despite its extensive content library.
However, Netflix is the biggest streaming library available in 2022 that offers different kinds of content for everyone. It contains original shows, licensed shows, movies, comedies, dramas, cartoons, family shows or stand-up comedy.
Netflix is available in 190 countries and supports a wide range of devices you can stream on.
BritBox and Netflix offer content carousels that group their content according to genre and type to make navigating their platforms easier. In addition to streaming shows, both services allow viewers to download them for offline viewing.
User Reviews 
Below are some customer reviews that will give you a better idea of what you can expect:

Now that we've seen some customer reviews and ratings, we can separate this app's pros and cons based on what people most liked and disliked about this streaming service.
PROS (based on user reviews)
The best British dramas, comedies, and mysteries
Excellent price
Streaming is no problem on a smartphone
All shows can easily be accessed (without extra charges)
It offers a trial period, which is an excellent feature
Great customer service 
CONS (based on user reviews)
The app isn't available on every device
Buffering may be possible
Wrap Up
Even though BritBox might target a somewhat narrow and specific audience, its classics and dramas spark emotions in everyone, and comedies and mysteries awaken all of your senses. What's even better is that all of that comes at a fair price.
Now that you have a better idea of what BritBox is all about, it's finally time for you to enjoy it with your loved ones! 
FAQ
Is BritBox included with Amazon Prime?
Yes. In order to enjoy British television in the most convenient way possible, you can subscribe to BritBox through Amazon Prime Video, Apple TV Channels, or BritBox for ROKU.
How can I watch BritBox?
BritBox has a wide range of options for supported devices and services. You can watch it on Android devices, iPhone, iPad, smart TVs, web browsers, streaming media players, add-on channels, and casting and screen mirroring (Via Apple AirPlay and Google Chromecast).
What programs are on BritBox?
There are crime and lifestyle shows, costume dramas, dramas, comedies, documentaries, and many more!
How much is Britbox?
UK residents will have to pay £5.99 per month for Britbox. Moreover, the cost of the service in the US is $6.99 per month. The best thing is that if you cancel your subscription before your trial period ends, you won't be charged at all.