VPN Protocols: OpenVPN, IKEv2, WireGuard, L2TP/IPSec
Torrenting: Supported on some servers
Connections: Allows up to seven simultaneous connections
Streaming: Netflix, Disney+, HBO Max, Amazon Prime Video, BBC iPlayer, Hulu and many others
RAM-disk mode: Yes
Last Updated: July 11, 2022
Advertiser disclosure
This page may contain links to our partners' products and services, which allows us to keep our website sustainable. This means that cybercrew.uk may receive a compensation when you sign up and / or purchase a product or a service using our links. However, all opinions expressed in this article are solely ours, and this content is in no way provided or influenced by any of our partners.
VPN Protocols: OpenVPN, IKEv2, WireGuard, L2TP/IPSec
Torrenting: Supported on some servers
Connections: Allows up to seven simultaneous connections
Streaming: Netflix, Disney+, HBO Max, Amazon Prime Video, BBC iPlayer, Hulu and many others
RAM-disk mode: Yes
works on:
Windows
Mac OS
Linux
Android
Apple
Chrome
Firefox
Fire TV
Android TV
Apple TV
Router
Windows users
STRENGTHS
Strict no-logs policy
Huge choice of servers
Simultaneous use on seven different devices
Dedicated streaming servers
45-day money-back guarantee
WEAKNESSES
Significant loss of speed
Third-party data sharing
Limited plan options for Bitcoin payment
CyberGhost VPN is one out of a gazillion VPN providers out there. How to know if it is the one? Go through its official website, test it out and voila — now you can make an informed decision.
Or just take a look at what I've found out on my quest for the best VPN software, doing exactly that.
Here's what I'll check for in this CyberGhost VPN review:
What is CyberGhost VPN?
Company History
CyberGhost was founded in Bucharest in 2011. The founder, Robert Knapp, looked for cheap alternatives to top-tier IT locations where he could realise his dream of building a VPN company and saw more and more reasons for founding his business in Romania.
CyberGhost's new owner Kape has two more VPNs, Private Internet Access and ZenMate and used to go by the name of Crossrider. The same mobile app developing firm that bundled adware into its downloads, yes. This notoriety raised concern among many because VPN services really shouldn't earn on their subscribers' private data.
As Kape switched its focus to VPNs these issues have been mitigated, hopefully. CyberGhost is, in fact, very eager to share the number of DMCA complaints, malicious activity flags and police requests they get and never answer, and does so in their trimonthly transparency report.
Services and Features Offered by CyberGhost VPN
CyberGhost prides itself on having more than 8187 servers, with separate ones for gaming, streaming and torrenting, and a no-questions-asked money-back guarantee. Add to this their extensive list of privacy features for keeping your activity completely anonymous: a strict no-logs policy, a kill switch, DNS leak prevention and WiFi protection essential for safe public surfing.
CyberGhost VPN Protocols
Of the vast number of VPN protocols out there, many have been rendered obsolete. Two that exemplify the old ways of VPN technology are PPTP and L2TP. CyberGhost VPN still offers L2TP on some devices.
What makes for a secure VPN, though, are the newer protocols. CyberGhost takes special pride in utilising the three industry-standard ones: OpenVPN, IKEv2 and WireGuard. Let's delve into the intricacies of these.
OpenVPN is one mature security protocol. It's open-source and has enjoyed 18 years of strict scrutiny; therefore, it's as optimised as it gets. CyberGhost VPN puts the OpenVPN protocol to good use in their Windows and Linux clients, as well as Android and Fire TV apps.
Now, IKEv2 was devised by Cisco and Microsoft security engineers. It provides fast and secure connections, especially if the server you want to connect to is nearby. It also delivers exceptionally whenever connection switching or dropping is involved.
WireGuard is still very much under development but is often lauded as the most secure and most user-friendly of all the protocols out there. It provides users of various platforms with an innovative, cryptography-based VPN solution.
| | | | | | |
| --- | --- | --- | --- | --- | --- |
| Protocol\OS | Windows | macOS | Android  | iOS | Linux |
| OpenVPN | Yes | No | Yes | No | Yes |
| IKEv2 | Yes | Yes | No | Yes | No |
| WireGuard | Yes | Yes | Yes | Yes | Yes |
Servers and Server Locations
Most VPNs don't have as many servers as CyberGhost, whose serious contender is NordVPN only, with a little more than 5400 servers. Of others frequently glorified as the best VPN services, ExpressVPN, and Surfshark have somewhere above 3000.
CyberGhost's servers are well spread — there are 114 different locations where a person may find one, allowing their Ghosties to pretend they're located in 91 countries.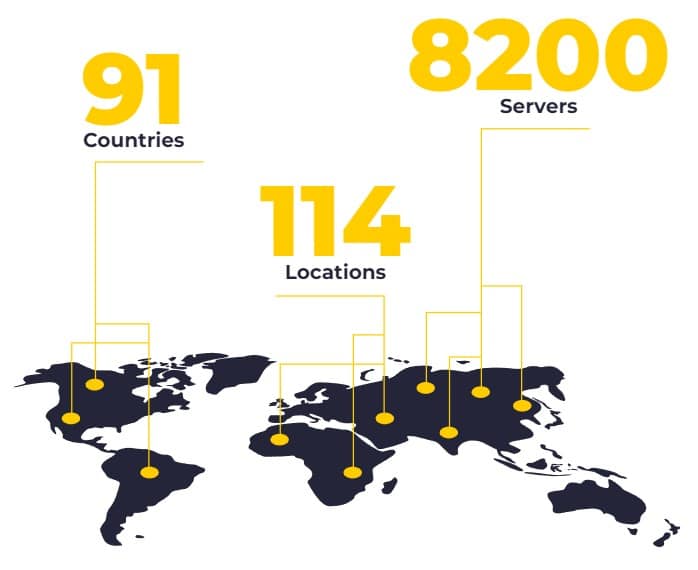 An important thing to note is that some of these servers are not actually within the specified country's borders because CyberGhost makes use of what is known as virtual server locations — servers with a digitally disguised location.
With actual servers in Hong Kong and virtual ones in Russia, Vietnam and Turkey, CyberGhost makes for one standout VPN, as these countries restrict their citizens' access to certain websites.
Besides countries with restricted internet access, CyberGhost VPN has servers spanning a good portion of South America and quite a few African countries.
Available Platforms
Enjoying a safe connection to the internet via one of CyberGhost VPN's servers is possible from your computer or smartphone but your smart TV and gaming console, as well.
You might be able to install it on your router, providing safe internet access to all the devices connected to it. If not, you can obtain a DD-WRT type router with CyberGhost VPN pre-configured by following a link on the VPN provider's official website.
Whatever the device you use CyberGhost on, it never logs your data.
Just like one would expect, using CyberGhost on your computer comes hassle-free. There are separate apps for Windows, macOS and Linux users. Windows users might reap the most benefits from acquiring a plan, as Microsoft's operating system enjoys the fullest set of features, but using it on another platform will not leave you frowning.
As for mobile apps, CyberGhost allows both Android and iOS users to utilise WireGuard when browsing the internet.
CyberGhost Chrome and Firefox Extensions
If you're on the lookout for a VPN for Chrome or Firefox, CyberGhost has just the thing for you — it offers these extensions for free. Compared to the paid version, they include a much narrower scope of servers at disposal, though.
The CyberGhost extension for Chrome and Mozilla allows for a connection to two servers in each of the four countries — the US, Germany, Romania and the Netherlands. A poor choice compared to more than 8100 servers in 91 countries you get for the full price, sure, but there is no bandwidth limit, and hey, it's free.
CyberGhost VPN Prices and Plans
Currently, there are four pricing plans at CyberGhost's potential customer's disposal. These vary in length, money-back period duration and most significantly — affordability.
| | | | | |
| --- | --- | --- | --- | --- |
| Plan length | 3 years + 3 months | 2 years | 1 year | 1 month |
| Plan price | £68.25 (£1.75 per month) | £66 (£2.75 per month) | £39 (£3.25 per month) | £9.99 |
| Money-back guarantee period | 45 days | 45 days | 45 days | 14 days |
Safety and Privacy Features
256-bit-AES is one strong encryption algorithm. Military-grade, as you'll often hear. It's worth knowing that CyberGhost uses it in Windows, macOS and Linux, allowing you to surf the world wide web with anonymity and peace of mind.
Another thing that qualifies CyberGhost as a safe VPN is the kill switch feature that springs into action whenever a VPN connection drops unexpectedly.
In order to keep your connection to the internet safely encrypted, CyberGhost blocks the device's attempts to reconnect until the VPN connection is restored. The kill switch activates by default in CyberGhost applications for Windows, Mac, iOS and Android.
For the extremely cautious, CyberGhost gives access to their own, independently operated NoSpy servers, housed in their very own data centre. These leave no opportunity for outside snoopers but do incur an additional cost.
CyberGhost for Free?
In case you want to get a taste with no risks involved, there's the 24 hours long CyberGhost VPN free trial. The only piece of information you need to share to access the free version is your email address.
If you do buy a plan, only to realise you don't want to commit to it, CyberGhost's customer service operatives won't inquire as to why you've changed your mind. They'll neatly process your request, and you'll be receiving your funds within no more than ten days.
CyberGhost Private Browser
The official website states CyberGhost's alternative to Chrome is accessible to CyberGhost users only, but it is, in fact, universally available. The choice is between desktop and iOS versions. This Chromium-based browser allows add-ons, automatic session data deletion, and ad-free browsing and is developed to protect its user's privacy.
CyberGhost VPN Mobile Apps
Many of the industry's top-rated VPNs such as ExpressVPN, NordVPN, Surfshark, Private Internet Access and, last but not least, CyberGhost devised their own mobile VPN apps. CyberGhost offers one for both iOS and Android, with a couple of differences between the two.
On Android, one can manually choose either OpenVPN or WireGuard, while on iOS devices, the choice is between IKEv2 and WireGuard.
A practical addition to Android devices is the split tunnelling feature. It allows users to choose which of their many apps will use the VPN to access the internet, with others using the phone's regular connection. This sure might come in handy when checking your account balance on a public network.
There's even the useful Auto selection feature that connects to any VPN protocol available, on Android at least.
Specialised Streaming, Gaming and Torrenting Servers
The desktop client offers a specially curated list of servers for gaming, access to streaming services, and servers for P2P traffic, meaning you can use CyberGhost for torrenting. If you want to choose a server manually, the official website provides information on whether a country's server supports torrenting. Just look for their servers list.
Speed and Performance
I've downloaded the CyberGhost free trial and installed it. After clicking through a couple of dialogues I could finally witness CyberGhost's vast server options.
Proceeding straight to Ookla's speed test page, I tested my connection, with no VPN in use. I'm in Central Europe, and my provider offers decent download and upload speeds.
Turning CyberGhost on and going through an array of global servers was next. What was I hoping for? An insight into the effects the VPN had on speeds and latency.
My method wasn't scientifically rigid. I just looked for servers in different cities, always favouring the ones with a low load percentage even though, more often than not, their ping was claimed to be a staggering 9999 ms.
The Vancouver server made the download speed three times as low yet left the upload speed almost intact. Latency rose to 166 ms. This all is still not that bad, as values lower than 170 ms make for carefree streaming and gaming.
The server in Melbourne left more of an impact. Download speed fell significantly, and upload speed fell by more than 50%. The ping (latency) approached 300 ms — bye-bye gaming.
Here's how CyberGhost VPN servers did in other cities:
City
Download speed in Mbps (drop percentage)
Upload speed in Mbps (drop percentage)
Latency 

(milliseconds)

London

49.49 (-46%)

18.09 (-0%)

47

New York

57.76 (-36%)

17.96 (-0%)

110

Hanoi*

50.06 (-45%)

11.26 (-38%)

211

Istanbul*

44.84 (-51%)

15.25 (-16%)

83

St. Petersburg*

52.28 (-43%)

8.34 (-54%)

88

Seoul

24.56 (-73%)

17.93 (-1%)

266

Nairobi

45.75 (-50%)

12.78 (-29%)

252

Buenos Aires*

1.67 (-98%)

5.45 (-70%)

261

Buenos Aires*

5.02 (-94%)

3.10 (-83%)

258
(* Virtual server locations)
So, is CyberGhost VPN fast? While testing its many servers, I've experienced download speed loss that was never under 30%. That's considerable. Together with substantial increases in latency, this might raise concerns among prospective buyers.
Whether you can mitigate the speed loss by utilising the dedicated servers or, more prosaically, browsing through the list looking for a server with optimal load and latency is a question you should very well try to answer before committing to a plan.
The takeout of this little VPN speed test is that you have to try out many different options because your mileage (speed, I mean) may vary significantly. 
Another thing tech-savvy readers should know is that I was on a wireless connection. Yes, using LAN for speed tests is the way to go, I know. Still, most of us are on WiFi. Hence, the data above serves an illustrative purpose.
Privacy and Registration Process
Privacy Policy
This CyberGhost VPN review wouldn't be complete without a look at its privacy policy.
First, note that the data you provide through the payment form is given to the payment processor. It seems you're still on CyberGhost's page, but you're not. The payment company operates with a privacy policy of its own.
CyberGhost also allows third parties to acquire your data, such as email and name, when you, for example, chat with the customer service team. The use of this information will always honour the agreed-upon stipulations.
Of most interest to CyberGhost users is that the company never knows what website or service they accessed while using the VPN, the IP address they browsed the web from, or the user's original IP address. CyberGhost never logs the data that can link your actions back to you.
Another fact of great importance is that CyberGhost allows third-party behavioural tracking that may be used to follow you as you go through the web.
Next to all this, CyberGhost reserves the right to change its privacy policy and encourages customers to check it for updates regularly.
Registering with CyberGhost VPN
First, go to the top of this page and click on "Visit Website" and choose a pricing option that fits your needs.
Once you choose a price plan, you'll decide whether you want to pay by card, via PayPal or using Bitcoin.
If you opt for a card or PayPal payment, you'll also be able to choose some of the extra features.
For example, CyberGhost teamed up with PassCamp allowing its users the benefits of two-factor authentication, end-to-end encryption, password autofill and such. However, the add-on of this dedicated password manager will incur an additional fee.
Next comes clicking on the button that turns green after you've entered your email.
You will get an email update.
Back on the official website, it then either prompts you to log into your BitPay account, asks you to log into your PayPal account, or takes you to the billing details stage if you choose card payment.
Once all your data is in, you'll be asked to review it yet again and, upon payment completion, you'll be able to download a CyberGhost VPN to your computer.
The entire registration process won't take more than 10 minutes of your time if you have already chosen a plan that suits you and you know all of your passwords and card details.
In the unlikely case that you get stuck along the way, you can always turn to CyberGhost's customer service for help, via live chat or by contacting support to submit a request for assistance.
The help centre is where you can address all your issues. The bottom right of the page is what you're aiming for.
In order to get through to an agent, you'll have to enter literally anything into the text bar and choose the live chat option.
The chatbox form will then ask you for your name, email address and the question that you might have. You'll be able to choose English, French or German assistance, but expect only English-speaking agents to be available 24/7.
First, you start the chat. Once you're first in the queue, a representative will be with you. They usually got back to me within a minute or two and were very eager to resolve any issues and dilemmas I had.
CyberGhost VPN Competitors
CyberGhost VPN vs NordVPN
| | | |
| --- | --- | --- |
| | CyberGhost VPN | NordVPN |
| Servers | 8187 | 5417 |
| Server countries | 91 | 58 |
| Simultaneous connections | 7 | 6 |
| Minimum monthly price | £1.75 | £2.89 |
Both VPNs are top of the line in terms of server numbers, but CyberGhost has almost a thousand and a half servers more than NordVPN, with 30 countries more on the list.
CyberGhost offers simultaneous connections for seven devices — one more than NordVPN, and though both have dedicated streaming servers, the Ghost goes a step further with servers optimised for gaming.
As for pricing, NordVPN does offer a more affordable monthly plan, but their two-year plan is slightly more expensive than CyberGhost's.
CyberGhost VPN vs Proton VPN
| | | |
| --- | --- | --- |
| | CyberGhost VPN | ProtonVPN |
| Servers | 8187 | 1790 |
| Server countries | 91 | 63 |
| Simultaneous connections | 7 | 10 |
| Minimum monthly price | £1.75 | Free |
While the Swiss-based Proton VPN currently offers a 30-day money-back guarantee to try out its almost 2000 servers located in 63 countries, CyberGhost gives you 45 days to test its 8100-and-more-servers-strong network.
CyberGhost's support team is available 24/7, in English at least. You'll have your concerns addressed in a few minutes. On Proton VPN's website, there is a support form that you can fill out. Your request might stay unanswered for 48h, though.
CyberGhost VPN vs IPVanish
| | | |
| --- | --- | --- |
| | CyberGhost VPN | IPVanish |
| Servers | 8187 | 2000+ |
| Server countries | 91 | 75+ |
| Simultaneous connections | 7 | Unlimited |
| Minimum monthly price | £1.75 | $3.33 (roughly £2.78) |
While IPVanish does stand out with an unlimited number of simultaneous connections, the CyberGhost VPN's server network is nominally four times as extensive. Unlike CyberGhost, IPVanish doesn't offer the kill switch on iOS devices but offers split tunnelling on both Android and FireOS.
As for trial periods, IPVanish will return your money within 30 days after purchase if you're not satisfied, but there is no free trial on offer. CyberGhost, on the other hand, offers a 24-hour trial and a 45-day money-back period.
IPVanish VPN's payment options so far involve card payment and Paypal. Those interested in paying only with Bitcoin might then find their luck with CyberGhost.
CyberGhost Reviews Online
It seems that CyberGhost enjoys a favourable reputation among its users, as the 31.8 thousand AppStore ratings boil down to a grade of 4.1 out of five. The VPN has 4.3 stars out of five from close to 137 thousand ratings on GooglePlay.
On TrustPilot, the impression you get of CyberGhost's overall performance is even better because it rates highly (4.7/5) and has less than 5% of reviews that deem it average, poor or bad.
Of the many reviews, most are five stars,
and their customer service is quick to respond to them, regardless of them being fairly positive,
heavily critical,
or just… interesting.
Considering this and the very responsive live chat agents mentioned earlier, the overall impression one gets of CyberGhost's outlook on customer satisfaction is indeed favourable.
Wrap Up
So, how reliable is CyberGhost? Is it worth the money? Does it offer enough features?
With all that I've gone through in this CyberGhost VPN review, it is fair to say that the Ghost is an all-around solution for those in need of a secure, user-friendly, yet versatile piece of virtual private network software.
If you're in need of strict anonymity, high-level security and optimisation for specialised purposes, CyberGhost might be just the one for you. Experienced users will find it sophisticated and powerful, and novices will find it easy to use.
Bottom line, CyberGhost VPN is deservedly among the best VPN services available today.
FAQ
Is CyberGhost VPN safe?
With the following privacy features: 256-bit-AES encryption, strict no-logs policy, DNS-leak prevention, access to specialised NoSpy servers, a kill switch and top-notch security protocols in use, CyberGhost is as safe as it gets. Do remember that any illegal activity, whether pursued via VPN or not, remains very much illegal.
Is CyberGhost VPN free?
There is no free version of CyberGhost anymore. Still on offer, next to the free trial, are the CyberGhost Chrome and Mozilla extensions. These do have fewer options but provide an encrypted connection for their users. If you want to boost your browser safety, you might want to consider the add-ons-enabled CyberGhost Browser.
Is CyberGhost VPN good for Netflix?
Accessing streaming sites from a VPN's server is usually a violation of their terms of service, and they'll do whatever they can to prevent it. Still, CyberGhost VPN and Netflix tend to go hand in hand, thanks to the Ghost's specially curated list of dedicated streaming servers. These servers further allow you to access the likes of BBC's iPlayer, HBO Max, Disney+, Hulu and many others, deservedly crowning CyberGhost as an excellent VPN for streaming.
Which is better - NordVPN vs CyberGhost?
Not an easy question to answer, as both VPN services score high on many of the best VPN lists, next to ExpressVPN, Surfshark and Private Internet Access. Both are based in countries that belong to no international surveillance alliances and have similar features. CyberGhost offers a slightly more expensive two-year subscription than NordVPN, true, but has a longer money-back guarantee period and a three-year plan on offer.