Free Storage: 2 GB
File Size Limit: 50 GB
Zero-knowledge Encryption: /
Mobile Apps: Android, iOS, Windows Phone
Free Trial: Yes for Business Plans
Dropbox Review
Dropbox, one of the original cloud storage providers, is an easy to use and reliable file syncing service that offers collaborative features. This Dropbox review will help you get to know this platform better and decide if it's a good fit for you.
Advertiser disclosure
This page may contain links to our partners' products and services, which allows us to keep our website sustainable. This means that cybercrew.uk may receive a compensation when you sign up and / or purchase a product or a service using our links. However, all opinions expressed in this article are solely ours, and this content is in no way provided or influenced by any of our partners.
Free Storage: 2 GB
File Size Limit: 50 GB
Zero-knowledge Encryption: /
Mobile Apps: Android, iOS, Windows Phone
Free Trial: Yes for Business Plans
Businesses
STRENGTHS
Wide range of support options
Integration with third-party apps
Easy to use
Advanced sync options
WEAKNESSES
Free plan is short on storage
Weak security and privacy features
No full device backup
In our quest to find the best cloud storage provider, it's time to review Dropbox — one of the first names in the industry.
Although the service doesn't offer much free storage, it comes with some compelling features that differentiate it from its competitors, such as its electronic signature or Smart Sync (more on this later).
Dropbox has been on the market for over 14 years and has over 700 million registered users, out of which 15.5 million are paid subscribers.
This Dropbox review will take a closer look at what makes the storage provider a good alternative and what are some areas in need of improvement.
What Is Dropbox?
Dropbox is a cloud storage service founded in 2007 by Drew Houston and Arash Ferdowsi. The concept came about after Drew kept forgetting his USB flash drive while he was a student at MIT and the rest is history.
The platform offers cloud storage, file synchronisation, personal cloud, and client software. In addition, Dropbox facilitates collaboration with its numerous features, such as the ability to leave comments on files or create shared folders with other Dropbox users.
You can access it via desktop app, mobile app, or website.
By creating a special Dropbox folder on the user's computer, the storage service brings files together. The contents of these folders are synchronised to Dropbox's servers and other computers and devices where the user has installed Dropbox, ensuring that all devices have up-to-date copies of the files.
The company operates using a freemium business model — users are offered a free account with a set storage size and paid subscriptions that offer more capacity and additional Dropbox features.
Unfortunately, Dropbox has been subject to criticism, particularly in connection with security breaches and user privacy. Furthermore, the service has been restricted in China since 2014.
Interface and Ease of Use
Dropbox has one of the most user-friendly interfaces out of all cloud storage services, with a clean design and well-organised, easy to find features.
You can use Dropbox without creating an account, but you'll only have access to view files — you won't be able to upload or sync anything. Creating an account is quick and easy, and it's usually done through the official website, but you can do it from the app as well.
The registration process only takes a couple of minutes, and all you need to do is type in your name and email address and create a password. Alternatively, you can sign up with your Google account.
The final step is agreeing to the terms and conditions, and you're all set.
Dropbox's interface consists of a left-side panel that allows you to access your files, share them, see your activity feed and deleted files, etc.
In addition, the right side of the interface is where your files are displayed in a grid. You can see thumbnails of your images, which is a handy way to find a particular photo quickly.
Dropbox makes it easy to drag and drop files into folders, and you can even create new folders from within the interface.
When you hover over a file, you'll see options to share, download, or delete the file. You can also click on the "i" icon to get more information about a particular file, such as the location of the file, when it was last modified, its size, and the type of file it is.
Dropbox interface is currently available in 22 languages — English, Italian, German, Russian, Korean, and more.
File Syncing and Sharing
Dropbox is outstanding when it comes to file syncing, and it has two very useful features — selective sync and smart sync.
Selective sync

— a feature that allows you to free up space on your hard drive without deleting anything from your

Dropbox account

. To use selective sync, you'll need to turn on the feature from the Dropbox app on your computer. Once selective sync is enabled, you can choose which folders to keep off your computer; those same folders will stay in your dropbox.com account.

Smart sync

— a feature that helps save space on your hard drive by removing stale files and folders off your hard drive and storing them in the cloud. With Smart Sync, you can see and access everything in your

Dropbox account

on your desktop without taking up space on your computer's hard drive.
Dropbox also makes it easy to share files and folders with other Dropbox users. Sharing a file can be done through a generated link or via email.
The service makes it easy to control who has access to your files and their level of access.  For example, you can give someone view-only access or allow them to edit and comment on the file.
Furthermore, you can set an expiration date for shared links so that they automatically stop working after a certain amount of time.
Here's exactly which options you have regarding sharing a file:
Who has access (Only invited people or anyone with the link)

Add an expiry date on your link (Professional Plans)

Disable downloads, making the shared file view-only (Professional Plans)

Password-protected links (Work Plans Only)

Document Watermarking (Work Plans Only)

Branded sharing (Work Plans Only)

Link traffic analysis (Work Plans Only)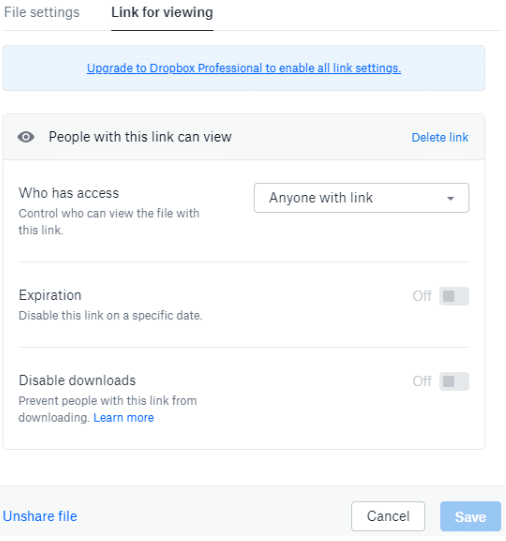 In addition, the desktop app allows you to share files via Slack, Zoom, and Trello. On top of that, you can connect other services to your Dropbox account, such as Microsoft Office, Google Suite, Canva, Autodesk and more, and share links directly to your app of choice.
Dropbox Transfer is the cloud storage provider's way of making sharing large files a straightforward and fast process.
This powerful feature allows for up to 100 GB of files in each transfer and lets everyone access the files — even people without an official account.
Moreover, with Dropbox Transfer, you can:
Deliver copies to prevent unwanted edits

Control access with password protection

Set link expiration to encourage downloads

Confirm delivery with download notifications
Privacy and Security
Multiple privacy incidents and concerns have put Dropbox on the receiving side of complaints and criticism.
Some of these breaches include a June 2011 authentication problem that let accounts be accessed for several hours without passwords; a July 2011 Privacy Policy update suggesting Dropbox had ownership of users' data; concerns about Dropbox employee access to users' information, and maybe the most severe one up to date — leaked government documents in June 2013 with information that Dropbox was being considered for inclusion in the National Security Agency's PRISM surveillance program that still sparks controversy.
But, let's not forget about the leak of 68 million account passwords on the Internet in August 2016!
My point — Dropbox is far from the best online file storage in terms of privacy and security.
Dropbox's privacy policy states that it can share your data with trusted third parties, such as Amazon, Google, and Oracle. Furthermore, Dropbox's servers are located in the USA, meaning that your data will be subject to strict laws, such as the Patriot Act, which will put Dropbox in a position to share your files with the authorities if need be.
Zero-knowledge encryption seems to be the norm these days with cloud storage providers. Unfortunately, Dropbox falls behind its competition in this category.
The lack of zero-knowledge encryption means that either the company or its employees, third parties, or the government can access your data stored on Dropbox's servers. 
A storage service that's more invested in its users' privacy and security is Sync.com. You can check our full review of the platform here.
The fact that Dropbox integrates with so many apps directly correlates with its poor security levels (each of its trusted partners needs access to your data). To encrypt your data at rest, the service uses industry-standard AES 256-bit encryption, while Secure Sockets Layer (SSL)/Transport Layer Security (TLS) is used to protect data in transit.
Additional level of security is provided with the use of two-factor authentication should an unauthorised party try to access your account.
If you decide to enable 2FA, every time you log in to your account from a new device, you'll be required to enter a second form of identification besides your password, such as a code sent to your phone number.
Speed
Dropbox has the reputation of being one of the fastest file-syncing services. It uploads small files in a matter of seconds, while bigger files, for example, 5 GB, can be uploaded in under four minutes and downloaded in around two.
Dropbox uses block-level sync for uploading your files — transferring blocks of a file as opposed to the entire file. This means that only the changes made to files will be synced, rather than the entire file each time you make an edit.
The block-level sync allows for faster upload speeds. However, the transfer speed is not entirely up to Dropbox. Your files' size and internet connection play a more significant role in how fast you'll get them up.
Dropbox puts a 50GB file size limit per file if you are using the website for uploads, but there is no limit when uploading via the Dropbox client.
Furthermore, you can choose how much bandwidth your internet uses to run the Dropbox desktop app in your desktop app preferences.
Collaboration
Dropbox offers excellent support for people that want to collaborate with their teammates online. For example, you can use the cloud storage platform to share meeting agendas and project outlines, add images, videos, and even code to team projects.
Teams can use Dropbox to centralise all of their workloads in one place and devote more time collaborating rather than managing content. On top of that, you and your coworkers can access documents such as PDFs and Google Docs and tools like Zoom and Slack without ever leaving Dropbox.
Dropbox Paper is a collaborative document-editing service developed by Dropbox that lets you share and edit all types of content with project partners in one document.
With Paper, you can explore templates, mention team members, assign tasks, add tables and more.
Paper is free, and you can use it to plan projects, brainstorm ideas, and hold meetings. The collaboration tool is available on the web, iOS, and Android. In addition, Dropbox's official website has a guide with a thorough explanation of the feature worth checking out.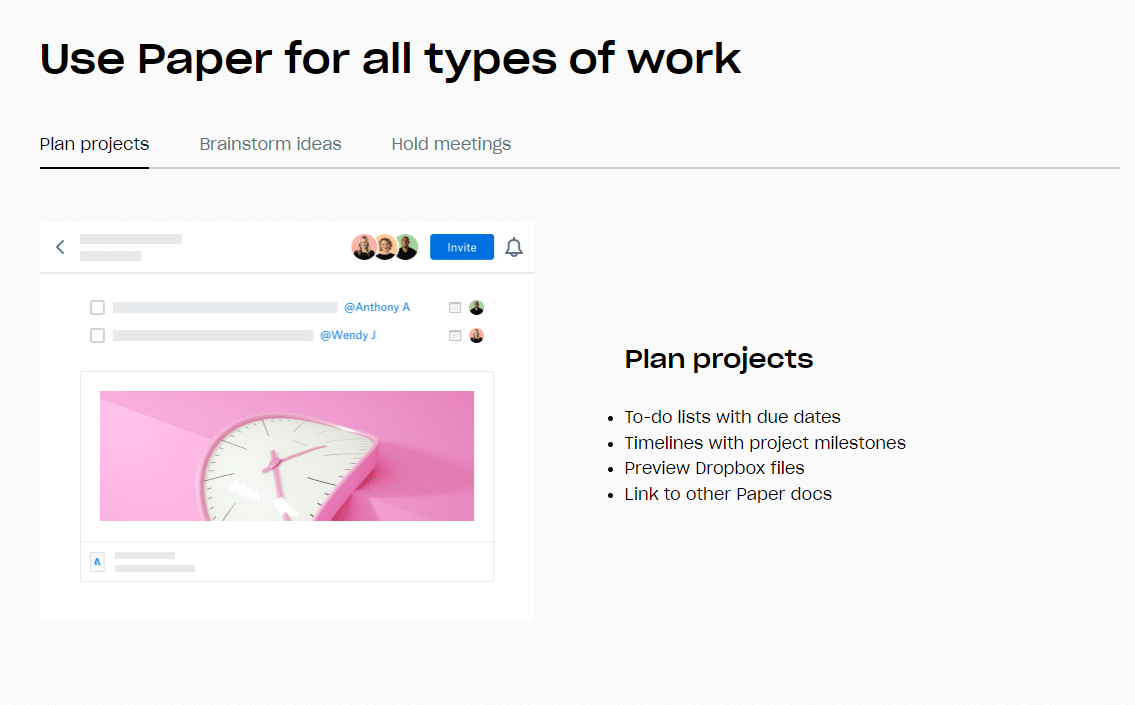 Mobile App
For people that want to work on the go or simply stay on top of organising their photos online, Dropbox comes with smooth mobile apps for Android, iOS and Windows Phone.
You can set automatic uploads for all the photos and videos you take from your phone camera to your Dropbox account. The mobile app also comes with a useful built-in scanner for documents.
What's more Microsoft Office integrates with Dropbox mobile apps and facilitates using Word, Excel, and PowerPoint.
The mobile app is an excellent choice for busy individuals that want to keep up to date with their work obligations.
Dropbox Plans and Pricing
Dropbox offers plans for both personal and business use. In addition, individuals can benefit from the free plan that comes with 2 GB of storage called Dropbox Basic.
Dropbox is pretty stingy regarding free storage compared to other cloud storage providers. If you decide to upgrade to a paid plan, you have five options to choose from.
All five Dropbox plans include:
Syncing

Anytime, anywhere access

Easy and secure sharing

Backup

Remote device wipe

Two-factor authentication

Dropbox Paper

Integrated cloud content

Plus button

File requests

Full-text search

Unlimited API access to productivity platform partners

Email and live chat support
Personal Plans
The Plus Plan is tailored for individuals and provides 2,000 GB of storage space for a single user. In addition, you get a 30-day file recovery period and a Dropbox Vault feature (a PIN-protected folder in your Dropbox account that you can access at any time and on any device).
Billed yearly, the Plus Plan will cost you £7.99/month, while a monthly subscription costs 20% more — £9.99/month.
The Family Plan is created for up to six users who can share 2,000 GB of storage space between them. The Family Plan subscribers get access to a productivity tool called Family Room — a place to organise and access all types of files, from receipts and tax documents to photos and school work.
Dropbox Vault, Dropbox Passwords, and a 30-day file recovery period are included in the Family Plan as well.
Billed yearly, this plan costs 20% less — £13.99/month, while billed monthly, it comes at £16.99./month.
Both Personal Plans can send up to 2 GB of data per transfer.
Business Plans
Dropbox has three Business Plans — Professional, Standard, and Advanced Plan. All three come with:
180 days of file recovery and version history

180-day history (Dropbox Rewind)

Document watermarking

Shared link controls

File locking

Branded sharing
The Professional Plan is a business plan for individuals. It has 3,000 GB of storage, a 100 GB per transfer limit for Dropbox Transfer, the option to send up to 3 documents for eSignature per month, and a viewer history feature.
The Professional Plan costs £16.58/month if billed yearly and £19.99/month for a monthly subscription.
The Standard Plan is ideal for smaller teams, and it comes with 5,000 GB of storage space. In addition, the plan has an account transfer tool, 1 billion API calls/month for data transport partners, and it enables HIPAA compliance. Users can send up to 2 GB per transfer and three documents for eSignature per month.
The cost of the Standard Plan depends on the number of users, and if billed yearly, it ends up to £10 per user/month. However, a monthly subscription is pricier, and it costs £12 per user/month.
Finally, the Advanced Plan is specially designed with larger organisations in mind. The users get as much space as needed (unlimited storage), an account transfer tool, enabled HIPAA compliance, and device approvals.
The Dropbox Transfer limit is up to 100 GB per transfer, with customisation options, and up to three documents can be sent for eSignature per month. Viewer history is also available with this plan, as well as company-managed groups, tiered admin roles, single sign-on (SSO) integrations, and more.
The most expensive business plan costs £15 per user/month if billed yearly and £18 per user/month when billed monthly.
Customer Support
Dropbox has the best customer support out of all online storage providers.
When you're facing an issue, the fastest way to resolve it is to check the community forums and post a question for other Dropbox users to answer.
Suppose you can't resolve your problem this way. In that case, you can turn to a different form of communication with Dropbox — priority email support and live chat options are available for all paid subscribers, 24-hours a day, Monday through Friday.
The live chat has proven to be the faster method for speaking to a company representative out of the two options.
However, if you have the Standard or Advanced plan, you can reach Dropbox through a phone as well.
Dropbox Competitors
Here are some Dropbox alternatives in case the platform isn't your cup of tea.
Dropbox vs Google Drive
Dropbox and Google Drive are two of the best cloud platforms available on the market. As expected, Google Drive works best and would give you the most value for your money if you are invested in Google's services — Gmail, Google Docs, Google Sheets, etc.
Google Drive offers way more free storage than Dropbox (15 GB), and its plans are overall cheaper. Although Dropbox integrates well with Microsoft Office and other third-party apps, Google Drive is unbeatable with its seamless integration with the user's Google account.
However, Dropbox is a clear winner in terms of speed and performance. So, if you are looking for the faster platform out of the two, there's your answer.
Unfortunately, neither service offers zero-knowledge encryption, making them less secure options. Google Drive files in transit are protected using 256-bit SSL/TLS encryption, while those at rest are encrypted with 128-bit AES keys.
Similarly to Dropbox, Google Drive has faced security exploits and threats in the past.
Dropbox vs OneDrive
OneDrive is Microsoft's file-syncing service launched in 2007. The platform has over 250 million users, and one of its biggest strengths is the seamless integration with the Office toolkit (Excel, Word, PowerPoint).
Microsoft OneDrive uses a 256-bit AES encryption key to encrypt your files in transit and at rest, and just like Dropbox, it doesn't allow for zero-knowledge encryption.
Dropbox is faster in transferring data, but OneDrive provides better backup for your files and folders.
The two platforms are pretty similar, but Microsoft OneDrive offers more pricing plans and is cheaper.
Dropbox vs pCloud
Although it entered the industry not that long ago, pCloud has become a synonym for privacy and security.
Because its servers reside in Switzerland, pCloud's users enjoy exceptional privacy and security for their data. Plus, zero-knowledge encryption is made possible for extra protection.
pCloud offers up to 10 GB of free storage space and has an optional lifetime subscription if you're looking to save up.
Dropbox is faster than pCloud and has better collaboration features, but if you are looking for premium online security, pCloud is the way to go.
Customer Reviews
Dropbox's user reviews are underwhelming, to say the least. The service has scored 1.8 out of 5 stars on Trustpilot, based on 830 reviews.
Customers mainly complain about the falsely advertised pricing plans. Users reported hidden charges for the business plans if more than three users were on the plan. Furthermore, some users experienced their files getting deleted out of nowhere on a paid subscription.
Additionally, users are disappointed that only specific plans can reach a customer support representative through the phone.
On the plus side, the five-star reviews are directed towards the seamless integration with Microsoft 365 and the knowledgeable support team.
Moreover, Dropbox Paper gets a lot of praise for being easy to use but super helpful.
Final Verdict
If speed is the number one criterion when choosing your cloud storage provider, you're in luck. Dropbox is one of the fastest platforms, with many pricing plans, a responsive mobile app and a user-friendly interface.
This Dropbox review covered all you need and more to make a well-informed decision regarding the online service.
However, security and privacy aren't its strongest suit, so stay clear if you're looking for end-to-end, stronger encryption.
FAQ
Is Dropbox safe?
Yes, for the most part. Dropbox has had some severe security breaches in the past and doesn't offer end-to-end encryption for your files. Additionally, it's obligated to share your data if the US government asks it to. However, Dropbox files at rest are encrypted using 256-bit AES, and Secure Sockets Layer (SSL)/Transport Layer Security (TLS) protects data in transit.
How much does Dropbox cost?
Dropbox free account comes with 2 GB of storage. Upgrading to a paid plan can cost anywhere between £7.99/month for the Plus Plan and £18 per user/month for the Advanced Plan.
What are the disadvantages of Dropbox?
Dropbox offers free storage, file sharing features, productivity and collaboration tools, and arguably the fastest transferring speeds.
Who owns Dropbox?
Dropbox, Inc. owns and operates Dropbox, while Drew Houston and Arash Ferdowsi are the service's founders. Drew Houston is the company's CEO, and Ajay Vashee is its CFO.