How to Delete Drafts on TikTok? — A Step-by-Step Guide
When it comes to TikTok filming, there are a lot of things that go into making great content. If you're like most people, you probably have a few unfinished TikTok videos saved on your phone.
The quest of making the perfect TikTok can become quite challenging, and you may find yourself lost in ideas, cuts, and drafts.
If you have drafts piled up on your profile and you want a clean slate — you've come to the right place. In this article, we'll explain how to delete drafts on TikTok; plus, we'll share some more fun info you might be unfamiliar with regarding the popular app.
TikTok Overview 
TikTok is a short-form video sharing app that is immensely popular, especially with teenagers and young adults. The app was created in China in 2016 and was initially known as Musical.ly. It's owned by ByteDance, which is the world's most valuable startup.
TikTok allows users to create and share short videos with others. The app has a number of features that make it unique, including its "Live" feature, which allows users to broadcast live videos to their followers and receive Gifts from them.
TikTok videos are limited in duration and can't be more than three minutes long. However, most of them don't cross the 60 seconds mark. The one billion TikTok users have become somewhat addicted to the app, with 90% of the users coming back to TikTok more than once a day.
What Are TikTok Drafts?
If you start recording a video on the TikTok app, you can either post it straight away or save it for later as a Draft. The Draft option means that you are saving the video on your phone storage so that you can later retrieve it.
The video will be stored on a TikTok server when you save it as a draft. If you recorded the video with the TikTok app, it would not be accessible by default in your phone's camera roll or gallery.
Once your video has been edited, you may save it as a draft; right before publishing it. There's no limit to the number of drafts that can be stored on your TikTok account. These stored drafts are only visible to you and aren't shared with anyone else.
How to Save a TikTok Draft to Camera Roll?
TikTok does not provide an option to save drafts to your local storage directly. However, there is a way to download your drafts to your smartphone for safekeeping.
Start by opening the

TikTok app

and pulling up your profile by clicking on

"Me"

in the bottom right corner. Once you're in, locate the draft you want to save. 
Click on the video and open it. Here's the window that will pop up: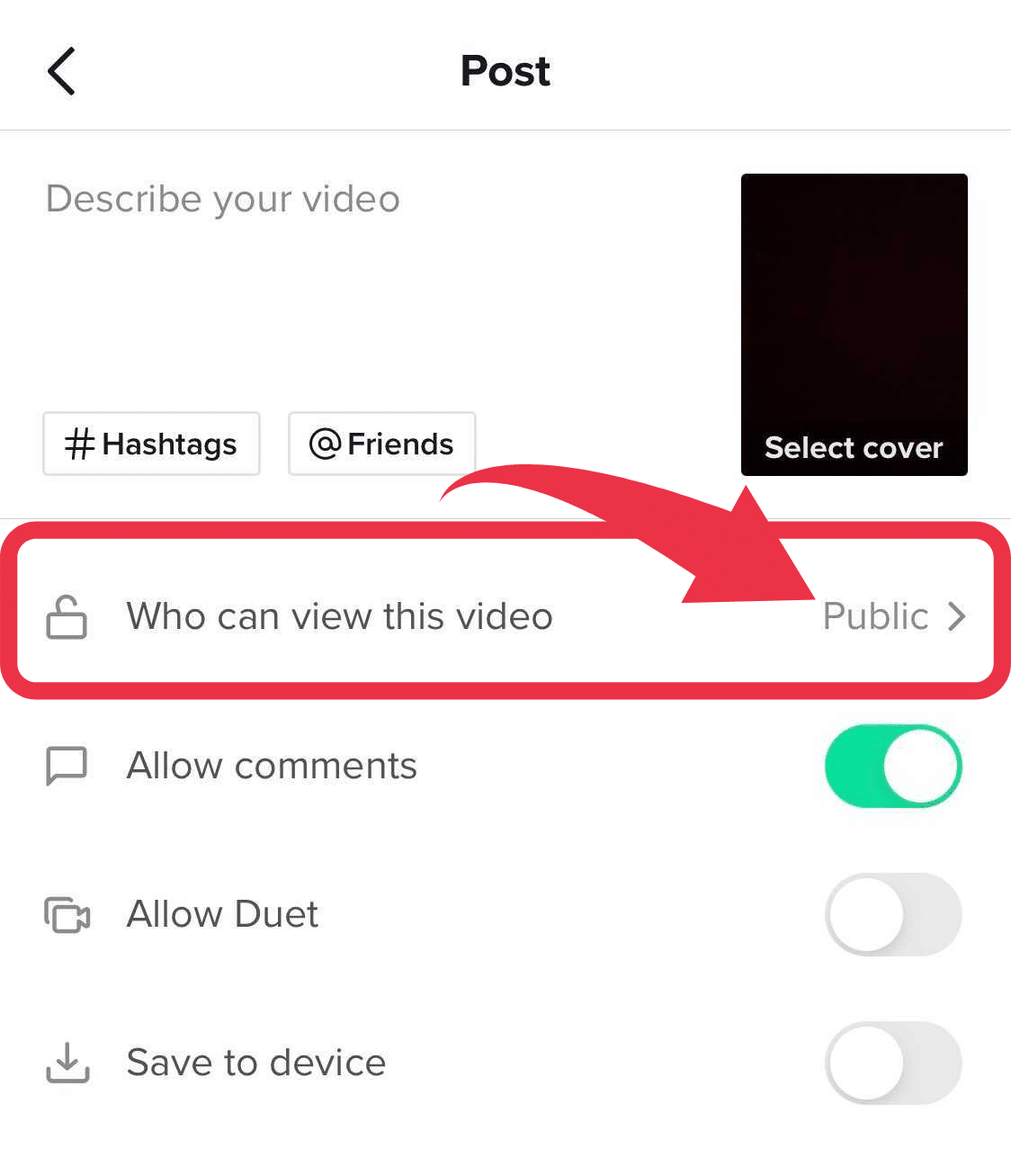 Under the "

Who can view this video

" section, you'll notice that TikTok will automatically say Public.

Click on it and wait for a new window to come up with options to choose who's your audience.
You'll want to select

"Private

" so that the video is visible only to you. Next, go back and select the option "

Save to device

".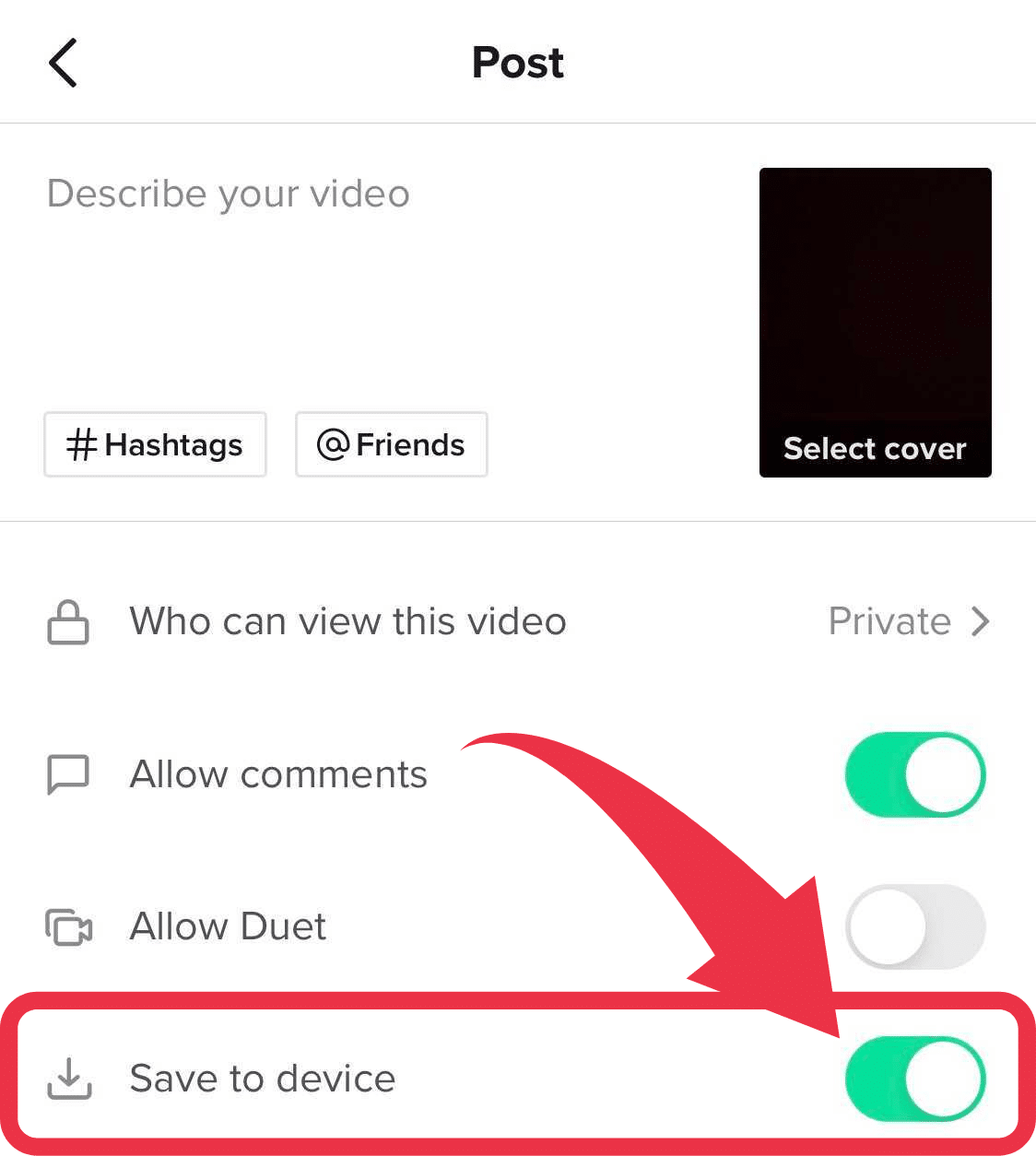 Finally, go ahead and publish the video by clicking the "

Post

" button. There you have it — your draft video is saved in your Camera Roll.
How to Delete Drafts on TikTok?
The process of deleting TikTok drafts is simple and straightforward, and it only takes a few seconds. To delete a TikTok draft, follow these steps:
Step One: Open Your TikTok Profile
Do this by tapping "Me" in the bottom right corner of your screen, as shown in the picture.

Step Two: Open Your TikTok Drafts Folder
Drafts are saved to your profile and are located in the first post but are only visible to you. So, click on your "Public Profile" tab to access them.
Step Three: Select Your Drafts
You will see the number of drafts you have saved in the folder. If you have a lot, but don't want to delete them all, proceed by opening your Drafts folder. 
Next, click on "Select" in the bottom right corner.
Step Four: Hit Delete
Before the last step, you should select all the drafts you want to delete.
Finally, click the "Delete" button on the bottom of your screen. TikTok will pop up with a window asking for confirmation.
Hit that "Confirm" button, and you're all set!
What Happens to TikTok Drafts If You Delete TikTok?
Another way to delete your TikTok drafts is by deleting the TikTok app from your smartphone. Do this if you have a lot of drafts and want to get rid of them at once.
You'll see a message that says uninstalling TikTok will discard all of your drafts on the editing page. If you are sure you want to proceed, just go about it as you would delete any app from your phone.
Once you reinstall TikTok and log in, your drafts will have disappeared. If you don't want to lose your drafts but want to delete TikTok temporarily, make sure that you make a copy of your drafts in your phone's Gallery/Camera Roll, as explained above.
Wrap Up
We hope that you found this guide on how to delete drafts on TikTok helpful and easy to follow. This straightforward process shouldn't cause you too much trouble, but if you don't want to go through it, just delete the TikTok app from your phone, and your drafts will be long gone once you reinstall it and log back in.
FAQ
Where are my drafts on TikTok?
You can find your TikTok drafts on your profile. Access it by clicking on "Me" in the bottom right corner of your screen. You'll be able to see the Drafts folder under your "Public Profile" tab. Here you'll also see the number of drafts you have saved in the folder. Just tap on the folder, and all of your drafts will pop up.
Does logging out of TikTok delete drafts?
No. Logging out of TikTok won't delete your drafts. However, deleting the TikTok mobile application will.
How to edit a TikTok?
You can create a TikTok video either by filming it with your camera and editing it in an external app or filming and editing it on TikTok. You can edit a TikTok video using the TikTok countdown timer, filters, templates, or effects. You can create looping videos or transitions.
Alert! Your IP address is trackable.