VPN Protocols: OpenVPN TCP, OpenVPN UDP, IKEv2, L2TP/IPSec, WireGuard
Number of Servers: 3,500
Torrenting: Yes
Simultaneous Connections: 10
Streaming: Netflix, Disney+, BBC iPlayer, Amazon Prime Video, Hulu, and more
Ivacy VPN Review
Ivacy VPN stands out for its competitive pricing and excellent streaming capabilities. But is there more to this VPN provider? Check out this Ivacy VPN review to learn more.
Last Updated: July 11, 2022
Advertiser disclosure
This page may contain links to our partners' products and services, which allows us to keep our website sustainable. This means that cybercrew.uk may receive a compensation when you sign up and / or purchase a product or a service using our links. However, all opinions expressed in this article are solely ours, and this content is in no way provided or influenced by any of our partners.
VPN Protocols: OpenVPN TCP, OpenVPN UDP, IKEv2, L2TP/IPSec, WireGuard
Number of Servers: 3,500
Torrenting: Yes
Simultaneous Connections: 10
Streaming: Netflix, Disney+, BBC iPlayer, Amazon Prime Video, Hulu, and more
Affordable VPN
STRENGTHS
Very affordable
No-logs policy
Excellent streaming capabilities
Excellent customer support
Vast network of servers
WEAKNESSES
Speed issues
Limited iOS and Mac apps
Although a lesser-known name on the VPN scene, Ivacy is a service that's been around for quite a while. It offers some valuable features, such as split tunnelling, a strict no-logs policy, and excellent streaming capabilities. Plus, It comes at only a fraction of the price of other, more established VPN providers.
But is Ivacy worth purchasing, or will some other VPN service work better for you?
In this Ivacy VPN review, we will answer that question by taking an in-depth look at the strengths and weaknesses of this VPN provider and comparing it to some of its more well-known competitors.
About Ivacy VPN
Ivacy is a Singapore-based VPN provider owned by PMG Pte. Ltd. Founded in 2007, Ivacy VPN has been around for over 15 years but has not yet gained the widespread recognition of other VPN providers, such as NordVPN or ExpressVPN.
Despite that, this VPN provider claims to offer an impressive set of features — from split tunnelling and unlimited torrenting to military-grade encryption and a strict no-logs policy. Ivacy VPN also currently has over 3,500 servers in 100+ countries worldwide and is capable of unblocking Netflix and a range of other streaming services.
This VPN provider is available on all the major platforms, with dedicated apps for Windows, Mac, Android, and iOS, as well as browser extensions for Chrome, Firefox, and Edge.
While that may sound good on paper, we decided to put this VPN service to the test and see how it performs in practice. Let's take a look at some of its core features.
Ivacy VPN Features
Split Tunnelling
Ivacy is one of the pioneers of split tunnelling, offering it for the first time in 2010. Split tunnelling divides your internet traffic, letting you choose which apps you want to route through the encrypted VPN server and which ones you want to route via your ISP as usual. 
This valuable feature will help you protect your most sensitive data without slowing down your internet speed for other activities, such as gaming.
Typically, most VPN providers allow you to select which applications you want to exclude from the VPN tunnel, but Ivacy takes the opposite approach. Once you've enabled split tunnelling, you have to manually select the applications you want to route through the VPN tunnel, which can turn into a lengthy process if you only want to exclude one or two apps from the VPN.
Furthermore, split tunnelling is present on the Windows and Android apps, but unfortunately, it is missing from the iOS Ivacy app.
Simultaneous Connections
One of Ivacy's best features is that it lets you connect up to ten devices on a single subscription. That is twice as many as some other VPN providers offer and more than the industry average. Each Ivacy subscription plan offers ten simultaneous connections by default. There is no option to increase this limit, but most people should find it more than enough.
However, if you want to connect more than ten devices to your VPN account, you should check out Windscribe VPN or Surfshark VPN, as these VPN services offer unlimited simultaneous connections.
Kill Switch
Kill switch has become an indispensable feature of any VPN today, and luckily, you will also find it in Ivacy's feature set. Kill switch automatically disconnects your device from the internet when your connection to the VPN fails, ensuring your privacy remains intact until your VPN connection is established again.
Sadly though, the kill switch feature is only available on the Windows app and lacks from Ivacy's iOS and Mac apps.
Secure Download
The Secure Download feature scans for malware and viruses in the data being downloaded to your device. This real-time threat detection technology monitors your downloads and immediately removes any potentially harmful software at the server level.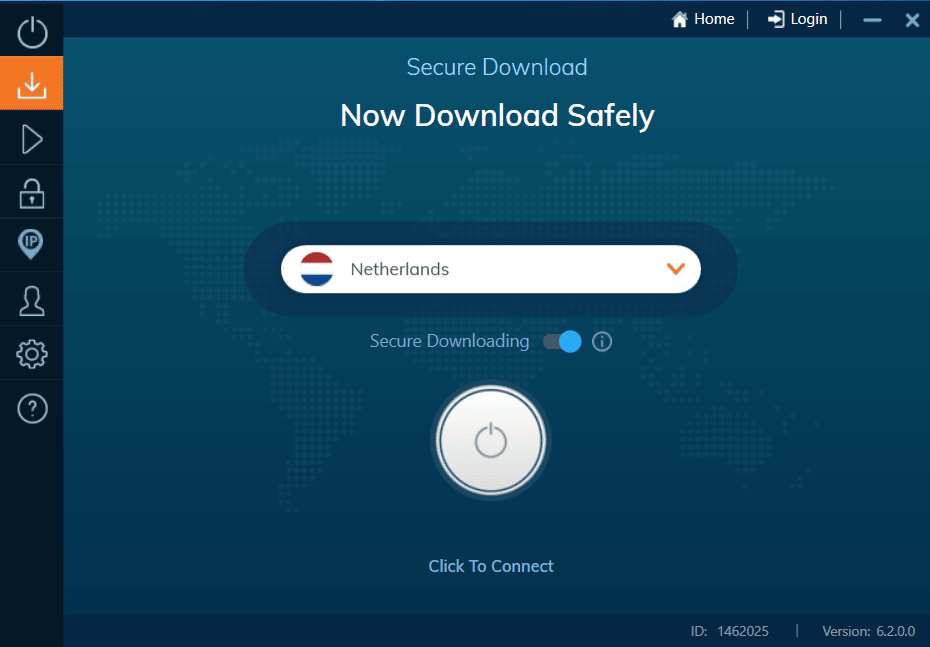 Dedicated IPs
Normally, when you connect to a VPN server, you are given a different IP address every time, usually shared with many other users. While useful for anonymity purposes, that can lead to the server being blocked by certain online services and websites.
That is why many VPN services, Ivacy included, offer a dedicated or static IP address, one that is owned only by you and assigned exclusively to your account.
Ivacy VPN offers dedicated IP addresses as an optional add-on that you can purchase on top of your regular subscription. You can buy an unlimited number of dedicated IP addresses from Australia, Canada, Hong Kong, Germany, the United Kingdom, the USA, and Singapore for an additional £1.50 a month, on top of your regular subscription price.
Port Forwarding
Port Forwarding is another optional feature that you have to pay an extra £1 for. With Port Forwarding, you can open or forward any TCP/UPD ports, allowing you to connect your device to another device or server, independently of your physical location. You can use this feature to improve your download speeds and open specific ports for online gaming.
Servers and Server Locations
The more servers a VPN offers, the better the chances are of finding a server that is not overloaded and provides good speeds.
However, regarding the number of servers available, Ivacy VPN provides some conflicting information. On its official website, Ivacy claims to have 5,700 servers globally, but its Support Centre and Server Status & Announcements page mentions 3,500+ servers spread over 100+ countries and 180+ locations.
Whatever the case may be, that is still an impressive server network on par with some of the best VPN providers today. The majority of Ivacy's servers are located in Europe and North America. Still, you will also find servers in locations notorious for their geo-restrictive policies, such as Hong Kong, Russia, Turkey, and Vietnam. It is further impressive that this VPN provider also has servers in locations not frequently found on other VPNs, such as Africa and South America.
Is Ivacy VPN Good for Torrenting?
Ivacy VPN also offers secure torrenting and P2P sharing across its vast network of servers. Not only does this VPN provider offer plenty of servers in places that are considered safe for torrenting, but its strong encryption and no logs policy also ensures your online activity cannot be traced back to you.
In addition, the Port Forwarding feature helps you get better downloading speeds when torrenting.
Streaming
Ivacy VPN has specialised streaming locations for a range of channels and streaming platforms, including Netflix, HBO Max, Hulu, Amazon Prime US, and others. There are also several different Netflix libraries to choose from:
Netflix US

Netflix Australia

Netflix Japan

Netflix Canada

Netflix Germany

Netflix France

Netflix UK
You can access these from the Streaming section in the VPN's main dashboard. Unlike many other VPN providers, Ivacy VPN automatically connects you to the fastest server for the particular channel you choose, saving you the hassle of browsing through multiple servers until you find one that works.
When testing its streaming capabilities, Ivacy VPN performed exceptionally well. I was able to access all the Netflix libraries mentioned above, as well as several other streaming platforms, including Disney Plus, BBC iPlayer, Amazon Prime Video, and more, with no issue whatsoever.
Speed and Performance
Your VPN speed depends on multiple factors, including the server location you connect to, the strength of your internet connection, and which VPN protocol you are using.
To test Ivacy VPN's speeds, I used the SpeedTest app while connected to the default VPN protocol for Windows IKEv2. Overall, Ivacy VPN showcased consistently good download speeds across several locations, but I did notice slight dips in upload speeds.
Here are a couple of server locations I tested and the results for download speed, upload speed, and latency.
While offering perfectly decent speeds, Ivacy VPN still lags behind some of the biggest names on the VPN scene, such as NordVPN and ExpressVPN when it comes to speed performance.
DNS Leak Test
A DNS leak can occur when the IP address associated with the URL you are accessing passes through your internet service provider's DNS instead of your VPN tunnel, exposing your true location. Fortunately, Ivacy VPN offers DNS leak protection by default, and interestingly, it is an option that you can't toggle off.
To see how Ivacy VPN performs, I used the DNS Test Leak site and got excellent results. As you can see, the IP address that was detected by the site was from Amsterdam, Netherlands, which is the exact server location I was connected to.
Security and Protocols
Ivacy uses AES 256-bit military-grade encryption to protect your data, the strongest encryption standard available right now, considered practically unbreakable by today's level of technology.
Like most other VPN services, Ivacy VPN offers several tunnelling protocols you can choose from. These include OpenVPN, IKEv2, L2TP, and WireGuard. Out of them, IKEv2 is the only one available on Mac, while all of them are available on Ivacy's Windows app.
You can easily switch between these protocols depending on which aspects of your VPN experience you prioritise the most, whether it is speed, reliability, security or availability. However, WireGuard is the newest and most promising option, offering better security and speed than its predecessors, so it is a huge plus that Ivacy VPN has added its protocol selection.
Privacy
Ivacy operates under the legal jurisdiction of Singapore, a close ally of the Fourteen Eyes intelligence alliance. Aiming to protect their national security, countries belonging to this alliance collect and share information about the activity of their citizens online, leaving your data at risk of leaking.
But luckily, you don't have to worry about that with Ivacy VPN, thanks to its strict no-logs policy. As stated in its privacy policy, Ivacy VPN doesn't keep any records of your connection logs, online browsing activities, browsing history, original and VPN assigned IP addresses, outgoing traffic, and so on.
The only information Ivacy collects about you is your name, email address, and payment data, but it has no way to associate specific activities with specific users. So, if you are looking for a privacy-focused VPN provider, Ivacy VPN is an excellent choice.
However, there is one thing to note. Unlike other VPN services like TunnelBear VPN, VyperVPN, and IP Vanish, Ivacy has not yet undergone a third-party VPN audit, so there is no way to know for certain whether Ivacy actually sticks to its privacy policy.
Customer Support
Ivacy VPN offers excellent 24/7 live customer support. The easiest and quickest way to get in touch with Ivacy's support team is via live chat. Each time I tried the live chat support option, I was immediately connected to a support agent, and they were polite and quick to answer my question.
Alternatively, you can also submit a ticket detailing your issue, in which case you can expect an answer via email. Support tickets are also checked 24/7, so you can expect a reply within a reasonable time frame in this case too.
Ivacy VPN does lack a phone support option, but its 24/7 online support option makes up for it since it allows you to connect with a support agent quickly and easily at any time.
Ivacy VPN Price
One of the first things you'll notice about Ivacy VPN is its low price. A one-year subscription will cost you £38.4 a year, amounting to only £3.2 a month, which is significantly cheaper than most other VPN providers. At £8 a month, Ivacy's one-month plan is also relatively inexpensive.
However, if you want to subscribe to a VPN service long-term, you will hardly find a better option than Ivacy's five-year deal. The five-year plan comes at a huge 88% discount and is billed at £57.59 in advance, amounting to only £0.96 a month for the next five years.
The five-year plan also includes a premium password manager completely free.
Ivacy lacks a free plan, but it does let you download one of its client apps and use it with limited functionality. With this limited free version, you cannot choose a server location, as Ivacy automatically selects the fastest one for you. In addition, all the other features, such as split tunnelling and kill switch, are locked.
Ivacy also lets you register for a seven-day trial for only $0.99 (roughly £0.83). However, it is worth noting that after the 7-day trial, you will be automatically subscribed to the annual plan and charged accordingly. So, you need to remember to cancel your subscription on time if you don't plan to continue using the service, as you may end up getting charged by accident.
| | | |
| --- | --- | --- |
| Plan | Monthly Price | Total Price |
| 1 Month Plan | £8 | / |
| 1 Year Plan | £3.2 | £38.4 |
| 5 Year Plan | £0.96 | £57.59 |
Payment methods include credit card, PayPal, BitPay, Coingate, PerfectMoney, and so on.
All plans come with a 30-day money-back guarantee and can unblock up to 16 major Netflix regions, including the USA, the UK, Germany, France, and Japan, as well as BBC iPlayer, Disney+, and Hulu.
Ivacy also offers two optional extras that you can add to your subscription. The first one is Dedicated IPs, priced at £1.50 a month, while the second one is Port Forwarding, coming at £1 a month.
Ivacy VPN Competitors
Ivacy VPN vs NordVPN
NordVPN is one of the biggest names on the VPN market, with over 14 million users worldwide. It is best known for its strict privacy policy, super-fast speeds and a huge network of 5,500+ servers spread across 60 countries. NordVPN also operates under the legal jurisdiction of Panama, a country with no mandatory data-retention laws, so it doesn't keep any logs of users' online activities.
Unlike Ivacy VPN, NordVPN has also undergone two no logs audits that confirm the VPN is fully compliant with its no-logging policy, so it might be a better choice for the more privacy-conscious users.
However, with NordVPN you can connect up to six devices to your account simultaneously, while Ivacy VPN offers ten simultaneous connections. NordVPN is also slightly more expensive than Ivacy VPN, with its cheapest two-year plan coming at £69.36 for the first two years, much more than Ivacy's five-year plan, which will only cost you £57.59 for the full five years.
Ivacy VPN vs ExpressVPN
ExpressVPN is another big name on the VPN scene, with 3+ million active subscribers worldwide. ExpressVPN's global network of 3000+ servers covers 160 locations in 94 countries worldwide. Known as the go-to VPN for streaming, ExpressVPN is also capable of unblocking Netflix, and a range of other streaming services.
ExpressVPN is another no-logs VPN provider. Based in the British Virgin Islands, this VPN provider doesn't have to adhere to any data-retention laws, allowing for excellent user privacy and anonymity.
Feature-wise, ExpressVPN is similar to Ivacy VPN, offering split tunnelling, a kill switch, and unlimited bandwidth, but it does not provide dedicated, or static IP addresses. ExpressVPN also lacks the WireGuard VPN protocol, but it does offer Lightway — its own VPN protocol designed to meet the privacy, security, and performance needs of its users.
Ivacy VPN vs Surfshark
Founded in 2018, Surfshark is a much newer VPN provider than Ivacy VPN. Despite that, it has established itself as a major player on the VPN scene, reaching over one million customers in just over two years.
In a short span of time, Surfshark's network of servers has reached 3,200+ servers in 95 countries worldwide, almost equal to that of Ivacy VPN. Surfshark's main advantage is that it offers an unlimited number of simultaneous connections per account, while Ivacy VPN limits you to ten devices.
However, while a budget-friendly VPN provider, Surfshark is still more expansive than Ivacy, with its one-year plan coming at £79.79 —  double the price of Ivacy's one-year plan.
Wrap Up
Ivacy VPN is a great all-rounder. It's budget-friendly, while still offering features that more expensive VPNs provide, such as a vast network of servers, dedicated IP addresses, and multiple simultaneous connections. Moreover, Ivacy VPN's specialised streaming servers will help you bypass geo-restrictions and enjoy your favourite streaming content from anywhere in the world.
The fact that this VPN provider also includes the WireGuard protocol in its list of VPN protocols is also a huge plus. As shown in this Ivacy VPN review, Ivacy VPN's Apple apps are somewhat limited, but if you are planning to use Ivacy VPN on Windows or Android, you will definitely get your money's worth.
FAQ
Is Ivacy VPN good?
Yes, Ivacy is an excellent VPN service. It has a rich set of features, including split tunnelling, a kill switch, and dedicated IP addresses, uses AES 256-bit encryption, has a strict no-logs policy and can unblock most streaming services — all at a very affordable price.
Is Ivacy VPN free?
No, Ivacy doesn't offer a free plan. Although you can download its client apps for free, you will be locked out of most features and won't be able to choose your own server location. 
Does Ivacy work with Netflix?
Yes, Ivacy VPN can unblock Netflix US and other popular streaming services like Hulu, BBC iPlayer, Amazon Prime Video, and more.
How much does Ivacy VPN cost?
Ivacy VPN is one of the most affordable VPN providers on the market. A one-year subscription costs £38.4 a year, amounting to only £3.2 a month, while its five-year plan is billed at £57.59 in advance, amounting to only £0.96 a month for the next five years. Ivacy also has a reasonably priced one-month plan, coming at £8 a month.
Is Ivacy VPN legitimate?
Yes, Ivacy VPN is a legitimate VPN provider. It is a Singapore-based VPN that has been in business since 2007 and has a solid reputation as a reliable and privacy-focused VPN service.