CPU: 4 core processor
RAM: 4 GB RAM
RAID LEVEL 1 STORAGE: 100 GB
NETWORK BANDWIDTH : 10 TB
FREE DOMAINS: /
DEDICATED IPS: Yes
CPANEL & WHM WITH ROOT: Yes
SHARED HOSTING: /
VPS HOSTING: Yes
DEDICATED HOSTING : Yes
Liquid Web Review
If you are looking for a managed hosting solution, you should look more into Liquid Web. This web host aims its services at enterprise-level customers and prides itself on its speed and performance. If you are interested to know more, this Liquid Web Review has all the details.
Last Updated: May 15, 2022
Advertiser disclosure
This page may contain links to our partners' products and services, which allows us to keep our website sustainable. This means that cybercrew.uk may receive a compensation when you sign up and / or purchase a product or a service using our links. However, all opinions expressed in this article are solely ours, and this content is in no way provided or influenced by any of our partners.
CPU: 4 core processor
RAM: 4 GB RAM
RAID LEVEL 1 STORAGE: 100 GB
NETWORK BANDWIDTH : 10 TB
FREE DOMAINS: /
DEDICATED IPS: Yes
CPANEL & WHM WITH ROOT: Yes
SHARED HOSTING: /
VPS HOSTING: Yes
DEDICATED HOSTING : Yes
Websites with a lot of traffic
STRENGTHS
Managed hosting solutions
Excellent customer support
Database and server control
WEAKNESSES
Hosting solutions are a dime a dozen, but good ones are rarer than you might think. It can be particularly challenging to find a good hosting solution that specifically caters to your needs. Not only that, but web hosting solutions demand high upfront investment since most plans lock you in for a year. Most hosting providers also do not provide a free basic plan. 
For that reason, it is imperative to research thoroughly what each web hosting provider has to offer before choosing one and registering. Hence, I'm solving this issue one review at a time. 
In this Liquid Web review, I'll discuss everything there is to know about Liquid Web, including its performance, prices and plans, and customer support. 
What is Liquid Web? 

Main Features 

Services and Hosting 

Speed and Performance 

Prices and Plans 

Privacy and Registration Process 

Competitors 

Customer Reviews 

Wrap Up 
What is Liquid Web? 
Liquid Web was founded in 1997, making it one of the older web hosting solutions out there. The company is quite decently sized and employs more than 500 on-site professionals. In addition, it has more than 45,000 customers from around the globe, so it is quite experienced in handling its services. 
Liquid Web primarily caters to small and medium-sized businesses, but it also counts several large enterprises amongst its clients. This web host has two data centres located in the United States and one in The Netherlands.
Additionally, it has a large content delivery network across more than 120 countries worldwide. Hence, it doesn't matter where your business interests lie, as this hosting provider has got you covered. 
Liquid Web specialises in providing VPS hosting and dedicated server hosting, even though its range of services is much wider. 
Liquid Web Main Features 
Liquid Web provides a host of features, such as free site transfers, WP CLI-enabled hosting plans, and a CSF firewall for security. 
Here is a breakdown of some of the main features: 
cPanel
cPanel is the most popular control panel for hosting a website, and I'm happy to note that it is included in Liquid Web. 
In addition, Liquid Web gives you the option of using Plesk (another control panel tool but slightly less easy-to-use), InterWorx Unlimited, and WHM. Clearly, Liquid Web offers a wider range of website control tools than most other hosting providers. 
Add – Ons
Liquid Web offers a range of features at no additional cost to the user. As mentioned earlier, it offers website transfers entirely free. Moreover, this web host provides free automatic nightly backups so that you don't have to worry about losing your data. 
Lastly, its servers support websites with unlimited visitors, which means that you can scale your website without fear of losing support from your web host.  
Site- Builders
Unfortunately, Liquid Web does not offer a website builder of its own. So, in order to build your website, you'll have to install an external website builder such as Wix, Weebly, or Squarespace. 
Domain-Specific Email Addresses
Liquid Web offers the ability to create unlimited domain-specific email accounts. This feature is available even on its most basic WordPress plan called "Spark". 
Uptime
Liquid Web provides close to 100% uptime. In addition, it offers a 100% uptime SLA guarantee which shows how serious this web host is about not letting its websites go down even for a few seconds. 
Cloudflare Integration
Cloudflare is deeply integrated with Liquid Web. That means that you don't even need a special Cloudflare dashboard to perform the basic settings. What's more, you can enable or disable Cloudflare with a single click. Also, the Cloudflare Pro plan comes at a discounted price if you're already a Liquid Web user. 
SSL Certificate
The SSL Certificate comes as a standard feature with any Managed WordPress or higher plan and provides additional security and encryption to your website. What's more, Liquid Web also provides a CSF firewall, making your website even more secure.   
Servers
As mentioned in the introduction, Liquid Web has three data centres. Two of them are located in the United States, specifically Lansing, Michigan and Phoenix, Arizona. The third data centre delivers IT solutions to customers based in Europe and is located in Amsterdam. Additionally, this web host has a content delivery network (CDN) constituting servers in more than 120 countries.  
Liquid Web Services and Hosting 
Liquid Web provides a whole gamut of hosting plans catering to different needs. However, it should be noted that it doesn't offer any shared hosting (the most basic type of web hosting) plans. The lack of shared hosting plans is mainly because the company targets enterprise-level customers rather than individuals. 
VPS Hosting
VPS hosting services are similar to shared hosting, but the main difference is that VPS hosting offers far better performance for your website. Liquid Web offers several plans that can be categorised as VPS hosting. These plans differ in terms of how many resources are allocated to your website, such as RAM, storage, bandwidth, processor, and so on. 
Managed WordPress Hosting
WordPress powers approximately 25% of the world's websites, so it makes sense for web hosting providers to offer services tailored specifically to WordPress. With Liquid Web, you can choose between four levels of Managed WordPress hosting, which differ in terms of the resources provided. In addition, this service comes with developer tools, 24-hour support, managed updates, and so on. 
Dedicated Hosting
Liquid Web offers Managed Dedicated Hosting services, and you can choose from three different Dedicated Hosting plans. Signing up for dedicated hosting will give you complete control over the server and its configuration. Even though other types of hosting place certain restrictions on the type of software you can use, dedicated hosting by Liquid Web provides absolute control over the server and its management.
Cloud Hosting
Liquid Web offers Private Cloud Hosting services. You can choose between two different plans, which differ in terms of resource allocation and whether the cloud server is dedicated or not. Moreover, Liquid Web offers the complete backup of your servers, and you get 24/7 customer support under both plans. These plans are fully managed, and Liquid Web takes care of the infrastructure so that you can build and run your website. 
E-commerce Hosting
Liquid Web offers six levels of e-commerce hosting services. The plans differ in terms of how many stores you can host, the amount of bandwidth and storage you receive, and the number of orders that can be processed in an hour. In addition, each of the plans offers an easy way to manage your online store through single-click inventory management, orders, coupons, discounts, and so on. 
Domains
Liquid Web does not provide direct domain registration services. If you want to register a domain, you can do it through Nexcess, which is part of the Liquid Web family of brands. Registering your domain through Nexcess is slightly costly at $20 per year (around £15), so you may consider using a different domain registration service. 
Tools
Liquid Web offers a variety of add-on tools that you need to pay extra for. For instance, you can opt for a fully managed email hosting service with a customised domain. This service comes with a spam filter and antivirus software. Furthermore, you can use a premium WordPress plugin such as StellarWP. This web host also offers multiple tools for security, backup, compliance, storage, performance, and so on. 
Speed and Performance 
Speed and performance are the bread and butter of a good web hosting solution. In this section, I'll cover the performance test results, server response time, and uptime. 
Performance Test – After running a performance test through GTmetrix, I was impressed with the results. A website hosted by Liquid Web received a perfect score of 100% (or A grade) from GTMetrix. These results are far above average when compared to other reputable hosting solutions. 
Uptime – After the performance test results, it came as no surprise that a Liquid Web hosted website also provided 100% uptime. That means that the website did not experience any downtime within a two-week period. A ping was sent to the website every 15 minutes, and a response was sent back every time. 
Server Response Time – It took 6.8 seconds for a website to load properly. Compared to similar websites hosted by other web hosts, that is a below-average result. 
Overall, the speed and performance provided by Liquid Web are more than adequate even for a busy e-commerce store. This web host also provides paid upgrades in case you want even better performance. 
Liquid Web Prices and Plans 
Liquid Web offers a huge variety of plans under various types of hosting. In this review, I'll be covering the most basic plan offered under each hosting option. 
VPS Hosting
VPS hosting by Liquid Web offers plans for both Linux and Windows. Linux users can choose from four plans, while for Windows, there are three plans available. The most affordable plan for Windows comes with 4GB RAM, 100 GB SSD storage, 10 TB bandwidth, and 4 CPU cores. This plan costs $54 per month (around £40). 
Managed WordPress Hosting
Liquid Web offers seven different plans under WordPress hosting. Users can choose between Spark, Maker, Designer, Builder, Producer, Executive, and Enterprise. Spark is the most affordable at $13.30 per month (around £10). The Spark plan comes with the ability to create one website, 15 GB of storage, 2 TB of bandwidth, and unlimited email accounts.  
Dedicated Hosting
Dedicated hosting comprises a large variety of plans. First, you can choose whether you want your server to be located in Michigan, Arizona, or the Netherlands. Once you've chosen your server location, you can pick from three different plans. The most affordable plan boasts 4 cores, 16 GB RAM, 5 TB bandwidth and includes cPanel. 
Private Cloud Hosting
There are two different plans for cloud hosting. The more affordable plan is the Multi-tenant VMware Private Cloud which comes with 12 vCPUs, 32 GB RAM, 1000 GB storage at a price tag of $510 per month (around £380). 
E-commerce Hosting
Liquid Web offers a selection of 6 different plans for e-commerce hosting. These plans are called Starter, Creator, Merchant, Standard, Growth, and Enterprise. The Starter plan is the most cost-effective one and comes with the ability to create 1 store, 30 GB storage, 3 TB bandwidth, and a maximum of 500 orders per hour. 
Privacy and Registration Process 
The first step to creating your website is to choose a plan that suits your needs. The Liquid Web website provides a lot of detail, so you know what each plan entails before subscribing to one of them. Once you've selected a plan, you need to click on "Order Now". 
The next step takes quite a bit of time, surprisingly. You'll be taken to a loading screen, and you should expect to wait a few minutes. 
Next, you'll be taken to your shopping cart to finalise the purchase of your preferred plan. 
Before you can checkout, you'll be asked to provide a domain name, a custom sub-domain and the name of your project (which is optional). 
Next, you'll be asked to create a Liquid Web account. (This step shouldn't take more than 5 minutes). 
Once you've signed up for an account, you will be asked to provide your billing details.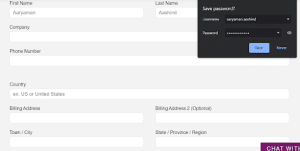 Lastly, you can submit your order and then start building your website. 
The entire registration process should not take more than half an hour. Even though the registration process for Liquid Web takes longer than many other web-hosting providers, the process is quite streamlined, with easy-to-follow directions at each step of the way.
Liquid Web Competitors  
Liquid Web is one of the most popular and prominent web hosting providers. However, it is a crowded field out there for web hosts, and some of their main competitors include the likes of HostGator, SiteGround, and Wix. 
Liquid Web vs HostGator
The main difference between Liquid Web and Hostgator is that while Liquid Web is most well-known for providing managed hosting services, Hostgator's strongest suit is shared hosting. As a result, Liquid Web targets enterprise customers, while HostGator is meant for more basic websites. 
In addition, HostGator offers a 45-day free trial period to new customers, whereas Liquid Web does not. However, Liquid Web provides full control over both the database and server associated with an account, whereas HostGator does not offer such an option. 
Liquid Web vs SiteGround 
SiteGround is an officially recommended web host by WordPress that, unlike Liquid Web, also has a shared hosting option. In addition, this web host has data centres across three continents: North America, Europe, and Asia. In contrast, Liquid Web only has servers in North America and Europe. 
Siteground's shared hosting solutions aim primarily to new website owners with small websites. Hence, if you're looking for a cost-effective web host to get your site up and running, you should opt for SiteGround.   
Liquid Web vs Wix 
Liquid Web and Wix differ in one key aspect. Wix.com is more user-friendly, thanks to its proprietary drag-and-drop control panel. This control panel makes it much easier for a non-tech user to build and manage a website. 
However, Liquid Web scores more points against Wix because of the depth and variety of its offerings. 
To conclude, Wix is most suitable for creators and freelancers, whereas Liquid Web aims its services at enterprise-level customers.  
Liquid Web Customer Reviews 
Liquid Web scores well with customers. Most of its online reviews are positive, with only a few dissatisfied customers. While going through the reviews, I noticed that Liquid Web was praised the most for its quick and helpful customer support that is available 24/7.
Reviewers also liked that they had a lot of options to choose from while building a website with Liquid Web. In addition, customers appreciated that Liquid Web offers cPanel, making site management easy. 
Many customers appreciated the speed and performance of their website hosted on Liquid Web. Moreover, many expressed the fact that their websites hardly ever experienced any downtime. 
On the downside, customers were dissatisfied with the prices charged by Liquid Web as they are slightly higher than the industry standard. 
Wrap Up 
Liquid Web is a great hosting solution for those who want complete control over every aspect of their website and its hosting. It is most suitable for larger website owners that can afford a team to manage their site. That said, the lack of shared hosting plans may be off-putting for some users as it makes Liquid Web an unsuitable hosting provider for smaller websites. 
Ultimately, choosing a hosting provider for your website is a decision that shouldn't be taken lightly. As evident from this Liquid Web Review, this web host offers near-perfect performance test results, a 100% uptime, and can seamlessly handle traffic spikes. So, Liquid Web is definitely a web hosting provider worth considering.
FAQ
Is Liquid Web legit?
Yes, Liquid Web is a legitimate web hosting provider that primarily aims its services at enterprise-level clients and businesses.
Is Liquid Web free?
No, unfortunately, Liquid Web doesn't have a free plan or a free version of its services. Its most affordable plan starts at around £10.
When was Liquid Web founded?
This web hosting provider was founded in 1997.
Where is Liquid Web located?
Liquid Web is headquartered in Lansing, Michigan, USA. Its data centres are located in the US and the Netherlands.