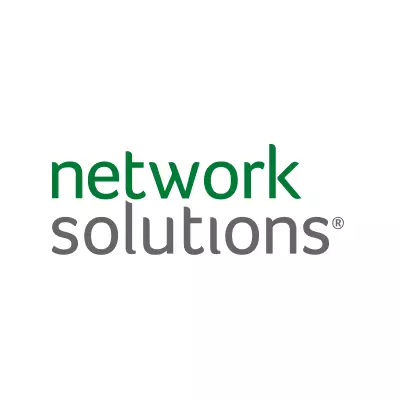 CPU: Yes
RAM: Yes
RAID LEVEL 1 STORAGE: /
NETWORK BANDWIDTH: Unmetered
FREE DOMAINS: Yes
DEDICATED IPS: Yes
CPANEL & WHM WITH ROOT: /
SHARED HOSTING: /
VPS HOSTING: /
DEDICATED HOSTING: /
Network Solutions Web Hosting Review
If you're thinking about getting your business online, you most certainly need a reliable web hosting service. In this Network Solutions web hosting review, you'll find all the information about one of the top-rated web hosting providers worth considering.
Last Updated: January 27, 2022
Advertiser disclosure
This page may contain links to our partners' products and services, which allows us to keep our website sustainable. This means that cybercrew.uk may receive a compensation when you sign up and / or purchase a product or a service using our links. However, all opinions expressed in this article are solely ours, and this content is in no way provided or influenced by any of our partners.
CPU: Yes
RAM: Yes
RAID LEVEL 1 STORAGE: /
NETWORK BANDWIDTH: Unmetered
FREE DOMAINS: Yes
DEDICATED IPS: Yes
CPANEL & WHM WITH ROOT: /
SHARED HOSTING: /
VPS HOSTING: /
DEDICATED HOSTING: /
Getting your business online
STRENGTHS
All-in-one-approach
Free domains
Numerous cloud and WordPress packages
Custom website builder
Free business LLC formation
WEAKNESSES
Low uptime
Poor page loading speed
Confusing control panel
SSL certificate isn't free
Choosing a reliable hosting company can be a bit tricky at times. Options are many, and each solution has its strengths and flaws. If you don't know much about web hosting, don't worry. In this review, you'll learn all the necessary details.
Network Solutions is one of the oldest names in the industry. In this review, I'll talk about its features and all the important aspects you should consider when making a purchasing decision. 
Here's everything this Network Solutions web hosting review will cover:  
What is Network Solutions?

Main Features

Hosting and Services

Speed and Performance

Network Solutions Plans and Prices

Privacy and Registration Process

Network Solutions Competitors

Customer Reviews

Wrap Up

Q&A
What is Network Solutions?
Network Solutions was founded in 1979 by Emmit J. McHenry. The company started as a technology consulting business, focusing primarily on developing applications.
However, Network Solutions is most well-known for being a domain-registrar.
In 1993, the company was the first to become the sole registry for .com, .org, .net, and .edu domains.
Several years later, the company started to build websites for its customers, went public, and in 2005 introduced its hosting packages.
In 2011, Web.com (nowadays known as Newfold Digital) acquired Network Solutions.
Newfold Digital owns a portfolio of other renowned brands such as Bluehost, HostGator, CrazyDomains, Register.com, etc. 
Today, Network Solutions provides domain registration services, cloud hosting packages, and a suite of related services. It helps small businesses to create a website and build a versatile online presence. 
Network Solutions services include:
eCommerce & Web design services

Online marketing services

Security services

Email & Office

IT services
Main Features
Before choosing a web hosting solution, it's important to get familiar with its essential features. Only then you'll be able to make the right final decision, customised for your needs.
Here is the list of Network Solutions' most important features.
cPanel
A control panel is a dashboard from which you can manage your website hosting features, services, and other options.
The Network Solutions cPanel is a custom control panel, which differs from the industry-standard cPanel. It allows access, management, and full control over the hosting package's free and paid features, activated services, security, and other options. 
Unfortunately, however, some would argue that its control dashboard is slightly outdated and not very intuitive.
Site Builders
The company offers a DIY (Do-It-Yourself) website builder.
Its website builder proves how affordable it can be to create a website that suits your needs and style by simply dragging and dropping elements. 
When you want to launch a website, you can choose from various great-looking website designs and a library of stock images. All websites you create using this website builder will look modern and be responsive.
The DIY website builder comes with the Network Solutions cloud web hosting plans. On the other hand, if you choose Network Solutions WordPress hosting, you'll get the WordPress content management platform integrated.
Additionally, the company offers its eCommerce website builder packages for all those wanting to build and grow their online store, regardless of their technical experience.
Domain-specific email addresses
Having a professional email address that contains a business domain name makes a more memorable impression, presenting a professional and powerful image.
Network Solutions email solution covers domain-specific email addresses, along with:
25 GB of cloud storage, 

spam protection

, 

virus protection

, 

and non-stop access starting from £1.27 per mailbox.
Uptime
Uptime is one of the most critical web hosting performance indicators. Its high values indicate more agile and faster web servers. 
Network Solutions guarantees 99.99% uptime for UNIX (Linux-based) hosting and slightly less than 99.90% uptime for Windows-based hosting. That makes Network Solutions a pretty solid, steady, and reliable web host.
SSL certificate
SSL (Secure Socket Layer) certificate stands for proof of a website's trustworthiness since it indicates secure data transmission.
This digital certificate is a standard feature in Network Solutions' premium cloud hosting plan, WordPress plan for a growing business, and WordPress plan for professionals.
Of course, you can purchase this useful feature together with other Network Solutions plans, too. It comes in six variations:
Xpress

Basic

Advanced

Wildcard

UCC

Extended
Add-Ons
Some of the most prominent add-ons Network Solutions' cloud hosting offers are:
CodeGuard –

provides backup process automation and keeps your data secure and protected.

SiteLock –

a well-known name in total malware protection.

MyTime Support –

ensures top-level IT expert customer support.
Servers
Network Solutions focuses on web and WordPress hosting, and all of its web hosting packages are cloud-based. Cloud hosting relies on multiple servers, ensuring another layer of protection and flexibility for your website data spread across a network of servers. 
It also provides UNIX (Linux) and Windows-based web hosting.
Services and Hosting
The company currently offers web cloud and WordPress hosting plans. However, it doesn't offer VPS hosting plans, nor does it provide shared or dedicated hosting packages. 
Web Cloud Hosting
Network Solutions web hosting is perfect for all those willing to invest in a next-level hosting solution, which relies on a network of interconnected servers. Cloud web hosting provides the highest uptime values, absorbs all the downtimes without you noticing, enables greater flexibility, fewer costs, and much more. 
Network Solutions proudly offers four flexible web cloud hosting packages, promising 99.9% uptime, live technical support, and other essential security features.
WordPress Web Hosting
When choosing cloud web hosting, you can use any website builder or content management system. However, if you want a tailor-made solution, Network Solutions' WordPress hosting can be a perfect choice for you.
WordPress hosting is specifically designed for WordPress users, allowing them some powerful features and faster performance.
Network Solutions currently has three WordPress hosting plans in its offer. Soon we'll talk in detail about them.
Reseller Program
In its Partner Program (SRS plus), Network Solutions provides domain name registration and related products and services:
Domain privacy

Web hosting

DNS hosting

Email

eCommerce

Mobile websites

Digital certificates

SiteLock web security
The company emphasises that each of its partners can count on simple management tools, responsive support, and total control over their pricing and marketing. 
Domain Name Registration
Being the world's first DNS registry and having more than 25 years of experience, Network Solutions is a well-known name in the industry.
Today, the company offers registration of some of the most popular domain names, including:
.com 

.net 

.org 

.info

.biz

domains by location and industry
Namely, Network Solutions' domain price for a .com extension is around £10.93, and you can purchase it for 1, 2, 3, 5, 10, 20, or even 100 years.
As the company explains in its comprehensive knowledge base, initial DNS settings are pre-configured, and advanced users can fully access, manage, and modify name servers and DNS records.
Other domain hosting services the company provides are:
Domain transfer

Domain forwarding

Private (protected) domain registration

Domain expiration 

Premium domain names

WHOIS search

Trademark protection

Domain management
Email & Office
The Network Solutions email solution covers professional, paid email service with enhanced spam protection and virus protection. Having a professional email reflects your brand name and business credibility.
The company provides three packages while guaranteeing live expert customer support.
Additionally, the Network Solutions app is available for Android, iOS, and other ActiveSync-enabled phones providing real-time access anytime, anywhere. 
Cyber Security
The company also offers an advanced cyber security solution that provides multiple layers of protection: defensive and offensive.
This additional paid service comes for roughly  £3.04/month for a 1-year term.
It's best for small to medium businesses aware of potential cyber-attacks that want to prevent them without high costs. It's also a wise and practical solution for all those who manage their business on mobile devices.
Trademark Protection
Trademark protection is another advanced paid option Network Solutions has to offer to its customers.
This feature blocks unwarranted third parties with malevolent aims to injure the business reputation and brand credibility.
The company offers two versions:
AdultBlock: for one label (starting at roughly £292.5/year for a 1-year term).

AdultBlock+: for more than one label (starting at roughly £548.5/year for a 1-year term).
Online Marketing Services
Even though Network Solutions is primarily a domain registration and web hosting company, it offers other services too. Namely, if you need help to start and grow your online business, the company can also provide you with:
SEO services

Pay-Per-Click advertising

Business directories

Email marketing
Signing up for some of the previously mentioned services, you can achieve results such as:
Ranking your website higher

Showing up in top business directories

Driving traffic to your website

Growing your business with email marketing
Speed and Performance
If you want a fast and highly responsive website, the most critical indicators you want to look for are performance, uptime, and server response time.
To paint you the overall picture, I compared it with some top-rated hosting providers.
| | | | | | |
| --- | --- | --- | --- | --- | --- |
| Web Hosting provider | Network Solutions | Bluehost | iPage | Hostinger | GoDaddy |
| Performance | 3680 ms | 422 ms | 1060 ms | 1115 ms | 3208 ms |
| Uptime | 99.90% | 99.99% | 99.90% | 99.99% | 99.90% |
| Server response time | | 46 ms | 73 ms | 143 ms | 300 ms |
Network Solutions Pricing
Currently, there are four different cloud hosting packages and three WordPress hosting plans in the company's offering.
Cloud Web Hosting
Cloud web hosting means storing web files across a network of servers, thus ensuring uninterrupted functioning during downtimes.
As a result, cloud hosting allows for a more reliable and robust Internet connection and greater flexibility if any issues arise. 
These packages usually come with a 1-year commitment:
STARTER PLAN
ESSENTIAL PLAN
PROFESSIONAL PLAN
PREMIUM PLAN
roughly £4.17/month
roughly 

£7.30/month

roughly

£11.57/month

roughly

£15.86/month

15 GB Disk Space

300 GB Disk Space

Unlimited Disk Space

Unlimited Disk Space

1 Website

3 Websites

10 Websites

10 Websites

5 Email Boxes

1000 Email Boxes

Unlimited Email Boxes

Unlimited Email Boxes

Free Business LLC Formation

Domain Name Included

Domain Name Included

Domain Name Included

SiteLock (Malware Scanning)

SiteLock Premium (Malware Scanning, Auto Malware Removal)

SiteLock Premium (Malware Scanning, Auto Malware Removal)

Free Business LLC Formation

Free Business LLC Formation

SSL Certificate

Free Business LLC Formation
Network Solutions plans come in 4 variations:
Starter

– recommended for all those just starting out.

Essential

– recommended for personal websites.

Professional

– ideal for entrepreneurs and freelancers.

Premium

– ideal for small business owners
WordPress Hosting
The difference between cloud and WordPress services is that with cloud hosting, you can work with any content management system or website builder.
On the other hand, Network Solutions WordPress hosting gives you unique features and a platform tailored for making the WordPress working environment as fast as possible. 
The company offers three WordPress hosting plans:
WordPress for entrepreneurs

WordPress for a growing business

WordPress for professionals
The difference between these packages is their storage capacity, number of possible email accounts, and the number of WordPress sites they can host.
In the table below, you can see Network Solutions pricing for its WordPress hosting packages.
WordPress for

ENTREPRENEURS

WordPress for

A GROWING BUSINESS

WordPress for

PROFESSIONALS
£5.87/mo
£10.27/mo
£13.94/mo

50 GB Storage

100 GB Storage

200 GB Storage

10 Email Boxes

Multisite Management

Multisite Management

1 WordPress Site

25 Email Boxes

50 Email Boxes

On-Demand Cloud Backup

3 WordPress Sites

5 WordPress Sites

Domain Name

On-Demand Cloud Backup

On-Demand Cloud Backup

SSL included

SSL included

Domain Name

Domain Name
Unlike its cloud hosting plans, the company's WordPress hosting plans are expressed as a 1-month commitment on the website.
Registration Process and Privacy
The registration process starts with choosing one of the two options from the Hosting section — Web Hosting or WordPress 
After choosing the hosting solution you prefer, you'll be transferred to the promotional page with all the plans Network Solutions has to offer.
Once you pick a package, you'll just need to add it to the cart. Easy, right?
So too is the rest of the registration process. In the next step, you'll need to choose a domain: 
And confirm it by adding it to the cart.
The last part of the registration process is to choose terms for the service you want to purchase: monthly, 1-year, or longer.
The final step is payment, and for a Network Solutions subscription, you can pay with a credit/debit card or PayPal.
If you encounter any issues along the way or at any time after the registration process, you can contact the Network Solutions customer service through live chat or its chatbot.
The chatbot is going to provide a variety of possible questions from which you can choose.
Network Solutions puts a lot of focus on its privacy policy and security features.
Web.com claims to provide its customers with data privacy and encourages reporting security flaws and abuse.
Furthermore, the group protects its users' sensitive information by using SSL software (Secure Sockets Layer), which encrypts information.
In addition, Network Solutions offers AdultBlock trademark protection, multiple SSL paid certificates, and small business security features.
Network Solutions Competitors
In this section of this Network Solutions web hosting review, I'll compare its hosting plans, services, and other features with some other well-known businesses in the hosting industry. So, let's take a look at some Network Solutions alternatives.
Bluehost vs Network Solutions
Bluehost is younger than the domain registration and hosting provider veteran – Network Solutions. Still, Bluehost is currently a more popular option among customers.
While many Network Solutions customers complain about its hard-to-navigate user interface, Bluehost users don't have to confront this challenge. On the contrary, Bluehost's control panel is user-friendly and tailored for practical and easy use.
Moreover, Bluehost's hosting packages are known to be economical. With a minimum monthly price of £2.19, the company is known for its affordability and variety of added features. However, that is the price for Bluehost's basic shared hosting web plan for a three-year commitment. In addition, Bluehost offers VPS and dedicated web hosting plans.
On the other hand, Network Solutions has cloud hosting plans in its offer. Although the price of its basic cloud hosting plan is higher, the flexibility, speed, and scalability potential that come with it are superior.
Both companies offer WordPress hosting plans, provide 24/7 customer support, and offer a 30-day money-back guarantee. 
iPage vs Network Solutions
iPage is also a domain registration and web hosting provider. Its hosting plans are among the cheapest in the industry when purchased for the first time. 
Its lowest price starts at £1.45 per month (for a 3-year term), with some impressive free features. However, some unhappy customers mention its slightly higher renewal prices.
Similar to Network Solutions, iPage's hosting packages are most suitable for beginners. It developed an easy-to-use vDeck control panel and provided responsive, friendly customer support available 24/7.
While Network Solutions has cloud and WordPress hosting in its offering, iPage provides shared, WordPress, VPS, and dedicated hosting packages.
Hostinger vs Network Solution
Unlike Bluehost and iPage, Hostinger offers cloud hosting packages. Also, this company is undoubtedly one of the most affordable shared hosting providers with a minimal price of £0.99/month for its basic shared plan.
When compared to Network Solutions, we must admit it does have some serious advantages.
In terms of performance, even though the uptimes of both companies vary, Hostinger has a higher guaranteed uptime. So when it comes to speed loading time, Hostinger is again, undoubtedly, a winner.
Network Solutions vs GoDaddy
Both Network Solutions and GoDaddy offer WordPress hosting plans. In terms of pricing, GoDaddy's basic WordPress plan comes at £2.56/month for three years, while Network Solutions offers its cheapest WordPress plan at £5.81/month. 
According to customers, GoDaddy is more aggressive when upselling during the registration process and has more hidden costs.
Also, when we talk about the performance metrics, GoDaddy showed much faster loading times and better uptime, although oscillating and often being below the industry average.
Customer Reviews
After going through Network Solutions ratings and customer reviews, I found that the company has an average score. 
Customers praised Network Solutions WordPress hosting packages and the easy hosting and domain registration process.
On the other hand, some of the Network Solutions complaints refer to the company's hard-to-navigate user interface, slow customer support service, long waiting times, and hardships with the service cancellation/renewal process.
Wrap Up
In a nutshell, Network Solutions is a reliable web hosting provider, most suitable for first-time customers looking to start and grow their websites. Besides web hosting and domain registration, it offers a suite of other online marketing and IT services.
Hopefully, this Network Solutions web hosting review brought you new insights and helpful information. So, if you believe a cloud or WordPress hosting solution is what you need, check out Network Solutions' website and start your unique new website journey.
FAQ
How much is Network Solutions monthly?
Network Solutions pricing depends on the type of hosting program and plan you choose. The company currently offers web cloud and WordPress hosting plans. The starter web cloud plan comes at £4.14/month (for a 1-year term), while the basic WordPress hosting plan comes at  £5.82/month (monthly billing cycle).
Does Network Solutions use cPanel?
No, Network Solutions doesn't use the industry standard, cPanel. Instead, the company provides a custom control dashboard. 
Does Network Solutions offer shared or VPS hosting packages?
No, Network Solutions currently doesn't offer shared nor VPS hosting packages. Instead, it provides web cloud and WordPress plans.