Free Users: 1
Free Locations: 1
Free Monthly Appointments: Unlimited
Free Appointment Types: Multiple
Mobile Apps: Android, iOS
Free Payment Processing: Square only
Free External Calendar Support: None
Free Email and SMS Notifications: Email and SMS
Analytics: Internal
Square Appointments Review
Square is well known to owners of businesses big and small. Here, we're getting in on the details of its appointment scheduling system — Square Appointments.
Last Updated: June 11, 2022
Advertiser disclosure
This page may contain links to our partners' products and services, which allows us to keep our website sustainable. This means that cybercrew.uk may receive a compensation when you sign up and / or purchase a product or a service using our links. However, all opinions expressed in this article are solely ours, and this content is in no way provided or influenced by any of our partners.
Free Users: 1
Free Locations: 1
Free Monthly Appointments: Unlimited
Free Appointment Types: Multiple
Mobile Apps: Android, iOS
Free Payment Processing: Square only
Free External Calendar Support: None
Free Email and SMS Notifications: Email and SMS
Analytics: Internal
STRENGTHS
Ease of use
Free SMS reminders
Free file attachments
Time tracker included
Gift cards, discounts and prepayment
WEAKNESSES
No-show and cancellation protection are not free
Limited external calendar integration
No live chat assistance
Square Appointments is an online appointment scheduling tool that's most suitable for large scale businesses. Appointments is just a small part of a whole system of Square's business tools, yet it alone is greatly useful to brick and mortar shops.
In this Square Appointments review, I'll be taking a look at:
About Square Appointments
Square started out in 2009. Its founders (Jim McKelvey and Twitter's Jack Dorsey) envisioned a merchant service that would support mobile payments. The company's initial public offer on the NYSE was in 2015, and it rebranded as Block Inc. in December of 2021.
Square Appointments is an online booking tool, just one of many services that Square… I mean that Block offers to businesses of all sizes. It allows, say a beauty salon to present its schedule online, have clients book, and lastly, pay for a service.
Square Appointments Pricing
Three distinct plans are on offer with Square Appointments. Pricier plans have certain advantages, like a larger scope of available features, lower transaction fees, etc. We'll inspect those onward. Let's, for now, state that the subscription tiers are:
Free — Free
Plus — £29 per month per location
Pro — £69 per month per location

Square Appointments Features
Appointment Scheduling
Square Appointments makes individual employee accounts available with all its pricing tiers. Each employee gets one calendar. Only Plus and Premium users get multiple meeting locations.
As there's no clear disclosure on the official Square Appointments website, I guess you get to make unlimited monthly appointments. That was the deal prior to December's update. I also guess you're still free to make both individual and group appointments.
Another thing that used to be free with Square Appointments is no-show protection. Gone! You still get to charge clients through Square, but taking a part of their deposit in case they don't show up or cancel too late is available to paying users only.
Even when it was available, customers could delete the card on their profile, the one used to book. If they then cancelled or simply didn't shown-up, business owners had no way of billing them for this irresponsible behaviour.
What changed for the better is that clients of Square Appointments' free users can now book recurring appointments, something that Picktime, for example, charges for. There's also the time-tracking facility, not common in appointment software.
Square Appointments supports processing time — specifying, for example, a 15-minute break before a meeting. It's not free, though. Blocking personal events, on the other hand, is free. As for time zones, you can let customers choose theirs or lock the schedule to yours.
As for the capacity to integrate other online calendars — it is quite limited. Only Google Calendar is supported, and the integration is not free. This is certainly worse than what Square Appointments alternatives like Picktime, 10to8, or Calendly offer in that regard.
Invoicing, Billing and Stock-Keeping
Square Appointments accepts payments through its parent service — Square. Other payment processors, you can forget about. 
All Square Appointment users get to charge their clients, online or IRL. 
Real-life transaction fees are 1.75% for Free, and 1.6% for Plus and Premium users. There's also a fixed transaction fee, coming to around 10 pence.  Online payment fees are around 1.9% for European and 2.9% for non-European cards, no matter the plan.
Both free and paying users can give their customers discounts, issue digital and physical gift cards and even let them prepay for a service. Certainly an improvement when compared to the previous version of this appointment scheduler. 
A confusion-causing detail in the Square Appointments pricing list concerns stock-keeping. 
According to the Scheduling table, resource management is available to Premium users only. The Operations and Reporting table, on the other hand, mentions unlimited items, stock counts and low-stock alerts for all three subscription models. What's what?
Reminders and Notifications
What makes Square Appointments stand out are the free automated appointment reminders. Through SMS, as well as email! Only reminders are free, though. Meeting confirmations are reserved for paying customers.
Another great free feature of this online appointment booking tool is the ability to attach files to customer emails. Businesses where clients expect certain meeting reports, say a private medical practice, can see the biggest benefit to this.
Booking Forms
Square's appointment scheduler doesn't really allow you to specify the info a meeting attendee shares with you, at least not internally. I'll cover intake forms and other convenient solutions in the Add Ons section of this Square Appointments review.
So-called auto-created customer profiles are available to all Square Appointments users, as are customer groups and even customer notes and reminders. You can also access each customer's appointment and sales history and customise contracts.
Calendar Design, Integration, and Customisability
Say you've chosen the Square Appointments free plan. This way, you get not only a Square Online booking site but ways to integrate your schedule to Google's Reserve and Instagram. There were mentions of Facebook integration as well.
If you already have a business website, you can embed the Book Now button. Another thing all users get is a QR code linking to the booking website. You could print it on a sticker for a guerilla marketing campaign, for example (I'm just brainstorming here).
Don't go for Square Appointments if you're looking for a free online scheduling tool that translates to many languages. English is all there is to this appointment software. There are mentions of Spanish for US Square accounts, but receipts remain in English.
It's cool that you can feature your business' slick logo on top of the Square Online website given to you on sign-up. Look for Branding in your account settings. Your visual solution will also appear on all issued receipts and invoices.
Add-Ons
Visiting Square Appointments App Marketplace lets you in on the myriad of esteemed external solutions to include in your scheduling app.
There are external form builders and API integrations for accounting, e-commerce, team management, CRM, and email marketing. You'll find free plans for Wix, GoDaddy, JotForm, and Mailchimp, and tools like Magento, Giftya, and WooCommerce for free altogether.
If none of the above fits your agenda, try finding a suitable integration using increasingly popular middleware like Zapier. Also, for a free booking app that'll let you make video conference calls, look among the best appointment scheduling software we've selected.
Square Appointments concentrates its efforts on businesses with brick-and-mortar shops and online retail. It's brilliant for this very niche. However, video chatting solutions are integral to other appointment scheduling platforms, like Meetfox.
Platforms, Operation, and Performance
Most appointment calendars are web-based services — so is Square Appointments. You get a free booking app for your Android and iOS devices with it. Not all online calendars provide this useful tool, so props are certainly due here.
Appointment software companies go for commercially available storage, owned by Google or Amazon. A cloud-based platform in its own right, Square Appointments stores data on private servers, like Square Seller and its other services.
The already mentioned stock-keeping feature of Square Appointments covers unlimited items, item categories and low stock alerts, available to all. On top of these, there are internal analytical tools like export and sales reports.
Square Appointments Hardware
We now get to the biggest asset of Square Appointments, its exemplary offer of POS hardware. This is also the most thoughtfully laid out bit of the scheduling app's website. 
Products included are magnetic stripe readers, chip and contactless payment readers and stands, POS terminals, cash registers, and accessories. There are also seven different hardware kits available. 
Accessories cover so much a physical store needs — from cash drawers and receipt printers, through printer paper rolls and marketing kits, over to barcode scanners. You can also turn to Square for USB and Bluetooth scales and all the necessary accessories.
Square Appointments Setup and User Experience
Registering with Square will have you do the following:
1. Click on the Get Started button.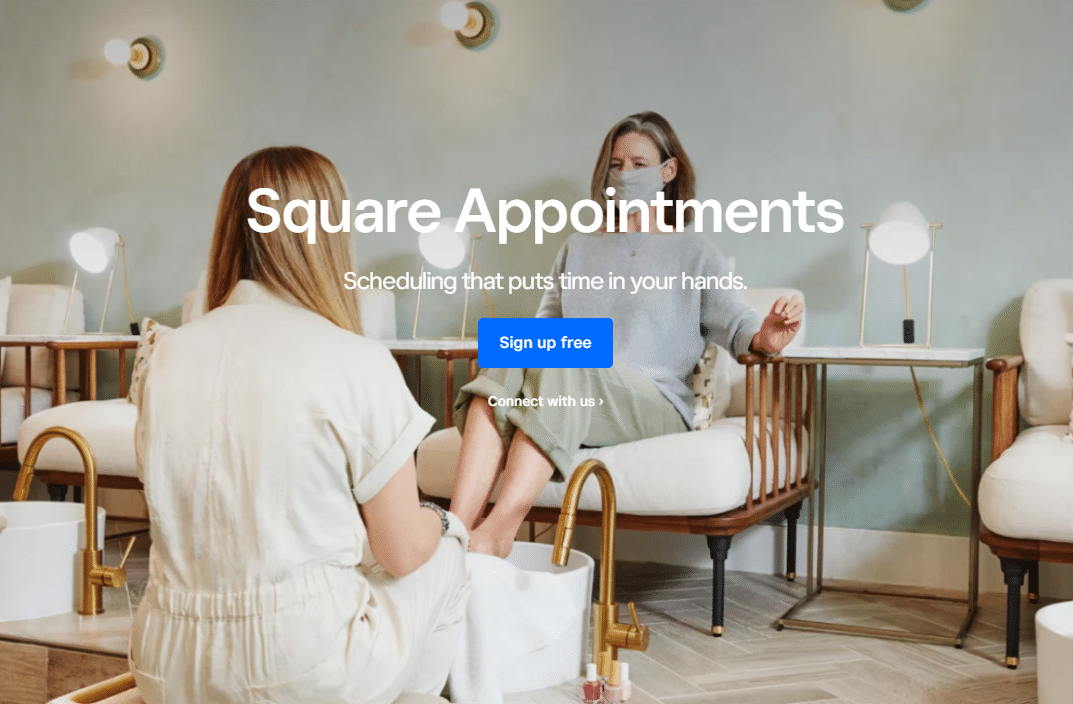 2. Enter your email, choose a healthy password, specify your country, and click the Continue button.
3. From the Square dashboard, explore this elaborate tool following the four-step walk-through. 
There are a few sections that you'll always be coming back to. In the upper left corner are all the apps, products and services. Click and hold to arrange them to your liking.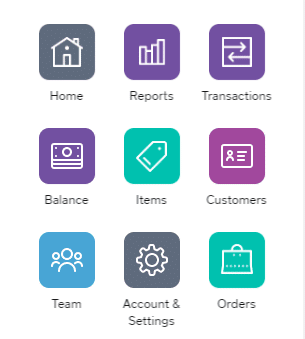 Right under that little section, you'll access other Square Appointment features like Invoices, Gift Cards, and most importantly, Appointments! Click here.
Now we're talking about registering with Square Appointments, specifically. Do the following:
1. Click on the "Get started now" button.
2. Choose a subscription. 
If you haven't made up your mind yet, it's safest to go with the free plan. Upgrading is simpler than cancelling a subscription.
Getting closer now. Square wants to know just a few more things. 
3. Share your name, the name of your business and its phone, and your time zone. Lastly, click on the "Get started" button.
4. Download the Square Appointments app, or skip this step if you're on your computer.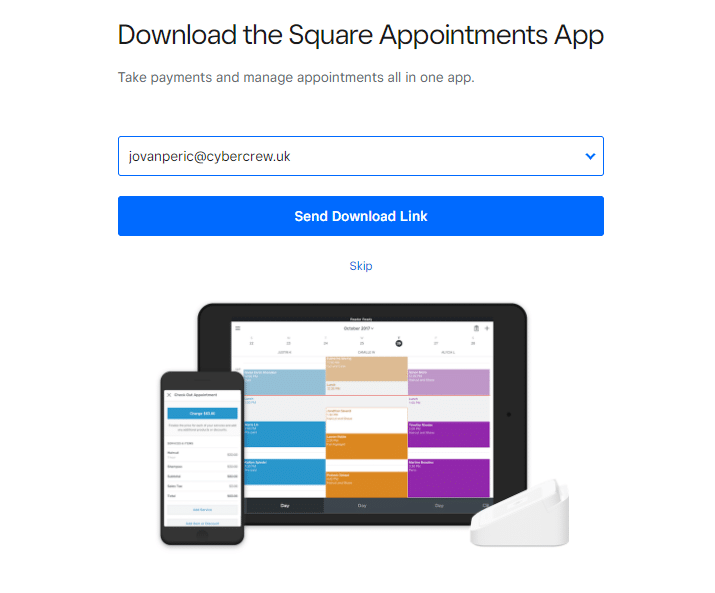 Finally, you'll find yourself on your Square Appointments profile. From there on, you can create a test appointment, set up your Square online booking site, and lastly, invite customers to book online.
The scheduler before you gives a view of all upcoming and previous meetings, with the option to switch from daily, weekly, five-day long and monthly views. 
Creating an appointment takes a couple of minutes and will have you specify details, such as its time, and if it's a recurring or a one-off meeting. To the right, there's a section for client notes, cards on file, and appointment history.
Having specified everything, book an appointment by clicking the "Save" button. And that's about it. Takes some time, but it's quite simple!
Square Appointments Customer Support
Square Appointments offers a FAQ section on the official website that's hard to miss. Top right, next to the links to pricing and features. A link to the support centre is at the bottom of any Square Appointments page.
Here you'll find a huge knowledge base. Topics are carefully chosen, and there are featured trending articles. To save time, you might want to just type in what problem you have and search for the right help post.
At the bottom of this support page, there's a "Ask our support assistant" button. You'd think this is live chat assistance, but it's, in fact, a bot. Typing "live assistance" shows you how you can get help from other human beings.
The options are emailing the Square Appointments support team, calling them by phone, asking the Square community, or typing just the right phrase to the bot. Phone assistance is available on weekdays, from nine in the morning to five in the afternoon, GMT.
Square Appointments Competitors
Here's how Square Appointments measures against other popular online meeting schedulers.
| | | |
| --- | --- | --- |
| | Square Appointments | Appointlet |
| Free users | 1 | Unlimited |
| Free locations | Multiple | Unlimited |
| Free monthly appointments | Unlimited | Unlimited |
| Free appointment types | Multiple | Unlimited |
| Mobile apps | Android, iOS | None |
| Free payment processing | Square only | None |
| Free external calendar support | None | Google Calendar, Office 365, Zapier integrations |
| Free email and SMS notifications | Yes | Email |
| Analytics | Internal | No internal tools |
| Customer database | Yes | Yes |
| Intake forms | Yes | Yes |
| Administration | Invoicing, billing | Invoicing, billing |
| Inventory | Not free | Via Zapier Inventory |
| | | |
| --- | --- | --- |
| | Square Appointments | Fresha |
| Free users | 1 | Unlimited |
| Free locations | Multiple | Unlimited |
| Free monthly appointments | Unlimited | Unlimited |
| Free appointment types | Multiple | Individual only (no group booking) |
| Mobile apps | Android, iOS | Android, iOS (customer and owner apps) |
| Free payment processing | Square only | Through Fresha's POS system |
| Free external calendar support | None | None (runaround with Google Reserve) |
| Free email and SMS notifications | Yes | Email (SMS paid for) |
| Analytics | Internal | Performance dashboards and financial reporting |
| Customer database | Yes | Yes |
| Intake forms | Yes | Yes |
| Administration | Invoicing, billing | Invoicing, billing, payroll |
| Inventory | Not free | Stock management, yes |
Square Appointments vs 10to8
| | | |
| --- | --- | --- |
| | Square Appointments | 10to8 |
| Free users | 1 | 2 |
| Free locations | Multiple | Unlimited |
| Free monthly appointments | Unlimited | 100 |
| Free appointment types | Multiple | Unlimited |
| Mobile apps | Android, iOS | Android, iOS |
| Free payment processing | Square only | Stripe (PayPal) |
| Free external calendar support | None | Two-way — Google, iCal, Office365, Outlook, Exchange |
| Free email and SMS notifications | Yes | Yes |
| Analytics | Internal | With Google Analytics, through Zapier |
| Customer database | Yes | Yes |
| Intake forms | Yes | Yes |
| Administration | Invoicing, billing | Invoicing, billing |
| Inventory | Not free | No |
Square Appointments Customer Reviews
Square Appointments has 4.4 out of five stars on major software grading platforms — Capterra, G2, and GetApp.
The most recent comments deem this scheduling software a valued organisational tool. Still, users also note that the recent update in Square Appointments pricing leaves them thinking of switching to another appointment scheduling platform altogether.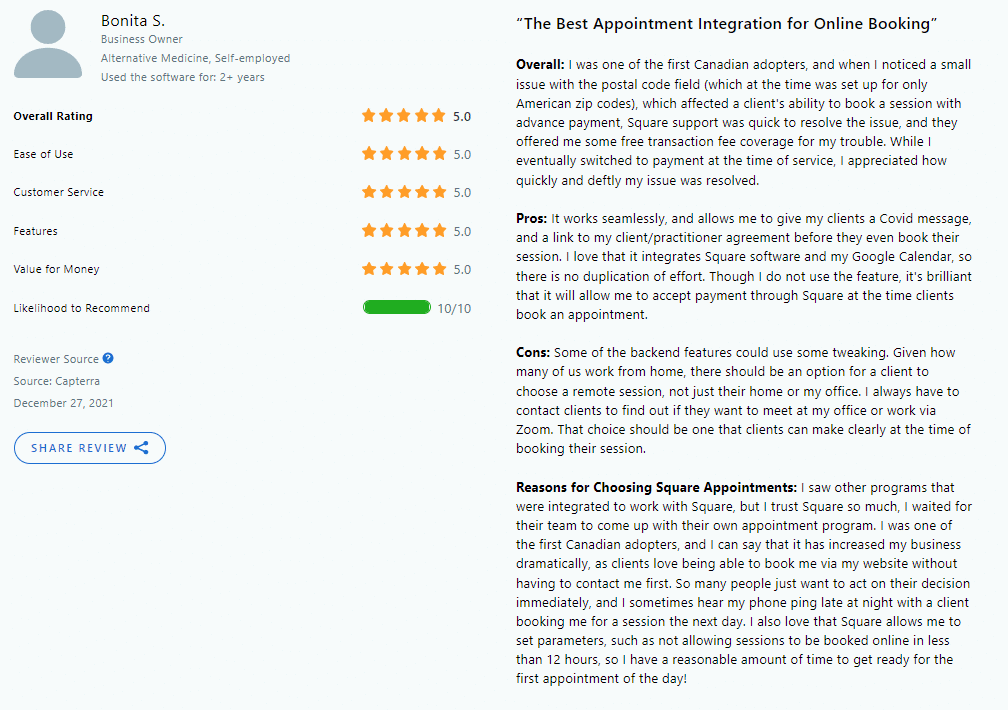 Wrap Up
And that's really it for this Square Appointments review. As you can see, the free meeting scheduler aims at businesses looking to expand their online operation into the physical domain.
I find the thorough coverage of POS hardware to be exquisite. While Fresha, another appointment scheduling tool, also covers hardware, it focuses more on the wellness and health industry.
Square Appointments, on the other hand, is suited to a wide range of businesses with the need to charge on the spot. By card or in cash. Though a lot of attention was given to POS solutions, keep in mind that just the online appointment booking tool is worth your attention!
FAQ
Can you use Square to schedule appointments?
Definitely! Square Appointments is Square's online appointment scheduler that you can use alone or together with Square's other solutions.
How do I book an appointment with Square?
There are many ways to go about it. Square Appointments gives you a separate booking website, integrates easily with Instagram, lets customers book by scanning a QR code, and more.
Is Square Appointments really free?
Yes, you can use Square Appointments free of charge, but you'll have access to only a portion of the booking system's features.
How does Square Appointments work?
Using Square's free scheduling app is fairly simple. You specify the meeting time and type, and add any client notes. Appointment history and cards on file are readily accessible.