Squarespace vs Webflow: Which Is the Better Option?
If you've found yourself torn between Webflow and Squarespace, we get it. They are both fantastic website builders with loads of features to offer, and it's always appreciated that they are specifically created with designers and creatives in mind. 
We've put together a thorough Webflow vs Squarespace comparison to ease your decision-making process. We'll get into detail about each website builder's pros and cons, their features, ease of use, template designs, and so on.
Let's start with a little overview of both companies' history.
Company History
Webflow was founded in 2013 by Vlad Magdalin, Sergie Magdalin, and Bryant Chou, and it is based in San Francisco, California. The founders were frustrated with the limitations of existing website builders, so they decided to create their own platform.
Webflow is a SaaS application that allows designers to build responsive websites with browser-based visual editing software. While designers use the tool, Webflow automatically generates HTML, CSS, and JavaScript code.
Webflow has over 2 million users and over 100,000 customers across 190 countries. It is best known for its easy-to-use platform, powerful design tools, and great customer support.
Squarespace was founded in 2004 as a blog hosting service by Anthony Casalena while attending the University of Maryland, College Park. He was its only employee until 2006, when it reached $1 million in revenue.
Today, Squarespace has over 1,100 employees and 3.79 million subscribers. The web builder is highly appreciated for its excellent eCommerce features and design flexibility.
Pros and Cons
Before we dive into more detail, here is a little recap of Webflow and Squarespace's pros and cons.
Webflow Pros
Squarespace Pros

Offers customisation down to the smallest detail

Direct

customer support

for paying customers

Offers a free plan

Excellent eCommerce features

Professional-looking

template designs

Doesn't require coding knowledge 

Webflow Cons
Squarespace Cons

Requires basic familiarities with HTML and CSS principles

Doesn't offer the best value for your money

Confusing pricing plans

No free plan

Less design freedom

No easy way to import data from other platforms

No autosave 
Features
Both Webflow and Squarespace offer more than enough features for designing a good website. However, there are some key differences between the two. 
Webflow separates its features into three categories: Build, Launch, and Grow. The Build features help you create your website's structure and add all your content with the Webflow API or from a CSV (Comma-separated-values file). The Launch features are responsible for managing your content with ease. Webflow's editor allows you to write and edit directly from your site's pages. Finally, the Grow features allow you to create, launch and repeat your marketing campaigns.
On the other hand, Squarespace's features are categorised into three areas: Core, Marketing, and Commerce. The Core features are here to hook you up with all you need to build your website using Squarespace's pre-made templates. The Marketing features offer tools to help you drive traffic to your website. Last but not least, the Commerce features are the ones that help you set up your online store and sell products.
eCommerce
Webflow's eCommerce features are built into the core service, as long as you pay for one of its eCommerce plans. For an annual subscription, you will pay:
| | | |
| --- | --- | --- |
| Standard | Plus | Advanced |
| £22/month | £56/month | £160/month |
Opting for a yearly subscription will give you a 30% discount. 
All three plans offer a custom checkout, custom shopping cart, email product fields, and email customisation. If you upgrade to the Plus or Advanced plan, you will also get unbranded emails.
In terms of payments, all of the plans provide PayPal support, Stripe powered payments, Apple Pay and web payments, and automatic tax calculation. The transaction fee for the Standard plan is 2%, but you will get 0% transaction fees for up to 25,000 transactions for the Plus and 100,000 transactions for the Advanced plan.
The Marketing and Management features you get with the eCommerce plans will facilitate Facebook and Instagram integration, Google Shopping integration, Mailchimp integration, Custom code integration, and configuration of manual shopping rules. The Standard plan comes with three staff accounts and $50K (roughly £37.5K) of yearly sales volume. The Plus plan will give you up to 10 staff accounts with $200K (roughly £150K) yearly sales volume. Finally, the Advanced plan offers 15 staff accounts and unlimited yearly sales volume.
Out of the four plans Squarespace offers, one is for personal use, and the other three are meant to help you set up an online store and offer eCommerce features such as: selling unlimited products, fully integrated eCommerce, accepting donations, and gift cards. This is all the cheapest Business plan has to offer. 
Moving on to the Basic Commerce plan, in addition to the above features, you also get customer accounts, checkout on your domain, eCommerce analytics, merchandising tools, and products on Instagram.
Finally, if you want to upgrade to the Advanced Commerce plan, you will have access to abandoned cart recovery, selling subscriptions, advanced shipping, advanced discount, and commerce APIs.
Both platforms offer extensive eCommerce tools and will be a great help in setting up an online store. However, Squarespace's plans come off cheaper, with the Business plan costing £15/month, Basic Commerce — £20, and Advanced Commerce £30, compared to Webflow's £160 Advanced plan.
Another thing lacking from Webflow is that it doesn't allow subscriptions selling, and there isn't a way to send abandoned cart emails.
SEO
Webflow vs Squarespace SEO features come out pretty equal in terms of what they offer. They offer all the basics — editing schema markup, adding keywords, creating meta titles and descriptions, creating and publishing 301 redirects, and editing simple image alt tags.
Both website builders come with their unique SEO advantages. Squarespace makes sure your site is Google-friendly by allowing you to enable AMP for your blog posts, structuring product data to target Google rich search results, and offering direct integration with Google data via its Keyword Search panel. 
On the other hand, the complete control over the responsiveness of your site in Webflow can help you gain extra points in mobile-friendliness, which is a key ranking factor for Google. You can also create 'auto-generated' meta titles and descriptions for collection pages.
Plugins
Webflow has a decent collection of 60+ plugins that you can integrate into your website. This number is nothing compared to WordPress's astonishing 59,000+ plugins (you can read all about them in our Webflow vs WordPress comparison), but with Webflow, you can also integrate code snippets from other services and thus extend your website.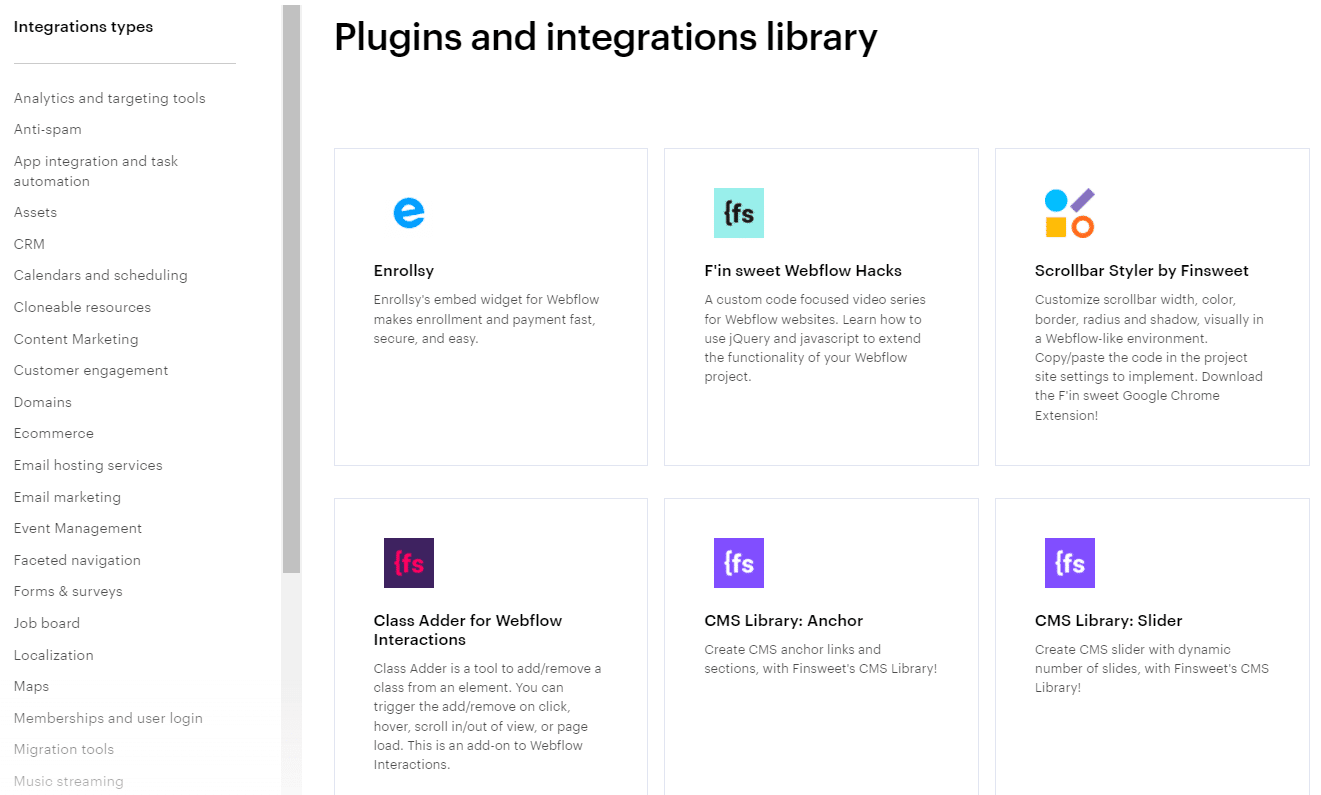 Squarespace Extensions are a collection of third-party tools to enhance your site and streamline key tasks, like sales tax compliance, drop shipping, SEO, and social media marketing.
Extensions are Squarespace's equivalents of plugins. Instead of visiting an app store, you can find and connect third-party tools on Squarespace Extensions. You can browse for extensions in the following categories:
Shipping and Fulfilment

Finance

Inventory and Products

Sales and Marketing
User Experience
Webflow and Squarespace both require a basic coding background, but out of the two, Webflow has proven to be the more challenging web design platform for beginners. A more beginner-friendly option than the two is GoDaddy. You can check how it ranks compared to Squarespace here. 
Webflow offers a drag-and-drop tool that makes navigating it a bit easier, but it's far from the most intuitive website builder on the market. Moreover, the design flexibility offered by Webflow comes with a price — countless customisation options that take a while to learn and master. However, Webflow offers a lot of support material, tutorials, and courses to help its users get the hang of it.
Squarespace's learning curve is smaller than Webflow's, and you can get familiar with the "what" and "how" on your own. So, if you are just getting started with web building, Squarespace is the way to go.
Templates
Webflow has a collection of 1000+ templates. Most Webflow templates are premium and cost between £20 and £110. The free Webflow templates are basic, but they still do a good job. 
With Webflow, you have complete control over your typography and can use any font you want and completely customise everything about it.
Webflow themes are separated into 16 different categories. Many come with additional sections, layout, and even demo landing pages. By picking a theme, you'll also get a selection of elements that fit within its style.
Unlike Webflow, Squarespace templates are all free and included in your pricing plan. There are around 110 different mobile-responsive templates covering portfolio websites, blogs, online stores, business sites, and more. If you want to make a professional website using Squarespace, you should use high-quality photos. 
Despite all of Squarespace's templates being free, they are designed to perfection, and arguably, Squarespace has some of the best templates out of all the website builders.
Hosting
Webflow gives you the option to export the code for your website or host the site for you. According to Webflow University, by adding a site plan to any project, you can point a custom domain to your Webflow site and have it securely stored on Amazon Web Servers and delivered over the Fastly Network.
However, some users have found buying separate Site plans confusing. These Site plans that are independent of your Account plan will cost you anywhere between £9 and £27.
Webflow handles security patches, downtime, and scalability. In addition, its Amazon servers are regularly monitored for unauthorised access and audited, promising to load fast worldwide.
On the other hand, all Squarespace plans include hosting for your site and its content in addition to unlimited bandwidth and storage. Furthermore, all Squarespace domains are officially hosted by its two registrars — Squarespace Domains LLC and Tucows and managed through your Squarespace site.
Customer Support
According to the official website, you can reach Webflow's customer support team by email, Monday through Friday, and expect a reply within 48 hours. You can also try Webflow's Forum and contact other users facing similar issues. 
Webflow doesn't offer phone support, but they have provided tons of tutorials and resources on Webflow University.
Webflow makes it clear that its team can help you with Webflow Designer, CMS, Webflow's Dashboard features and accessibility, as well as Webflow's hosting performance. However, what you won't get help with is custom code, SEO, third party integrations, as well as changes made by malware or installed extensions.
Squarespace doesn't offer phone support because they believe it won't be possible to provide the same effective help over the phone. So instead, you can reach the customer support team through email or live chat. The live chat is available Monday through Friday, 4 AM – 8 PM (EST). Users have reported a fast response time and general satisfaction from Squarespace's team.
Pricing 
Webflow costs can be pretty high depending on your needs. The priciest plan it offers is £175/month. However, there are plenty of options. Webflow offers three categories of plans: Site Plans, eCommerce Plans, and Workplace Plans.
The Site Plans are best for simple or content-driven websites and larger, high-traffic marketing sites. Here's all five of them, what they offer, and how much they cost:
Starter
Basic
CMS
Business
Enterprise

Free

£9/month

£11.95/month

£27/month

Contact Webflow

Webflow.io domain

50 CMS items

1 GB bandwidth

Custom domain

0 CMS items

50 GB bandwidth

Custom domain

2,000 CMS items

200 GB bandwidth

3 guest editors

Custom domain

10,000 CMS items

400 GB bandwidth

10 guest editors

Custom domain

10,000 CMS items

Custom bandwidth

Custom guest editors

Uptime SLAs
The prices shown in the table are for the annual subscription, which means you get 20% off. If you choose a monthly subscription, you will pay:
Basic — £11.20/month

CMS — £15/month

Business — £ 33.50/month 
Webflow is a freemium website builder, which means that you can use it for free, but some (if not most) features are only available if you upgrade to a paid plan. So, with the Starter plan, you only get 50 CMS items and 1 GB bandwidth, as well as a webflow.io domain. If you want to upgrade to a custom domain, you have to opt for a premium plan.
The eCommerce Plans are best for powering a no-code eCommerce business. Here is what they offer and how much they cost:
Standard
Plus
Advanced

£21/month

£56/month

£160/month

500 items

2% transaction fee

$50K (roughly £37.5K) annual sales volume

All CMS plan features

1,000 items

0% transaction fee

$200K (roughly £150K) annual sales volume

All Business plan features

3,000 items

0% transaction fee

Unlimited annual sales volume

All Business plan features
With yearly billing, you save up to 30%. If you decide on a monthly subscription, you will pay:
Standard — £31/month

Plus — £63/month

Advanced — £175/month
Finally, the Workplace Plans are used for managing multiple sites and collaborating with your team. With an annual subscription, you can save up to 32%.
Starter
Core
Growth
Enterprise

Free

£14/month

£37/month

Contact Webflow

1 seat

2 unhosted sites

Up to 3 seats

10 unhosted sites

Billing permissions

Up to 9 seats

Unlimited unhosted sites

Publishing permissions

Custom seat limits

Unlimited unhosted sites

Publishing permissions

Advanced security, performance and customer success
With Webflow, you can always start with a free plan and later upgrade according to your needs. If Webflow is out of your budget reach and you want a cheaper and more beginner-friendly option, you can always check Wix. We even compared the two.
Now, on to Squarespace pricing and plans. Unfortunately, Squarespace doesn't offer a free plan. However, you can get a 14-day trial and decide whether you want to purchase a premium plan or not. Here are the four plans Squarespace offers:
If you decide on a monthly subscription, you will pay:
Personal — £13/month

Business — £21/month

Basic Commerce — £24/month

Advanced Commerce — £37/month
All four plans offer a free custom domain, SSL security, unlimited bandwidth, 30 minutes of video storage, SEO tools, free templates, mobile-optimised websites, 24/7 customer support, basic website metrics, and Squarespace extensions.
If you want access to loads of marketing and commerce features, don't hesitate to upgrade to a Commerce plan. You will get email marketing tools, advanced analytics tools, 0% transaction fees, and so much more. Compared to Webflow's £160 subscription, this is a bargain. 
Wrap Up
We'll end this Webflow vs Squarespace comparison with a couple of finishing thoughts. First, if you are interested in blogging and want to use your website builder for content creation, Squarespace is the better option out of the two. Not only is it cheaper, but it offers 100+ free, high-quality templates that will make your blog compelling and professional-looking. On top of that, Squarespace is easier to use and has a smaller learning curve.
On the other hand, opt for Webflow if you have some previous coding knowledge and want the extra design control and customisation capabilities.
FAQ
Is Squarespace better than Webflow?
If you are new to website building and want to build an online presence, then yes, Squarespace is better than Webflow. If, however, you have some previous experience and are familiar with coding, Webflow might be the better choice.
Is Webflow more expensive than Squarespace?
Squarespace's plans are a bit cheaper, but there's also no free plan available.
Can you use Webflow with Squarespace?
An app called Zapier helps integrate Webflow and Squarespace. It lets you automatically send info between Squarespace and Webflow — no code required.
Is Webflow really that good?
Webflow is an amazing platform that lets you finalise projects faster without sacrificing quality.
Alert! Your IP address is trackable.