VPN Protocols: WireGuard, OpenVPN, IKEv2, Shadowsocks
Connections: Unlimited number of devices
Streaming: Netflix, HBO MAX & GO, Peacock TV, YLE Areena, ITV HUB, Amazon Prime Video, Disney+ and many more
Torrenting: Allows torrenting (P2P)
RAM-disk mode: Yes
Ultimate Surfshark VPN Review for 2022
Last Updated: June 12, 2022
Advertiser disclosure
This page may contain links to our partners' products and services, which allows us to keep our website sustainable. This means that cybercrew.uk may receive a compensation when you sign up and / or purchase a product or a service using our links. However, all opinions expressed in this article are solely ours, and this content is in no way provided or influenced by any of our partners.
VPN Protocols: WireGuard, OpenVPN, IKEv2, Shadowsocks
Connections: Unlimited number of devices
Streaming: Netflix, HBO MAX & GO, Peacock TV, YLE Areena, ITV HUB, Amazon Prime Video, Disney+ and many more
Torrenting: Allows torrenting (P2P)
RAM-disk mode: Yes
works on:
Mac OS
Windows
Linux
Apple
Android
Chrome
Firefox
Fire TV
Strict no-logs policy
STRENGTHS
Camouflage Mode (obfuscation)
WireGuard connections available on all apps
24 months pricing plan includes significant savings, up to 81%
Unlimited simultaneous device connections
RAM-only servers
WEAKNESSES
Kill switch issues
Limited P2P Servers with poor speeds
Limited security audit
"Our dream is a world where people have full control of their digital lives" – www.surfshark.com
Surfshark is a virtual private network service provider that was founded in 2018, and it is based in a safe jurisdiction – the British Virgin Islands.
This company is so secretive that you can't find any information about employees or any relevant company data whatsoever. This undoubtedly contributes to the reputation of company Surfshark being one of the best in keeping you safe online – since they keep all the info safe, including their own. 
Check out what I will talk about in this Surfshark VPN review:
Services Offered by Surfshark
Surfshark VPN does not log your IP address, browsing history, amount of bandwidth used, network traffic, or connection timestamps. Furthermore, it blocks ads, trackers, malware and phishing attempts.
What differentiates Surfshark from other VPNs? 
Firstly, you can start your virtual private experience by installing Surfshark on an unlimited number of devices. 
Secondly, this VPN has physical servers in countries with strict censorship laws, including Turkey and Vietnam. It maintains servers in Hong Kong and supports multihop connections for the city.
Surfshark stands at 3200+ servers in 95 countries. All servers promise reliable and robust connections. Most gathered Surfshark servers are in the United States (25 locations), Europe (especially in the UK, France, Germany, and Spain), Canada, India and Australia.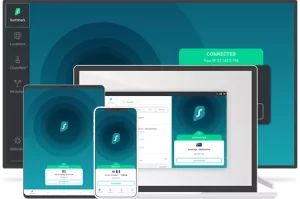 Also, if you are searching for a VPN that supports multiple platforms, Surfshark should be one of your choices. It supports Windows, macOS, iOS, Linux, Android, Chrome and Firefox. Additionally, you can use it with Xbox and PlayStation gaming consoles, along with Fire TV and Apple TV.
Surfshark supports mobile devices running iOS and Android. It can also be used with smart TVs like Amazon Fire TV and Apple TV.
One of the most frequent questions is: "Does Surfshark work with Netflix?"
Surfshark can unblock more than 20 Netflix libraries, including the United States. 25 server locations in the United States work with Netflix. With this VPN, you will never see the annoying Netflix proxy error page. 
Surfshark VPN can unblock many other streaming sites including HBO MAW & GO, Peacock TV, YLE Areena, ITV HUB, Disney+, HBO Now, DAZN, Hotstar, Sky Go, Abema TV, BBC iPlayer, Crunchyroll, Hulu, Amazon Prime Video, YouTube TV and more.
When it comes to security, Surfshark has robust VPN technical features, including AES-256GCM, WireGuard, OpenVPN, IKEv2, 2TP/IPsec, Shadowsocks, No-logs policy, Kill Switch, Camouflage Mode, HackLock.
You can choose between three advanced VPN protocols, including IKEv2, OpenVPN, and WireGuard. In the following table, check out all the positive features of these VPN protocols: 
IKEv2
OpenVPN
WireGuard

Best for mobile devices.

One of the most potent

VPN protocols.

Improves security without defeating speeds.

Has the ability to auto-connect.

The UDP version is ideal for video calls, streaming, and gaming.

The TCP version is slower but offers a more stable connection.

Much faster than other protocols.

It works perfectly for streaming, video calls, and general browsing.

Available on Windows, iOS, Android, macOS, and FireTV.

Not available on Linux.

Available on Windows, iOS, Android, macOS, Linux, and FireTV.

Available on Windows, Android, iOS, and macOS.
Additionally, when you open the Surfshark app, it will automatically detect which protocol is the fastest.
Surfshark VPN Prices
If I discovered anything while researching Surfshark, it is that good online privacy comes with a cost.
Generally, finding a VPN with a plan that includes significant savings could be a crucial point in your buying decision. This VPN has the best possible option for a 24-month plan which could be an excellent start.
For more information, take a look at the following table:
| ONE MONTH | 12 MONTHS | 24 MONTHS |
| --- | --- | --- |
| £9.79 | £2.99 per month | £1.89 per month |
Considering all the facts that I previously mentioned, you must be wondering, "is there a Surfshark free trial?" No, Surfshark does not offer a free trial. However, it will give you fully refundable pricing plans.
When it comes to payment options, you can choose to pay with credit cards, cryptocurrency, Amazon Pay, PayPal, and Google Pay.
Speed and Performance
When it comes to downloading speed, it is estimated that it should go up to at least 15Mbps. According to the speed test, Surfshark is fast, meaning that it will never go under 32Mbps. 
In the analytical table below, you will see the comparison between the latest speed test results of several VPNs. 
| VPNs | Download Speed | Upload Speed | Latency |
| --- | --- | --- | --- |
| Surfshark | 61.6% | 59.7% | 59.5% |
| CyberGhost | 13.3% | 26.7% | 11.2% |
| NordVPN | 28.7% | 24.2% | 0.0% |
| ExpressVPN | 59.8% | 74.4% | 50.9% |
Privacy and Registration Process
When we take a look at Surfshark's privacy policy, we can see that Surfshark is one of the first virtual private servers that provides a transition from traditional hard drive technology to a diskless RAM-only solution. The disk-based nature of hard drives means that configuration files are stored for operational purposes and can't be accessed if seized by a third party.
Surfshark has extra privacy features, including Surfshark alert and Surfshark search. The first one warns you if your private information has been compromised in a data breach leak, while the second one is a private search engine.
It has an option of Double-VPN servers, where your traffic is encrypted over two different hops. To make this clearer, you can send your traffic through two servers instead of one.
Another fantastic VPN protection feature is Camouflage Mode, also called obfuscation, which can conceal VPN traffic and get around blocks. It hides that you are using a VPN to encrypt your traffic. This feature is fantastic in case you live in one of the strong censorship countries. 
Furthermore, a feature called CleanWeb blocks trackers, ads and malware domains. To make this clearer, every website that you visit remembers your IP address. That's the reason why targeted advertising keeps bothering you. For example, if malware domains infect some sites, there are more possibilities for you to get hacked.  
After reading all these VPN facts, you must be wondering, "does Surfshark have a Kill Switch?" Yes, it has. Kill Switch will keep you protected even if the Surfshark app disconnects. It will temporarily deactivate your account and then reactivate it again.
When it comes to solid censorship countries, there is one more option designed to bypass internet restrictions. A privacy tool that goes beyond VPN protection is a custom DNS service. It provides additional privacy called Smart DNS.
The Domain Name System (DNS) is the phone book of the Internet, and it functions in a way that turns URLs into IP addresses. After that, these addresses will connect you to the correct server. So, by using a DNS server, you can improve your privacy and speed up your connection. Furthermore, HackLock will alert you if your accounts have been compromised.
Now, when you know so many interesting facts about this VPN, are you ready to go through the registration process? If you are, I have prepared simple instructions that will finally lead you to your online safety! Get ready and follow the necessary steps:
Click on the "Visit Website" button at the top of this review and claim your discount.
Choose a payment plan.
Your options are one month, 12 months, and 24 months. I highly recommend you choose a special offer for 24 months.
Insert your email address and follow the instructions.
Click on the red button with the inscription

"

Activate

"

.
Select your payment method.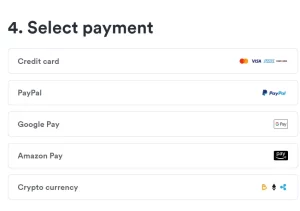 Select your payment method via Credit card, PayPal, Google Pay, Amazon Pay or Cryptocurrency. After you fill in all the necessary details, just click the confirmation button.
Surfshark Competitors
In this section, my primary goal is to give you valuable insight into various VPN services. If you read these comparisons carefully, you will be able to decide which VPN suits you better.
Firstly, let's see what differentiates Surfshark from its competitor, CyberGhost?
Surfshark vs CyberGhost
Interestingly, Surfshark has an array of positive features, including MultiHop (Double VPN) servers, Camouflage mode (obfuscated) servers, Surfshark alert, Kill Switch, Surfshark Search and CleanWeb. For example, the CleanWeb characteristic is a potent VPN adblocker. It will improve your privacy and also your VPN speed.
Also, with particular Surfshark VPN technology, you can have access to more than 20 Netflix different regional libraries, as I already mentioned. On the other side, CyberGhost can get through to the Netflix US library occasionally. If you don't want to see the warning: "Whoops, something went wrong", then consider using Surfshark for this purpose.
Despite CyberGhost having a wide range of servers, many are running at 75%, 100% or even 125%. This VPN also has the ad-blocker feature, but it doesn't work on HTTPS websites. Thus, CyberGhost doesn't log the identity of the customers connected to a particular server.
Overall, if I consider every feature I examined and many more, particularly the unlimited number of servers, torrenting, gaming, streaming, better protocol features, no-logs policy, speed tests result, strong encryption and Ram-only servers, my conclusion is: Surfshark is the winner.
One essential feature that differentiates Surfshark from its competitor is its unlimited number of simultaneous connections, while NordVPN stands at six. However, if you prefer faster speed and no-logs audit, you should go with NordVPN.
Overall, if you want to play games safely, then both of these VPNs are fantastic choices. These top-rated VPNs will protect you from other gamers who can target your IP address.
While playing, removing IP bans is another remarkable feature of these VPNs. Additionally, If your game starts to slow down, you can prevent ISP throttling. Even though both VPNs are efficient when it comes to gaming, I prefer Surfshark because it's fast and reliable.
Also, considering an unlimited number of simultaneous connections, Surfshark could be one of the best VPN services for you.
Keeping in mind all these features, I hope it is easier for you to answer the following question briefly – "is Surfshark better than NordVPN?" I suppose my answer is the same: Yes, it is.
To dig into more comparisons of VPNs, what are the differences between Surfshark and IPVanish?
Surfshark vs IPVanish
Surfshark uses one of the most potent protocols called WireGuard. IPVanish also has advanced protocols, including OpenVPN and IKEv2, but WireGuard is much faster than those protocols.
It works perfectly for streaming, video calls, and general browsing. By contrast, IPVanish is not the best VPN for streaming. What's more, Surfshark has a better download speed. 
Keeping in mind all these impressive features of Surfshark, particularly an unlimited number of devices, streaming, torrenting, gaming, RAM-disc mode, lowest price per month and overall rating, the conclusion is that Surfshark wins the battle.
Surfshark VPN Reviews Online
The most recent reviews about Surfshark are the following:
These reviews can be found on the vpnMentor site, and there are 768 reviews in 27 languages. The average mark is 7.7, which is quite impressive according to the number of reviews. 
As I can conclude, users are truly satisfied with this VPN service. In their opinion, Surfshark works perfectly with Netflix because it is one of the fastest VPN services. 
Moreover, users have the freedom to use it on multiple devices. The negative drawback is that the VPN connection drops sometimes, but this is typical for almost all available VPNs. The conclusion is that this VPN has more positive features than negative ones. All the components are very desirable, particularly the unlimited number of devices it supports. 
FAQ
Is Surfshark better than NordVPN?
We've seen that both VPNs are filled with fantastic VPN privacy features. However, considering an unlimited number of simultaneous connections, fast speed, no-logs audit, lower pricing options, I recommend you to go with Surfshark because it is slightly better than NordVPN.
Does Surfshark work with Netflix?
Surfshark can unblock more than 20 Netflix libraries. One Netflix account can work with all Netflix regions. You just have to subscribe to a VPN, download and install the app, run and finish the Surfshark VPN login process and finally, click "Connect" and watch Netflix.
Is Surfshark legal?
Even though some countries block VPNs, most of them are legal. Accordingly, the answer to this question is simple: Surfshark is legal.
Who owns Surfshark?
That information is private, but that's how it goes with VPN's logic. The Surfshark team wants to stay private so that authorities can't find them easily.
Is Surf Shark VPN fast?
Surfshark is surprisingly fast, and it is considered one of the fastest VPNs. The average speed is estimated at 71Mbps.