Free Storage: 5 GB
Desktop Apps: Windows and macOS
Mobile Apps: Android and iOS
Maximum Storage Capacity: 6 TB (Individual plans), Unlimited (Business plans)
Third-party App Integrations: Microsoft Office 365 and Slack
Zero-knowledge Encryption: Yes
Sync.com Review
With its strong focus on privacy and security, easy-to-use interface, and competitive pricing plans, Sync.com is considered one of the best cloud storage solutions today. Check out this Sync.com review to find out about this platform's inner workings and see if it is the right option for you.
Last Updated: May 1, 2022
Advertiser disclosure
This page may contain links to our partners' products and services, which allows us to keep our website sustainable. This means that cybercrew.uk may receive a compensation when you sign up and / or purchase a product or a service using our links. However, all opinions expressed in this article are solely ours, and this content is in no way provided or influenced by any of our partners.
Free Storage: 5 GB
Desktop Apps: Windows and macOS
Mobile Apps: Android and iOS
Maximum Storage Capacity: 6 TB (Individual plans), Unlimited (Business plans)
Third-party App Integrations: Microsoft Office 365 and Slack
Zero-knowledge Encryption: Yes
Privacy
STRENGTHS
End to end encryption
No file size limit
Advanced sharing options
Microsoft Office 365 and Slack integration
One year of file versioning
WEAKNESSES
No Linux support
Limited customer support
Cloud storage is a growing industry, with new providers popping up all the time. Most users choose to stick with the big names, such as Google Drive or iCloud, but some find lesser-known services like Sync.com more suitable for their needs.
In this Sync.com review, we'll take a look at some of the key features that make Sync.com an excellent choice for anyone looking for a reliable and secure file storage solution. So, whether you're just getting started with online file storage or are looking for a new provider, read on to see if Sync.com is right for you!
What is Sync.com?
Sync.com is a cloud storage provider that lets users store files safely in the cloud and sync them across devices. The service is known for its strong focus on security, promising to protect users' cloud-stored data with strong end-to-end encryption.
It also offers a host of other features that make it a compelling cloud storage solution for most people, including advanced sharing and file versioning options. The platform also integrates with the Microsoft Office apps, allowing users to collaborate on documents in real-time directly from the cloud.
Sync.com was founded in 2011 by Thomas Savundra, Suhan Shan, and Darius Antia with the goal to create the world's first cloud storage service that puts security first. The company is based in Toronto, Canada, and is currently trusted by over 1.8 million users from 180+ countries worldwide.
Ease of Use
Signing up to Sync.com is as simple as entering a valid email address and a strong password. Registering for a free account will automatically get you 5 GB of cloud storage space for free.
Once you've signed up for a free account, you will be given an option to download the Sync.com desktop app, which is available for Windows and macOS.
Once installed, the desktop app automatically creates a separate Sync folder on your hard drive, into which you can drag and drop any files you want. The added files will be automatically synced to the cloud and all your connected devices.
However, other than being able to sync files and show you your most recent activity, the Sync desktop app doesn't offer much in terms of functionality.
Sync.com's web panel has many more options, allowing you to create, preview, download, and share files, access file and account history, and manage users, among other things.
The web interface is also very easy to navigate. The main screen provides a list of all your files and folders, and you can easily drag and drop files here to upload them.
Any file you drop into the Files tab will be automatically synced to other devices where you have the service installed. Alternatively, you can also add files to the Vault tab, in which case they will only be kept online.
Aside from the desktop app and web panel, there is also a Sync mobile app, which will automatically back up any photos and videos on your Android or iOS device to the cloud. The mobile app is also very easy to navigate and offers similar options as the web client, allowing you to share and preview files and restore previous file versions.
Sync.com Features
File Syncing
Sync.com's core functionality is to keep your files protected in the cloud and sync them across all your devices. Any file you want to sync has to be either dropped to the Sync folder on your computer or uploaded manually to your Sync account in the cloud.
Sync.com has no file size limits for uploads, which means you can add any file you want to into your account, as long as you don't exceed the storage space limit assigned to your account.
Like many other cloud storage providers, Sync.com also lets you keep files cloud-only if you prefer. You can do that by adding them to the Vault tab in the web panel.
Files added to the Sync Vault will only be available online and will not sync to your other devices, which will allow you to free up valuable storage space on your hard drive or phone.
File-Sharing
Sync.com allows you to share files and folders with others by creating shareable links. Once a link has been generated, you can send it to the recipient by entering their email address. Alternatively, you can also copy the link to your clipboard and send it through any other preferred medium.
Moreover, Sync.com has many advanced sharing options. For example, you can set passwords, expiry dates, and download limits to links.
You can also set preview permissions, receive email notifications on link activity, and request files from other users with upload enabled links. However, most of these advanced sharing options are only available to paid subscribers, except for the option to password-protect files.
Sync.com's strong focus on security is also reflected in its file-sharing options. The platform allows users to set enhanced security for shared links and protect them with end-to-end encryption.
Sync.com also allows you to create team folders and invite several team members to collaborate on documents within the folder. You can set granular permissions for each team member, such as view and edit or read-only, but you will have to upgrade your account to a paid plan to choose the latter option.
File Versioning
Sync.com has many data recovery features. The platform supports file versioning, which means you can review and restore previous versions of the files kept in your account if necessary.
For free users, file versioning is restricted to 30 days, while paid subscribers can access older versions of files ranging from 180 days to a year, depending on the plan. The best part is that these copies of older versions of files don't contribute to the storage quota allocated to your account.
Sync.com also allows you to recover files or folders up to 30 days after being deleted and even rewind your account to a previous point in time (only for paid subscribers).
Collaboration Features
Sync.com's strong focus on security makes it somewhat limited in terms of collaboration features. However, the platform does integrate with the Microsoft Office apps, allowing you to collaborate on Word, Excel, and PowerPoint documents directly from the cloud or the desktop app.
Sync.com also integrates with Slack, which is a workspace communication tool. Slack integration allows users to make Sync documents accessible directly from Slack and share them in Slack channels and direct messages without switching between platforms.
Note that the Office apps integration is not available to free users of the platform. The same goes for file previews. Free users must download documents onto their computers to be able to preview and work on them, while premium users can do that directly from the browser.
Security
Sync.com is one of the most security-oriented cloud storage providers on the scene. 
All files stored on the platform are encrypted at the source with end-to-end encryption. End to end encryption guarantees that no one except the account owner — you — has access to the encryption key for your files. So, even if someone were to gain access to your files, they would not be able to view or decrypt them.
End to end encryption is extremely secure and is available for both free and premium users.
In addition to end-to-end encryption, Sync.com also encrypts your data using AES 256-bit encryption, which is in line with the industry standard. The platform also uses the TLS protocol to prevent data from being intercepted while in transit.
As an added layer of security, Sync.com also offers two-factor authentication, which is a great way to protect your account from unauthorised access. By default, two-factor authentication is disabled, but you can enable it from your account's settings.
Other security options you can enable from the Security tab in your account include:
Email-based password recovery

— this option will allow you to reset a forgotten password via email. Enabling it will give Sync.com temporary access to the encryption key.

Password hint

— Sync.com will send you a word or phrase to help you remember your password if you forget it.

Automatic logout

— you will be automatically logged out of your account when no activity is recorded. You can choose the session expiry time yourself.

Single sign-on

— this option will allow you to automatically sign in to the Sync.com web panel from the desktop app installed on your computer.
All of these options can be enabled or disabled according to your preference.
Privacy
Sync.com is based in Canada, which means it complies with PIPEDA (Personal Information Protection and Electronic Documents Act) data privacy legislation. Sync.com also adheres to the GDPR (European General Data Protection Regulations).
Moreover, Sync's privacy policy is very clear and concise and outlines the ten core principles that the platform follows to keep user data private and secure. It clearly states that the company will not collect or share any personal information about its users unless it has their consent or is forced to do so by law.
Sync.com also does not scan or index the content of user files, and all data is encrypted before it is stored on Sync.com's servers.
Customer Support
Sync.com is limited in terms of customer support. There is only one way to contact its support team directly, and that is by filling out an online form detailing your issue. After that, you can expect a reply in as little as an hour, and the support staff seems helpful and knowledgeable.
However, it would have been even better if there were live chat and phone support options too. Sync.com does have a comprehensive help centre with articles and guides on various topics, which could potentially help you find a solution to a more general issue.
Sync.com also has a community forum and social media presence on Facebook and Twitter, where you can find help and support from other Sync.com users.
Sync.com Pricing
Sync.com offers plans for both individuals and businesses. For individual users, the platform has a free plan that comes with 5 GB of cloud storage space.
Free users can also unlock an extra 1 GB of free storage space if they complete tasks such as verifying their accounts, uploading files to the Sync folder, and installing the desktop and mobile apps.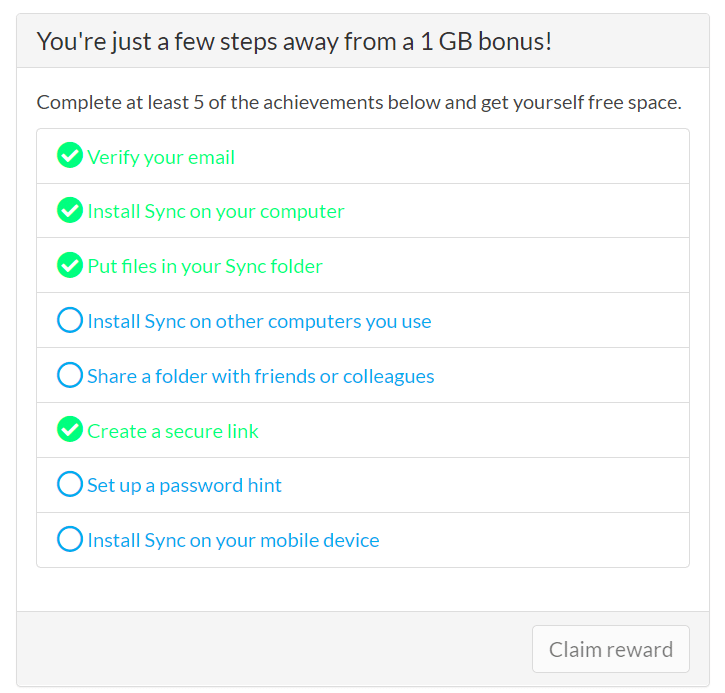 You can also get additional storage space by inviting other users to the platform via a referral link. Each time a user clicks on your referral link and creates a Sync.com account, you will get an additional 1 GB of storage space for free.
In terms of features, the Sync.com free plan includes end-to-end encryption, basic file sharing, and a cold storage vault that lets you keep files solely in the cloud. The free plan also limits you to 30 days of file versioning and only three password-protected links and three team shared folders.
If you need more storage space and features than the free plan offers, you can subscribe to one of Sync's paid plans.
There are two plans for individuals: the Pro Solo Basic and the Pro Solo Professional plan, which offer 2 TB and 6 TB of storage space, respectively. They come at $8 (around £6) and $20 (around £15) a month when billed annually.
In addition, the Solo Basic plan can only be purchased annually, so it amounts to $96 (around £73) a year. The Solo Professional plan amounts to $240 (around £183) a year, but you can also purchase it in monthly instalments. In that case, it is charged at $24 (around £18) a month, so it is slightly more expensive than when billed annually.
You can see a full breakdown of Sync.com's individual plans in the table below.
| | | | |
| --- | --- | --- | --- |
| | Free | Solo Basic | Solo Professional |
| Price | / | $8 (around £6) a month, billed annually | $20 (around £15) a month, billed annually |
| Storage space | 5 GB | 2 TB | 6 TB |
| Data transfer | 5 GB | Unlimited | Unlimited |
| File history and recovery | 30 days | 180 days | 365 days |
| Link sharing | 3 | Unlimited | Unlimited |
| Team shared folders | 3 | Unlimited | Unlimited |
There are also some features exclusive to the highest Solo Professional plan, including HIPAA compliance and custom branding. The latter option enables users to display their own logo and brand colours when sharing and requesting links.
The Sync.com business plans range from $5 (around £3) to $15 (around £11) a month, also billed annually. The Team Standard plan comes with 1 TB of cloud storage, while the Team Unlimited plan has unlimited storage and includes features like custom branding and priority support.
Sync.com Alternatives
Sync.com vs Dropbox
Dropbox is one of the oldest and most popular cloud storage providers, often praised for pioneering the cloud storage movement.
However, when comparing Sync.com and Dropbox, there is one area in which Sync.com is the clear winner, and that is security. While Dropbox offers 256-bit AES encryption and additional security measures like two-factor authentication, it doesn't have end-to-end encryption, leaving your files much more vulnerable to third-party access.
On top of that, Dropbox also has a less generous free plan, with only 2 GB of free cloud storage space, which is hardly enough for most people. However, similarly to Sync.com, Dropbox users can unlock additional storage space through referrals.
Another similarity both platforms have is the lack of file size limits, making them both great solutions for handling large files.
Dropbox's lack of zero-knowledge encryption also gives it a strong advantage in terms of speed, as the platform can implement features like block-level syncing and smart sync for faster file uploads.
Another strong point of Dropbox is that it offers many more third-party integrations, including Microsoft Office 365, Google Workspace, Slack, and Zoom and even its own note-taking app called Dropbox Paper.
Sync.com, on the other hand, sacrifices speed and app integrations for more robust security.
Sync.com vs OneDrive
We've already compared Microsoft OneDrive with another big name in the cloud storage industry, iCloud, but how does it stack up to Sync.com?
First, let's take a look at a few similarities.
For starters, Sync.com and OneDrive both offer 5 GB of cloud storage space for free and 6 TB of storage space with their highest plans and are both similarly priced.
However, Sync.com outperforms most cloud storage providers in terms of security, and OneDrive is not an exception. OneDrive uses standard encryption methods, protecting user data with 256-bit encryption. However, it lacks zero-knowledge encryption, making Sync.com a far better option if security is your top priority.
OneDrive, on the other hand, integrates more seamlessly with Other Microsoft products and services. As a result, it may be a better choice for users who are already invested in the Microsoft ecosystem.
Sync.com vs pCloud
If you are looking for a security-focused cloud storage provider, both Sync.com and pCloud are strong contenders, as both platforms offer zero-knowledge encryption. The only difference is that pCloud requires you to pay extra for it, while Sync.com offers it as default.
Besides that, pCloud's free plan is more generous in terms of storage, as it comes up to 10 GB of free cloud storage space, which is double the amount that Sync offers for free.
One of pCloud's strongest points is file previews. The platform has its own integrated media player that lets users stream media files directly from the cloud.
Sync.com is more limited in that regard. It doesn't allow free users to preview files or stream videos or music from their browser. Instead, they have to download files on their devices to preview them.
However, Sync.com offers far more advanced file versioning and sharing options. It allows paid subscribers to restore earlies versions of files ranging from 180 days to a year. In contrast, with pCloud, file versioning is limited to only 15 days for free users and 30 days for paid subscribers.
Check out our full pCloud review to see how the two platforms compare in other areas as well.
Wrap Up
So, what's the verdict of this Sync.com review? Is Sync.com worth your time and money? The answer is a resounding yes. Sync.com is an excellent online storage solution for individuals and businesses alike. It's easy to use, affordable and provides plenty of features that make it a great choice for anyone looking for a reliable way to store their data online.
If you haven't tried out Sync.com yet, we highly recommend giving it a go — you won't be disappointed!
FAQ
Is Sync.com safe?
Yes, Sync.com is an extremely secure cloud storage provider that uses AES 256-bit end-to-end encryption to protect user data. Sync.com also offers two-factor authentication, which adds an extra layer of security to your account.
Does Sync.com store files locally?
Yes, Sync.com does store files locally. Any changes you make to your files will be automatically updated across all your devices, so you can always have the most up-to-date version of your files across all your devices. However, if you want to, you can also store files online only by storing them in the Sync Vault.
Is Sync.com safer than Google Drive?
Yes, Sync.com is definitely safer than Google Drive. Sync.com uses 256-bit end-to-end encryption to protect user data. In contrast, Google Drive lacks end-to-end encryption and protects user data with below-industry standard 128-bit encryption.
Does Sync.com delete files?
No, Sync.com keeps a copy of all deleted files on its servers for 30 days after you've deleted them. You can restore your deleted files at any time during those 30 days.