Free Plan: Yes
Free Storage Space: 3 GB
Maximum Storage Space: 4 TB (for personal use), unlimited (for business use)
Zero-Knowledge Encryption: Yes
Desktop Apps: Windows, macOS, Linux
Mobile Apps: Android and iOS
Customer Support: Live chat, email, phone, knowledge Base
Tresorit Review
Are you looking for a business-oriented cloud storage provider that puts security first? You may have just found one. Keep reading this Tresorit Review for a full overview of Tresorit's features.
Last Updated: May 20, 2022
Advertiser disclosure
This page may contain links to our partners' products and services, which allows us to keep our website sustainable. This means that cybercrew.uk may receive a compensation when you sign up and / or purchase a product or a service using our links. However, all opinions expressed in this article are solely ours, and this content is in no way provided or influenced by any of our partners.
Free Plan: Yes
Free Storage Space: 3 GB
Maximum Storage Space: 4 TB (for personal use), unlimited (for business use)
Zero-Knowledge Encryption: Yes
Desktop Apps: Windows, macOS, Linux
Mobile Apps: Android and iOS
Customer Support: Live chat, email, phone, knowledge Base
Business users
STRENGTHS
End-to-end encryption
Advanced file-sharing options
Selective syncing
Virtual network drive
Excellent user management options
WEAKNESSES
More expensive than the competition
No block-level syncing
Have you been looking for a reliable and secure way to store your files online? If so, you may want to take a look at Tresorit. Tresorit is a security-focused and user-friendly cloud storage service that offers various plans for both businesses and individual users.
In this Tresorit review, I will showcase the key features of Tresorit and help you decide whether this cloud storage service is the right option for you. Read on if you want to learn more!
What Is Tresorit?
Tresorit is a cloud-based file synchronisation service that enables users to securely store, share, and access files from any device. 
The company was founded in 2011 by three Hungarian university students — Istvan Lam, Szilveszter Szebeni, and Gyorgy Szilagyi, with the aim to create a secure and business-oriented cloud storage service.
Since then, Tresorit has grown into a highly reputable service that is currently used by over 10,000 organisations globally. Based in Switzerland, the company also has some of the best data protection laws.
Tresorit is also one of the few storage services to offer end-to-end encryption, ensuring maximum security for its users. However, security is not its only appeal. Tresorit also boasts many advanced file syncing and sharing features, which we will look into below.
Ease of Use
Ease of use is one of Tresorit's strongest points. You can access the platform through a web browser, desktop or mobile app. Tresorit also supports all the major platforms, with desktop clients for Windows, macOS, and Linux, and mobile apps for Android and iOS devices.
Creating a Tresorit account is a matter of only a few minutes. Tresorit only requires you to enter some personal information, such as your full name, email address, company name and phone number. 
You also have to enter your credit card details, but you will not be charged upon signing up. You can try out each of Tresorit's plans entirely for free for 14 days.
Web Interface
The Tresorit web interface looks sleek and modern and is fairly easy to navigate.
You can access everything from the navigation menu on the left-hand side of your screen.
When you first sign in to your account, you will notice a folder on the main screen titled Root Tresor. Everything in Tresorit must be added to a Tresor, which is a secure folder where your files are stored and encrypted.
However, not all your files need to be added to the Root Tresor. You can also create new Tresors and upload files and subfolders there for better organisation. Creating a new, empty Tresor is as simple as clicking on the New Folder button of the main interface. 
Alternatively, you can also sync an existing, local folder to the cloud by dragging and dropping it into Tresorit. That way, you can turn any folder on your computer into a Tresor, and its content will automatically be stored in the cloud and encrypted. 
Right-clicking on a Tresor opens various options, allowing you to share, download, rename, and delete it. Furthermore, uploading files is as simple as dragging and dropping them into a Tresor. 
If you subscribe to one of Tresorit's business plans, you'll get access to the Admin Centre. As the admin, you can invite users, monitor their activity, set user policies, and generate reports, among other things.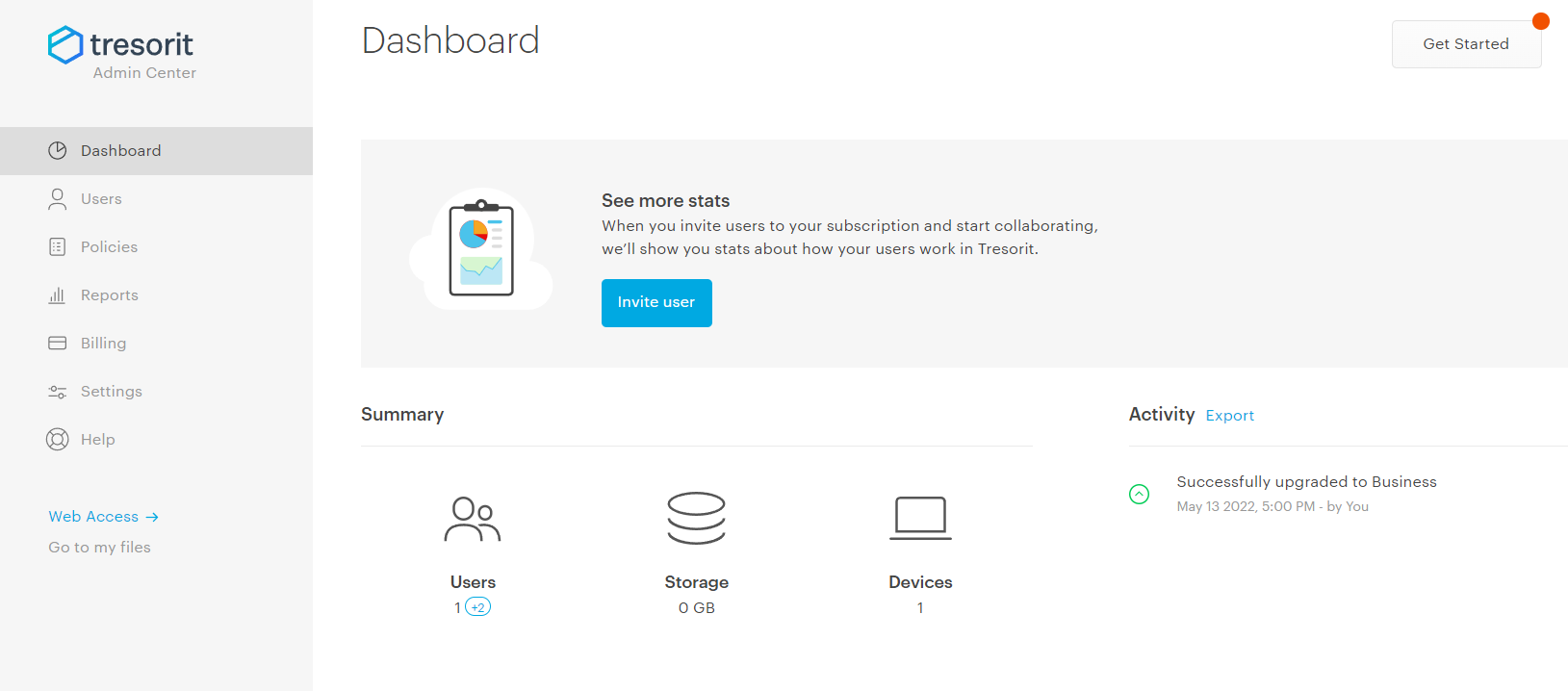 Desktop App
Once you've created your Tresorit account, you will be immediately prompted to download the Tresorit desktop app. The desktop app looks strikingly similar to the web interface, allowing users to quickly access their encrypted storage without the need to open the web interface.
When you first open the app, Tresorit will give you a guided tour of the platform. As part of the tour, you will be prompted to complete a tutorial checklist, including steps such as creating a new folder, inviting members to a folder, and sharing a file. 
Although the desktop app roughly mirrors the web client, it does have a few extra features, such as the option to enable Selective Sync and create File Requests, which we will explain later in this Tresorit review.
Mobile App
Tresorit's mobile app is available for iOS and Android. It offers the same features as the web and desktop clients, allowing you to access and share files with just a few taps.
The mobile app also lets you upload all the media files on your smartphone to an encrypted Tresor called Camera Uploads. You can also choose whether you want all your photos to be uploaded automatically or only upload new ones. 
Tresorit Features
File Syncing
Keeping files synced across devices is the core functionality of any cloud storage service, and Tresorit is no exception. Whether you are using the web portal or the desktop app, you can sync any file or folder from your computer to the cloud and access it from all your devices. 
By default, Tresorit syncs all the files stored in the cloud to your computer, but you can change that by enabling selective syncing.
With selective syncing, you can specify which files you want to sync to your computer, and the rest will be cloud-only. Selective syncing can really come in handy if you are running low on hard drive space and want to free up space on your device. 
Using the Tresorit Drive feature, you can access and work on your files from your computer, regardless of whether you keep them cloud-only or synced. Tresorit Drive is a virtual network drive mounted to your computer. When enabled, it lets you view and work on your files directly from File explorer, but without them taking up any local storage space.
One slight drawback of Tresorit is that it doesn't support block-level syncing. With block-level syncing, files are divided into smaller content blocks, with only the changed part of an existing file being uploaded to the cloud, resulting in much faster uploads. 
The main reason why there is no block-level syncing is the end-to-end encryption. So if you value security over performance, this shouldn't be too much of an issue. 
File Sharing and Collaboration
Tresorit allows you to share your cloud-stored data with anyone while still keeping it secure. You can either share files and folders by creating public links to them or inviting members to collaborate on them. 
The latter is only available for main folders, also known as Tresors, and you can only invite people with a Tresorit account. Furthermore, you can assign different roles to members of a Tresor, giving them permission to read, modify, share, or delete its content.
Viewers are restricted to only viewing the content, while editors can also modify it to their preference. Managers can not only modify the content, but they also have the ability to share it further. 
Sharing with a link works a bit differently. You can share links with anyone, regardless of whether they have a Tresorit account. In addition, the link-sharing option is available for any file, subfolder or Tresor stored in your account. 
When you create a share link, anyone with access to it can view, modify, and download it. Link sharing also comes with many advanced options. For instance, you can set an expiration date and a download limit to your share links and password-protect them.
These are all features we've already seen from similar cloud storage providers, such as Sync.com and Icedrive. However, Tresorit goes one step further by allowing business users to view detailed access logs to the links they've shared. When enabled, this feature lets you keep track of useful information such as the IP addresses and the platforms used to access the content you've shared. 
Perhaps the quickest and easiest way to share a file on Tresorit is using the Tresorit Path feature. It lets you send shortcuts to files to other members of your Tresor by copying the folder path of the specific file or folder.
Aside from sharing files, Tresorit also lets you request files from other users. You can request others to upload a file to a Tresor, regardless of whether they have a Tresrit account or not. However, as of now, the File Requests option is only available for the Professional, Business Plus, and Enterprise plans.  
File Versioning
File versioning is a convenient way to protect your files from accidental deletion or modification. With most cloud storage providers, older versions of files are automatically deleted after a certain amount of time. However, Tresorit takes a different approach to file versioning.
With Tresorit, the number of available file versions depends on which plan you are using and ranges from 10 for the Personal plan to unlimited for the Enterprise plan. 
Outlook and Gmail Integration
Integrating Outlook into your Tresorit account will allow you to encrypt email attachments sent through Outlook with end-to-end encryption, making collaboration with co-workers and partners much more secure.
Similarly, Gmail users can also install Tresorit for Gmail, which will allow them to attach files to their emails sent through Gmail as secure, shared links. The Outlook and Gmail integrations are available to all Tresorit users, including free ones. 
Tresorit Security
Tresorit is one of the most security-focused cloud storage providers. The platform employs end-to-end encryption, which is one of its core features and main selling points. End-to-end encryption protects every single file and file metadata stored in the cloud with a randomly generated encryption key.
Moreover, the zero-knowledge protocol ensures none of your files, passwords, or keys are ever transferred in an unencrypted form. The platform is also based on public-key or asymmetric cryptography, which guarantees that no one, not even Tresorit, can access your files without your permission. 
For more security, Tresorit clients apply a message authentication code to all encrypted data. The code is only known to the user's client and those the file is shared with, making it impossible for anyone to modify your files without your knowledge. Standard features like two-factor authentication are present as well. 
All of the security features mentioned above put Tresorit at the top of our list of most secure cloud storage providers. 
Privacy
The protection of data privacy is also one of Tresorit's main focuses. As stated at the beginning of its privacy policy, the company is fully GDPR compliant. This means that Tresorit must comply with the EU's strict laws about protecting personal user data. 
The privacy policy also outlines exactly which information the platform collects about its users, and it doesn't seem to be much. Tresorit divides the data it collects about you into two groups:
Data you voluntarily provide

, including registration, billing, and account information, website visit statistics, access logs, file request information, etc.

Data collected from third parties

, such as other users of its services, resellers, distributors, and partners.
As I've already mentioned, Tresorit is based in Switzerland, one of the most privacy-friendly countries worldwide. Naturally, this means it must adhere to Switzerland's strong data protection laws.
Customer Support
The customer support you get with Tresorit depends on the chosen subscription plan. For example, individual subscribers and users of the Business Standard plan can only contact Tresorit via live chat and email, with no phone support option. 
In addition to the live chat option, Business Plus users have access to priority email support and a scheduled phone call with a support agent. Naturally, Enterprise users have the most support options, including live chat, priority email support, scheduled and immediate phone support, as well as onboarding and personalised staff training.
Tresorit also has a comprehensive knowledge base, which is free for all users, and provides tutorial-like descriptions of most Tresorit features. 
Tresorit Pricing
Tresorit offers multiple plans for both individual and business users. 
The free plan called Tresorit Basic comes with 3 GB of encrypted cloud storage and a 500 MB maximum file size. In addition, you get to share up to 50 end-to-end encrypted file links (with a maximum size of 250 MB each) and connect up to two devices to your Tresorit account.
When it comes to paid plans, they are broadly divided into two categories — for individuals and for businesses. Below, we will take a closer look at each one of them.
Individual Plans
Tresorit has two paid plans for individuals — Personal and Professional. The Personal Plan comes at £8.33 a month when billed annually and £9.99 a month when billed monthly. It includes 1 TB of storage space and 10 GB of maximum file size. 
The Professional plan increases that to 4 TB of encrypted storage and up to 15 GB of maximum file size. It costs £19.99 a month when billed annually and £23.99 a month when billed monthly.
The Personal plan allows you to keep up to 10 older file versions, while the Professional plan ups that to 100 file versions. In addition, both plans allow you to connect up to 10 devices to your Tresorit account. 
Business Plans
Business subscribers can choose between three plans — Business Standard, Business Plus, and Enterprise. Prices range from £9.58 to £16 per user per month when billed annually and from £12 to £20 per user per month when billed monthly.
The Business Standard plan comes with 1 TB of encrypted storage and 5 GB of maximum file size, while the Business Plus plan ups that to 2 TB of encrypted storage and 10 GB of maximum file size. 
Enterprise is Tresorit's highest plan, tailored to large enterprises. It offers scalable storage space and a whopping 20 GB of maximum file size. 
The Business Standard and Business Plus plans are designed for teams of three or more, while the Enterprise plan must have at least 50 users. 
Tresorit lets you try out each of these plans for free for 14 days. After the 14-day trial period, you can choose whether you want to subscribe to a paid plan or stick with the Tresorit free plan. 
Compared to other cloud storage and backup services, Tresorit comes with a much steeper price tag. However, considering the tight security and business-oriented features, the service is not overpriced by any means. 
Tresorit Alternatives
Tresorit vs Dropbox
Dropbox is one of the oldest and most well-known names in the cloud storage space.
Similarly to Tresorit, it is a cloud storage service that lets users save files online and sync them across devices.
However, Dropbox works slightly differently than Tresorit. Unlike Tresorit, it offers an impressive array of integrations, allowing you to connect with a range of productivity tools, including Google Workspace, Office 365, Slack, Zoom, etc. In contrast, Tresorit only integrates with Outlook and Gmail.
Furthermore, Dropbox excels in usability, allowing you to easily drag and drop files directly into the account without any folder hierarchy required.
However, Tresorit has the edge when it comes to security. Although both services protect user data with industry-standard AES 256-bit encryption, Dropbox lacks zero-knowledge encryption, which has led to multiple security issues over the years. The most notable of those is the data breach of 2012 when more the 68 million Dropbox email addresses and passwords leaked on the internet.
Price-wise, Tresorit is a bit more expensive, but it has a slightly more generous free plan, offering 3 GB of free storage space, as opposed to Dropbox's 2 GB.
To conclude, if you value usability and collaboration more than security, you would probably be better off with Dropbox. On the other hand, if security is your top priority, you will hardly find a better solution than Tresorit. 
Tresorit vs OneDrive
At first glance, Tresorit and OneDrive may seem like very similar cloud storage services. Both offer ample storage space, strong security features, and the ability to sync files across devices. However, some key differences set these two services apart. 
One major difference is that OneDrive is a part of Microsoft's 365 suite of productivity tools, while Tresorit is a standalone service. As a result, OneDrive integrates seamlessly with other Microsoft products like Word and Excel, which Tresorit lacks.
Another key difference is that Tresorit offers end-to-end encryption, while OneDrive decrypts user files when they reach its servers, making them vulnerable to hacker attacks and leaks. 
Finally, Tresorit is slightly more expensive than OneDrive, even though both services offer free trials, with 3 GB and 5 GB of free storage space. 
For users who need robust security and seamless integration with Microsoft products, OneDrive is the better option. However, those willing to pay for extra security features and who don't mind the lack of integrations will find that Tresorit is well worth its price tag.
Tresorit vs Sync.com
Both Tresorit and Sync.com are renowned for their strong focus on security, with zero-knowledge encryption being one of their core features. The tight security makes these cloud storage providers ideal for storing sensitive data. However, they lack many real-time collaboration features found in less secure providers like Google Drive and the above mentioned Dropbox and OneDrive.
Both services offer free plans with limited storage space, but Tresorit's paid plans are more expensive than Sync.com's. File sharing is a strong point of both platforms, with options to set expiration dates, download limits, and password-protect shared links. However, Tresorit has more options for business users, allowing them to view detailed access logs of the content shared. 
Lastly, both platforms have advanced file syncing features (for example, selective syncing), which allow users to keep files cloud-only. However, the strong focus on security makes it impossible for them to introduce block-level syncing. 
Wrap Up
Overall, Tresorit is a great online storage solution for businesses and individual users who want to keep their data safe. The service offers strong security, an easy-to-use interface, and a rich set of features. While it's not the cheapest option on the market, it's well worth the price for your peace of mind.
To conclude this Tresorit Review, If you're looking for a secure online storage solution that will protect your data from prying eyes, Tresorit is definitely worth considering. If you decide to try out Tresorit, let us know your thoughts about the service in the comments below.
FAQ
Can I trust Tresorit?
Yes, Tresorit is one of the most trustworthy cloud storage providers on the market. It uses end-to-end encryption to protect user data, ensuring that only users have access to their files. Tresorit also offers several security features, such as two-factor authentication and retention policies, making it an ideal solution for those who need to store and share sensitive files.
Is Tresorit end-to-end encrypted?
Yes, Tresorit protects data with end-to-end encryption, ensuring that no one except the user has access to their files.
Can Tresorit see my files?
No, Tresorit cannot see your files.