CPU: Yes
RAM: Yes
RAID LEVEL 1 STORAGE: Raid 10
NETWORK BANDWIDTH: Unlimited
FREE DOMAINS: Yes
DEDICATED IPS: /
CPANEL & WHM WITH ROOT: Yes
SHARED HOSTING: Yes
VPS HOSTING: /
DEDICATED HOSTING: /
Web.com Review
Need website hosting for your small business or blog? Web.com might be ideal for you.


Last Updated: February 6, 2022
Advertiser disclosure
This page may contain links to our partners' products and services, which allows us to keep our website sustainable. This means that cybercrew.uk may receive a compensation when you sign up and / or purchase a product or a service using our links. However, all opinions expressed in this article are solely ours, and this content is in no way provided or influenced by any of our partners.
CPU: Yes
RAM: Yes
RAID LEVEL 1 STORAGE: Raid 10
NETWORK BANDWIDTH: Unlimited
FREE DOMAINS: Yes
DEDICATED IPS: /
CPANEL & WHM WITH ROOT: Yes
SHARED HOSTING: Yes
VPS HOSTING: /
DEDICATED HOSTING: /
Beginners
STRENGTHS
Beginner-friendly
DIY site-building options
Multiple marketing tools
Simple registration process
WEAKNESSES
No VPS Hosting
No Dedicated Hosting
No Reseller Hosting
Are you planning to give your physical business an online space? Or maybe you are starting an e-commerce site from scratch? Then, I can imagine you are looking for a fast and reliable hosting provider. But, which one to choose? It can be a challenging decision, but I suggest you go for a secure hosting provider with reliable uptime, attractive design and good tech support.
Since you stumbled upon this review, you're probably already considering Web.com as your hosting provider. If that is the case, check out this Web.com Review, as I will give you an overview of its main features and hopefully help you in your decision-making process. Here are the main points on which I will focus
What is Web.com?

Web.com Main Features

Web.com Services and Hosting

Speed and Performance

Web.com Prices and Plans

Privacy and Registration Process

Web.com Competitors

Web.com Customer Reviews
What is Web.com?
Web.com Group Inc. is a company located in Jacksonville, Florida. Web.com's UK offices are based in London and North East England. It provides users with domain registration, hosting and website building services across different subscription plans. Web.com has been in the web hosting market since 1999, and currently, the company has over 3 million customers worldwide. 
It is essential to know that this company caters primarily to small and medium-sized businesses still growing and trying to succeed in their respective fields. Web.com offers various marketing services for these companies, such as pay-per-click advertising, WordPress installations, and search engine optimisation. 
Web.com Main Features
All web hosting providers ultimately offer the same service – giving individuals and organisations alike an online space for their websites. Still, they all differ in their features, such as storage allowances, data transfers and domain offerings. 
Here I will disclose the main features of Web.com so you can get a better idea of whether this hosting provider meets your specific needs.
cPanel
It is reassuring to know that Web.com gives you access to cPanel —a leading industry control panel software with a well-known and easy to use interface. cPanel offers endless site maintenance options, from installing extensions to adding parked domains. On top of that, the one-click installation tool will allow you to quickly and easily install programs such as WordPress or Joomla.
In addition, with cPanel, you can easily manage all your email functions and databases. Finally, let's say you are worried about your website's security. In that case, you will surely make use of cPanel's various security tools, from the ability to block specific IP addresses to creating protected passwords. 
Add-ons
All of Web.com's hosting plans come with some additional services to help you further improve the functionality of your site. Here is a list of Web.com's add-ons
Additional Domains

Shopping Cart

Perfect Privacy

Mobile Converter

Take a Payment

Marketing Services
Site Builders
Your customers will get the first impression of your business from your website's design. And if you want to spark their interest and keep their attention, a professional-looking website with an intuitive interface can be of great help. The Web.com website builder provides two options.
Firstly, If you want to put together your website yourself, you can choose from various DIY tools that will assist in the process. Some of them are
Drag and Drop Functionality

Hundreds of

Web.com Templates

A Free Domain 

A Business Email address 

Stock Image Library
Alternatively, suppose you find the site-building process too difficult or time-consuming. In that case, you can rely on Web.com's team of experts to create a professional-looking website according to your vision and ideas and within a reasonable time frame.
Moreover, if you want your website to achieve that extra traffic spike, Web.com offers Search Engine Optimisation to help you reach your target audience.
Domain-Specific Email Addresses
Having a professional email address is essential to give your business a layer of professionalism and at the same time manage all your business communication from one place. 
Web.com offers a business email package that will help you promote your brand and manage all your tasks, contacts, and appointments. Not only that, but it also comes with 5 GB of email storage and spam and malware protection. 
Uptime
Uptime is one of the most important aspects to consider when choosing your hosting provider. Your site being down can result in a loss of profit, and some customers can become frustrated and lose interest in your brand. You surely want to avoid that. 
However, while zero downtown would be ideal, no web hosting company can achieve that. Web.com guarantees an uptime of 99.9%, indicating that your site will only be down an estimated 8,77 hours a year, which is a pretty impressive score. 
Cloudflare Integration
A content delivery network will significantly improve your site's loading speed and overall functionality. As such, Cloudflare Integration is typical in most hosting providers. Unfortunately, Web.com is not one of them.  I couldn't find any info that Web.com uses Cloudflare Integration, so I would like to see the company work on that in the future.
SSL Certificate
Having an SSL Certificate will make your website look more trustworthy, and in turn, customers will be more likely to share their personal information with you. In addition, an SSL Certificate will encrypt your customer's data using 256-bit encryption, and if you are considering starting an e-commerce site, this is a necessity. 
Web.com offers different SSL Certificates to accommodate various security needs. None of the SSL Certificates provided by Web.com come for free, however. Instead, they range in price from £29.99 to £390 a year.
Web.com Services and Hosting
Even though you find Web.com's main features appealing, it is integral to look into their hosting plans and see if they suit your needs.
Shared Hosting
Shared Hosting refers to a single server hosting multiple websites. This type of hosting has its perks and downsides. Expectedly, it is not the most reliable, but generally speaking, sites that don't receive much traffic find the shared hosting options more than enough. 
Web.com offers robust shared web hosting plans, making the company an ideal choice for small businesses and sites that have yet to receive significant traffic spikes.
WordPress Hosting
Are you looking for the best WordPress hosting company for your WordPress site? In that case, you will be thrilled to know that you can install Web.com's hosting services on your WordPress site with just one click and get it up and running in no time. Furthermore, Web.com's WordPress hosting plans come with ample storage allowances and the option to build up to five WordPress sites. 
VPS Hosting
VPS Hosting is a common choice for users needing more significant resources than what Shared Hosting can provide. So, if you sign up for VPS Hosting, your site's performance won't be affected by the other sites on the same server. Sadly, Web.com doesn't offer any VPS web hosting plans.
Dedicated Hosting
The lack of Dedicated Hosting makes Web.com a somewhat limited option. For sites that receive thousands of clicks a day, a dedicated plan is virtually the only option. Only a dedicated server can keep up with the resources required to handle that amount of traffic. So, you can see why Web.com is ideal for smaller businesses and blogs and not as appealing for large enterprises with popular websites.
Reseller Hosting
If you are interested in selling website space to other businesses or individuals, Reseller Hosting is the way to go. In this regard, you won't find much use of Web.com, as the company has yet to offer any reseller plans to its customers. 
Private
Cloud Hosting
Cloud Hosting is relatively new in the hosting industry and, as a result, is not as popular as other options. If you are interested in this type of hosting, you will find your options limited —many of today's most prominent hosting providers lack this option, and sadly Web.com is one of them. 
Domains 
Choosing an adequate domain name is the first step you will have to take when creating your website. With Web.com, you will get one free domain name for the first year of use. However, one major disadvantage is that the Web.com domain price increases significantly upon renewal which some users find too expensive. Also, keep in mind that Web.com offers the chance domain transfer service, meaning you can transfer your existing domain to Web.com's registrar.
eCommerce
If you are an online store owner, you should take advantage of the numerous Web.com eCommerce options. For example, the Pro Online Store tool will enable you to sell up to 500 products from your website, including all popular payment methods.  Additionally, it includes hosting, a domain name, a professional email address and comes with built-in security in the form of an SSL Certificate. 
Speed and Performance
Regardless of how attractive your site's design is, customers can quickly lose interest if it takes too long to load. So, it is worthwhile to put your web host's speed to the test before signing up. Surprisingly, Web.com's official site doesn't offer much information regarding its speed performance. 
Here is how this web host compares to some other hosting companies in terms of Server Speed, Uptime and Server Response Time.
| | | | | |
| --- | --- | --- | --- | --- |
| | Web.com | Bluehost | HostGator | DreamHost |
| Server Speed | 127 ms | 172 ms | 172 ms | 146 ms |
| Uptime | 99.9% | 99.98% | 99.9% | 100% |
| Server Response Time | 89 ms | 112 ms | 115 ms | 152 ms |
Given the results, I can reassure you that Web.com offers above-average speed performance and can easily measure up to some top web hosting companies. 
Web.com Pricing
and Plans
Web.com offers its customers the option to choose between three shared hosting plans. See the table below to find out what each plan provides and at what price. 
Essential Hosting
Professional Hosting
Premium Hosting

Disk Space

300 GB

500 GB 

Unlimited

Data Transfers

Unlimited

Unlimited

Unlimited

FTP Accounts

25

50

Unlimited

Multi-user email boxes

100

500

1000

Monthly Price

£

4.99

£

6.99

£

14.99
As you can see, Web.com offers comprehensive plans with more than enough resources for small to medium-sized businesses.
Also, Web.com offers a free domain name registration valid for the first year for all three hosting packages. Afterwards, the service will renew at £37.99 a year. 
There is no Web.com free trial, but keep in mind that Web.com offers a 30-day money-back guarantee for those users who first want to test its services before fully committing to a hosting plan. 
And, if you are interested in WordPress hosting, all your options are below. 
New Businesses
Growing Businesses
Thriving Businesses

Storage

50 GB

100 GB

200 GB

Email boxes

10

25

50

Number of WordPress sites

1

3

5

Essential SSL

N/A

N/A

Available

Price

£

10.99

£23.98

£

26.98
Privacy and Registration Process
The Web.com registration process is not complicated at all, and you can have your account set up in a matter of minutes. All it takes are a couple of quick steps. 
Firstly, go to the 'Claim Offer' button at the top of this page, then choose the hosting service that interests you by clicking on the Add To Cart button underneath each plan. Then, you will be prompted to register your domain name or use one you already own.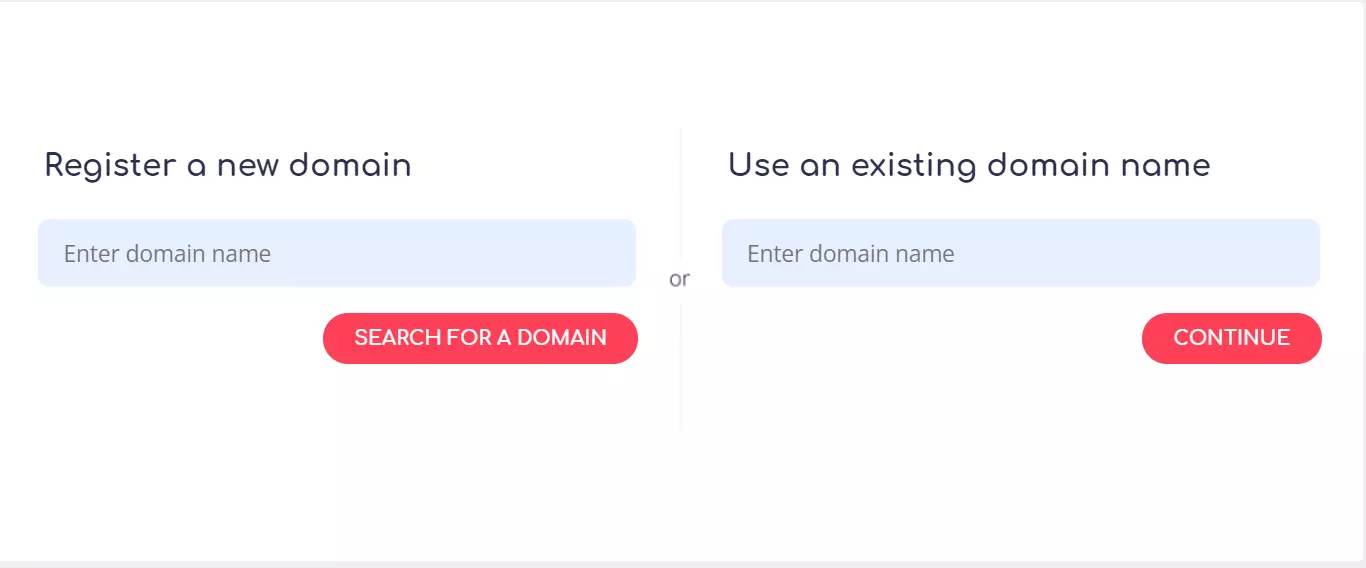 Afterwards, proceed to make your Web.com account by entering your name, email address and password.
The final step would be to select a payment method, and your Web.com registration process will be complete. 
If you run into an issue along the way, Web.com's customer support is available 24/7 via phone, live chat or ticket. What's more, Web.com's support team is also present on social media, such as Facebook and Twitter, where you can message them day and night. 
Finally, let's say a few words about privacy. Web.com's team guarantees to fully protect your identity if you sign up for its Private Domain Registration services. So, instead of publishing your personal information to the WHOIS database, Web.com's address, name and phone number will be made publicly available instead.
Moreover, other than the Perfect Privacy feature, Web.com offers SSL Certificates as well as malware and scan protection for your website, making Web.com a secure web hosting company.
Web.com Competitors
Before picking a hosting provider, you should go over each of your options carefully. So, in the following segment of my Web.com Review, I will provide a couple of alternatives to Web.com. 
Web.com vs GoDaddy
If you are a site owner, you've undoubtedly already become familiar with GoDaddy, one of the best web hosting services providers and domain name registrars. While Web.com offers only shared and WordPress hosting, with GoDaddy, you can find VPS and Dedicated Hosting plans as well. 
When comparing their web design services, it is easy to notice that both companies place a lot of value on ease of use and are incredibly beginner-friendly. A case in point is their drag and drop tool and rich selection of stock images. And with its built-in editing software,  GoDaddy even lets you edit all the images right on the spot. 
If you want to build an e-commerce site, both companies offer some great opportunities. Web.com keeps things simple with a host of valuable tools to upgrade your online store, including a Product Inventory Expansion, a Rotating Banner and a Website Gallery. 
However, Web.com doesn't offer separate eCommerce hosting packages, so you will find it in GoDaddy if you want greater variety. GoDaddy's easy to understand eCommerce plans will help you launch your online store in no time. 
While Web.com offers more straightforward hosting plans, it is slightly pricier than GoDaddy. Still, with its unlimited web storage, it can be ideal for those with heavier storage needs. 
Web.com vs Squarespace
Web.com and Squarespace are two of the most popular contenders for building and hosting your website online. But how do the two compare? 
While they share the same beginner-friendly solutions, they differ in some of their features. For example, while we've already established that Web.com is best suited for smaller businesses, Squarespace also caters to mid-sized companies and large enterprises. In addition, its aesthetically pleasing templates are one of its greatest assets. 
One similarity is that both companies offer one free custom domain during the first year. Pricewise, they are quite alike as well. Squarespace's Personal tier begins at £10 a month, and prices go up to £30 for the Advanced commerce plan. 
However, some users may find Squarespace more appealing as it offers more diverse plans, all coming with unlimited bandwidth and storage. 
Web.com vs Wix
Wix is a software company offering web developing and hosting services. As such, it serves as one of Web.com's most significant competitors. First, let's see how they compare in their templates offering. Both companies provide sleek and professional-looking templates, but Web.com has a slight edge in this category, with an overall more extensive offering.
If you are a novice in web building, chances are you will find Web.com's drag and drop feature and its straightforward layout more appealing. In contrast, Wix.com leaves it up to you to work out most of the commands during the site creation process, so it may take a while to get the hang of it.
One unique Wix feature is its Wix ADI app, designed to build your desired website based on your specific needs. So, we have to give Wix credit for being innovative. In addition, it is one of the few hosting providers to offer a free hosting plan, though it comes with a few limitations, such as site advertisements. And the paid plans are significantly cheaper, ranging from £3.50 to £19 a month.
Customer Reviews
If you want to get a complete idea of Web.com's services, it is essential to look at some customer reviews. After all, customer feedback is the best indicator of whether a product is as good as its creators claim it is. 
When looking at Web.com reviews, I noticed that most were positive, with only a few dissatisfied customers. Here are only a few examples.
Most of the Web.com reviews complaints mention poor customer support experiences, technical issues, and high renewal prices. 
Wrap Up
What can we conclude from this Web.com Review? For starters, Web.com offers enough resources and web-building options to provide small business owners with a professional web hosting experience. In addition, its hosting plans offer enough space to work with, and its versatile website design opportunities will not disappoint you. 
Still, I did encounter some issues, such as the lack of Dedicated, VPS and Reseller hosting, which tells us this company doesn't offer as much diversity as some other hosting provides. In short, for small businesses to medium-sized businesses, it can be a right fit, while large enterprises with high traffic sites will likely not find what they are looking for here.
FAQ
What is Web.com?
Web.com is a company that provides hosting, web-building and domain registration services.
Is Web.com free?
Web.com doesn't provide any free hosting plans, only a free domain name during the first year. Instead, you can choose between three subscription plans.
How much does Web.com cost?
The Web.com web hosting plans range in price from £4.99 to £14.99.
Is Web.com a good company?
Web.com is somewhat limited in the web hosting services it provides, but for blog owners and small businesses looking to create a simple website, it offers some excellent resources. So, yes, Web.com is a good company.