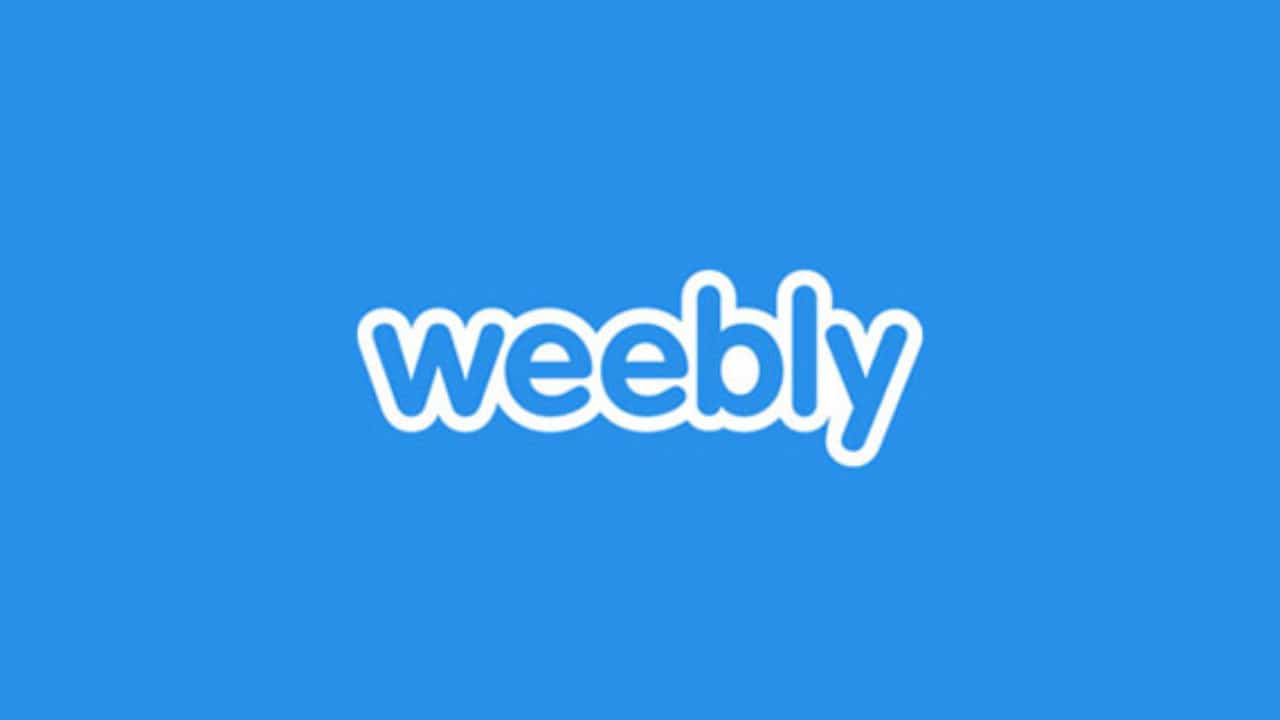 Free Plan: Yes
Bandwidth: Unlimited
Mobile App: Android and iOS
Number of Themes: 50+
Customer Support: Community forum, email, live chat, phone
Weebly Review
Weebly is a beginner-friendly website builder, powering over 50 million websites worldwide. Continue reading this Weebly review to find out if this popular platform is worth the hype.
Last Updated: May 21, 2022
Advertiser disclosure
This page may contain links to our partners' products and services, which allows us to keep our website sustainable. This means that cybercrew.uk may receive a compensation when you sign up and / or purchase a product or a service using our links. However, all opinions expressed in this article are solely ours, and this content is in no way provided or influenced by any of our partners.
Free Plan: Yes
Bandwidth: Unlimited
Mobile App: Android and iOS
Number of Themes: 50+
Customer Support: Community forum, email, live chat, phone
Beginners and small online businesses
STRENGTHS
Numerous eCommerce features
Unlimited data transfers with all plans
Option to switch between different themes
WEAKNESSES
Limited customisation
Platform lock-in
Weebly is one of the most popular website builders globally, with millions of people using it to create their websites every year. It is known for being easy to use, offering a wide range of features that mainly benefit small businesses and entrepreneurs. This Weebly review will explore all of its main features and discuss Weebly's competitors in the website builder market.
About Weebly
Weebly is a web hosting service founded almost 16 years ago, in 2006 by its current CEO and CFO — David Rusenko and Chris Fanini, and former CPO, Dan Veltri.
Rusenko and Fanini both attended Penn State, which at the time required all Information Sciences and Technology students to maintain an Internet portfolio, so they built upon this idea and created software that made it easy for anyone to build a personal website.
The web builder's formal development began in January 2006, while the official private beta launched in September 2006.
In March 2007, Weebly re-launched with its "WYSIWYG" ( What You See Is What You Get) editing interface, allowing for content to be edited in a form that resembles its appearance when printed or displayed as a finished product — website.
Weebly became a publicly-traded company in November 2016, when Square, Inc. announced it would acquire it for approximately $365 million (roughly £477 million) in cash and stock.
Today, Weebly powers millions of businesses on more than 50 million sites around the world.
Main Features
Weebly's features are all tailored toward building an online business presence. So, let's take a look at how this website builder can help you with your SEO, eCommerce, and marketing needs.
App Centre
Weebly has an admirable App Centre where you can find free and paid apps that add additional features to your site with just a few clicks.
The basic features such as text blocks and image galleries are built into the Weebly editor. Still, you can integrate additional advanced tools and features to your site with the App Centre, such as a Facebook like button, FAQ sections, social media icons, etc.
The apps will help you boost traffic to your Weebly website, spike online sales, and optimise your social media presence.
There are four app categories in the App Centre — eCommerce, Communication, Marketing, and Social.
Some of the highest-rated apps with the best customer reviews are:
Testimonial Slider

(premium) — people tend to trust a business more if other customers vouch for it. Since Weebly doesn't showcase testimonials by default, getting this app will help you organise and showcase testimonials in a slider format. The Testimonial Slider app costs $5 (approximately £3.80) and has seven different designs you can choose from that are customisable to your site and are responsive to all devices.
X

(premium) — the X app revolutionised the way a

Weebly website

is created. It's the number one Weebly page layouts builder that lets you create dynamic and structured layouts with just a few clicks. The X app costs $25 (approximately £19), and it comes with an intuitive drag-and-drop interface.
Sales Pop

(free) — when shoppers know what other people are buying, it creates the sense of a busy store and motivates them to make a purchase.

Sales Pop creates pop-ups like: "4 people are looking at this room right now", speeding up the decision-making process.

The app displays notifications of successful orders within 24 hours on cart and checkout pages and product recommendations when customers view a specific item. Best of all — Sales Pop is completely free.
Column Lock

(free) — a

Weebly app

that makes your website mobile-friendly by displaying columns in a row no matter the screen size.
SEO
Weebly is a good website builder for small businesses that don't plan on growing. It offers a strong set of SEO tools for starting a website, but not for long-term growth. The best SEO practices involve custom development and unique strategies that , unfortunately, Weebly can't provide. 
Here's what all Weebly sites come with:
Meta description

SEO-friendly HTML formatting

Sitemap
Weebly allows you to edit your meta titles and descriptions, customise URLs, and benefit from more advanced SEO features — adding alt text to images and page-specific descriptions.
Weebly has an SEO guide that acts as an introduction to SEO and explains in great detail how you can optimise your site for SEO from start to finish.
eCommerce
Weebly has three separate plans — Pro, Business, and Business Plus, focused on online selling that come with eCommerce features.
The Pro Plan is the cheapest one, and it comes with a shopping cart and the ability to accept payments through Square and third-party providers.
Upgrading to the Business Plan will grant you access to item badges, item options, inventory management, automatic tax calculator, coupon codes, Square gift cards, item reviews, shipping calculator, integrated shipping labels, and shipping discounts.
Finally, the priciest plan of the three — the Business Plus Plan, will give you all of the above Weebly features, plus abandoned cart emails and real-time shipping.
Weebly provides a dashboard with useful eCommerce insights such as sales, orders, conversion rates, and more, plus, you can always add Google Analytics for free.
As mentioned before, Weebly is ideal for small online sellers, and I recommend opting for a more advanced plan for creating a more professional store.
Marketing
Weebly's App Centre gives you access to numerous marketing apps such as Google Ads, Site Booster, and social media-oriented apps to help you establish your online presence.
However, there is also Weebly Promote, which is Weebly's newsletter tool that aims to make email marketing as easy and effective as possible. Weebly Promote seamlessly integrates with your Weebly website, so you can choose a template, customise your message, and email your contacts all from one place.
With Weebly Promote, you can turn visitors into return buyers with personalised announcements that keep them engaged.
The email statistics will help you track results from your email campaigns, allowing you to see how many people opened and clicked your email so you can make important, data-driven decisions for your business.
You can try out Weebly Promote for free and decide if you want to purchase one of the three plans offered:
Build

— Lead capture form and five emails per month for $8 (approximately £6) per month.
Grow

— 20 emails per month, scheduled emails, and automated emails for $25 (approximately £19) per month.
Accelerate

— Unlimited emails and VIP support for $75 (approximately £57) per month.
Ease of Use
Thanks to its drag-and-drop editor, Weebly is relatively easy to use, and there's no learning curve. In addition, unlike some other website builders (WordPress, Squarespace), Weebly doesn't require previous technical knowledge.
Instead of dealing with abstract lines of code, you drag actual images, text boxes, and buttons around your page until you're happy with the result. However, sometimes the theme you've chosen can limit your creative freedom.
Once again, the straightforward process of creating a site and ease of use confirm the claim that Weebly is best suited for beginners.
Hosting
Weebly is one of the website builders that include hosting with their plans, meaning you don't have to worry about finding and paying for additional hosting services.
According to Weebly, their data centre redundant, cloud-based hosting infrastructure ensures optimal performance and provides a fluid online experience for visitors to your Weebly site.
In contrast, if you opt for a traditional website host, your site will share disk space with hundreds of other customers on a single server. If, for example, one of those websites experiences a notable traffic spike, all websites on the server can slow to a crawl.
Fortunately, with Weebly's hosting, your website is served across the entire server infrastructure that powers millions of websites and pageviews per day. On top of that, unlike other free web hosting services, there are no ads when you build a site with Weebly.
Weebly also considers your site's security, defending its websites from DDoS attacks and providing advanced cyber attack protection.
Last but not least, Weebly allows you to automatically activate an SSL certificate for your site, which encrypts any data (such as passwords and payment details) passing between you and your visitors.
Themes
One area where Weebly disappoints is the number of themes it offers and the limited customisation options.
Weebly's themes aren't necessarily bad, but they are simple. Unfortunately, there are only around 50 of them, which is pretty disappointing compared to WordPress, which has over 9000 themes and offers unlimited customisation.
All Weebly themes are separated into seven categories — Featured, Online Store, Business, Portfolio, Personal, Event, and Blog.
The good thing about Weebly's themes is that they are all free, and you can easily switch between the themes that come in different styles. All themes favour grid layouts and full-screen image backgrounds that are not the most mobile-friendly options.
Because all Weebly themes are structured, your creative freedom will be restricted, and you won't have total control over your site.
Pricing and Plans
Weebly offers a total of seven plans, split into two categories — Website plans and Online Stores plans.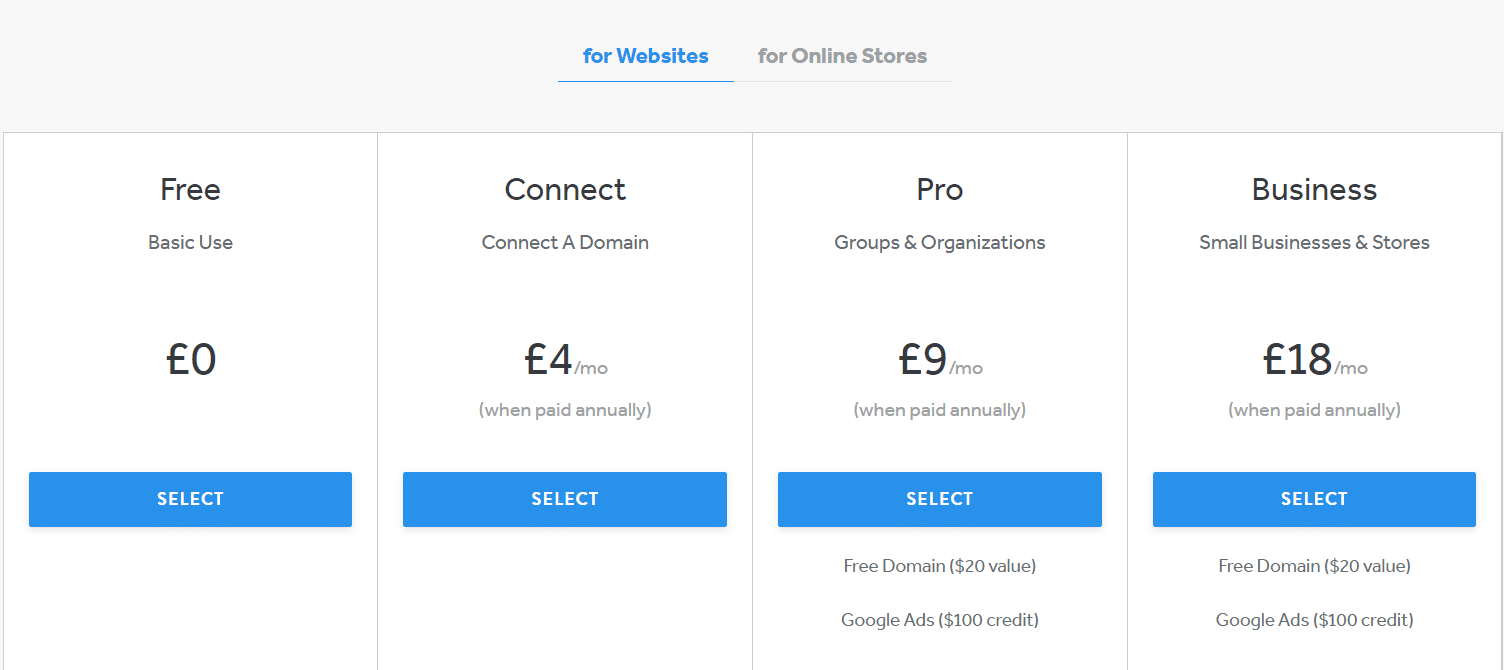 The first of the seven Weebly plans is its Free Plan, which comes with the least features, but is still a solid option. Choosing the Free Plan will grant you free SSL security, 500 MB storage, a domain with Weebly branding, SEO, lead capture and contact forms, access to the community forum, and chat and email support.
The only difference in features between the Free and Connect Plan is a custom domain, which you get for £4/month.
Next, upgrading to the Pro Plan will remove Weebly ads from your site and offer site reach. Additionally, you will gain access to a shopping cart, and you will be able to accept payments through Square and third-party providers. Advanced site statistics and phone support are also included in the Pro Plan for the cost of £9/month.
Finally, the Business Plan, the last of the Website plans, adds item badges and options, inventory management, an automatic tax calculator, coupon codes, Square gift cards, item reviews, a shipping calculator, integrated shipping labels, and a good shipping discount for £18/month.
Moving on to the Online Stores plans, besides the eCommerce features explained previously, all three Weebly plans (Pro, Business, and Business Plus) come with free SSL security, unlimited storage, custom domains, removed Weebly ads, site search, SEO, lead capture and contact forms, advanced site statistics, access to the community forum, chat, email, and phone support.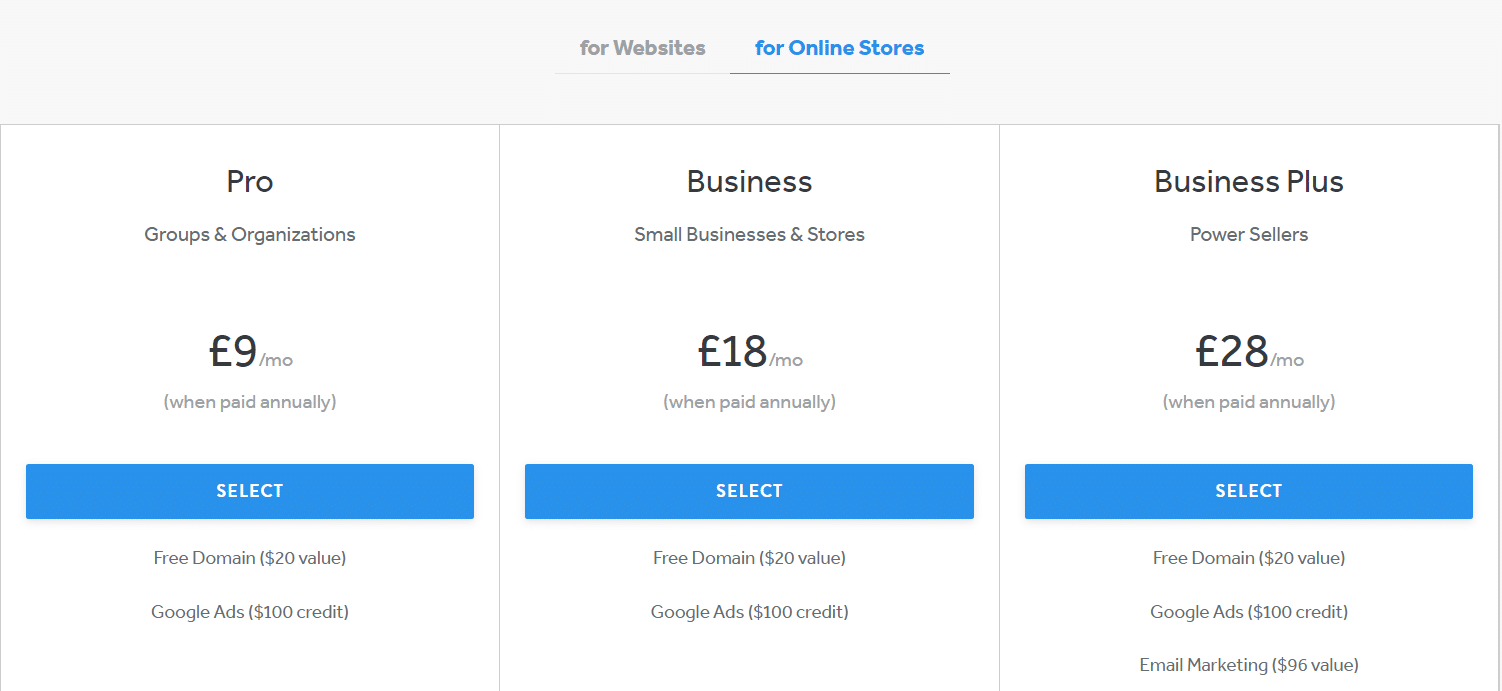 The Business and Business Plus Plans also include pop-up notifications and advanced eCommerce statistics.
Here's how much the Online Stores Plans cost:
Pro — £9/month

Business — £18/month

Business Plus — £28/month
Customer Support
Weebly has a Support Centre with a ton of free guides, and it walks you through many common questions and issues users have reported facing.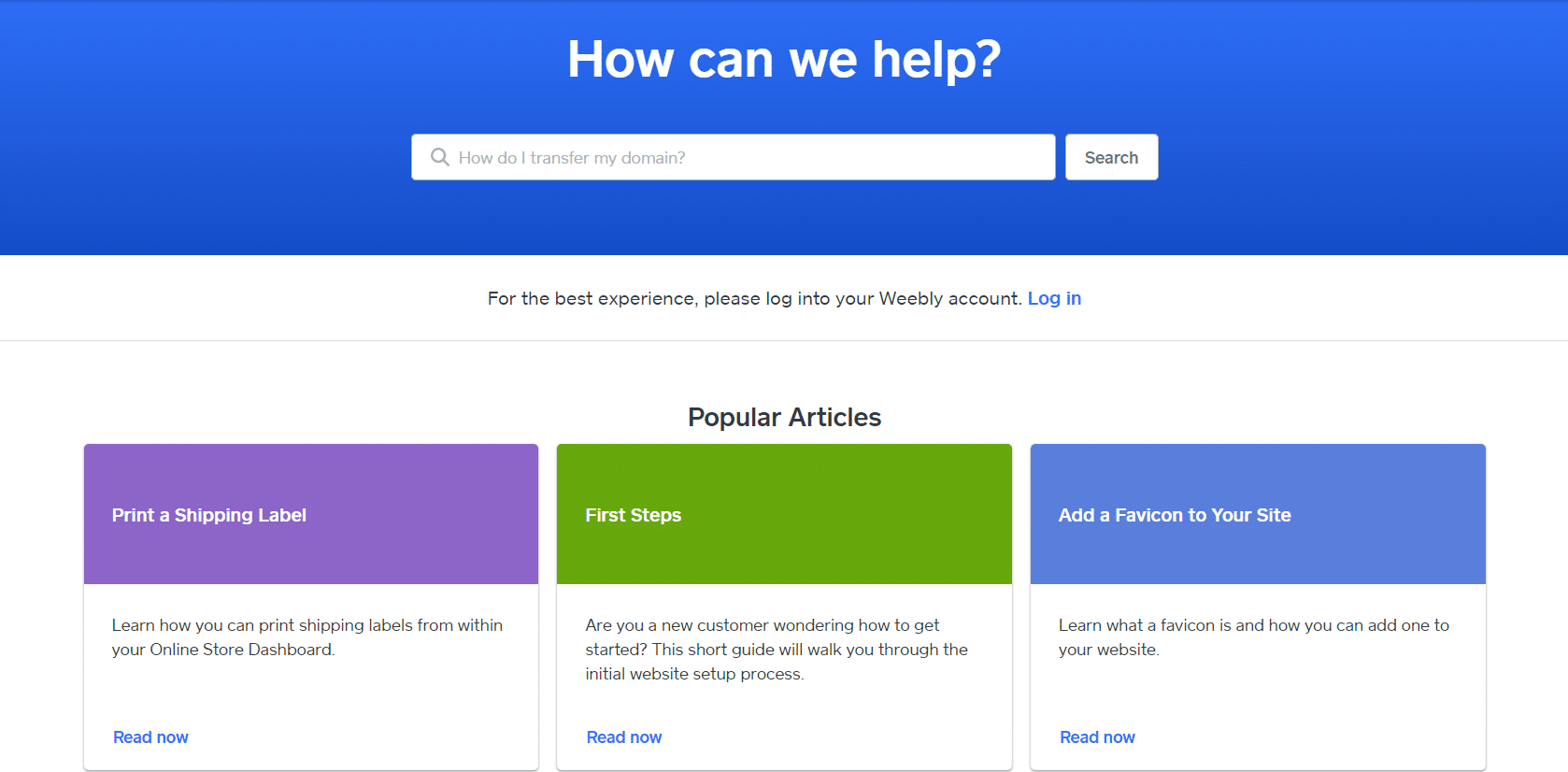 As mentioned before, all plans are given access to a community forum and email support. Unfortunately, only the more expensive Weebly plans can reach its support team via phone.
Weebly's live chat is available Monday through Friday: 6 AM – 6 PM US Pacific Time (9 AM – 9 PM US Eastern Time) and Saturday – Sunday: 6 AM – 6 PM US Pacific Time (9 AM – 9 PM US Eastern Time).
The premium plans can reach the support team on 1 844-493-3259 from 6 AM – 6 PM PST.
Weebly Competitors
The website builder market is a competitive place with many high-quality opponents. Here are some alternatives if Weebly isn't the right fit for you.
Weebly vs Wix
Wix is another beginner-friendly, easy to use website builder that allows users to create HTML5 websites and mobile sites through the use of online drag and drop tools. Wix doesn't require previous coding knowledge and has over 200 million registered users across 190 countries, over 5 million of which are paid subscribers.
Wix has a more extensive library of themes — over 800, and it is highly flexible compared to Weebly.
Weebly vs WordPress
WordPress is the most popular CMS globally, and it powers over 455 million of 1.3 billion existing websites. In addition, WordPress is open-source software, which means that anyone can contribute to its development. As a result, constant improvements and updates are made by a large community of users and developers, making WordPress arguably the best platform for website creation.
However, WordPress is not that easy to use and requires some basic coding knowledge. It outshines Weebly in the selection of themes offered and the huge library of 59,000+ plugins, but it's definitely not as beginner-friendly as Weebly.
If you want complete creative freedom and unlimited customisation options, WordPress is the way to go.
Weebly vs Squarespace
Squarespace is a website building and web hosting service that offers drag-and-drop tools and templates, and integrated coding options for advanced users to truly customise their website.
Unlike Weebly, Squarespace is praised for its professional-looking and highly customisable themes, but one downside to it is that it doesn't offer a free plan. Furthermore, Squarespace is not as easy to use as Weebly.
Customer Reviews
Weebly's customers are fond of the free plan and its features. Beginners appreciate that no programming knowledge is required to create your site, and the overall experience with the website builder is rated as straightforward and effortless.
On the other hand, the Weebly customer service team and its helpfulness are getting many one-star reviews. Customers are mostly disappointed with the slow reply time and lack of knowledge presented by the support team.
Wrap Up
This Weebly review shows that although with a few minor weaknesses, Weebly is a perfect website builder for beginners and small online sellers.
The free plan is a great place to start and see if Weebly will fit your needs. If not, there are plenty of other options you can turn to. Make sure to check our website for all the popular web builder reviews before making a final decision.
FAQ
Is Weebly any good?
Yes, Weebly is a pretty good website builder, especially for beginners. It comes with a user-friendly drag-and-drop editor and a rich app centre where you can stock up on plenty of marketing and eCommerce tools to create your ideal website.
What are the disadvantages of using Weebly?
Weebly is best suited for small to mid-size businesses, so if you expect top-notch SEO tools for growth, you will be disappointed. Unfortunately, Weebly also has a poor selection of themes and doesn't offer many customisation options.
Is Weebly actually free?
Yes, Weebly has a free plan that you can use for as long as you want. Naturally, the free plan doesn't offer many features, but you can always upgrade to a paid plan.

Is Weebly drag and drop?
Yes, Weebly has a drag-and-drop tool that makes it easy to create a professional-looking website without technical knowledge and skills — perfect for beginners.