Budget PC Speakers — UK Top Picks
Whether you want to listen to music while you work or study, you'll need decent PC speakers. There are a variety of speaker brands on the market, many of which claim to offer excellent sound capabilities at an affordable price. Since they can't all be perfect, we've compiled a list of the best budget PC speakers to help you narrow down your choice. So let's dive in!
Last Updated: March 8, 2023
Advertiser disclosure
This page may contain links to our partners' products and services, which allows us to keep our website sustainable. This means that cybercrew.uk may receive a compensation when you sign up and / or purchase a product or a service using our links. However, all opinions expressed in this article are solely ours, and this content is in no way provided or influenced by any of our partners.
Top Budget PC Speakers UK
Detailed Reviews
Average consumers
Visit Website
Single USB cable for PCs and laptops
Far-field drivers with passive radiators
45° raised drivers
Modern design
Pros
Cons

Appealing design

Excellent audio quality

Small size

Some distortion at high levels

Only one input
This 2.0 speaker system boasts an attractive, orb-shaped design inspired by a zen Japanese rock garden. Each speaker features a 2-inch front driver and a passive subwoofer to help enhance the bass. The drivers are angled 45° to direct audio to your ears, ensuring a better listening experience.
The Creative Pebble speakers are only 4.4 inches wide, so they can be put next to your PC monitor without taking up valuable desk space. What's more, they are powered by a single USB cable and don't require a wall outlet.
Pebble's audio is surprisingly rich and vivid for such an affordable price. So, if you want to better your listening experience on a budget, consider purchasing these speakers. They're excellent value for money and deliver great sound for their size. Moreover, their trendy aesthetics are ideal for any modern house, office or workspace.
USB-powered speakers
Easy controls
3.5 mm AUX input
Wooden enclosure
Pros
Cons

A rich and well-balanced sound

Faux-wood design that is both stylish and functional

Power and audio output are both provided via a single USB connection

Light on bass and volume output
The Edifier R19U 2.0 USB computer speakers produce a well-balanced, crystal-clear sound with no interference or degradation in quality. In addition, they are tilted 10 degrees to improve sound quality and reduce reflections off your desktop. As a result, the speakers produce a rich, balanced sound with clear highs and mids. What's more, they have a decent bass even without a subwoofer.
You can connect these speakers to your computer or laptop using a USB cable. With fewer cables, your workstation will be less cluttered, so the more minor complications, the more enjoyable is the experience. Both volume and power are controlled via the big, matte-finish knob. 
Even though their design isn't especially attractive, the Edifier R19U speaker system works great. The audio quality is good enough for casual listening. It will not please a true audiophile, though, but that's what you get at this price point.
Easy controls
Well-balanced sound
Subwoofer for deep bass
Bluetooth audio adapter
Pros
Cons

Clear and rich sound

Bass response

Beautiful design

Affordable price

No Bluetooth

No control for bass level
The Logitech Z313 computer speakers with subwoofer are meant to save space on your desktop and improve your listening experience with their tight control pod and easy access to controls. 
Despite their small size, these speakers can create well-balanced audio when adequately positioned. The subwoofer is also small, making it simple to install anywhere near your desktop. 
Many audio systems in this price range show cost-cutting in their design or performance, but not these Logitech speakers. The highs are superb, and the bass is surprisingly strong. What's more, with the easy-to-use remote control, you can change the volume and attach headphones while silencing the speakers with a fingers snap.
Overall, the Z313 packs quite a punch for the price. However, these speakers might not be the best choice for people who like listening to loud music because the sound gets distorted at high volume levels.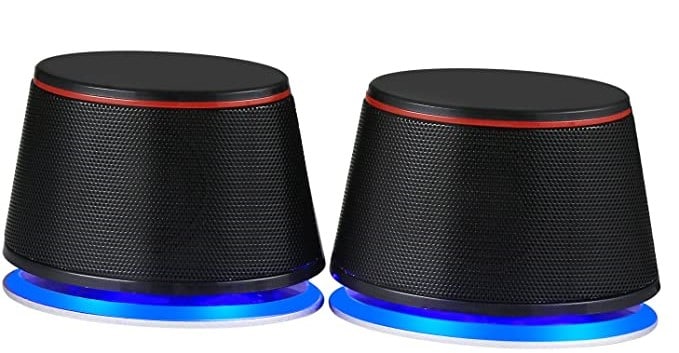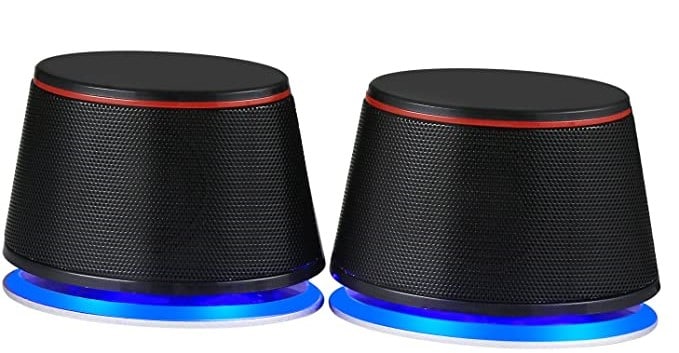 Acoustic listening
Visit Website
USB powered speakers
High-quality build
Built-in bass diaphragm
Acoustic resonator structure
Pros
Cons

360-degree audio

USB powered

Stylish design

No Bluetooth

No subwoofer
Even though the Sanyun SW102 computer speakers are small and very affordable, they produce high-quality sound. Furthermore, they boast a sleek design and one-of-a-kind acoustic resonator construction. The sound transmission is consistent, and control is straightforward. The bass diaphragm improves the bass, allowing for high-quality lows.
One of the best features of the Sanyun SW102 speakers is the 360-degree sound which offers an authentic listening experience. What's more, the aspherical ring at its base emits a blue LED light, which helps to create a cool atmosphere.
Note that these speakers come with a one-year warranty and a 30-day money-back guarantee.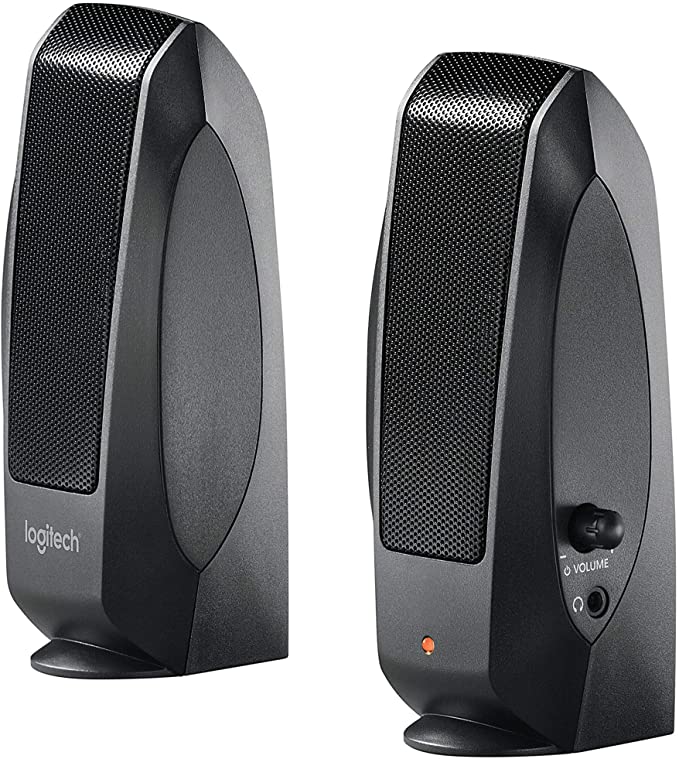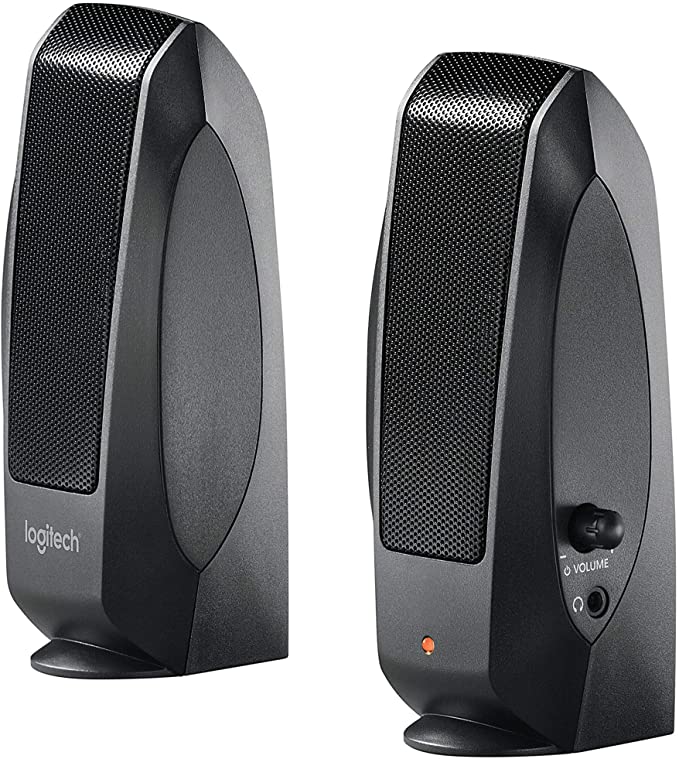 Office use
Visit Website
Integrated power and volume control
Improved acoustics with 2.3 W RMS output
Peak power of 4.4 W and a constant output of 2.2 W
3.5 mm audio jack
Pros
Cons

Simple setup

Well-balanced sound

BassFlex technology 

Not particularly loud

Bass distorts at high volume levels
The Logitech S120 speakers are lightweight and compact, saving space on your desk. The right speaker features easily accessible power, volume, and headphone jacks on the side. 
The 2.0 stereo technology assures that sound is crisp and clear, with no noticeable distortion. Moreover, these speakers appear to be immune to radio interference. They work with any device with a 3.5 mm input, including TV, PC, smartphone, tablet, and music players.
The all-black design of the Logitech S120 speakers will look elegant on any desk. They are made of sturdy plastic with a matte finish. Rubber pads at the bottom of each speaker prevent them from sliding down the table.
How to Choose the Best Budget PC Speakers
 — Buyer's Guide —
Finding an affordable PC speaker with solid audio quality is difficult. To help you make an informed purchase decision, we've compiled a list of the most important factors to consider when looking for the best budget PC speakers:
Connectivity

Size

Input

AC vs USB

Sound quality
Connectivity
Wireless speakers are unquestionably the way to go if you have a little extra cash. However, if you choose a wired system, avoid pre-attached cables to avoid dealing with tangled wires.
Size
Speakers come in a variety of sizes and styles. Therefore, the size you pick should be based on your particular preferences. Consider how you'll use the speakers when deciding on the proper size for the amount of space you're dealing with. For example, you should go for mid-size speakers if you want a good setup for gaming.
Input
Most PCs offer a standard 3.5 mm connector for your speakers. However, if you want to connect them to other devices (for example, your gaming console), make sure your speakers have both 3.5 mm and RCA inputs.
AC vs USB
USB-powered speakers are great for reducing cord clutter. However, their loudness and bass are reduced because they are not as powerful as AC-powered speakers.
Sound quality
Good PC speakers will deliver rich and clear sound. Fortunately, there are several low budget speakers whose sound quality won't disappoint you. However, obtaining an excellent bass response in this budget range might be difficult. 
Keep in mind that low frequencies are difficult to reproduce in 2.0 systems without a subwoofer. Manufacturers frequently employ technological enhancements to strengthen the bottom notes, although they can sound boomy and muddle the whole mix. A 2.1 system may be a better investment if a rich, balanced low end is required.
Wrap Up
While none of these speakers is particularly expensive, there is a significant difference in sound quality between those that cost closer to £60 and those that cost less than £30. If you can afford to invest a few extra pounds, you will be rewarded with better features and sound quality.
Hopefully, this list of the best budget PC speakers has helped you find exactly what you're searching for at a price that fits your budget.
FAQ
What are some good cheap speakers for PC?
All speakers on this list are worth taking into consideration if you're looking for affordable speakers with decent sound quality. Even though most of them are modest in size, the audio quality you get is excellent for the money you pay.
Which speaker is best for PC?
Out of the speakers mentioned in this guide, the Creative Pebble 2.0 speakers are the best PC speakers to buy if you're on a budget. They boast a compact design and exceptional sound quality.
Are Bluetooth Speakers good for PC?
Bluetooth speakers are a good option for PCs. They are easy to set up, and you won't have to deal with any cables.