Dell vs HP [2023 Comparison]
Purchasing a new laptop can be a challenging task as there are numerous models to select from. Namely, HP and Dell are two brands that are market leaders, and both offer high-quality products.
Nonetheless, if you're searching for a gaming laptop, Dell is the way to go. And on the other hand, HP is ideal for daily use because of its battery life. These laptop brands adapt to your current needs and standards and make your experience more enjoyable. So, let's see which company wins in this Dell vs HP comparison.
Dell vs HP – Company History
Dell Inc., previously PC's Limited (1984 – 1988) and Dell Computer Corporation (1988 – 2003), is a multinational corporation that designs, develops, and produces Dell computers (PC's) and other computer-related items. The company is one of the world's largest PC manufacturers. Dell's headquarters are in Round Rock, Texas. The firm, formerly known as PC's Limited, was formed by Michael Dell, a student at the University of Texas in Austin.
Bill Hewlett and Dave Packard formed HP (Hewlett Packard) in 1939. Their initial product was an audio oscillator, and Walt Disney was one of their first clients. Disney used the oscillator to test sound equipment in the twelve specially equipped theatres showing Fantasia in 1940. In 1966, HP entered the computer industry with the HP 2100 Hewlett Packard computers. It was created to control HP's impressive list of test and measurement equipment.
Dell vs HP Laptops – Design
Although many individuals don't find Dell laptops physically appealing, many people like their simple design. Therefore, the Dell laptop models (XPS series) stick to the same strong and simple design, proven popular with the Lenovo ThinkPad.
As a result, today's users want a combination of design and power, with a stronger focus on power. However, Dell also has some pretty good alternative models, like the Inspiron range, which is worth looking at if you want something stylish and simple to use.
Hewlett Packard laptops are pretty standard in terms of design – they don't provide anything incredibly unique in contrast to what you can find on the market. However, they certainly offer several appealing models, and the big shape of their trackpad makes it comfortable to operate.
The HP laptops usually have a plain black or Chrome style. Although they are simple, they are highly effective if you look for budget laptops for professional use. So, whether you want a 2-in-1 or a regular laptop, HP has a selection of designs to select from.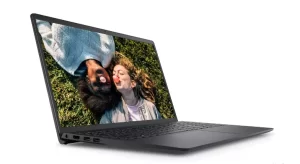 HP and Dell Laptops – Components
Components are a significant area of focus for Dell. When producing its devices, the firm employs high-quality and functional parts. Dell manufactures notebook laptops ranging from low-cost to high-end models. As a result, the company uses a variety of CPUs, including Intel and AMD. Dual-core CPUs are commonly found in low-cost budget laptops. However, Dell also prefers quad-core CPUs in higher-priced best performing laptops.
Dell computers now come with at least 8GB of RAM and a quad-core CPU. As a result, they provide consistently good performance across the field. In addition, most new Dell laptops use Intel Core i7 CPUs rather than Core i5 processors in the latest versions.
If we're talking about the HP brand build quality, it's fair to say that HP ranks slightly below Dell across the board. Although they produce some of the best-performing laptops, they are not entirely on the same level as Dell laptops.
Hewlett Packard laptops use both AMD and Intel CPUs, and their speeds are great. But, of course, the components used in cheaper laptops and high-end laptops differ. In low-cost models, HP uses an Intel HD graphic processor. HP also uses NVIDIA graphics processors and the newest generation Intel CPUs in their more demanding gaming laptops. It enables you to achieve the best performance.
Dell laptops have the upper hand when it comes to components like the CPU and memory capacity. If we compare HP's computers with similar features, Dell's CPUs are quicker and of higher quality. However, HP continues to produce durable devices, which indicates that they will have even better batteries.

Laptop Battery
Dell laptops are, on average, quite similar to those of the majority of other premium brands when it comes to battery and charging. A full charge will most likely provide you with 7-8 hours of battery life. Of course, if you choose a premium model, such as one from the Dell XPS series, you can get more than this. However, because many of their designs feature a high resolution and, in some cases, a touch screen, battery life might suffer as a result.
On the other hand, customers buy HP laptops because of their long laptop battery life. It has a maximum duration of 12 hours. Furthermore, HP favours 3-cell and 4-cell batteries, both of which perform admirably. That means that even for an extended period of everyday usage, the battery should last around 2 to 4 years. However, some users have reported that their HP laptop battery became weaker before this time.
Best Display
Combining the Dell display with an integrated graphics card gives a fantastic viewing experience. They also specialise in monitors, most likely contributing to their focus on the best display quality.
Dell also offers laptops with screen sizes ranging from 11 to 17 inches. However, not all low-cost laptops are full HD. However, the majority of the more powerful and more costly laptops are full HD. Furthermore, the best Dell laptops have a 4K resolution.
With Hewlett Packard laptops, you can select from a variety of screen sizes. They range in size from 13 to 17+ inches. The pricing also determines the screen resolution. The greater the screen resolution, the higher the price of the laptop.
Durability
Dell is a good option for individuals searching for a long-lasting laptop. Most Dell laptops come with a comprehensive warranty along with excellent customer support, but this is usually unnecessary for most users.
On the flip side, HP gets some concerns about durability. There are several reports online from people purchasing an HP laptop and having it crash within the first year or two. However, most of the customers are satisfied with Hewlett Packard laptops for everyday use.
Performance
Dell has had some of the best performing laptops on the market for quite some time. While they never quite reach the highest level of client satisfaction, they are consistently above average in performance. In addition, Dell laptop quality is high due to faster processors and more RAM than some less expensive competitors. In general, they are an excellent choice for budget laptops because many of their models are focused on maximum performance at a lower cost.
The performance of higher-end HP laptops is excellent. For example, if we evaluate the HP Envy and Spectre lines, they both perform outstandingly over time. However, HP has a problem with its lower-end models, which are overpriced for the specs and more likely to break. As a result, while HP produces some of the best laptops, they also have some of the worst.
Heating
Dell laptops pay close attention to ventilation to ensure that the laptop does not overheat. HP laptops, on the other hand, heat considerably faster than the former. A cooling fan is not usually required with Dell computers; however, it is always needed with HP laptops.
Dell vs HP – Innovation
One of the most critical elements in the Dell vs HP comparison is innovation, and Dell leads in this category. They are constantly working on new technology and design concepts for their laptops. In addition, Dell is continuously improving its products, attempting to make each model better and faster than the one before it. To achieve more outstanding performance, they enhance their specs and software.
One of the new features is the ability to enjoy a cinematic experience on your Dell XPS laptop via Dell Cinema. It revolutionised the laptop's sound and colour quality, allowing you to enjoy a better cinematic performance from the Dell XPS notebook. Furthermore, Dell created improvements that result in an outstanding performance, stunning appearance, and high-quality construction materials in Dell Inspiron and Vostro laptops.
Meanwhile, the HP brand remains a hardware development leader, and the company continues to produce unique and exciting products. HP is well-known for its breakthrough in laptops, desktop computers, scanners and printers. Although HP does not devote its innovative efforts to notebook development, its most recent laptops have advanced features.
The firm pioneered touchscreen technology, and HP today manufactures the finest 2-in-1 computers on the market. They have a large user base, and their sophisticated design has increased their popularity. Despite not being as creative as Dell's portable laptops, HP laptops are updated by today's standards.
Customer Support and Affordability
When it comes to customer service, Dell is one of the most dependable laptop manufacturers. Each product is sold with a warranty, and there are no issues with returning it if something goes wrong. Moreover, Dell's customer support team is quick at assisting its customers in solving their problems. They will explain what you should do and provide you with step-by-step instructions.
Dell's reliability can also be seen in the option for remote connection. So, if you are unable to resolve a problem, an assistant can connect to your laptop and diagnose the issue. If it doesn't work, you can take your computer to a Dell service centre. If the specialists there are unable to fix your computer, they will replace it without delay. That is why so many consumers like Dell's customer service.
HP is also mindful of its customers. As a result, there are numerous methods to contact them if you want technical assistance. For example, you will receive 90 days of free phone assistance and a one-year warranty against hardware failures when you buy a laptop.
You can also contact them through the HP support assistant, social media, and the HP customer support centre. Furthermore, they have a YouTube channel to watch videos that explain how to address various issues. Nonetheless, customers sometimes have to spend excessive time on the phone to resolve their issues. Instead of fixing your problem, HP employees frequently recommend that you update your antivirus software.
Price
Dell laptop prices are comparable to those of other manufacturers. Namely, the firm provides a diverse range of products at various prices. However, the majority of them are reasonably priced. So, if you have a limited budget, Dell is the best option.
Furthermore, Dell sells its laptops through authorised retailers, which helps it to keep costs low. As you may know, Dell makes models in various price ranges, ranging from low-cost devices to high-end gaming laptops. Even this company's budget laptops can work perfectly. As a result, such investment becomes even more valuable.
Also, Dell is one of the companies that let you design your laptop and personalise its specifications. You can select an operating system, keyboard, and a variety of other features. Of course, it will cost extra to add them, but it will make your laptop stand out.
Typically, Hewlett Packard laptops are more pricy than competitors' models. There are, however, reasons for this. First, customers must pay for HP's use of more expensive components and materials. Additionally, HP laptops can only be bought through authorised shops. As a result, they cannot be purchased on the company's website.
Dell vs HP – Best Laptops For 2021
Best Dell laptops
Dell's XPS laptops, with almost borderless displays, say everything about the company's dedication to innovation and design. This laptop has been improved with a fast 10th Generation Intel Core i7 CPU, more than 12 hours of battery life, a comfortable keyboard, and surprisingly good audio.
The Dell Inspiron line is equally appealing as their flagship XPS models because of its thin, light, compact magnesium-alloy design. With a combination of portability, power, and a 15-inch display, this is one of the best Dell business laptops. It is an excellent option for both work and pleasure and for those who cannot justify the more powerful XPS model.
The Dell Inspiron 14 5000 lacks the design appeal and strength of the 15 3000 model mentioned above. Still, it does sit well above many other household and mainstream laptops in the same category. As a result, it is best-suited to individuals seeking a relatively affordable laptop that can be easily carried.
Best HP laptops
HP has expanded their premium line even further with the new Spectre x360, a more robust and feature-rich device than previous ones. This laptop competes with its rivals thanks to its discrete graphics card and fast processor without being excessively hefty and large.
With a fast CPU, the possibility of an AMD Ryzen chip, and excellent battery life for those searching for portability, the high performing and small HP Envy lies in the centre of HP's line of laptops and is more capable of both leisure and business activities.
The HP Pavilion lacks the build quality of the previous two laptops, and it is not the flashiest laptop in their lineup. Still, it is the best HP laptop for students due to its speed for less money, the capability of handling everyday use and even some light gaming.
Dell Inspiron vs HP Pavilion
When it comes to design, Dell is well ahead of HP, especially when Comparing Dell's Inspiron to HP's Pavilion. So that is where Dell is a true leader. The firm has always prioritised using its laptop's most outstanding hardware components with a great balance between specs and price.
The Main Difference Between Dell and HP
Dell laptops are generally thought to be among the best available, even better than HP laptops. HP has several great laptops, but many of its models fall short of competing with other brands. Dell, on the other hand, has a wide range of excellent laptops.
Wrap Up
So, which brand is superior? To answer this question, you must first identify your exact needs.
In this Dell vs HP comparison, we saw that Dell is the way to go if you need an affordable yet dependable laptop. Their laptops are often less expensive, but the quality is still excellent. Also, if you want a gaming laptop or a business laptop, go with this brand. For example, Dell's Alienware laptop outperforms any HP laptop in terms of gaming capability.
However, if you require a good balance of mighty power and price, Hewlett Packard laptops are the way to go. They provide you with a beautiful design and powerful hardware.
FAQ
Are Dell laptops good?
Yes, they are. Dell offers premium lines, and it is also highly skilled at producing outstanding affordable laptops. Although, of course, some being low-cost laptops, certain compromises have been made. However, this is unquestionably one of the best laptop brands available for those on a limited budget.
Are HP laptops good?
Somewhat. Hewlett Packard laptops do not offer the most outstanding value for money. Their hardware is weaker than competing laptops with comparable prices. However, they have a high level of build quality.
Is HP better than Dell?
Dell offers a higher amount of features and is known to outperform HP even in its low-end series. On the other hand, HP laptops often have a longer battery life than Dell laptops but are far more expensive.
Is Dell more expensive than HP?
Not really. HP laptops are more costly. Furthermore, most Dell devices are less expensive than HP ones. So, if you're on a tight budget, most experts recommend Dell laptops.
Alert! Your IP address is trackable.