Best Gaming Desk to Buy in the UK
While many think of gaming desks as just regular desks with RGB lighting thrown in, most avid gamers know that that couldn't be further from the truth. A high-quality gaming desk not only looks cool but also offers plenty of surface area for all your gaming equipment and an ergonomic design that can be adjusted to fit your specific needs.
So, if you are looking to upgrade your gaming setup, here are the best gaming desks you can buy right now.
Last Updated: March 8, 2023
Advertiser disclosure
This page may contain links to our partners' products and services, which allows us to keep our website sustainable. This means that cybercrew.uk may receive a compensation when you sign up and / or purchase a product or a service using our links. However, all opinions expressed in this article are solely ours, and this content is in no way provided or influenced by any of our partners.
Top Gaming Desks UK
Detailed Reviews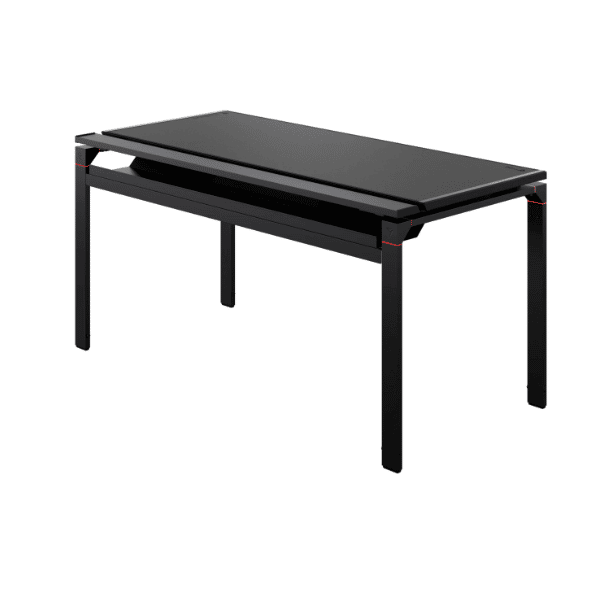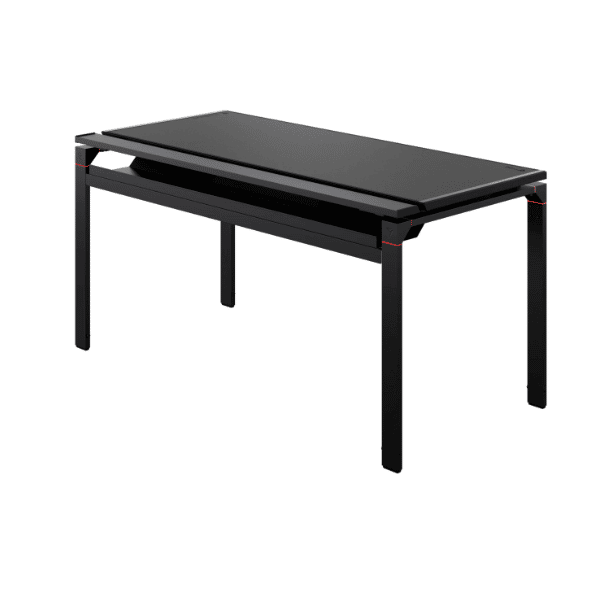 Best gaming desk overall
Visit Website
Full-length cable management tray
Impressive build quality
A proprietary ecosystem of magnetic accessories
Integrated LED lighting system
Secretlab is best known for producing high-quality, premium gaming chairs, but the Secretalab MAGNUS is the first gaming desk offered by the company and is considered one of their best pieces of gaming furniture yet.
What really makes this gaming desk stand out is the superb cable management system. There is a cable tray at the rear where you can tuck away all the cables of your gaming equipment, and you can gain full access to the cables simply by flipping the rear portion of the desk with a hinge.
Another big selling point to the Secretlab MAGNUS is its ecosystem of magnetic accessories. From little cable anchors for holding down the cables on the top of the desk to magnetic sheaths for running your cables discreetly from the floor to the desk, the Secretlab MAGNUS has everything you need to keep your gaming setup tidy and organised.
And let's not forget the magnetic leatherette mat that covers the entire desk surface, providing a smooth surface for your mouse and keyboard.
With a surface area of 150 x 70 cm, the Secretlab MAGNUS is not the largest gaming desk out there, but it still offers plenty of space to work with and can support a two-monitor gaming setup without an issue. In addition, it comes with a strip of RGB light that beautifully complements the all-black, sleek design of the desk.
Despite its slim profile, the Secretlab MAGNUS also has an incredibly sturdy construction made entirely of stainless steel. As a result, it can support up to 100 kg of gaming equipment.
Perhaps the only downside of this gaming desk is that all of the magnetic accessories have to be purchased separately, which can add up to a significant amount, especially considering the already steeper price tag of £444.
However, if you are looking for a high-quality gaming desk to combine with your Secretlab gaming chair, the Secretlab MAGNUS is definitely the way to go.
Best large gaming desk
Visit Website
Full surface mouse pad
Ergonomic design
Three cutouts for easy cable management
Height adjustable up to 10 cm
If you are looking for a spacious and ergonomic gaming desk, the Arozzi Arena is a great option. It has an extra-large surface area of 160 x 80 cm, where you can easily fit a triple-monitor setup and still have a lot of space left for your keyboard, mouse, and other accessories.
The top of the desk is covered by a full-length, water-resistant mouse pad that essentially turns this gaming desk into a gigantic mouse pad, giving you the freedom to glide your mouse smoothly across the entire surface.
This gaming desk also offers easy and efficient cable management. The mouse pad has three pre-cut holes that lead to a mesh hammock on the underside of the desk, where you can put all the cables of your setup for a clean and organised desk.
The Arozzi Arena is also designed with ergonomics in mind. The desk features a contoured front that lets you sit closer to the action and helps you maintain a proper posture while gaming. Plus, with an adjustable height range of 71–81 cm, you have the flexibility to fit its height to your gaming needs.
In addition, this desk is made of stainless steel legs that provide excellent stability and can withstand weight up to 80 kg.
At £319, the Arozzi Arena belongs to the mid-range market, as there are both pricier and more affordable options out there. Still, if you are looking for a gaming computer desk for multiple monitors, this is one of your best options.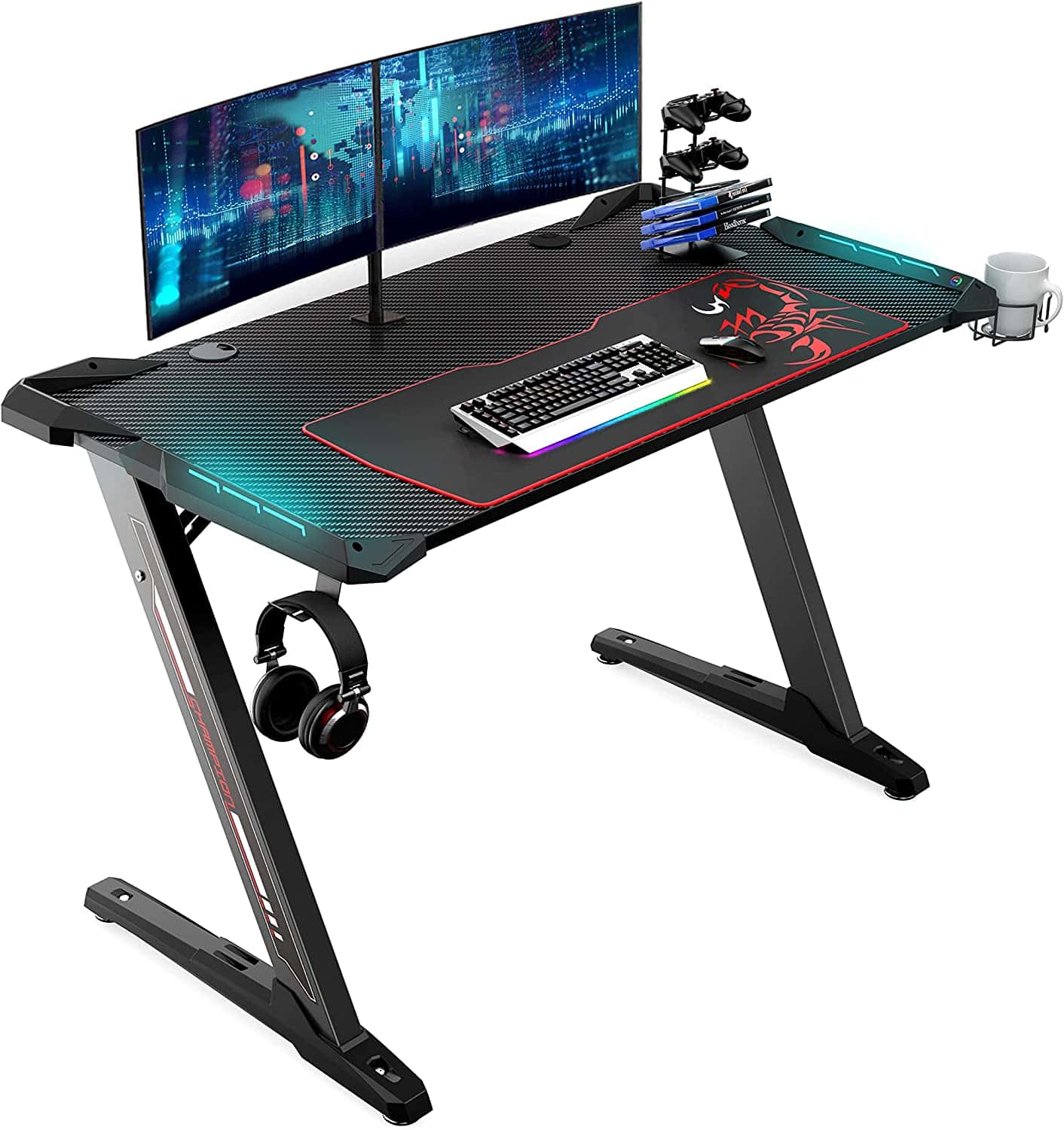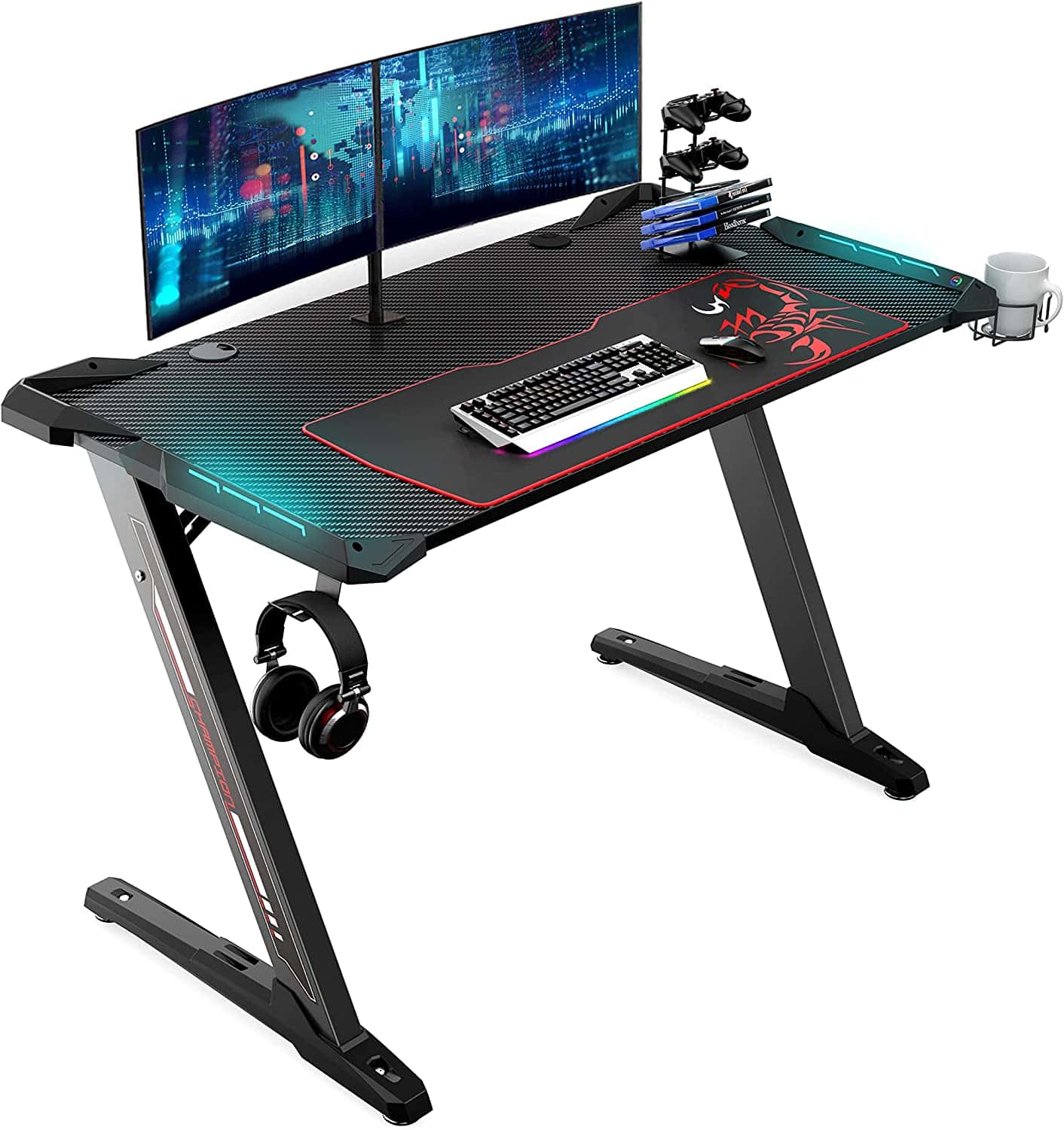 Best stylish gaming desk
Visit Website
Scratch-resistant carbon-fibre tabletop
Built-in blue LEDs
Headset hanger, cup holder, and controller stand included
Distinctive z-shaped design
If you are looking for a cheap gaming desk that doesn't sacrifice quality or features, you should check out the Eureka Ergonomic Z1-S. This unique-looking gaming desk has a sleek carbon fibre texture and several practical accessories that most gamers will appreciate, such as a headset hanger, a controller stand, a cup holder, and an extra-large built-in mouse pad.
The tabletop measures 114 x 64 cm, which is on the smaller side compared to some other desks but can still accommodate up to two monitors, plus several other accessories with no issue. The desk also has blue LED lights built into the side wings that you can plug into your gaming PC or laptop with a USB.
Perhaps the most distinctive features of the Eureka Ergonomic Z1-S are its Z-shaped design and its durable construction. The desk has a metal frame that guarantees a long lifespan and offers excellent stability. Thanks to its robust construction, the Z1-S can also hold up to 90 kg of equipment, which is impressive, considering its smaller size.
Available for only £169, the Eureka Ergonomic Z1-S is also one of the most affordable gaming desks you can buy at the moment.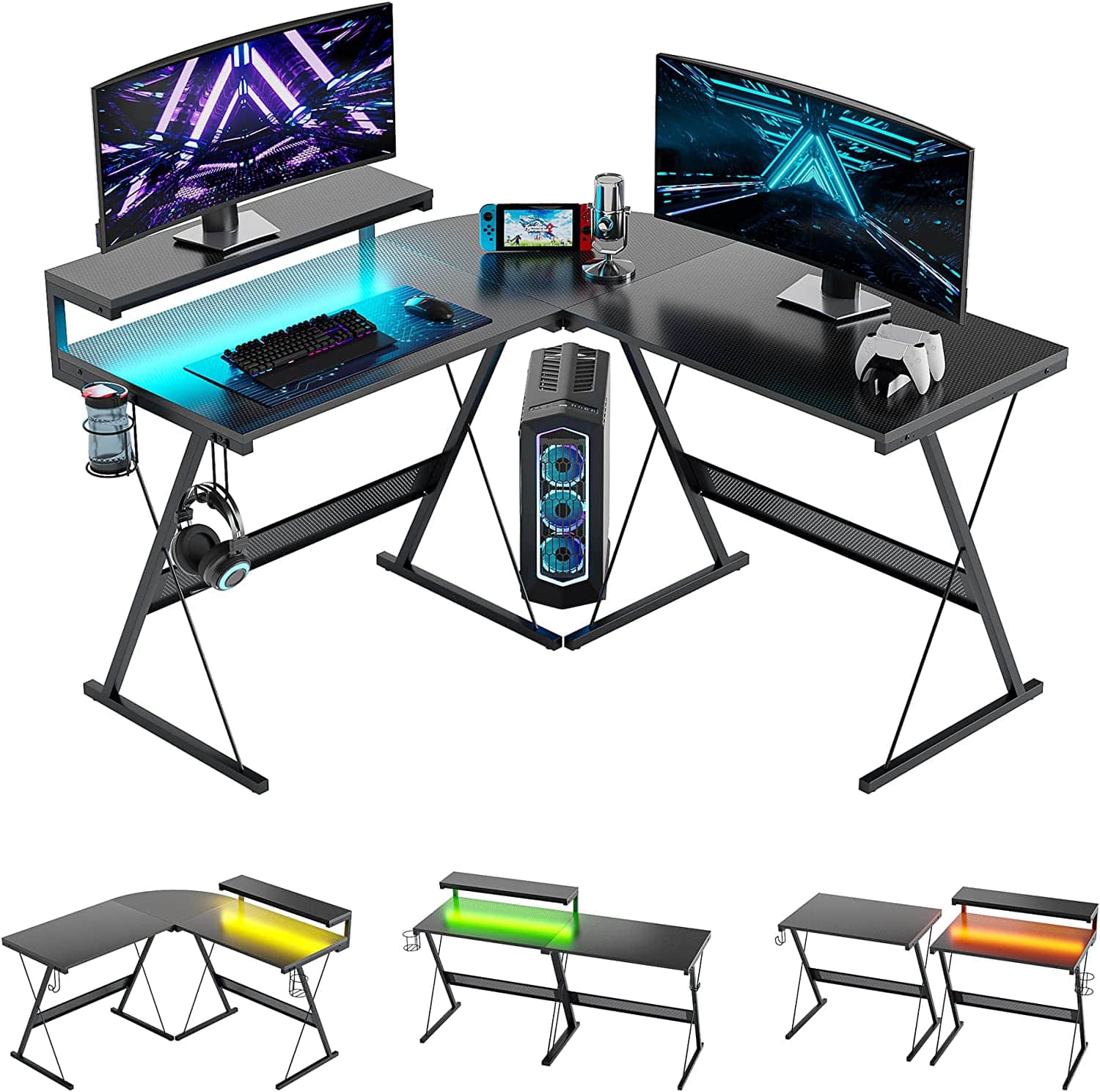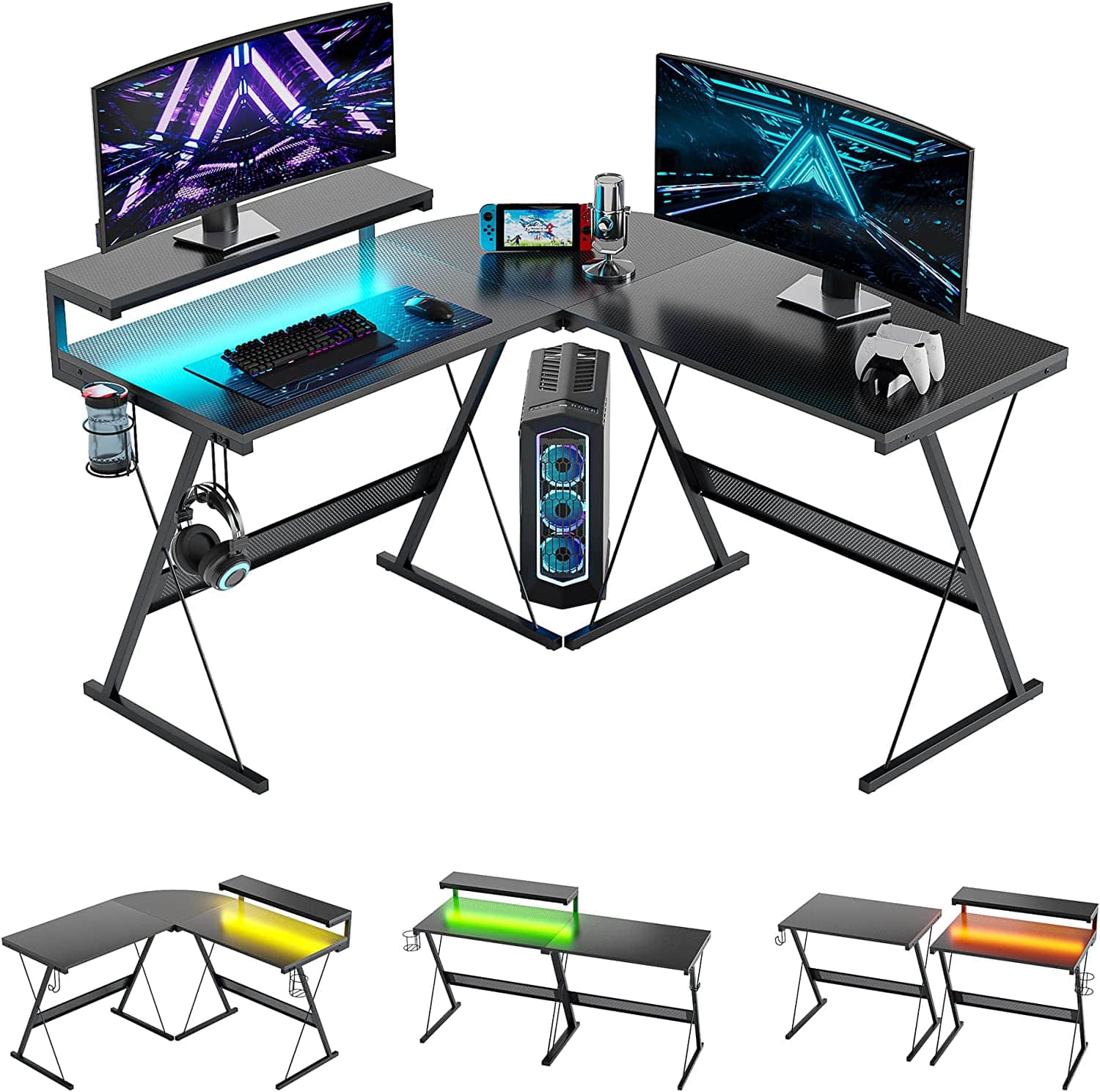 Best L-shaped gaming desk
Visit Website
Removable cup holder and headphone hanger
Ergonomic monitor stand
RGB Strip Lights — 7 colours
Up to 22 display modes
While many L-shaped gaming desks are overpriced, that is not the case with the Bestier L-shaped gaming desk. Despite being on the cheaper side, this gaming desk offers several useful gaming accessories, such as an ergonomic monitor stand and a strip of RGB lighting that can display seven colours and has up to 22 built-in display modes to choose from.
However, those are not the only gaming-friendly features on this desk. It also comes with a headphone hanger and a cup holder that are removable and can be attached to either side of the desk.
The desk consists of two equally sized tabletops, each measuring 128 cm in width, with a fixed height of 91 cm. The two desks are connected by a curved central piece to form the L-shape, but if you want to, you can also transform them into two small independent desks to fit your different needs.
The desk's surface is a particle board supported by a metal frame, and there are three colours to choose from — red, carbon-fibre black, or grey.
Available for only £119, this Bestier desk is an excellent choice for gamers with expansive gaming setups who want an affordable corner gaming desk. Keep in mind that a bigger size is also available, measuring 140 cm in depth and width, but at £458, it is significantly more expensive.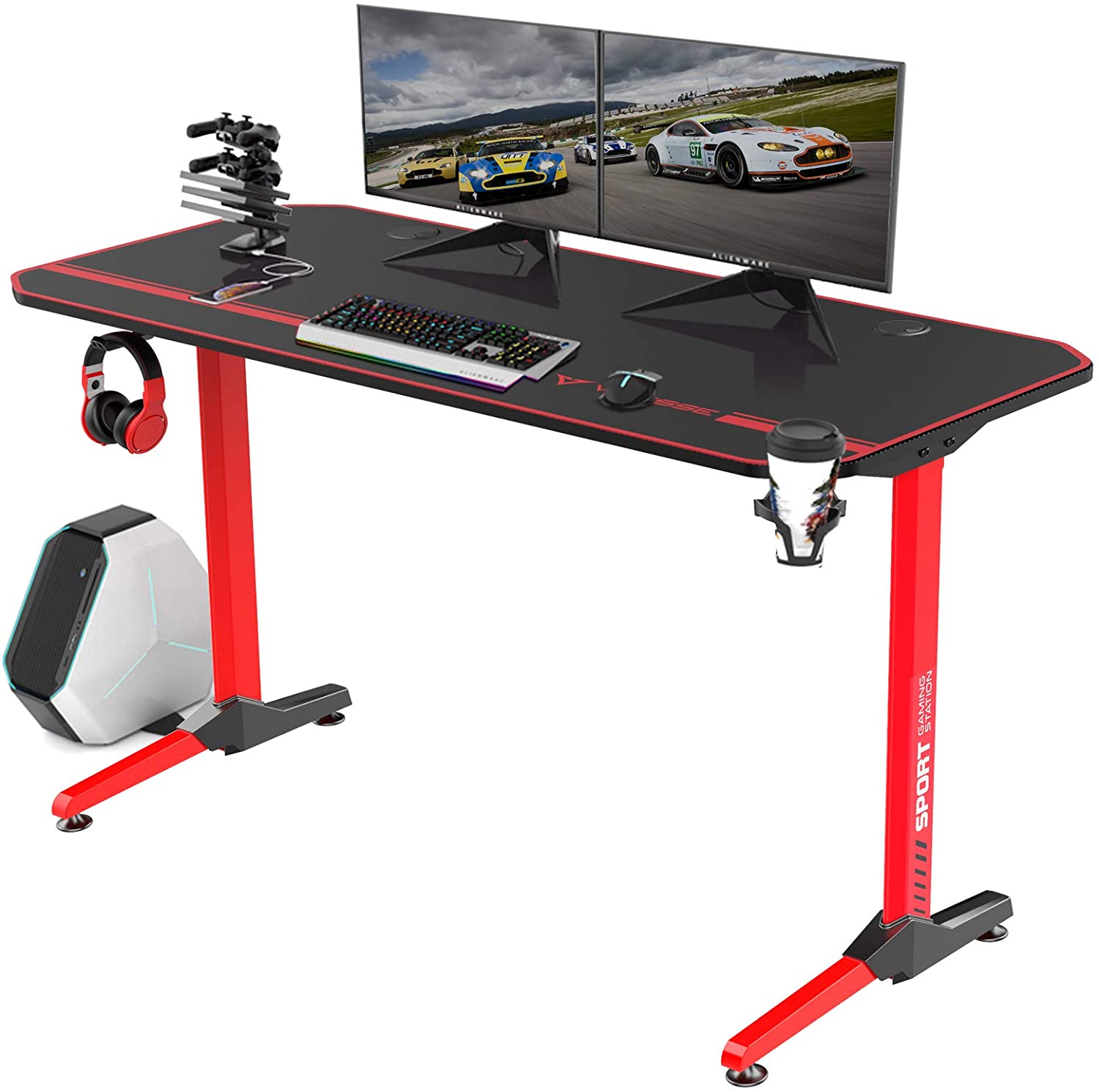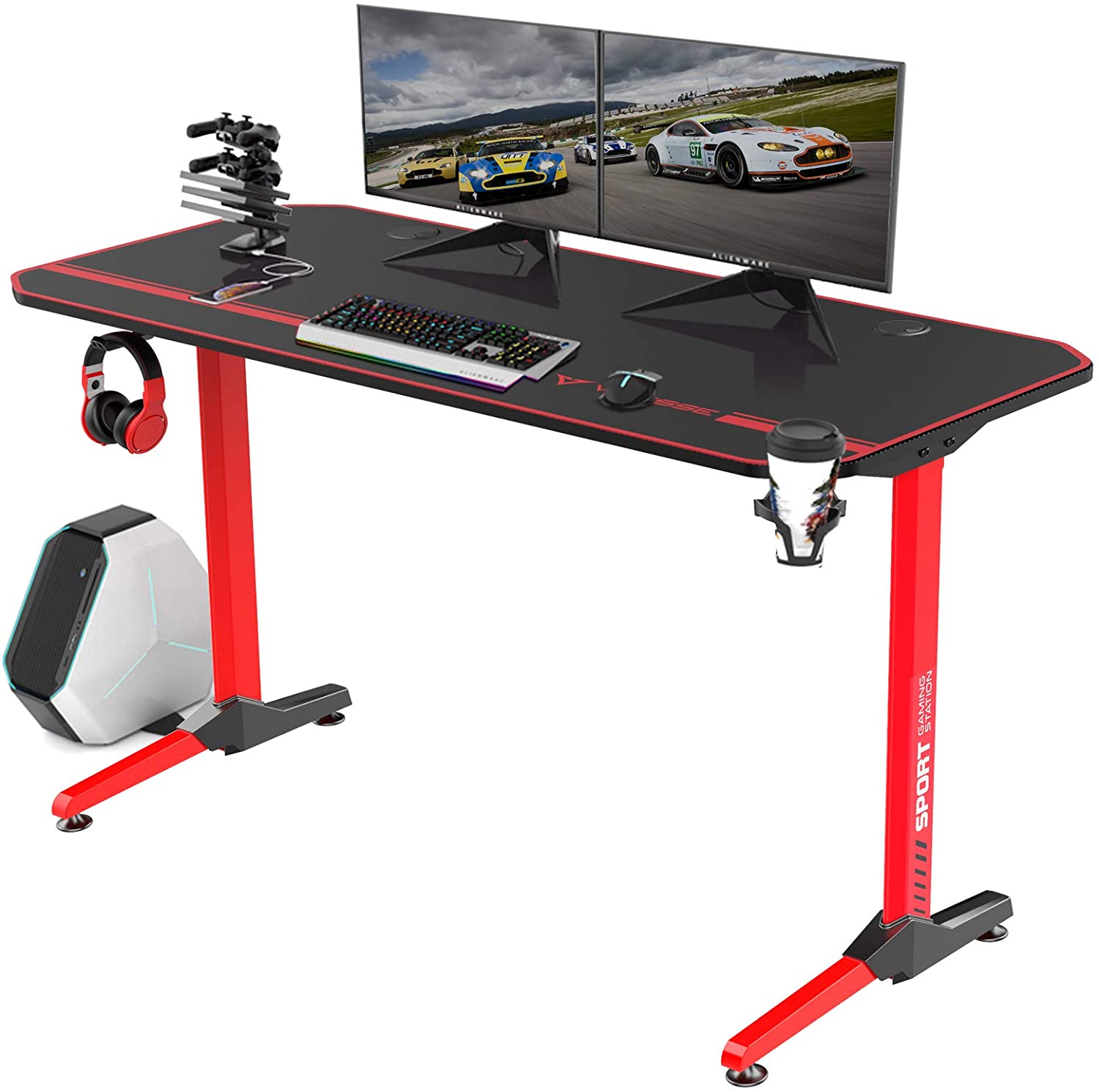 Best premium gaming desk
Visit Website
Cable management tray
USB gaming handle rack
Free full-surface mouse pad
Cup holder, headset hanger, and controller rack
The Waleaf Vitesse is a premium gaming desk, which is reflected both in its look and price. It is an ultra-wide gaming desk with a resilient carbon-fibre finish and a stylish design.
It also has an excellent cable management solution. On the underside of the desk, there is a storage area designed to hold all the cables of your gear so they don't tangle and get in the way, and there are two cutouts in the desk to run your cables through.
This gaming desk also comes equipped with a four-port USB handle rack that allows you to keep your controller, phone, and other devices charged during long gaming sessions, as well as a cup holder and headphone hanger.
Much like the Arozzi Arena gaming desk, the Waleaf Vitesse also comes with a full surface mouse pad with a black and red colour scheme that perfectly fits the desk's gaming aesthetic.
As expected from a premium gaming desk, the Waleaf Vitesse has excellent build quality. It is made of premium density fibreboard and a steel tube frame and, as a result, can hold well over 200 kg of gaming equipment. Moreover, the two steel T-shaped legs can be individually adjusted, making this desk perfect for uneven floors.
The Waleaf Vitesse desk costs £329, so it is pricier than most other options in our roundup, but gamers looking for a top-quality, high-end gaming desk will definitely get their money's worth with it.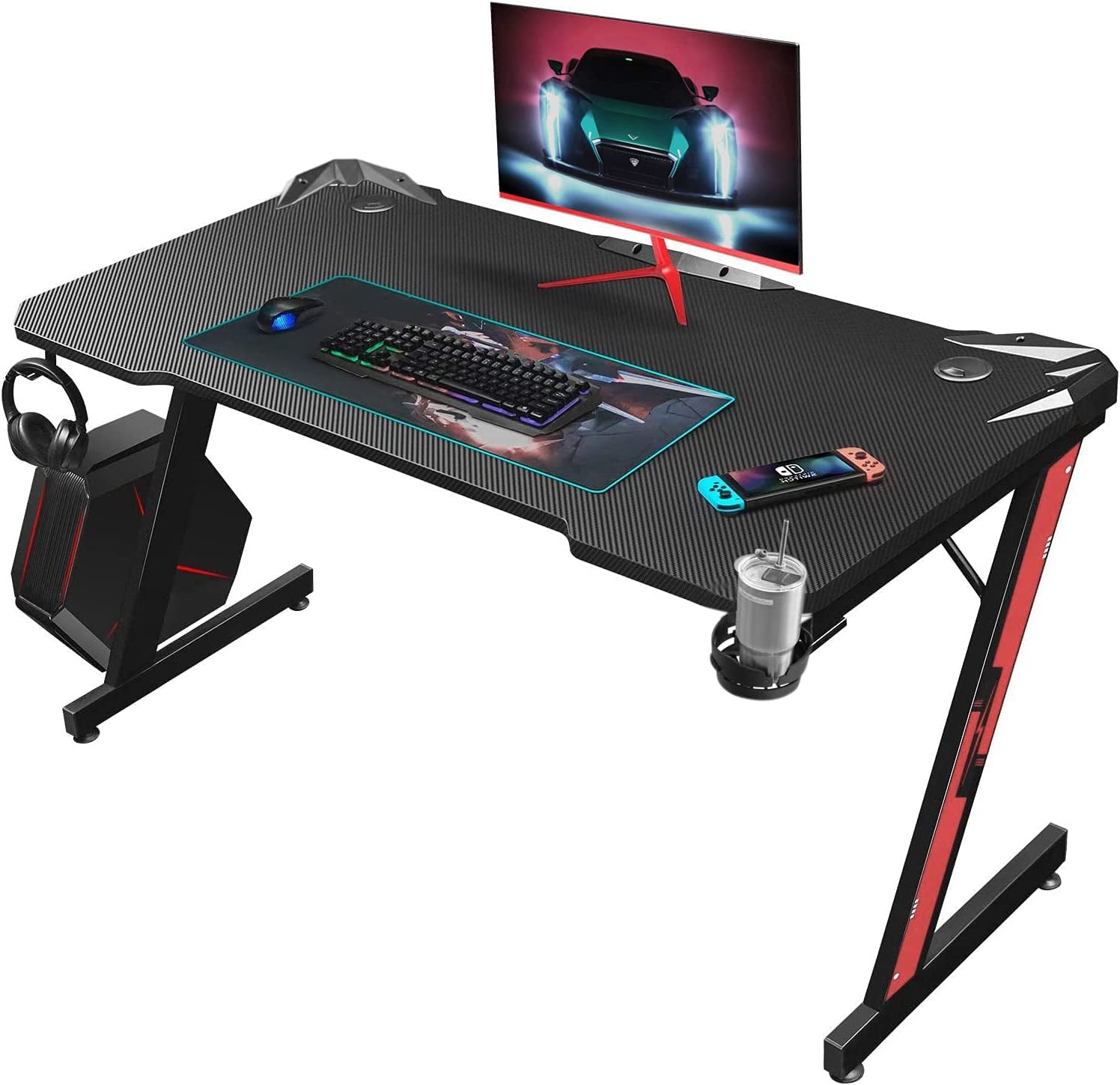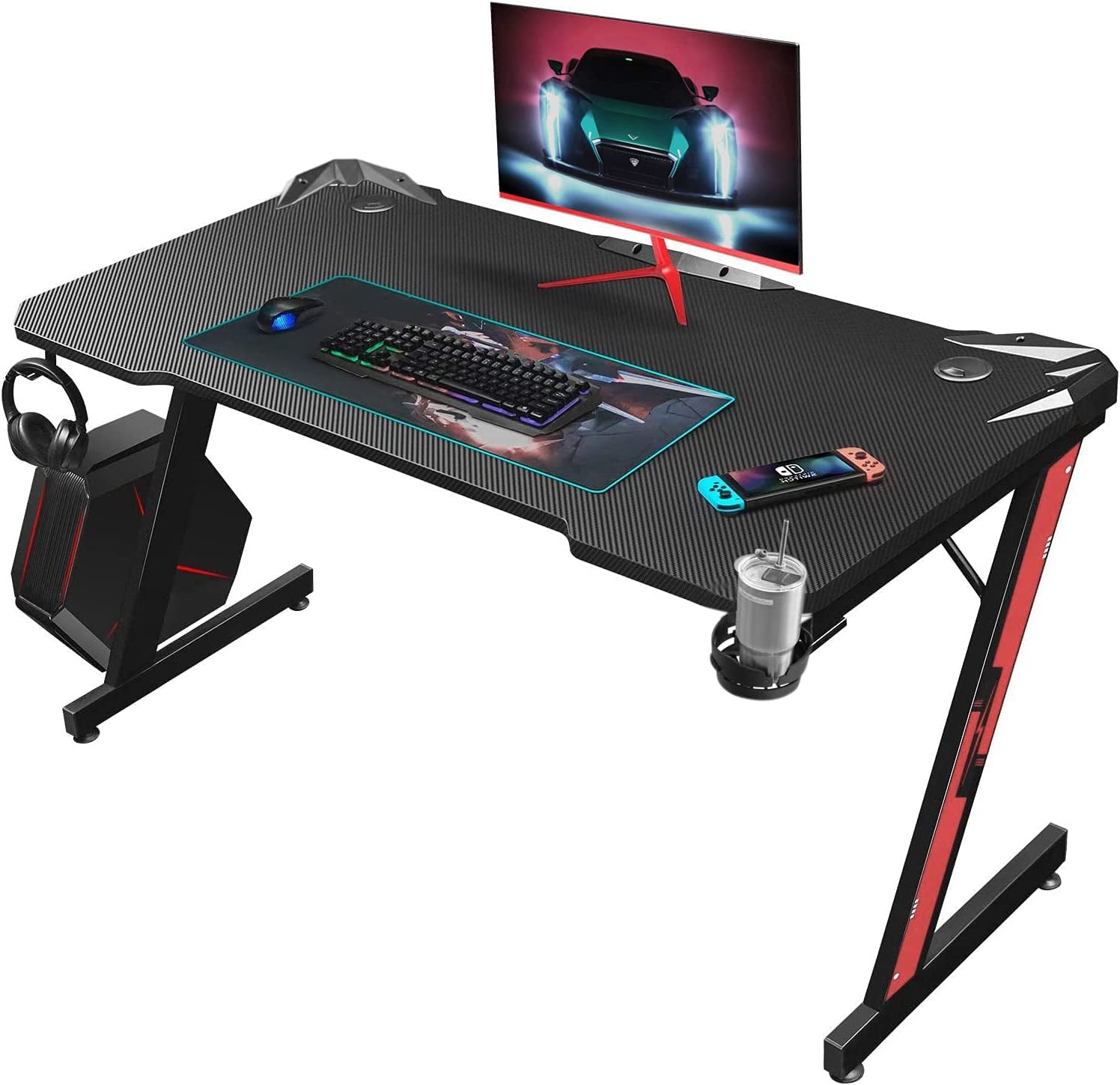 Best budget gaming desk
Visit Website
Carbon fibre non-slip surface
Controller stand
Ergonomic design
Headset hanger and cup holder included
The Homall gaming desk measures 110 cm in width and 60 cm in depth, so it is small enough to squeeze in most spaces while still offering enough space to comfortably fit your gaming gear. Not only is it small, but it is also one of the most affordable gaming desks on this list, available for only £89.99.
Despite that, it is packed with features. It has a non-slip carbon fibre surface and a stylish look with Z-shaped legs, plus several added features like a headset hanger, a cup holder, and a controller rack. In addition, there are two cutouts on the desk that help with cable management.
The Homall gaming desk also boasts exceptional build quality. The two Z-shaped legs are made of cold-rolled steel, so, despite its small size, the desk can hold up to 70 kg of gaming equipment with no problem.
The desk has a fixed height of 75 cm and lacks RGB lighting, but if you are looking for a high-quality gaming desk at an affordable price point, you will hardly find a better option than the Homall gaming desk.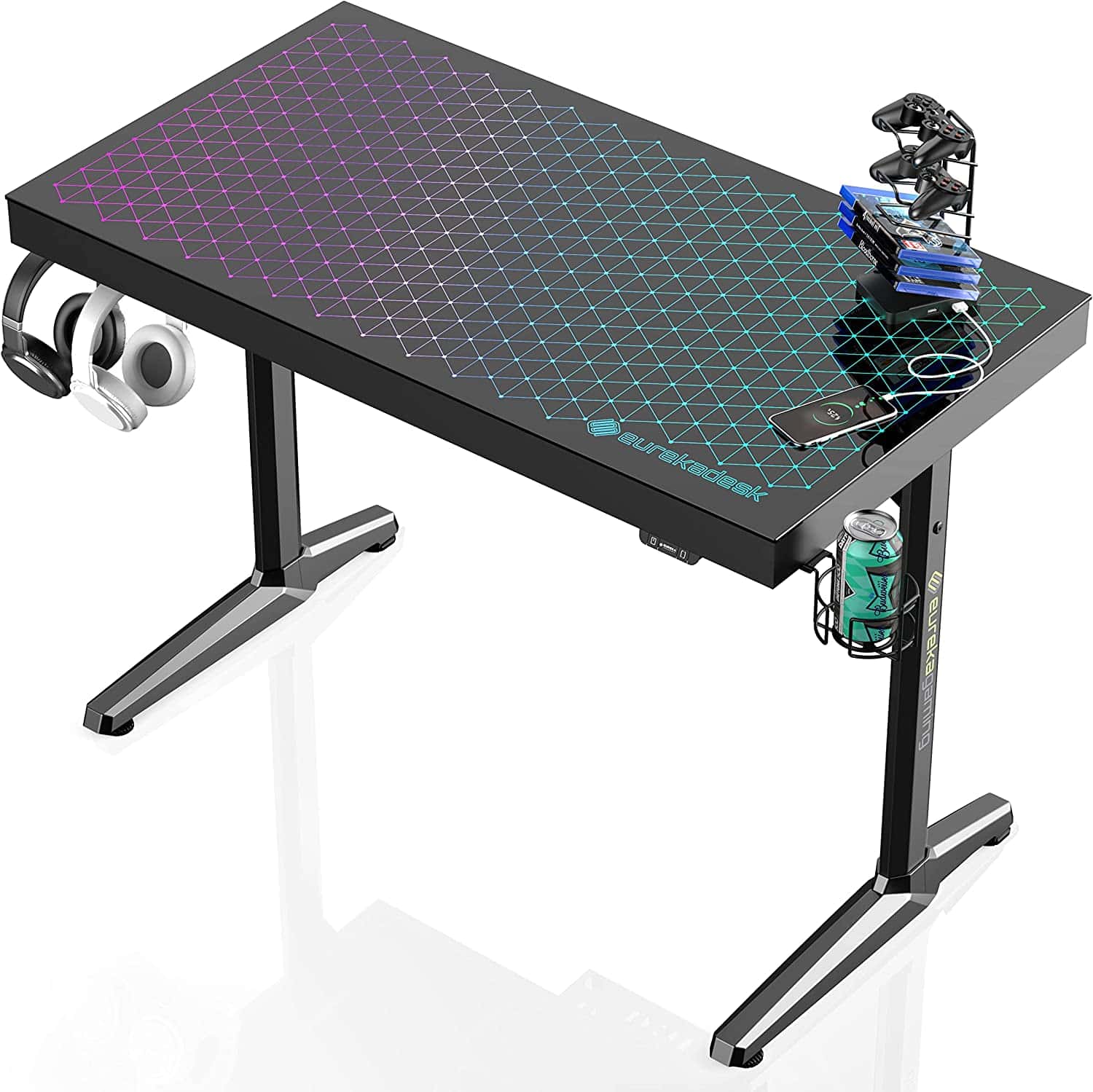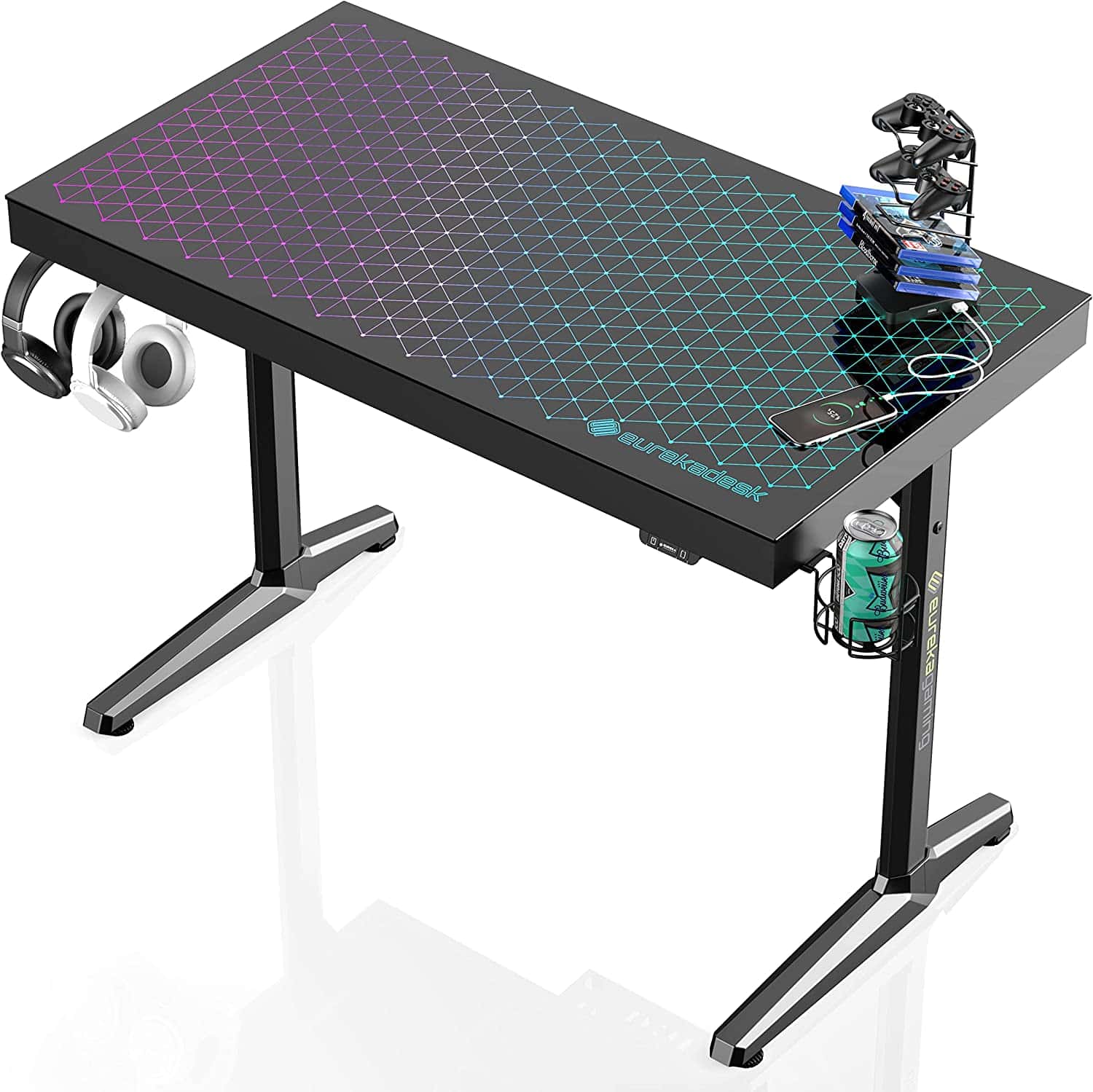 Best RGB gaming desk
Visit Website
27 music sync modes
Tempered glass surface
Over 200 lighting effects
Four USB charging ports
The Eureka Ergonomic GTG-I43 is the ultimate RGB gaming desk. This unique desk is equipped with more than 200 lighting effects and is the world's first gaming desk with sound-reacting RGD lights. There are up to 27 music sync modes, and the desk's smart operating system is controlled by a mobile app available for Android and iOS devices.
The RGB lighting system is integrated underneath a tempered glass surface that measures 110 x 60 cm and, combined with the RGB lights, gives this desk a modern and distinctive look.
Additional features include a headset and cup holder, and console gamers will also benefit from a game controller rack with four USB charging ports.
With a steel frame and wide T-shaped legs, this desk is also a sturdy piece of gaming furniture that can hold up to 90 kg of equipment. Plus, you can adjust both of its feet individually for perfect levelling.
Priced at £309.99, the Eureka Ergonomic GTG-I43 is one of the most expensive gaming desks on this list, but if you are willing to invest in an RBG desk that will make your gaming setup stand out, then this is the desk for you.
Best motorised height-adjustable gaming desk
Visit Website
Many customisation options
Three height presets
Both a sitting and standing desk
Multipurpose use
Most of the desks mentioned on this list are designed solely for gaming; however, the Flexispot EN1B is great for all purposes, whether you are looking to upgrade your home, gaming, or office setup.
It is an adjustable gaming desk with a smooth motor that takes it from a height of 71 cm all the way up to 121 cm, making it suitable for both a sitting and standing desk setup.
The control panel at the front allows you to shift the desk up and down at the touch of a button, and it can hold up to three presets in its memory. However, if you want to, you can also set your desired height manually and see the current height on the four-digit display.
The control panel also includes an anti-collision technology that will automatically reverse the desk's course when an obstacle is in its way, making it safe around children or pets.
Despite its basic look, the Flexispot EN1B also benefits from a sturdy construction that can easily hold up to 70 kg of weight.
This desk also has a range of customisation options. For example, you can choose from white, black, or grey frame colours and over a dozen desktop colours, including white, black, maple, bamboo, mahogany, etc.
The desk retails at £299.98, but if you want to, you can also purchase the frame only and combine it with a tabletop of your choosing for only £219.98. These prices are reasonable considering the build quality and adjustability on offer.
Best gaming desk for small spaces
Visit Website
Elevated monitor stand
Many storage compartments
All-metal construction
Very compact
The Atlantic gaming desk is an excellent option for gamers with limited space. It is by far the smallest desk on our list, but it still manages to offer a range of impressive features that most gamers will find very useful.
It comes with an elevated monitor stand, which greatly increases the desk's usable area. In addition to that, It features speaker setups on both sides and an under-desk basket that makes cable management a breeze. There is also a controller stand and a place to hang your headphones and hold your cup.
All of these storage compartments open up plenty of space for your gaming gear and are also excellent for keeping your desk neat and organised.
Design-wise, it is an all-black gaming desk with a minimalistic design, making it a great option for gamers not too fond of RGB lighting. The desk is also made entirely out of steel, so despite its small size, it is as sturdy as other gaming desks of a larger size.
The Atlantic gaming desk is available for £158, which is a great price considering the desk's functionality, especially when stacked up against more expensive models with similar features.
How to Choose the Best Gaming Desk
 — Buyer's Guide —
With so many different types and brands of gaming desks, it can be difficult to choose the one that is just right for you. That is why we've prepared this Buyer's Guide, so you know which aspects to consider when choosing your gaming desk. So check it out below.
Size
Size is the most critical thing to consider when shopping for any furniture, gaming desks included. Even the coolest gaming desk won't be of any use if you can't fit it into your room. So, when browsing through gaming desks, make sure to carefully measure the gaming area first, as that will not only narrow down your options but also help you make an informed decision.
If you have a shortage of space, some good desks for gaming to consider are the Atlantic and the Homall gaming desk, as they offer high quality while still being compact enough to fit in most spaces. In addition, corner desk gaming setups are also considered efficient solutions for small spaces, so the Bestier L-shaped gaming desk is a good option too.
Space
Space is another important factor to consider.
If you own a PC gaming station with multiple monitors, make sure the desk is wide enough to fit all of them side by side without any overlapping. For a dual monitor setup, a desk should ideally be between 120 and 150 cm long, depending on the size of the monitors. If you have three monitors, a long desk for gaming, such as the Arozzi Arena, should do the trick.
You should also choose a gaming desk with enough depth to place your keyboard, mouse and other accessories in front of your monitor. Generally, a depth of 50–80 cm is needed to provide proper space and comfort for the gamer, and most of the desks in our roundup fall within that category.
In the end, remember that you might upgrade your gaming gear in the future, so if you have the space to spare, don't go with the smallest model. A gaming desk should last you at least a couple of years, so it's always best to plan ahead.
Load Capacity
While all gaming desks are designed to be sturdy, some models can accommodate more weight than others. If you plan on putting multiple monitors or a lot of gaming gear on your desk, make sure it has a high load capacity, so it doesn't wobble or collapse under the weight.
Gaming desks should have a load capacity of at least 50 kg, and all of our top picks go well beyond that. For instance, the Arozzi Arena can carry up to 80 kg of weight, while the Secretlab MAGNUS can accommodate an impressive 100 kg.
Material
Gaming desks can be made of several types of materials.
A wooden gaming desk is typically the most expensive but most durable. Medium density fibreboard (MDF) is the cheaper alternative that also offers good quality and durability. A metal gaming desk, such as the Secretlab MAGNUS, is also a great option if you want the most durable material.
Many desks, such as the Waleaf Vitesse, combine a metal frame with high-quality MDF for the tabletop. However, if you want a more modern gaming desk, you can choose a tempered glass option, such as the Eureka Ergonomic GTG-I43.
Finally, carbon fibre surfaces, such as the Eureka Ergonomic Z1-S and the Homall gaming desks, are perhaps the most common, as they combine style with durability and a reasonable price tag.
Ergonomics
Ergonomics, or how well you can adjust your gaming desk to fit your individual needs, is another important consideration to make. At the very least, you will want a desk that will accommodate all your gaming accessories nicely so as to avoid any straining or repetitive stress.
Standing gaming desks that can usually change their height with a built-in motor are considered one of the best ergonomic options. The Flexispot E1 motorised standing desk is a good example, as it ranges in height from 71 to 121 cm, making it suitable for both sitting and standing.
The Arozzi Arena gaming desk is also a good ergonomic option. It has a slightly curved front that allows for a proper posture during gaming and is also height adjustable up to 10 cm.
Set Your Budget
Gaming desks offer many benefits for the gamer, but they are usually much more expensive than regular desks and can range from £100 to well over £1000. So, it is best to plan how much you are willing to spend and only look at gaming desks that fall within your budget.
Remember that a good desk for gaming doesn't need to be overpriced. In our best gaming desk roundup, you will find desks that fit all tastes and budgets, from high-end models like the Secretlab MAGNUS and the Waleaf Vitesse to cheaper options such as the Atlantic and the Homall gaming desks.
Wrap Up
In our best gaming desks roundup, we've provided some of our favourite picks for different types of gamers, but it's ultimately up to you to decide which desk is right for you. Consider your budget, the size of your space, and the features you need most before making a purchase. With so many options available, there's no reason not to find the perfect gaming desk for your home setup.
FAQ
What desks do most gamers use?
Gamers prefer desks that are ergonomically designed to make their gaming easier and ones that offer enough space to fit multiple monitors and all their other gaming accessories. Other nice features are a good cable management solution and separate cup and headphone holders.
What makes a good gaming desk?
A good desk for gaming is spacious enough to fit multiple monitors and all other gaming equipment and has a sturdy construction that can withstand a lot of weight. Gaming desks should also offer adjustability options and a good cable management system.
What is the best shape for a gaming desk?
The best shape for a gaming desk should depend on your individual needs. The most common shape of gaming desks is rectangular, and these types of desks come in various sizes, from extra long to more compact. L-shaped gaming desks are a great way to maximise space in your room and are usually a great option for big gaming setups with multiple screens.
How big of a desk do you need for PC gaming?
If your PC gaming setup consists of only one monitor, any size desktop should be enough. However, for gamers with a more extensive setup, the desk should be between 120 and 150 cm long, with a depth of at least 50–80 cm.