Fiverr vs Upwork [2023 Comparison]
The rise of the freelance workforce has caused websites like Fiverr and Upwork to witness a massive increase in traffic and registrations. These sites provide freelancers with a flexible income and a global pool of potential customers, so it looks like this work trend is here to stay. 
Interestingly enough, there are now over 2 million freelancers in the UK alone. 
In this article, we will compare Fiverr vs Upwork. Choosing between them can be tricky, as they are currently the two most popular marketplaces for freelancers. So to help you find the best freelance community to sell your services, we will go into each site's specifics and see how the two differ.
Fiverr and Upwork – Company History

How do they work?

Pricing

Fiverr Pro vs Upwork Plus

User Online Reviews
Fiverr and Upwork – Company History
Fiverr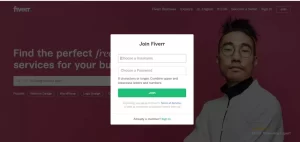 Fiverr was founded in 2010 by Shai Wininger and Micha Kaufman and is headquartered in Tel Aviv, Israel. It originally started as a platform where clients could buy any type of service for a "fiver" – a five-dollar bill. That was the original price for all the services on the platform during the first few years.
Its founders came up with the concept of a two-sided gig marketplace where people could buy and sell various digital services most frequently offered by freelancers. At first, Fiverr attracted freelancers who create novelty gigs, such as voice-overs, caricatures, custom songs, and more.
Fiverr has since evolved into one of the most popular freelance communities, with over 5.5 million buyers and more than 830,000 freelancers. Moreover, 50 million transactions have been sold on the platform to date. 
In addition, jobs are now available in several areas, including logo design, writing & translation, programming  & tech, video & animation, lifestyle, digital marketing, and graphics & design. 
Upwork
Compared to Fiverr, Upwork is a more professional and business-oriented platform. It started functioning in 2015 after two of the largest freelance marketplaces, Elance and oDesk, merged and relaunched as Upwork. 
Upwork has now evolved into a highly competitive marketplace, with an estimated 18 million registered freelancers and millions of jobs published every year.
It is an easy-to-use freelance website that gives companies a chance to connect to freelancers across 5,000 skills in over 70 working categories. Sellers are free to set any price for their services they find fair, and, in turn, buyers can browse freelancers' offers and choose the ones that best fit them. 
These are some of the job categories in Upwork: Accounting & Consulting, Data Science & Analytics, Design & Creative, IT & Networking, Sales and Marketing, Translation, Writing, and many more.
How do they work?
How does Upwork work?
On Upwork, freelancers provide services related to a particular set of skills. They then bid for jobs posted by clients by sending them applications and cover letters. 
To get started with Upwork, you need to create a free profile that paints a picture of your skills, services, and accomplishments. Make sure you're honest about the areas in which you are skilled and your level of expertise, as your account can be closed if you get hired for a job you can't deliver on. 
To create your account, you will need to fill out a description of your background, education, how many hours per week you can work, and your preferred rate. Upwork will then ask you to verify your identity with proof of ID. Identity verification is something this freelance site does routinely to avoid overcrowding and keep the platform safe.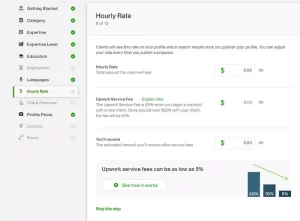 After your account has been verified, Upwork's advanced algorithms will highlight the jobs most suitable for you. You will need to use Upwork's own virtual currency called "Connects" to apply for a job. If you choose the Basic free plan, you will have ten free Connects each month. It costs only one Connect to send any job proposals, no matter what the job is.
After you've landed your first job opportunity and the contract is complete, both parties rate each other based on satisfaction. You can grade your client on a five-star scale, and similarly, your client will rate your services, a score that ultimately makes up your Job Success Score. 
Upwork has also recently introduced Project Catalogue, a place for freelancers to post and sell service packages, similarly to Fiverr. So, you can simply post projects and wait for clients to reach out to you, which requires no use of Connects. 
Another way to find work on Upwork is the Talent Scout program. To participate in this program, you will need to submit an application and interview with a specialised recruiter. If you get selected, Upwork's recruiter will present you to clients and match your profile to projects, a great way to spend less time looking for jobs and more time earning.
How does Fiverr work?
Unlike Upwork, freelancers on Fiverr can provide a wide range of different skills at once, and they mostly rely on clients to reach out to them with a job proposal. As a result, this freelance marketplace is best suited for freelancers interested in completing several smaller gigs for different clients.
That is why it is crucial to make your seller profile look as professional as possible. You can even add a video to introduce yourself and your services to the Fiverr community, a proven successful way to win clients over.
Interestingly, Fiverr doesn't oblige you to show your real name to clients. Instead, you can stay anonymous or use your brand name if you prefer. Moreover, signing up is free, and you can immediately start creating gigs or packages to showcase your skills and attract buyers.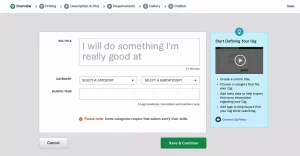 After you've created your seller profile and your first gig on Fiverr, you can start selling your services. One feature unique to Fiverr is that it has four "seller levels", each coming with different perks that will significantly affect your Fiverr experience.
New Seller – Inexperienced sellers that are new to Fiverr

Level 1 – Sellers who have completed at least ten gigs and have actively used Fiverr for 60 days

Level 2 – Sellers who have completed 50 gigs and have actively used Fiverr for at least 120 days

Level 3 – Sellers who have completed 100 gigs and have actively used Fiverr for at least 180 days
Although this is the primary way to find a job on Fiverr, it doesn't mean you have to wait for clients to contact you. As Fiverr is a highly competitive platform with millions of freelancers competing for a limited number of jobs, it is unlikely that you will get noticed right away.
That is why, for starters, you can take a different approach and actively bid for work by sending tailored service packages to clients by making use of the Gig Packages feature.
Quality of Freelancers
When comparing Fiverr vs Upwork, the most critical aspect for clients is the quality of work provided by the freelancers on these platforms. While Fiverr and Upwork have many skilled professionals to choose from, they offer different ways to find potential employees.
In general, Upwork has higher-quality freelancers, primarily because of their freelance verification standards. 
For instance, it is common for new freelancers to be denied access to the platform because there are already too many members with a particular skill set. Likewise, if Upwork finds that a freelancer's specific set of skills isn't suitable for the platform, the application can be denied as well. 
Upwork also awards its standout freelancers with talent badges. These are only awarded to freelancers with the best reviews and top performance on the site.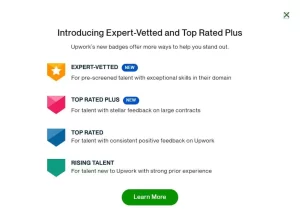 Upwork also has a system for verifying its top-rated freelancers, known as the Job Success Score. That can also give you an insight into the quality of the services offered by a particular freelancer. Unlike Fiverr, Upwork also provides video and chat conferencing features for job interviews.
In contrast, Fiverr is not as strict when accepting applications. As a result,  anyone can register and start selling on the platform. 
If you want to distinguish the most talented freelancers on the site, it is best to look at the seller levels. They can give you a good idea of whether a particular freelancer has enough experience for your needs.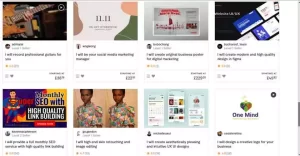 When it comes to quality, you can check feedback and reviews from previous clients, as they can give you an idea of the quality of services offered by that particular freelancer.
Evidently, both platforms make an effort to rate their freelancers. Still, we can say that Upwork takes it one step further by having stricter platform acceptance criteria than Fiverr.
Dispute Resolutions
While both platforms have a program for handling disputes between clients and freelancers, Upwork has a slightly more detailed and easy-to-use resolution centre. 
For instance, this site allows clients to request a refund from a freelancer within 180 days of the payment if they are dissatisfied with the final product. Clients can also file an hourly dispute if they feel like they've been billed for more hours than the freelancer has worked. 
Alternatively, freelancers can also file disputes. For instance, a freelancer can file a dispute when the client fails to release payment from escrow, even though the agreed-upon milestone has been delivered on time. 
These are only some of the issues that can be resolved through Upwork's resolution centre. A mediator will be assigned to your case, and if they find that your complaints are valid, you are entitled to a complete refund. 
In contrast, Fiverr doesn't provide a mediator to settle a dispute. Instead, it encourages buyers and sellers to visit the resolution centre and find a solution there. For example, Fiverr's resolutions centre offers solutions to order cancellation, extended delivery times, and irregular progress updates. 
Work Monitoring Tools
Upwork is unique because it offers customers two ways to set up payments — an hourly or fixed-price contract. 
The hourly pay model is best suited when the client needs evidence that the freelancer has worked on the project for the number of hours they've said. In this case, the freelancer uses Upwork's Desktop App. This built-in tracking mechanism takes screenshots of the freelancer's computer screen at random intervals and tracks time.
In contrast, Fiverr doesn't provide an hourly contract option, so there aren't any work monitoring tools for freelancers.
Customer Support
One similarity these platforms have is their 24/7 customer support. For instance, you can reach Fiverr's rich knowledge base or its community forum for more general matters. For more pressing issues, you can contact a representative directly via email or by phone. 
Likewise, Upwork offers 24/7 chatbot support for more general issues. Alternatively, you can also use their Knowledge Base for those matters. Finally, for more urgent issues, you can email and contact them by phone. 
Pricing
Fiverr and Upwork are similar in their fee structures. Both platforms charge commissions by deducting a fee on the payments processed. Still, Upwork has a more complex commission fee structure compared to Fiverr. 
In the table below, we've broken down Upwork's fee structure based on a sliding scale on jobs and projects. Upwork charges fees based on earnings with each client by taking a percentage of the total amount earned. So, the more you make, the smaller the commission fee is. 
| | |
| --- | --- |
| Total Amount Earned | Fee Percentage |
| First $500 billed | 20% |
| Billings between $500.01 – $10,000 | 10% |
| $10,000 and more | 5% |
Note that the amount earned resets with each new client. So, if you complete mainly smaller gigs with different clients on Upwork, you can lose a significant amount of your wage on fees. As a result, Upwork's fee structure is best fitted for freelancers who work long-term for a single client. 
Also, it depends on the contract type when funds are available for withdrawal. Here are your options.
Hourly Contracts

are based on the weekly billing cycle, and freelancers receive payment weekly. Your funds are available for withdrawal ten days later.

Fixed-priced contracts

are based on milestones. Once your submitted milestone has been approved, your funds will be available five days later.
There are several ways to withdraw your funds, including PayPal, Payoneer, Wire Transfer, and Direct to Local Bank. Unfortunately, all these methods apply different fees as well, depending on which one you choose.
Upwork also charges clients a 3% fee on all payments. This fee is calculated as a percentage on top of the payment made. 
Contrastingly, Fiverr fees are much more straightforward. When a freelancer completes a gig, Fiverr simply takes a flat 20% commission off the transaction. So if you are a freelancer, you can keep 80% of each successfully completed gig, regardless of the amount. 
Fiverr also only has fixed-priced contracts available, and their holding period is a little longer. For most completed gigs, freelancers have to wait for a 14-day clearing period to pass before they can withdraw their funds. 
Withdrawal methods include PayPal, Fiverr Revenue Card, and Bank Transfer.
For clients, all purchases come with a processing fee of $1 on purchases below $20 and a 5% fee on purchases over $20.
Fiverr Pro vs Upwork Plus
While it is entirely free to join these freelance sites, those who want more out of their Upwork or Fiverr accounts might want to look into their upgrades. Namely, Upwork offers Upwork Plus, while Fiverr offers Fiverr Pro.
An Upwork Plus subscription costs $14.99/month (around £11). It is designed to help freelancers market their services more effectively and stand out from the crowd. These are the perks included in an Upwork Plus membership:
80 Connects/month

A permanently active profile that will never be hidden due to inactivity

Confidential earning

A customised profile URL

Insight into competitor bid range on jobs

Extended reports and functionality
Fiverr Pro is unique in that it is still free to join, and everyone can apply, both new and long-time Fiverr freelancers. But, to get accepted, you will have to go through an evaluation process. To apply, you will need to include your professional background, higher education, and most notable projects. 
Every Fiverr Pro member is labelled with a Fiverr Pro badge so that buyers know they are getting the very best services. Pro members can also send their customers custom offers based on their specific needs and have an overall better experience using Fiverr.
User Online Reviews
Upwork Reviews
When it comes to user satisfaction, both platforms enjoy a great reputation. Upwork has an excellent score on Trustpilot, with 4.8 out of 5 stars and nearly 7,000 reviews. 
When going through the comments, it is evident that one of Upwork's biggest appeals is the almost unlimited supply of job opportunities across different categories. 
Low commission fees are also frequently mentioned by users in high-paying fields. The flexibility of choosing between an hourly and a fixed-price contract is also cited as one of Upwork's most significant benefits. 
Some of the most common Upwork complaints refer to the high competition, especially since clients mostly hire based on reviews and the Job Success Score. So, it is obvious that getting started and building your reputation on Upwork is hard work. Higher commission fees for lower earnings are also frequently mentioned as one of Upwork's most significant drawbacks. 
Fiverr Reviews
Users are, for the most part, satisfied with Fiverr as well. This freelance site has 4 out of 5 stars on Trustpilot, with nearly 6,000 reviews. 
Many of the positive comments come from buyers who are satisfied with the quality of freelancers on the site.  Buyers also praise the budget-friendly gig rates that can be found on the platform. In addition, freelancers like using the platform for how easy it is to start working immediately without going through an approval process. 
In contrast, some users found the commission fees on Fiverr too high, while others complained about the poor customer support for freelancers. Many users found the platform's dispute resolution centre too limited as well.
Wrap Up
When comparing Fiverr and Upwork, it is evident that both marketplaces offer distinct features and conduct business in separate ways. However, most importantly, they are both certified and highly reliable platforms, as proven by millions of freelancers and clients who use them daily. 
So, if you are looking for a place to kickstart your freelance career, you can't go wrong with either of them. Both platforms are also entirely free to join, so you can sign up and explore them yourself. 
Our takeaway from this Fiverr vs Upwork comparison is that Upwork aims more towards freelancers with specific knowledge, interested in long-term projects for a single client. At the same time, Fiverr is ideal for freelancers interested in completing smaller, budget-friendly gigs across different categories.
FAQ
Is Fiverr legit?
Yes, Fiverr is a legit freelance marketplace where buyers can purchase different services from freelancers. The site has been in business since 2010. It has over 830,000 sellers and millions of buyers from 160 countries worldwide, further proving its legitimacy.
Is Upwork safe?
Yes, Upwork takes great measures to keep its global marketplace safe from suspicious behaviour and ensure the safety of its users. For example, Upwork's dispute resolution centre offers excellent protection against scammers and fake profiles. Clients can use it to request a refund, and freelancers can request overdue payment, in turn.
Is Upwork good for beginners?
Yes, Upwork is an excellent place to start a freelancing career because of the millions of jobs available and a large number of potential clients.
Is Fiverr good for beginners?
Yes, Fiverr is among the best freelancing platforms for beginners, especially because of the low entry barriers and the large scope of job opportunities. 
What is the difference between Upwork and Fiverr?
The main difference between Upwork and Fiverr is that Upwork is more focused on hourly and long-term contracts. In contrast, Fiverr is better for completing several smaller gigs for different buyers.
Which is better for freelancers, Fiverr or Upwork?
Both of these platforms come with their own advantages. Fiverr is much more beginner-friendly, and users find it easier to get a job. At the same time, Upwork is more focused on skilled and experienced professionals. 
Alert! Your IP address is trackable.