Free Plan: Yes
Free Storage Space: 20 GB
Maximum Storage Space: 16 TB
Zero-Knowledge Encryption: Yes
Desktop Apps: Windows, macOS, Linux
Mobile Apps: Android and iOS
Customer Support: Email, Help Centre
Mega Cloud Storage Review
With its user-friendly interface, expansive storage capabilities, and reasonable price tag, Mega is definitely worth considering. If you are on the lookout for a new cloud storage provider, this Mega cloud storage review will help you decide if Mega is the right option for you.
Last Updated: May 20, 2022
Advertiser disclosure
This page may contain links to our partners' products and services, which allows us to keep our website sustainable. This means that cybercrew.uk may receive a compensation when you sign up and / or purchase a product or a service using our links. However, all opinions expressed in this article are solely ours, and this content is in no way provided or influenced by any of our partners.
Free Plan: Yes
Free Storage Space: 20 GB
Maximum Storage Space: 16 TB
Zero-Knowledge Encryption: Yes
Desktop Apps: Windows, macOS, Linux
Mobile Apps: Android and iOS
Customer Support: Email, Help Centre
Storage space
STRENGTHS
Encrypted file sharing
Generous free plan
End-to-end encryption
Selective syncing
File previews
WEAKNESSES
No real-time collaboration
No block-level syncing
Limited customer support
Mega may not be as popular or well-known as other cloud storage services, but it is starting to make a name for itself thanks to its generous free tier and competitive pricing. Mega offers ample amounts of storage space at just a fraction of the price of competitors like Google Drive and Dropbox.
In this Mega cloud storage review, we'll look at Mega's features and see how it compares to other popular cloud storage services. To find out if Mega is worth your time, keep reading!
About Mega
Mega is a cloud storage and file hosting service offered by Mega Limited, a New Zealand-based company. The service is very security-oriented, offering end-to-end encryption to protect user data. 
Still, what Mega is renowned for the most is its generous free plan, which comes with a whopping 20 GB of free cloud storage space. That is currently the largest amount of free storage space offered by any cloud storage service.
Mega boasts a long list of features that include everything from file-sharing, syncing, and versioning to a built-in, end-to-end encrypted messaging service.
Founded in 2013, Mega is the successor of the now-defunct file-sharing site Megaupload, whose domains were seized by the US Department of Justice in 2012. Its founder is the infamous internet entrepreneur and hacker Kim Dotcom, who has since parted ways with the company, claiming it is not safe anymore.
Its controversial roots, combined with the fact that Mega was the world's first zero-knowledge cloud storage provider at the time of launching, led to it receiving immediate global publicity. About a million users registered to the platform in the first three days after its launch, while more than a billion files were uploaded in just over 12 months.
Today, Mega has over 265 million registered users and an astonishing 120 billion files uploaded to its servers.
Ease of Use
To sign up to Mega, you need to provide your full name, email address, and password. There is no need to enter any payment details if you're only signing up for the free plan. Once you've signed up for an account and verified your identity, you can start using Mega right away.
The most common way to use Mega is through its web interface. However, there is also a desktop app compatible with Windows, Mac, and Linux, as well as mobile apps for Android and iOS. Furthermore, you can download a Mega browser extension for Google Chrome and Mozilla Firefox to boost Mega's performance, reduce loading time, and improve security. 
Web Interface
Mega's web interface is very intuitive and easy to navigate. All your files are displayed in a neat and organised way, and uploading and sharing them comes down to just a few clicks.
The navigation menu on the left lets you access your files, gallery, and chat, while your account-related options are laid out on the right. Clicking on the Files option opens a separate menu from where you can access Cloud Drive, shared items, and your most recently uploaded files.
Cloud Drive is where you will be spending most of your time while using Mega, as that is where all your files are stored. Right-clicking a file opens a dropdown menu specific to it, from where you can create shareable links, download, copy, rename, and delete the file. 
The Gallery is where all your media files are stored. It is conveniently divided into separate tabs for photos, images, and videos, which you can preview directly within the browser. 
Uploading files couldn't be easier. You can do it by clicking on the Upload files and Upload folders buttons or by simply dragging and dropping them into the web browser. 
Desktop App
The MEGAsync desktop app appears as a taskbar icon on Windows. It runs mainly in the background, replicating any changes you make to your files as they occur in real-time.
Upon installation, the app creates a Mega folder on your computer, where all your synced files are stored. Its main function is to let you upload and download files and folders and manage your synced folders.
The app also lets you stream any audio and video files from your Cloud Drive or a public link with a player of your choosing.
Overall, the MEGAsync desktop app provides a smooth desktop experience. However, the web interface is still a lot more intuitive and functional. 
Mobile App
Mega's mobile app resembles its web and desktop counterparts and works similarly to any other mobile cloud storage app. It lets you automatically back up your photos and videos to your Cloud Drive, as well as share files and save them locally. 
Mega Features
File Syncing
Syncing your files with Mega is straightforward. When you download and install the MEGAsync desktop app, it creates a separate Mega folder on your computer where your cloud-stored data is synced. Any file or folder you drop into the Mega folder will automatically sync to Mega's servers. 
The MEGAsync desktop app also allows you to sync existing folders from your computer to your Mega account. What's more, Mega supports selective syncing. Upon installing the desktop app, you can choose whether you want to sync the entire Cloud Drive to a local folder on your computer or only sync the files and folders you manually select. 
You can even exclude certain file types from synchronising. Some file types, like .tmp files, are excluded by default. 
File Sharing
File sharing with Mega is easy and secure — you can share a file with someone simply by sending them a public URL link. Creating a public link to any of the files stored in your Mega account is as simple as clicking on the Get Link option for the file you want to share.
You can share a Mega file with anyone, regardless of whether they have a Mega account or not. All files are also fully end-to-end encrypted. However, what's unique about Mega is that it lets you send the link decryption key via a separate channel, which is an excellent option for the more security-conscious users out there.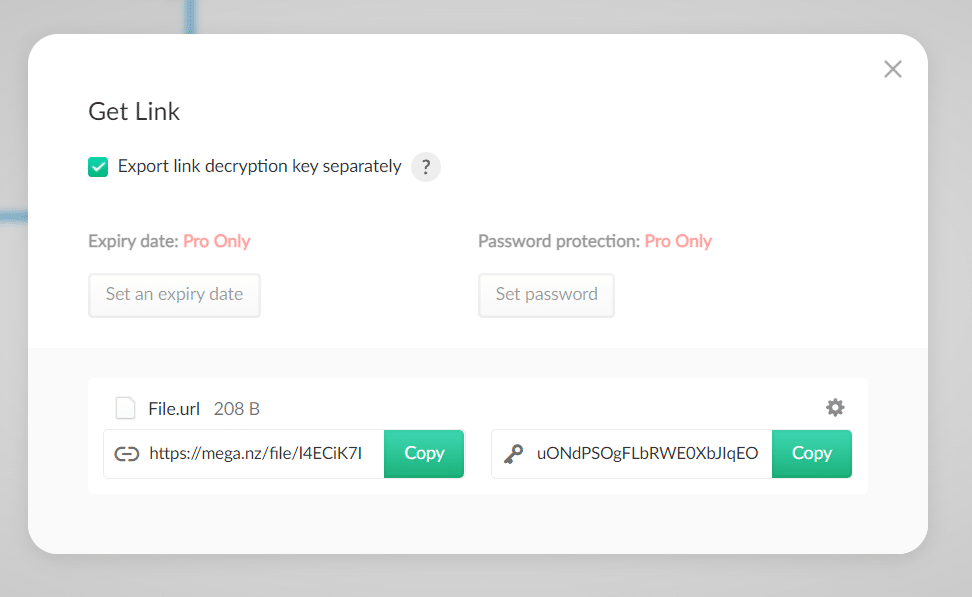 Mega also allows you to set expiration dates for links and password-protect them for added security. 
All these are standard features we've seen from many other cloud storage providers. Still, most of them also let users set download limits to public links, which is lacking here. What's more, setting expiry dates and passwords to public links is only available to paying subscribers.
Aside from individual files, Mega also lets you share entire folders. There are two options when it comes to folder sharing. You can either share a folder by sending a public link to it or allowing selected users access to it. 
Furthermore, you can either share a folder directly with people in your Mega contact list or invite people by typing their email addresses. In the latter case, they will be asked to create a Mega account. Note that you can also set user permissions when sharing folders, with options like read-only, read and write, and full access.
File Versioning
Mega supports file versioning, which means you can restore a file back to a previous point in time if you accidentally delete or edit it. For free users, Mega limits file versioning to 30 versions per file. That can be upgraded to 100 versions by subscribing to a Pro plan. 
However, that doesn't mean that Mega will stop making more versions of files after you've reached that limit. The service uses a smart algorithm that automatically deletes the oldest version of a file after a new one has been created, allowing you to always have your newest file version at the front. 
MEGAchat
MEGAchat is Mega's browser-based, end-to-end encrypted service that lets users exchange messages and hold audio and video calls with their team members. This secure chat is built right into the platform and can be accessed from the main interface of the web client.
All messages sent and calls held on the MEGAchat are end-to-end encrypted, preventing Mega from accessing them. The MEGAchat is a unique feature that can come in handy if you want to exchange sensitive information with your team members. 
Mega Security
Security is one of Mega's strongest suits and key selling points. Mega is fully end-to-end encrypted, with data encryption happening on the client's side. That means that you are the only one in possession of the decryption key, and only you decide who to share it with.
This high level of security means that if by any chance you forget your password, not even Mega will be able to help you recover your account. In that case, the only way to access your account would be by using a recovery key, which is automatically generated and downloaded to your computer when you sign up for a Mega account. 
If you lose both your password and your recovery key, you will get locked out of your account forever. 
Shared links with Mega are also fully end-to-end encrypted. As already mentioned, Mega allows you to send the decryption key separately from the link itself.
For an extra layer of protection to your Mega account, you can also enable two-factor authentication. Two-factor authentication requires you to enter a six-digit security code, in addition to your user name and password, when logging into your account.
Most cloud storage providers send the security code via email or SMS, but that is far less secure. To provide a higher level of safety, Mega requires you to install an authenticator app on your mobile device that serves to generate the verification code you need to access your account.
All these security features, combined with the chat option we've previously mentioned, make Mega an extremely secure cloud storage service.
Privacy
Mega stores your data on servers located in New Zealand, Canada, and several EU countries. That means it must comply with the GDPR, a regulation which provides data protection rights to EU citizens. However, the company makes the rights and safety measures laid out in the GDPR available to all its users, even those located outside of the European Union. 
Customer Support
In terms of its customer support, Mega could make some improvements. The platform has a comprehensive Help Centre for frequent issues users run into. Still, if you can't find a solution there, the only way to contact a support agent directly is via email. Email support is available 24/7, with priority given to business users. Unfortunately, phone support and live chat are not available. 
Mega Pricing
Mega offers an industry-leading free plan with 20 GB of free storage space. This is really impressive, considering most cloud storage providers rarely offer anything over 5 GB. The free tiers of similar cloud storage services, such as Dropbox and OneDrive, only offer 2 GB and 5 GB of free storage space, respectively.
Mega offers four paid plans for individuals and one for business use. 
The individual plans differ mainly in the amount of cloud storage offered and the file transfer limit. They start as low as £4.23 a month for the Pro Lite plan, which comes with 400 GB of storage space and 1 TB of monthly transfer quota. At £42.36 a year, Pro Lite is even more affordable when billed annually.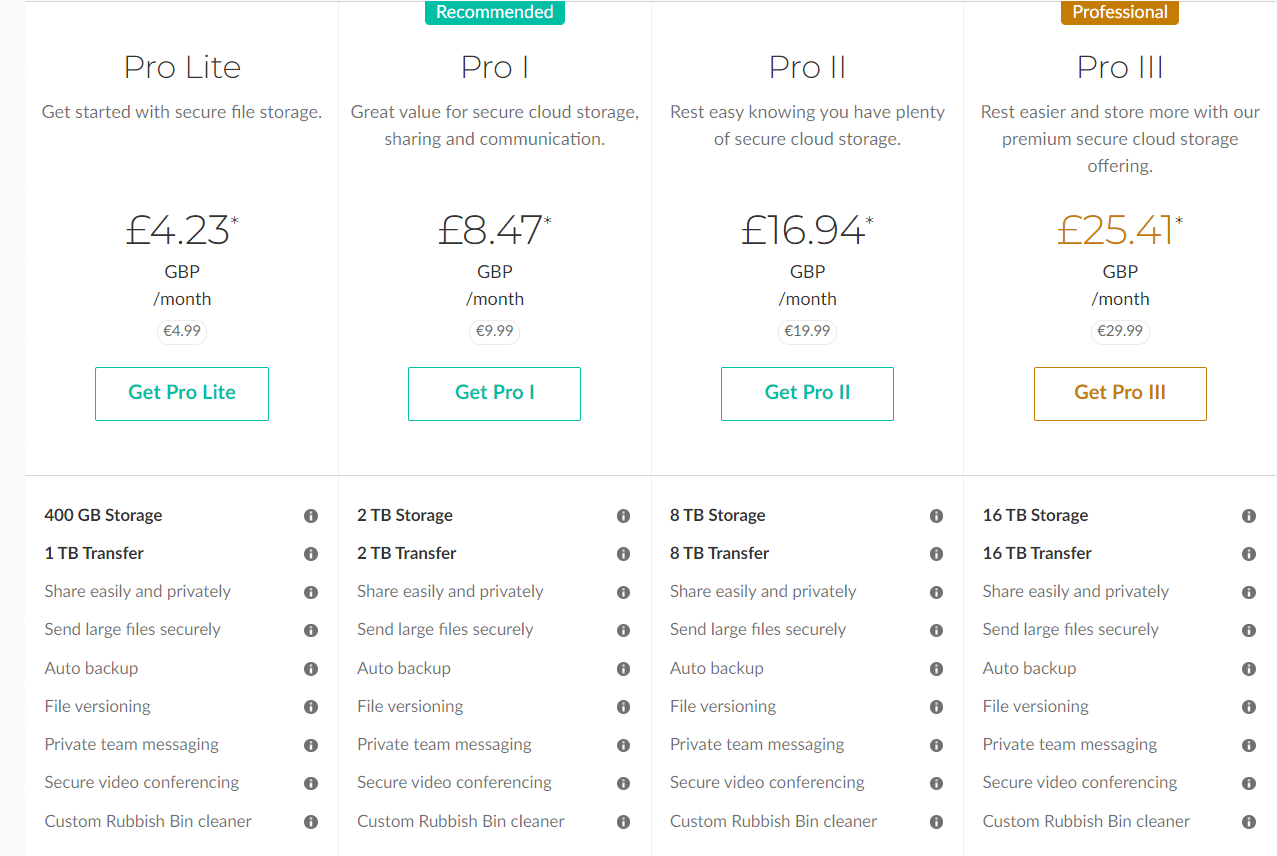 Next in line is the Pro I plan, which offers 2 TB of cloud storage and a 2 TB file transfer limit for £8.47 a month. The Pro II plan increases that to 8 TB of storage and an 8 TB of monthly transfer limit for £16.94 a month. 
Finally, Mega's priciest plan, called Pro III, costs £25.41 when billed monthly and £254.21 when billed yearly. It comes with 16 TB of cloud storage space and a 16 TB monthly file transfer limit. 
Mega offers only one business plan. It includes 3 TB of storage quota and 3 TB of transfer quota for £4.22 per user per month. Each additional TB of storage or transfer quota is charged at only £2.11 per TB per month.
Mega Alternatives
Mega vs pCloud
pCloud is another security-focused cloud storage provider that shares many features with Mega. Both services offer end-to-end encryption, so when it comes to security, you can't go wrong with either of them. However, it is worth mentioning that pCloud offers end-to-end encryption as an additional service that you have to pay for, while with Mega, it is completely free. 
Both Mega and pCloud have generous free plans, but Mega comes out on top again. With pCloud, you get 10 GB of free cloud storage space, while Mega currently offers double that amount. 
Mega and pCloud also have different approaches to file syncing. Mega sync all your files to a local folder on your computer. In contrast, pCloud's sync folder comes in the form of a virtual drive that allows you to access your files as if they were stored on your computer's hard drive.
Both services are competitively priced, but pCloud offers one additional feature that Mega lacks — a lifetime subscription. With pCloud, you can pay a one-time fee of £149 and get access to all of the service's features for life. 
Mega vs Dropbox
Choosing between Mega and Dropbox can be tricky, as both services offer a variety of features that can be appealing to users. However, there are some key differences between the two.
Firstly, Mega offers significantly more free storage than Dropbox, giving users 20 GB to work with. With only 2 GB of free storage space, Dropbox doesn't even come close.
Furthermore, Mega provides users with high-level security features, including end-to-end encryption and a built-in encrypted messaging service. On the other hand, Dropbox uses military-grade AES 256-bit to protect user files, but it can decrypt them if it wants to, making it the far less secure option.
However, unlike Mega, Dropbox offers block-level syncing, making file uploads much faster. So, if you value performance over security, you might prefer Dropbox. 
Dropbox has one key advantage over Mega, and that is collaboration. It integrates with a wide range of third-party apps like Google Docs and Microsoft Office, making it the ideal choice for users who need to collaborate on documents or use a variety of different productivity apps. 
Mega vs Google Drive
Google Drive is one of the most well-known cloud storage providers, so it's only natural to compare it to Mega. Moreover, Google Drive is perhaps the most generous cloud storage provider after Mega, offering users 15 GB of free storage space. 
When it comes to security, Google Drive lacks end-to-end encryption, but it does use industry-standard 256-bit AES encryption to protect user data.
Still, Google Drive has some other advantages of its own. For example, it integrates tightly with other Google services like Gmail and Google Docs, making it a more comprehensive solution for users who are already invested in the ecosystem. Additionally, files on Google Drive can be easily shared with others, making collaboration a breeze.
Ultimately, deciding which service to use comes down to your personal preferences. If security is your top priority, then Mega is the better choice. However, if you value integration with other Google apps and real-time collaboration, then Google Drive is probably the better option for you.
Wrap Up
So, what's the verdict of this Mega cloud storage review? Is Mega worth it? In short, yes.
Mega provides anything you could ever want out of a cloud storage service. It offers an industry-leading amount of free storage space, competitive pricing, and unparalleled security. It's an excellent choice for those who need to store larger files or want to share files with others securely.
Have you tried out Mega yet? If so, we'd love to hear about your experiences in the comments below.
FAQ
Is Mega cloud storage good?
Yes, Mega is a good option for those looking for an affordable and secure cloud storage solution, boasting end-to-end encryption. Mega's free plan offers 20 GB of storage, which is more than most other providers offer.
Is Mega safe?
Yes, Mega is a safe and secure cloud storage provider. It uses end-to-end encryption to protect your files and data and does not store your password or login information. Mega also has a zero-knowledge policy, which means that it cannot access your files and data.
Does Mega delete inactive accounts?
Yes, Mega states in its Terms of Service that it can terminate or suspend accounts that have been inactive for over three months and won't be liable for doing so.
What is the Mega download limit?
Mega's download limit is 5 GB per day, which amounts to 150 GB per month with the free plan.
Is Mega better than Google Drive?
Mega and Google Drive are both great cloud storage providers. While Mega is known for its secure file sharing and generous free plan, Google Drive is known for its collaboration features. Furthermore, Mega offers end-to-end encryption, while Google Drive does not.