iCloud vs OneDrive: A Detailed Comparison
In this iCloud vs OneDrive comparison, we will pit two of the most established cloud storage services today against each other and see which one comes on top.
On one side, we have iCloud, Apple's own offering that comes bundled with every iPhone and Mac. And on the other, we have OneDrive, Microsoft's answer to iCloud that comes free with Windows devices. So which one is better? Let's take a look!
What is iCloud?
iCloud is a cloud computing service made by Apple. The platform was developed to let Apple users store their personal information, such as files, photos, videos, messages, and contacts and keep them up to date across all their devices. 
iCloud was officially launched in 2011 and has since become the go-to cloud storage solution for Apple users worldwide. It comes pre-installed on all Apple devices and is tightly integrated with the Apple ecosystem, allowing for seamless device backup and syncing.
The service currently boasts an incredible 850 million users, around 150 million of which are paying subscribers. iCloud also allows Apple users to store up to 5 GB worth of data for free, with additional storage options available for a monthly fee.
What is OneDrive?
OneDrive is the cloud storage solution offered by Microsoft. OneDrive is fully integrated into the Windows operating system and is currently the default online storage and syncing platform for Windows users.
OneDrive was launched in 2007, so it is one of the first cloud storage solutions to hit the scene. The platform allows users to keep all their most important files and documents protected in the cloud and share and collaborate on them in real-time. 
Collaboration on documents is made possible with Microsoft's Office apps, Word, Excel, and PowerPoint, which are bundled in with the service.
Similarily to iCloud, OneDrive offers only 5 GB of cloud storage space for free. Of course, there is also extra storage space available, along with a few premium features, if you opt for one of OneDrive's paid plans.
Ease of Use
iCloud
iCloud runs incredibly smoothly on Apple devices. The service is already built into all iOS and Mac devices, so there isn't too much setting up required. 
iCloud only requires you to sign up for an Apple ID, which you probably already have if you own an iPhone or an iPad. Once you've done that, you can start using iCloud to store your data. All the apps on your Apple device, including Photos, Mail, Contacts, Calendars, and Reminders, will be hooked to iCloud by default.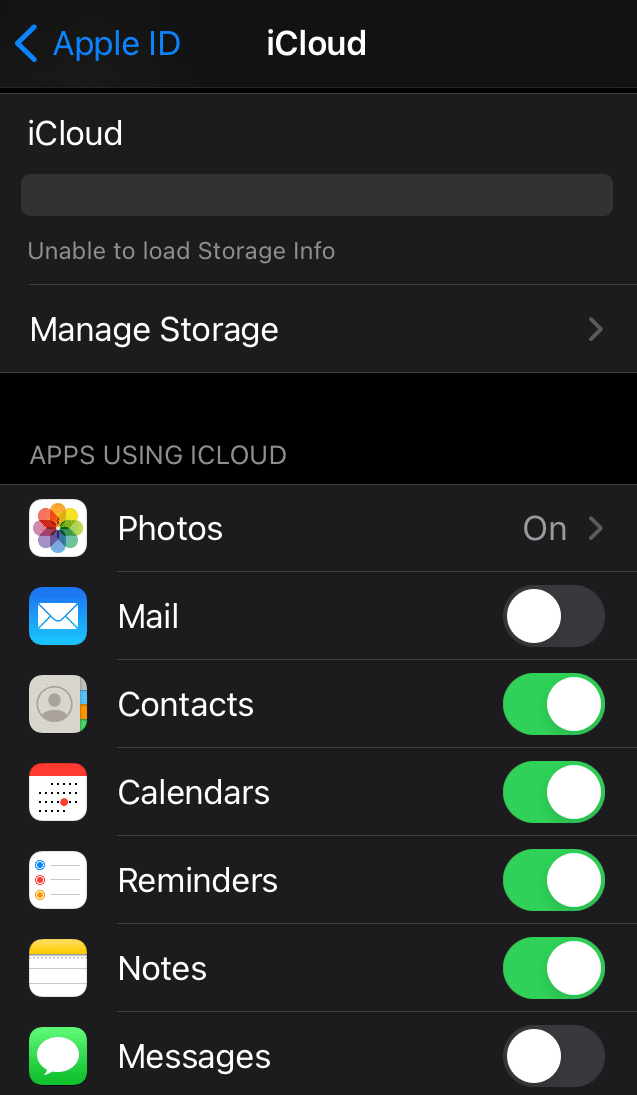 You can also select manually which apps you want to be backed up and synced in iCloud. 
And that's essentially all there is to it setting up iCloud on your Apple device. Any change you make to your data will automatically sync across all other devices that you have iCloud set up on. 
But iCloud isn't only limited to Apple users, as a desktop app for Windows is also available. Once set up, iCloud for Windows lets you store your Windows PC's data and sync it across devices. But, expectedly, iCloud is not nearly as intuitive or user-friendly on Windows as it is on Apple devices.
Unfortunately, there is no iCloud app for Android, but Android users can still access iCloud through its web client.
OneDrive
OneDrive, on the other hand, comes pre-installed on all Windows devices. OneDrive allows you to sync data between your computer and the cloud and access it from any desktop or mobile device. 
Setting up OneDrive on your Windows PC is extremely simple. You just need to log into your Microsoft account or sign up for a new account if you don't already have one. 
Once the setup is complete, OneDrive works seamlessly on Windows, automatically syncing data such as documents, images, and desktop files from your Windows PC to the cloud. The platform exists as a separate folder on your Windows PC, where you can drop all the files that you want to store in the cloud.

You can access OneDrive through the OneDrive folder on your Windows PC or its web client. OneDrive also allows you to work on your cloud-stored data on the go with the mobile app available for Android and iOS devices. The OneDrive mobile app automatically uploads any photos and videos taken with your phone to the cloud.
Plus, there is also a desktop app available for Macs. 
Overall, if you are a dedicated Apple user, iCloud might be a better option for you in terms of ease of use, as it works unnoticeably in the background without any setup required. 
However, if you are a Windows and Android user, OneDrive is a far better option. It will not only automatically sync all the data stored on your Windows PC to the cloud, but it also offers cross-platform support, which means you will be able to access it from any desktop or mobile device.
Features Overview
File Backup and Sync
iCloud is one of the best photo storage solutions on the market right now. The platform automatically stores all the media files (photos and videos) on your Apple device in the cloud and keeps them updated across all your devices.
Moreover, iCloud uses AI to automatically organise your photos and videos into different categories, including portraits, selfies, and screenshots.
One of iCloud's best features is that it uploads the full resolution versions of your media files to the cloud while keeping the lightweight versions locally, thus freeing up considerable storage space on your device.
Other types of documents and files are also automatically backed up to the cloud, from where you can view, share, and collaborate on them with other people. iCloud also lets you upload any files up to 50 GB in size to the cloud.
OneDrive works similarly. It automatically stores and uploads all photos, documents, and desktop files from your Windows PC to the cloud. You can also drop any type of file in your OneDrive account, as long as it doesn't exceed the maximum file size limit of 250 GB. 
One of OneDrive's most noteworthy features is Files on Demand. The Files on Demand feature lets you view and manage all your cloud-stored files right from your PC's desktop or File Explorer, but without them taking up any actual storage space on your device.
Collaboration Features
Collaboration on documents isn't one of iCloud's strongest sides. The platform lacks integration with productivity suites such as Google Workspace and Microsoft Office and doesn't offer a suitable replacement for them in its own ecosystem. 
iCloud does integrate with Apple's own office suite – iWork, which includes the Pages, Numbers, and Keynote apps. 
You can make iWork documents read-only, grant edit permissions, invite users, and work simultaneously with other people. iCloud allows up to 100 people to collaborate on the same document simultaneously. 
On the other hand, OneDrive is fully integrated with the Microsoft Office suite, allowing for more advanced real-time collaboration features. You can view, edit, and work on applications like Word and Excel at the same time with other users, either from the web browser or the desktop application. 
Anyone with access to the document can immediately see any changes made, and you can easily see which user made which change and when.
File Sharing
iCloud and OneDrive have similar file-sharing options.
With iCloud, you can create shareable links and forward them to other users. You can make the file accessible to anyone with access to the link or enter the email addresses or phone numbers of only those people you want to share it with.
You can also choose whether those with access to the shared file can only view it or can also make edits to it.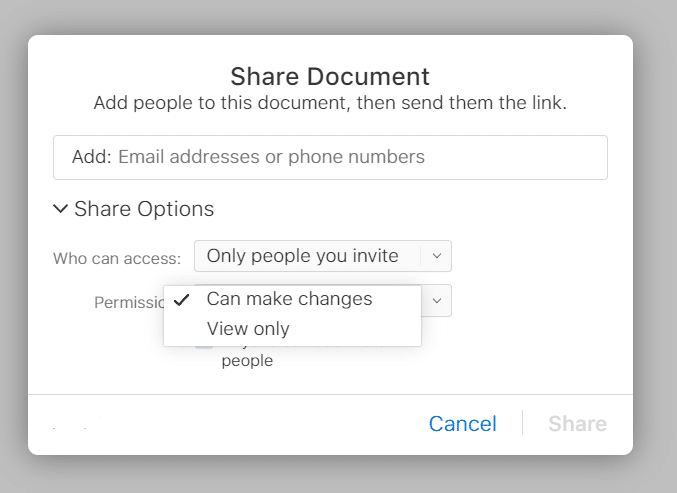 However, that is as far as your options go. You don't have an option to password-protect files or set expiration dates and download limits to shared links.
OneDrive's file-sharing options are similar but a bit more comprehensive. With OneDrive, you can make links accessible to everyone or only invite specific people to download them. You can also make files read-only or grant edit permissions.
However, unlike iCloud, OneDrive also lets users set expiration dates to links and password-protect them for added security, but those options are only reserved for premium users.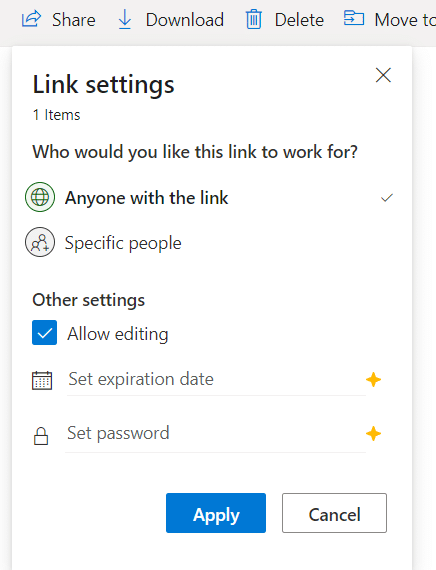 File Versioning
Both iCloud and OneDrive allow users to view and restore past versions of files, but, again, iCloud is more limited. With iCloud, you can restore all previous versions of documents created in the iWork productivity apps – Notes, Numbers, and Keychain.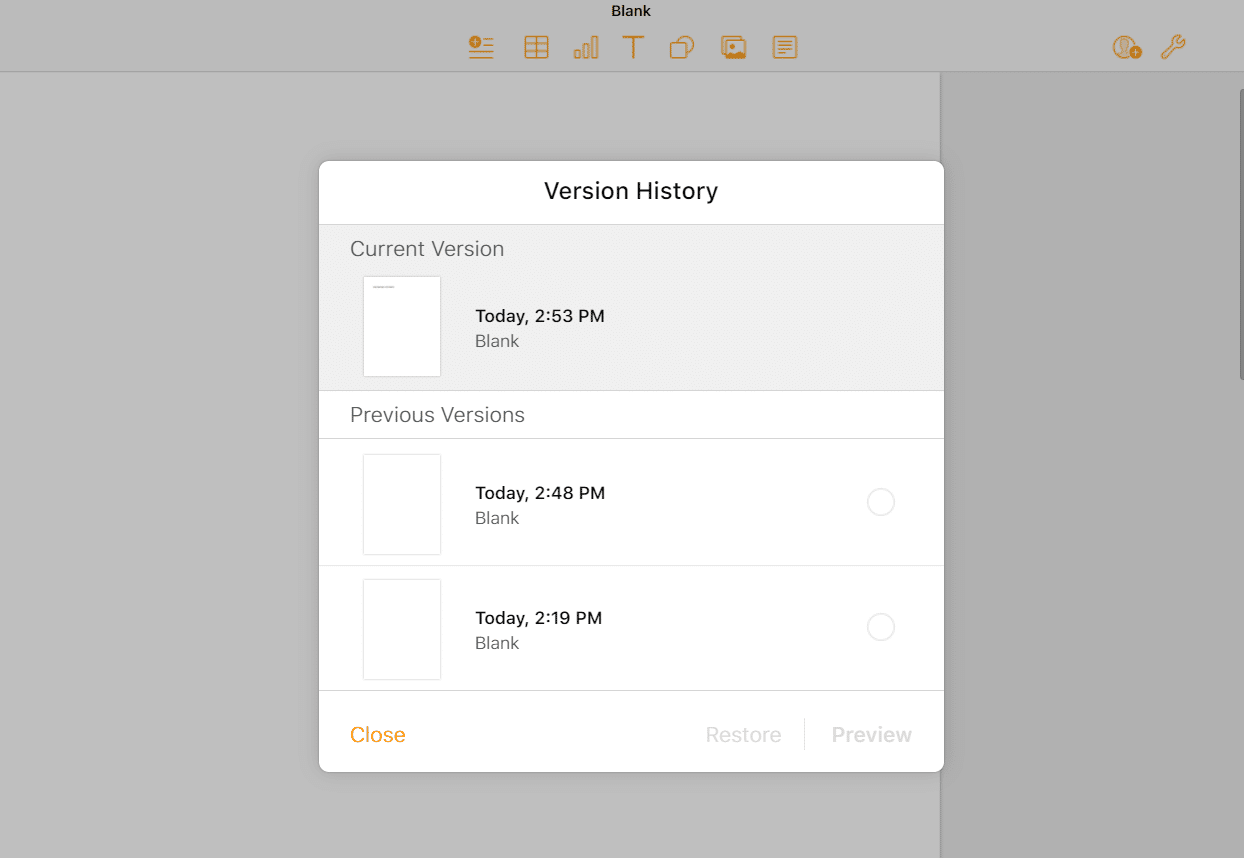 The platform also lets you recover deleted files up to 30 days after deleting them. However, Aside from iWork documents, you cannot restore earlier versions of any other files stored in your iCloud account.
In contrast, with OneDrive, you can restore previous versions of all files stored in the cloud from as far back as 30 days ago. In addition, version history supports all file types, including Office documents, photos, videos, PDF files, and more.
Security
iCloud and OneDrive have similar approaches to security. iCloud uses AES 128-bit encryption, which is slightly below the industry standard. However, the platform encrypts files both in transit and at rest, which greatly reduces the risk of your files being intercepted before they hit the iCloud servers. 
OneDrive employs even more robust, 256-bit encryption, also encrypting user data from the first moment they start to get uploaded to the cloud. 
iCloud and OneDrive also both offer two-factor authentication, which hugely increases login security. With two factor authentication, users must submit two sets of information to log in to their account – their login credentials, followed by a six-digit verification code that is sent to a trusted device or email address.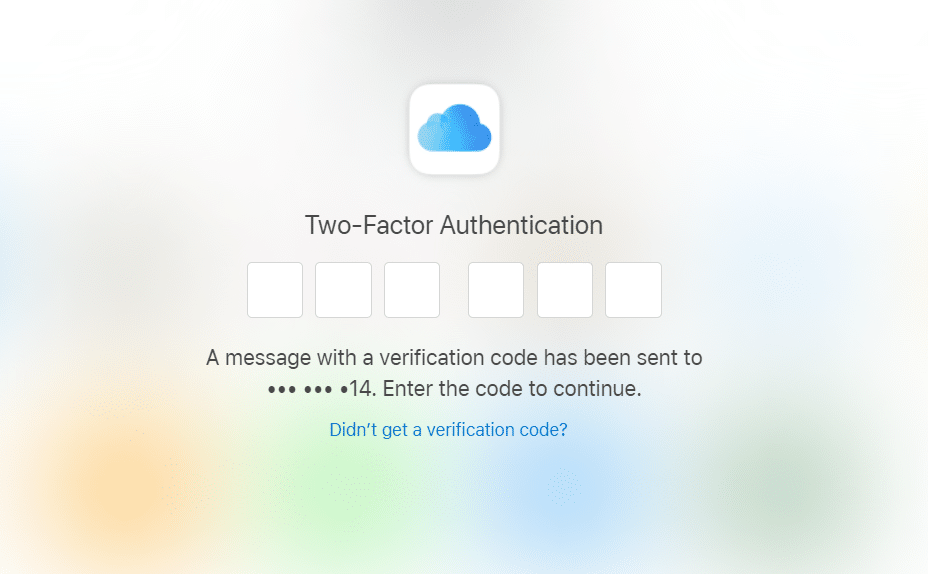 So, even if your username and password have leaked, your iCloud or OneDrive account will still be protected from unauthorised access. 
For even more security, OneDrive users can store data in their Persnal Vault, which is a recent addition to OneDrive, introduced in 2019. The Personal Vault is a separate storage area within OneDrive that requires one more layer of authentication (such as a verification code, a fingerprint, or facial recognition) to be accessed.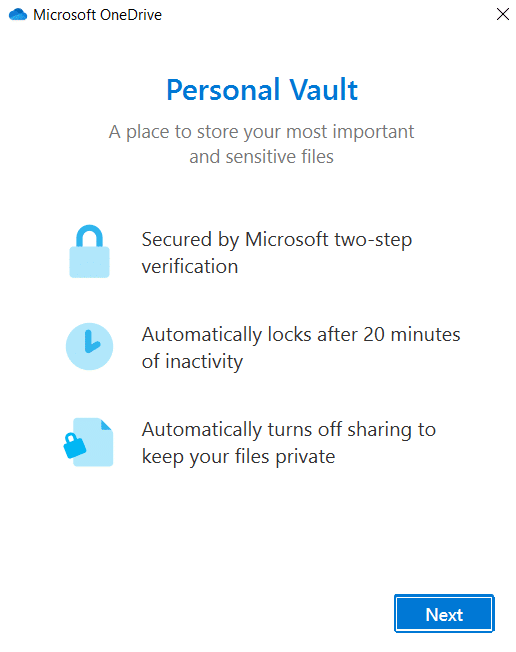 Files stored within the Personal Vault cannot be shared, and the service will automatically lock after 20 minutes of inactivity. The only downside is that users with a free account can only store up to three files within the Personal Vault. 
Apple also protects some of your data with end-to-end encryption, meaning that no one, not even iCloud's staff, will be able to access that data but you. However, end-to-end encryption is limited to users' most sensitive information, such as their Apple Card transactions, the Health app, and iCloud Keychain.
Unfortunately, OneDrive lacks end-to-end encryption altogether, which means its staff could potentially view your encrypted data if necessary. 
If you are looking for a more security-focused cloud storage provider that fully adopts end-to-end encryption, services like Icedrive and pCloud might be more viable options for you.
Support
If you run into any issue while using iCloud or OneDrive, you can contact their customer support teams for help. 
iCloud offers excellent customer support. It has an extensive knowledge base and a huge community forum that can help you find solutions to the more common issues you may encounter while using the platform. 
For more personalised support, you can call or schedule a call with an expert anytime. The best part is that phone support is available for both free and premium users. 
OneDrive's customer support is lacking compared to iCloud, as phone support is only limited to business users. Free users can chat with a support agent in their browsers or check out how-to videos and articles. Alternatively, users can also seek a solution to their problem in the Microsoft Community forum. 
Pricing and Plans
iCloud Pricing
Both iCloud and OneDrive have free plans that can be used indefinitely. However, both platforms limit users to only 5 GB of free cloud storage space, which is hardly enough for most people's needs.
Plus, in iCloud's case, the 5 GB of free cloud storage are only reserved for Apple device owners. If you use iCloud on your Android or Windows device, you will get only 1 GB of free cloud storage space.
However, both platforms offer additional storage capacity, along with a few premium features, if you subscribe to one of their paid tiers. 
iCloud's paid plans start at £0.79 a month for 50 GB of storage, £2.49 a month for 200 GB of storage, and £6.99 a month for up to 2 TB of cloud storage space.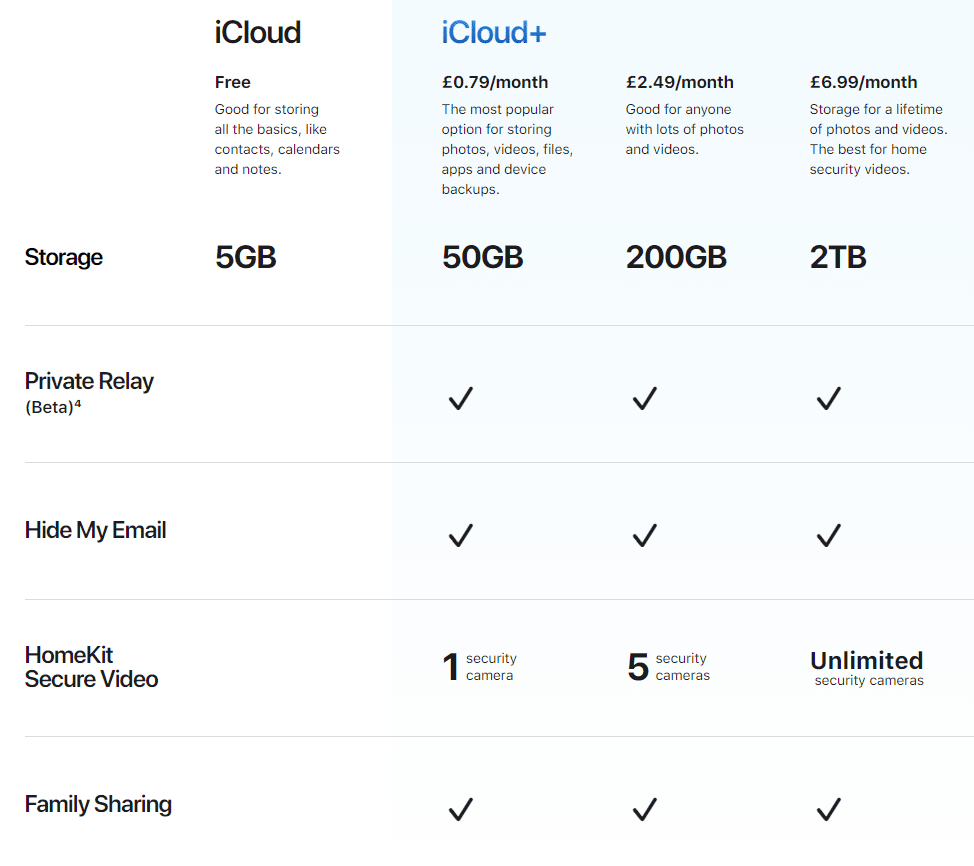 iCloud+ plans also include premium features like Private Relay (a VPN like service), Hide My Email (a service that keeps your personal email address private), and HomeKit secure video support. There is also a Family Sharing feature that will allow you to share your iCloud subscription with up to five family members. 
Alternatively, you can also purchase iCloud as part of an Apple One subscription, which bundles six different Apple services into one. These include Apple Music, Apple TV+, Apple Arcade, and others. Apple One subscription plans range from £14.95 to £29.95 a month.
OneDrive Pricing
OneDrive is slightly more expensive than iCloud but has more storage space available. 
OneDrive's paid plans begin at £1.99 for the Standalone Plan, which offers 100 GB of cloud storage space. However, the Standalone plan doesn't include Microsoft's Office apps, like Word, Excel, PowerPoint, and Outlook. To use those, you will have to subscribe to a Microsoft 365 bundle.
The Microsoft 365 Personal plan offers 1 TB of online data storage and costs £59.99 annually and £5.99 monthly. The highest, Microsoft 365 Family plan, has 6 TB of storage and comes at £79.99 annually and £7.99 monthly.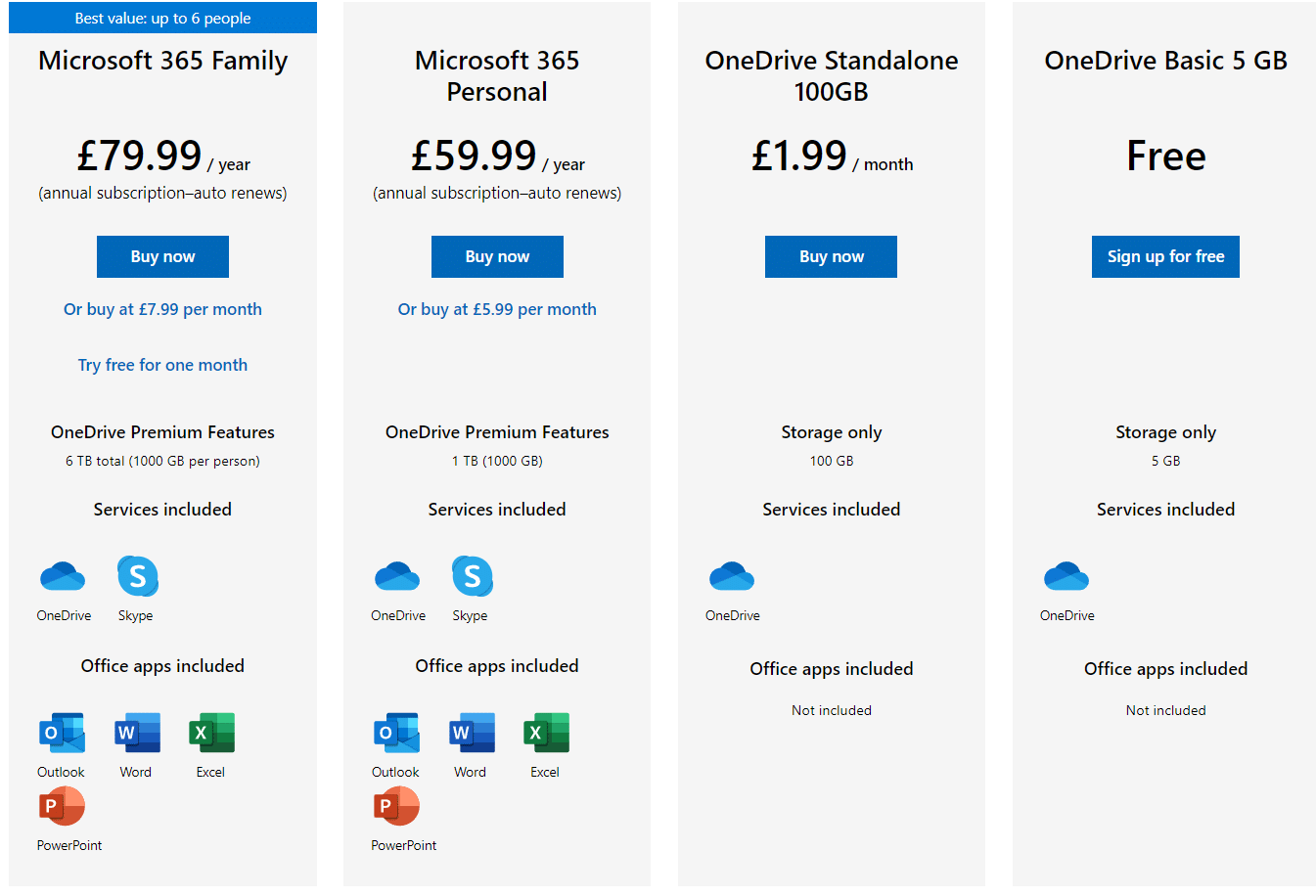 Wrap Up
So, what conclusion can we draw from this iCloud vs OneDrive comparison? Well, if you're looking for a simple cloud storage solution that is easy to use and integrates well with the Apple ecosystem, iCloud is probably your best bet. But if you are a Windows or Android user or want more features and flexibility, OneDrive may be a better option. Whichever service you choose, make sure to back up your data regularly. Remember – it's always good to have a backup plan!
FAQ
Which is better, iCloud or OneDrive?
iCloud and OneDrive are both good cloud storage services. iCloud is a bit simpler to use and integrates well with the Apple ecosystem, while OneDrive has more features and flexibility. Ultimately, which platform you should choose depends entirely on your needs.
What is more secure, iCloud or OneDrive?
iCloud and OneDrive are almost equally secure. OneDrive uses AES 256-bit encryption to protect user data, while iCloud uses slightly less secure 128-bit encryption. However, iCloud uses end-to-end encryption to protect users' most sensitive data, which OneDrive lacks. In addition, both platforms offer two-factor authentication for login security.
Can I use OneDrive instead of iCloud on iPhone?
Yes, you can use OneDrive instead of iCloud on your iPhone. OneDrive will store all the photos, videos, files, and documents from your iPhone and sync them to the cloud. However, unlike iCloud, OneDrive will not automatically sync all your Apple apps such as Contacts, Notes, Reminders, and Keychain and is not as intuitive on Apple devices as iCloud. 
What is iCloud best for?
iCloud is best for people looking for a simple cloud storage solution that integrates well with the Apple ecosystem. iCloud syncs all your photos, videos, files, and documents across your devices and makes them easily accessible from any device.
Alert! Your IP address is trackable.