WordPress vs Drupal: Which CMS Is Right For You?
Deciding which content management system to use is one of the first challenges many new site owners face. WordPress and Drupal are currently among the most popular CMS platforms, so it is often debated which one is better. Of course, there is no simple answer to that question. 
That is why, in this blog post, we will compare WordPress and Drupal and see how the two stack up against each other in terms of ease of use, plugins, themes, customisation, SEO, and more. By the end of it, you will have a better understanding of which content management solution is a better choice for your website.
What Is WordPress?
WordPress is a free, open-source content management system used to create and manage website content. It is the leading content publishing solution for the general public, and the fact that it powers 43% of all existing websites is a good illustration of that.
WordPress is open-source software, which means the source code is free to use and develop further at absolutely no cost.
The platform was launched nearly a decade ago, in 2003, and it was initially designed for blogging only. Today, due to its massive collection of themes and plugins, WordPress is used for creating and managing all types of websites, from blogs and portfolios to business and eCommerce sites.
What Is Drupal?
Drupal is also a free, open-source CMS platform. Although far less prevalent than WordPress, millions of people and organisations worldwide still use it to create and manage their website content.
Drupal currently powers less than 2% of the entire web. This percentage may seem small, but it is still a considerable amount of websites. What's more, many of them belong to large corporations and world-famous educational institutions.
Drupal is also one of the longest-running content management systems. It has been around longer than most other CMS platforms, including WordPress. It was launched in 2001, and at the time, it was used as a tool for building online communities. 
However, after evolving into an open-source project, Drupal became a popular option for creating websites and blogs, gradually growing into one of the most popular CMS platforms around the globe.
Ease of Use
The initial idea behind content management systems was to allow people with no knowledge in website development to create and manage website content without writing a single line of code. So, when comparing WordPress and Drupal, it is essential to mention how easy to use and beginner-friendly each platform is. 
WordPress Ease of Use
WordPress is one of the easiest to use content management systems. The platform is known for being very beginner-friendly and easy to navigate for users with no prior experience in website development. 
To get started with WordPress, you will first need to find a reliable hosting provider and choose a domain name. Most hosting providers have a one-click installation process for WordPress so you can get your site up and running in a matter of minutes. 
Some web hosts, like WP Engine, even provide hosting solutions that are tailor-made specifically for WordPress.
Once WordPress is installed, you can start creating content! WordPress has an intuitive dashboard with all the different menu options nicely laid out in the sidebar. 
From there, you can add new posts, pages, and menus hassle-free. The Gutenberg editor, which is the default editor in WordPress, allows you to arrange the content in blocks and create complex layouts with just a few clicks. 
Adding new posts and pages to WordPress comes down to writing directly into the editor, dragging images and clicking on Publish. You can also install website builders, such as Elementor and Beaver Builder, which will enable drag and drop functionality and make the building of your site even easier. 
WordPress also has thousands upon thousands of free website themes and plugins you can use to change how your website looks and add new custom functionality. Adding new themes and plugins to WordPress is as simple as choosing one and clicking on the install option.
Drupal Ease of Use
What sets Drupal apart from WordPress and other CMS platforms is its advanced level of customisation and steeper learning curve. The platform requires more effort and knowledge on the user's part to be managed efficiently, which makes it a better choice for larger businesses and more experienced website owners.
First off, getting your site up and running with Drupal is not as simple as WordPress. Not all hosting providers have a one-click install option for Drupal, which means you will have to install Drupal on your web host manually. You will most likely need to configure and log into a MySQL or MariaDB database as well.
Once Drupal is set up, you will find the post-installation experience a bit more complicated than that of WordPress. The first time you log into Drupal, you will be greeted by Drupal's user interface.
Drupal's user interface is not as user-friendly or intuitive as WordPress, taking a little more time to comprehend.  
Another downside to Drupal is that, beyond very basic site customisations, you will need to have at least basic skills in HTML, PHP, and CSS to manage the content on your website. 
For complete novices in website development, that means spending quite a lot of time going through videos and tutorials to get up to speed with the platform. So, if you want to get your website live as soon as possible, Drupal might not be the best option.
However, users who are a bit more tech-savvy can use this complexity to their advantage, as it can help them create bigger and more complex websites. Once you get the hang of it, Drupal can turn into a very useful tool for creating and managing your website content. 
Plugins
Plugins are small pieces of software that add new features to your site, such as contact forms, greater SEO control, visitor statistics, and e-commerce functionality. You can also use plugins to change your website's appearance or improve its performance.
While plugins may not be necessary to run a WordPress or Drupal website, they can be powerful tools for bringing your website idea to life. So, before choosing one platform or the other, it is important to get familiar with the plugin offering of both of them.
WordPress Plugins
WordPress has a more extensive selection of plugins when compared to Drupal, with over 58,000 free plugins and thousands more premium plugins available. That means WordPress users have a much wider range of options for adding new features to their websites. 
Most WordPress plugins are free to use, but there are also a lot of premium plugins available. If you want to use a premium plugin, you will need to purchase a licence from the plugin developer. Such plugins can cost anything from $1 to $1,000 and can be either paid right away or on a monthly or annual basis.
Which plugins you choose to add to your website is entirely up to you. However, here are some must-have WordPress plugins that any new site owner should consider installing:
Yoast SEO

— This plugin helps you optimise your website for search engines. It helps you add meta descriptions, keywords, and other SEO settings to your web pages, generating a sitemap of your website at the same time. 

iThemes Security

—

This plugin helps secure your WordPress website with two-factor authentication and malware scanning. It also has many other security features that help you protect your website from hackers and other threats.

WPForms

—

This plugin allows you to create custom forms, such as contact forms, subscription forms, payment forms, and surveys for your WordPress website. 

Jetpack

—

This plugin combines several essential features for WordPress websites into one, such as social media integration, security, performance enhancements, and more. 

BackupBuddy

— This plugin helps you create backups of your WordPress website so you can restore it if something goes wrong. 
Drupal Plugins
Drupal plugins are also known as modules. Drupal offers a slightly smaller number of plugins than WordPress, with around 30,000 modules. However, these plugins are generally of a higher quality than WordPress plugins. That is because they often undergo more rigorous security testing.
The core difference between WordPress plugins and Drupal modules is that WordPress plugins are ready to use. In contrast, with Drupal, you will typically need to set user permissions or configure a module in order for it to work.
Some high-quality Drupal modules include:
The Views module

— It allows you to create custom lists and grids of content for your Drupal website.

The Chaos Tools Suite

— This is a collection of APIs that improve the developer experience by making code readily available.

The Backup and Migrate module

— This module helps you backup and restore your Drupal website.

The CKEditor plugin

— It allows you to edit the content on your Drupal website using a WYSIWYG editor. 

The Google Analytics module

— This module

lets you track the traffic on your website, see where your visitors come from and find out what they are doing on your website. 
Themes and Customisation
Templates are pre-made designs for websites that allow you to create a custom website without having to design it from scratch. Both WordPress and Drupal have official theme directories, where you can browse and download free and premium themes.
WordPress Themes
WordPress themes are templates you can use to change the appearance of your WordPress website. They allow you to change the fonts, colours, and layout of your site, and many of them include built-in features such as page builders, sliders, and shortcodes.
WordPress has a massive theme library, with over 9,000 free themes and thousands of premium ones available. Aside from its official directory, WordPress also has several third-party theme marketplaces, such as ThemeForest and TemplateMonster. These marketplaces offer thousands more WordPress themes to choose from. 
With WordPress themes, you can create almost any website imaginable, from simple blogs and portfolios to small business websites and webshops.
WordPress themes allow for basic modification of colours, backgrounds, slides, and logos. However, compared to Drupal themes, they are not as flexible. 
They tend to be more limited in their design options, and it can be challenging to customise them without code. So, if you want complete control over the appearance of your WordPress website, you will need to purchase a premium theme or hire a WordPress developer.
Drupal Themes
Drupal also has a number of official and unofficial theme directories. The best place to find Drupal themes is on Drupal.org, where you can browse and download both free and premium themes.
There are currently around 3,000 Drupal themes available, which is far less compared to the number of available WordPress themes. Drupal themes are more flexible and customisable than WordPress themes, but implementing those customisations can be challenging unless you are familiar with coding.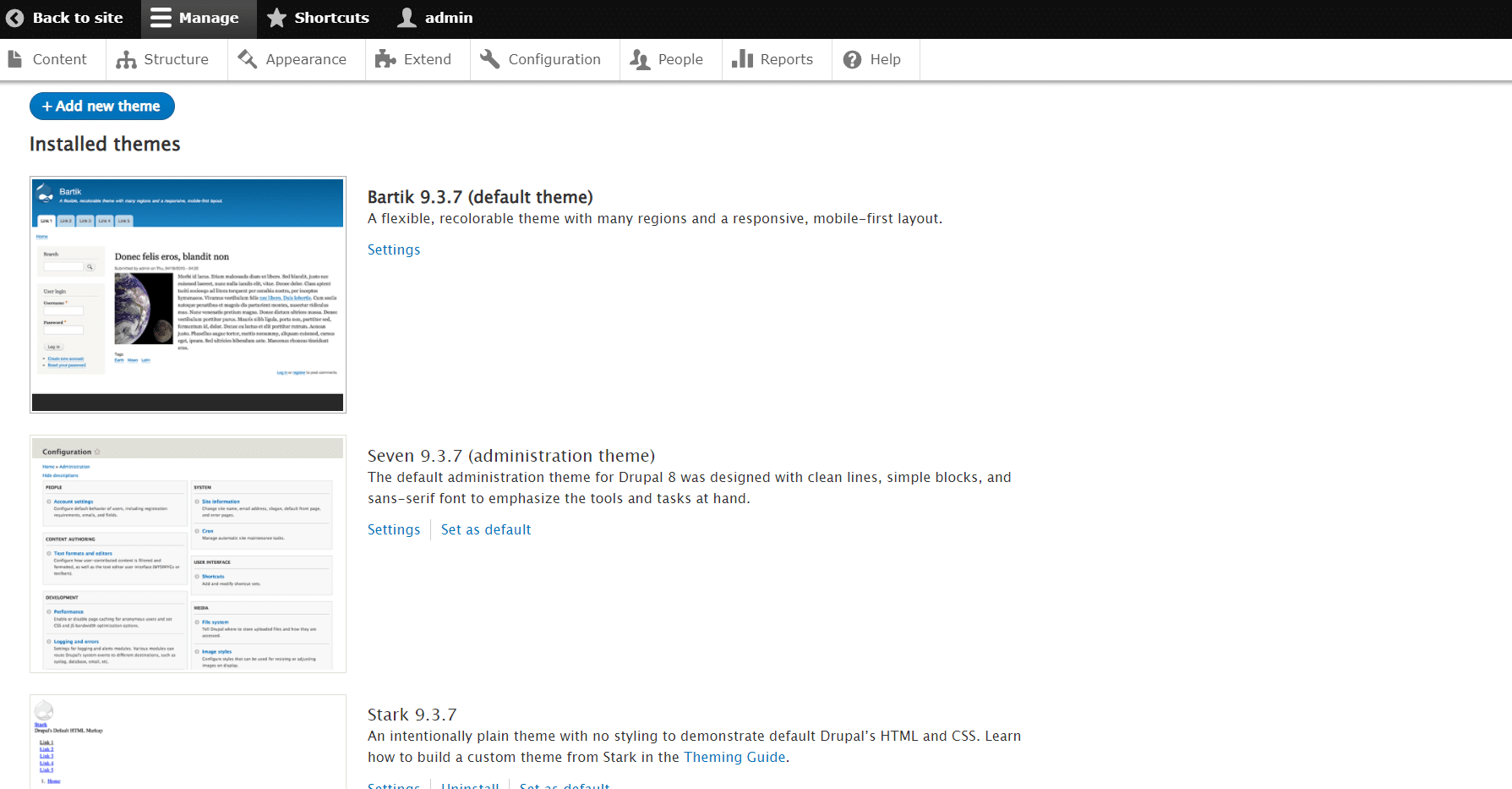 That is why you will most likely need to hire a website developer to create custom coding to fit your individual needs.
In addition, if you want to use a Drupal theme, you will need to find a theme that is compatible with your version of Drupal, as some themes are only compatible with certain versions of the software.
Drupal also offers a "base theme" called Bartik, which can be used to create your own custom Drupal theme and provides a good starting point for creating your own design.
Security
Security is one of the most important aspects of running a fully-functional website, and it should be one of the core features to look out for when choosing a CMS. So, when it comes to security, how do WordPress and Drupal compare?
WordPress Security
WordPress is currently the most hacked content management system. According to the latest statistics, it accounts for over 90% of hacked CMS sites.
But, when you consider its huge popularity and the sheer number of websites it powers, that is to be expected. In addition, WordPress's massive library of third-party themes and plugins is another reason why this CMS platform is such a popular target for hackers. 
The good news is that you can take steps to overcome these security issues. For instance, you can install a security plugin, update your WordPress software regularly, and keep your plugins and themes up-to-date. A regularly updated and properly maintained WordPress site can be very secure.
Drupal Security
Drupal is less vulnerable to attacks than WordPress. According to the latest statistics, it accounts for only 3.7% of all hacked content management systems.
In fact, over the years, Drupal has built a reputation for being one of the most secure content management systems out there. That explains why it has become such a popular content management solution for large corporations, financial institutions, and government websites.
The first reason why Drupal is more secure than WordPress is obvious. Drupal websites are not as popular as WordPress websites, so hackers are less likely to target them. 
Another reason why Drupal is less hacked into than WordPress is the internally secured themes and modules, making the platform less susceptible to plugin vulnerabilities.
With Drupal, you can be confident that your website will be secure. However, you should still take steps to protect your website, such as choosing a strong password and keeping your software up-to-date.
SEO
SEO, or search engine optimisation, is the process of improving the visibility of a website on search engine results pages. SEO is important because it allows websites to attract more visitors and improve their online presence. 
When it comes to SEO, Google doesn't care whether you are running your site on WordPress or Drupal, as long as you correctly employ Search Engine Optimisation concepts. 
WordPress SEO 
There are countless SEO benefits of using WordPress to publish your content. For example, you can easily add keywords and meta descriptions to your pages, and WordPress will automatically generate sitemaps for you. This will help your website rank higher on Google.
Installing an SEO-friendly theme and implementing some of the many SEO-focused WordPress plugins will further help you drive more traffic to your website. We've already mentioned Yoast as one of the best SEO plugins to install on your site. 
You can also try using Rich Snippets plugins. These plugins add schema.org microdata to your website's content, allowing search engines to understand your content better. That can help improve your website's click-through rate from search engine results pages.
Drupal SEO
Drupal is equally as good as WordPress for search engine optimisation. 
The platform allows users to manually set custom, SEO-friendly URLs that are easier to find by search engines. Drupal also has a caching mechanism built right into the platform, allowing websites to be delivered much faster to users. 
Similarly to WordPress, Drupal also has a variety of extensions or modules that allow site owners to boost their website ranking. A good example is the Metatag module which allows you to configure different metadata elements of your site, such as meta descriptions and meta titles.
Another useful Drupal SEO module is the Pathauto module which lets you automatically generate URLs and or path aliases for various kinds of content. 
Speed and Performance
You could publish the most quality content in the world. Still, if your website takes forever to load, your site visitors will inevitably lose interest, and you will lose revenue as a result. 
Speed and performance is one area in which Drupal is better than WordPress. The main reason for that is that Drupal is a more lightweight and less resource-intensive CMS than WordPress. That makes it better fitted to complex sites with multiple pages.
The main reason why a WordPress site may be slow and lagging in speed is the site owner using too many plugins or poorly coded themes. But if your WordPress website is well-maintained and regularly updated, it can be equally as fast and responsive as a Drupal site.
Pricing
Both WordPress and Drupal are free to download and install, but there are still some costs associated with using these platforms. 
Costs for both platforms can vary from a few pounds to several hundreds of pounds per month and depend on the domain name and hosting plan you choose. For example, the cost of a domain name varies depending on the extension (e.g., .com, .net, or .org) and the registrar. 
The cost of web hosting varies depending on which web host you choose, the type of hosting (shared, dedicated, VPS, cloud, etc.), and the included features.
You should also factor in site development costs, which depend on whether you use free or premium plugins and themes for your website. Suppose you decide to hire a developer to create an original theme for your website. In that case, WordPress may be the more affordable option, as its developers are more affordable and easier to find. 
Wrap Up
In conclusion, WordPress and Drupal are both great content management systems. Ultimately, no platform is better than the other and your decision comes down to your specific needs as a website owner and your skills in web development.
If you don't have a background in web development and coding and are looking for an easy-to-use CMS with plenty of themes and plugins available, you should probably stick with WordPress.
However, if you are comfortable working with the command line and want to manage a more complex website without being limited in your customisation options, Drupal may be the better choice for you.
If you found this comparison helpful, check out how WordPress compares to Webflow next.
FAQ
Is WordPress better than Drupal?
WordPress is not necessarily better than Drupal. They are both content management systems that have their pros and cons. WordPress is best for small businesses, bloggers, and individuals who want to create a simple website without coding. Drupal is best for large businesses and organisations that want to create a more complex website.
What are the pros and cons of WordPress?
Its pros are ease of use, plenty of features that make it easy to create a website, and a large community of users who can help you with your website. However, WordPress is less flexible than Drupal, which some users see as a disadvantage.
What are the pros and cons of Drupal?
Drupal is more flexible than WordPress and provides a lot more customisation options for building a website. However, Drupal is more complex than WordPress and requires some knowledge and experience in site development to be used properly.
Alert! Your IP address is trackable.