Webflow vs WordPress: A Detailed Comparison
Many business owners and web designers face a challenge when it comes to picking the best platform for creating their websites. To save you the trouble and help you make an informed decision, we will do a detailed Webflow vs WordPress comparison in this blog post.  
To review these two website builders, we will look at the history of both platforms, their features, ease of use, and pricing plans. We will also discuss customer support and give our final verdict on which platform is the better choice.
So, without further ado, let's dive in!
Overview
Webflow was first launched in 2013 by co-founders Sergie Magdalin, Bryant Chou, and Vlad Magdalin, with the intention of making web design easier for everyone.
Webflow is a website builder that allows you to create beautiful websites while providing the flexibility of front-end coding without requiring you to actually code. It offers a wide range of features, including 1000+ responsive website templates, plugins, SEO and CMS tools, and more. It is relatively easy to use if you don't have coding knowledge, but it offers a better experience if you know the "what" and "why" behind the things you do.
On the other hand, WordPress was first released a decade earlier — in 2003 by Matt Mullenweg and Mike Little. It is an open-source content management system that allows you to host and build websites. WordPress is a popular choice for businesses of any size as well as bloggers, as it offers a broad spectrum of features and tools.
One of the main advantages of WordPress is that there are thousands of plugins available, which allow you to add features to your websites, such as eCommerce, social media integration, and forms. WordPress also has a large community of users who are happy to help out with any problems you may encounter.
Pros And Cons
Before we get into more detail, here's a little overview of the pros and cons of Webflow and WordPress.
Webflow Pros

WordPress Pros

Complete design freedom

Good code quality

Allows you to make on-page edits

Offers drag-and-drop page builder

Powerful visual editor

No need to add plugins

Direct customer support for paying customers

Lower learning curve

Easy to access help and learning resources

It's free and open-source

Excessive plugin library

Can integrate with more third-party tools

Can be cheaper

Webflow Cons

WordPress Cons

Can feel overwhelming if you're not familiar with some basic HTML and CSS principles

Doesn't have a lot of plugin options available 

Doesn't integrate with as many third-party tools

Poor level of technical support

Requires some HTML/CSS knowledge

Less design freedom

Doesn't offer maintenance and security

 
Features
Both Webflow and WordPress are rich with features and offer everything you need and more for creating a stunning website. However, WordPress relies heavily on plugins that can be expensive, while Webflow doesn't offer official plugins but instead, you can extend your website by integrating code snippets from other services.
Aside from plugins, we'll review both of the web builders' eCommerce capabilities, as well as their SEO and CMS tools.
eCommerce
With Webflow, the eCommerce features are built into the core Webflow service, as long as you pay for the eCommerce plan. Here are the three eCommerce plans Webflow offers:
| | | |
| --- | --- | --- |
| Standard | Plus | Advanced |
| £31/month | £63/month | £175/month |
With all three plans, you get a custom checkout, custom shopping cart, email product fields, email customisation, automatic tax calculation, as well as marketing and management features. However, the Plus and Advanced plans give you unbranded emails and 0% transaction fees for up to 25,000 transactions for the Plus and 100,000 transactions for the Advanced plan.
If you opt for the annual subscription, you can get the Standard eCommerce plan for $29/month (approximately £22), the Plus eCommerce plan for $74/month (approximately £56), and finally, the Advanced eCommerce plan for $212/month (£160).
One of Webflow's strongest suits is its ability to customise the shopping cart and eCommerce portal fully. Plus, its built-in shopping cart is optimised to maximise conversions. In addition, Webflow allows for Stripe, PayPal, and  Apple Pay payments, and it offers support for web payments. 
However, Webflow also has a couple of limitations. For one, it can't sell subscriptions, and there's no way to send abandoned cart emails which is a great way to boost conversions. 
WordPress offers an extensive range of eCommerce features as well. These features include creating a store, adding products, and setting up shipping. You can also use WordPress to create a shopping cart and process payments. WordPress offers a wide range of payment options, including Stripe, PayPal, and Authorize.net.
However, nothing is built-in on WordPress, meaning you'd have to install a plugin before you can sell, and the number one most used eCommerce plugin used for WordPress websites is WooCommerce. WooCommerce is free and very user-friendly. On top of that, it's highly customisable. You can find hundreds of free and paid extensions for WooCommers to match any of your needs.
WordPress doesn't have separate pricing plans for eCommerce, but one of its regular plans is dedicated to online businesses, and it costs £36/month for a yearly subscription. The eCommerce plan offers a free domain for one year, best-in-class hosting, collecting of payments, unlimited email support, premium themes, Google Analytics integration, advanced SEO, and more. In addition, it allows you to earn ad revenue and accept payments in 60+ countries.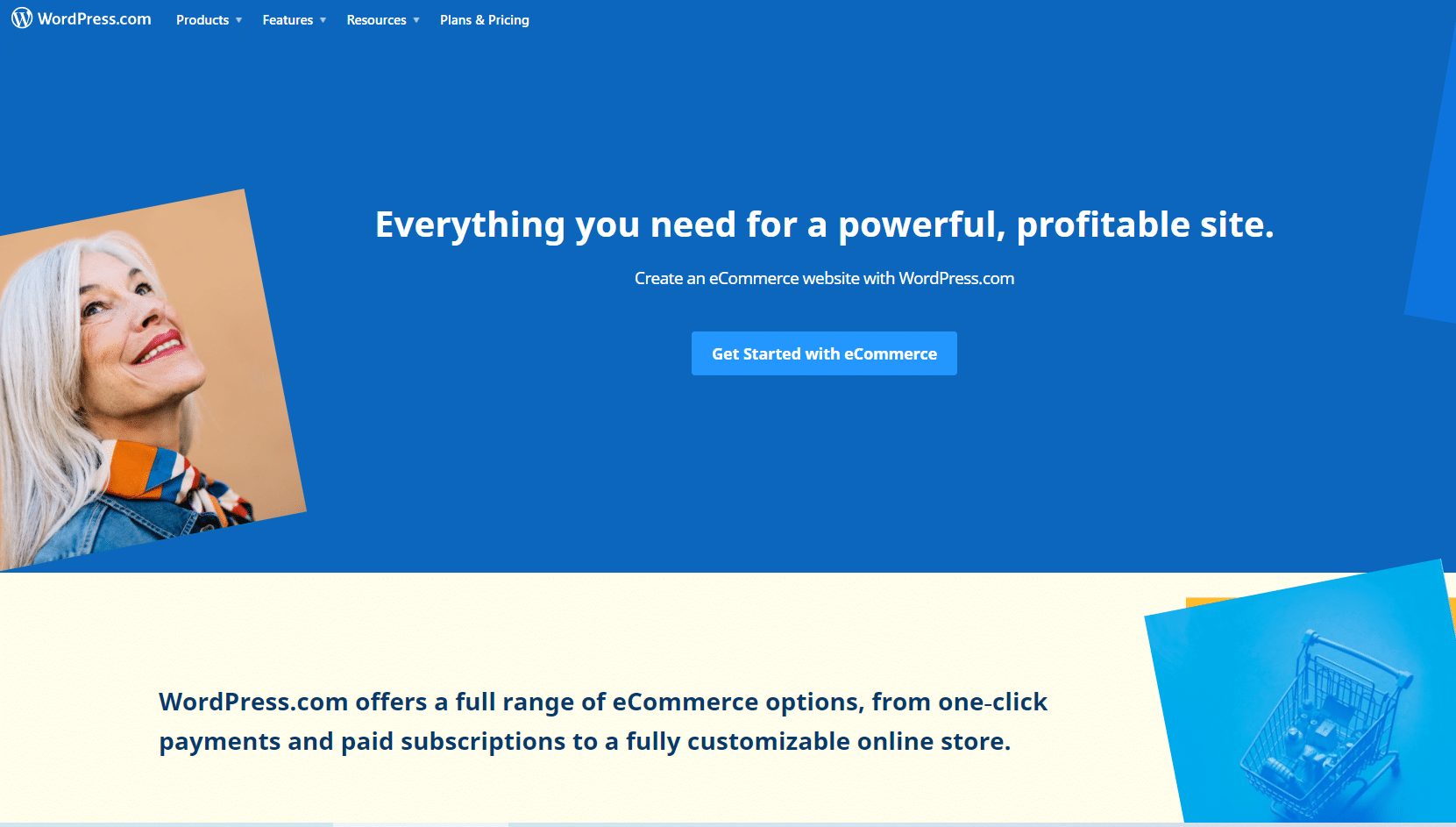 Plugins
Most website builders will allow you to extend your site with features beyond the core platform. This is achieved with the help of plugins.
Webflow has a shy collection of over 60 plugins that you can integrate into your website. Aside from its modest collection of plugins, Webflow allows you to integrate code snippets from other services and thus extend your website.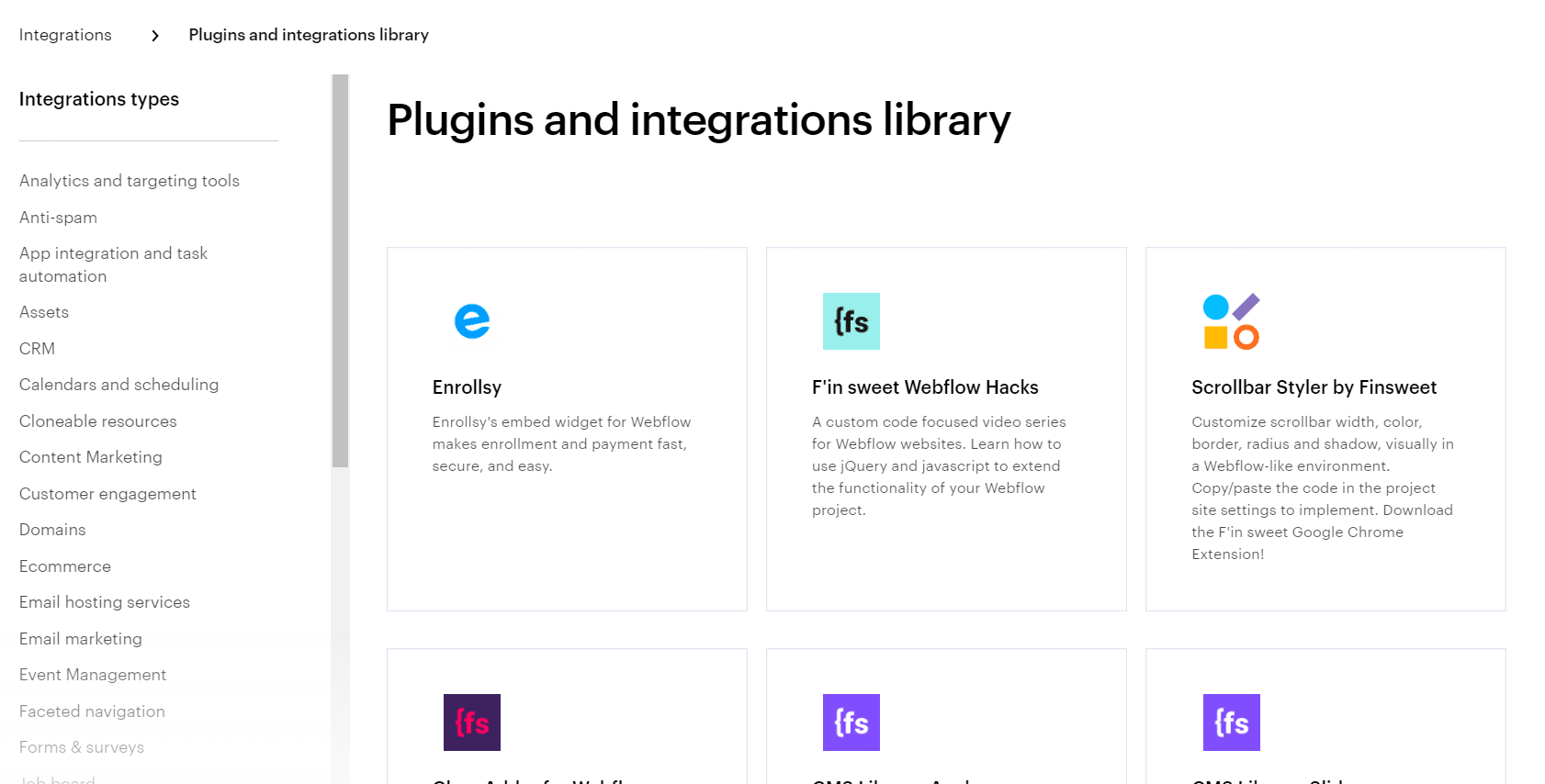 In Webflow's plugins and integrations library, you can find analytics and targeting tools, app integrations, calendars and scheduling, CRM, event marketing, and so on. Still, the selection of plugins and extensions is extremely limited compared to WordPress's impressive 59,000+ plugins.
Yes, that's right. WordPress offers over 59,000 plugins, both free and paid, for everything you could possibly imagine. But, of course, you can also find thousands of premium plugins via other marketplaces or independent developers.
The only downside is that WordPress doesn't have a vetting process for creating a plugin, so you might encounter a few bad ones before landing your perfect match.
SEO
Is Webflow or WordPress better for SEO?
The Webflow SEO features are comprehensive and allow you to improve the visibility of your website. These features include the ability to add and edit schema markup, add keywords, create meta titles and descriptions, create and publish 301 redirects, edit simple image alt tags, and more. You can also use Webflow to create sitemaps and Robots.txt files. Webflow delivers clean code which means it's easily searched and indexed by search engine crawlers.
Plugins are the way to gain access to SEO tools in WordPress. The most popular SEO tool on WordPress is Yoast. In WordPress you can easily create SEO-friendly titles, unique meta descriptions, generate XML sitemaps, and use categories and tags, amongst other things. 
There are tons of people online that use WordPress for SEO, so you can seek help from the community forums when you hit a bump on the road.
CMS
Webflow has a user-friendly CMS that helps you easily create a well-structured content template and connect it to your site design. You're able to design the content right on the page and see how it would look once finished. Since you have visual control, you can build the search function from scratch so it displays content in the exact way you want it to be viewed.
Another cool thing that Webflow allows is for your clients and team members to gain access to the site to make edits if they need to.
WordPress is known as the best CMS on the market, as it makes creating and publishing your content online easy and flexible. 
Here are a few of the WordPress CMS-related features:
Easy management

Minimal server requirements

Admin panel with multiple language support

Create new pages with ease

Automatically handle updates to key areas

Turn features on or off more easily

Module-based design

Easy Image and Media Management

Social Integrations

Open Source

Group-based permission system

Multiple content areas on one page
Ease Of Use
Webflow is not the easiest website builder to use, and previous coding knowledge is considered a plus. Webflow does offer a drag-and-drop tool that makes navigating it a bit easier, but nonetheless, beginners might face difficulties getting the hang of it.
However, Webflow offers thorough guides and video tutorials for its users, as well as helpful articles and forums. 
If you are on the lookout for a more user-friendly website builder, we suggest you check out Wix. We've done a detailed Webflow vs Wix comparison that you might find helpful.
On the other hand, WordPress has proven to have a smaller learning curve compared to Webflow. Coding is part of the experience, although you don't necessarily need to be an expert. Some basic  HTML/CSS knowledge will get you a long way with WordPress.
WordPress doesn't offer a drag-and-drop tool; however, you can get a plugin to ease the experience. 
WordPress' editor displays content elements very differently from how they'll end up looking. So you have to save and preview each edit you make so that you can see what it'll end up looking like. But, on the plus side, you can customise your content using blocks which means you can make beautiful layouts without writing any code.
Hosting
Webflow offers the option to either export the code for your website or host the site for you. It's worth considering letting Webflow host your site because its hosting is backed by Amazon Web Services and Fastly, making it reliable and fast. 
Some benefits of Webflow hosting are free SSL, SEO management, backups and versioning, a built-in content distribution network (CDN), and more. However, one drawback you may face is the confusing pricing plans. In order to host your Website on Webflow, you need to purchase a Site plan that is separate from your Account plan, and it costs between £9 and £27.
WordPress hosting is included in all four of its pricing plans – Personal, Premium, Business, and eCommerce. You get a free domain with any annual plan you end up purchasing. 
When you host directly on WordPress.com, there won't be any upfront costs, and you won't need to purchase a separate domain name. However, even the priciest WordPress plan has its limitations, so you may find yourself looking for a better alternative. 
Some of the limitations of WordPress hosted websites – the tools, themes, and plugins you have access to are limited to those integrated with WordPress.com, not the full catalogue available from WordPress.org; the cost can end up being higher than traditional web hosting.
Some alternatives you might want to consider:
Bluehost – offers everything you need to build, launch, and maintain a business website. Bluehost's services come at affordable pricing for as low as $2.95 (roughly £2.20) per month.

HostGator – inclusion of unlimited storage and bandwidth across all hosting plans. Pricing starts at $2.75 (roughly £2.05) per month.

DreamHost – affordable and commitment-free web hosting with plans as low as $2.59 (roughly £1.93) per month.
Templates and Themes
Webflow offers 1000+ responsive website templates you can customise with the code-free design tool, perfect for designers, businesses, and personal use.
Unlike other website building platforms, you have complete control over your typography with Webflow. You can use any font you want and completely customise everything about it, from the line height to the tracking.
To ensure perfect consistency throughout the pages, Webflow allows you to define global colour swatches and change every instance of colour on your website.
WordPress allows endless customisation and is known for its extensive library of themes – 9,297 to be exact. And that's just on its official website. In addition, third parties offer thousands of free and paid WordPress themes. Many of the paid themes are made by experienced developers who prioritise high-quality work and provide more options to customise the appearance without the need to know languages like HTML and CSS.
Customer Support
You can reach Webflow's email support Monday through Friday and expect an answer within a 48-hour window. However, you can always check Webflow University for a ton of tutorials and resources available right away.
Another available option you can look into is the Webflow Forum, where you can seek help from users experiencing the same issues. Unfortunately, Webflow does not offer phone support at this time.
WordPress users heavily rely on the community forum. Because there are around 500 million WordPress websites, the community is as big as it gets, so surely someone will be able to help you.
WordPress offers live chat support for the annual Premium, Business, and eCommerce plans. The Personal plan, as well as all the monthly plans, get email support. WordPress doesn't offer phone support as well.
Pricing and Plans
We finally made it to the last part of this comparison, where we'll look at the pricing plans each of the website builders has to offer.
Webflow pricing can be on the more expensive side, depending on your needs. It offers eight plans, divided into two categories — Site Plans and eCommerce Plans. Here's what each of the Site plans has to offer and how much they cost:
Starter

Basic

CMS

Business

Enterprise

£0

£9

£11.95

£27

Contact Webflow

Webflow.io domain

50 CMS items

1 GB bandwidth

Custom domain

0 CMS items

50 GB bandwidth

Custom domain

2,000 CMS items

200 GB bandwidth

3 guest editors

Custom domain

10,000 CMS items

400 GB bandwidth

10 guest editors

Custom domain

10,000 CMS items

Custom bandwidth

Custom guest editors

Uptime SLAs
With Webflow's free version, you won't get a custom domain but will be stuck with a Webflow.io one. 50 CMS items and 1GB bandwidth are all the Starter plan offers.  
If you upgrade to the Basic plan, you'll get a custom domain name but no CMS items. The CMS and Business plan both offer custom domains and a lot of upgrades on the CMS items and bandwidth. You will also be granted access to three/ten guest editors. 
Finally, the Enterprise plan is the biggest and most powerful one, offering custom bandwidth, custom guest editors, 10,000 CMS items, and Uptime SLAs.
The prices shown in the table are for the annual subscription, which means you get 20% off. If you choose a monthly subscription, you will pay:
Basic — £11.20

CMS — £15

Business — £ 33.50 
Now, let's take a look at Webflow's eCommerce plans:
Standard

Plus

Advanced

£31

£63

£175

500 items

2% transaction fee

$50K (roughly £37.5K) annual sales volume

All CMS plan features

1,000 items

0% transaction fee

$200K (roughly £150K) annual sales volume

All Business plan features

3,000 items

0% transaction fee

Unlimited annual sales volume

All Business plan features
The Standard eCommerce plan will give you the same features as the CMS Site plan, plus $50K (roughly £37.5K) annual sales volume and up to 500 items. You will still need to pay a 2% transaction fee on every sale. 
With the Plus and Advanced plans, you don't pay transaction fees on the sales that you make, and you also get all the features from the Business Site plan.
Carefully weigh in your available resources, and choose the best plan accordingly.
The last thing left on the agenda — WordPress pricing plans. Let's take a closer look:
You get hosting, removed ads, collecting payments, and email support with all four plans. If you opt for the annual plans, you also get a free domain for a year. The Premium plan allows you to earn ad revenue, access premium themes, and upload videos. Aside from the Personal plan, the other three allow for Google analytics integrations.
If you are looking to create a high-traffic online store, the Business and eCommerce plans will both provide plugins, advanced SEO tools, and automated site backups. On top of that, the eCommerce plan also helps you accept payments in 60+ countries, integrates with Top Shipping Carriers, and gives you premium design options for your online store.
If you choose a monthly subscription instead of an annual one, you will pay:
Personal — £6

Premium — £13

Business — £27

eCommerce — £47
While weighing Webflow vs WordPress pricing, make sure that you calculate the additional cost related to using WordPress — plugins, premium themes, templates, and so on.
If you are still indecisive, two other great web builders you can look into are GoDaddy and Squarespace. Here you can find our detailed comparison.
Wrap Up
This Webflow vs WordPress comparison introduced us to two amazing and highly-functional website builders. Depending on the size of your business and the specific goals you have in mind, Webflow might be more suitable if you have some previous coding experience, want more overall control, and aren't new to website building. 
On the other hand, WordPress and its smaller learning curve have your back if you are a beginner. With a theme and plugin for everything you can imagine — you'll be in good hands using WordPress.
FAQ
Does Webflow work with WordPress?
You can build your pages on Webflow and serve them on your WordPress site. Once the pages are up on your WordPress site, any updates or adding of new sections can be done in Webflow and published live with a single click.
Is Webflow better than WordPress?
Webflow and WordPress are both excellent website builders with lots of features and tools to offer. Choosing one depends on your needs and expectations. For most, WordPress is a better option simply because it's more flexible and gives you access to a lot more plugins, tools, and features.
Is Webflow harder than WordPress?
WordPress has a slightly lower learning curve than Webflow. With both of the builders, it's best to have some coding background, but WordPress has been proven to be easier to use.
Is Webflow good for beginners?
Webflow is not the most suitable web builder for beginners because of its complex nature. Plus, it requires some coding knowledge. However, GoDaddy, Squarespace, and Wix are some of the most beginner-friendly website builders on the market.
Alert! Your IP address is trackable.