Craft CMS vs WordPress — Which CMS Platform Is Right For You?
The CMS platform that will best suit your needs should be chosen based on its unique features and benefits. In this guide, we will compare WordPress and Craft CMS — two of the most popular content management systems on the market today.
WordPress is a little more popular, but that doesn't mean that Craft CMS isn't just as good. In fact, some people might even say it's better. In this Craft CMS vs WordPress comparison, we will cover the history, design, features, differences, ease of use, pricing, speed, and performance of both companies. So, let's get started!
What Is a Content Management System?
A CMS (Content Management System) is a software application that enables you to create, edit, and publish digital content. Furthermore, it allows you to manage your blog or website from a single interface, making it easy to keep your content up-to-date.
A CMS provides several advantages for content creators, website owners, and marketers, some of which are:
Ease of use

— A CMS is easy to use, even for beginners. You can create and edit posts and pages using a WYSIWYG editor without learning HTML or CSS.

Flexibility

— Content management systems are very flexible and can be used to create a wide variety of websites. They offer a wide range of features and plugins that allow you to customise your website to meet your specific needs.

Scalability

— Content management systems are scalable, meaning they can handle high volumes of traffic without crashing. They also enable you to add new pages and content as your website overgrows.
Craft CMS and WordPress — Company History
Matt Mullenweg and Mike Little released WordPress in 2003 as an open-source CMS based on MySQL and PHP. Over the years, WordPress has become one of the most popular CMSs on the market, used by millions of people worldwide.
Craft CMS was founded in 2013 by Pixel & Tonic. Just like WordPress, It is a flexible open-source content management system (CMS). Craft CMS is a relatively new player in the CMS market and It was created because its developers felt that WordPress was too limiting.
One of the distinguishing features of Craft CMS is its focus on user experience. The platform was designed with the idea that website content should be easy to create and manage without sacrificing functionality or flexibility.
Main Differences Between WordPress and Craft CMS
Craft CMS offers many features, including a robust asset management system, advanced templating options, and an easy-to-use interface. The Craft community is active and supportive, making it an excellent platform for both beginners and experienced users.
WordPress also offers a ton of features and capabilities, including thousands of amazing templates. It is easy to use and integrates well with third-party tools. The WordPress community is huge and supportive. In the UK alone, more than 310,000 websites run on WordPress.
Choosing between WordPress and Craft CMS is a challenging task. To help you determine which platform is a better fit for you, let's first focus on the main differences between them.
Features, Plugins, and Functionality
WordPress is more limited in terms of features than Craft CMS. For example, while WordPress has a plugin for creating contact forms, Craft CMS offers a built-in form builder that allows you to create more complex forms.
However, WordPress has a slight advantage over Craft CMS when it comes to functionality and plugins. With tens of thousands of plugins available, you'll certainly find one that meets your needs. WordPress plugins are a great way to add features and functionality to your website, and there are plugins for just about anything — from social media to contact forms.
WordPress also offers a wide range of SEO tools that can help you improve your website's ranking on search engines. These tools include the Yoast SEO plugin and the All-in-One SEO Pack plugin.
Craft is a popular CMS that offers many features and it's worth mentioning that its open-source nature and regular updates set it apart from the competitors. In addition, Craft CMS offers a wide range of plugins, but not as many as WordPress.The product's open-source nature has resulted in a multitude of plugins created by their developer community, which shows how committed they are to overall improvements.
Here are two main things to keep in mind when choosing a plugin:
What type of website do you wish to create

—

There are many different types of plugins available, so it's crucial to find the one that matches the style and purpose of your website.

What are your must-haves

—

Make sure to choose a plugin that includes all of the features you need.
Using plugins can save a lot of time and money. However, be aware that every third-party integration, theme, or plugin serves as a potential entry point for hackers to access your data or possibly take over your website entirely.
Speed and Performance
When it comes to speed and performance, both WordPress and Craft CMS are doing a great job. However, Craft CMS has a slight edge in this aspect. It is faster and more performance-friendly than WordPress because it is a lighter-weight platform that uses fewer resources. 
Craft CMS has the speed and simplicity you want in web software as a PHP-based content management tool. Consequently, your site will be easy to customise, and you'll be able to design it from scratch.
Keep in mind that optimising your images and using a caching plugin will help you get the most out of WordPress. In addition, minimising HTTP requests is essential for ensuring that visitors stay on-site. You can also improve WordPress speed by choosing a fast web host and using a lightweight theme.
Ease of Use
Craft CMS is generally an easier-to-use CMS platform than WordPress. With its user-friendly and easy-to-navigate interface, beginners can easily create and edit content. It also offers a wide range of features and plugins that allow you to customise your website hassle-free.
Nevertheless, WordPress is also user-friendly and flexible, and you can use it to create a wide variety of websites. The interface is responsive and highly compatible with tablets and smartphones.
Themes and Templates
WordPress has a larger selection of themes and templates than Craft CMS. The WordPress templates are created by professional designers and can be adjusted to fit any screen size. They are easy to use and fully responsive. 
However, this doesn't mean that you can't find good-quality templates in Craft CMS. There are numerous excellent free and premium templates to choose from. Moreover, Craft CMS also allows you to design your layout from scratch, meaning you can create more complex websites.
If you're looking for a professional-quality template for your WordPress site, check out some of the following resources:
ThemeForest

— A popular marketplace for WordPress templates. It offers a wide range of templates to choose from, and all of them are fully responsive.

TemplateMonster

— Another popular marketplace for WordPress templates that offers a wide range of templates, plugins, themes, and extensions.

Elegant Themes

— A WordPress theme provider, offering a range of high-quality themes that are fully responsive and easy to use.

Hemingway

— A free, minimalist WordPress theme perfect for creating simple but professional-looking websites.
Moreover, the following resources can help you find a quality template for your Craft CMS site:
CMS Themes

— A marketplace for Craft CMS templates. It offers a wide range of high-quality and mobile-responsive templates.

CraftyThemes

— Another popular provider of Craft CMS templates which offers a range of excellent templates.

TemplateMonster

— Apart from WordPress templates, TemplateMonster also offers CMS templates. It also offers different plugins, themes, and extensions.
How To Choose a CMS Theme?
Since there are countless themes out there to choose from, finding one that suits your requirements is very important.
Here are a few things to keep in mind when choosing a theme:
What type of website do you wish to create?

If you're creating a

business website

, for example, then you'll want to choose a theme that's professional and business-friendly. If you're creating a

blog

, on the other hand, you'll want to choose a theme that's simple and easy to use.

What are your must-haves?

Make sure to choose a theme that includes all of the features you need, such as a responsive design, custom header images, and built-in social media icons.

How does the theme look?

Take some time to browse through the theme's demo to see how it looks in action. This will give you a clearer idea of what the finished website will look like.

Is the theme well-coded?

With a poorly coded theme, you may run into problems down the road.
Customer Support
If you directly host your website with WordPress, you will have access to customer support chat, where you can get in touch with its knowledgeable representatives. Unfortunately, the software does not have a dedicated account manager, so someone new will be assisting you every time you contact support.
The WordPress free options have powerful support resources available on everything from page-building to customisation questions and more. Support is available in the form of checklists, videos, how-tos, and online courses. 
When it comes to Craft CMS, you can contact its customer support by sending them an email to [email protected] or sending a question from the Help Widget in your project's control panel.
If your issue relates to Craft's source code or documentation, you should consider submitting a GitHub issue instead. Moreover, if you discover a security vulnerability, you can check Craft CMS Security Policy. Lastly, if you have a question or issue related to their community code of conduct, you can get in touch via craftcms.com/contact. There are also some additional resources provided below:
The nystudio107 blog offers valuable articles on advanced topics such as module development, optimisation, and best practices.
Pricing Details
While you can use both CMS platforms for free, you can certainly get a lot more features with a paid version. Note that WordPress is the more affordable option, but Craft CMS is just slightly more expensive.
With a wide range of providers offering WordPress services, you're sure to find the one that meets your needs and budget. 
Check out the WordPress pricing details below:
Craft CMS offers Basic and Commerce plans. There are three Basic plans to choose from — Solo, Pro, and Enterprise. The Solo plan is free, while the other two plans are paid.
With the Solo plan, you can share user accounts and content across multiple sites with a single installation. On the other hand, you can create unlimited user accounts, user groups, permissions, and public registrations by choosing the Pro Plan. 
Moreover, you can personalise the Control Panel according to your company's identity. Pay attention that everything you get with the Solo Plan comes with the Pro Plan, plus some extra features. Likewise, every feature you get with the Pro Plan comes with the Enterprise Plan as well, plus additional features.
If you are interested in learning more about the Basic Craft CMS plans, check out the table below:
Solo Plan
Pro Plan
Enterprise Plan

Ultra-flexible content modelling 

Powerful front-end tools 

Multi-Site 

Localisation 

Single admin account

Unlimited user accounts 

Enhanced content previewing 

GraphQL API 

System branding 

Basic Developer Support 

Priority Technical Support

Custom Licences

Procurement

Launch Support
When it comes to the Commerce plans, Craft CMS offers two paid plans — Lite and Pro.
As part of the Lite plan, you can build a checkout process that works best for your store, whether it's a simple one-page form or one with many pages. There are also many more features to consider, like customising product types with sets of custom fields or requesting donations for custom or predefined amounts. 
With the Pro Plan, you can get more advanced features, such as creating numerous shipping alternatives based on the product category and more.
In the following table, you can see all the features included in the Craft CMS Commerce plans:
Lite Plan
Pro Plan

Donations

Products

Subscriptions 

Custom Payment Gateways 

Custom Checkout Process 

Multi-item shopping cart 

Taxes & Shipping 

Multi-Step Checkout Flow 

Sales & Discounts 
Moreover, the monthly support services and plans for developers working with Craft in a professional matter are provided below: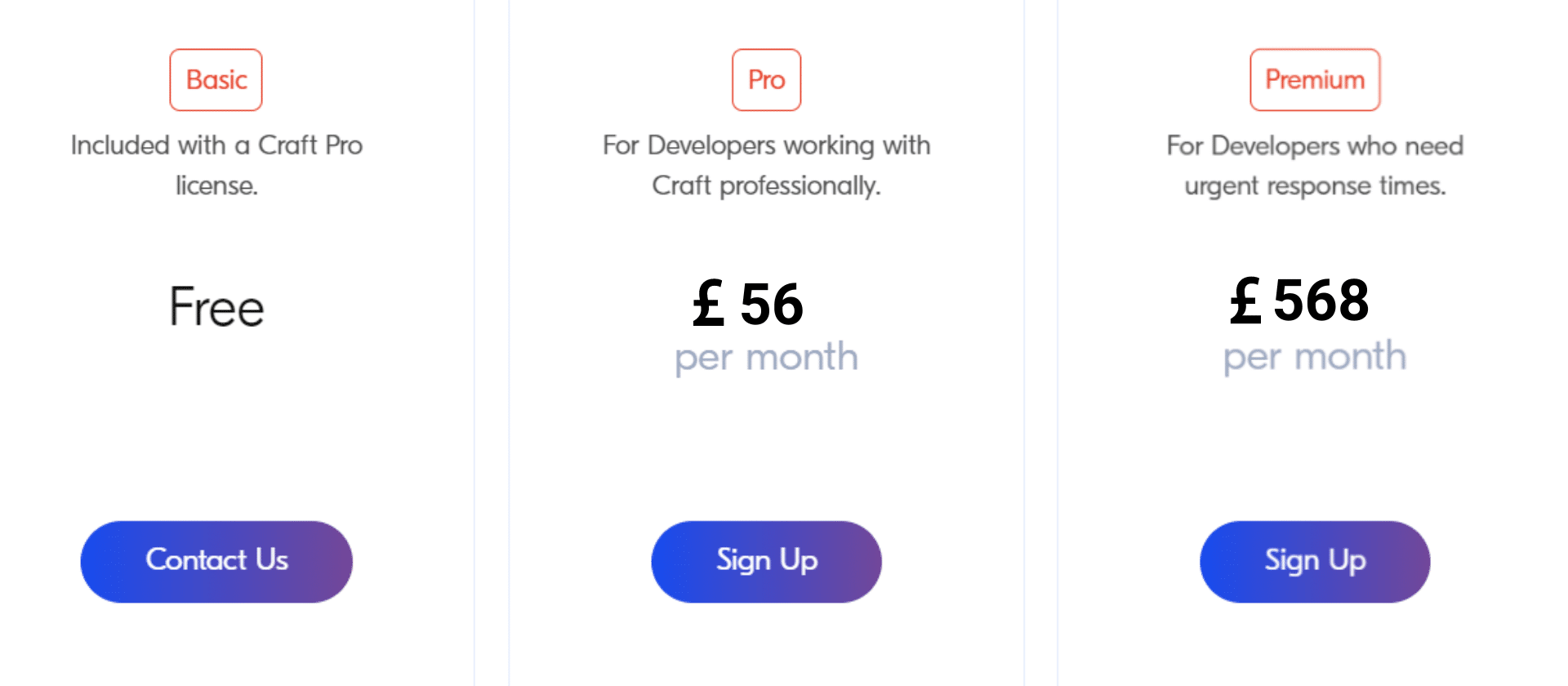 And here are all the possibilities these CMS Developer Plans offer:
| | | |
| --- | --- | --- |
| Free Developer Plan | Pro Developer Plan | Premium Developer Plan |
| Developer to Developer support via email | Developer to Developer support via email | Prioritised Developer to Developer support via email |
| No guaranteed response times | Guaranteed 12 hours or less time to first response on weekdays | On weekdays, the first response time is guaranteed to be two or less than two hours |
Wrap Up
Craft CMS vs WordPress — who wins? It is undoubtedly challenging to determine. What you should do is weigh the pros and cons of each CMS platform, think about how you want to manage your website content, and then make your decision.
Both CMS platforms are great for creating and managing your website. They offer a wide range of features and plugins for a relatively affordable price.
However, WordPress is the more popular option, with many providers offering support services. So if you're looking for quality customer support and good performance, WordPress is the way to go. Still, if ease of use and better performance are your priorities, opt for Craft CMS.
Whichever platform you choose, you won't be disappointed with the results. Still, keep in mind these are not the only options you have so make sure to also read our articles in which we compare WordPress with Drupal and Webflow.
FAQ
Is Craft CMS better than WordPress?
Both platforms have their pros and cons, so it depends on your specific needs and preferences. So, if you're looking for an affordable and reliable platform offering many templates and plugins, WordPress is the way to go. On the other hand, if you're searching for a flexible and easy-to-use high-performance platform, Craft CMS is the better option.
What is Craft CMS used for?
In computing, Craft CMS is a software application that enables the creation and management of digital content. With Craft CMS technology, you can easily create and manage your web pages, posts, images, and other content. Additionally, you can create custom content types, menus, and taxonomies.
What is WordPress best for?
WordPress is best for creating a fast, efficient, and affordable website. It is a popular platform that offers many features, plugins, and support services.
Alert! Your IP address is trackable.