If you're looking for a new CMS platform for your website, you'll be spoilt for choice. There are dozens of different platforms to choose from, each with its own advantages and pitfalls. In this Umbraco vs WordPress comparison, we're going to compare the two of the most popular CMS platforms around and see which one comes out on top. We'll look at how easy they are to use, what SEO tools they offer, how customisable, secure, and performant they both are. Let's get started!
What Is Umbraco?
Umbraco is a content management system that allows you to create, manage, and publish content on your website. It is an open-source CMS based on Microsoft's ASP.NET framework.
The platform was created in 2000 by Danish developer Niels Hartvig and was first released as open-source software in 2005. Umbraco was created as an alternative to the other popular CMS platforms of the time (like Joomla and Drupal) to make it easier for web developers to create dynamic website content.
Since its inception, Umbraco has grown in popularity and has evolved into the most flexible and fastest-growing ASP.NET CMS on the market.
It's a favourite among developers and designers thanks to its flexibility and customizability, but it's also user-friendly enough for non-technical users.
Umbraco Market Share
Umbraco has a tiny market share compared to WordPress — it currently powers only 1.75% of the top 10,000 websites worldwide. Yet, despite that, Umbraco powers some of the world's largest companies and brands, including Microsoft, Carlsberg, Peugeot, Heinz, Sony, Vogue, and many others.
What Is WordPress?
If you've ever considered building your own website, you probably thought of WordPress. WordPress is an open-source content management system founded in 2003 by Matt Mullenweg and Mike Little. It's based on the PHP programming language and MySQL database management system.
Originally designed as a blogging platform, WordPress has grown into the most popular CMS platform, currently powering over one-third of the entire web. It is favoured by developers and designers for its flexibility and by non-technical users for its ease of use.
Similarly to Umbraco, WordPress is also an open-source project, which means that anyone can contribute to the platform's development. That has helped it grow and evolve over the years and made it into the powerhouse CMS that it is today.
WordPress Market Share
WordPress is currently used by over 43% of all existing websites and has a CMS market share of 64.8%. 
Ease of Use
When choosing a content management system, ease of use is one of the most important factors to consider. After all, you don't want to spend hours learning how to use a platform only to find it unsuitable for your needs.
That is why it is important to compare both CMS platforms in terms of ease of use and user-friendliness.
Umbraco Ease of Use
Umbraco was made having web developers rather than your average CMS user in mind. As such, it is not as user-friendly as WordPress, and you may find it challenging to use at first, especially if you have no prior experience and knowledge of website development. 
As a result, Umbraco is best suited for developers and designers who want more control over their website's functionality.
The good news is that once you learn how to navigate it, Umbraco can turn into a powerful content management platform for managing your website, with nearly limitless customisation capabilities. 
What's more, the Umbraco user interface is highly intuitive, providing a relatively user-friendly content editing experience. In addition, there is a host of content editing features users get with Umbraco.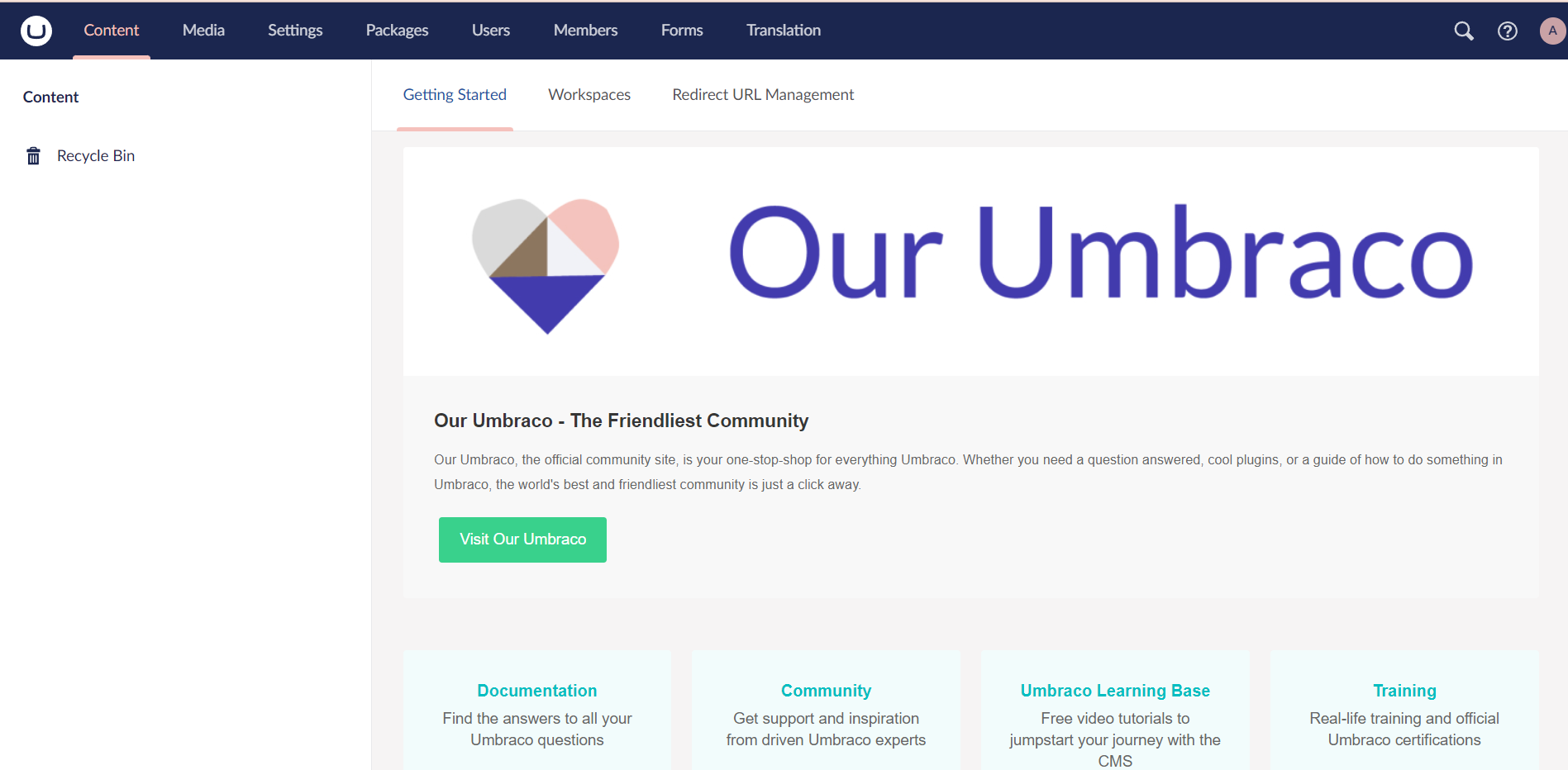 With multi-device preview, content editors can easily add content from one device and preview it from another. Creating drafts, scheduling your content for publishing, and even going back to previous versions of content you've created is hassle-free with Umbraco.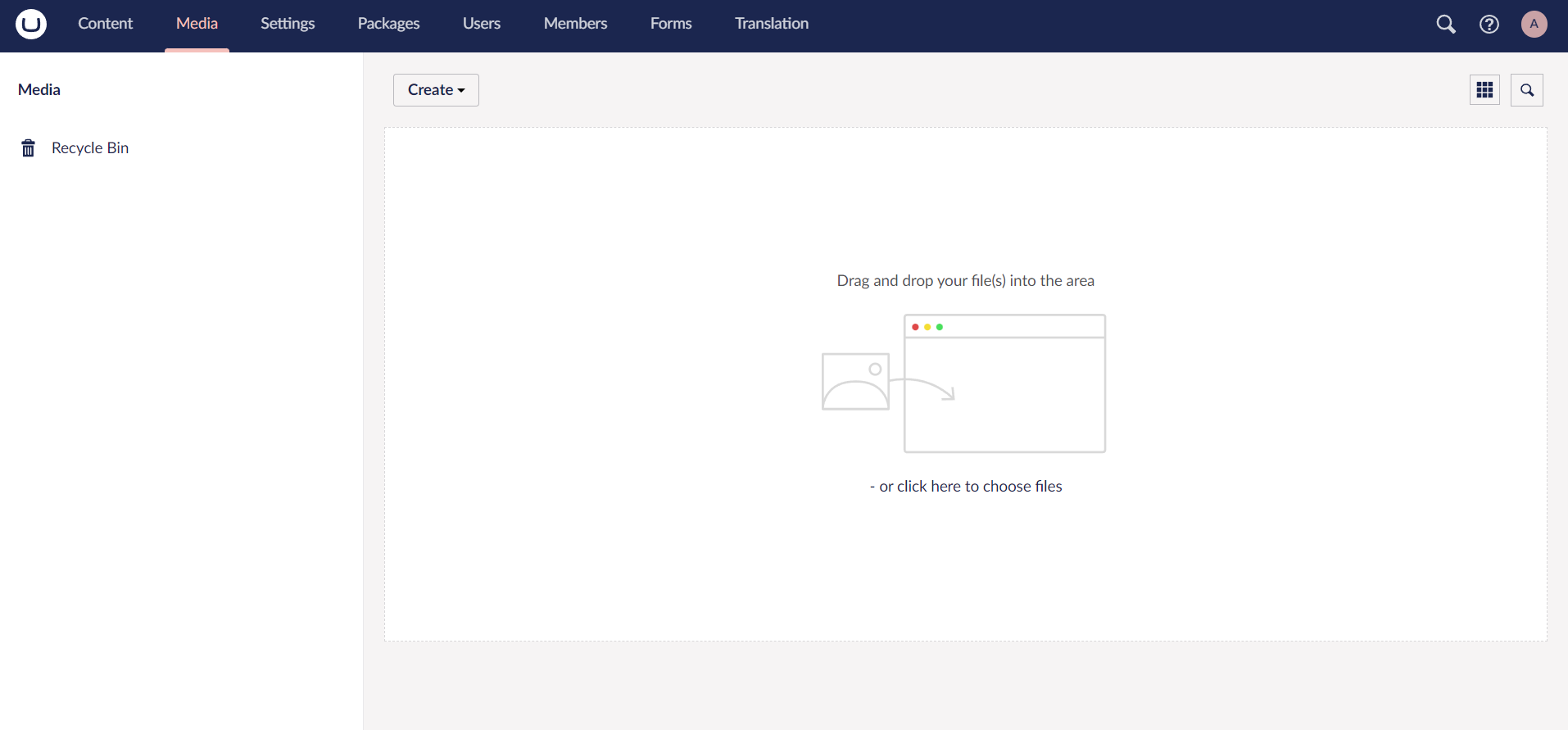 This CMS platform also has a handy media library, where you can store all your important media items, whether it's images, videos, PDF documents, or GIFs. 
WordPress Ease of Use
One of the things WordPress is renowned for is its ease of use and simplicity. Even if you're not familiar with coding or web development, with WordPress, you can create an eye-catching and decent-looking website from scratch in mere hours. As a result, you can find both beginners and more tech-savvy individuals among the WordPress user base.
To get started with WordPress, all you need to do is find a reputable hosting provider that offers one-click WordPress installation (most web hosts do). Once you've done that, you can start building your site right away. 
The WordPress user interface is clean and straightforward. Navigation is easy, and all of the features are clearly labelled, making it very simple to find what you're looking for. 
The WordPress content editor, also known as Gutenberg or the Block Editor, divides all the content on your WordPress website into individual "blocks". Clicking on one of these blocks will allow you to add separate headings, paragraphs, images, lists, and so on. 
Each content block comes with its own set of customisation options. This allows you to arrange your website's layout according to your preference by dragging blocks up and down, changing their size and alignment, and making other adjustments. 
Another reason WordPress is so user-friendly is the wealth of WordPress resources available. There are thousands of tutorials, articles, and videos that can help you learn how to use WordPress. And if you ever get stuck, there's a massive community of users who are always willing to help.
Customisation
Customisation is another important factor to consider when choosing a CMS. After all, you want to create a website that is unique to your business and reflects your brand. So, here is how the two platforms stack up in terms of customisation and flexibility.
Umbraco Customisation
Umbraco offers numerous options for website development, customisation, and content management.
When you first start using Umbraco, you'll notice it is somewhat of a blank canvas. That makes it a highly customisable CMS platform that you can tweak to meet your specific needs and requirements.
There are many ways in which you can customise your Umbraco website. There are hundreds of third-party plugins (called packages in Umbraco terminology) you can add to your website to extend its functionality. 
Umbraco packages are coded, so they need a web developer to install or set them up. However, this is what makes Umbraco such a highly customisable platform. Unlike pre-built plugins and add-ons, Umbraco plugins can be fully customised and modified to perform exactly how you want to. Plus, you have the option to create custom plugins to add pretty much any functionality to your site you want to.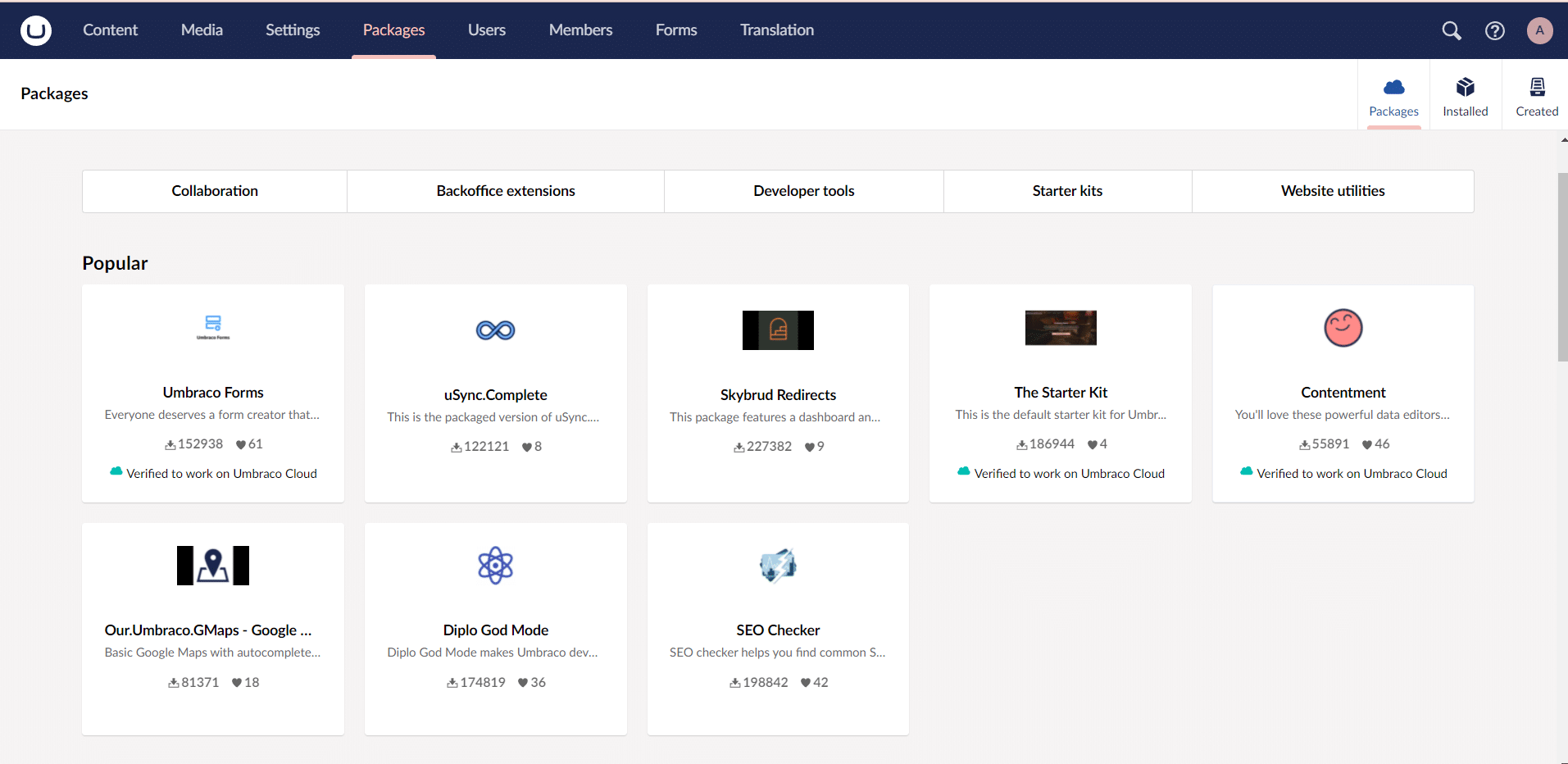 Umbraco templates work in a similar way. They are highly customisable and are an excellent way to give your website the aesthetic appeal it needs.
With this flexible architecture, you can create almost any type of website you want. So whether you're looking to create a simple brochure site or a complex eCommerce store, Umbraco will be able to handle it.
However, one downside of Umbraco's customizability is that it can be quite complex for beginners. If you're not familiar with coding or web development, you may find it difficult to create the website you want. That makes Umbraco better suited for users with a background in website development.
WordPress Customisation
WordPress is also a highly customisable CMS platform. Adding new functionality to a WordPress website is as simple as searching for a plugin in its plugin library and installing it on your site.
This massive plugin library is, in fact, one of the main reasons why WordPress is so popular. Currently, there are over 58,000 free plugins and thousands of premium plugins you can choose from. So, whether you want to add new functionality to your site or extend an existing one, chances are you will find the right plugin to help you achieve that. 
If you want to alter the layout and design of your WordPress site, you can do it by switching themes. There is a vast array of WordPress themes available, currently over 9,000 free and thousands of premium ones. That means you can find a theme to suit any type of website. So, whether you're looking for a simple blog layout or a complex eCommerce store, there's a WordPress theme for you.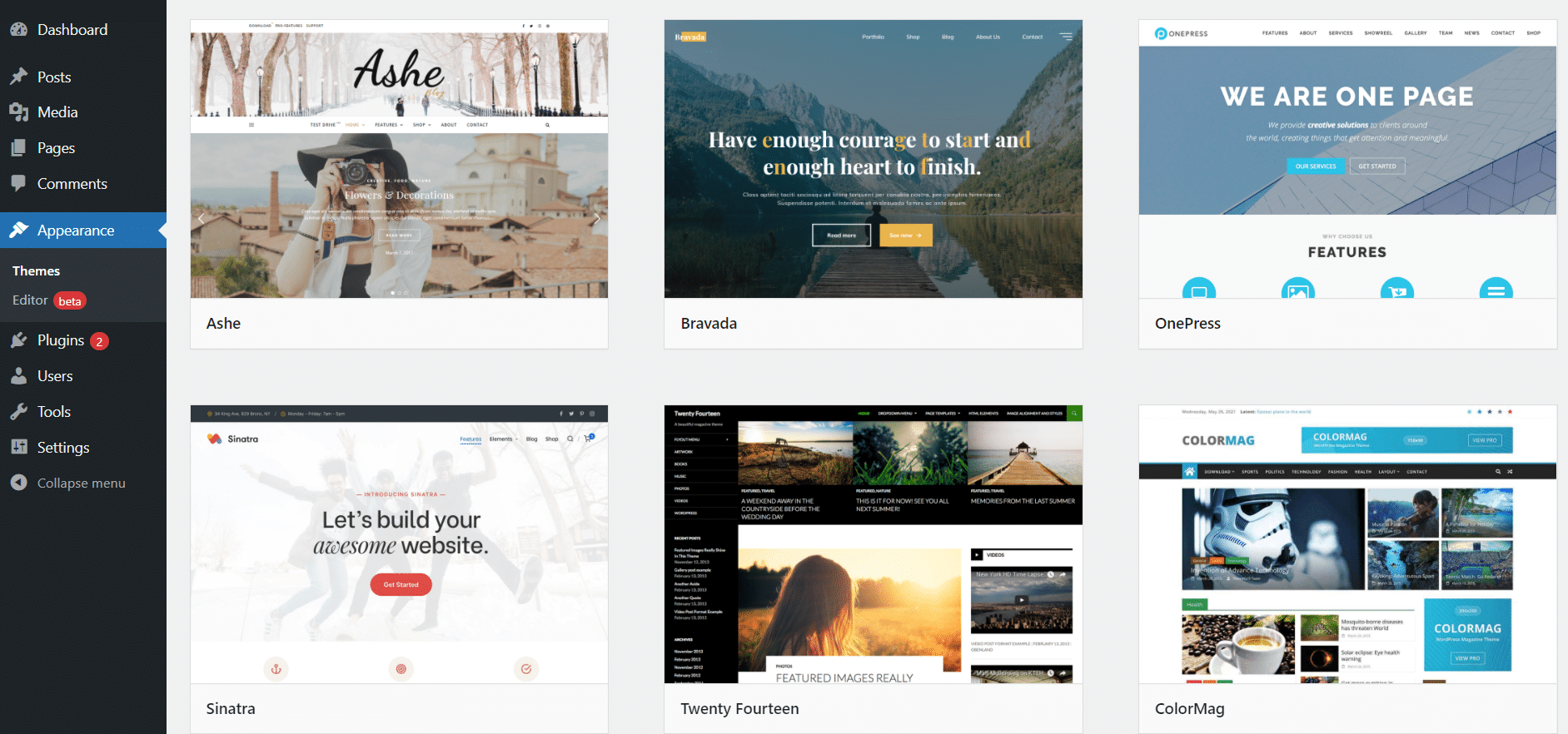 Security
When it comes to security, Umbraco and WordPress can be equally secure if properly implemented and regularly maintained. However, there are some critical differences in their security features you should be aware of.
Umbraco Security
Umbraco is one of the most secure CMS platforms on the market. The platform regularly undergoes internal security testing, external penetration testing, and third-party auditing.  All these procedures help identify potential security vulnerabilities on time, ensuring no malicious code makes its way in.
Umbraco is built on the Microsoft .NET framework, which means that it benefits from a range of security features that are not typical of PHP-based CMS platforms like WordPress. Some of them include:
Automated security updates

Hashed passwords

Automated HTTPS certificate

Possibility to set up password rules and implement two-factor authentication

Support for OAuth login system 

Support for HTTPS

Built-in health check
One downside of Umbraco's security is that it can be difficult to keep up with the latest security updates. If you are not experienced in coding and web development, you may find it challenging to apply the latest security updates to your website.
WordPress Security
WordPress is the most hacked content management system globally. The biggest reason for that is its immense popularity. Being used by millions of websites worldwide makes WordPress a prime target for hackers and malicious software. 
WordPress's massive library of plugins is another reason why it is so prone to security breaches and attacks. While plugins can be a great way to add functionality to your website, they can pose a serious security risk.
Most WordPress users have no experience in web development, leading them to install many free, poorly coded plugins and themes onto their websites. Needless to say, that can introduce security issues and malicious code to their sites.
One of the best ways to secure your WordPress site is to avoid installing too many third-party plugins and themes onto your website.
Keeping your site up to date is another necessary step to take. WordPress regularly releases new versions of its software. These new versions include security fixes for any vulnerabilities found. So, it's essential to update your WordPress website as soon as a new version is released.
SEO
SEO, or search engine optimisation, is the process of improving the visibility of a website on search engine results pages. There are several things you can do to improve your website's SEO, including adding keywords to your website's title and description, optimising your website's images, and creating backlinks to your website.
When done right, search engine optimisation can be a powerful tool to drive visitors to your site and generate revenue. So, when comparing Umbraco and WordPress, which platform is better for SEO?
Umbraco SEO
Whether you find Umbraco SEO-friendly depends on your level of experience in web development. While Umbraco can be a great platform for SEO, it requires a bit more effort to get its SEO features up and running. 
All the SEO tools implemented into a Umbraco site need to be coded into the back end by a web developer. 
WordPress SEO
WordPress is one of the best platforms for SEO. Unlike Umbraco, it provides all the necessary SEO tools you will need straight out of the box. Furthermore, WordPress allows you to add keywords to your website's title, description, and tags hassle-free. In addition, it automatically generates a sitemap for your website, which helps search engines index your website more effectively.
Another reason WordPress is so good for SEO is its huge selection of high-quality SEO plugins available. One of the most well-known WordPress SEO plugins is Yoast SEO — a plugin that helps you optimise your website for better visibility in search results. It allows you to add custom title tags, meta descriptions, and keywords to your website. Moreover, it includes a feature that allows you to preview your website in Google search results.
Hosting and Performance
One of the most important decisions you'll make when building your website is choosing a hosting provider. 
Choosing the wrong hosting provider can adversely affect your site's performance and accessibility, which could lead to lost sales and damage to your brand's reputation. So, it is crucial to choose a CMS platform with as many hosting options as possible. 
Umbraco Hosting and Performance
Umbraco has fewer hosting options than WordPress. This is because you need a hosting provider with Windows servers rather than Linux to host your Umbraco website. So, when choosing a hosting provider for Umbraco, you may find yourself limited to more expensive options, such as dedicated, VPS, and cloud hosting.
Umbraco does offer its own cloud hosting solution, named Umbraco Cloud, which is built on top of the Microsoft Azure platform. As it is one of the best cloud hosting platforms on the market, Azure delivers excellent website performance and high speeds.
In terms of performance, Umbraco is a speedy and lightweight CMS platform. Moreover, it has caching and indexing mechanisms in place to optimise the user experience for both CMS and end-users across all browsers and devices. 
Umbraco is also highly scalable, which means it grows alongside you and your business. With Umbraco, you can grow from a start-up organisation with a three-page website into a fully-functional large-scale enterprise with thousands of web pages, without any problem.
WordPress Hosting and Performance
One advantage WordPress has over Umbraco is its compatibility with most hosting providers. Plus, some of the most prominent hosting providers today (Bluehost, WP Engine, and SiteGround, for example) offer one-click WordPress installs, making it extremely easy for users to start building their websites. 
However, WordPress sites are often slower and less responsive than Umbraco sites. The main reason for that is that WordPress uses a lot more resources than Umbraco. For example, for a WordPress site to work properly, it requires at least one theme and a few basic plugins.
Some of the reasons why a WordPress site may be slow are too many plugins, irregular updates, and an unsuitable hosting solution. Also, keep in mind that a site hosted on Umbraco Cloud will be much faster than a locally hosted WordPress site.
Pricing
We've already established that Umbraco and WordPress are both free and open-source CMS platforms. Nevertheless, building and running a secure, responsive, and scalable website can still be a sizeable investment, so it is best to weigh up your options carefully before choosing one or the other. So, we will briefly touch on the price subject to see which platform is more expensive to use in the long run. 
Umbraco Price
Umbraco doesn't come with a license fee or an annual subscription. However, as I've already mentioned, it was designed for web developers. Therefore, you will probably need assistance to set up even the most basic site. Consequently, a Umbraco site can be much costlier than a WordPress site right from the get-go. 
If you decide to host your website on Umbraco's self-hosted service, prices can range from $37 (roughly £28) to $620 (roughly £476) a month. When you add the cost of hiring a web developer, domain name charges, and other expenses to the hosting fees, you realise that running a Umbraco site can become quite expensive.
WordPress Price
In contrast, building a site with WordPress is often more affordable. The price can vary depending on the type of hosting you choose and whether you use free or paid plugins and themes to customise your website. Premium themes on WordPress usually range from $20 (roughly £15) to $500 (roughly £385), while plugins can cost anything from a dollar to $1,000 (roughly £768)
If you decide to hire someone to build your WordPress website for you, this will be much more expensive. However, the costs will vary depending on your requirements. That said, WordPress would still probably be cheaper than Umbraco. That is because there are so many WordPress developers to choose from, and it's not hard to find the one that fits your budget and needs. 
Wrap Up
So, who wins in the Umbraco vs WordPress battle? If you're looking for a powerful and versatile content management system that will allow you to create any kind of website you can imagine, then Umbraco is the right choice for you. 
On the other hand, if you want something simpler and more user-friendly or need to set up a blog or online store hassle-free, you should go the WordPress route. Whichever platform you choose, I hope this comparison has helped make the decision-making process a little bit easier. Thanks for reading!
Also, if you are interested in more CMS comparisons, be sure to check out how WordPress compares with Drupal, Craft CMS, and Webflow.
FAQ
Is Umbraco good for SEO?
Yes, Umbraco is an excellent platform for SEO due to its flexible nature. This CMS platform comes with all the core SEO features you will need, as well as limitless options to create the exact SEO features you wish.
Is Umbraco good for eCommerce?
Yes, Umbraco is a great platform for e-commerce websites. Umbraco comes with an open and easy-to-use API, which allows you to build your own integrations and extend your website's functionality, turning it into a high-performing eCommerce platform.
Is Umbraco similar to WordPress?
Yes, Umbraco and WordPress are similar in many ways. Both platforms are free and open-source, and they're easy to use. However, Umbraco is more powerful and versatile than WordPress, while WordPress is simpler and more user-friendly.
Alert! Your IP address is trackable.