Working From Home Statistics UK Edition [2022]
If there was ever a time to prove to your boss you could get more done in a day, if only he'd let you stay in the comfort of your home, it would be in 2021.
Amid the pandemic and causal lockdown, many of us experienced the charms of working from home. All is not ideal, though, and some are even reconsidering coming back to the offices.
How many people worked from home, what they have said about that kind of business model, and do they plan on working like that in the future and other working from home statistics UK you will find out in this article.
Working From Home Statistics UK 2020 – Fascinating Stats
In April, a little over a third of homeworkers in the UK said they worked just the same as they would've in the office.
Nearly half of women and men in the UK worked from home in April.
About 54% of UK people aged between 25 and 34 years have worked remotely at some point.
Some 57% of Londoners worked from home that year.
Roughly 70% of UK professionals have worked remotely in April.
67% of UK businesses said that working from home is just a temporary business model.
Almost 1/5th of UK businesses claimed they were switching to remote work entirely.
15% of surveyed people in the UK preferred working from home daily.
88.2% of employees in the UK said they would like to work from home sometimes.
In June, almost 41% of UK people reported they had the same productivity level throughout the year.
We'll start with a series of statistics based on the ONS survey conducted in April 2020.
Working From Home Statistics UK: Hours
30.3% of surveyed people in the UK have stated they worked from home more hours than usual. 
34.4% of UK employees said they worked from home fewer hours than usual.
Of home workers in the UK, 35.2% said they worked as much as they would under normal circumstances.
It's not unusual for people to find it challenging to concentrate on work while being at home. Others seem to be more productive under the same conditions.

The office environment breeds efficiency, but it could also instigate unnecessary tension in the air. On the other hand, a home is a place of cosy, rest & relaxation. Some might find all that a necessary addition to their work routine to boost their productiveness.
All being said, it is not so surprising percentages are almost evenly divided among people. But what of the division by sexes?
Working From Home Statistics UK: Gender
Would you believe me if I told you there is almost no difference between the percentage of men and women working from home when it comes to the surveyed sample of 16+ year-old employed homeworkers in the UK, April 2020?
Now I know what you're thinking – My, that's a flat graph! And you would be right.
Out of 46,6% of homeworking persons:
47.5% of women worked from home.
45.7% of men worked from home.
From this homeworking statistic, we can see that women were just a tad more open to working from home than men were. 85.9% of men and 86% of women in the ONS's survey said that COVID-19 was, predictably, the primary reason for home-based working.
But the dedication to work under any condition demands the sharp mind of experienced adults. How prepared were different age groups for the change in workplace scenery?
Working From Home Statistics UK: Age
By now, you should have figured out we love graphs.
So to celebrate that fact, here's one depicting percentages of home workers divided by age groups. Enjoy!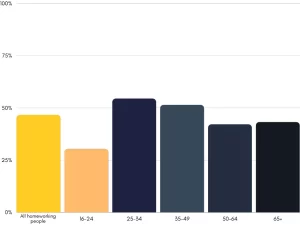 Just 30.2% of the employed aged 16 to 24 years were inclined to work from home.
54.3% of those aged 25 to 34 years and 51.3% aged 35 to 49 years have worked from home at some point in April 2020.
Looking at these statistics, we can conclude that younger generations weren't too keen on working from home, while older ones had no such reservations.
As one of the most notable workers from home, freelancers between the ages of 40-49 and 50-59 years were the most prominent age groups in 2020, accounting for 50% of all freelancers in the UK.
We expected many users to cite COVID-19 as the reason for switching to the home office, but the resulting number was still staggering.
95.2% of UK people aged between 16 and 35 cited coronavirus as the primary reason they've worked from home. The percentage of homeworkers who were 50+ years old and said the same was 76.1%
Greater responsibilities toward one's household come with age, so these numbers aren't that surprising, considering there is no commuter's hell, and the benefit of more time for house chores in-between breaks.
Working From Home Statistics UK: Regions
57.2% of employees stationed in London worked from home in April 2020, being the UK's highest home working rate. Let's have a look at the other regions as well.
In 2020, North West and South East each had 49.4% of workers who worked from home.
49.1% of people in the North East had worked from home in 2020.
Northern Ireland, Wales and Scotland all had similar 40% of people who worked from home. 
West Midlands, Yorkshire and the Humber regions had the lowest homeworking rates  – 35.3% and 37.6%, respectively.
Now, if these following statistics seem like a déjà vu to you – thanks! It means you've kept on reading and haven't dozed off .. yet.
But more importantly, these are comparable statistics of people that listed coronavirus as the main reason for working from home divided by regions.
91.6% of Londoners have decided to work from home due to COVID-19.
79.1% of people in the North East and 76.6% in the South West have cited coronavirus as a reason.
As England's capital, it was to be expected London would be the most affected by the outbreak, and in effect, had the highest percentage of homeworkers, but 4/5th is still high for the rest of the country as well.
So as you might have noticed, many people have and probably still are working from home, but which professions are suitable for remote work?
UK Homeworking by Trade
Working from home in the UK as an option was mostly reserved for more qualified and experienced workers. The following table shows us which jobs and to which extent were done remotely in April 2020.
| | |
| --- | --- |
| Occupation | Percentage |
| Professional occupations | 69,6% |
| Directors, Managers and Senior Executives | 67,3% |
| Associate Professionals & Technical | 63,7% |
| Administrative & Secretarial | 57,2% |
| Skilled trades | 18,9% |
| Caring leisure and other services | 14,9% |
| Sales and customer service | 15,9% |
| Process plant and machine operatives | 5,4% |
It would seem employees in higher positions worked from home more so than the rest during the lockdown in 2020. Other occupations like sales, customer support, caring services and others had less than 20% of people working from home.
British Business and COVID-19
The Office for National Statistics, or ONS for short, conducted a survey that included 24,500 British businesses. Here is what they had to say regarding their employees working from home. 
67% of UK businesses said that working from home was just a temporary business model.
In 2020, 19% of UK businesses said they were going to switch to remote work completely. 
According to ONS, in 2020, more than 25% of the UK workforce worked from home, while 59% regularly worked in their office.
In April 2020, ONS's statistics related to working from home in the UK suggest that 49.2% of employed people continued business from the home office.
Show Must Go On! – could have been a business model for the year 2020. Business continuity plans were clearly in effect, but surprisingly, only a quarter of the UK office workforce was actually working from home.
Not too many people were confined to the home office before 2020, but things changed for some during the quarantine. Their numbers flourished to an extent, but it would seem most will be back in the office soon enough.
UK Homeworking Prepandemic and During Pandemic
In the last decade, homeworking has been steadily rising, but the percentages remained relatively small, especially compared to its culmination in the year 2020.
Almost a quarter of a million individuals switched to working remotely over the last ten years.
As a strategy in development, working from home proved seemingly beneficial to both companies and employees.
How many people worked from home in 2020 during the Pandemic?
In January, only 5.7% of people worked from home.
43.1% of surveyed individuals worked from home in April.
The percentage of people in the UK working from home in June was 36.5%.
As we can see from the UK's workforce statistics, at the beginning of 2020, not too many people have worked from home. However, as the coronavirus situation developed, many started working from home, whether by choice or a corporate policy.
Let's check out the statistics showing how many people returned to their usual workspace.
In May 2020, less than 40% of UK people returned to their offices after lockdown. 
64% of people in the UK returned to their offices during September.
The lockdown had shown people that working from home was not only possible but could be more efficient as well.
Coronavirus and Work in the UK
Most people tend to take homeworking for granted and don't realise how beneficial it could be for their business. Here is what some in the UK had to say regarding homeworking: 
In 2020, 61% of UK workers changed their perception of working remotely because of the COVID-19 Pandemic. 92% of those admitted the change was for the better.
The majority generally isn't aware of how things are when working from home, but according to HubbleHQ's survey, that trend is changing. People have started to realise that working from home can be as productive as working from the office.
Here is what UK residents in 2020 had to say about their preferred work environment:
15% had said they'd prefer to work from home every day.
71% are of a stout opinion their company should have an office. 
The office was the workplace of choice for 40% of the people surveyed.
It would seem the notion of working from home didn't sway a fair share of people. In the face of social distancing, it is understandable why one might feel nostalgic for the meaningful conversations next to the office water cooler.
84% of UK employees reported that they would want to sit and talk with their team daily. Almost half of them claimed they would like to meet once or twice each week.
We can see that people still prefer to attend meetings in person rather than have them online. Some things are simpler to explain when you are in the same room with your colleagues, which could easily be misinterpreted during a remote session.
There are certainly some setbacks when working remotely, like isolation and lack of human interaction, but there are advantages to it, some of which are a point of focus of this next topic.
Benefits of Homeworking in the UK
In case you were wondering what people listed as a primary advantage of remote working in the UK – we got your answer right here:
79% of respondents, based on HubbleHQ's survey, have said that the most beneficial thing related to working from home is that there is no commute.
Besides no commuting, people said that spending time with their families and saving money are also key benefits of working remotely.
Productivity While Working From Home
The productivity level is a crucial aspect of every employee. The following UK productivity statistics show us some employees had difficulty maintaining their productivity working from home, while others didn't have any such problems. Let's see some numbers.
In June, almost 41% of UK people reported that their productivity is the same as it was at the beginning of the year.
28.9% of surveyed people reported having better productivity while working remotely. 
30.2% of people who answered the survey have said their productivity is lower.
Interestingly, people that said their productivity was lower only occasionally worked from home. By contrast, those who work from home all the time have said that they do more work per hour than they did so before the lockdown. 
Willingness to Work From Home
The following statistics show how much people were willing to work from home in the UK.
Out of UK employees who had done some work at home under the lockdown, 88.2% said they would like to continue to do so, in some capacity, with 47.3% wanting to work from home more often or all the time.
More than 50% of new homeworkers in the UK, who had little to almost no prior experience with home office, stated they would like to work from home more often or all the time, even after COVID-19 restrictions are lifted.
65.5% of the UK employees, whose productivity was better while working from home, said they wanted to continue working in the same environment.
The percentage of UK employees who expressed disapproval of the homeworking environments was 6.4%.
Somewhat ironically, the last group, which was against working from home, also admitted their productivity increased during the same period.
To Sum It Up
Working from the company offices is still the #1 option for many people in the UK. But, if anything, these working from home statistics UK show that people are willing and able to adapt for their businesses to persevere.
Mind you, not all people are prepared to work from home. It takes a great deal of willpower, not to mention rearranging your home into a personal workspace. It could prove particularly challenging if there are more household members with distractions lurking around every TV corner.
Still, the benefits outweigh the drawbacks. Financial savings aside, I, for one, would gladly work more than regular 8-hour shifts if it meant I could look at my kids' happy faces in person rather than glance over them in a pinned picture on some generic office desk.