WhatsApp vs Telegram vs Signal (2023 Comparison)
Is Telegram better than WhatsApp? Is WhatsApp worse than Signal? Which one is better — Signal or Telegram? You are looking at the newly formed circle of the frequently asked questions lately. How did this come to be? Well, as you might know, in May 2021, WhatsApp started sharing data with its parent company Meta, leaving users unable to avoid this distribution as they previously could.
Understandably, this caused uneasiness among 2 billion WhatsApp users and astonishing popularity among its direct competitors' Telegram and Signal.
To top that off, in October 2021, WhatsApp, along with Facebook and Instagram suffered a massive global outage that lasted close to six hours. The outage also caused millions of users to flock to Telegram and Signal, in search of alternative messaging apps.
However, despite these hardships, WhatsApp is still far ahead of its direct competitors, Telegram and Signal, in terms of popularity, with over two billion users accessing the app on a monthly basis.
WhatsApp has also recently introduced several new features, including bigger group chats and file size limits, emoji reactions, and chat history transfer between Android devices. Telegram and Signal have not lagged behind, also launching a couple of exciting updates of their own.
Now you need help in determining which one of these popular messaging apps is the best for you? We are here to help you decide, with our WhatsApp vs Telegram vs Signal Comparison, and for this purpose, we looked at:
Companies Background

Availability

Features and Services

Security 

Online User Reviews 

FAQs
Without further ado, let's get started.
Companies Background
We start with the oldest son in the messaging apps family:
WhatsApp
WhatsApp was launched 13 years ago, on February 24, 2009, in California by former Yahoo! employees Brian Acton and Jan Koum. 
Next year Google wanted to purchase WhatsApp on multiple occasions but was rejected. On February 19, 2014, Facebook, now Meta, announced they were obtaining WhatsApp for $19 billion, their largest acquisition to date.
Both WhatsApp founders left the company. Brian Acton left in September 2017 and started the Signal Foundation, which (you guessed it) develops WhatsApp's direct competitor, Signal. Following year in April, Jan Koum, co-founder and CEO, announced he would be leaving the company. His replacement was Chris Daniels.
You already know what happened in January 2021, the announcement of the new Privacy Policy. This excludes the EU since the new policy infringes the principles of the EU's General Data Protection Regulation (GDPR). In September 2021, WhatsApp was fined £193 million by Irish authorities for breaching the EU's General Data Protection Regulation (GDPR), causing it to rewrite its privacy policy for European users.
Telegram
On August 14, 2013, Telegram messenger was launched in Russia by Nikolai and Pavel Durov, who previously founded the VK social networking service.
Nikolai developed the MTProto custom data protocol, the foundation for Telegram, while Pavel provided financial and ideological support.
Telegram team (mostly developers from Sankt Petersburg) had to leave Russia due to its IT regulations and has searched for a new location as its base. They have been in Berlin, London and Singapore, and are currently located in Dubai, but they say they are ready to relocate again if local regulations change.
On January 13, 2021, Telegram users received a message: "Telegram surpassed 500 million active users. In the past 72 hours alone, more than 25 million new users from around the world joined Telegram." On top of this, Telegram statistics predict the user pool to reach 1 billion users by 2022.
During the 2021 Facebook outage when WhatsApp was down for nearly six hours, a record 70 million new users registered to Telegram in just one day.
Today, Telegram remains one of the most popular messaging apps worldwide, with over 550 million monthly active users, according to the latest statistics.
Signal
Signal, the first free iOS app with end-to-end encrypted voice calls, is the heir of the RedPhone voice calling app and the TextSecure texting program, originally published by Open Whisper Systems, and its creators' security researcher Moxie Marlinspike and roboticist Stuart Anderson in May 2010. As a unit of the two apps, the launch of Signal happened on July 29, 2014. 
In California, the non-profit Signal Technology Foundation launched on February 21, 2018, thanks to Brian Acton's initial funding of $50 million. Acton is the foundations' executive chairman, and Moxie Marlinspike remains the CEO of Signal private Messenger.
In January 2021, due to the immense surge in Signal's new users, it was overwhelmed and temporarily disabled, but it quickly recovered. Signal also benefited tremendously from WhatsApp's outage in October 2021, with millions of people registering to the platform in the span of only a few hours.
Messaging Apps Availability
WhatsApp
WhatsApp, an online messaging app, supports Androids running on OS 4.1 and later, iPhones working on iOS 12 and later; furthermore, it supports phones running on KaiOS 2.5.0 and newer.
You can install WhatsApp's desktop app for Mac or Windows PC or access from a WhatsApp web browser (for these to work, your smartphone must be connected to the internet). There is no WhatsApp app for iPad, iPod or Apple Watch.
The downside is that WhatsApp can only operate with one phone number on one device at a time. However, with WhatsApp's brand new multi-device feature, you can use your phone to link up to four devices to your WhatsApp account. WhatsApp can be accessed from the four linked devices, even when the primary phone isn't connected to the internet.
WhatsApp has also recently introduced a new cross-platform chat history transfer feature for Android users.
As of now, transferring WhatsApp chat history is only possible from an iPhone iOS to a Samsung Android device. However, WhatsApp promises to make this feature available to both Android and iOS users in the coming months.
WhatsApp also provides the option to export your chat history as an email attachment.
WhatsApp is available in 60 languages on Androids and 40 on iPhones.
WhatsApp deletes accounts after 120 days of inactivity.
When it comes to availability, WhatsApp's advantage is its prevalence. Two billion people around the globe are using WhatsApp, so the chances are that everyone you know and talk to is already on WhatsApp, maybe even including yourself.
Telegram
Like WhatsApp, the Telegram iPhone app supports iPhones running on iOS 9 and above, while Telegram for Android supports Android 4.1 and later. 
There is a native macOS app and a universal Telegram desktop app for Windows, macOS, and Linux. You can also use your browser and access Telegram Web. Telegram apps work independently, so your phone doesn't have to be connected to the internet. Telegram app is also available for iPad and Apple Watch.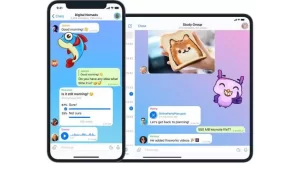 Telegram's asset here is that you can log in to Telegram from as many devices as you want and all simultaneously. If you use the same phone number to log in on every device, your cloud chats will sync right away.
For now, Telegram is available in 13 languages.
Telegram, messaging platform, deletes accounts after six months of inactivity. You can change this period in your settings. The difference between Telegram and WhatsApp is that once Telegram deletes your account, it deletes all of your messages, pictures, contacts, all your data; meanwhile, if you register to WhatsApp on the same device, your locally stored content will reappear.
Signal
Signal application supports Androids running on version 4.4 or newer and iPhones operating on iOS 12.2 or later. There is the Signal desktop app for Windows, Mac and Linux distributions supporting APT. These desktop apps work as standalone applications, so they work whether your mobile device is present or connected to the internet. It also supports iPod and iPads. What Signal doesn't offer, and its competitors do, is Signal web. 
You can use the Signal on one mobile device and up to five linked Signal desktop apps. 
Signal is available in 12 languages. 
Unlike WhatsApp and Telegram, the Signal messaging app doesn't delete inactive accounts. On the other hand, if you wish to delete your account, you can unregister from Signal.
Features and Services
WhatsApp
WhatsApp Messanger's set of features has all basics covered, alongside free text and voice messages, as well as voice and video calls. You can share photos and videos with the size limit for video and image sharing, as well as voice messages, which is 16MB. 
There is a capability to send over documents, PDFs, spreadsheets, contacts, location details, etc. The file size limit for these files used to be 100 MB, but on May 5 2022, the messaging app announced a huge update that included an increase of the size limit to 2 GB.
As part of the update, WhatsApp also increased its group chat limit from 256 to 512 members. Group chat users can mute or customise notifications and hold voice and video calls. Users can make video calls with up to 8 participants, while the voice call limit has been increased to 32.
The latest version of WhatsApp also includes emoji reactions to messages, a feature which was previously missing from the app. There are currently six reaction emojis available: red heart, laughing face, teary face, surprised face, thumbs up, and hands together, but WhatsApp is planning on increasing their number in the future.
As part of the update, WhatsApp has also announced a new Slack-like tool, called Communities, that will serve to connect group chats under a single organisation.
They provide the Status feature, very similar to Instagram Stories – you can post images and videos of up to 30 seconds, and they are visible for 24 hours.
You can enable disappearing messages on WhatsApp, so after 24 hours, seven days, or 90 days, your messages disappear (in individual or group chats). It's important to mention that people, on the other end, can save your messages by using screenshot or copy/pasting them elsewhere before they disappear. In group chats, only admins can enable this option. You can set up WhatsApp dark mode, dynamic wallpapers and use emojis, GIFs and stickers.
Telegram
Like WhatsApp, Telegram offers free text and voice messages, voice and video calls, media sharing, and sharing of location details, files and documents. The size limit for any data is much higher than its competitors, a whopping 2GB.                                             
Telegram's leverage over its competitors is that it allows multiple accounts on one phone, for both Android and iOS. WhatsApp and Signal can only be registered on one phone number per one device; therefore, you can only choose one number to verify with WhatsApp or Signal if you have a dual SIM phone.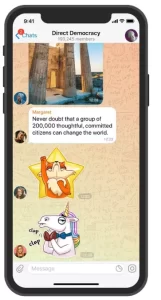 Telegram provides the ability to edit your messages after you've sent them, something that WhatsApp and Signal don't offer, and it is a considerable advantage, especially if you are cautious about "grammar nazis". On all three messaging apps, you can delete your messages. What differentiates Telegram from the other two apps is that you can delete them without a trace. Meaning that after you delete a message, no one would even know it was there in the first place. All that remains is a blank space, without the "This message was deleted" sign, unlike Signal and WhatsApp.
Telegram has group chats for mind-blowing 200,000 members and provides Telegram Channels, their unique feature. Telegram Channels' capacity is unlimited, making it an excellent tool for sharing messages with a vast audience. Only admins can send messages, and each message has a view counter that shows when the message is viewed and even more when it's forwarded.
Since February 23 2021, groups approaching the 200,000 members limit can transform into Broadcast Groups that allow unlimited members. Same as in Channels, only admins can send messages here.
Telegram's invite links for group chats and channels can be with a limited duration, a limited number of uses or both, and links can be turned into a scannable QR Code to be put on everything – posters, billboards, brochures, etc. It is an excellent option for businesses as you can verify which users joined using which invite link. This way, you know which format has been the most effective for growth.
You can also generate QR codes for users with public usernames and customise them to your preference.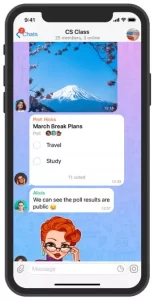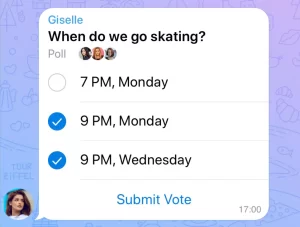 On top of all that, Telegram presents numerous features that can be implemented into group chats and channels – polls which can be anonymous or public, quizzes, automated bots and games. These can come in handy and are rather enjoyable, making them massive Telegram leverage over its rivals since none of them offers these features.
When it comes to voice and video calls in group chats, Telegram provides something a bit different. Voice Chats for Telegram group chats, which members can join and leave whenever they want. Voice Chats can be created by admins only and can accommodate a few thousand participants.
Telegram has also recently launched a group video calling feature that allows users to seamlessly transform voice chats int to video calls of up to 30 people. Up to 1,000 people can join these video calls as viewers.
Telegram has a
Secret Chat
option, which uses
end-to-end encryption
and can only be used on their devices of origin. Messages from secret chats
can't be forwarded,
and they state that they will try to
alert you about screenshots
taken in your secret chat. Still, they encourage you to talk to people you trust because it is possible to bypass such notifications and take screenshots unnoticed. You can set your messages, images, videos and documents to
self-destruct
after the recipient has
read them. Messages disappear from both devices. This option is solely for
Telegram Secret Chat
.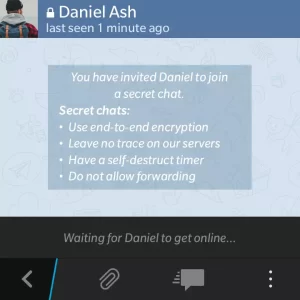 An option for all Telegram chats, somewhat similar to WhatsApp's disappearing messages, is the auto-delete timer. This way, you can automatically erase messages for all participants one day, one week, or one month after sending, and not after they have been read like in Secret Chats. Telegram also allows users to set a custom timeframe when the message will be deleted, ranging from one day to a year.

You can also make Chat Folders, so if you have many chats, this feature helps you separate and organise your conversations in any way you please.
There are 20,000 Telegram stickers and animated stickers, emojis, animated emojis, GIFs and other customisation options, and Telegram can be adjusted to run in dark mode.
Instant View on Telegram enables users to view articles in a simple, readable way. When you get a link to an article, all you need to do is click on the Instant View button, and it will open with zero loading time.
Telegram Passport is another useful feature, an authorisation method for services that request your ID. All you need to do is upload your documents one time and promptly share them with services that request your data. You don't need to worry about your documents' safety since they are stored in the Telegram cloud using E2E encryption. Only you know the password, and Telegram can not access your data stored in the Telegram passport. Whenever you need to use this feature, your stored data will go directly to the receiver.
As you have seen, Telegram's set of features is quite impressive, and they have undoubtedly taken advantage of the WhatsApp controversy to their advantage. At the end of January 2021, Telegram introduced the "Moving Chat History from Other Apps" feature. So if your main reason for sticking to WhatsApp is your chat history and memories, Telegram made sure that you don't have to worry about that any longer.
Similarily to WhatsApp, Telegram has also recently added emoji reactions that users can attach to specific messages instead of sending a brand new message. Users can either double-tap a message to send a quick reaction or hold a message bubble and choose from one of the animations available.
Users can now also send Spoiler messages by blurring out the portion of a message that contains movie and show details, or sports results, for example. The message appears blurred out until the user clicks on it.
If you think you've heard it all, you've got another thing coming. Telegram introduced an option for immediate access to your most significant chats, Telegram Widget for your home screen. The Shortcut Widget displays only names and profile pictures, while The Chat Widget also reveals a preview of your recent messages.
As part of its April 2022 update, Telegram has also introduced the option to turn any sound into a notification tone, from audio files to voice messages, to create custom alerts. The sounds must be under 5 seconds long and up to 300 KB in size.
In addition, Telegram users can now pause notifications for a specific amount of time, which was previously limited to only one hour, 8 hours or two days.
Signal
Like its competitors, the Signal messenger app has all of the essential features covered – free SMS (text) and MMS (group and media), voice and video calls, option to share location, files and documents. The size limit for sending MMS is 300kb, which is a rather small capacity compared to WhatsApp, not to mention Telegram. What Signal provides against its competitors is an option to make Signal messaging the default SMS/MMS application. This way, users are sending and receiving unencrypted SMS messages in addition to the standard E2E encrypted Signal messages. This is possible only on Androids.
Group chats can have up to 1000 members, while voice and video calls are currently limited to 40 participants. 
Signal's newest update to its disappearing messages features lets users preconfigure all their conversations with a default timer. Disappearing messages can be set to vanish after anywhere between 30 seconds to four weeks. Alternatively, you can set custom time durations of up to four weeks.
Unlike WhatsApp's case, anyone in the Signal chat can manage disappearing messages. For a sender, the timer starts after a disappearing message has been sent. However, for a receiver, the timer starts after they've read the received message.
Similarly, you can send view-once images and videos, which automatically disappear after sending or seeing them.
Another feature that Signal provides is Message Reaction. This option allows you to respond to a message with an emoji reaction, which can be quite convenient and add up to a conversation dynamic.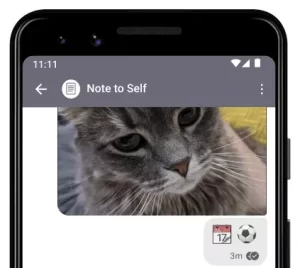 Another Signal's feature is Note to Self, which enables users to send messages to themselves, even the disappearing messages. It is an excellent concept since it can be used as a virtual personal notepad.
Similar to Telegram's Instant View, Signal provides an option called Link Previews, which is available for sites that start with HTTPS. Telegram is in the lead when it comes to this option since its Instant View is available for all sites. 
Signal also provides emojis, stickers, GIFs, change of your wallpapers, dark mode option, or even use of incognito mode for your android's keyboard.
Messaging Apps Security 
WhatsApp Security
WhatsApp privacy and security arrangement is likely the reason you are here, in the first place. Is it safe to use WhatsApp? When it comes to your messages, they are secure since WhatsApp uses an end-to-end encryption method (E2E) which means that only you and those you are chatting with can see the messages, and not even WhatsApp can intercept or see your messages. 
What's interesting is that WhatsApp's encryption protocol is none other than the Signal protocol, one of the most secure protocols out there. This protocol is open-sourced, which means that it is open to the public. Everyone can review them, enabling individuals to find problems and errors, resulting in quicker repair. 
So what's all the fuss about, you might wonder? Well, while messages are E2E-encrypted, backups and metadata are not. WhatsApp collects your metadata – IP address, your name and mobile phone number, location history, your contacts and their phone numbers, and even your device type. After updating its Privacy Policy, in May 2021, WhatsApp now shares this information with Meta companies, and there is no way to prevent this. Well, unless you delete the app. However, it is worth mentioning that WhatsApp explained that the changes are related to optional business features on WhatsApp and that it doesn't influence messages with your family or friends in any way.
It is also worth mentioning that in September 2021, WhatsApp was fined a record £193 million by Irish authorities for failing to meet the requirements of the EU's GDPR. That caused WhatsApp to tweak its privacy policy for users in Europe and the UK.
WhatsApp clarified that the privacy policy update does not change how they process and share user data. Instead, the app added more detail about how it collects and uses data and why that data is shared to provide its global services. The policy update also includes more information about the legal bases that WhatsApp relies on for processing user data.
WhatsApp provides two-factor authentication (2FA) and an option to lock your messages with your fingerprints.
WhatsApp's history includes several hacking attacks, amongst which one of the victims was none other than Jeff Bezos, one of the richest men in the world, whose phone was hacked through WhatsApp. In December 2019, WhatsApp confirmed they repaired a security glitch that would enable hackers to access users' data via a malicious GIF. Users only had to open their gallery within WhatsApp for the hack to be activated and their content exposed. Luckily, no one was affected by this hazard. 
Telegram Security 
Unlike its competitors, Telegram uses client-server encryption for its personal and group chats (cloud chats), which means that Telegram has access to your messages since it handles the encryption and decryption of them at their servers. For Secret Chat and voice and video calls, they use the E2E Telegram encryption method.
Telegram uses its MTProto, a custom encrypting protocol developed by Nikolai Durov and other Telegram developers. It is based on 256-bit symmetric AES encryption, 2048-bit RSA encryption, and Diffie–Hellman secure key exchange. Telegram's apps are open source as well as Telegram Database Library, and everyone can evaluate and validate them on GitHub. 
When it comes to user data, Telegram collects and keeps your phone number since it is mandatory for verification of your account, the username you choose, and contact information. On top of that, they might collect and store for up to 12 months your metadata such as your IP address, devices and Telegram app you've used, history of Telegram username changes, etc. They state that they might reveal your IP address and phone number if asked by relevant authorities, so if you want to hide your IP address, consider using a VPN.
Telegram provides 2FA and a feature to lock your messages with a passcode or your fingerprints. 
Has Telegram been hacked? Same as WhatsApp, Telegram has been hacked several times. One of the times was in 2019, during Hong Kong protests when activists reported security breaches that enabled law enforcement to track them. These security violations inspired Telegram to add a new option for users, allowing them to hide their phone number from everyone. In the mid-2020, Telegram was disclosed to a security breach in which users' phone numbers and Telegram IDs were exposed on the darknet. The company stated that 60% of leaked data was incorrect, and 84% was outdated, 70% of the leaked accounts were based in Iran, and 30% were from Russia.
Signal App Security
We've come to the most secure instant messaging app of all. Signal uses its encrypting protocol- Signal protocol for end-to-end encryption, used for all messages and calls, without exception. Every individual chat has a unique safety number that enables you to check the security of your messages and calls with particular contacts. 
As we already mentioned, Signal protocol is open-sourced, and it is available for examination on GitHub. 
WhatsApp and Signal use the same protocol, but, Signal is the more secure app of the two. How can that be, you might wonder. We talked about the metadata WhatsApp collects, and the list is long. In contrast, Signal collects only one thing: your phone number, which means that information like your messages' time and location are also encrypted and can't be accessed by anyone.
Signal took a step further when it comes to your privacy, introducing a feature called Sealed Sender. With this feature, even Signal doesn't know the sender and receiver's identity or any other correlated information. 
As stated on Signal- "One immediate thing seems clear: 2020 is a pretty good year to cover your face."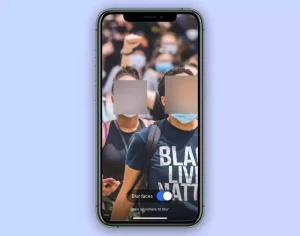 Inspired by the mid-2020 Black Lives Matter protests in the United States, Signal launched a feature that can help preserve the people's privacy and identities in the photos you share- blur tool. Signal blurred faces– security measure is available for both Android and iOS Signal apps.
Same as its competitors, Signal supports two-factor authentication and an option to secure your messages with a PIN code or fingerprints, TouchID, or FaceID.
Knowing the hypothesis that Signal is one of the most secure messaging apps, if not the most secure one, we have to ask: has Signal been hacked? In December 2020, Israeli security company Cellebrite proclaimed it could decrypt the Signal app. However, several cybersecurity experts and Moxie Marlinspike, co-founder and CEO of Signal, rejected these claims since the original Cellebrite post has been about obtaining data on "an unlocked Android phone in their physical possession". Furthermore, Marlinspike tweeted: "The whole article read like amateur hour, which is I assume why they removed it." 
Based on what we know, Signal has never been hacked, and the only way to do so is if "the hacker" is someone who physically holds your phone and can simply open the app and look into your messages. With all this in mind, we can conclude that Signal's security is genuinely inviolable.
User Reviews Online
WhatsApp
On the Apple App Store, WhatsApp's rating is 4.7 out of 5, and the score is based on 10.1 million ratings. App's score on Google Play is a bit lower, with 4.3 stars out of 5, based on over 160 million ratings. 
Reviews on both App Store and Google Play are mainly positive, although we can't help but notice that the newer reviews have a more negative tone. Most complaints were about bugs and connectivity problems, losing messages and pictures, and problems with the camera. Also, many people are concerned about the new privacy policy, and a significant amount of individuals are experiencing problems with registration, and restoring media and messages. Some even said that they blame Facebook for the downgrade of the app and for their bad experience. We even encountered comments like: "To be honest, if I could opt for zero stars, that would be the level at this point." We can see that a lot of people lately are genuinely disappointed with WhatsApp.
Others love the app, and most use it for years now. They think WhatsApp is easy to use and love that it keeps them connected with their relatives and friends worldwide. 
Telegram
Telegram's rating on the Apple App Store is 4.3 out of 5 formed on over 140,000 user reviews, while on Google Play it scores 4.5 out of 5 based on over 11 million ratings. 
Opposite to WhatsApp, older reviews have more negative feedback where people mostly commented that the app is missing an important feature — the Telegram video call, which they later implemented. The newer ones are more positive. When it comes to the more recent complaints, most people criticised slow connectivity and that notifications tend not to show up until you enter the app. What users mostly suggest is to add a feature similar to WhatsApp's Status feature. Many are even saying that Telegram is everything WhatsApp wants to be and that they are making all of their friends switch to Telegram.
Signal
Out of the smallest number of evaluations, Signal got the highest rates, even though it is the youngest of the three platforms. Signal's score on the Apple App Store is 4.7, based on over 470,000 ratings, and Signal on Google Play scores 4.5 out of nearly 2 million ranks.
Mostly, people have good impressions of Signal, although problems the majority are facing are with notifications for messages and calls, and delays when messages are sent. Calls don't always connect, and when they do, the quality isn't that good. Another common problem is sharing photos and videos, their quality downgrades, or they don't even load. What people love the most is the app's security and the fact that Signal can take over their phone's SMS service.
Numerous people found in Signal what was missing in WhatsApp and switched because of WhatsApp's privacy and security issues, but many people are on Signal thanks to none other than Elon Musk. CEO of Tesla Motors and one of the world's wealthiest people wrote on Twitter: "Use Signal". He is not the only one to recommend Signal either. Notorious whistleblower and privacy advocate Edward Snowden and Jack Dorsey, CEO of Twitter and Square, both said they trust and use Signal.
Conclusion
After all of this, can we answer the questions from the very beginning? Which app is the best? Unfortunately, the answer is not that simple. It greatly depends on what you value the most, what is the right fit for you, and your needs for social messaging applications.
WhatsApp's privacy issues and the October 2021 outage may have pushed some people in Telegram's and Signal's direction, but the app still largely dominates the messaging app market.
Still, if you want to leave WhatsApp in the past, and your biggest concern is having access to the largest number of users, Telegram is currently your best option. If useful functions are what you desire, Telegram's extensive amount of features that expand with every new update should be enough to sway you over. However, If you seek privacy and security, no doubt Signal should be your go-to app.
It all comes down to your personal preference. Is it WhatsApp which is still the most popular messaging app globally, Telegram with special features or Signal, the most secure messaging app? We hope that our WhatsApp vs Telegram vs Signal Comparison helps you reach that decision.
FAQ
Can Facebook read your WhatsApp messages?
No, Facebook can't read your messages or listen to your calls. WhatsApp explains that the changes are related to optional business features on WhatsApp and that it doesn't influence messages with your family or friends in any way. 
Is Signal app really safe?
Open source messaging application uses its end-to-end encrypting protocol- Signal encryption protocol, used for all messages and calls, without exception. Every individual chat has a unique safety number that enables you to check the security of your messages and calls with particular contacts. On top of all that, Signal collects only one thing- your phone number.
Who owns Signal app?
Brian Acton is Signal's executive chairman, and Moxie Marlinspike is the CEO of Signal Messenger.
Is Telegram call safe?
Yes, all Telegram voice and video calls are end-to-end encrypted, making them as safe as they could get.
Who is Telegram owned by?
Telegram is owned by Pavel Durov and his brother Nikolai Durov. The duo previously founded the VK social networking service.
Alert! Your IP address is trackable.